Stanford Football:

Jon Embree
March, 21, 2012
3/21/12
9:00
AM ET
Is David Shaw one of the top two or three coaches in the Pac-12? No.
How about top five? Nope.
Top half? Top 8? Negative.
Not if you buy
the recent rankings by Athlon Sports
, which has Shaw as the No. 9 rated coach in the Pac-12 conference.
Before we dive into that, let's review the list:
Chip Kelly, Oregon

Lane Kiffin, USC

Mike Leach, Washington State

Kyle Whittingham, Utah

Rich Rodriguez, Arizona

Steve Sarkisian, Washington

Mike Riley, Oregon State

Jeff Tedford, Cal

David Shaw, Stanford

Todd Graham, Arizona State

Jim Mora, UCLA

Jon Embree, Colorado
[+] Enlarge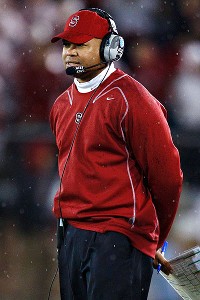 Jason O. Watson/US PresswireDavid Shaw did more than just ride Jim Harbaugh and Andrew Luck's coattails.
No doubt, Kelly belongs at the top. If anyone wants to make an argument for anyone else -- I'd love to hear it. Kelly is clearly the top coach in the conference.
But it starts to get muddled after No. 1. When I first saw the headline, my initial thought for Shaw was in two-three-four range. But as I kept scrolling down, I was pretty surprised to see him at No. 9.
The biggest argument against Shaw is that he doesn't have a body of work yet as a head coach. It seems like the question mark from the Athlon folks is that they don't know what Shaw can do without a Harbaugh or a Luck next to his name.
There is much to like about Shaw and there is much that is still unknown. This fall will feature the first in Palo Alto without a Harbaugh or a Luck on the roster and it falls to Shaw to maintain an unprecedented level of success. Jim Harbaugh deserves all of the credit for re-establishing the Cardinal brand nationwide and developing Andrew Luck into the best player in the nation the last two years. Replacing two first-round offensive linemen will also be an issue for Stanford in 2012. Shaw is steeped in Stanford tradition as a player and son of a coach for the Cardinal, but legacy alone won't keep Shaw in Bob Bowlsby's good graces. This is one name that could be ranked much higher (or lower) on this list come next offseason.
I think it's a bit of a sweeping statement to say Harbaugh deserves
all
of the credit. Shaw, after all, played a huge role in recruiting Luck. He also recruited a large portion of Harbaugh's players and ran Harbaugh's offense for four seasons. And he's the reigning Pac-12 Coach of the Year. Doesn't that count for anything?
As fate would have it, I was plugging away at this post yesterday afternoon when my cell rang and Shaw's picture appeared. After we got done swapping stock tips and talking about which Hunger Games characters we were going to dress as for the big premier, I figured it was worth asking his opinion on such polls and how he felt about his ninth-ranked status.
"No reaction at all," said Shaw, never one for chest-puffing. "I have no problem with that. I'm a one-year head coach and a lot of people attribute the team's success to Andrew -- justifiably so. A lot of people attribute it to Jim Harbaugh. Me, honestly, that's fine. As long as Bob Bowlsby likes the job that I'm doing and I can keep this job -- hopefully for the next 15-20 years -- I can be the last-ranked coach as long as we keep winning games and going to bowl games, I'm fine.
"Rankings don't win games."
Shaw has an NFL pedigree that few coaches on this list can match. I'm not saying he should be No. 2. You can make arguments, I think, for Shaw, Leach, Whittingham or Kiffin in the No. 2 spot. And they would all have merit. (I'm actually leaning toward Whittingham, having seen his success over the years during my time covering the Mountain West).
But when you consider the recruiting class Shaw brought in this year -- which had absolutely nothing to do with Harbaugh or Luck -- and the way he schemed the offense this season to compensate for a lack of overwhelming wide receiver talent, you have to think that warrants more than being the No. 9 guy in the conference. Think of the triple-tight formations and the plays with eight offensive linemen. Pretty innovative stuff.
Consider some of the immeasurables that Shaw was dealing with this season. He had a glaring spotlight already with the departure of Harbaugh and the return of Luck. He had to replace three offensive linemen with first-year starters, had a shaky receiving corps and had to fill both coordinator spots. The dice were equally loaded for success or failure. It's too dismissive to say he was just riding the coattails of Harbaugh and Luck because Shaw's fingerprints were all over the 2011 team. And give credit to the rest of his staff. Shaw brought in Mike Bloomgren, Jason Tarver, Ron Crook and Mike Sanford -- all of whom were major contributors to the team's success. Hiring solid coaches is an important element that often gets overlooked.
Was he perfect? Nope. Not even close. Find me a coach who is. I'll wait ... ... ... I can count on one hand the number of times I questioned a Shaw decision or play call.
I like Shaw's demeanor -- calm most of the time but fiery when he has to be. I like the pro-style, balanced approach to offense, and I like how he's a tireless advocate for his players.
All of the above don't make Shaw the No. 1 coach in the conference. But it doesn't make him No. 9, either.
October, 9, 2011
10/09/11
2:00
PM ET
PALO ALTO, Calif. -- The monkey is officially off the back. The
Stanford Cardinal
have an interception. Hallelujah.
"It was huge," said safety Michael Thomas, the recipient of Colorado quarterback
Tyler Hansen
's wayward pass on the first play of the fourth quarter.
Stanford was one of three teams left in the nation to not have an interception this season, along with Akron and Utah State. There must have been something in the air, because both of those teams picked up their first picks of the year as well.
It was the 172nd passing attempt this year against the Cardinal that finally yielded the airborne turnover.
"We've been making jokes about it the whole time so I'm glad it happened," Thomas said.
ADDITIONAL NOTES
Getting personal
The Cardinal were flagged with three personal fouls -- one from
Levine Toilolo
, another from Cameron Fleming and a third from Jonathan Martin. This a few days after head coach David Shaw said he addressed penalties with his team. In all, Stanford was flagged five times for 65 yards.
"I only saw one of the three so I can't really comment," said Shaw, not revealing which one. "It was close enough for the official to call it. It's on us to make sure we're coaching it right."
Quarterback
Andrew Luck
was a bit more blunt.
"It's our fault," he said. "Nowhere else to point the finger except at ourselves. It's boneheaded by our team when we do that. Luckily we were able to bounce out of that hole in certain situations. But you can't win consistently playing like that."
The bouncing ball
Luck threw his second interception of the season and once again, it came off the hands of
Chris Owusu
and into the hands of an awaiting defender. The interception against Duke was a tougher ball, thrown a little bit behind Owusu. This time it was right on his hands.
"Chris will tell you he's disappointed by it," Luck said. "The ball bounced in the air and the DB made a nice catch."
Sideline eye-candy
Tiger Woods and John Elway made appearances on the sidelines. Not that the Stanford players saw.
"I barely noticed," said Thomas.
Added Luck: "It's awesome to hear that. That's great. (Elway) was an honorary captain last year. We got to talk a little bit. Not as much as I'd like. He was one of the greatest quarterbacks of all time. He's my hero. He was the best."
Quotable
Colorado coach Jon Embree on his team's loss: "I expected more. I understand the circumstances (injuries and suspensions). I don't accept them, but I understand them. We've just got to keep trying to find a way. Kickoff was scheduled for 4:30 and whatever you've got, you've got to go out there and find a way to compete. I'm disappointed."
October, 8, 2011
10/08/11
10:18
PM ET
PALO ALTO, Calif. -- Considering the score and considering the field position, there really wasn't much need for Stanford to go for it on fourth-and-2 at the Colorado 13. The Cardinal were up by 20 coming out of the locker room and were more than in control on their opening drive of the second half. A field goal would have made it a three-possession game against a team that was hardly moving the ball.
But in David Shaw's eyes, a field goal wasn't enough. It wasn't going to make the point that the Stanford head coach wanted to make. It would have been a comma. He wanted an exclamation point.
"Attitude. Attitude. Our attitude is that if it's close, with the line that we have, with the fullbacks we have, with the tight ends we have, with the backs that we have we should pick up anything that's less than fourth-and-3," Shaw said. "We should pick it up. We don't bat an eyelash. We don't think about it. We don't even talk about it on the headset. We just get the next call ready. That's the kind of mentality we need to have up front in order for us to play games the way we want to play them."
The Cardinal exerted their will -- and their attitude -- on Colorado in a
48-7 win
at Stanford Stadium. No. 7 Stanford (5-0, 3-0) has won nine straight games at home while extending the nation's longest winning streak to 13.
For all the funky formations and misdirection motions on offense; for all the exotic looks and blitz packages on defense; at its core, Stanford is very simplistic in its approach to the game: smash-mouth. Hit first, ask questions during film.
"Everything starts with being physical," said co-defensive coordinator Jason Tarver. "We start with three things; alignment, angle departure and vision progression. We get aligned right, we go in the angle we're supposed to, we look where we're supposed to look and we hit whatever is on those lines."
It's an attitude thing.
[+] Enlarge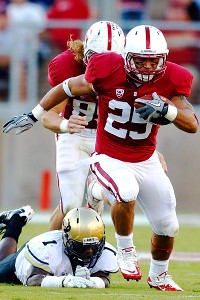 Jason O. Watson/US PresswireStanford is hoping that Tyler Gaffney can return to his 2011 form, where he averaged 6.1 yards per carry.
From the opening kickoff, the Cardinal were in a hole but dug themselves out.
Jeremy Stewart
fumbled the kickoff and Colorado recovered at the Stanford 36. Suddenly the defense found itself on the field sooner than expected.
"When there is a sudden change, we don't see it as a momentum swing, we see it as an opportunity," said safety Michael Thomas, who nabbed Stanford's first interception of the season later in the game. "Opportunity is knocking and it was time for us stand up."
And they did, yielding to their own 12 before forcing Colorado into field goal formation. Linebacker Max Bergen came plowing through the line untouched, blocked the kick, picked up the one-hopper and returned it 75 yards for the game's opening score. The Cardinal are yet to trail a game this season.
The Cardinal continued to mix up their looks on offense. They ran the no-huddle for the second-straight week, motioned tight ends in and out and piled on 553 yards of total offense -- their second highest total of the season (567 at Arizona).
"We want the [opposing] defense to move," Shaw said. "We want them to move and communicate. We try to put them at a disadvantage to a certain degree … we've got personnel that we can do those things. We've got three tight ends that are NFL tight ends that are athletic and can run all kinds of routes and we can flex them out and then we can bring them back in and pound the rock. We've got a guy like
Ryan Hewitt
that was recruited as tight end but playing fullback. We can flex him out and play like a tight end. The guys we have allow us to do the thing we do."
And they've got quarterback
Andrew Luck
-- who turned in another sensational performance on 26-of-33 passing for 370 yards and three touchdowns. The lone stain on his stat sheet was an interception off the hands of wide receiver
Chris Owusu
that fell right into the hands of Colorado defensive back Terrel Smith.
Luck was liberal with the football, connecting with 10 different receivers. Hewitt had touchdown catches of 1- and 10 yards and receiver
Griff Whalen
added four catches for 92 yards and a score.
"Luck's the best quarterback, no doubt," said Colorado head coach Jon Embree. "He's got a good enough arm that he can throw the ball down the field without putting a lot of air on it. Not a lot of kids at college can do that like that. Like I said, he runs their offense to a tee."
Stanford's running game started slowly, netting just 19 yards on eight carries in the first quarter. That was to be expected, Shaw said.
"We knew it was going to be tough sledding early on," Shaw said. "We know a lot of games it's going to be like that running the ball because we will put a lot of bodies in the box and we will cram it in there. We're going to run the ball between the tackles a whole lot. And we do it early in games to establish who we are."
It's an attitude thing.
Eventually, those 1- and 2-yard runs gave way to bursts of 21 and 18 yards.
Tyler Gaffney
led all Stanford rushers with 61 yards on nine carries. He rushed for a score, as did
Stepfan Taylor
(13-58) and Stewart (4-12). The Cardinal finished with 161 rushing yards, averaging 4.6 per carry.
Colorado, meanwhile, struggled on the ground, as teams tend to do against Stanford. Through three quarters, it had just 38 yards on 19 carries. The Buffs (1-5, 0-2) totaled 264 yards. A huge chunk came on a 76-yard screen pass to
Rodney Stewart
. Safety Devon Carrington sniffed out the play and was in position, but failed to make the tackle.
"We need to make sure we put our face on guys and not lunge and dive," Shaw said. "… there is no credit for almost making a play."
It's an attitude thing.
Still, Stanford's players were dissatisfied with their effort.
"We need to pick it up on the physical end," said Bergen.
"I think we need to improve. It wasn't good enough," Luck said.
"When we look at the film, we'll see some plays we left out there," said Thomas.
Shaw gave a devilish smile when informed none of his players were satisfied with the 41-point victory.
"They better have said that," Shaw said. "It's the truth. We can't let the scoreboard dictate our feeling about how we played. If we can play better, we should know it and we should play better."
It's an attitude thing.
October, 6, 2011
10/06/11
4:00
PM ET
PALO ALTO, Calif. -- Despite what his coach says ... despite what opposing coaches say ... despite what seems like every national analyst is saying ...
Andrew Luck
doesn't think it's that big of a deal.
"I think the whole calling plays thing has been overblown a little," he said. "... It's not that special. All of our quarterbacks could do it. All of our linemen could call what I'm calling."
And yet, most agree that few, if any other college quarterbacks in the country, could do what he was doing. There aren't a lot of NFL quarterbacks who could do what he was doing.
That's why Colorado coach Jon Embree compared Luck to Peyton Manning earlier this week. The quote is a few days stale, but apt and bears repeating.
"For those of you who aren't going to get a chance to play professional football," Embree told his players, "you're going to get to play Peyton Manning."
Coaches don't make those comparisons unless you are special.
"You guys know how modest Andrew is," said tight end
Coby Fleener
. "He doesn't micro-manage. If he sees something that is blatant, he'll tell us. But he does a very good job of not micro-managing when he probably could. He's got the brain power to do it."
The Cardinal debuted their no-huddle offense last week against UCLA with Luck at the helm, calling the plays as he saw fit during those drives. Why pull it out against UCLA and not until a bigger game like USC or Oregon?
"It's too good," said head coach David Shaw. "It's part of what we said we wanted to do from the beginning. It's something that's been on my mind since Andrew became the starter."
Following Stanford's win over UCLA, Shaw said Luck had the entire playbook available to him. Of course, the personnel on the field certainly dictates what sorts of plays he can call.
Having tight ends who can moonlight as wide receiers and/or fullbacks helps.
"When you have those guys on the field, you can run multiple looks and pretty much get to anything in the playbook," Luck said.
Still, Luck doesn't see it as a big deal -- getting to "anything" in the playbook in the time one play ends and another begins in a no-huddle setting.
"I don't think any of the quarterbacks in our system would be swimming out there on the field trying to think of a play to match the personnel," Luck said.
Maybe in practice. But on the field, in the heat of the game, taking down-and-distance into account and processing everything that needs to be processed in a matter of seconds and then calling the play?
That's special. Even if he won't say it.
October, 6, 2011
10/06/11
8:18
AM ET
You've got to break some eggs to make an omelet. And sometimes a coach gives players the boot to establish the culture he wants.
It appears that Colorado coach Jon Embree is willing to sacrifice his team's present for its future, as he has
indefinitely suspended five players
from a defense that is already thin, particularly in the secondary, where four of the five play.
And that secondary faces Stanford quarterback
Andrew Luck
on Saturday. Luck is generally considered a capable passer.
The five suspended players, according to the Boulder Daily Camera: CB Parker Orms, CB Ayodeji Olatoye, CB Paul Vigo, CB Josh Moten and LB Liloa Nobriga. None of the players were listed as starters on this week's depth chart.
According to the Daily Camera, all five were notified of the decision Wednesday and the entire team was told during a post-practice team meeting. Further:
None of the problems that led to the suspensions involved the police, but the rules violations were serious enough that CU is expected to announce today that none of the five will play again this season.

Whether the players remain with the program beyond this season remains to be seen.
It will be interesting to see how the Buffaloes react at Stanford. While these suspensions aren't devastating in terms of starting personnel, you'd guess each of these guys have relationships in the locker room with the guys left behind. That means there will be plenty of chatter, either for or against Embree's "my way or the end of my boot" methods.
The Daily Camera article is worth a read because it does a nice job of recalling Embree's prescient prediction of significant attrition last spring. I particularly like this quote:
"It's going to be hard because you have to go to class every day," [Embree] said in that spring interview. "It's going to be hard because you have to sit in the first three rows. I don't want your iPod on or your iPad or your laptop. I want you there, I want you prepared. I want you to have a pen, paper, book. I want you prepared and I want you to engage.

"It's going to be hard because of what you're going to do in the weight room and what's going to be demanded of you as a football player, how we expect you to study and prepare for the game. That's going to be hard for the guys because that requires consistency and discipline and they don't have that."
While it's purely speculative to try to figure out what these five may have done to fall out of favor, if the police or NCAA isn't involved, then it's likely that they fell afoul of Embree's specific demands that perhaps didn't exist during the Dan Hawkins era. And Embree wants his players to know he takes those demands seriously.
Pac-12 Weekend Wrap: Jan. 27