Stanford Football:

Jonas Gray
November, 25, 2011
11/25/11
6:00
AM ET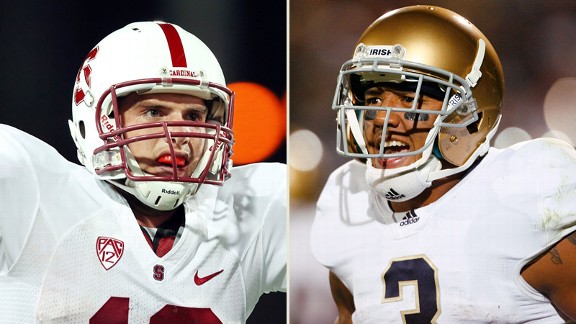 Getty Images, US PresswireQuarterback Andrew Luck, left, leads Stanford; Notre Dame leans heavily on receiver Michael Floyd.
Stanford and Notre Dame are both moving on to bowl games -- but first they square off in the regular season finale for both teams. Notre Dame blogger Matt Fortuna and Stanford blogger Kevin Gemmell do their best to shake off turkey hangovers and bring insight into Saturday's matchup.
Kevin Gemmell
: Happy post-Thanksgiving to you and yours, Matt. Seeing as Stanford and Notre Dame cross paths this week, it would stand to reason that the Stanford and Notre Dame blogs also come together the day before the game.
There are major bowl implications in this game for Stanford. What's the most important thing the Cardinal need to be on the lookout for when scouting the Irish?
Matt Fortuna
: Kevin, same to you and your family as well. I think I'm still in a turkey coma from last night. Obviously, this is the biggest test Notre Dame will have faced all season long. Looking at the numbers throughout this season, I think the Irish's best bet for success is to move the ball through the air and take full advantage of
Michael Floyd
.
Jonas Gray
's knee injury severely hampers Notre Dame's ground attack. The cast is largely unproven behind the smaller
Cierre Wood
, and Stanford's rushing defense is good enough to have seriously challenged the Irish backfield even if Gray took the field. The Cardinal's weakness, if they have any, would appear to be its pass defense.
Tommy Rees
will have to improve on his sub-par performance from last week and look more like the Rees from the Maryland game two weeks ago, when he completed 30 of 38 passes and sped up the tempo of the Notre Dame offense. If he can establish a rhythm early, I think we can brace ourselves for a pretty competitive contest.
I'd be remiss to not ask the Stanford blogger about
Andrew Luck
, so here we go: Should everyone in the Midwest believe the hype? I currently have him atop my ESPN.com Heisman ballot, but I'm wondering if things look as crisp up-close as they do from other parts of the country. What will Notre Dame's secondary need to do to contain Luck?
Kevin Gemmell
: Well, if each player on the secondary can add four or five inches, that would be a good start. Luck is going to seek out his tight ends --
Coby Fleener
(6-foot-6),
Levine Toilolo
(6-8) and possibly
Zach Ertz
(6-6) who hasn't played since the USC game because of a knee injury. Luck doesn't have the receiving corps to stretch the field, but he exploits his mismatches and if one of the Notre Dame defensive backs has one-on-one coverage with a tight end, look out, because Luck will find it.
As for believing the hype? Stanford head coach David Shaw believes it. He went on a pro-Luck tirade Tuesday, saying Luck is doing things no other college player has ever done. In that regard, then yes, believe the hype. Luck is the most intelligent and evolved college quarterback I have ever seen. He sets the formations and then calls the play. And he's good at it. The Cardinal are almost always running the optimal play against the optimal defense because Luck is calling it on the spot. It's pretty amazing to watch him orchestrate the offense.
I was just going over Stanford's record against marquee wide receivers and it's pretty good. They've slowed down
Keenan Allen
(Cal),
Robert Woods
(USC) and
Juron Criner
(Arizona). Since we're talking secondaries, tell me about Michael Floyd and what he brings.
Matt Fortuna
: Allen had six catches for 97 yards. Woods had nine for 89. And USC's
Marqise Lee
added seven catches for 95 yards. I'm not sure if we have the same definition of "slowed down," Kevin. Michael Floyd is big (6-3, 224 pounds), fast and versatile. He has improved his downfield blocking this season, and he is lined up virtually anywhere on the field. Notre Dame likes to find him in the flat often and let him create. Look no further than early in the fourth quarter Saturday, when Floyd took a pass on the right side, did not get a proper block, reversed field completely and ended up with an 18-yard gain on the other end of the field. He is a first-round talent who may fall to the second round only because of his off-the-field history.
Looking at the offensive lines earlier in this week, I was surprised to see the combined weight of Stanford's starters (305 pounds) were only one pound more than Notre Dame's (304). The Cardinal obviously have a pair of first-rounders up front, but what is it about the unit that allows it to impose its will on opposing defenses?
Kevin Gemmell
: Come on, Matt. You know better than to fall into the trap of looking at just final statistics. Allen had all six catches in the first quarter and then was blanked the next 45 minutes. Woods was kept out of the end zone until overtime. Pretty sure if Shaw had his choice, he'd prefer Floyd to do all of his damage in the first quarter and then be a non-factor for the rest of the game -- or to hold him without a touchdown for 60 minutes.
But I think we can both agree that getting the ball to Floyd is a priority for Notre Dame and stopping that is a priority for Stanford.
Stanford's offensive line likes to grind. They'll run the power to either side with
Stepfan Taylor
(who just went over 1,000 yards for the second consecutive year) and they'll rotate fresh backs in regularly --
Tyler Gaffney
,
Anthony Wilkerson
,
Jeremy Stewart
-- and just pound away. What makes it fun to watch is they'll run essentially the same play out of a bunch of different looks. Sometimes they'll have a jumbo package with six or seven offensive linemen. Other times they'll have two fullbacks and three tight ends. They get funky with their formations and that allows them to lean on teams over the course of the game.
Speaking of offensive lines, Notre Dame is pretty good at keeping Rees' jersey clean. The protection seems solid. Is that a product of them, Rees getting rid of the ball quickly or a little bit of both?
Matt Fortuna
: Both Rees and the offensive line have made strides throughout the season. The unit gave up five sacks in the month of September, two of which resulted in Rees fumbles, but the Irish did not allow a single sack from Oct. 1 to Nov. 12, when they gave up three to Maryland. Even that seemed more like something that was bound to happen rather than a big breakdown in protection. Mike Golic Jr. has done a great job filling in for the injured Braxston Cave at center, and Rees has done a much better job of releasing the ball more quickly.
OK, Kevin, I don't know how much more talking I can do while still in this turkey-induced coma. Let's get right to it: Who do you got Saturday?
Kevin Gemmell
: Well, because of the Thanksgiving week, we both posted our predictions on Wednesday, making this portion of our little chat a bit anti-climatic. And I am sure you got a laugh, as I did, that there was a (spoiler alert) one-point differential in our predictions. I have Stanford winning 31-21. I just don't see Andrew Luck losing (probably) his final home game at Stanford Stadium. I think the Cardinal are motivated to make an impression on voters -- in light of David Shaw's BCS comments on Tuesday -- and I think when you get right down to it, Stanford does a better job taking care of the ball and has more mismatches on offense. Notre Dame gets some points, but Stanford gets the win.
Before you attack the leftovers and fall back asleep, what's your take on why Stanford wins?
Matt Fortuna
: Impossible to fall asleep with so many good games on today and tomorrow. The leftovers are only complementary pieces. Anyway, as you mentioned, I like Stanford as well, 31-20. I like the Cardinal for many of the reasons you do — Andrew Luck's last home game, David Shaw's edgier tone this week. But ultimately I think the Irish's young defensive line just won't have enough gas in the tank to hang with Stanford's offense for four quarters, at least not this early in most of their careers. Notre Dame's offense would have had a tough time keeping Stanford off the field as it was, but take big running back Jonas Gray out of the picture, and the situation becomes even less favorable for the road team.
November, 23, 2011
11/23/11
10:00
AM ET
Stanford linebacker Chase Thomas talks about the team keeping its composure with all of the distractions heading into Saturday's game against Notre Dame.
First down
: This is the third straight emotional game for you guys. How is the team holding up?
Thomas
: We're good. We just can't be distracted by everything. The Senior Day, the pro combat jerseys. We just have to go out and focus on the getting the W and closing out the season.
Second down
: Is Senior Day a distraction?
Thomas
: Sort of. You get caught up on where your parents are at, all of the things that go along with that. But I think we have a mature enough team to handle all of that stuff.
Third down
: Notre Dame lost one of its emotional leaders in
Jonas Gray
. You guys know something about that. How much will that impact this game?
Thomas
: They still have a great running back in
Cierre Wood
, so they will be OK in the running game. But when you lose someone -- we lost an emotional leader in Shayne Skov -- you have to be able rebound and other guys have to step up and I think that's what we were able to do for the most part. They should be fine.
Fourth down
: What are some of the other challenges Notre Dame presents on offense?
Thomas
: They have a great wide receiver (
Michael Floyd
). They move him around a lot at the line of scrimmage and find ways to get him open. And like the teams we've played the last couple of weeks, they have a big, physical offensive line that is going to be a real challenge for us.
November, 23, 2011
11/23/11
6:00
AM ET
Senior Day. Nike Pro Combat uniforms. BCS bowl game implications (or more?) on the line. Storied Notre Dame coming to town. There is no lack of storylines heading into Saturday's matchup between the Cardinal and the Irish. Which means there is no lack of distractions either. The pageantry should be fun and exciting as the Cardinal look to close out the regular season with a signature win over a BCS top-25 team. And they will.
Prediction
: Stanford 31, Notre Dame 21
Overall
: 10-1
Why they'll win
: Can anyone see
Andrew Luck
losing his final regular-season home game? Me neither. And when you take a team with a bad turnover margin (Notre Dame) and put it against a team with a good turnover margin (Stanford), the good usually outweighs the bad. Notre Dame's running depth took a hit with the loss of
Jonas Gray
, and Stanford might be getting injured tight end
Zach Ertz
back. Even if he doesn't catch a single ball, his presence forces defenses to significantly alter how they blitz and defend the Cardinal. And if Ertz doesn't return, we saw this past week what the Cardinal are capable of with
Ryan Hewitt
at the No. 3 tight end spot. Too many weapons and too many mismatches for the Irish to cover them all.
In the spotlight
: Assuming Oregon takes care of business against Oregon State, this will be the final game in Stanford Stadium for the fourth- and fifth-year seniors who helped turn Stanford football from a Pac-10 afterthought to a national powerhouse in just a few short years. Not just Luck but also tireless workers such as Michael Thomas, Delano Howell,
Griff Whalen
,
Corey Gatewood
,
Jeremy Stewart
, David Green, Jonathan Martin, David DeCastro,
Chris Owusu
, Johnson Bademosi, Chase Thomas,
Coby Fleener
, Max Bergen, Matt Masifilo and others. All of them will have their chance to take a bow. Luck gets a lot of the credit, but these guys should, too.
Out on a limb
: After David Shaw's fiery speech about Luck on Tuesday, my first out-on-a-limb thought was that Stanford would come out gunning and Luck would go for 375-plus and four touchdowns. He still might -- but only if that's how the game is being dictated. I'm going the other way. Stanford sticks with what it does best -- running the power, being balanced and using the play-action when the time is right. The Cardinal are more concerned about winning games than about Luck winning a Heisman. Shaw won't sabotage his game plan for an individual award. As always, that's just me going out on a limb ...
November, 22, 2011
11/22/11
3:24
PM ET
Notre Dame enters Saturday's regular-season finale at Stanford as an underdog for the first time this season. But Brian Kelly is not quite playing the us-against-the-world card this week.
"I don't know that I see ourselves as a spoiler, to be quite honest with you," Kelly said Tuesday. "We have a great deal of respect for Stanford, and they've earned everything. They're a darn good football team. We see this as just another opportunity to play our last regular-season game. I know our guys are excited. It's a relevant game in November and it's on national television. That gets 18-21-year-olds' attention more than being a spoiler so to speak."
[+] Enlarge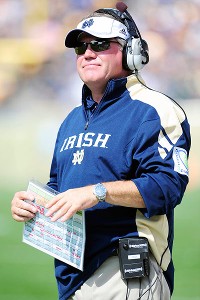 Jeanine Leech/Icon SMI"It's a relevant game in November and it's on national television," Brian Kelly said. "That gets 18-21-year-olds' attention more than being a spoiler so to speak."
The stakes are high, but they are also unclear. The No. 6 Cardinal (10-1) are likely playing for a spot in a BCS-bowl game. The No. 22 Irish? At 8-3, there is a very remote chance they could jump eight spots and become BCS-bowl eligible themselves with a win -- with an emphasis on the
very remote
part.
More pressing, however, is the validation that would come with a road win over a top-10 opponent in the second year of a new regime, which would also give the Irish a chance at a 10-win season.
They finished last season on a four-game winning streak to go 8-5.
"Well, it's still about, for us, you know, preparing the right way and then performing on Saturdays," Kelly said. "I've said this a number of times. I like the way we've prepared. We haven't performed on Saturdays the way we need to consistently. We're showing that at times.
"This is just another one of those — it's not a referendum on our season, but it's another step towards where we want to be in consistency in November. We have done very well in November, and we want to continue to build on that in this game against Stanford."
Notre Dame has won all six of its November games since Kelly took over. The second-year Irish coach has actually won 16 straight regular-season contests in November and December, dating back to 2007, when he coached Cincinnati.
He has already faced quarterback
Andrew Luck
, the likely top NFL draft pick and a strong Heisman Trophy contender.
Luck has completed more than 70 percent of his passes this season, throwing for 2,937 yards, 31 touchdowns and just eight interceptions, and he will likely be playing the final home game of his career.
In a 37-14 win at Notre Dame last season, Luck was 19-for-32 for 238 yards, with one touchdown and two interceptions.
"Boy's under pressure more than anything else," Kelly said. "Some of the throws that he made against us last year. We brought an allout blitz inside the 15-yard line, and we had a freeblitzer and he just kept back-pedalling and hit a tight end on a choice route in the end zone.
"That's poise under pressure. He has the ability to make the throws when he's under duress as well. And to have that, you've got to have the skill, but also the utmost confidence in your ability. He has all this intrinsic things necessary to be a great quarterback."
The onus on Notre Dame's quarterback,
Tommy Rees
, may be heavier this week. Starting running back
Jonas Gray
's season is over after tearing the anterior cruciate ligament in his right knee Saturday, and a pair of unproven freshmen —
George Atkinson III
and
Cam McDaniel
— will back-up junior
Cierre Wood
.
Freshman end Stephon Tuitt's status is uncertain after missing the last game with an illness as well.
"It's huge," Rees said after Saturday's game. "To go finish November strong, finish the season strong against a good opponent, and I think it would just give us some momentum heading into a bowl, and we look forward to it just like any other opponent. We can't focus too much on everything that's going around us. We're ready to play another football game."
November, 22, 2011
11/22/11
8:00
AM ET
A few questions kicking around my head as we look to the final regular-season game.
Can the Cardinal finish what they started? Anything less than a BCS bowl game at the end of the year would be a letdown -- based on the expectations this team had going into the season. We always knew the national championship would be a difficult achievement -- it's supposed to be hard, and it's supposed to separate the very elite teams. Whether Stanford is an elite team, several notches below or somewhere in the middle remains to be seen. But a win over a ranked Notre Dame team can restore a lot of the national confidence lost against Oregon.
Will the Tree Amigos reunite? It's questionable, at this point. Tight end Zach Ertz might return this week after going down with a knee injury on the opening kickoff of the USC game. Stanford's offense -- though getting by with the versatile Ryan Hewitt, is far more explosive with Ertz. If he can get a few snaps in and get some live work, Stanford's chances of moving the ball successfully against a pretty stingy Notre Dame defense (20.3 points per game) increase significantly.
Is the pressure on Stanford's equipment/grounds-keeping staff? I understand that when it rains, footing becomes less stable. But we're not talking about one or two slip-ups over the last two games. There have been a lot of Cardinal players struggling for traction when it seems to only have a minor impact on opposing teams. Longer cleats? Shorter grass? Longer grass? Had it not been for a penalty, one of those slips would have cost the Cardinal a pick-six (though Cal scored anyway). It's something to keep an eye on Saturday.
Is the kickoff situation set? Despite kicker Jordan Williamson's return after missing three games with an injury, it was Ben Rhyne who handled the kickoff duties last week against Cal. With 58 kicks on the year (66.3 average) Williamson has been the primary kicker. Though in his absence, Eric Whitaker (57.9 average) filled in. Rhyne has 13 kicks on the year for an average of 62.4 with one touchback. It will be interesting to see if Williamson returns to kickoffs or if this is a permanent change for the remainder of the season.
How much emotion can these teams handle? The loss of Notre Dame running back Jonas Gray hurts from a team morale standpoint. Though Cierre Wood is the primary back, Gray was an emotional leader for the Irish -- who barely squeaked by Boston College last week. The Irish could rally -- or the lack of running back depth could hurt them against an aggressive Stanford front seven. Stanford has its own emotional issues at work. Already coming off back-to-back games rife with emotion, Saturday will be senior day -- and more than likely (pending the outcome of Oregon-Oregon State) -- the final home game for Andrew Luck and a cast of fourth- and -fifth-year seniors who turned the program around.
Stanford - UCLA Preview
PAC-12 SCOREBOARD
Friday, 11/28
Saturday, 11/29