Stanford Football:

Jordan Wynn
February, 12, 2013
2/12/13
4:00
PM ET
There were two pretty big stories in the Pac-12 Monday -- a bit unusual for this time of the year. Normally there is a down period between national signing day and the start of spring ball.
However, the first story broke early Monday morning that Dennis Erickson
had been hired by Utah
as co-offensive coordinator. Hours later, former Stanford running back Tyler Gaffney
announced he was leaving minor league baseball
after just one season to return to the Cardinal backfield.

Two big stories that should have a major impact on Pac-12 football in 2013.
Erickson, as we all know, won a pair of national championships with Miami, has previously coached at three conference schools and is considered one of the top offensive minds in the country. He's now paired with Brian Johnson -- who the Pac-12 blog believes will have an outstanding career. Exactly how this is going to work is still to be determined. But you look at Utah's offensive needs, and it's pretty clear it needs some help.
The Utes ranked last in the league in passing offense, 11th in total offense, ninth in rushing offense and eighth in scoring. The most likely scenario is that Erickson is there to help mentor Johnson -- who walked into a pretty tough situation in his first year -- especially after they lost quarterback
Jordan Wynn
in the second game of the season. Long term, the Pac-12 blog believes this is going to be a nice addition to Utah -- and a great learning experience for Johnson.
In the North Division, the defending Pac-12 champs might have found its replacement for running back
Stepfan Taylor
. Gaffney is a phenomenal athlete who should make an immediate impact on the offense. With a stout offensive line and regular carries, he could easily be a 1,000-yard rusher. He provides stability and veteran leadership to the running back corps and is a proven offensive commodity -- something the Cardinal are lacking. One half of the Pac-12 blog believes this is a huge boost for the Cardinal (the other half needed a little convincing, cough, Miller, cough).
So, for your Tuesday poll question: Which is the bigger Pac-12 story, Erickson going to Utah or Gaffney returning to Stanford?
November, 7, 2012
11/07/12
1:00
PM ET
The Pac-12 typically is the "Conference of Quarterbacks." In 2012, that's still the case. Only it's the "Conference of Quarterback Nuttiness."
Kevin sent me a note on Sunday: "Hey,
Nostradamus
, here's a curiosity ... 23 different Pac-12 quarterbacks attempted at least a pass this weekend."
It's crazy. We're at Week 11, and many Pac-12 teams need a "Hello, my name is ..." sticker on their quarterbacks' chest.
Colorado, Oregon State and Stanford have either changed starting quarterbacks over the past two weeks or are about to make a change.

Arizona and California are likely to have new starting quarterbacks on Saturday due to injury.

It looks as though when we emerge from the weekend, only five Pac-12 teams -- Arizona State, Oregon, UCLA, USC and Washington -- will have started the same quarterback in every game.
Further, consider the youth movement.
[+] Enlarge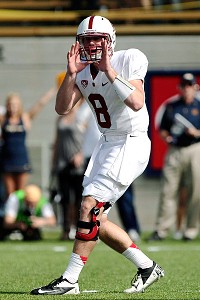 Kelley L. Cox/US PresswireRedshirt freshman Kevin Hogan will make his first start for the Cardinal on Saturday against Oregon State.
Last weekend, the conference's three freshman starters -- Oregon's
Marcus Mariota
, UCLA's
Brett Hundley
and Utah's
Travis Wilson
-- combined to complete 60 of 72 passes for 763 yards with nine touchdowns and just one interception. That works out to a 210.8 efficiency rating.
Kansas State quarterback
Collin Klein
, the leading Heisman Trophy candidate, is No. 1 in the nation with a 174.49 mark.
Meanwhile, most of the conference's veteran quarterbacks are struggling. In the Pac-12's pass efficiency rankings, the bottom six includes two seniors and three juniors.
In the preseason, USC's
Matt Barkley
and Washington's
Keith Price
looked like the sure first- and second-team All-Pac-12 quarterbacks. Not so much any more.
While Barkley is 11th in the nation in passing efficiency and has thrown 30 TD passes -- eight more than any other conference quarterback -- few would describe the preseason Heisman front-runner's season as successful.
Price has thrown more interceptions (10) than touchdowns (9).
When quarterbacks have been the story this year, it's often been about benchings.
Stanford-Oregon State is a critical showdown of North Division teams, but the Cardinal just replaced
Josh Nunes
with
Kevin Hogan
, and
Cody Vaz
will make his fourth start but just his second as the Beavers' No. 1 quarterback over
Sean Mannion
. (Vaz started two games after Mannion suffered a knee injury.)
Experience at quarterback is typically viewed as critical for success. That has not proved true this year. Mannion, Price, Cal's
Zach Maynard
, Colorado's
Jordan Webb
, Utah's
Jordan Wynn
and
Jon Hays
and Washington State's
Jeff Tuel
and
Connor Halliday
each owned significant experience entering the season. And each has been underwhelming.
Whereas, when you toss Arizona State sophomore
Taylor Kelly
into the mix, it's mostly the young, first-year starters out front. You might even include Arizona's fifth-year senior
Matt Scott
in that pool as a first-year starter.
There's still plenty of football to be played. Barkley still might end up first-team All-Pac-12.
But the first 10 weeks in the "Conference of Quarterbacks" has taught us two things: 1) There are no sure things; 2) If you don't like your quarterback, wait a week. Things might change.
September, 13, 2012
9/13/12
9:00
AM ET
Welcome to Week 3. Ted and Kevin both went 7-5 in Week 2. Double yuck. The problem was all picks were identical, and neither picked an upset. Silly Pac-12 bloggers.
For the season, Ted is 16-7 and Kevin is 15-8.
Friday
Kevin: Washington State 35, UNLV 17
: Time for the Cougars to get a win over an FBS team. Should happen this week against a UNLV squad that is 0-2 and fell to FCS school Northern Arizona. (Remember them, Arizona State?) If all goes according to plan, the starting offensive linemen should be crushing the buffet at the Rio by the third quarter.
Ted: Washington State 40, UNLV 20
: While quarterback
Jeff Tuel
is decidedly questionable; backup
Connor Halliday
is experienced and capable. The guess here is things go a little more smoothly on both sides of the ball as new systems start to sink in.
Saturday
Kevin: Ohio State 28, Cal 10
: The defense, which was supposed to be the strength of this team, hasn't shown up yet. Nevada quarterback
Cody Fajardo
rushed for 97 yards -- most of it on zone reads the Bears couldn't stop. What's
Braxton Miller
going to do?
Ted: Ohio State 30, California 17
: During the summer, I believed this was prime upset material. Then Cal played twice.
Kevin: Oregon 49, Tennessee Tech 14
: It was
De'Anthony Thomas
in Week 1 and
Kenjon Barner
in Week 2. Who is the Duck du jour in what should be the latest Oregon pasting? Fortunately, Oregon's schedule allows for growth with younger players, and it needs that because of all the injuries of late.
Ted: Oregon 50, Tennessee Tech 10
: Yawn. The good news is Oregon might have an interesting game the next week when Arizona comes to town. I bet Ducks fans are hungry for a game that at least raises an eyebrow.
Kevin: Washington 31, Portland State 7
: Not a lot of time for the Huskies to get right after their ill-fated journey to Baton Rouge, La., with Stanford, USC and Oregon looming in the next three weeks. This might be their last opportunity for a win until late October/early November. They'd better take advantage of it.
Ted: Washington 30, Portland State 20
: Will the Huskies be flat after falling flat at LSU? I suspect so. Not flat enough to lose but perhaps flat enough to further frustrate Huskies fans.
Kevin: USC 38, Stanford 24
: David Shaw knows how to plan a scheme against USC's defense, so I'd expect the Cardinal to put up some points. But when push comes to shove, Stanford's defense won't get the number of stops needed to slow down the Trojans' passing attack.
Ted: USC 35, Stanford 20
: I think it will be close at halftime, but the Trojans will pull away early in the fourth quarter. Eventually,
Matt Barkley
& Co. will gash the Cardinal secondary, and then Stanford won't be able to answer.
Kevin: Fresno State 31, Colorado 17
: The Bulldogs showed a little bite against the Ducks -- enough to suggest they can certainly hang with, and beat, a lower-tier Pac-12 team.
Ted: Colorado 28, Fresno State 27
: Why? Because I suspect we're going to see some pride from the Buffs.
Kevin: BYU 35, Utah 27
: I think Utah will play inspired football given this week's turn of events. But last week we saw that the offensive line concerns are graver than we all initially thought. Bronco Mendenhall saw it too.
Ted: BYU 28, Utah 24
: There's a lot going on at Utah, most notably injury issues. And it's not just quarterback Jordan Wynn. Running back
John White
and safety
Eric Rowe
are questionable. But the biggest issue, as Kevin noted, is the disappointing play of the offensive line.
Kevin: Arizona 49, South Carolina State 10
: The offense has come together quickly. I'd expect Arizona to use this game to clean some things up before heading to Autzen for a game that suddenly looks very interesting.
Ted: Arizona 42, South Carolina State 20
: I suspect that some fumes from the post-Oklahoma State victory celebration will cause the Wildcats to be a bit flat. They are fortunate the opponent will be forgiving.
Kevin: UCLA 48, Houston 21
: Houston can't stop the run. UCLA isn't going to abandon the run. Another huge game for
Johnathan Franklin
and another win for the Bruins.
Ted: UCLA 44, Houston 24
: Another possible flat performance, but the Bruins should recall the loss at Houston from 2011 to provide some motivation. Agree with Kevin: Franklin gets another 200, and his Heisman candidacy inches up another notch.
Kevin: Arizona State 38, Missouri 31
: OK, ASU. I'll bite. The Sun Devils are second in the nation with six interceptions, and Missouri likes to throw a lot. Vegas likes the Tigers by a touchdown, but I'll throw my confidence behind Todd Graham & Co.
Ted: Missouri 35, Arizona State 27
: The Sun Devils have whipped two inferior foes at home. The Tigers are pretty good and are playing at home. The Sun Devils have been impressive, but they are still young. And Missouri quarterback
James Franklin
is a load.
September, 6, 2012
9/06/12
6:00
AM ET
Welcome to Week 2. Ted went 9-2 in Week 1; Kevin went 8-3. The difference was Kevin picking a Washington State upset of BYU.
Friday
Kevin: Utah 35, Utah State 10
. The Utes will see a stronger offense than they saw last week, but it won't matter much because the defense is so solid. Love the emergence of
Jake Murphy
and the increased attention to the tight ends.
Ted
:
Utah 28, Utah State 17
. It won't be as easy as last weekend but the Utes will be in control on both sides of the ball. Expect quarterback
Jordan Wynn
to take a few more shots downfield.
Saturday
Kevin: Cal 31, Southern Utah 14
. Maybe this is the week Memorial Stadium sees a victory. The last one was on Oct. 23, 2010. Cal should win based on its athletes alone.
Ted: Cal 35, Southern Utah 10
. The Bears should get a couple of injured guys back on defense, which should help. Playing angry might help, too.
Kevin: Washington State 28, Eastern Washington 14
. The Cougs let me down last week, but I'm cautiously picking them again this week. I think the offense gets going. The defense actually showed some life in the second half against BYU, giving hope that it will carry into this week.
Ted: Washington State 35, Eastern Washington 24
. If I were picking an FCS team to play, the Eagles might be the last one I'd pick -- just ask Washington. There's a reason the Cougars have avoided their neighbors since 1908. Still, I suspect the Cougs' offense will get going this week.
Kevin: Colorado 21, Sacramento State 10
. Colorado did some good things last week, but was just too inconsistent. The younger players should have the jitters out of their systems and the Buffs should be able to run the ball against an FCS team. If not, things are worse than we thought.
Ted: Colorado 33, Sacramento State 17
. This qualifies as a must-win, and I suspect the Buffs will take care of business in a focused fashion.
Kevin: USC 45, Syracuse 17
. No issues for the Trojans this week -- they'll cruise. Wouldn't be surprised to see a little more balance on offense this week, considering they are on the road again next week at Stanford and they'll probably want to test drive the run game.
Ted Miller
:
USC 48, Syracuse 20
. It will be interesting to see how many of the three injured USC defensive starters return this week. I suspect things will look more polished on both sides of the ball. Ditto on what Kevin said about running the ball.
Kevin: Wisconsin 21, Oregon State 17
. Tough to gauge the Beavers since they didn't play in Week 1. And though Wisconsin struggled last week, it's never easy to start the season against a ranked opponent.
Ted: Wisconsin 34, Oregon State 24
. Was tempted momentarily to pick the upset, but then I remembered that
Montee Ball
is back. For those who don't know, he's really good. I doubt the Beavers' defense, though improved, can contain him for four quarters.
Kevin: Oregon 49, Fresno State 21
. Taking into account that Oregon's fifth-string players will be in by the second quarter, I'll give the Bulldogs three touchdowns throughout the course of the game. Ducks breeze through another one.
Ted: Oregon 55, Fresno State 24
. They say a new quarterback makes his biggest improvement from Game 1 to Game 2. If so, here's a "Yikes!" on behalf of the Bulldogs in advance of facing
Marcus Mariota
.
Kevin: Nebraska 28, UCLA 27
. I saw a lot of good things out of the Bruins in Week 1. I also saw a lot of things that won't fly against the Cornhuskers. I want to pull the trigger on the Bruins, but the youth on the offensive line is still a concern.
Ted: Nebraska 35, UCLA 24
. The Bruins will battle, but Nebraska quarterback
Taylor Martinez
is a third-year starter who appears to have figured it all out. I want to see how the Bruins run the ball and stop the run. Of course, that's all about taking a measure of UCLA's physicality up front.
Kevin: Oklahoma State 45, Arizona 28
. A nice win for the Wildcats last week, but the defense probably isn't ready yet for a high-powered offense like the Cowboys'.
Ted: Oklahoma State 35, Arizona 30.
I suspect the Wildcats have a better shot than many suspect, playing at home against a freshman quarterback, with
Matt Scott
giving Arizona a significant advantage behind center. That said, the Wildcats' track record in two previous meetings as well as a questionable front seven makes it difficult to pull the trigger on an upset pick.
Kevin: Stanford 24, Duke 17
. Traveling cross-country is never easy. We saw that last season when Duke hung with the Cardinal in the first half in Durham. The Cardinal have some core fundamentals to fix before next week's game against the Trojans.
Ted: Stanford 30, Duke 17
. The Cardinal will play better this weekend on both sides of the ball. And they need to. Duke thinks it has a bowl team and is hungry to earn respect.
Kevin: Arizona State 27, Illinois 14
. Color me impressed by the Sun Devils, who showed no mercy in Week 1. There are quarterback issues surrounding the Illini and regardless of who starts for them, the Sun Devils face either a backup in
Reilly O'Toole
or a limping starter in
Nathan Scheelhasse
.
Ted: Arizona State 24, Illinois 17
. This pick assumes that Scheelhasse won't play or will be severely limited by his bum ankle. The key for the Sun Devils is getting the running game going, whether that's with
Cameron Marshall
,
Marion Grice
or
D.J. Foster
. Or all three.
Kevin: LSU 28, Washington 17
. I was impressed with the defense against San Diego State, but if the offense struggles against LSU, it could be a long day. Losing
Jesse Callier
doesn't help.
Ted: LSU 41, Washington 17
: LSU will be able to run and stop the run. Washington won't. While Huskies quarterback
Keith Price
will have his moments, it's too much to ask him to beat -- or even to be competitive with -- the Tigers on the road.
June, 8, 2012
6/08/12
9:00
AM ET
We've looked at the potential
3,000-yard passers
and the
1,000-yard rushers
in the Pac-12 over the last few days. But this is the conference of wide receivers -- a place for Biletnikoff's boys to run free and unabated up and down the field. So who's going to be in 2012's 1K club?
First, here's last year's 1,000-yard receivers:
Gerell Robinson, Arizona State, 1,397

Marquess Wilson, Washington State, 1,388 (returning)

Keenan Allen, Cal, 1,343 (returning)

Robert Woods, USC, 1,292 (returning)

Nelson Rosario, UCLA, 1,161

Marqise Lee, USC, 1,143 (returning)
With only four returning 1K receivers coming back from last season -- and two of them are on the same team -- how does that bode for the rest of the teams in the conference?
Arizona
: The Wildcats lose their top three receivers from last year -- including headliner Juron Criner and his 956 receiving yards. Big boy
Dan Buckner
(6-foot-4, 214) returns after 42 catches and 606 yards last year, when he averaged 14.4 yards per catch. But the Wildcats will run the ball more this year. Buckner will likely improve on his numbers, but reaching 1K will be tough.
Arizona State
: Another team shifting its mentality from pass first to run first, and they lose their top receiver in Robinson.
Jamal Miles
had 60 catches and six touchdowns last year, but only 361 yards. His yard total should go up as the No. 1 guy, but with more focus on the run game, 1,000 yards might be a stretch.
[+] Enlarge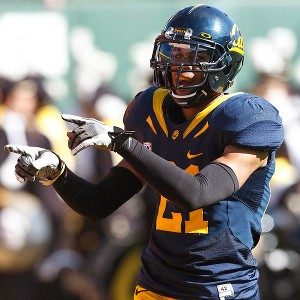 Jason O. Watson/US PresswireWith quarterback (and half-brother) Zach Maynard more comfortable, Keenan Allen could put on a show for Cal during his junior season.
Cal
: Keenan Allen. Yes. Quarterback
Zach Maynard
reportedly had a great spring and looks more comfortable in the offense -- and Allen might be the best all-around receiver in the conference (that phrase will be written a couple of times throughout this post). The Bears will lean heavily on Allen and he'll reward them with another 1,000 yard season.
Colorado
: Prior to
Paul Richardson
's injury, it still would have been 50-50 with a new quarterback. But without their top receiving threat it leaves relatively inexperienced players like
Tyler McCulloch
and
Nelson Spruce
in the mix. The quarterback position is still in flux and with a pretty good offensive line and a talented running back in
Tony Jones
, the Buffs' focus will probably be more ground-based.
Oregon
: Whether
De'Anthony Thomas
reaches 1,000-1,000 is a debate for another day. But I like his chances of 1,000 yards receiving. He caught 46 balls for 605 yards and nine touchdowns last season. Coach Chip Kelly finds creative ways to get Thomas the ball in space and then he just takes off. He'll make the new quarterback look good and suck up receiving yards in the process. My crisp $1 bill says yes to 1K.
Oregon State
:
Markus Wheaton
returns after catching 73 balls for 986 yards. He's an extremely gifted wide receiver who is often forgotten among the Pac-12's A-list of pass catchers. But he shouldn't be.
Sean Mannion
should be more steady in his second year and as
Brandin Cooks
develops opposite Wheaton, it should open up more opportunities. He'll break 1K this season.
Stanford
: Run-first team. The top three receivers (which includes tight end Coby Fleener) are gone and the leading, returning receiver is fullback
Ryan Hewitt
. Even if Andrew Luck were back it would be tough. The Cardinal spread the ball around so much that it's unlikely one guy would get all the catches. Wide receiver
Ty Montgomery
, however, is a rising star in the conference and should have a very good season. He's Stanford's best chance at 1K.
UCLA
: If the Bruins can get the quarterback spot situated and if they take to the new pass-happy offense relatively quickly, there is a good chance someone could emerge as a 1K receiver.
Joseph Fauria
is the strongest pass catcher, but
Shaq Evans
and
Ricky Marvray
will have plenty of chances to emerge.
USC
: Yes and yes. Robert Woods and Marqise Lee are two of the best wide receivers in the country and with the quarterback they have throwing the ball, there is no reason to think both won't return as 1,000-yard receivers. This one is a no-brainer.
Utah
: The Utes were dead last in the conference last year in passing offense. That's expected to change with new offensive coordinator Brian Johnson taking a more aggressive approach and quarterback
Jordan Wynn
staying healthy, they hope. When
DeVonte Christopher
did catch the ball (42 times) he made the most of it with one of the league's highest averages per catch (15.8). But running the ball is still going to be Utah's bread and butter. The numbers will improve, but a 1K receiver will be tough.
Washington
: This is a tough call. Quarterback
Keith Price
has another year of experience, but there is so much distribution in the Huskies offense -- which includes a tight end who should see the ball at least five to seven times per game -- that there might not be a chance for one guy to separate himself.
Kasen Williams
and
James Johnson
both have big-play potential -- which might be part of the problem because they could take yards away from each other. And without Chris Polk running the ball, teams might not be as quick to send safeties down to defend the run.
Washington State
: Not if, but when. Marquess Wilson, last year's yardage runner up is in a system that's tailor-made for him. Of the league's top receivers -- Allen, Woods, Lee, Wheaton -- Wilson might be the best of them all (doesn't that make for a fun debate?). There are plenty of other good receivers at Washington State. But Wilson is the guy. He'll clear 1K about the time you're recovering from your Halloween candy hangover.
May, 30, 2012
5/30/12
9:00
AM ET
Taking a cue from the guys at the Big Ten blog, who recently
looked at the potential 3,000-yard passers
in that conference in 2012, I thought it would be worth a look at the Pac-12 group.
For the B1g boys, 3,000 yards might seem like a bench mark. In the Pac-12, it's more common, given the brand of football played in the league and seemingly never-ending parade of amazing throwers and catchers who grace the Pac-12 each year. Heck, the conference had two 4,000-yard passers on 2011 in Nick Foles and Brock Osweiler.
But those two are gone -- and so are their head coaches, coordinators and offensive schemes.
Here are the members of the 3K club last season:
Foles, Arizona, 4,329

Osweiler, Arizona State, 4,036

Matt Barkley, USC, 3,528 (returning)

Andrew Luck, Stanford, 3,517

Sean Mannion, Oregon State, 3,328 (returning)

Keith Price, Washington, 3,063 (returning)
[+] Enlarge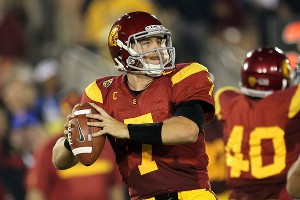 Stephen Dunn/Getty ImagesUSC's Matt Barkley seems like a sure bet to throw for 3,000-plus yards this coming season.
Now let's look at the conference quarterbacks in 2012 and see who has the best chance of cracking the 3K mark.
Matt Scott, Arizona
: Rich Rodriguez's spread option is primarily run-first, and I couldn't find a 3,000-yard passer to his credit as a head coach. The closest anyone got was
Denard Robinson,
who hit 2,570 in 2010. History says probably not.
TBD, Arizona State
: Another up-tempo, run-first offense -- though Todd Graham has had more success in the air. G.J. Kinne hit 3,650 passing yards for Tulsa in 2010, but that was also his second year in the system. With a workhorse running back like
Cameron Marshall
, a deep running back corps and a green quarterback, 3K seems unlikely.
Zach Maynard, Cal
: Just 10 more yards. Just one more little swing pass or one broken tackle and Maynard would have joined the 3K club after throwing for 2,990 yards last season. All indications are that he had a good spring, and he looks more comfortable in the offense. Plus, he's got one of the best receivers in the country in
Keenan Allen
. Maynard should get there.
TBD, Colorado
: Tyler Hansen ( who is now gone) almost got there last season, throwing for 2,883 yards even though his leading receiver in catches was running back Rodney Stewart (who is now gone). Toney Clemons (who is now gone) led in yards, and
Paul Richardson
(who is out for the season with a knee injury) was second. The odds are slim that
Connor Wood
or
Nick Hirschman
will improve off Hansen's numbers with so much turnover.
TBD, Oregon
: Does it really matter?
Darron Thomas
knocked on the door last season with 2,761 yards. But establishing the pass isn't exactly priority No. 1 for the Ducks. Whoever wins the job will have the benefit of
De'Anthony Thomas
, who can turn 5-yard passes into 50-yard completions. But with the Ducks carrying a 62-38 run-pass percentage last season, it's unlikely they'll stray from that formula, which means it's unlikely a new quarterback will reach 3K.
Sean Mannion, Oregon State
: One of six quarterbacks in the conference last season to break 3K, Mannion threw for 3,328 yards in his debut campaign. Vows from coach Mike Riley to re-commit to the running game should actually enhance Mannion's numbers. And with receivers like
Markus Wheaton
and
Brandin Cooks
on the outside, there is no reason to think he won't top 3,000 again.
TBD, Stanford
: Despite a run-first, pro-style attack, Luck still threw for 3,517 yards. The Cardinal were 55-45 in their run-pass ratio last season, and a lot of Luck's aerial success came from his ability to successfully sell play-action and distribute the ball among many position groups. But the top three receivers (Griff Whalen, Chris Owusu and tight end Coby Fleener) are gone, and you can't bank on the new quarterback being as efficient as Luck. Expect a healthy dose of running back
Stepfan Taylor
, meaning Luck's replacement probably won't break 3K.
TBD, UCLA
: The Bruins joined Utah last season as the only teams that did not have a passer ranked in the top 10 in passing yards in the conference. That will change this season with new offensive coordinator Noel Mazzone -- the architect of Osweiler's 4K season. The ball will be in the air a lot more than it was in the pistol offense. But seeing as there is so much uncertainty still -- and we could see multiple quarterbacks this season -- it's too tough to call. If one guy starts the entire season, I could see it.
Matt Barkley, USC
: Yes, yes, 3,000 times, yes.
Jordan Wynn, Utah
: I'd say it's 50-50 for Wynn at this point. The Utes have a very good running back in
John White
, and coach Kyle Whittingham likes the control game. But Wynn did toss 2,334 yards in 2010 in 10 games. If
DeVonte Christopher
has the big season many are predicting, and new offensive coordinator Brian Johnson dials up the aggressiveness, I could see it happening. As always, unfortunately, every conversation regarding Wynn has to be stipulated with an "if he stays healthy" until he proves otherwise.
Keith Price, Washington
: Had it not been for a career-high 438 passing yards against Baylor in the Alamo Bowl, Price would have come up way short of the 3K club. But he's in. And without Chris Polk to lean on, we could see Price's passing numbers go up. Prior to the bowl game, he only had one 300-yard game. He has a good chance to repeat as a 3,000-yard passer, but it's not a lock.
Jeff Tuel, Washington State
: Mike Leach hasn't named him the starter, but, come on. He lit it up in the spring, and showed to be a quick study in learning the new offense. With a deep and talented crop of wide receivers -- headlined by
Marquess Wilson
-- and an offense that throws three out of every four times, Tuel should easily clear 3K.
PAC-12 SCOREBOARD
Thursday, 8/28
Friday, 8/29
Saturday, 8/30