Stanford Football:

Juron Criner
June, 8, 2012
6/08/12
9:00
AM ET
We've looked at the potential
3,000-yard passers
and the
1,000-yard rushers
in the Pac-12 over the last few days. But this is the conference of wide receivers -- a place for Biletnikoff's boys to run free and unabated up and down the field. So who's going to be in 2012's 1K club?
First, here's last year's 1,000-yard receivers:
Gerell Robinson, Arizona State, 1,397

Marquess Wilson, Washington State, 1,388 (returning)

Keenan Allen, Cal, 1,343 (returning)

Robert Woods, USC, 1,292 (returning)

Nelson Rosario, UCLA, 1,161

Marqise Lee, USC, 1,143 (returning)
With only four returning 1K receivers coming back from last season -- and two of them are on the same team -- how does that bode for the rest of the teams in the conference?
Arizona
: The Wildcats lose their top three receivers from last year -- including headliner Juron Criner and his 956 receiving yards. Big boy
Dan Buckner
(6-foot-4, 214) returns after 42 catches and 606 yards last year, when he averaged 14.4 yards per catch. But the Wildcats will run the ball more this year. Buckner will likely improve on his numbers, but reaching 1K will be tough.
Arizona State
: Another team shifting its mentality from pass first to run first, and they lose their top receiver in Robinson.
Jamal Miles
had 60 catches and six touchdowns last year, but only 361 yards. His yard total should go up as the No. 1 guy, but with more focus on the run game, 1,000 yards might be a stretch.
[+] Enlarge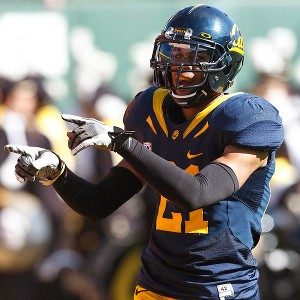 Jason O. Watson/US PresswireWith quarterback (and half-brother) Zach Maynard more comfortable, Keenan Allen could put on a show for Cal during his junior season.
Cal
: Keenan Allen. Yes. Quarterback
Zach Maynard
reportedly had a great spring and looks more comfortable in the offense -- and Allen might be the best all-around receiver in the conference (that phrase will be written a couple of times throughout this post). The Bears will lean heavily on Allen and he'll reward them with another 1,000 yard season.
Colorado
: Prior to
Paul Richardson
's injury, it still would have been 50-50 with a new quarterback. But without their top receiving threat it leaves relatively inexperienced players like
Tyler McCulloch
and
Nelson Spruce
in the mix. The quarterback position is still in flux and with a pretty good offensive line and a talented running back in
Tony Jones
, the Buffs' focus will probably be more ground-based.
Oregon
: Whether
De'Anthony Thomas
reaches 1,000-1,000 is a debate for another day. But I like his chances of 1,000 yards receiving. He caught 46 balls for 605 yards and nine touchdowns last season. Coach Chip Kelly finds creative ways to get Thomas the ball in space and then he just takes off. He'll make the new quarterback look good and suck up receiving yards in the process. My crisp $1 bill says yes to 1K.
Oregon State
:
Markus Wheaton
returns after catching 73 balls for 986 yards. He's an extremely gifted wide receiver who is often forgotten among the Pac-12's A-list of pass catchers. But he shouldn't be.
Sean Mannion
should be more steady in his second year and as
Brandin Cooks
develops opposite Wheaton, it should open up more opportunities. He'll break 1K this season.
Stanford
: Run-first team. The top three receivers (which includes tight end Coby Fleener) are gone and the leading, returning receiver is fullback
Ryan Hewitt
. Even if Andrew Luck were back it would be tough. The Cardinal spread the ball around so much that it's unlikely one guy would get all the catches. Wide receiver
Ty Montgomery
, however, is a rising star in the conference and should have a very good season. He's Stanford's best chance at 1K.
UCLA
: If the Bruins can get the quarterback spot situated and if they take to the new pass-happy offense relatively quickly, there is a good chance someone could emerge as a 1K receiver.
Joseph Fauria
is the strongest pass catcher, but
Shaq Evans
and
Ricky Marvray
will have plenty of chances to emerge.
USC
: Yes and yes. Robert Woods and Marqise Lee are two of the best wide receivers in the country and with the quarterback they have throwing the ball, there is no reason to think both won't return as 1,000-yard receivers. This one is a no-brainer.
Utah
: The Utes were dead last in the conference last year in passing offense. That's expected to change with new offensive coordinator Brian Johnson taking a more aggressive approach and quarterback
Jordan Wynn
staying healthy, they hope. When
DeVonte Christopher
did catch the ball (42 times) he made the most of it with one of the league's highest averages per catch (15.8). But running the ball is still going to be Utah's bread and butter. The numbers will improve, but a 1K receiver will be tough.
Washington
: This is a tough call. Quarterback
Keith Price
has another year of experience, but there is so much distribution in the Huskies offense -- which includes a tight end who should see the ball at least five to seven times per game -- that there might not be a chance for one guy to separate himself.
Kasen Williams
and
James Johnson
both have big-play potential -- which might be part of the problem because they could take yards away from each other. And without Chris Polk running the ball, teams might not be as quick to send safeties down to defend the run.
Washington State
: Not if, but when. Marquess Wilson, last year's yardage runner up is in a system that's tailor-made for him. Of the league's top receivers -- Allen, Woods, Lee, Wheaton -- Wilson might be the best of them all (doesn't that make for a fun debate?). There are plenty of other good receivers at Washington State. But Wilson is the guy. He'll clear 1K about the time you're recovering from your Halloween candy hangover.
December, 30, 2011
12/30/11
8:00
AM ET
Justin Blackmon
's athletic ability falls somewhere between brilliant and baffling. You know it. I know it. Stanford head coach David Shaw knows it. The Cardinal secondary knows it. Every NFL scout knows it.
[+] Enlarge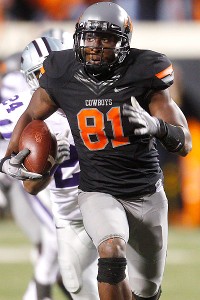 AP Photo/Sue OgrockiStanford will be facing a big challenge in Oklahoma State wide receiver Justin Blackmon.
So how do you stop Oklahoma State's prolific wide receiver? Ah ... a simple question with a nearly impossible answer.
That's the challenge facing the Stanford secondary when the Cowboys and Cardinal clash on Jan. 2 in the Tostitos Fiesta Bowl.
Consider Blackmon's résumé this season:
Six times he went over 100 yards in a game.

Six times he had double-digit receptions in a game (113 on the year).

Five times he went for more than 120 yards -- including a 205-yard performance against then-No. 14 Kansas State.

Five times he had multi-touchdown games.

He scored at least one touchdown in 10 of 12 games.
Pretty daunting stuff.
Stanford's secondary gives up a lot of yards, about 241 per game. Blackmon gets a lot of yards, about 111 per game. He also finds the end zone, with 15 touchdown receptions this year. However, this is where Stanford's pass defense takes a significant turn for the better. The Cardinal have only allowed 15 passing touchdowns all year. Break that down even further and you'll see that of those 15, only eight touchdowns were caught by wide receivers.
Still, Stanford's secondary gets a bad rap for the yards it yields (the most overblown stat in football, by the way) and its lack of interceptions. Safety Michael Thomas said he and his teammates don't deserve the reputation of being the weak link in Stanford's defense.
"We're not OK with that at all," Thomas said. "At the same time, besides going out and playing, what more can you do? You can't change anybody's opinion unless you go out and play. We get one last shot going against a talented group of receivers -- especially Justin Blackmon -- and we're going to try to make a statement this game to show we can play with the best receivers out there."
If you were paying attention this season, they've already shown it. Stanford has already faced six of the top 20 statistical wide receivers in the country this year:
Robert Woods
(USC),
Michael Floyd
(Notre Dame),
Keenan Allen
(Cal),
Marquess Wilson
(Washington State),
Juron Criner
(Arizona) and
Noel Grigsby
(San Jose State). Against the Cardinal, five of those six performed below their season average. Only Floyd matched (but did not exceed) his season average. Wilson and Grigsby failed to score and Woods, Floyd, Allen and Criner were held to one touchdown each.
Stanford's secondary is also yet to allow a 100-yard receiver this season. That's a major accomplishment the Cardinal defenders are hoping to complete.
"If we stop No. 81, we wouldn't have allowed a 100-yard receiver this season, and I don't know how many other secondaries can say that," Thomas said.
"What's different about him is while he plays physical, he plays bigger than his size and he plays faster than his speed. We've played some very dynamic athletes. This cat brings a whole new dimension. We feel like he plays as fast as he needs to play. There is no flaw in his game whereas other guys we could find something. This guy doesn't have any flaws. But all we can do is prepare for him like we did the rest of them."
Preparation, therein lies another problem. The Cardinal have no one on their roster who can simulate the way Blackmon plays.
"We've got about four guys wearing the No. 81 jersey," Shaw said. "It's hard because we're trying to practice at game tempo for our team, but there are not many guys in college football that can run full speed eight plays in a row, deep routes, and still come back and not even be out of breath. We've been rotating guys in and out because that's so hard to emulate."
The closest offense Stanford has seen this season to Oklahoma State is Arizona. That's the game the players are going back and watching.
"That's really the only thing we can compare it to," Thomas said. "It's high-tempo, but not like Oregon. But they are like Arizona in terms of depth at the wide receiver position, one stud quarterback who can sit in the pocket and make throws. We're treating them like we did Arizona, but making some tweaks."
Just as Stanford's offense isn't all about
Andrew Luck
, OSU's receiving game isn't all about Blackmon. Quarterback
Brandon Weeden
commands the spread offense with precision and efficiency.
Tracy Moore
has a pair of 100-yard receiving games and four touchdowns.
Josh Cooper
has gone for more than 100 yards three times.
"They have a bunch of guys who can make plays," Thomas said. "And we'll have packages in place for all of them. But no matter what, you always have to keep your eye on No. 81."
December, 9, 2011
12/09/11
4:00
PM ET
The regular season is over, which means grades are due. Here's part nine of the ongoing regular-season report card for Stanford.
SECONDARY
Grade
: C+
Summary
: This was the toughest of all the grades to assign – and therefore deserves the most analysis and scrutiny.
On the surface, when you look at just receiving yards against, the Cardinal secondary was not very good. In passing defense, the Cardinal ranked 78th nationally, allowing 241 yards per game in the air. If that's your only criteria for grading, then a "D" is justified.
Maybe you look at the interception total – just six. Only 10 teams out of 120 had fewer interceptions than the Cardinal. If that's your main criteria, than a "D-, F" is justified.
But you have to look deeper. I don't put much stock in the total receiving yards stat. I think it's one of the most overblown numbers because it doesn't take into account the flow of the game – or the fact that most teams were playing catch-up against Stanford and were more likely to throw the ball.
So let's really break it down. Teams passed for an average of 48.8 yards in the first quarter, 83 yards in the second quarter, 41.9 in the third and 63.3 in the fourth. Most teams fell behind early in the first quarter, so they went airborne in the second quarter. They tried to re-establish the running game in the third, then went back to the air in the fourth – so it stands to reason that the Cardinal gave up the bulk of the yards in the air in the second and fourth quarters.
Stanford faced six of the top 20 statistical wide receivers in the country this season:
Robert Woods
(USC),
Michael Floyd
(Notre Dame),
Keenan Allen
(Cal),
Marquess Wilson
(Washington State),
Juron Criner
(Arizona) and
Noel Grigsby
(San Jose State). Five of those six performed below their season average against Stanford. Only Floyd matched (but did not exceed) his season average. Wilson and Grigsby were kept out of the end zone and Woods, Floyd, Allen and Criner were held to one touchdown each.
The Cardinal did not allow an individual 100-yard receiving game this year, and they had one of the best third-down conversion defenses in the country – traditionally a passing down.
Of the 15 passing touchdowns they yielded (that's top 30 nationally, by the way), only eight went to wide receivers. The remaining seven went to tight ends (5) and running backs (2) which can fall on either the safeties or the linebackers.
A good friend and colleague suggested looking at the total quarterback numbers as a way to gauge the secondary: 249-of-409 (60 percent completion percentage), 2893 yards, 15 touchdowns, six interceptions. If your quarterback put up those numbers, you'd consider that sub-par production.
That's a lot of information to digest. So what do we make of all of this?
Essentially, they bent, but didn't break. The tackling in the secondary was suspect all year – and it got worse when safety Delano Howell missed some time with a hand injury. It was clear Stanford was a better secondary when he's healthy.
Safety Michael Thomas was the glue that held the secondary together. He accounted for half of the team's interceptions and provided stability and leadership.
Johnson Bademosi is a very good athlete and the best tackler of the cornerbacks. He also led the team with seven pass breakups. But he was flagged quite a bit for pass interference.
Corey Gatewood
and Terrence Brown rounded out the rotation at cornerback by the end of the season. Gatewood, who moved over from wide receiver, added some much needed depth and athleticism.
In summation, the secondary didn't win any beauty contests or show much flash or panache. But, for the most part, the defensive backs made the plays when it counted most – in the red zone, on third down and against the toughest wide receivers in the country. They get knocked for the missed tackles and lack of turnovers. But when you really break down their performance, it's better than most people probably give them credit for.
Backups
: Devon Carrington and Jordan Richards both have very bright futures at the safety position. But it was clear they were a downgrade from Howell. That's not a knock on them, but rather a compliment to how good Howell is. The playing experience they had (Richards appeared in all 12, Carrington in 11) will pay off immensely when they move into more prominent roles next season. The return of Wayne Lyons from a foot injury will also help with depth next season.
December, 5, 2011
12/05/11
2:00
PM ET
First thoughts ...
The 2012 Tostitos Fiesta Bowl, aka the January NFL Combine, could have as many as five first-round draft picks on the field when the
Stanford Cardinal
and
Oklahoma State Cowboys
meet on Jan. 2.
Four of them come from Stanford: quarterback
Andrew Luck
, offensive linemen Jonathan Martin and David DeCastro and possibly tight end
Coby Fleener
.
[+] Enlarge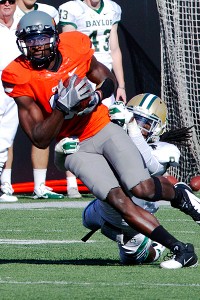 Richard Rowe/US Presswire"That guy wearing No. 81 is something special," Stanford coach David Shaw said of Oklahoma State receiver Justin Blackmon.
Oklahoma State boasts – hands down -- the nation's best wide receiver in
Justin Blackmon
. He has 113 catches, 1,336 yards and 15 touchdowns. The Cardinal have seen Blackmon-esque wide receivers this season --
Juron Criner
,
Michael Floyd
,
Robert Woods
, etc. Big, fast, physical wide receivers who can use their bodies to create separation. But seeing players
like
Blackmon isn't the same as seeing Blackmon.
"The first time I saw him getting ready for Arizona, I put on the Oklahoma State game," Stanford head coach David Shaw explained. "I'm trying to watch Arizona's defense but I kept watching Justin. I had to go back to the sheet that had all of the heights and weight on it. Is he really that big? Can he be that big and that fast and that quick? A guy that will catch a 50-yard post and then come back again on the next play and it doesn't look like he's out of breath. He's a phenomenal athlete and an outstanding football player."
The Cardinal have seen Weeden-esque quarterbacks before --
Nick Foles
,
Matt Barkley
, etc.; quarterbacks with arms who can deliver with pinpoint accuracy. But seeing quarterbacks
like
Brandon Weeden
isn't the same as seeing Weeden.
Oh yeah … did I mention they have Blackmon?
"That guy wearing No. 81 is something special," Shaw said. "And the combination of those two guys is formidable. It has been. They have other guys. They have good running backs and other wide receivers that make big plays also. But Justin Blackmon I think is a special, special player. Being who I am, that's where my eye gravitates towards when I watch a team like this. I studied receivers for so long in the NFL. This guy is ideal. He's what you're looking for."
We have a month to pore over statistics, scrutinize every position and every individual battle. But my first thought is that this is an incredibly even matchup.
Both teams have marquee quarterbacks.

Both teams have strong passing games – a clear edge to Oklahoma State's receivers and a clear edge to Stanford's tight ends.

Both teams have strong running games, though the Cardinal are a little more balanced and methodical.

Both have defenses that have taken their share of criticism, but ultimately make plays when they need to.
Of all of the BCS bowl games, this is the headliner. It might not be for the national championship -- both teams had a shot at it, though Oklahoma State has the bigger gripe -- but at first glance this looks to be the most entertaining game on the docket. If my DVR has space for only one of the BCS bowl games, this is the one I'd record.
"I think this game is going to be great for college football," Shaw said. "I think it's going to be exciting. It has a lot of what you're looking for ... You've got one of the best teams in the nation, won their conference. Have an outstanding quarterback, outstanding receiver and an outstanding system; an opportunistic defense that gets turnovers and plays at a fast tempo with a lot of speed.
"Then you have this little team from the West Coast that runs the football with a prototypical quarterback with a balanced offensive attack and attacking style defense. I think it's going to be exciting. I think it's going to be one of the best bowl games this year."
Question from reporter: Do you think it will be better than the national championship?
Shaw, with a laugh: "I didn't say that."
Question from reporter: Will it be higher scoring?
Shaw, with a bigger laugh: "I didn't say that, either."
Shaw doesn't have to say it. We're all thinking it.
November, 25, 2011
11/25/11
6:00
AM ET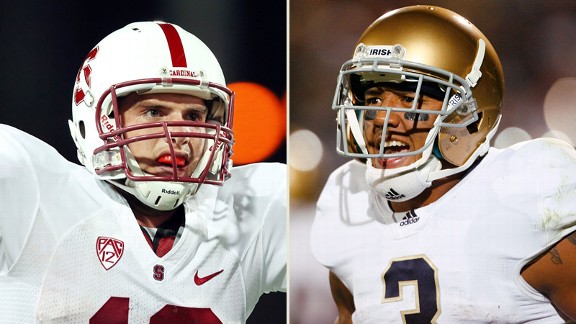 Getty Images, US PresswireQuarterback Andrew Luck, left, leads Stanford; Notre Dame leans heavily on receiver Michael Floyd.
Stanford and Notre Dame are both moving on to bowl games -- but first they square off in the regular season finale for both teams. Notre Dame blogger Matt Fortuna and Stanford blogger Kevin Gemmell do their best to shake off turkey hangovers and bring insight into Saturday's matchup.
Kevin Gemmell
: Happy post-Thanksgiving to you and yours, Matt. Seeing as Stanford and Notre Dame cross paths this week, it would stand to reason that the Stanford and Notre Dame blogs also come together the day before the game.
There are major bowl implications in this game for Stanford. What's the most important thing the Cardinal need to be on the lookout for when scouting the Irish?
Matt Fortuna
: Kevin, same to you and your family as well. I think I'm still in a turkey coma from last night. Obviously, this is the biggest test Notre Dame will have faced all season long. Looking at the numbers throughout this season, I think the Irish's best bet for success is to move the ball through the air and take full advantage of
Michael Floyd
.
Jonas Gray
's knee injury severely hampers Notre Dame's ground attack. The cast is largely unproven behind the smaller
Cierre Wood
, and Stanford's rushing defense is good enough to have seriously challenged the Irish backfield even if Gray took the field. The Cardinal's weakness, if they have any, would appear to be its pass defense.
Tommy Rees
will have to improve on his sub-par performance from last week and look more like the Rees from the Maryland game two weeks ago, when he completed 30 of 38 passes and sped up the tempo of the Notre Dame offense. If he can establish a rhythm early, I think we can brace ourselves for a pretty competitive contest.
I'd be remiss to not ask the Stanford blogger about
Andrew Luck
, so here we go: Should everyone in the Midwest believe the hype? I currently have him atop my ESPN.com Heisman ballot, but I'm wondering if things look as crisp up-close as they do from other parts of the country. What will Notre Dame's secondary need to do to contain Luck?
Kevin Gemmell
: Well, if each player on the secondary can add four or five inches, that would be a good start. Luck is going to seek out his tight ends --
Coby Fleener
(6-foot-6),
Levine Toilolo
(6-8) and possibly
Zach Ertz
(6-6) who hasn't played since the USC game because of a knee injury. Luck doesn't have the receiving corps to stretch the field, but he exploits his mismatches and if one of the Notre Dame defensive backs has one-on-one coverage with a tight end, look out, because Luck will find it.
As for believing the hype? Stanford head coach David Shaw believes it. He went on a pro-Luck tirade Tuesday, saying Luck is doing things no other college player has ever done. In that regard, then yes, believe the hype. Luck is the most intelligent and evolved college quarterback I have ever seen. He sets the formations and then calls the play. And he's good at it. The Cardinal are almost always running the optimal play against the optimal defense because Luck is calling it on the spot. It's pretty amazing to watch him orchestrate the offense.
I was just going over Stanford's record against marquee wide receivers and it's pretty good. They've slowed down
Keenan Allen
(Cal),
Robert Woods
(USC) and
Juron Criner
(Arizona). Since we're talking secondaries, tell me about Michael Floyd and what he brings.
Matt Fortuna
: Allen had six catches for 97 yards. Woods had nine for 89. And USC's
Marqise Lee
added seven catches for 95 yards. I'm not sure if we have the same definition of "slowed down," Kevin. Michael Floyd is big (6-3, 224 pounds), fast and versatile. He has improved his downfield blocking this season, and he is lined up virtually anywhere on the field. Notre Dame likes to find him in the flat often and let him create. Look no further than early in the fourth quarter Saturday, when Floyd took a pass on the right side, did not get a proper block, reversed field completely and ended up with an 18-yard gain on the other end of the field. He is a first-round talent who may fall to the second round only because of his off-the-field history.
Looking at the offensive lines earlier in this week, I was surprised to see the combined weight of Stanford's starters (305 pounds) were only one pound more than Notre Dame's (304). The Cardinal obviously have a pair of first-rounders up front, but what is it about the unit that allows it to impose its will on opposing defenses?
Kevin Gemmell
: Come on, Matt. You know better than to fall into the trap of looking at just final statistics. Allen had all six catches in the first quarter and then was blanked the next 45 minutes. Woods was kept out of the end zone until overtime. Pretty sure if Shaw had his choice, he'd prefer Floyd to do all of his damage in the first quarter and then be a non-factor for the rest of the game -- or to hold him without a touchdown for 60 minutes.
But I think we can both agree that getting the ball to Floyd is a priority for Notre Dame and stopping that is a priority for Stanford.
Stanford's offensive line likes to grind. They'll run the power to either side with
Stepfan Taylor
(who just went over 1,000 yards for the second consecutive year) and they'll rotate fresh backs in regularly --
Tyler Gaffney
,
Anthony Wilkerson
,
Jeremy Stewart
-- and just pound away. What makes it fun to watch is they'll run essentially the same play out of a bunch of different looks. Sometimes they'll have a jumbo package with six or seven offensive linemen. Other times they'll have two fullbacks and three tight ends. They get funky with their formations and that allows them to lean on teams over the course of the game.
Speaking of offensive lines, Notre Dame is pretty good at keeping Rees' jersey clean. The protection seems solid. Is that a product of them, Rees getting rid of the ball quickly or a little bit of both?
Matt Fortuna
: Both Rees and the offensive line have made strides throughout the season. The unit gave up five sacks in the month of September, two of which resulted in Rees fumbles, but the Irish did not allow a single sack from Oct. 1 to Nov. 12, when they gave up three to Maryland. Even that seemed more like something that was bound to happen rather than a big breakdown in protection. Mike Golic Jr. has done a great job filling in for the injured Braxston Cave at center, and Rees has done a much better job of releasing the ball more quickly.
OK, Kevin, I don't know how much more talking I can do while still in this turkey-induced coma. Let's get right to it: Who do you got Saturday?
Kevin Gemmell
: Well, because of the Thanksgiving week, we both posted our predictions on Wednesday, making this portion of our little chat a bit anti-climatic. And I am sure you got a laugh, as I did, that there was a (spoiler alert) one-point differential in our predictions. I have Stanford winning 31-21. I just don't see Andrew Luck losing (probably) his final home game at Stanford Stadium. I think the Cardinal are motivated to make an impression on voters -- in light of David Shaw's BCS comments on Tuesday -- and I think when you get right down to it, Stanford does a better job taking care of the ball and has more mismatches on offense. Notre Dame gets some points, but Stanford gets the win.
Before you attack the leftovers and fall back asleep, what's your take on why Stanford wins?
Matt Fortuna
: Impossible to fall asleep with so many good games on today and tomorrow. The leftovers are only complementary pieces. Anyway, as you mentioned, I like Stanford as well, 31-20. I like the Cardinal for many of the reasons you do — Andrew Luck's last home game, David Shaw's edgier tone this week. But ultimately I think the Irish's young defensive line just won't have enough gas in the tank to hang with Stanford's offense for four quarters, at least not this early in most of their careers. Notre Dame's offense would have had a tough time keeping Stanford off the field as it was, but take big running back Jonas Gray out of the picture, and the situation becomes even less favorable for the road team.
November, 23, 2011
11/23/11
7:15
AM ET
Some thing to keep an eye on in Saturday's matchup between Stanford and Notre Dame.
National spotlight: David Shaw's comments Tuesday about the BCS system reveals what we've known all along, but no one would say it -- the Cardinal are are ticked off. This is Stanford's last chance to make an argument for a BCS at-large berth -- or, with some crazy happenings over the next week and a half, maybe a national championship berth. Shaw knows what he's doing. A lot of voters who might have casually tuned in to the Notre Dame game will now be watching Stanford with a sharp eye. Shaw invited national scrutiny with his comments Tuesday, and he's going to get it. Question is, what does he do with it?
Stay positive: While Stanford is one of the best teams in the country at avoiding negative plays, the past two weeks they've lost 25 yards rushing against Oregon and 27 yards against Cal — by far their worst totals of the season. Plus, quarterback Andrew Luck has been sacked five times in the past two games after going down only four times in the previous nine. Negative plays and sacks are drive killers and the Cardinal don't want to give Notre Dame's defense any extra help.
Attack mode: Notre Dame is one of the best in the country in not allowing sacks. The Irish rank seventh nationally, allowing an average of .73 per game — which means they are good at picking up blitzes and getting rid of the ball quickly. Stanford has only been held without a sack once (against USC) and limited to only one sack once (against UCLA). The Cardinal have at least two sacks in every other game. That puts the pressure on Stanford's secondary. If the Cardinal hope to get to the quarterback, it will likely have to come through coverage sacks. Which leads us to...
... Stopping Michael Floyd: This isn't the first elite wide receiver the Cardinal have faced this season. They also know how to stop them -- after they've gone through the lineup one time around. Consider: Last week, Cal's Keenan Allen caught six balls for 97 yards -- all in the first quarter. No catches after that. Arizona's Juron Criner did most of his damage in the first half. USC's Robert Woods was kept out of the end zone until overtime. Stanford's secondary has a pretty good track record at keeping elite wide receivers at bay.
Heisman push: This is Luck's last chance to win over (or win back) voters who might have strayed following the Oregon game. This is the perfect scenario for him to clinch. National game. Storied opponent. He doesn't need to put up mega-numbers. That hasn't been his game all year. He just needs to do what he does well -- which is clean, efficient football. He still has a second chance to make a first impression on a lot of voters. I don't see him squandering it.
October, 6, 2011
10/06/11
7:15
AM ET
PALO ALTO, Calif. -- A few things to keep an eye on Saturday when Colorado travels to Stanford Stadium to face the No. 7 Cardinal.
Hurry up: This is the second week that Stanford will run its no-huddle offense with some regularity. Coach David Shaw said this was the plan all along, but the timing had to be right to debut it. They didn't want to do it against San Jose State in the first game, or on the road in unfamiliar weather against Duke and Arizona. Last week against UCLA presented the best opportunity and quarterback Andrew Luck ran the offense with poise and efficiency. Colorado finds itself with more to prepare for than it was probably counting on 14 days ago.
Quick release: Colorado has one of the best pass rushes in the country. But there is always more to the numbers than just the numbers themselves. Consider the offensive schemes the Buffaloes have faced -- a lot of spread and spread-option teams with quarterbacks who probably hold the ball longer by virtue of their offense. That's not Stanford's game. Even when Luck does go back into a five-step drop or works out of the shotgun, he gets rid of the ball so quickly that collapsing pockets haven't been much of an issue this season.
Balance, as usual: Another way to keep an aggressive pass rush at bay is to run the football. And we all know the Cardinal haven't had any problem in that department. Stepfan Taylor has gone for more than 100 yards in his past two games and the Cardinal have kept opponents on their toes running a Wildcat package with Tyler Gaffney at the helm. And then there is the good ol' fashioned power. When a team pins its ears back, rip off the ear.
Anything, anytime: Shaw said if the situation for a gadget play presents itself, he's not going to keep it in the bag regardless of who they are playing. "We don't hold on to anything. If it looks good, we call it," he said. "… That's just one more thing on film someone has to watch and be careful of." Rarely does the ideal down-and-distance and hash mark position present itself for trickery. But when it does, the Cardinal will pull the trigger regardless of the opponent. We've seen plenty of it so far this season and there's no reason to believe they will suddenly go vanilla.
Who's got Richardson? Colorado wide receiver Paul Richardson has emerged as one of the top receivers in the conference -- ranking fifth with 29 catches and tied for second with five touchdowns. The Cardinal have already faced one elite receiver in Arizona's Juron Criner. Will they bracket him with a safety? Go bump-and-run? Or take a conservative man-to-man approach where they give him room, but don't let him get behind? He'll get his yards, but will he get into the end zone? The Cardinal have only allowed one wide receiver touchdown this season, and that was Criner.
September, 18, 2011
9/18/11
1:17
AM ET
TUCSON, Ariz. -- Weird game. Weird team.
With an armory on offense and blockade-inducing defense, the
Stanford Cardinal
once again waited for the final 30 minutes to play their best football.
It's becoming an unsettling trend for coach David Shaw and his cast of players. For three straight weeks, the theme has been this:
"I like what we did in the second half," said Shaw.
That's all well and good because it was a win -- on the road -- against a much tougher opponent than the previous two weeks. The Cardinal blanked Arizona 21-0 in the second half en route to a
37-10 win
in the Pac-12 opener for both schools.
[+] Enlarge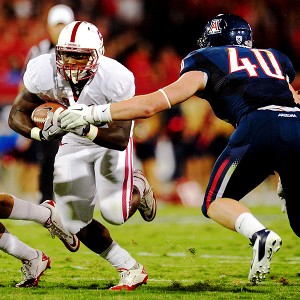 Matt Kartozian/US PRESSWIREStanford running back Stepfan Taylor rushed 22 times for 153 yards against Arizona. "He's special," coach David Shaw said.
But what about those first 30 minutes, when the offense looked disheveled, the defense seemed splotchy and any sense of rhythm was non-existent?
"I don't know how to explain it," said quarterback
Andrew Luck
. "I don't think we want to do that. It's definitely something we're going to try to improve on. I can't explain it."
Luck's stats were fairly typical, 20-of-31 for 325 yards and two touchdowns. But his overall performance was very atypical. He made bad throws -- and that's something we don't say often about Luck. Twice he was almost intercepted in the red zone, where he's usually at his most cautious and surgical. Another time he threw a flat ball on a fade out of the end zone -- a pass we've seen him make dozens of times.
"We have a lot of things to improve on, obviously," Luck said.
Just like last week, the stats don't tell the whole story. The No. 6 Cardinal (3-0, 1-0) totaled a season-high 567 yards of offense, grabbing 8.1 yards per play. And just like last week, they had more yards in the first half than in the second. But they were yards that resulted in three field goals, one touchdown and a punt. In the second half, the result was three touchdowns to one punt.
"We just need to establish a rhythm," Shaw said. "We're better once we establish a run rhythm. It started to happen kinda early. We had a couple of nice drives in the first half. But in the second half we came out in rhythm. We need to start the first half like we start the second half."
Two Cardinal who didn't look out of rhythm were running back
Stepfan Taylor
and tight end
Levine Toilolo
, who both put up career numbers. Taylor carried the ball 22 times for 153 yards -- including a long run of 49 yards and an average of 7 yards per carry.
"He's special," Shaw said of Taylor. "... He was outstanding, patient, quick and he's got a low center of gravity. He's not the biggest guy in the world, but he'll drag some tacklers."
Toilolo led all players with 102 yards on four catches and his first career touchdown.
"We knew that the defense was going to over-run some things and then we'd go for the big plays," Taylor said. "I sensed that in the second half. Everything started clicking in the second half."
Which brings us back to the original question. What's going on in the first half?
"I wish I knew the answer," he said. "I wish we could start faster. We'll watch film and see what we need to fix."
For Toilolo, who worked his way back from a knee injury last year, it was a coming out party. With tight end
Coby Fleener
sitting most of the game after exhibiting concussion symptoms, Toilolo and tight end
Zach Ertz
carried the flag for the tight ends.
"Me and Zach did whatever the coaches asked of us and we executed," Toilolo said. "This is stuff we work on all week in practice and when the coaches called my number, I was happy to be able to contribute. I think the rest of the offense played well, which opened up some of those passes."
Defensively, the Cardinal stiffened in the second half as well. After the starting 11 allowed its first touchdown of the season in the second quarter -- a 6-yard pass from
Nick Foles
to
Juron Criner
-- the defense settled in during the second half and blanked the Wildcats. Foles completed 24 of 33 passes for 239 yards and the lone score. But he was pestered by Stanford's front seven and sacked five times.
"We left a lot of plays out there in the first half," said safety Michael Thomas. "We always talk about starting fast and it's something we haven't done yet. We do pride ourselves on finding a way to finish and finish faster. That's what we do in the second half. We keep making plays."
Even though those plays have resulted in three wins this season, Shaw said his team has to find ways to play the first 30 minutes better.
"We challenged our guys at halftime to take the fight to them," Shaw said. "To be physical. To see if we could wear them down. That's the philosophy we believe in. Our second half has got to be better than our first and that's what we did tonight.
"But we have to start faster."
That's starting to sound all-too familiar.
September, 17, 2011
9/17/11
7:46
PM ET
TUCSON, Ariz. -- Would he? Or wouldn't he?
The question of whether Arizona wide receiver
Juron Criner
would play appears to be answered. He came out in full gear and ran (term used loosely) with the first-team offense during the pregame warm ups.
The Cardinal secondary is already expected to be challenged by the talented and accurate Arizona quarterback
Nick Foles
. Even without his full arsenal of receivers, he's one of the most accurate passers in the country. If Criner is even at 80 percent, the 6-4, 215-pound receiver can be a difference-maker for the Wildcats.
Don't be surprised if the Cardinal start quick. They have scored on their opening drive in 11 of their last 15 games.
Stanford enters the game having won four of the last five meetings in Tucson.
September, 17, 2011
9/17/11
6:44
PM ET
TUCSON, Ariz. -- The team with the nation's longest active FBS win streak -- yeah, that's Stanford -- is an hour away from kicking off here at Arizona Stadium.
With Auburn's loss 38-24 loss to Clemson, there is an official changing of the guard. Stanford, which enters tonight's game having won 10 straight, now carries the torch for the rest of college football. Auburn had won 17 in a row until the loss.
Ohio State is next in line with eight wins coming into today, though they are losing to Miami. That could be two of the top three win streaks going down. Is this a bad omen for Stanford?
There hasn't been any official word yet on Arizona wide receiver
Juron Criner
(appendectomy), though he was briefly on the field and was wearing warm-up gear. Should know more before kickoff. Best guess is that the 6-foot-4, 215-pound receiver is going to try to go. Even his presence on the field will be enough to draw some extra attention from Stanford's safeties. Coach David Shaw said earlier this week that the actual game-planning doesn't change whether Criner plays, but the dynamics of how they'll cover receivers changes when he's on the field.
The night game is going to favor the Cardinal in terms of heat. The thermometer hit 95 degrees around mid-day, but started to cool into the low 90s and is floating right now between high 80s and low 90s.
September, 16, 2011
9/16/11
6:00
AM ET
No. 6 Stanford faces its first significant test of the season Saturday at Arizona, where the spirited 'Zona Zoo can be a challenge for opposing offenses.


The game has the potential to be highly entertaining, at least if you like A-list quarterbacks. Stanford's
Andrew Luck
is a leading Heisman Trophy candidate and likely will be the top over all pick in next spring's NFL draft, while Arizona's
Nick Foles
has put up huge numbers so far and could join Luck in the draft's first round.
Stanford blogger Kevin Gemmell and Pac-12 blogger Ted Miller decided there was plenty to discuss.
Kevin Gemmell
: Ted, I think it's commonly accepted that Stanford quarterback Andrew Luck is the Heisman front-runner and will be the No. 1 pick in the NFL draft. But I couldn't help notice Arizona quarterback Nick Foles getting some love in last week's Heisman poll. Stanford's secondary has been its weakest cog through two weeks of the season. Foles will be, by far, the most accurate quarterback they have faced this season when they roll into Tucson on Saturday. That has me wondering. Do we have this all wrong? Is Foles the Pac-12 quarterback we should be focusing on and not Luck?
[+] Enlarge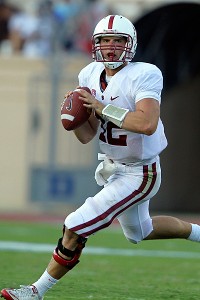 AP Photo/Gerry BroomeStanford's Andrew Luck is expected to be the No. 1 NFL pick in April, but will he be the best QB on the field Saturday?
Ted Miller
: Well, Luck is Luck, considered by many to be the best quarterback prospect in a decade. He's the total package and almost certain top pick in the NFL draft this spring. More than a few folks believe, however, that Foles, if he turns in a good season, also could find his way into the first round of the NFL draft. He's a big guy with a good arm and is very accurate. Further, as a third-year starter, he's experienced. He's not going to get surprised. And he will tax the Stanford pass defense, particularly if he gets receiver
Juron Criner
back. My guess is Luck will look longingly at Foles' receivers.
The problem for Foles and Arizona, though, is five new offensive line starters. They've done OK pass blocking, but the Wildcats run game has been mostly nonexistent. Seems like the Stanford front seven has been stout thus far. We knew the linebackers would be good. Tell me about the defensive line.
Kevin Gemmell
: You're right about the linebackers. They are good. And a significant reason they are good is because of that defensive line. As you know, linebackers rule in the 3-4 scheme, and the boys up front are there to occupy the blockers. But here's the catch. They are doing more than that. Matt Masifilo, Terrence Stephens and Ben Gardner have also been making tackles and getting to the quarterback. Those three have combined for 13 tackles, five tackles for losses of 25 yards, two sacks, a fumble recovery and a pass breakup in the first two games. First they occupy the block, then they shed it just as quickly. Where the Stanford defense has had some problems through the first couple of weeks has been in the secondary. It hasn't really been "burned" by any big plays, but the defenders have missed tackles which have led to a few big plays. They have created the big play on their own. Never a good thing. San Jose State and Duke completed 62 percent of their passes against the Cardinal. Not great numbers, but better than you'd expect from a couple of lower-tier teams. What's going to happen when an accurate passer like Foles gets in there?
Ted Miller
: Well, the Stanford secondary then is going to need to buckle up because while there's talk of trying for some balance in Tucson, it's really going to be about Foles and the passing game. Of course, as good as Foles is and as deep as the Wildcats receivers are, the offense is not the same without Criner, who it's fair to say is questionable after having an appendectomy last week. With Criner, Foles has a big target who's a deep threat and has a knack for making big plays. Without him, the passing attack lacks that obvious go-to target. That Cardinal secondary, which only lost cornerback Richard Sherman from 2010, did a good job against Foles last year, holding him to 248 yards passing -- 5.2 yards per completion -- with a touchdown and an interception from Sherman. Foles has to win that battle, though, for the Wildcats to have a chance for the upset. He'll need another 400-yard passing game.
[+] Enlarge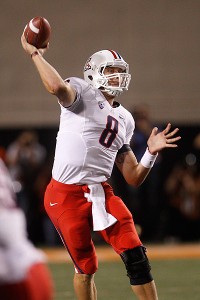 AP Photo/Sue OgrockiArizona quarterback Nick Foles will have to be on his game for the Wildcats to upset Stanford.
What about the other side of the ball? While Luck is back and looking good, despite losing his top-two receivers from 2010, how has the personality of the offense changed after the departure of coach Jim Harbaugh and some key players? Arizona coach Mike Stoops said the Cardinal had been "vanilla" in the first two games. Are we going to see some new things this weekend?
Kevin Gemmell
: The personality is a lot like David Shaw. Balanced. You haven't seen "Heisman-esque" numbers out of Luck, because he doesn't play in a five-wide spread offense. They want to establish the run, be physical, and then pick their moments to take the shots down the field. The running game has been hit-and-miss to this point. But that's to be expected with three new starters on the offensive line. Some readers have commented to me that they think Stanford has lost its "swagger" sans Harbaugh. I couldn't disagree more. There is plenty of swagger to go around, and 101 points in two games to back that up.
Shaw heard the "vanilla" comment, and he called it a fair assessment. But so far we've seen a flea-flicker and a nifty little shovel pass. Not entirely vanilla. There's nothing wrong with showing other teams on film that you have those clubs in your bag. And they've also shown a lot of their three tight-end formations. Talk about mismatch issues! Stanford has three tight ends -- two of them 6-foot-6 and another at 6-8 -- who would create matchup problems for any defense in this country. Those tight ends have more than made up for the missing wide receivers from last season. And speaking of the receivers, even though
Chris Owusu
hasn't had that "big play," he is coming off a 100-yard receiving game against Duke, and
Griff Whalen
has proven to be a nice presence underneath.
Let's call it vanilla with sprinkles, cookie dough and a drizzle of caramel sauce.
OK, Ted. Prediction time. You're the Pac-12 veteran. How do you see this one playing out?
Ted Miller
: It would be a lot easier, Kevin, if we knew if Criner was going to play. My hunch is no. But I still wouldn't pick the Wildcats in this one because they lack a running game to help Foles, and the young offensive line is going to struggle with the Cardinal front seven. Still, Arizona plays better in front of the 'Zona Zoo, one of the best home crowds in the Pac-12. My pick is a competitive 35-24 victory for Stanford, with the Cardinal asserting itself in the fourth quarter.
What's your take?
Kevin Gemmell
: Truly, great minds think alike. I had Stanford pegged at 35-24 in my Thursday prediction. I'm looking for a lot more running out the of the Cardinal than people are probably expecting in a game with two marquee quarterbacks. I think the Cardinal are a little tired of hearing the folks say they haven't played anyone yet. Not that Arizona is Alabama or Oklahoma -- but a win against an above average Pac-12 team on the road would go a long way toward silencing some of their critics. Foles is going to get his stats, but Stanford will get the win.
St. Brown talks USC, Stanford and more
PAC-12 SCOREBOARD
Thursday, 8/28
Friday, 8/29
Saturday, 8/30