Stanford Football:

Khaled Holmes
March, 15, 2013
3/15/13
12:00
PM ET
You might have noticed a theme this week. We kicked off the "
Biggest Shoes
" series and had two polls (
North
and
South
) on replacing departed players. So that means it's now time for your Pac-12 bloggers to weigh in on which two players we believe leave the biggest holes. Given our penchant for quarterbacks, you might find our two choices surprising. Read on.
Ted Miller:
I do not know what size 6-foot-3, 320-pound Utah defensive tackle
Star Lotulelei
's shoes are, but I'd bet they are among the biggest in the Pac-12 -- in more ways than one.
The thing about replacing a dominant interior defensive lineman is that it's difficult to measure what you're losing. An All-America receiver or running back or even cornerback leaves, and you feel fairly comfortable quantifying what is lost and must be replaced. Lotulelei, however, was more than the sum of his stats -- 42 tackles, 10 tackles for a loss, five sacks, four fumble recoveries, three forced fumbles and a very important blocked kick.
Lotulelei changed what an offense could do. He changed blocking schemes. He demanded specific attention from an offensive coordinator and a line coach. He made sure the interior of the opposing offensive line -- even if the offense was winning the overall battle -- wanted to ask for its check.
He was a unique presence. An anomaly. A college center could start 48 games in his career and face a guy like him just once. That's why Lotulelei will be a first-round NFL draft pick, even with a heart condition. He could get picked in the top five if a team deems him healthy.
But his shoes are even bigger because Utah, after a disappointing defensive campaign in 2012, is replacing three of four defensive linemen. Moreover, the Utes were unhappy with their linebacker play last fall, even with all the protection Lotulelei provided. Opposing offensive lines, unencumbered by the need to double-team Lotulelei every play, will get a lot more hats on those linebackers in 2013. Not what coach Kyle Whittingham wants.
[+] Enlarge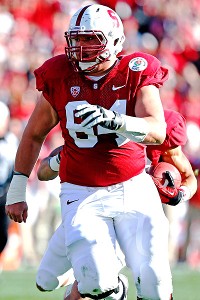 Charles Baus/CSMCenter Sam Schwartzstein was a huge piece of Stanford's recent offensive success.
The cupboard isn't empty. The Utes are high on
Tenny Palepoi
, a 305-pound senior who played well as the backup to defensive tackle
Dave Kruger
last season. And there are other big bodies:
LT Tuipulotu
, Stevie Tu'ikolovatu, a 320-pound redshirt freshman, and
Viliseni Fauonuku
will be in the mix.
Yet the Utes defensive coaches won't even pretend one of those guys will fill Lotulelei's shoes. They are just too big.
Kevin Gemmell:
This is a tough one. I've been going through a bunch of players all week long trying to come to a conclusion on which one I wanted to write about (and Lotulelei was already taken). All of them are important --
Matt Barkley
,
Khaled Holmes
,
Robert Woods
,
Jordan Poyer
,
Travis Long
,
Markus Wheaton
,
Brandon Magee
,
Desmond Trufant
,
Stepfan Taylor
,
Johnathan Franklin
,
Zach Ertz
,
Dion Jordan
and … (insert name I unintentionally omitted and now you feel wildly offended).
There really is no wrong answer here. Each player is a major contributor to his team in his own way. But the one name that kept coming back to me is Stanford center
Sam Schwartzstein
. I know, not as exciting as
Kenjon Barner
or glamorous as
Matt Scott
. But in terms of sheer contributions to the team that will be tough to replace, Schwartzstein has to be in the conversation.
In 2011, he was regarded as having the second-best football mind on the team -- behind only Andrew Luck. And he didn't lose any of that in 2012.
After the quarterback, there is no more important position on Stanford's offense than the center. He makes all of the scheme and protection calls at the line of scrimmage. He even calls plays in the huddle when the Cardinal go into the Wildcat.
Schwartzstein started every game since taking over for All-American Chase Beeler, and twice he blocked for a 1,000-yard rusher in Taylor. The Cardinal played 14 games in 2012 and allowed just 20 sacks. In the 12-game regular season, they had allowed a conference-best 17. The year before that? Just 11 in 13 games. I know for a fact that there were zero quarterback-center exchange fumbles in 2011. And none comes to mind in 2012.
Khalil Wilkes
, who started almost every game last year at left guard (one start at left tackle) moves over to compete with
Conor McFadden
for the gig. Maybe the transition from Schwartzstein to one of those guys will go as smoothly as the handoff from Beeler to Schwartzstein. After all, the new center will have one bona-fide All-American at his side and potentially a couple more on the line.
But they won't be the ones making the calls. That falls on the center -- and Schwartzstein was outstanding at it. He was second-team all-conference and honored with the school's leadership award. Not Taylor, not Ertz. Not
Shayne Skov
nor
Ryan Hewitt
nor the aforementioned All-American
David Yankey
. The center … the most crucial position in Stanford's offense that you never hear about.
Tough shoes to fill, indeed.
September, 17, 2012
9/17/12
12:00
PM ET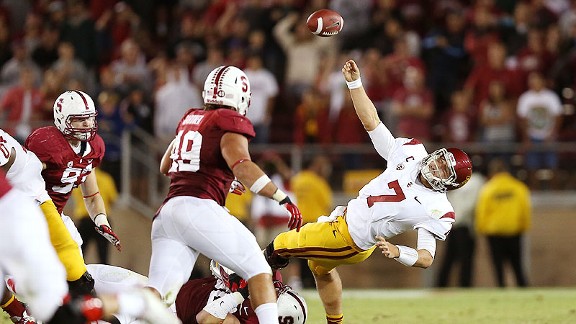 Ezra Shaw/Getty ImagesStanford's defense pressured Matt Barkley all game and never allowed him to get in sync.
PALO ALTO, Calif. -- Whenever Stanford head coach David Shaw opens a news conference with: "As you know, I'm not one for making opening statements, but …" you know he wants to get something out there.
Shaw couldn't say enough about his defense's performance in Saturday's 21-14 win over then No. 2 USC that propelled the Cardinal back into the top 10 and sent shockwaves through the college football landscape.
"[Defensive coordinator] Derek Mason and our defensive staff were phenomenal," Shaw said. "We were playing a great team and those guys made some plays. We tried to make them one dimensional and throw the ball."
Hold up ... you
wanted
to make them throw the ball?
Matt Barkley
.
Robert Woods
.
Marqise Lee
. You
wanted
to make those guys beat you? This all smacks of Rocky standing up to Clubber Lang shouting "You ain't so bad, you ain't so bad."All that's missing is some hackneyed movie dialogue: "It's crazy, crazy enough that it just might work."
Well, Shaw isn't crazy. Mason isn't crazy. Turns out we were the crazy ones for thinking that USC's troika was unflappable. But Barkley, who turned in one of the worst performances of his career, was flapped. He completed 21 of 40 passes for 254 yards with no touchdowns and two interceptions. Only twice in his career has he completed less than 50 percent of his passes, and both came in 2009.
Lee, the master of yards after the catch, never really broke free, despite eight catches for 100 yards. Woods was a non-factor with four catches for 38 yards. And though both of USC's touchdowns came on the ground, the Trojans were limited to 26 yards rushing because the Cardinal had nine tackles for a loss. USC had just two plays that went for more than 25 yards.
Stanford might have disguised some coverages and blitzes, but the Cardinal never disguised their intentions.
"That's one of the best front sevens in the country and they showed it [Saturday]," said USC coach Lane Kiffin. "You go back to last year an almost all of them coming back. I know [with
Shayne Skov
] returning in there, they're even better than last year."
Stanford's front seven has a little saying. They like to throw a "party in the backfield." Saturday night was a swinging soiree with Barkley as the unfortunate guest of honor. Stanford sacked Barkley four times and kept him under duress most of the game.
"We heard the talk all week about Barkley and Woods, and rightfully so," said Stanford defensive end
Ben Gardner
, who had five tackles including a sack and two tackles for a loss. "They're a talented bunch. But we were really confident about playing them all week. We felt good about what we had and the way that guys were practicing. We knew that if we came out there with a lot of energy, played our hardest at every snap, good things would happen. "
Certainly, some of Stanford's success can be attributed to the fact that USC was without center
Khaled Holmes
, an All-American candidate and a favorite for the Rimington Award.
"If there was a game on the schedule you'd pick that you wouldn't want to be missing your senior center, this is it," Kiffin said. "One, because their nose [guard] is really good. Two, because of all the different fronts and all the calls that have to be made up there. I don't care who the backup was. You're going to miss it when you play this game."
But it wasn't just the pressure up front that was so devastatingly effective. It was also a banner game for Stanford safeties
Jordan Richards
and
Ed Reynolds
. Perceived as a preseason question mark for Stanford, which had to replace veterans leaders in Michael Thomas and Delano Howell, the secondary played physical and fearless. Richards had two interceptions -- on consecutive Barkley passes -- to go with four pass breakups. Two of the breakups came on third down, where the Trojans were an paltry 1-of-13.
September, 16, 2012
9/16/12
7:00
AM ET
What did we learn in Week 3? Read on.
Barkley's, USC's coronation was premature:
There is no certainty in college football, particularly when you're questionable on the line of scrimmage. That's what USC quarterback
Matt Barkley
found out. His offensive line couldn't block Stanford's defensive front seven, which sacked him four times and harassed him constantly. Barkley, even with elite receivers
Robert Woods
and
Marqise Lee
, completed only 20 of 41 passes with two interceptions in a
21-14 loss
. Sure, losing center
Khaled Holmes
to an ankle injury was a major blow -- the Cardinal exploited his replacement,
Cyrus Hobbi
-- but the Cardinal's domination up front wasn't about one spot. And that domination was on both sides of the line. The Cardinal, with a first-year starting quarterback, outgained the Trojans 417 yards to 280. Barkley's Heisman Trophy hopes took a major blow, as did the Trojans' hopes for a national title, that bit of unfinished business that brought Barkley back for his senior year.
Luck had nothing to do with it:
That was a sign in the crowd at Stanford, duly noted by ESPN analyst Robert Smith. Stanford has billed itself as a physical, run-first team, even when it had Luck. So, without him, it figures the Cardinal would remain themselves. Still, many of us doubted whether the Cardinal would be
as physical
without now-NFL offensive linemen Jonathan Martin and David DeCastro. They were. Stanford figured out a way to neutralize the Trojans' flash, and then the Cardinal exploited their superiority on both lines of scrimmage. The most telling number? The Cardinal outrushed USC 202 yards to 26. The Pac-12 game of the year still might be Nov. 3 when Oregon visits USC. But if Stanford takes care of business, it might end up being the Cardinal's visit to Oregon on Nov. 17.
[+] Enlarge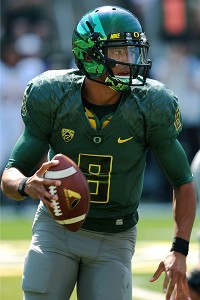 Scott Olmos/US PresswireMarcus Mariota and Oregon have feasted on overmatched foes; perhaps stiffer tests await?
Oregon returns to the top:
Oregon's
63-14 blowout
of Tennessee Tech wasn't terribly relevant. But USC's loss and sudden vulnerability topples it from atop the Pac-12 perception pecking order. Stanford moves up. But the Cardinal can't eclipse the Ducks because Oregon has blown them out in consecutive seasons. USC no longer can be considered a favorite on Nov. 3 when the Ducks visit. But the wiser way to view things is to see a lot of football ahead. The Ducks have yet to play a team with a pulse. It's possible we'll see a few more plot twists before we get to November.
Arizona, UCLA avoid letdown:
Arizona and UCLA posted big upset wins over ranked teams last weekend and became ranked teams themselves. Sometimes teams that do that fall flat the next week while still drunk on the past instead of focusing on the present. The Wildcats and Bruins did not.
They both
rolled big
and improved to 3-0. Sure, both played overmatched foes, a convenient bit of scheduling. Particularly the Wildcats against South Carolina State. But both now head into interesting matchups -- UCLA hosts Oregon State and Arizona visits Oregon -- riding plenty of positive momentum, sitting prettier than most had imagined in the preseason.
Arizona State's reinvention remains a work in progress:
Arizona State had three turnovers in its first two games. It had four in its
24-20 loss
at Missouri. QB
Taylor Kelly
had zero interceptions in the first two games. He had two against the Tigers. The Sun Devils had five penalties for 35 yards in the first two games combined. They had seven for 54 yards at Missouri. The point: As cleanly as the Sun Devils played in the first two games, their becoming a disciplined team on a consistent basis is still a work in progress. That probably shouldn't be surprising. It's hard to completely reinvent a team culture in just two games. And the Sun Devils' fourth-quarter surge, coming back from a 24-7 deficit, showed backbone. That's a positive.
California and Utah can't be overlooked:
Cal lost its opener to Nevada, spoiling the debut of remodeled Memorial Stadium. Utah lost at Utah State in Week 2, ending a 12-game winning streak in the series. Both losses were greeted with gnashing teeth by the respective fan bases. Their performances on Saturday, however, showed that both are certainly not easy outs and could become factors in their Pac-12 divisions.
Utah beat a 25th-ranked BYU team
that waxed Washington State. The Utes' defense remains formidable, no matter the issues on offense. And the Bears were just a couple of plays away from pulling the upset at No. 12 Ohio State before
succumbing 35-28
.
September, 15, 2012
9/15/12
11:45
PM ET
PALO ALTO, Calif. – Stanford's
Kevin Danser
was living an offensive lineman's dream Saturday night.
"You finish your block and you're on the ground, and then you look up and your running back is still going," said Stanford's guard. "Man, that's a great feeling. How about that guy? Man, not a lot of people can do what 33 can do."
That guy -- 33 -- is Stanford running back
Stepfan Taylor
, who was the offensive catalyst in Stanford's ugly-but-effective
21-14 victory
over No. 2 USC in front of a sold-out (50,360) Stanford Stadium. Classes don't start until next week, but that didn't stop the students in attendance from rushing the field and celebrating Stanford's fourth consecutive win over the Trojans.
It's the second time in the past five meetings that Stanford has beaten USC when the Trojans were ranked second nationally. They did it in Los Angeles in 2007 on a last-minute touchdown pass by Tavita Pritchard, winning 24-23 when Stanford was a 41-point underdog.
Saturday night, the Trojans (2-1) weren't as heavily favored, but they were still considered a grade above No. 21 Stanford (3-0). Taylor saw to disprove that. He chipped, chipped and then broke through. Then he chipped and chipped again. And then he broke through again. And when he was done chipping, he had broken USC's defense.
"That guy is a rock," said Stanford fullback
Ryan Hewitt
. "I get to see his yards after contact because he usually blows right by me. And it's impressive."
Taylor looked like the best player on the field Saturday night -- not exactly a passing statement when he was sharing the field with USC quarterback
Matt Barkley
and A-list wide receivers
Marqise Lee
and
Robert Woods
. Taylor rushed for 153 yards on 27 carries (5.9 average) and a touchdown to go with five catches for 60 yards and a score.
"We were going to keep giving him the ball," said Stanford head coach David Shaw. "He never gets tired. He drags people, he breaks tackles. By one out-of-town paper I was called 'the king of hyperbole' [when talking about Taylor] but
that
is why I love talking about him. We typically like to rest him, but when we need him, I told him two years ago, we are going to put a saddle on him and ride him."
[+] Enlarge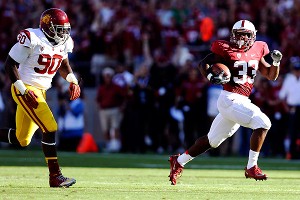 AP Photo/Marcio Jose SanchezStepfan Taylor scoots away from USC's George Uko for the first of his two touchdowns.
And Stanford needed him Saturday. With a new quarterback still learning his way around the offense and a rebuilt offensive line, the Cardinal looked stilted at times on offense. Then again, so did Barkley, the Heisman frontrunner who probably lost a few voters with his 20-of-41 performance and two interceptions. But more damning to his campaign were the zero touchdowns -- almost unheard of with playmakers like Lee and Woods at his disposal. The Cardinal kept Barkley under constant pressure and sacked him four times.
"They played better football than us," said an extremely despondent Barkley. "We were prepared. They played better."
Taylor certainly had his share of highlights. His 59-yard touchdown run that knotted the score at 7-7 in the first quarter was pretty. So was his 23-yard screen pass that went for a touchdown, tying the score at 14-14 in the third quarter. But he saved some of his best running for the end of the game -- and he didn't even get in the end zone. His 2- and 3-yard runs were turning into 7- and 8-yard runs by the second half. The final 8 minutes, 40 seconds was exactly the kind of football Shaw wants his team to play. The Cardinal started at their own 19 and pounded; Taylor for 1, Taylor for 7, Taylor for 2, Taylor for 8, etc., etc., etc. At the end of the scoreless drive, the Cardinal had run 10 plays and eaten 5 minutes, 56 seconds of clock.
The Trojans took over with 2 minutes, 44 seconds left at their own 11, trailing 21-14. But penalties and a pair of Stanford sacks ended the drive, and the game. The Cardinal threw all kinds of blitzes and pressure at Barkley all night -- and without starting center
Khaled Holmes
, the Trojans were unable to adjust.
"If you sit back there, the quarterback is too good," Shaw said. "Regardless of what happened tonight, that is the best quarterback in the country. If you give him too much time, he will kill you. You have to get after him. Those receivers are really good. We had to mix it up. Some plays we came after him and some plays we sat back. Our secondary made all the tackles."
For
Josh Nunes
, tasked with replacing Andrew Luck as Stanford's quarterback, having a back like Taylor has made life a lot easier. He was 15-of-32 for 215 yards with two touchdowns and two interceptions.
"He's a quarterback's best friend," Nunes said. "This game was a testament to our style of football, the guys up front, and certainly Stepfan Taylor."
September, 15, 2012
9/15/12
7:00
PM ET
PALO ALTO, Calif. -- Some pretty good hype surrounding the first Pac-12 league game of the season. How much? According to Stanford officials, there are more credentialed media for today's game against USC than there was for last year's showdown with Oregon.


Folks are interested to see how the No. 2 Trojans (2-0) do in their first real test of the 2012 season. Most expect that center
Khaled Holmes
will not play for USC and
Cyrus Hobbi
will handle snapping duties for the Trojans.
No. 21 Stanford (2-0) plays its third straight game at home.
A few things to keep an eye on.
Stanford's rushing attack vs. USC: The Cardinal haven't run the ball great to start the year, but they have also faced nine-man fronts. The return of fullback Ryan Hewitt should help in run blocking and in the short-yardage passing game.
USC's receivers vs. Stanford secondary: Robert Woods and Marqise Lee are all kinds of good. Expect quarterback Matt Barkley to take plenty of shots down field.
Stanford's front seven vs. USC's offensive line: If Holmes isn't going to play, and he's not expected to, you have to wonder how much pressure the Cardinal will be able to get on Barkley. Do you turn up the blitzes to confuse Hobbi? Or do you hope that rushing four will get the job done.
August, 24, 2012
8/24/12
11:00
AM ET
Our countdown of the Pac-12's top 25 players in 2012 continues.
Most of this looks back, but, of course, there also is a good dose of projecting forward. A lot of good players, as it happens every year, won't make the preseason list. It is in their hands to make the postseason list.
You can review our
2011 postseason top 25 here
.

6. Chase Thomas, LB, Stanford
2011 numbers
: Posted 52 tackles (33 solo) including a conference best 17.5 tackles for a loss. He also had 8.5 sacks, four quarterback hits and was second in the conference in forced fumbles.
2011 postseason ranking
:
No. 5
Making the case for Thomas
: It's time to break the stranglehold wide receivers have had on this list for the past three days and look to defense. Thomas is the best outside linebacker in the conference and many would argue in the country. He opted to return for another season to improve his consistency and up his draft status. And both should see significant improvement. Last year Stanford's run defense was tops in the conference, allowing less than 85 yards per game and it was the only team to hold opponents to an average of less than 100 yards per contest. Thomas was a big reason for that number. Expect him to be even better this year with the return of
Shayne Skov
at inside linebacker. When Skov went down, defenses were keying in on Thomas, which makes his production last year that much more impressive. With six of last year's front seven returning -- plus the return of Skov and young playmakers like
James Vaughters
and
Noor Davis
-- Thomas headlines a run-stopping unit that should once again challenge for best in the conference.
No. 7
: Marquess Wilson, WR, Washington State
No. 8
: Keenan Allen, WR, California
No. 9
: Marqise Lee, WR, USC
No. 10
: T.J. McDonald, S, USC
No. 11
: Dion Jordan, OLB/DE, Oregon
No. 12
: Stepfan Taylor, RB, Stanford
No. 13
: Kenjon Barner, RB, Oregon
No. 13
: Kenjon Barner, RB, Oregon
No 14
: Nickell Robey, CB, USC
No. 15
: John White IV, RB, Utah
No. 16
: John Boyett, S, Oregon
No. 17
: Jordan Poyer, CB, Oregon State
No. 18
: Khaled Holmes, C, USC
No. 19
: Cameron Marshall, RB, Arizona State
No. 20
: Dion Bailey, LB, USC
No. 21
: Shayne Skov, LB, Stanford
No. 22
: Curtis McNeal, RB, USC
No. 23
: Austin Seferian-Jenkins, TE, Washington
No. 24
: Isi Sofele, RB, California
No. 25
: Jeff Tuel, QB, Washington State
August, 16, 2012
8/16/12
11:00
AM ET
Our countdown of the Pac-12's top 25 players in 2012 continues.
Most of this looks back, but, of course, there also is a good dose of projecting forward. A lot of good players, as it happens every year, won't make the preseason list. It is in their hands to make the postseason list.
You can review our
2011 postseason top 25 here
.

12
.
Stepfan Taylor
, RB, Stanford
2011 numbers
: Rushed for 1,330 yards and 10 touchdowns on 242 carries. Had a healthy 5.5 yards per carry while also catching 27 balls and a pair of touchdowns.
2011 postseason ranking
:
No. 24
.
Making the case for Taylor
: It's time to stop calling Taylor one of the most underrated backs in the college football and start calling him one of the top, most complete running backs in the Pac-12. A back-to-back 1,000-yard rusher who was often overlooked because of the guy handing him the ball (that would be Andrew Luck for those with a short memory), Taylor will be the focal point of the Cardinal offense. That should come as no surprise to those who follow the team closely, because he was actually the focal point last year and the year before despite the presence of Luck. He's durable enough to carry the ball 25 to 30 times per game, but that's not how David Shaw uses him. With a rotation of four other backs last year -- and the expectation of a similar approach this year -- Taylor will continue to make the most of his opportunities. Expect, however, a slight increase in his carries in 2012 as the Cardinal break in a new quarterback. The departure of Tyler Gaffney and the graduation of Jeremy Stewart opens up some niche roles for younger backs -- but we'll likely see Taylor carry more of the load, especially early as the new quarterback continues to grow and the pecking order behind Taylor takes shape. A second-team all-conference pick last year, Taylor's receiving skills make him extremely versatile, and he's also Stanford's best blocking back.
No. 13
: Kenjon Barner, RB, Oregon
No 14
: Nickell Robey, CB, USC
No. 15
: John White IV, RB, Utah
No. 16
: John Boyett, S, Oregon
No. 17
: Jordan Poyer, CB, Oregon State
No. 18
: Khaled Holmes, C, USC
No. 19
: Cameron Marshall, RB, Arizona State
No. 20
: Dion Bailey, LB, USC
No. 21
: Shayne Skov, LB, Stanford
No. 22
: Curtis McNeal, RB, USC
No. 23
: Austin Seferian-Jenkins, TE, Washington
No. 24
: Isi Sofele, RB, California
No. 25
: Jeff Tuel, QB, Washington State
PAC-12 SCOREBOARD
Thursday, 8/28
Friday, 8/29
Saturday, 8/30