Stanford Football:

Lee Ward
March, 28, 2014
Mar 28
9:00
PM ET
We finish our list of five predictions for the second half of
Stanford
's spring practice.
No. 1:
Staying the course/depth chart
Much of the commentary that has followed Stanford football over the past four years involves the program's incredible resurgence.
Before Jim Harbaugh and his staff arrived, there was a faction -- a small minority, but it was there -- that believed the school should drop down a level in football. It was a concept that angered David Shaw, and several other fans and alumni of the program, and is now less plausible than a Stanford national title.
Expectations are obviously very different now. With the second session of spring practice set to begin next week, Stanford is set to continue preparations for a run at a third-straight Pac-12 title.
Like any program replacing hoards of talent, there are questions that need to be answered, but nothing about the current state of the program indicates the Cardinal shouldn't be among the best in the conference. They have recruited well, they have a lot of good players returning and the coaching staff has proved its mettle.
If there's anything left to predict, it's that the status quo will remain just that.
And, of course, a potential post-spring depth chart:
Offense
QB
:
Kevin Hogan
RB
:
Remound Wright
FB
:
Lee Ward
WR
:
Ty Montgomery
WR
:
Devon Cajuste
TE
:
Eric Cotton
LT
:
Andrus Peat
LG
:
Joshua Garnett
C
:
Graham Shuler
RG
:
Johnny Caspers
RT
:
Kyle Murphy
Defense
DE
:
Henry Anderson
DT
:
David Parry
DE
:
Blake Lueders
OLB
:
James Vaughters
ILB
:
A.J. Tarpley
ILB
:
Blake Martinez
OLB
:
Kevin Anderson
CB
:
Alex Carter
CB
:
Wayne Lyons
S
:
Jordan Richards
S
:
Kodi Whitfield
Countdown
No. 2:
Running back competition will gain clarity

No. 3:
Hogan takes the next step
No. 4:
Backup quarterback competition begins
No. 5:
Whitfield will emerge at safety
February, 17, 2014
Feb 17
9:00
AM ET
The countdown of Stanford's top 5 position battles begins today.
One position battle will be highlighted each day this week with spring practice set to begin on Feb. 24.
[+] Enlarge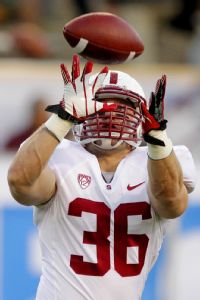 AP Photo/Rick ScuteriLee Ward got some starting experience at fullback this season and will be in competition with Patrick Skov in 2014.
No. 5:
Fullback
Who to watch:
Lee Ward
,
Patrick Skov
,
Daniel Marx
Outlook:
File this in the "Only at Stanford" category. OK, maybe Stanford isn't the only school still using a fullback, but there are times, especially in the Pac-12, when it seems that way.
Ryan Hewitt
didn't make Stanford fans forget Owen Marecic when he took over the starting job in 2011, but that's only because Marecic has a special place in Stanford lore. Hewitt was without question among the nation's best fullbacks the last three years, evident by his selection as one of only two fullbacks in the Senior Bowl this season. The competition to replace him starts with Lee Ward and Patrick Skov, with true freshman Daniel Marx more likely destined for a redshirt season. Ward figures to have the leg up after starting in place of Hewitt when he was injured at the start of the season. Ward, who will be a fifth-year senior, was honored as the team's co-offensive player of the game against Arizona State on Sept. 21 and also contributed on special teams. If Skov doesn't win the job, he still figures to get some playing time going into his redshirt junior year. He played in 28 games over the past two seasons, mostly on special teams.
October, 7, 2013
10/07/13
4:00
PM ET
With nearly 300 all-purpose yards and game-changing special teams play, it's hard not to give the Pac-12 player of the week nod to Stanford wide receiver
Ty Montgomery
.

We are aware of the exploits of Oregon quarterback
Marcus Mariota
-- who has turned preseason Heisman hype into a reality with his dazzling weekly performances -- but Montgomery was every bit the game-changer against a legitimate top 20 team in Washington.
It started with his
99-yard kickoff return
for a touchdown to open the game. We should also give credit to
Lee Ward
(No. 36 when you watch the replay),
Patrick Skov
(24),
Joe Hemschoot
(40) and
Jackson Cummings
(23) for the quartet of textbook blocks that sprung Montgomery. His speed took care of the rest.
He also added a 39-yard touchdown reception at the end of the first half and a 68-yard kickoff return that led to
Tyler Gaffney
's 11-yard touchdown run. In total, he rushed for 30 yards, had 56 receiving yards and totaled 204 yards on kickoff returns for a grand total of 290.
It was a a signature performance for Montgomery, who struggled with drops in last season's loss to Washington in Seattle.
"Much was made about last year's game with Ty and him having a rough game," said Stanford head coach David Shaw. "We all had a rough game last year. But what I love about Ty right now and his mentality is this wasn't a way to get back at Washington or wasn't a redemption by any stretch of the imagination; it's just his growth. I mean, he's a better player now than he was a year ago. He's gotten better every single week."
December, 5, 2011
12/05/11
4:00
PM ET
The regular season is over, which means grades are due. Here's part six of the ongoing regular-season report card for Stanford.
RUNNING BACKS-FULLBACKS
Grade
: A+
Summary
: Any time you have a 1,000 yard rusher -- while you are platooning between four different backs -- it's an amazing accomplishment. That's what
Stepfan Taylor
did, netting 1,153 yards, eight touchdowns and an average of 96.1 yards per game. Of all of Stanford's running backs, Taylor is by far the most complete. He runs with a low center of gravity, can make opponents miss, can run through them or simply drag them for extra yards. He's also an outstanding pass blocker. He was one of
Andrew Luck
's most reliable receivers, catching 22-of-24 passes thrown his way for 161 yards and a pair of touchdowns. He rarely took a negative play -- going on a stretch of four straight games without a lost yard.
What can be said about fullback
Ryan Hewitt
that hasn't been already? A blue-collar worker who craves contact. Like Taylor, he was fantastic in the receiving game -- hauling in 33-of-35 balls thrown his way for five touchdowns and 277 yards. He was great in short-yardage situations, never losing any ground on his 10 carries. His versatility allowed him to line up in the backfield, as a tight end and even split out wide or in the slot. Players like Hewitt are what makes Stanford what it is -- not flashy -- but consistently reliable.
As a unit, Stanford rushed for 207.9 yards per game.
Backups
: For as much work as the rest of the running backs get, "backups" really isn't a fair term. We'll call them non-starters.
Tyler Gaffney
stepped in for 70 carries, 445 yards and seven touchdowns. More importantly, he had just -2 yards in negative plays in his 70 carries. He was great out of the Wildcat formation and added one receiving touchdown.
Jeremy Stewart
was a plow horse -- so reliable on short-yardage and goal-line situations. He finished with just 192 yards, but had eight touchdowns.
Anthony Wilkerson
showed flashes of his speed -- rushing for 283 yards and three touchdowns on 55 carries. But a few games into the season, Gaffney moved up on the depth chart to first man off the bench.
Ricky Seale
only saw six carries in reserve work this season.
Fullback
Geoff Meinken
-- wow -- is this guy fun to watch. From sensational stiff arms to helmet ejecting runs, Meinken puts the full-steam in fullback. He had two starts and ran for 88 yards on 10 carries.
Lee Ward
didn't register any rushing stats (one reception, 1 yard), but when
Zach Ertz
was injured and Hewitt became more of a hybrid tight end, Ward stepped in and blocked well.
October, 30, 2011
10/30/11
1:00
PM ET
According to a Stanford spokesman, there will not be any injury updates today.
The Cardinal took plenty of bumps and bruises in Saturday night's thrilling 56-48 win over USC in triple overtime. But no loss was more significant than tight end
Zach Ertz
, who went down with what appeared to be a knee injury on the opening kickoff.
Ertz, one of Stanford's "Big Three" tight ends, was helped off the field, and by the end of the first quarter he was on crutches with a brace on his right leg.
He sat on the bench, looking despondent most of the first half with players and coaches parading by to offer encouragement.
After the game, head coach David Shaw said he did not have an update on Ertz's condition.
"We're not sure," Shaw said. "We're going to get him checked out. Gosh, we have so much three-tight end offense, to lose a guy on the first play of the game was tough.
Ryan Hewitt
had to step up and play a bigger role.
Lee Ward
had to step up and play a bigger role. As did
Geoff Meinken
. We're one of the few teams that has three fullbacks and all three came in and played some great plays."
With Ertz going down, the Cardinal not only lose a valued playmaker, blocker and favorite red zone/third-down option for quarterback
Andrew Luck
, but they also lose a big portion of their playbook. Or as Shaw described it, a "healthy chunk." Stanford's three-tight end formations have given opposing teams fits all season, and offensive coordinator Pep Hamilton said they had to adjust how they were going to attack USC in Ertz's absence.
Heading into Saturday night's game, Luck had looked to Ertz significantly more than any other tight end. Of the trio, Luck had targeted Ertz 31 times in the first seven games, while looking to
Coby Fleener
21 times and
Levine Toilolo
12 times.
"I think we have a lot of great guys on the field," Luck said. "When someone goes out, it's the philosophy that the next guy has got to step up. Obviously, Zach is a great player. It's hard to replace him in a game like this. We hope he's playing next week. But I don't think the playbook changes too much."
The playbook might not, but the options in the passing game do. The Cardinal were still able to run some of their jumbo packages with additional offensive linemen and fullbacks -- which is fine for the running game. But they lose the mid-range passing option off of those sets with Ertz out of the game.
"One of the things that we benefit from playing multiple linemen sets is we can always plug in a lineman at one of those tight end spots," Hamilton said. "Of course, we're limited in the passing game. But at the same time, it's our job to come out and control the line of scrimmage all the time."
Offensive tackle Jonathan Martin also missed some time after appearing to roll his ankle. He too was assisted off the field, but was able to return for Stanford's late-game heroics. He was in a boot after the game.
Wide receiver
Chris Owusu
also took a big a hit on Stanford's final offensive drive in regulation and he did not return to the game. It's the second big hit Owusu has taken in three weeks after a concussion knocked him out of the game against Washington State.
Shaw has been critical -- without being critical -- of Pac-12 officials for not calling personal-foul penalties on questionable hits. He's previously cited the helmet-to-helmet hit on Fleener that knocked him out of the Arizona game and the Owusu hit against Washington State as plays that should have drawn flags, but did not. Saturday night, however, USC safety T.J. McDonald was flagged for the hit on third-and-6 that kept Stanford's drive alive in the closing minutes of regulation. Six plays later,
Stepfan Taylor
scored on a 2-yard run that tied the game at 34-34 to force overtime.
Pac-12 Weekend Wrap: Sept. 16