Stanford Football:

Marcus Mason
March, 25, 2014
Mar 25
7:00
PM ET
You remember the three-headed monster, right? It's about returning production that will scare -- terrify! --opponents. Or not.
On offense, it's elite combinations at quarterback, running back and receiver.
On defense, it's elite combinations of a leading tackler, a leader in sacks and leader in interceptions.
This year, we're breaking things down by division.
We looked at the South Division
offensive three-headed monsters on Monday. On Tuesday, we'll take a look at the North Division offense.
Only Cal and Washington State return their three-headed leaders from last season. The other four teams have all had a change of some kind. And there are some big question marks surrounding a couple of schools -- especially the one in Seattle.
Let's take a look:

1. Oregon
QB
Marcus Mariota
, RB
Byron Marshall
, WR,
Bralon Addison
The skinny
: Heisman candidate + rising star + explosive playmaker = nasty. Though losing Josh Huff and De'Anthony Thomas, the Oregon offense should be explosive once again. Mariota led the nation in adjusted QBR last season to go with 31 passing touchdowns to just four interceptions. Marshall is a returning 1,000-yard rusher with 14 touchdowns last season, and Addison hauled in nine scores.

2. Stanford
QB
Kevin Hogan
, RB ?, WR
Ty Montgomery
The skinny:
The Cardinal get the No. 2 spot here based on experience at quarterback and the fact Montgomery is returning after a second-team all-league year. And whoever the "regular" running back is, be it
Kelsey Young
(the leading returner in yards),
Ricky Seale
,
Barry Sanders
or
Remound Wright
, he will be running behind a stellar offensive line. Worth noting that Hogan and Montgomery had more rushing yards last year than any of the listed running backs. But Stanford's success running the football leads the Pac-12 blog to give it the benefit of the doubt.

3. Oregon State
QB
Sean Mannion
, RB
Terron Ward
, WR
Richard Mullaney
The skinny:
Though the Beavers lose
Brandin Cooks
, Mannion has the potential to be one of the top quarterbacks in the country after throwing 37 touchdowns last year.
Storm Woods
had more carries and touchdowns, but Ward had more yards, so they'll likely work in unison, again. Mullaney had 52 catches last season.

4. Washington State
QB
Connor Halliday
, RB
Marcus Mason
, WR
Gabe Marks
The skinny:
WSU gets the edge in the rankings over Washington (for now) because there are still a lot of question marks around the Huskies. Halliday tossed 34 touchdowns last year and threw for nearly 4,600 yards. Marks has blossomed into a bona fide playmaker and should be in the mix for all-conference honors. The Cougars don't do much in the way of running the football. But when they did last year, Mason totaled 429 yards on 87 carries.

5. Washington
QB?, RB
Jesse Callier
, WR,
Jaydon Mickens
The skinny:
Washington is one of those programs that could end up in one of the top two spots by the end of the season. But for now, there is too much unknown. The status of QB
Cyler Miles
is still up in the air. Callier has the most returning attempts (one more than
Dwayne Washington
and five more than
Deontae Cooper
) and the Huskies expect
Kasen Williams
back by the fall at receiver. Mickens caught 65 balls and five touchdowns last year and the aforementioned RB trio combined for 10 touchdowns.

6. California
QB
Jared Goff
, RB
Khalfani Muhammad
, WR
Bryce Treggs
The skinny:
There is a lot of potential in this group. The Bears just need that potential to translate into points on the field. Goff threw for 3,508 yards in his debut season, and Treggs caught 77 of his passes. Though just one for a touchdown (
Chris Harper
and
Kenny Lawler
each caught five). Though the departed
Brendan Bigelow
had more carries, Muhammad outperformed him with more yards and touchdowns.
February, 28, 2014
Feb 28
5:30
PM ET
Welcome to the mailbag.
Follow the Pac-12 blog on Twitter
.
To the notes!

Justin from Chantilly, Va., writes:
I believe Utah fans should be excited for a QB competition entering spring practice. What are the odds of Oklahoma transfer
Kendal Thompson
assuming the starting role? Can Utah medically redshirt
Travis Wilson
for a year to evaluate?
Ted Miller
: Things look at lot better at quarterback for Utah than they did a couple of months ago, eh?
Not only is there hope that 2013 starter Wilson will be able to play this fall, there's also the arrival this summer of Thompson, an Oklahoma transfer who is immediately eligible. Those are two guys most Utes fans probably weren't counting on.
I would suggest adopting a pose of cautious optimism.
You should be optimistic because Wilson brings experience and competence behind center that makes the Utes a bowl team. You should be optimistic because Thompson sounds like the sort of athlete who can help the Utes, whether he wins the job outright or not.
You should be cautious, however, because Wilson has not yet been cleared to play in 2014, only to participate in spring practices without contact. While the recent news is good, we won't know until well into the summer if he has overcome the pre-existing medical condition that ended his 2013 season.
[+] Enlarge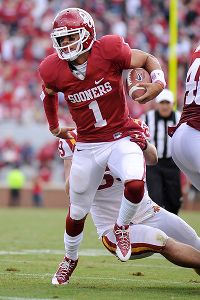 Mark D. Smith/USA TODAY SportsKendal Thompson showed flashes of potential at Oklahoma.
And you should be cautious because Thompson, the 6-foot-1, 199-pound son of former Oklahoma QB Charles Thompson, has thrown only 13 passes in three seasons with the Sooners, though a foot injury was a big issue last season. He only completed four of those passes and one was intercepted. This is not like Russell Wilson leaving NC State for Wisconsin.
As for the odds of Thompson winning the job, I have no idea. I haven't seen him play and we still don't know Travis Wilson's status. It does seem, however, that plenty of other programs wanted Thompson, and he fits well in new offensive coordinator Dave Christensen's theme.
The positive, big-picture issue is Utah now has more options than it had the past three seasons, when injuries to Jordan Wynn and then Wilson muted the Utes offense.
When you toss in
Adam Schulz
, who stepped in when Wilson went down, and redshirt freshmen
Conner Manning
and
Brandon Cox
, plus incoming freshman
Donovan Isom
, the Utes no longer seem to be all-in with just one guy. That's important.
As for redshirting Wilson, Utah could. He has a redshirt season available. Not sure if that's in play here, but I'm also not sure if it's not.
---
Jeff from Atlanta writes
: How much of Stanford's recent success do people/fans/media in Pac-12 land attribute to Shannon Turley? The amazing Cardinal W-L stats seem to coincide directly with his tenure. I have read a number of articles on his FMS [Functional Movement Screen scores] and think it is a breakthrough mindset. It is only a matter of time before other schools start migrating away from the old ways.
Ted Miller
: Jeff,
you are not the first to take note
of Turley and his innovative conditioning techniques and philosophies. The National Strength and Conditioning Association named Turley its strength and conditioning coach of the year in 2013. More than a few folks around Stanford call him the Cardinal's secret weapon, pretty much a conditioning guru.
For one, this is a pretty strong sell from Turley's bio
:
In 2013, his position became the first endowed football directorship in the FBS and was renamed the Kissick Family Director of Football Sports Performance. Turley has created a comprehensive player development program designed to achieve three primary goals: injury prevention, athletic performance enhancement and mental discipline development.

Turley was FootballScoop's 2011 Strength & Conditioning Coach of the Year as determined by a panel of coaches and previous recipients. Turley has earned significant credit from the Stanford coaching staff for his role in turning around a program that won a single game the year before his arrival to a program with three straight BCS bowl appearances.
And this is a pretty strong sell in the New York Times from former Stanford star Richard Sherman.
"We have an advantage when we get into the NFL," Sherman said. "It shows you how little scouts know in their assessments. I'll roll with Shannon Turley."
While he might not be well-known nationally, Turley was important enough on the Farm to merit a
three-part series in The Stanford Daily
.
I've long believed that a football team's strength coach is every bit as important as a position coach who doesn't call plays, and they should be paid accordingly.
All good teams have great natural athletes with potential. What makes a team elite is what is done with those athletes to maximize that potential.
---

Jordan from Pullman, Wash., writes:
I get that you didn't write the
spring breakdown for running backs
, but I'm assuming you had some oversight on the article. I have an issue with Washington State's coverage. The Air Raid isn't going to produce thousand-yard rushers often. Or ever. But that doesn't mean that Wazzu doesn't have some very good backs already established, and a few intriguing prospects coming in for next year. The three rushers coming in are three-star recruits. Also,
Teondray Caldwell
and
Marcus Mason
averaged 5.4 ypc, a VERY respectable number, especially in an offense that is not built to produce on the ground. Come on Pac-12 Blog, where's the love?
Ted Miller
: I have no oversight. Maybe undersight. Or near sight. Or lack of insight.
I will grant you that Mason finished the regular season with three strong performances, rushing for 203 yards on 32 carries -- 6.3 yards per tote -- while catching 21 passes for 117 yards. Perhaps not coincidentally, the Cougars won two of those games and played a competitive Apple Cup on the road at Washington.
And I will grant you that the Cougs' measly 2.9 yards per carry last year, which ranked 120th in the nation, is a bit deceiving because Mason and Caldwell averaged 4.9 and 5.4 yards per carry, respectively, while also combining for 78 receptions, catching throws that mostly operated as aerial handoffs.
And the Pac-12 blog wants to give love. That's, really, what we are all about.
But I also think we can all agree that no Pac-12 team puts less emphasis on the running game, and until the Cougars make a big move in the North Division without a running game, a lot of folks will be skeptical that at team can thrive in the deep, physical Pac-12 without at least a fair-to-middling rushing threat.
---
Benvolio from Los Angeles writes:
I was just reading your article on the state of spring ball in the Pac-12 and found the line, "Just one first-team All-Pac-12 performer is back -- Ducks CB
Ifo Ekpre-Olomu
." Ted, you forgot
Leonard Williams
AGAIN. Don't make me tell Leonard.... He's 6-5, 300 pounds and worked hard for that All-Pac-12 title.
Ted Miller
: Man, forget Leonard Williams a couple of times and Benvolio goes from peacemaker to biting his thumb at the Pac-12 blog.
Perhaps Queen Mab hath been with me, distracting me from recalling the Pac-12's best defensive lineman this past fall?
Or maybe I just miss you, Benvolio, and wanted to see if you were paying attention?
Or maybe it was just a stupid oversight?
No, couldn't be that. That's too out of character. Had to be Queen Mab.
February, 25, 2014
Feb 25
7:15
PM ET
Our look at position groups in the Pac-12 continues.
Arizona:
With
Ka'Deem Carey
off to the NFL, figuring out Arizona's running back situation requires a bit of guesswork. Backups
Daniel Jenkins
and
Kylan Butler
are out of eligibility and rising junior
Jared Baker
tore his ACL in the regular-season finale. That leaves no running backs who had a carry last season. Those competing for carries will be redshirt freshmen
Pierre Cormier
and
Zach Green
, and true freshmen
Jonathan Haden
, an early enrollee, and
Nick Wilson
.
[+] Enlarge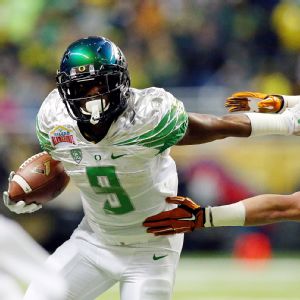 Ronald Martinez/Getty ImagesByron Marshall will be the Pac-12's leading returning rusher in 2014.
Arizona State
: The torch was passed from
Marion Grice
to
D.J. Foster
toward the end of last season, and Foster will have a full offseason to prepare to be the No. 1 guy. He showed impressive flashes in spot playing time in the past two seasons, and ran for 318 yards (6.2 yards per carry) in three starts after Grice was lost to injury.
California:
Much was made about
Brendan Bigelow
's talent during his career in Berkeley, but it never materialized the way many expected it would. He was beaten out by true freshman
Khalfani Muhammad
a year ago, then opted out of his final year of eligibility for a shot at the NFL -- and subsequently was not invited to the combine. Getting a feel for how coach Sonny Dykes would like to use his running backs is tough considering the lopsided nature of most of the games last year, but Muhammad showed all the signs that he would develop into a good Pac-12 running back.
Colorado:
Christian Powell
and
Michael Adkins II
will both be back after combining for 1,097 yards rushing in 2013. With receiver
Paul Richardson
off to the NFL, there's the need for added production on offense, and while coach Mike MacIntyre showed at San Jose State he'd prefer that to come through the air, it could add up to more opportunities for Powell and Adkins.
Oregon
: Does it even matter who the Ducks hand the ball to? Sometimes it doesn't seem like it, but, regardless, Oregon remains loaded with speed and talent at running back.
Byron Marshall
(1,038 yards rushing) and
Thomas Tyner
(711 yards) will both see plenty of carries when quarterback
Marcus Mariota
(715 yards) isn't running on his own. The team does lose
De'Anthony Thomas
, who opted to leave early for the NFL, but Thomas turned into a relative afterthought last season anyway.
Oregon State:
It shouldn't be hard to improve the Beavers' running game after they ranked 115th in the country in rushing yards per game last season. Their top two backs --
Terron Ward
and
Storm Woods
-- return and figure to see more use under new offensive coordinator John Garrett. There was a glimpse of what could be against Boise State in the Sheraton Hawai'i Bowl as the Beavers unleashed a more balanced approach. Woods ran for 107 yards on 16 carries and Ward added 54 yards on nine carries in a comfortable 38-23 victory.
Stanford:
The Cardinal's running back situation is
outlined here in more detail
, but it should be noted that the competition between
Remound Wright
,
Barry J. Sanders
and
Ricky Seale
-- competing to replace
Tyler Gaffney
-- will also include
Kelsey Young
. Young was recruited to Stanford to play running back, but was switched to receiver and is now back at running back. Sanders has the name recognition, but all signs point to Wright getting the first crack at being the primary back. However it plays out, it would be a complete shock if one back was used as much as Gaffney was in 2013 and Stepfan Taylor the two seasons before that.
UCLA
: If things play out the way UCLA coach Jim Mora hopes they will, linebacker
Myles Jack
will be just that … a linebacker. After winning Pac-12 Offensive and Defensive Freshman of the Year, the Bruins would ideally keep him on defense. For that to happen, someone needs to step up. That conversation still includes
Jordon James
and
Paul Perkins
, while
Craig Lee
, a four-star recruit who redshirted last year, also factors into the equation.
[+] Enlarge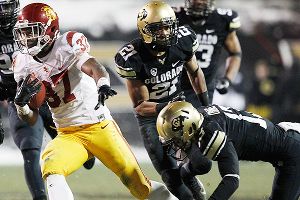 AP Photo/David ZalubowskiBuck Allen will likely head up USC's running back committee next season.
USC
: After watching Bishop Sankey turn into one of the nation's premier backs under the tutelage of new coach Steve Sarkisian, USC's deep stable of running backs has to be intrigued. The Trojans will return four of their top five leading rushers from a year ago --
Javorius "Buck" Allen
,
Tre Madden
,
Justin Davis
,
Ty Isaac
-- when they were predominantly a run-first team. Allen, who was named the team MVP in 2013, figures to get the first crack at being the starter, but that could be just in name only as a
running-back-by-committee scenario seems likely
.
Utah
: Another season, another new offensive coordinator for the Utes. This time it's
Dave Christensen's job
to invoke life in the Utah offense, which will return leading rusher
Bubba Poole
(607 yards) and
Lucky Radley
(284 yards). The Utes averaged just 4.1 yards a carry as a team last year, which is partially to blame for the change from Dennis Erickson to Christensen after just one year.
Washington:
The NFL combine taught us that
Bishop Sankey
might have been the most physically gifted running back in the country last year. It's not as simple as plugging in another guy to replace him, but the Huskies are still in good shape. Senior
Jesse Callier
(48 carries, 213 yards in 2013), who was slated to be the starter before an ACL tear in the season opener in 2012, is intriguing and will compete with fellow senior
Deontae Cooper
(43 carries, 270 yards) and sophomore
Dwayne Washington
(27 carries, 332 yards).
Washington State:
Considering quarterback
Connor Halliday
had three single-game passing totals that were more than leading rusher
Marcus Mason
ran for in entire season (429), any discussion about the Cougars' running game is tough to take seriously. Yes, there will still be running backs on the roster. No, they probably won't combine to run for 1,000 yards as a team.
Previous positions
Quarterback
November, 28, 2012
11/28/12
10:15
AM ET
Stanford's defensive performance against Oregon on Nov. 17 was a thing of beauty.
In a 17-14 overtime victory, the Cardinal held the Ducks 157.6 yards below their season average, 127 yards below their season rushing average and, most important, 40.5 points below their season scoring average.
The Cardinal was disruptive. It didn't let Oregon's speed get around the edges. It controlled and filled gaps. It forced the zone-blocking Ducks' offensive line backwards. It tackled well, not allowing yards after contact or catch. It didn't let up for 60 minutes, as so many seemingly strong defensive performances against Oregon tend to. And when Oregon busted its one explosion play on the evening, backup safety
Devon Carrington
made sure it was a 77-yard
Marcus Mariota
run to the Stanford 15-yard line and not a 92-yard TD scamper that might have changed the game.
[+] Enlarge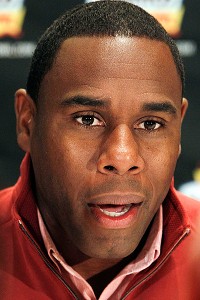 AP Photo/Ross D. FranklinStanford defensive coordinator Derek Mason is a finalist for the Broyles Award as the nation's top assistant coach.
The man behind that defense is Stanford coordinator Derek Mason, a finalist for the Broyles Award as the nation's top assistant coach, and a guy who's name is bouncing around as a budding head coaching candidate.
What was the secret to the Cardinal solving the Ducks?
"We worked extremely hard at making sure we were going to be who we were," Mason said.
That's not as simple as it sounds, particularly against the Ducks, but it's something the Stanford players cited after the game as well.
"We took a greater focus on ourselves this time," linebacker
Shayne Skov
said after the Oregon game. "We didn't try to make too many adaptations to our own system. We were going to do what we do."
Yet what Stanford does has changed through the years. Significantly.
In 2009 -- Jim Harbaugh's third season -- the Cardinal was a plodding unit that ran a 4-3 and gave up 27 points a game. Enter Vic Fangio, who installed a 3-4. That same year, Mason took over the Cardinal secondary.
When Harbaugh and Fangio bolted for the San Francisco 49ers, new coach David Shaw handed the defense to Mason, who shared coordinator duties in 2011 with Jason Tarver, who is now running the Oakland Raiders' defense.
Let's just say Stanford's defense now looks sort of like its own thing, Mason's thing.
Explained Mason, "It's sort of morphed into something that is a little more …" Mason didn't finish the thought -- he started talking about defending spread offenses -- but we will: Funky, unorthodox, flexible. And effective.
Stanford's defense is talented, particularly its front seven, where a handful of guys have a chance to play on Sundays. It's notoriously physical, certainly the Pac-12's most smashmouth unit. And it's sound and disciplined. It doesn't blow a lot of assignments. That's very Stanford-y.
Yet Mason also hasn't been afraid to show some "what the heck is that?" looks to an offense, looks that seem to befuddle even experienced quarterbacks such as USC's
Matt Barkley
.
The results is this: Stanford is No. 1 in the nation in run defense (71.3 yards per game), sacks (4.42 yards per game) and tackles for a loss (9.25 yards per game). It's also 11th in the nation in scoring defense (16.92 ppg), despite playing a number of the nation's best offenses, something that can't be said for a number of other highly rated defenses. It's eighth in third down defense (29.53 percent).
"It's a containment run defense predicated on making offenses left handed and earning the right to rush the passer," Mason said.
In other words, the Cardinal stops the run, sacks your quarterback and gets off the field.
That's what happened last weekend against UCLA in Stanford's 35-17 win. The Cardinal held the Bruins to 73 yards rushing and recorded seven sacks and nine tackles for a loss.
It was textbook Stanford, which has held eight of 12 opponents below 100 yards rushing this season.
Yet Mason isn't completely believing what he saw in Game 1 with the Bruins. He said he thinks Game 2 on Friday in the Pac-12 championship game will feature a lot more offensive wrinkles from UCLA coordinator Noel Mazzone.
"There are some things they didn't show," Mason said. "It was obvious. I see it as a totally different game."
Mason specifically cited the quarterback run. Redshirt freshman
Brett Hundley
has rushed for 282 yards and eight TDs this season. His legs are weapons, and the Bruins didn't showcase them last weekend.
While UCLA and Stanford's potential first Rose Bowl since after the 1999 season are the immediate motivations and goals, Mason is aware that his name is bouncing around as a potential head coach. While it's clearly a future goal, he doesn't seem to be in too much of a hurry to race out of Palo Alto in order to chase the first opportunity that comes his way.
"I'm so in love with what is happening here with our players," he said. "I truly believe I am where I'm supposed to be."
Mason seems to like things on the Farm, where he's been growing a West Coast defensive power.
June, 6, 2012
6/06/12
9:00
AM ET
Last week we brought you our predictions for the
Pac-12's 3,000-yard passers in 2012
. And judging from the comments, it seems like at least 10 quarterbacks are going to hit the 3K mark.
Are folks just as optimistic about the running backs reaching 1,000 yards?
First, let's take a look at last year's 1K rushers:
LaMichael James, Oregon, 1,805

John White, Utah, 1,519 (returning)

Chris Polk, Washington, 1,488

Stepfan Taylor, Stanford, 1,330 (returning)

Isi Sofele, Cal, 1,322 (returning)

Cameron Marshall, Arizona State, 1,050 (returning)

Curtis McNeal, USC, 1,005 (returning)
So that's five of the seven coming back. Let's break it down by team.
[+] Enlarge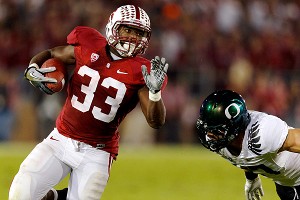 Jason O. Watson/US PRESSWIREStanford RB Stepfan Taylor is seeking his third straight 1,000-yard rushing season.
Stepfan Taylor, Stanford:
The Cardinal have a committee approach, but even so, Taylor has gone over 1,000 yards in back-to-back years. The loss of guard David DeCastro hurts a bit, but the Cardinal are dedicated to the run and Taylor is a fantastic back. Shouldn't have any trouble three-peating.
Ka'Deem Carey, Arizona
: The Wildcats ran the ball the second fewest of any Pac-12 team last season (331 attempts), but Carey still managed 425 yards on 91 carries. Arizona will run the ball significantly more under Rich Rodriguez -- who usually has one of the top rushing offenses in the nation. His running backs had more success at West Virginia than at Michigan, where QB
Denard Robinson
sucked up most of the yards. Carey will be close and it might come down to whether Arizona plays a 13th game.
Cameron Marshall, Arizona State
: He did it in a pass-first system on an injured ankle. Now he's in a run-first system and healthy. Do the math. Marshall should flourish in a downhill system. The Sun Devils have deep group behind him -- maybe the deepest in the conference -- but I can't imagine anyone cutting into his carries too deeply that it hinders his ability to get back to 1K.
Isi Sofele, Cal
: There are mumblings that Cal might move to more of a committee approach and Sofele might not get the same number of carries as last year (252). Even so, he'll still probably be chairman of that committee and will have ample opportunity to reach 1,000 yards again. He'll get there.
Tony Jones, Colorado
: The Buffs' offensive line might be their strongest offensive asset with standouts like tackle
David Bakhtiari
and center
Gus Handler
. That bodes well for Jones, who showed he can be very explosive backing up Rodney Stewart last year. But the Buffs spent a lot of time playing catch-up last season and couldn't commit to the run as much as Jon Embree probably would have liked (401 attempts). If they can't develop a downfield threat, Jones is going to see a lot of eight-in-the-box.
Kenjon Barner, Oregon
: He was knocking on the door last year with 939 -- and that was behind LaMichael James and his 1,805 yards. Barner will see more carries than his 152 last season, though he'll still have to split carries with
De'Anthony Thomas
and the Ducks' new quarterback. Still, no one in the conference runs the ball more than Oregon so Barner shouldn't have any trouble getting there.
Committee, Oregon State
: We know Oregon State wants to run the ball more. The Beavers were dead last in the conference last season in attempts (318) and rushing yards (1,043) and there are still issues on the offensive line that need to be sorted out. Several players are expected to contribute -- but chances are one individual won't get over 1,000 yards.
Johnathan Franklin, UCLA
: The new system at UCLA will be pass-oriented. But Franklin (976 yards last year) won't be completely ignored. Just look at Marshall's numbers from ASU when Noel Mazzone was running the show and you can see that running backs are still a big part of the attack. And the Bruins might run a little more until the new quarterback finds his way in the system. He'll be close.
Curtis McNeal, USC
: He just cracked the club by five yards last season. This year he'll have the benefit of a 13th -- maybe even a 14th -- game to get there. Can't imagine many teams will stack the box and dare
Matt Barkley
to beat them with his arm. McNeal should clear 1K easily.
John White, Utah
: No back carried the ball more in the conference and only three players in FBS football had more rushing attempts. There's no reason to think the Utes won't take that same approach. White is an explosive back who is a proven workhorse. If Utah can get the passing game going, it will open up more for White who could probably match his yards total with fewer carries.
Committee, Washington
: Chris Polk was a special running back -- the kind of guy who could run for speed and run for power. He's gone and there are questions on the offensive line where there weren't last year.
Jesse Callier
and
Bishop Sankey
will probably headline the committee and Washington's balanced approach (52-48 run-pass ratio last year) will allow for plenty of opportunities for both. They should easily combine, but unless one steps up as an 18-20 carry-per-game back, it's unlikely an individual will reach 1K.
Committee, Washington State
: The pie for carries is already small considering the offense. Then you have
Rickey Galvin
(1A),
Carl Winston
(1B) and
Marcus Mason
(1C) cutting into the pie even more to nibble on whatever slices are left. Running backs in Mike Leach's world are better used in the passing game on swings and screens in this offense. So don't expect a 1K rusher.
Pac-12 Weekend Wrap: Sept. 16