Stanford Football:

Marshall Lobbestael
October, 16, 2011
10/16/11
5:00
PM ET
PULLMAN, Wash. -- An angry David Shaw raced up and down the sidelines, flailing his arms and boiling over to the point where he almost threw his headset.
The Stanford head coach was ticked. Big time.
Wide receiver
Chris Owusu
was still on the ground at the Washington State 32-yard line -- and would remain there concussed for several minutes after taking a hard hit from Washington State's Casey Locker. Shaw was looking for a flag -- any flag. But got none.
Replays appeared to show contact to Owusu's head, but it was initially unclear if the contact came from Locker's shoulder pad, forearm or helmet.
"It doesn't matter what he leads with," Shaw explained after the game. "If it's contact on our guy's head, it should be a penalty. We'll see if the film bares that out."
This is the second time this season Shaw has seen one of his key play-makers take a blow to the head without a penalty. Tight end
Coby Fleener
missed the bulk of the Arizona game after taking a shot to the head in the first quarter.
He called Owusu's injury a mild concussion after the game. The receiver eventually walked off the field under his own power and remained on the sidelines with his helmet off for the remainder of the game.
"With all the fears and all of the things about concussions, which are all legitimate, there's no way he's getting back in the game," Shaw said of Owusu. "A couple of years ago, he probably would have been listed as a mild concussion because he wasn't unconscious. Back in the old days, he would have gone back in the second half. We're not in that era anymore."
ADDITIONAL NOTES
Some special, some not
It was a hot-and-cold night for the special teams. The Cardinal capped the game with a 96-yard kickoff return for a touchdown by
Ty Montgomery
. But prior that, the punt return team looked shaky as they almost turned it over twice -- once when a live ball almost hit
Drew Terrell
's blockers.
"He's got to be louder," Shaw said of Terrell. "He's got to yell and scream and tell guys to watch out. He's got to make those calls so the guys can get away from the ball. That's the bottom line."
QB switch-a-roo
The Cardinal players said they were ready in the event
Jeff Tuel
started at quarterback for Washington State, rather than
Marshall Lobbestael
. And that's exactly what happened. Tuel, the quicker of the two quarterbacks, was able to escape a few potential sacks, but he was still brought down five times by the defense.
"We were preparing for both because we weren't sure who we were going to see," said defensive lineman Ben Gardner. "He was more slippery than we thought he would be. He was trying to get out of the pocket quick. He did a good job evading some sacks we should have had. We were able to get to him and flush him and get some hits, but we should have had four or five more sacks than we did. "
Injury update
Running back
Tyler Gaffney
left the game after "getting stepped on," according to head coach David Shaw during a special teams play. Shaw said he has a bruise on his side, but expects him to be OK.
"It's an interesting way to get hurt," Shaw said with a laugh.
Notable numbers
Stanford's 14th-straight win is a school record, besting the teams of 1904-05 and 1939-41, which won 13 straight ... Stanford has held its last 12 opponents to under 20 points ... Stanford has won its last nine games by at least 25 points, which matches the BCS era record of Boise State, which had nine straight wins of 25-plus in 2002.
Up next
Stanford's next game against Washington on Oct. 22, will kickoff at 5 p.m. and will be televised on ABC.
October, 15, 2011
10/15/11
11:00
PM ET
PULLMAN, Wash. -- Causality is a topic philosophers have tackled for centuries. From Aristotle to Kant to the over-simplified A+B=C, the concept of cause-and-effect has tugged on some of the brightest minds since the brain first fired off neurons.
Stanford quarterback
Andrew Luck
summed it up in 4 plays, 85 yards and 1 minute, 52 seconds.
Cause: Throw to the tight ends. Effect: Touchdown.

Cause: Throw to the tight ends more. Effect: More touchdowns.

Cause: Don't throw to the tight ends. Effect: Zero touchdowns.
Take the first half of Stanford's
44-14 win Saturday night
over Washington State. Luck targeted his tight ends three times in the first 30 minutes. The result was two catches from
Zach Ertz
for 12 yards. Unimpressive numbers from a trio of tight ends that coach David Shaw touts as "NFL" tight ends.
Fast forward to the first drive of the second half for Stanford.
4 plays, 85 yards, 1 minute, 52 seconds
. Cause and effect.
After no catches in the first half, Fleener finished with four catches for 128 yards and a touchdown.
[+] Enlarge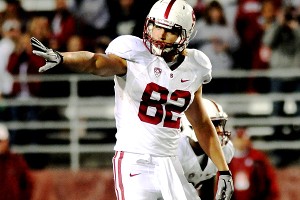 James Snook/US PRESSWIREStanford's Coby Fleener caught four passes for 128 yards and a touchdown against Washington State.
"I can't say enough about Coby Fleener," said Shaw. "The guy shows up every game, makes a big play and runs past guys that are smaller than him. And at 250 pounds, to run the way he runs and make the plays and catches he makes, I don't know if there is another guy like him in the country."
Well, there are at least two more. And they play on the same team. Ertz finished with five catches for 52 yards -- including three third-down conversions in the second half. Fleener converted twice on third down, once for 29 yards and again on a 28-yard touchdown reception. In the second half, Luck targeted the tight ends 11 times and the trio accounted for nine catches, 204 yards and three touchdowns.
"We love to see each other succeed," Toilolo said. "It's always nice to have all three of us catching passes and contributing."
The second-half success put a little polish on what was a dismal first half of football from the Cardinal (6-0, 4-0). Luck, who finished 23-of-36 for 336 yards, threw his third interception of the season on his first pass attempt of the game. Taylor, who hadn't lost a fumble in his last 219 attempts, coughed it up on his 220th -- his first lost fumble since he lost two last season at USC. There was no rhythm -- and very little of the tight ends.
"It was just the plays that we chose," Shaw said. "The safeties were playing tight, we took some shots back outside (in the first half) and it didn't pan out. We came back in the second half and decided to use some different formations and use our tight ends."
Toilolo, the tallest of the tight ends at 6-foot-8, showed his length on his second touchdown of the night -- a 26-yard pass from Luck.
"He's always been a force," Luck said. "We always knew how good he was. He does a good job stretching out when he gets tackled on the 5-yard line and still gets in the end zone. A lot of guys would have been down at the 2. He's a heck of a football player, as are all the tight ends."
Said Toilolo: "I saw the pylon there and I know my body and I felt like I was in reach. I basically fell over and landed in the end zone."
A scary moment on Stanford's second offensive drive of the game came when wide receiver
Chris Owusu
took a vicious hit. There appeared to be contact to his head from safety Casey Locker and Owusu remained on the ground for several minutes. He was able to walk off the field, but remained on the sidelines without his helmet for the remainder of the game.
Without Luck's favorite target, he turned to receiver
Griff Whalen
, who turned in a second-straight week of steady football. Whalen caught seven balls for 76 yards and was fantastic blocking downfield.
From a defensive standpoint, the Cardinal were stellar. Despite the last-minute misdirection from Washington State (3-3, 1-2), which started quarterback
Jeff Tuel
despite announcing earlier in the week
Marshall Lobbestael
would get the start, the Cardinal limited the Cougars to 209 yards of total offense and 48 yards rushing. Stanford players said they had prepared for both quarterbacks.
"There is not much room for error with a ball club like that," Tuel said. "They did a great job bringing the heat and having answers for what we were doing. They're a good ball club."
Taylor rebounded from the fumble to finish with 100 yards on 17 carries (5.9 yards per carry) and
Jeremy Stewart
tallied the lone rushing touchdown, a 1-yard run on fourth-and-goal.
After giving up a touchdown with 14 seconds remaining in the game -- a 1-yard run from Lobbestael --
Ty Montgomery
put an exclamation point on the victory, returning the ensuing kickoff 96 yards. It was Stanford's first kick return for a touchdown since Owusu did it against Washington in 2009.
The Stanford coaching staff has been very good this season at making halftime adjustments, and Saturday night was no exception. They recognized the game plan wasn't clicking in the first half so they went back to their bread-and-butter: the tight ends.
"I wasn't concerned [at halftime]. I was mad. I was upset," Shaw said. "It's real simple. I told them if we come back and play our style of football, we'll win by three touchdowns. That's it."
Well, four and change. But who's counting?
October, 15, 2011
10/15/11
5:16
PM ET
PULLMAN, Wash. -- Turnovers and challenges accented an other wise
sloppy first quarter
from both teams.
Stanford quarterback
Andrew Luck
threw his third interception of the season on his first pass attempt -- a streak intended for
Jamal-Rashad Patterson
that had too much air under it.
Washington State pulled a little misdirection of its own to start the game. After announcing that
Marshall Lobbestael
would be the starting quarterback earlier in the week, it was
Jeff Tuel
who started the game for the Cougars.
A 23-yard field goal from Jordan Williamson is the game's only scoring.
A scary moment on Stanford's second possession when wide receiver
Chris Owusu
took a hard hit and was on the ground for several minutes. He eventually walked off the field on his own, but it is unknown if he will return.
He's standing on the sidelines without a helmet, similar to how
Coby Fleener
was treated in Arizona after taking a hard shot.
Stanford has yet to allow any points in the first quarter this season.
October, 15, 2011
10/15/11
2:33
PM ET
PULLMAN, Wash. -- Washington State has been away from home for more than a month. After missing their team for three straight games on the road at San Diego State (loss), at Colorado (win), at UCLA (loss) the Cougar faithful seems excited to see some football.
Stanford, which can become bowl eligible with a victory, returns to the road after back-to-back home games.
Some things to consider:
How involved will wide receiver Chris Owusu be early in the game? Earlier this week, head coach David Shaw said he expected more productivity out of Owusu at this point in the season, but added that they need to do a better job getting him involved in the game early. Curious to see if quarterback Andrew Luck forces more than he should just to try to get Owusu involved.
Stanford's secondary is coming off a very efficient game against Colorado and faces a spread attack for the second time this season (first time at Arizona). They shouldn't be surprised by anything Washington State throws at them. The longer they hold their coverage, the better chance the pass rush has at getting to WSU quarterback Marshall Lobbestael, who has been sacked 12 times this season.
Not that this matters to Stanford's players and coaches, but a victory would give them the longest winning streak in school history. They already own the nation's longest active win streak at 13 games. A win would surpass the efforts of the 1904-1905 teams and '39-'41 teams which won 13 in a row.
October, 14, 2011
10/14/11
12:00
PM ET
Lot's of Luck talk this Friday.
October, 13, 2011
10/13/11
7:15
AM ET
A few things to keep an eye on Saturday when No.7 Stanford travels to Martin Stadium to face the
Washington State Cougars
.
Inside the 20: Stanford has been unstoppable once it enters the red zone -- and that's not just hyperbole. They are 27-of-27 in red zone chances. Last week against Colorado, they entered the red zone five times and came away with a touchdown all five times. Only three other teams in the country can boast that average. They have 22 touchdowns on 27 trips inside the opponent's 20 -- including 12 touchdowns on the ground and 10 via the pass.

[+] Enlarge

Ezra Shaw/Getty ImagesStanford coach David Shaw judges a successful pass rush not on sacks, but on how many times his defense hits the quarterback.

Inside the 20, take 2: Only Michigan and Oklahoma can tout a higher red zone defenses than the Cardinal, who have turned opponents away 43.9 percent of the time they get inside the Stanford 20. Of the 14 trips inside Stanford's red zone, teams have scored just eight times, six of those have been touchdowns. In the past two weeks, the defense has flexed its muscles early in the red zone. Last week it was a blocked field goal that was returned for a touchdown. Two weeks ago against UCLA it was a goal-line stand. Few teams are tougher backed up against their own goal line.

Heavy hitters: Stanford coach David Shaw said he doesn't judge a successful pass rush by the number of sacks his team tallies. It's the number of times the opposing quarterback gets hit. And so far he's been very pleased with the pass rush. While Washington State quarterback Marshall Lobbestael is having a very efficient season, he has been sacked 12 times. With Chase Thomas and Co. busting through the edges, look for Lobbestael to spend some time on the ground this game.

Thievery emerging? The Stanford secondary got the proverbial interception monkey off its back last week with a pick by safety Michael Thomas. Are there more to come this week? Lobbestael does a pretty good job taking care of the ball. He's only thrown four picks to 15 touchdowns this season. Shaw said he was pleased that the defense finally got a turnover in the air, but stressed that his team will continue to keep to its scheme and that freelancing will not be accepted.

Check-down in affect: Against Colorado, Luck looked to his running backs to catch the ball more than any other time this season. He targeted his backs 12 times -- more than any other position group. The previous high had been seven times against Arizona, then six times against UCLA and five against Duke and San Jose State. I don't know if this was by design, it's what the defense was giving or if it's just Luck's progression in the offense. But it's a good thing. The more diverse you can be, the tougher you are to defend.
October, 13, 2011
10/13/11
6:00
AM ET
With a victory, the
Stanford Cardinal
become bowl eligible for the third straight season. That's a big deal for a program just a few years removed from a 1-11 campaign. By now, we all know that Stanford (5-0, 3-0) has the nation's longest winning streak, the best quarterback in the country and a stingy defense that doesn't give up many points. Put all of that together, and you have win consecutive win No. 14.
Prediction
: Stanford 42, Washington State 14
Overall
: 5-0
Why they'll win
: The Cardinal have too much balance for the Cougars to handle. Whether it's pounding away with their stable of running backs or going over the top to the tight ends or wide receivers, Stanford is yet to face a team that can take away all of their weapons on offense. Someone is always open. And even when they're not, Luck finds a way to make them open. He's gotten better the last couple of weeks distributing the ball more to the running backs and fullback
Ryan Hewitt
has proven to be invaluable in the passing game. If
Tyler Gaffney
's star continues to rise at running back, he'll provide a very nice complement to
Stepfan Taylor
.
In the spotlight
: The secondary needs to have a good game to keep Washington State's spread offense in check. The Cougars have tried to run the ball more in recent weeks -- we know how that usually works out for teams against Stanford. More than likely, Washington State will have the same, unsuccessful results. And if the secondary can do a good job shutting down their receivers, it could be a long day for WSU quarterback
Marshall Lobbestael
, who has already been sacked 12 times this year.
Out on a limb
:
Chris Owusu
bounces back with a big game. After a rocky outing last week against Colorado, where he caught just three balls for 34 yards, the wide receiver should return to form. Coach David Shaw said he wants to get Owusu more involved early so he can get into a rhythm. And there is some history in Martin Stadium between Owusu and
Andrew Luck
. The quarterback made his collegiate debut in Pullman and threw one touchdown -- a 63-yarder to Owusu.
October, 12, 2011
10/12/11
12:00
PM ET
Today's links on what's happening around Stanford football.
October, 11, 2011
10/11/11
3:00
PM ET
A few questions bouncing around my melon heading into Saturday's game.
Will Saturday be a shootout?
Two of the Pac-12's top offenses will be on display at Martin Stadium. The Cardinal average 46.2 points per game while Washington State averages 40.6. However, Stanford presents the toughest defense Wazzu has seen so far this season and has held opponents scoreless in 12 of 20 quarters.
Lessons learned from Arizona?
This is will be the second time Stanford has seen a spread-centric team this season -- Arizona being the first. In that game the secondary held
Nick Foles
to just 239 yards passing in probably their strongest game of the season. Saturday, they face back-up-turned-solid-performer
Marshall Lobbestael
, a 6-foot-3, 215-pounder who has thrown for 1,570 yards, 15 touchdowns, four interceptions and has completed 64.8 percent of his passes. The Cardinal secondary has given up a lot of yards, but that's also a product of some big leads and teams being unable to run the ball. Expect Washington State (56 percent pass, 44 percent run) to try and run the ball more than Arizona did -- at least early on.
Will Luck continue to stay clean?
His offensive line has done a fantastic job to date keeping No. 12 upright. Part of that is the scheme, part of it is Luck's ability to extend plays, and part of it is the offensive line simply getting better every week. Colorado presented some of the toughest pass rushers Stanford had seen to date. But they were turned away without a sack. Washington State is pretty good as well with 11 sacks on the year.
Are the wide receivers trending up?
We saw more wide receivers get involved in the mix against Colorado.
Griff Whalen
had a breakout game.
Corey Gatewood
got involved with an (unsuccessful) end-around and also caught a ball for 22 yards.
Jamal-Rashad Patterson
picked up a pass from
Brett Nottingham
in the fourth quarter. Stanford is already a diverse offense. If they can keep adding that, they will be that much tougher for teams to scheme against.
Does bowl eligibility mean anything this early?
It might not seem like a big deal given the team and the expectations they have this year. But Stanford fans don't have to go back too far (cough, 20006) to remember when even getting to a bowl (cough, 2007) was a big deal (cough, 2008). After seven consecutive years without postseason football, the Cardinal are on the verge of becoming bowl eligible for the third-straight year.
PAC-12 SCOREBOARD
Saturday, 12/21
Monday, 12/23
Tuesday, 12/24
Thursday, 12/26
Friday, 12/27
Saturday, 12/28
Monday, 12/30
Tuesday, 12/31
Wednesday, 1/1
Thursday, 1/2
Friday, 1/3
Saturday, 1/4
Sunday, 1/5
Monday, 1/6