Stanford Football:

Michael Clay
November, 11, 2013
11/11/13
3:15
PM ET
Chaos could happen. Alabama could lose to Auburn. Florida State could go down in the ACC title game. Ohio State could lose to Michigan. Baylor could falter at Oklahoma State.
[+] Enlarge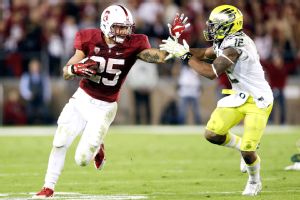 AP Photo/Marcio Jose SanchezTailback Tyler Gaffney's big day -- 45 carries for 157 yards -- helped Stanford crush Oregon's hopes of playing in the national title game.
Then the Pac-12, in the form of either Stanford or Oregon, could slip into the final -- final! -- BCS national title game. Honestly, it wouldn't even require all of that. Because of the top-to-bottom quality of the conference this year, a one-loss Pac-12 team might end up first among equals in the BCS standings. Unbeaten Alabama and a bunch of one-loss teams? Stanford probably would come first among those with a single blemish, though then the nation would commence a bitter and grotesque "quality loss" debate.
So it is not beyond the realm of possibility that the Pac-12 wiggles its way back into one of the top two spots.
But our premise here is that doesn't happen, that things don't go all 2007 again. Our premise here is the Pac-12 again is shut out of the national title game.
A CliffsNotes version of what follows: Drat. But justifiable.
The Pac-12's last national championship was USC in 2004, which means the drought will be a full decade when we head into the first season of the four-team College Football Playoff in 2014.
The conference did play a supporting role in two of the best BCS title games: USC falling to Texas after the 2005 season in one of the greatest college football games in history, and Oregon being nipped by Auburn by a last-second field goal after the 2010 season.
Still, in the preseason
this felt like the year of a breakthrough
. This felt like the year in which the Pac-12's two top dogs, Stanford and Oregon, had the pieces in place to win a title and dethrone the SEC after seven consecutive championships. They both had experience at quarterback. Both looked strong on the offensive line. Both had A-list talent on defense.
(
And both had united to defeat evil
!)
Sure, both had questions. But all teams do. Stanford and Oregon had begun to look like programs that answer questions on an annual basis. You know: Like Alabama, which was supposed to be questionable on defense and, well, isn't.
Yet after both the Cardinal and Ducks went down, those questions returned. Stanford's middling passing attack was a major reason the Cardinal lost at Utah. And one suspects that if linebackers Dion Jordan, Kiko Alonso and Michael Clay were on hand, Oregon wouldn't have allowed Stanford to
convert all seven of its third-and-2 or shorter plays
with
Tyler Gaffney
runs last Thursday.
Might have things been different for either team if, say, Stanford had a healthy
Henry Anderson
for Utah, or if Oregon QB
Marcus Mariota
was 100 percent last Thursday? Maybe. But that's speculation trying to subvert the bottom line reflected on the scoreboard.
Judging who should play for the national title, which is always subjective in our present system and will continue to be with the four-team playoff, ultimately involves the totality of the season, so how things look on Nov. 11 is pretty meaningless. But how things look to me today is that Alabama and Florida State should play for the national title and that they both look better than either Stanford or Oregon.
Maybe that changes, because a week ago I was ranking Oregon No. 1. It probably would change if Alabama lost to Auburn, or if Florida State went down in the ACC title game. Stranger things have happened.
But my chief reaction after the Stanford-Oregon game was: Neither of these teams would beat Alabama. My feeling wasn't as strong for Florida State, but the Seminoles have yet to reveal any weaknesses so far this season.
I can feel the rage already exploding out there from Pac-12 fans. Such an assertion surely will make Pac-12 fans angry, but I suspect that 75 percent of those currently enraged actually, perhaps not even that deep down, agree with me. They just don't want to hear it or read it.
But the role of the Pac-12 blog is not to advocate for the conference. It distributes tweaks to other regions when necessary or even just for the amusement of doing so. But there's also a credibility issue. If we're telling folks Oregon/Stanford has the best chance of any team in the nation to beat Alabama and end the SEC's run, it should be a honest assessment, not a stroking of the regional ego or some public-relations move.
So today's assessment, impermanent as it may prove to be, is this: The Pac-12 will not play for the national title this season because it doesn't deserve to.
Again: Drat. But justifiable.
November, 6, 2013
11/06/13
5:45
PM ET
Oregon defensive coordinator Nick Aliotti is pleased. It has just been noted to him that his Ducks showcased brilliant coverage in the secondary during their 45-24 win at Washington. It's the same observation that had been made by Huskies coach Steve Sarkisian, but you get the feeling that Aliotti is not weary of hearing about it.
He admits he even allowed himself some extra time to savor the blanketing of white on black during a postgame film session with his players.
"I said, 'Look at this! There's nobody open for [Washington QB Keith] Price to throw the ball to!'" Aliotti said.
[+] Enlarge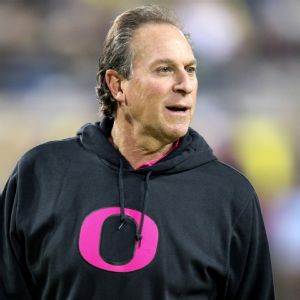 Steve Conner/Icon SMINick Aliotti spent 24 years on the Oregon coaching staff, including 17 as defensive coordinator.
Just like any other coach, Aliotti will tell you the only statistic that matters is about three letters, not numbers: W-I-N. That said, he takes a lot of pride in his defense and the players he sends onto the field. While Aliotti projects an amusing, avuncular personality, just below the surface is an intense competitor. That pride and competitiveness led to his postgame tirade two-plus weeks ago after Washington State scored two late touchdowns against his reserve players in a 62-38 Ducks win.
"That's total [bleep] that he threw the ball at the end of the game like he did," Aliotti said to reporters. "And you can print that and you can send it to [Cougars coach Mike Leach], and he can comment too. I think it's low class, and it's [bleep] to throw the ball when the game is completely over against our kids that are basically our scout team."
It might have been the most controversial moment of his 38-year career, and it cost him $5,000 after he was fined and reprimanded by the Pac-12. Aliotti apologized to Leach and called himself "embarrassed" in a release from the school two days later.
"It was probably an old guy who didn't understand the Internet, how the media can get going so fast," Aliotti said. "Just making an honest, simple statement about what I thought at the time. Obviously, I made a huge mistake by overstepping my bounds. I shouldn't have said those things. These days, you've got to be politically correct. Not one of my strong suits."
While, no, those comments weren't terribly smart coming from a veteran coach, it's not difficult to ascertain the source of Aliotti's frustration. While there typically have been hat tips to his defense during Oregon's rise to elite national power, most of the nation sees Oregon as being all about offense. That high-tempo, flashy offense is the big story when it rolls up eye-popping numbers, and it's the big story when it gets slowed down.
Recall the gloating from SEC fans about Auburn, with a middling SEC defense, shutting down the Ducks in their 22-19 victory in the 2010 national title game? Why was it not almost as notable that Oregon held Auburn to 18 fewer points than the Tigers averaged against SEC defenses?
Or when Stanford ruined Oregon's national title hopes last fall in a 17-14 overtime win, it was all about the Cardinal shutting down the Ducks with nary a mention of Aliotti's defense holding Stanford to 10 points below its season scoring average.
There's, of course, an obvious answer: The winning team sets the postgame agenda and analysis. Amid all the Ducks winning since 2009 -- 54-7 record -- the offense almost always leads.
That's apparently the big story again as No. 3 Oregon visits No. 5 Stanford on Thursday: Will the Stanford defense be able to thwart QB
Marcus Mariota
, the nation's leading Heisman Trophy candidate, and the Ducks again?
Yet here's a bet that the game won't turn on that. Here's a bet that Stanford's defense doesn't even approach its success from last year and that the bigger issue will be whether Stanford's struggling offense can score enough to keep it close.
Because, by the way, it's Oregon that enters the game with the Pac-12's best defense, not Stanford.
Oregon ranks first in the Pac-12 and seventh in the nation in both scoring defense (16.9 PPG) and yards per play (4.41). It leads the Pac-12 and ranks sixth in the nation in both pass efficiency defense and turnovers forced (23).
And this is happening after losing three All-Pac-12 linebackers, Dion Jordan, Kiko Alonso and Michael Clay.
Stanford coach David Shaw has noticed.
"They are missing three dynamic football players," Shaw said. "The crazy part is, without those outstanding players, the defense as a whole looks better. They are fast. They are big."
Shaw is one of more than a few Pac-12 coaches who frequently gush about Aliotti's defense, about how he maximizes his players' talents and puts them in position to be successful and how his perplexing, flexible scheme is both sound and sometimes baffling.
"It's a different scheme than most 3-4 teams," Shaw said. "It takes some getting used to, to prepare for it."
The enduring ideas about Oregon's defense, even when it is given credit, are quasi-dismissive compliments: scrappy, aggressive, quick, blitz-heavy. Those words are no longer accurate. The Ducks have comparable future NFL talent with many of the nation's top defenses, starting a secondary chock-full of future NFL starters.
Things have changed in part because winning has bolstered recruiting. The Ducks are no longer undersized. They are fast and big -- see eight defensive linemen in the regular rotation who are 6-foot-4 or taller, including three over 6-6. The secondary has become -- and will continue to be -- an NFL pipeline. And at linebacker,
things are going fairly well
for Alonso these days.
The improved talent has meshed with a good scheme, but Aliotti and his staff also are good at teaching and making sure each player understands what his assignments are. And trusts them.
"Our players believing in what they are doing," first-year Oregon coach Mark Helfrich said. "I think Nick and the defensive staff have done a great job of taking advantage of our overall strengths and maybe hiding our potential weaknesses a little bit. I think, collectively, it's a ton of guys playing hard."
Aliotti tweaks things every year. This season, the Ducks are blitzing less, due in large part to the myriad mobile quarterbacks in the Pac-12, a group that includes Stanford's
Kevin Hogan
, though their respectable 2.88 sacks per game suggest they are still getting pressure on the opposing quarterback.
We won't know if this turns out to be Aliotti's best unit until season's end, but it's certainly good enough to merit a spot on the marquee next to the Ducks' ludicrous speed offense.
And, yes, Aliotti wouldn't mind if he and his players received some credit.
"It's about winning games, but we do all take pride in our job," he said.
August, 28, 2013
8/28/13
10:00
AM ET
Across the ESPN blogosphere on Wednesday, we're looking at players/coaches/position groups with something to prove in each conference. In the Pac-12, the answers should be fairly obvious. Here are 10 from the league in no particular order.
1. Lane Kiffin
: OK, maybe this one is in particular order. USC's head coach is on the hottest seat in America after a disastrous 2012. There were embarrassments for the program on and off the field. That has led to plenty of speculation about what he needs to do to keep his job. Win 10 games? Nine? Win nine and beat UCLA or Notre Dame? Or both? This is a storyline that will no doubt carry deep into the season.
[+] Enlarge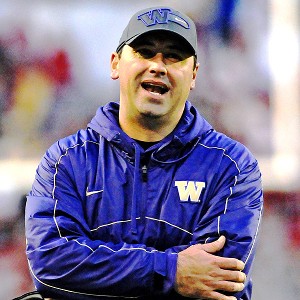 James Snook/US PresswireLane Kiffin isn't the only Pac-12 coach feeling growing pressure for a successful season.
2. Steve Sarkisian:
His seat isn't as hot as Kiffin's. But the heat index has certainly risen in the wake of another seven-win season. The Huskies have a lot of returning talent – including a quarterback with potential, a healthy offensive line, an outstanding running back and receivers (including TE), and a fairly veteran defensive core. The pieces are in place for Washington to, at the very least, get over the seven-win hump. Seven wins or fewer will be met with harsh criticism and questions about whether Sarkisian is the right guy for the job.
3. Oregon's linebackers
: This appears to be the only question mark for the Ducks, at least on paper, because they have a solid front and an outstanding secondary. Losing Michael Clay, Kiko Alonso and Dion Jordan is a big hit in terms of production, talent and leadership.
Boseko Lokombo
is a veteran presence, and
Tony Washington
,
Derrick Malone
and
Rodney Hardrick
have all been in the system for a few years. If they can match the production of their predecessors, the Ducks should be fine defensively.
4. Stanford's wide receivers:
Ty Montgomery
headlines this list. At the end of 2011, he showed explosive playmaking ability and his future looked sparkling. But injuries slowed him in 2012. With the Cardinal doing some overhauling after losing their top two tight ends, the receiver spot will likely take on more emphasis in 2013. Players such as
Devon Cajuste
,
Michael Rector
and
Kelsey Young
will need to be productive as well.
5. Paul Richardson
: The Colorado receiver missed all of last season with a knee injury and had to sit and watch his team fall apart around him. The Buffaloes went 1-11 and their coach was fired. A new coach, a new offense and a new enthusiasm in Boulder is motivating Richardson
to make up for lost time.
He is Colorado's most explosive player and knows he has the potential, and responsibility, to carry the offense. Now he just has to go out and prove he can do it.
6. Oregon State's receivers
: We know what we're getting with
Brandin Cooks
. He proved last season that he's an outstanding player. How much of that, however, was a product of the guy across the field, Markus Wheaton? With Wheaton gone, either
Richard Mullaney
or
Obum Gwacham
will have to step up as a complementary threat to Cooks -- along with
Kevin Cummings
in the slot.
7. QBs, old and new
: Not all the quarterback competitions are completed. But whoever wins the job at Arizona and USC will likely be looking over his shoulder for the bulk of the season.
Connor Wood
is back in the starting role for Colorado, true freshman
Jared Goff
gets the start for Cal, and
Sean Mannion
finally won Oregon State's job after a grueling seven-month competition with
Cody Vaz
. Nothing is set in stone at Washington State, so
Connor Halliday
will need consistent play to hold the job (we're assuming, for now, that it's Halliday). Expect these players to be under the microscope all season.
8. UCLA's running backs:
There are big shoes to fill with the departure of running back Johnathan Franklin, the school's all-time leading rusher and a Doak Walker finalist last year. Jim Mora has said that he'll likely use five backs throughout the season.
Jordon James
is the front-runner of the committee and has the best opportunity to distance himself. But expect
Paul Perkins
,
Malcolm Jones
,
Steven Manfro
and
Damien Thigpen
(health pending) to all fight for time and carries.
9. Utah's secondary
: It's not necessarily young. Just inexperienced. And in a pass-happy league, that could spell trouble. Free safety
Eric Rowe
has the most playing time among the group. Cornerback
Davion Orphey
is a juco transfer and opposite him is
Keith McGill
, a former safety and juco transfer who appeared in five games in 2011 but suffered a season-ending injury and then missed all of 2012. There is talent there. It's just mostly untested.
10. Arizona State:
Yep, the whole team. This is what you wanted, ASU fans … for the sleeping giant to be awoken. The alarm clock just went off. Now it's time to prove all the hype is worth it. A challenging schedule early -- including Wisconsin, Stanford, USC and Notre Dame in consecutive weeks -- will be a good measuring stick. Though the USC game is really the one that has South title implications. Still, the other three will go a long way toward determining how ASU is viewed nationally. Going 1-3 and beating USC wouldn't be disastrous. Going 0-4 will draw the requisite "same old ASU" criticisms.
March, 1, 2013
3/01/13
10:30
AM ET
We did a top-25 Pac-12 players list, and then asked you to provide your own.
The response was strong. Both in numbers of entries and the overall quality. A few of you listed mostly guys from your favorite team. One guy took the time to type out
Matt Barkley
25 times.
I couldn't publish them all, of course. Further, I didn't consider ones that listed 25 guys with no explanation -- YOU DIDN'T FOLLOW DIRECTIONS! -- and I didn't include ones that just said "switch these two players, drop
Reggie Dunn
and your list would be perfect."
I also have a celebrity contribution, the last one, that I found pretty interesting.
Couple of general thoughts:
Once again, here's our list.
No. 1
:
Marcus Mariota
, QB, Oregon
No. 2:
Will Sutton
, DT, Arizona State
No. 3
:
Marqise Lee
, WR, USC
No. 4
:
Matt Scott
, QB, Arizona
No. 5
:
Ka'Deem Carey
, RB, Arizona
No. 6
:
Kenjon Barner
, RB, Oregon
No. 7
:
Johnathan Franklin
, RB, UCLA
No. 8:
Stepfan Taylor
, RB, Stanford
No. 9
:
Star Lotulelei
, DT, Utah
No. 10
:
Markus Wheaton
, WR, Oregon State
No. 11
:
Anthony Barr
, LB, UCLA
No. 12
:
Jordan Poyer
, CB, Oregon State
No. 13
:
Zach Ertz
, TE, Stanford
No. 14
:
Matt Barkley
, QB, USC
No. 15
:
Brett Hundley
, QB, UCLA
No. 16:
Trent Murphy
, OLB, Stanford
No. 17
:
Chase Thomas
, OLB, Stanford
No. 18
:
Ifo Ekpre-Olomu
, CB, Oregon
No. 19
:
David Yankey
, OL, Stanford
No. 20:
Dion Jordan
, DE/OLB, Oregon
No. 21
:
Scott Crichton
, DE, Oregon State
No. 22
:
Ed Reynolds
, S, Stanford
No. 23
:
Michael Clay
, LB, Oregon
No. 24
:
Taylor Kelly
, QB, Arizona State
No. 25
:
Reggie Dunn
, KR, Utah
Here are some of your thoughts.
Braxton from Fargo, N.D.:
1. Marqise Lee, WR, USC
2.
Marcus Mariota
, QB, Oregon
3.
Ka'Deem Carey
, RB, Arizona
4.
Will Sutton
, DT, Arizona State
5.
Kenjon Barner
, RB, Oregon
6. Jonathan Franklin, RB, UCLA
7.
Matt Scott
, QB, Arizona
8.
Star Lotulelei
, DT, Utah
9.
Anthony Barr
, LB, UCLA
10.
Stepfan Taylor
, RB, Stanford
11.
Jordan Poyer
, CB, Oregon State
12.
Zach Ertz
, TE, Stanford
13. Austin Seferian-Jenkins, TE, Washington
14.
David Yankey
, OL, Stanford
15.
Trent Murphy
, LB, Stanford
16. Matt Barkley, QB, USC
17.
Dion Jordan
, DE, Oregon
18.
Brett Hundley
, QB, UCLA
19.
Markus Wheaton
, WR, Oregon State
20.
Ifo Ekpre-Olomu
, CB, Oregon
21. Desmond Trufant, CB, Washington
22.
Chase Thomas
, LB, Stanford
23.
Michael Clay
, LB, Oregon
24.
Ed Reynolds
, S, Stanford
25. Bishop Sankey, RB, Washington
First off I do not think a sole kick returner (Reggie Dunn) belongs in a top 25 player list. I would make an exception with De'Anthony Thomas, though he plays a much more vital role in Oregon's offense, than Dunn in Utah's offense. Leaving off Austin Seferian-Jenkins is absurd. If you would take off Seferian-Jenkins off Washington's offense, they would be incredibly one-demensional.
Taylor Kelly
almost made my list, but I just didn't see enough fire-power in him through the season.
My take
: Reasonable list. Added Seferian-Jenkins, Sankey and Trufant -- three Huskies -- and dropped Dunn, Kelly and Crichton. Could be argued.
February, 7, 2013
2/07/13
10:00
AM ET
Continuing with the hits and misses from Pac-12 recruiting.
CALIFORNIA

Needs filled
: The Bears added nice depth to the offensive line with tackles
Aaron Cochran
and
Erik Bunte
. Junior-college transfer
Sione Sina
can also be a nice stopgap at defensive end. They went heavy in the trenches with five offensive linemen and seven defensive linemen.
Holes remaining:
Cal is looking for a quarterback to run the new-look offense under new head coach Sonny Dykes. Could be
Zach Kline
of the 2012 recruiting class. Could be
Jared Goff
of this year's class, an early enrollee. The Bears addressed a lot of positions, but whether some youngsters can step up remains to be seen. The 11th-hour flip of offensive guard
Cameron Hunt
to Oregon has to sting.
OREGON

Needs filled
: The Ducks went heavy on offense, and running back
Thomas Tyner
highlights a group that is loaded with speed (what did you expect, it's Oregon). They added two stellar offensive guards in Hunt and
Evan Voeller
and a premier defensive end in
Torrodney Prevot
, previously a USC commit. There are speedy receivers down the line like
Darren Carrington
. And they added kicker
Matt Wogan
. The Ducks were 11th in the conference in field goals made in 2012.
Holes remaining:
The Ducks still have holes to fill at linebacker. Junior-college transfer
Joe Walker
, an outside linebacker, could step in to help immediately. But with the losses of inside linebackers
Michael Clay
and
Kiko Alonso
, the Ducks have mostly untested talent at the position and this year's class didn't add much depth to a position that is already a question mark.
OREGON STATE

Needs filled
: When you look at the top two players the Beavers lost --
Jordan Poyer
and
Markus Wheaton
-- it's nice to look at their recruiting class and see a cornerback and wide receiver as the two highest-rated players.
Dashon Hunt
and
Hunter Jarmon
might never develop into a Poyer or a Wheaton, but the Beavers saw the holes and addressed them. JC defensive tackles
Kyle Peko
and
Edwin Delva
should help immediately and
Kyle Kempt
could develop into the quarterback of the future in a couple of years. a href="http://espn.go.com/college-sports/football/recruiting/player/_/id/136903/jordan-villamin">Jordan Villamin, 6-foot-4 wide receiver, might also develop into a nice red zone target.
Holes remaining:
The JC transfers help with the defensive line in the immediate future, but the Beavers signed only two high school defensive linemen, leaving some questions about depth in the future. It's likely a position they'll address heavily next season.
STANFORD

Needs filled
: This is a class low on numbers, but extremely high on potential. If quarterback
Ryan Burns
is as advertised, it's possible he could challenge for the starting job as early as 2014.
Francis Owusu
has tremendous upside as a receiver and
Peter Kalambayi
adds depth to one of the best front sevens in the nation. Plus, three tight ends (
Austin Hooper
,
Greg Taboada
and
Eric Cotton Jr.
). How very Stanfordish of them.
Holes remaining:
The Cardinal loaded up on defensive linemen with five last year and there is plenty of depth, albeit untested, at running back. The Cardinal didn't sign any running backs or defensive linemen this year. It's not a bad thing -- for now. But if a couple of guys get injured or if there is any attrition, it could bite them. For now, the Cardinal seem to be in good shape across all positions.
WASHINGTON

Needs filled
: The Huskies added some much-needed depth on the defensive line with five linemen -- headlined by ESPN 150 defensive tackle
Elijah Qualls
.
Damore'ea Stringfellow
and
Darrell Daniels
-- both ESPN 150 wide receivers -- provide a nice one-two offensive punch.
Troy Williams
, the nation's No. 3-rated dual-threat quarterback -- could potentially be the heir apparent to
Keith Price
. It was a good class that fills a lot of needs.
Holes remaining:
For solid as the defensive line class was, the Huskies signed only three offensive linemen -- though one of them is
Dane Crane
, the nation's No. 4-rated center. If you recall, however, the Huskies were decimated with offensive line injuries this year and coach Steve Sarkisian made it a point to talk about the team needing more depth to be able to absorb that kind of injury hit. Three more guys helps; but is it enough to sustain them if another injury bug ravishes the line?
WASHINGTON STATE

Needs filled
: This was quietly a very good encore recruiting class for Mike Leach in his second season at the helm. It's heavy on linemen, heavy in the secondary and it's headlined by a four-star wide receiver in
Vince Mayle
-- a JC transfer from Rocklin, Calif. Interestingly enough, it also has two fairly highly rated running backs. We know Leach isn't going to be a run-first guy -- but the Cougars could certainly use the help after rushing for 29.1 yards per game last season.
Holes remaining:
Who is going to run the offense? It could be
Connor Halliday
. But it's also possible Leach pulls the trigger on
Tyler Bruggman
, the No. 22-rated pocket passer in the country from Phoenix. That remains the No. 1 priority for the Cougars in the offseason. Otherwise, this recruiting class plugged a lot of holes. The question is whether they are the right guys to help immediately.
February, 7, 2013
2/07/13
9:00
AM ET
Our countdown of the top 25 players in 2012 continues.
You can see our preseason top 25 here.

No. 13
:
Zach Ertz
, TE, Stanford
2012 numbers
: Caught 69 balls for 898 yards and six touchdowns, averaging 64.1 receiving yards per game.
Preseason ranking:
Unranked.
Making the case for Ertz
: The unanimous All-American didn't win the Mackey Award as the nation's best tight end. We who follow the Pac-12 closely know better. Ertz was dominant at the position both in the receiving game and for his efforts helping the Cardinal average 174.3 rushing yards per game. Without a consistent wide-receiver target, Stanford's quarterbacks leaned heavily on Ertz and his 69 receptions led the Cardinal by a wide margin. Running back
Stepfan Taylor
was second with 41 catches and wide receiver
Drew Terrell
was third with 33. Ertz came up with clutch catches throughout the season -- including the go-ahead touchdown against Oregon State and the crucial game-tying touchdown against Oregon. He was selected to the first-team all-conference squad by the coaches. And it's worth noting that Washington's
Austin Seferian-Jenkins
has comparable stats and was also a dominant tight end (and also a Mackey finalist). But Ertz gets the edge for the All-American and All-Pac-12 honors. And yes, expect Seferian-Jenkins to be placed favorably in the preseason top 25. (He was one of the players Ted and I debated at great length).
No. 14
:
Matt Barkley
, QB, USC
No. 15
:
Brett Hundley
, QB, UCLA
No. 16:
Trent Murphy
, OLB, Stanford

No. 17
:
Chase Thomas
, OLB, Stanford
No. 18
:
Ifo Ekpre-Olomu
, CB, Oregon
No. 19
:
David Yankey
, OL, Stanford
No. 20:
Dion Jordan
, DE/OLB, Oregon
No. 21
:
Scott Crichton
, DE, Oregon State
No. 22
:
Ed Reynolds
, S, Stanford
No. 23
:
Michael Clay
, LB, Oregon
No. 24
:
Taylor Kelly
, QB, Arizona State
No. 25
:
Reggie Dunn
, KR, Utah
February, 4, 2013
2/04/13
9:00
AM ET
Our countdown of the Pac-12's top 25 players in 2012 continues.
You can see our
preseason top 25 here
.

No. 16
:
Trent Murphy
, OLB, Stanford
2012 numbers
: Murphy had 56 total tackles and led Stanford in both tackles for a loss (18) and sacks (10). He also had an interception, forced fumble, five pass defenses and a team-high six QB hurries.
Preseason ranking
: Unranked.
Making the case for Murphy
: If you want to know why Stanford had one of the nation's elite defenses last year, it was because of its front seven, led by the physical presences of Murphy and
Chase Thomas
at outside linebacker. The Pac-12 blog believes the best member of that front seven in 2012 was Murphy, who earned first-team All-Pac-12 honors along with Thomas. Thomas was more celebrated, and it's possible -- perhaps likely -- that Murphy's numbers were elevated by teams avoiding Thomas. But Murphy's production on a very good defense was exceptional; see him earning third-team All-American honors from the Associated Press. It will be interesting to see who ends up having a better NFL career. Murphy, a 6-foot-6, 261-pounder who opted to return for his senior season, was the most productive player for a defense that led the conference in scoring (17.2 points per game), total and rushing defense. As Kevin pointed out on Friday when ranking Thomas 17th, every other team in the Pac-12 yielded more than 100 rushing yards per game . Stanford allowed just 97 yards on the ground per game. Utah was the second closest with 128.2.
No. 17
:
Chase Thomas
, OLB, Stanford
No. 18
:
Ifo Ekpre-Olomu
, CB, Oregon
No. 19
:
David Yankey
, OL, Stanford
No. 20:
Dion Jordan
, DE/OLB, Oregon
No. 21
:
Scott Crichton
, DE, Oregon State
No. 22
:
Ed Reynolds
, S, Stanford
No. 23
:
Michael Clay
, LB, Oregon
No. 24
:
Taylor Kelly
, QB, Arizona State
No. 25
:
Reggie Dunn
, KR, Utah
January, 30, 2013
1/30/13
9:00
AM ET
Our countdown of the Pac-12's top 25 players in 2012 continues.
You can see our preseason top 25 here.

No. 19
:
David Yankey
, OL, Stanford
2012 numbers
: Yankey was part of an offensive line that helped running back
Stepfan Taylor
rush for 1,530 yards and 13 touchdowns. The Cardinal also finished ranked fourth in the conference in sacks allowed, yielding 20 in 14 games.
Preseason ranking
: Unranked
Making the case for Yankey
: Finding statistical justification for offensive linemen is always difficult -- as the position itself doesn't easily lend itself to statistical analysis. And it was a down year across the board for the Pac-12 in terms of offensive linemen. Still, that takes nothing away from the accomplishments of Yankey, who stepped up and led the line following the departures of David DeCastro and Jonathan Martin to the NFL. Shuffling between guard and tackle the entire season, Yankey earned first-team All-Pac-12 honors, was a consensus All-American and he was honored by the conference with the Morris Trophy -- given to the league's most outstanding lineman. In total, he played four different positions on Stanford's line this year and allowed just one sack in 14 games. Watch the
highlight video
from the 6-5, 301-pounder and you'll notice on almost every Taylor touchdown, it's Yankey leading the way. He was clearly the most dominating offensive lineman in the league.
No. 20:
Dion Jordan
, DE/OLB, Oregon

No. 21
:
Scott Crichton
, DE, Oregon State
No. 22
:
Ed Reyonlds
, S, Stanford
No. 23
:
Michael Clay
, LB, Oregon
No. 24
:
Taylor Kelly
, QB, Arizona State
No. 25
:
Reggie Dunn
, KR, Utah
November, 26, 2012
11/26/12
3:14
PM ET
The Pac-12 conference has announced its 2012 individual honors and all-conference first and second teams as voted on by the coaches.
Offensive Player of the Year
:
Marqise Lee
, WR, USC.
Pat Tillman Defensive Player of the Year
:
Will Sutton
, DE, Arizona State.
Freshman Offensive Player of the Year
:
Marcus Mariota
, QB, Oregon.
Freshman Defensive Player of the Year
:
Leonard Williams
, DE, USC.
Coach of the Year
: David Shaw, Stanford.
FIRST-TEAM OFFENSE
QB
Marcus Mariota, Fr., Oregon
RB
Kenjon Barner
, Sr., Oregon
RB
Ka'Deem Carey, So., Arizona
WR
Marqise Lee, So., USC
WR
Markus Wheaton
, Sr., Oregon State
TE
Zach Ertz
, Sr., Stanford
OL
Hroniss Grasu
, So., Oregon
OL
Khaled Holmes
, Sr., USC
OL
Brian Schwenke
, Sr., California
OL
Xavier Su'a-Filo, So., UCLA
OL
David Yankey
, Jr., Stanford
SECOND-TEAM OFFENSE
QB
Matt Scott
, Sr., Arizona
RB
Johnathan Franklin
, Sr., UCLA
RB
Stepfan Taylor
, Sr., Stanford
WR
Austin Hill
, So., Arizona
WR
Robert Woods
, Jr., USC
TE
Austin Seferian-Jenkins
, So., Washington
OL
Jeff Baca
, Sr., UCLA
OL
David Bakhtiari
, Jr., Colorado
OL
Sam Brenner
, Sr., Utah
OL
Kevin Danser
, Sr., Stanford
OL
Sam Schwartzstein
, Sr., Stanford
FIRST-TEAM DEFENSE
DL
Scott Crichton
, So., Oregon State
DL
Dion Jordan
, Sr., Oregon
DL
Star Lotulelei
, Sr., Utah (2)
DL
Will Sutton, Jr., Arizona State
LB
Anthony Barr
, Jr., UCLA
LB
Trent Murphy
, Sr., Stanford
LB
Chase Thomas
, Sr., Stanford (2)
DB
Ifo Ekpre-Olomu
, So., Oregon
DB
Jordan Poyer
, Sr., Oregon State
DB
Ed Reynolds
, Jr., Stanford
DB
Desmond Trufant
, Sr., Washington
SECOND-TEAM DEFENSE
DL
Henry Anderson
, Jr., Stanford
DL
Morgan Breslin
, Jr., USC
DL
Ben Gardner
, Sr., Stanford
DL
Datone Jones
, Sr., UCLA
LB
Kiko Alonso
, Sr., Oregon
LB
Michael Clay
, Sr., Oregon
LB
Brandon Magee
, Sr., Arizona State
DB
Deone Bucannon
, Jr., Washington State
DB
Alden Darby
, Jr., Arizona State
DB
T.J. McDonald
, Sr., USC
DB
Nickell Robey
, Jr., USC
FIRST-TEAM SPECIALISTS
PK
Vince D'Amato, Jr., California
P
Jeff Locke
, Sr., UCLA
RS
Reggie Dunn
, Sr., Utah
ST
Jordan Jenkins
, Sr., Oregon State
SECOND-TEAM SPECIALISTS
PK
Andrew Furney
, Jr., Washington State
P
Josh Hubner
, Sr., Arizona State
RS
Marqise Lee, So., USC
ST
David Allen
, Sr., UCLA
ALL-PAC-12 HONORABLE MENTION
NOTES
By School: OREGON and STANFORD placed the most players on the first team with five selections each, followed by OREGON STATE with four.
By Class: Of the 26 first-team selections, 14 are seniors, five are juniors, six are sophomores and one freshman.
Unanimous: Only one player was named on the first-team ballot of all 12 head coaches--WR Marqise Lee of USC.
Two-time selections: Two players are repeat first-team selections from last year--DT Star Lotulelei of Utah, LB Chase Thomas of Stanford.
All-Academic: Two players were named to the first team on both the All-Pac-12 Team and the Pac-12 All-Academic Football Team--P Jeff Locke of UCLA, OL Khaled Holmes, USC. In addition, OL Kevin Danser of Stanford, DL Ben Gardner of Stanford and Michael Clay of Oregon were named second-team All-Academic and second-team All-Pac-12.
November, 16, 2012
11/16/12
12:00
PM ET
It's crunch time. And as the saying goes, big-time players make big-time plays in big games. Who will step up this weekend? We debate.
Ted Miller
: There will be plenty of star players on the field Saturday when Oregon hosts Stanford. And there will be plenty of key players who are question marks. But my choice for a player who could play a crucial role is not one on many folks' immediate radar.
It's a fullback. Stanford fullback
Ryan Hewitt
, actually.
[+] Enlarge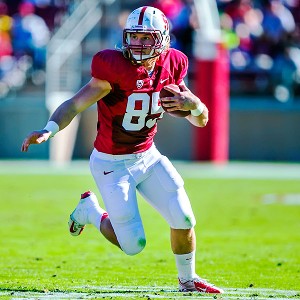 Cal Sport Media via AP ImagesRyan Hewitt has been a huge part of Stanford's run attack, and is coming off a huge receiving game.
Oregon, of course, doesn't even have a fullback. In fact, only about half of the Pac-12 even plays one regularly. But Stanford loves its fullbacks -- recall two-way star Owen Marecic -- and Hewitt is among the best in the country.
First, the obvious: Hewitt is the guy who will regularly be running immediately in front of Stanford running back
Stepfan Taylor
, the Cardinal's best offensive weapon. He's the guy providing the final block that often means a 6-yard gain or a 2-yard gain. The difference will be key in this game.
Ideally from the Stanford perspective, Taylor will run about 30 times, average 6 yards a carry -- and the Ducks offense will find itself chilling on the sidelines during a number of six-, seven- and 10-minute stretches. Stanford wants to pound a beaten-up Oregon defense, convert third downs and win a battle of attrition.
Oregon's beaten-up defensive line adds another layer to Hewitt's value. More often than not, he's a blocker seeking a linebacker. Oregon is very good at linebacker, and the Ducks linebackers will play an even more crucial role than usual because of the injuries up front and the fact that Stanford is a downhill running team. You can expect
Michael Clay
and
Kiko Alonso
each to be around 10-plus tackles. Where those tackles take place depends a lot on Hewitt.
Further, if the Cardinal running game is surging like an army of steamrollers, it will make life much easier for redshirt freshman quarterback
Kevin Hogan
, who is making his first road start in raucous Autzen Stadium. And guess what a consistent running game sets up? That's right, play-action passing.
While Stanford would rather go downfield with its play-action game, that's always a risk. Guess who made his presence felt for the first time all season in the passing game against Oregon State? Yep. Hewitt.
Not only did he lead the way for a running game that ground out 163 yards against a run defense that had been yielding just 91.8 yards per game, he caught four passes for 52 yards, including a 12-yard touchdown, against the Beavers.
The 6-foot-4, 248-pound Hewitt, who was recruited as a tight end, could be a key target, both on third down and in the red zone, while the Ducks try to gang up against the Stanford tight ends.
Of course, if Stanford posts the upset Saturday, you probably won't read much about Hewitt afterward. That's the way it is with fullbacks. But here's a guarantee that if Stanford does pull the upset, everyone in the Cardinal locker room will be giving Hewitt a special fist-bump.
Kevin Gemmell
: First off, that's a great call, Ted. On a team without a ton of star power, Hewitt is certainly deserving of the recognition.
[+] Enlarge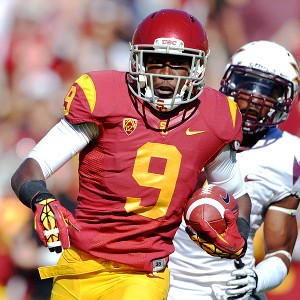 Kirby Lee/Image of Sport/US PresswireUSC receiver Marqise Lee, already well clear of his Pac-12 counterparts, gets a big stage Saturday.
But Southern California is home to the stars, and the Rose Bowl field is going to be littered with A-list playmakers when the Trojans travel crosstown to face UCLA. It's very possible that an under-the-radar player has an impact in this game, but with at least a dozen or so guys from both squads with NFL futures, it's more likely than not that one of the superstars will emerge and carry ... or catch ... or throw ... or intercept ... or sack at a key time of the game and lead his team to the South Division title.
Sometimes there is nothing wrong with going with the obvious -- and
Marqise Lee
is the obvious. The USC wide receiver has been one of the -- if not
the
-- most dynamic playmakers in the Pac-12 and, at the very least, should win the Biletnikoff Award for the nation's top wide receiver. Even Oedipus could see that.
The numbers speak for themselves. He has 36 more receptions than the next-closest Pac-12 wide receiver (98), 424 more receiving yards than the next-closest receiver (1,447), and he's averaging a ridiculous 144.7 receiving yards per game.
If ever there was a game for him to show up big-time, this is it.
Regardless of what your standards are, this has so far been a very disappointing season for the Trojans. They will not be playing for a national championship after starting the year as the Associated Press preseason No. 1. But they can still play in a BCS game -- namely the Rose Bowl. To get there, they have to go through the Bruins, then likely through Oregon again -- this time at Autzen.
Aside from maybe
De'Anthony Thomas
, there is no player in the Pac-12 who can shift momentum faster than Lee. Be it with an 80-yard touchdown after the defense gives up a score or a long kick return (he also leads the Pac-12 in all-purpose yards by a huge margin, at 223.4), Lee has the capability to change the game with a single catch, carry or return.
Teams have tried to bracket him, double-team him and even triple him. But he still makes the plays before, during and after the catch. Stanford head coach David Shaw gave Lee the ultimate praise when he said he hasn't seen a college wide receiver do what Lee has done since he scouted Randy Moss. No doubt he'll tax a UCLA secondary that gives up a ton of yards through the air and ranks in the bottom half of the league in pass-efficiency defense.
And while the Trojans' unfinished business -- i.e., a national championship -- will remain just that, it's quite possible we'll see a Trojan in New York for the Heisman ceremony after all. Another huge game for Lee on a national stage (and yes, I promise a lot of people will be watching) could help garner some more Heisman support. There is still work for this team to do, and I'd expect Lee to play his usual, significant and spectacular role tomorrow against the Bruins.
August, 22, 2012
8/22/12
9:00
AM ET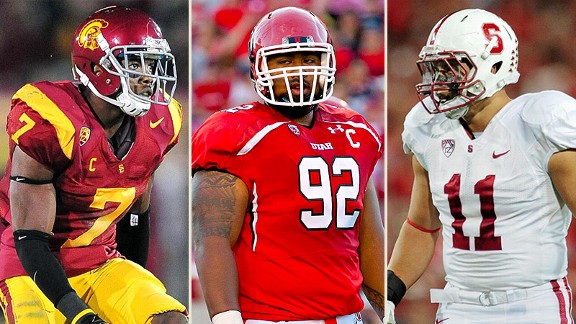 US PresswireThe Pac-12 boasts some of the best defensive talent in the country: USC safety T.J. McDonald, Utah defensive tackle Star Lotulelei and Stanford linebacker Shayne Skov.
In the depths of their offices, some of the best offensive minds in college football are grinding.
Chip Kelly is pondering how to get 10 more plays per game out of his offense.
Rich Rodriguez and Mike Leach are re-re-revolutionizing their attacks.
David Shaw is trying to figure out how to get nine offensive linemen, five tight ends and three fullbacks on the field at once.
Lane Kiffin has more offensive toys than an FAO Schwarz display.
"Option, option spread, I, heavy-I, pistol, triple-backs, full house, triple tights; it's something new every week," said Oregon linebacker
Michael Clay
. "It makes every week pretty interesting."
The Pac-12 is widely regarded as the conference of offenses. And they are only getting better. Prior to 1990, only twice has a team led the conference with a scoring average of more than 40 points. Since 1990, it's happened nine times -- including USC's conference best of 49.1 points per game in 2005.
That means being a defensive player in the Pac-12 is awfully difficult.
[+] Enlarge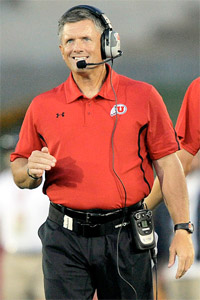 AP Photo/Mark J. TerrillKyle Whittingham says his defense must be able to adapt to the different offenses in the Pac-12.
"You get Andrew Luck one week and then
Matt Barkley
the next," said USC safety
T.J. McDonald
. "The preparation is on a whole other level compared to other conferences. There are great quarterbacks and great receivers and running backs. But the culture of this conference has changed. They've forced defenses to get better."
As the spread offense became chic and more teams were stretching defenses, they were forced to respond in kind. Gone are the days of everyone lining up in a base 4-3 and slugging it out. Now defenses are evolving into multiple fronts, exotic and disguised coverages and zone blitzes.
Utah coach Kyle Whittingham should know. He and UCLA coach Jim Mora are the only head coaches in the conference with a defensive background.
"We're definitely the minority," Whittingham said with a laugh. "It's a broad spectrum. Defensively, in this day and age, you have to be able to defend it all anyways. When the spread became en vogue 10-12 years ago it caught on like wildfire. Now almost everyone has a version of it. You have to be equipped to deal with whatever you come across week in and week out and have a scheme that is flexible enough and adaptable enough that you can cover all of your bases.
"Things go in cycles. The spread becomes en vogue and takes a while for the defense to catch up. Then the zone blitz was giving offenses fits and the offenses had to catch up to that. I think everything in football is cyclical and if offense has the upper hand right now, it won't be too further down the road where that role is reversed."
And that time might be coming sooner than later. Utah, California, USC, Oregon and Stanford all have defenses that are very good and bordering on elite. But the numbers don't always add up because in this conference, you are going to give up yards and you are going to give up points.
"Part of it is innovation," Shaw said. "Part of it is Chip Kelly and Mike Leach and Rich Rodriguez. The thing is, you can use the word 'spread' offense for half the teams in our conference, but they are all different. You can say 'pro-style' offense, which is what you would say about us and USC, but they are so different. The hard part of playing defense in our conference is every single week, you are playing against something you didn't see the week before.
"Cal has a pro-style offense. But their passing is different than our pass game and their running is different than our running game. And theirs is different from USC's. You are going to play a nine-game conference schedule and every single offense you play is going to be completely different. Defensive coordinators -- and we've got a really good group in this conference -- defensive coordinators and players have to flush a lot of what you watched the week before and study film hard the next week because you're going to see a different animal."
The conference also has the players to back up the defensive hype. Stanford linebackers
Chase Thomas
and
Shayne Skov
are projected as two of the best at their positions. Utah defensive tackle
Star Lotulelei
is regarded as the best defensive tackle in the nation and McDonald is a returning All-American.
And while perception might never really change nationally since the conference keeps chugging out A-list offensive players, Washington quarterback
Keith Price
says he's seen the difference.
"The difference between us and some of those other conferences is the defensive linemen," Price said. "We've always had good skill players. They say the trenches is what separates the SEC from the other conferences. But you can see now that our conference is starting to get there. When you look at teams like Cal and Utah, their defensive lines are really tough."
Five-Star Cornerback Prospects Available
PAC-12 SCOREBOARD
Saturday, 12/20
Monday, 12/22
Tuesday, 12/23
Wednesday, 12/24
Friday, 12/26
Saturday, 12/27
Monday, 12/29
Tuesday, 12/30
Wednesday, 12/31
Thursday, 1/1
Friday, 1/2
Saturday, 1/3
Sunday, 1/4
Monday, 1/12