Stanford Football:

Michigan State Spartans
January, 2, 2014
Jan 2
1:30
PM ET
ESPN Stats & Information reviewed Michigan State's 24-20 win over Stanford in the Rose Bowl Game Presented by VIZIO and came up with some interesting numbers, starting with one that made the Pac-12 blog wrong again on something this bowl season.

In our 10 reasons that Sanford was going to, cough, cough, win the Rose Bowl
, our No. 1 reason was that Cardinal QB
Kevin Hogan
being better than his Spartans counterpart
Connor Cook
. It didn't play out like that in the game, with Cook passing for a career-high 332 yards with two touchdowns, while Hogan passed for 143 yards with no scores.
The difference was downfield throws, something Stanford needed to hit against a Spartans defense that stacks the box against the run.
Cook completed 6 of 11 passes thrown 15 yards or longer for 152 yards and a touchdown. His six such completions were a career high. Stanford QB Kevin Hogan completed 2 of 7 passes thrown 15 yards or longer, tied for his most such incompletions in a game this season.
Telling fact: In Stanford's last two losses, Hogan is a combined 3-for-12 on passes thrown 15 yards or longer with no touchdowns and an interception.
Without a consistent downfield threat, the Cardinal rushing attack struggled after the first quarter.
Stanford rushed for 162 yards, its second fewest in a game this season behind the 143 yards it had in the loss at Utah. The Cardinal started the game strong with 91 rushing yards in the first quarter, but managed just 71 in the final three quarters. Their 10 rushes in the game that lost yards were their most in a game since they had 10 on Nov. 8, 2008, in a loss at Oregon. They only gained 45 yards on 21 rushes inside the tackles.
Running back
Tyler Gaffney
had 68 rushing yards on his first five carries, including a 47-yard run in the first quarter. He finished the game with 23 rushing yards on his final 19 carries, including seven rushes that lost yards. Overall, he was first contacted in the backfield a season-high nine times, four more than his previous season-high set in the Pac-12 championship game against Arizona State.
That's a big reason why the Cardinal's average distance to go on third down was a season-high 10.2 yards. They entered the game with an FBS-best 5.2 yards to go average on third down.
In other words, the Spartans highly-rated defense was highly-rated for a reason. It clearly won the battle with the Stanford offense.
January, 2, 2014
Jan 2
12:15
AM ET
PASADENA, Calif. -- The advance billing for the 100th edition of the Rose Bowl Game presented by VIZIO played the Stanford-Michigan State matchup as a battle of shared football philosophies: two physical, line-of-scrimmage teams that run the ball and play to their stout defenses. In some ways, the media saw this as twin brothers going eyeball to eyeball for a potentially captivating barroom donnybrook.
The general feeling also was that Stanford was the more formidable brawler, mostly because it was more proven and battled tested, having emerged from the rugged Pac-12 as a BCS bowl participant four consecutive seasons.
Yet it was Michigan State that took control, made poised adjustments and imposed its will in a 24-20 victory. Stanford got, well, out-Stanford-ed. It's likely more than a few Pac-12 coaches, players and fans thought, "See … now you know what it feels like to get pushed around."
[+] Enlarge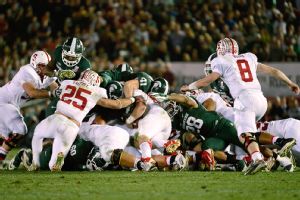 Kevork Djansezian/Getty ImagesStanford's Ryan Hewitt is stopped on fourth down by the Michigan State defense.
Stanford has now lost eight games over the past four years, but only a couple of times could you say its offensive line lost the battle at the point of attack.
"Push came to shove, we sort of started shoving back a little bit really," Michigan State coach Mark Dantonio said.
The Cardinal jumped out to early 10-0 and 17-7 leads, but the Spartans scored a touchdown just before the break, capping a 75-yard drive, and then dominated the second half. Stanford rushed for 162 yards, twice what the Spartans yielded this season, but 47 yards of that came on one play and the Cardinal had just 71 yards rushing on 27 carries over the final three quarters.
Stanford was 0-for-2 on fourth-and-short plays. Both times, it tried to run right at Michigan State and failed to get a decisive push, the most notable being fullback
Ryan Hewitt
getting stopped for no gain on fourth-and-2 at the Cardinal 34-yard line on its final possession.
There's no more straightforward measure of contesting teams' physicality than an up-the-middle run on fourth-and-short, and the Spartans won that battle. This was a point, by the way, Stanford's locker room repeatedly and graciously acknowledged.
"Fourth-and-1 is what we preach on, what we do, what Stanford football is all about," said running back
Tyler Gaffney
, who was stopped earlier on a fourth-and-3 run. "You have to give it to Michigan State for stuffing that because everybody in the building knew exactly what was coming -- a run was coming up the middle -- and it was a test of wills, and they got the better of us."
Stanford couldn't run the ball after the first quarter, and it had little intermediate passing game. The tight-end-centric passing attack of the previous three years was sorely missed. It had completions of 43 and 51 yards, but
Kevin Hogan
passed for only 143 total yards. The Spartans load the box and play man coverage with their outstanding cornerback combination, led by Thorpe award winner
Darqueze Dennard
, and dare you to consistently complete downfield passing plays.
"It's a nine-man front," Stanford coach David Shaw said. "There's a whole bunch of guys in there. There's a lot of slants and twists and pinches and sometimes [running back Tyler Gaffney] snuck out a couple, made a couple of great runs, and a couple of them he didn't have an opportunity. They're that good up front. But to beat a team like that, you've got to hit more than a couple deep balls, because it's one-on-one outside."
The Cardinal repeatedly faced second- and third-and-long, ending up just 4-of-13 on third downs.
As for Stanford's defense, it mostly shut down the Michigan State running game, holding the Spartans to just 65 yards, but it yielded 332 yards passing and two touchdowns to quarterback
Connor Cook
, who was sacked four times but mostly eluded an aggressive pass rush.
There certainly was some "what might have been" with Cook and the Stanford defense. Though
Kevin Anderson
's pick-six gave the Cardinal a 17-7 lead in the second quarter, two easy interceptions were dropped, including one by Anderson. Another interception was killed by a pass-interference call.
"Michigan State played their game and we tried to play ours," Stanford defensive coordinator Derek Mason said. "I give them all the credit. We didn't get off the field enough when we needed to. We had opportunities. Two missed picks. When you don't make those plays, those lead to scores. But we don't deal in 'What ifs.' We deal in reality."
The reality of the 100th Rose Bowl is that, in a battle of twin brothers in terms of physical football, Michigan State proved the more rugged brawler this night.
Stanford played its game. It went mano-a-mano with the Spartans, but it ended up getting counted out while the Big Ten champs celebrated their first Rose Bowl victory in 26 years.
January, 1, 2014
Jan 1
10:00
AM ET
Why is Stanford going to best Michigan State in the Rose Bowl Presented by Vizio? Here are 10 reasons.
Stanford has the better quarterback: Stanford QB Kevin Hogan is 15th in the nation in total QBR (80.2). Michigan State's Connor Cook is 59th (61.9). And Hogan put up those numbers against a much tougher schedule.

[+] Enlarge

Steve Dykes/Getty ImagesMichigan State hasn't faced a pass rusher as talented or relentless as Stanford LB Trent Murphy.

Michigan State hasn't faced a pass rusher like Trent Murphy: The Spartans only yielded 13 sacks this year, which ranked 11th in the nation. But Michigan State didn't face any pass rusher as good as Murphy -- none ranked in the nation's top 15. Murphy had 14 sacks on his own, which ranked second in the nation.

Stanford has played in four consecutive BCS bowls: The Cardinal are accustomed to a big stage. This is their second consecutive Rose Bowl and fourth consecutive BCS bowl. Michigan State hasn't played in a BCS bowl game or a Rose Bowl in 26 years. Experience matters. Nerves certainly won't be an issue for Stanford.

The Pac-12 is better than the Big Ten: The Pac-12 went 3-2 versus the Big Ten this year, and was widely viewed as -- at least -- the nation's second best conference behind the SEC. Playing a nine-game Pac-12 schedule means Stanford has been more battle tested against A-list foes.

Michigan State doesn't have its top leader on defense: Michigan State might have the nation's best defense, and All-Big Ten linebacker Max Bullough is its unquestioned leader. But Bullough was suspended for undisclosed reasons and won't play in the Rose Bowl. That leaves a huge hole in the Spartans defense in terms of talent, experience and leadership.

Michigan State hasn't faced an O-line as good as Stanford's: The Spartans own the nation's No. 1 rush defense, but it hasn't faced an offensive line as big and bad -- and NFL ready -- as Stanford's. Ohio State has a good offensive line, and it produced 273 rushing yards against the Spartans in the Big Ten championship game.

The transitive property! Notre Dame beat Michigan State 17-13. Stanford beat Notre Dame 27-20. So Stanford beats Michigan State! While it should be noted that Notre Dame was at home and far more healthy against the Spartans than it was at Stanford, this is a 10-point list, and sometimes you cut corners.

Shayne Skov will deliver an inspiring pre-game speech: Skov is a great player, but a nearly as important contribution to the Cardinal is his fiery leadership. He is the Cardinal's designated player for an emotional pregame speech. As a fifth-year senior, this will be his last. Count on it being highly motivating.

David Shaw is an elite coach: There's a reason you keep hearing Shaw's name come up in discussions about coaching vacancies, whether at Texas or in the NFL. He's considered an elite coach who has yet to reach his ceiling. Michigan State's Mark Dantonio might well be headed in that same direction, but you'd have to give Shaw and Stanford the edge on the sidelines.

The Big Ten doesn't win Rose Bowls: Since the 2000 season, Big Ten teams have gone 1-9 in the Rose Bowl. While there were a couple of guest appearances in the Pac-12's spot -- Texas, TCU -- the Big Ten's biggest problem is the Pac-12 -- Washington, USC, Oregon and Stanford. The Big Ten's last Rose Bowl win was Ohio State over Oregon following the 2009 season, and that required Buckeyes QB Terrelle Pryor playing the best game of his career.
December, 31, 2013
12/31/13
11:00
AM ET
Stanford defensive coordinator Derek Mason played cornerback at Northern Arizona, and he'd rate as short for the position even at an FCS school. He's compact and powerfully built, but you'd suspect that more than a few receivers took one look at his 5-foot-8 frame and thought, "I am going to steal his lunch money and send him home to his mommy in tears."
Some of those guys got the best of him, no doubt. The Lumberjacks never posted a winning record while Mason, a two-year starter, was on the team. But Mason made sure their afternoon wasn't easy, and that they'd remember him the next morning when they crawled out of bed and needed an aspirin or four.
"I felt like I was tough. I felt like I was physical. I felt like I competed all the time," he said. "I felt like because of my size I played [with] a big chip on my shoulder, mad all the time, mad at everybody. Mad at receivers, tight ends. So I played angry."
[+] Enlarge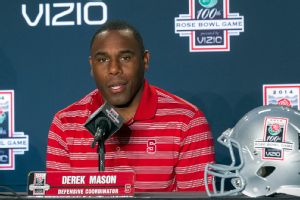 AP Photo/Damian DovarganesDefensive coordinator Derek Mason has helped Stanford become one of the top defenses in the nation by, as his players say, doing a "tremendous job of explaining what we do and why we're doing it."
Mason's description of himself as a player surely will make those around the Stanford program smile, particularly those who play defense for him. Mason, 43, is a ball of compressed energy, a demanding guy who sees the entire field in a way that allows him to rapidly process both imperfections that mattered on a specific play and imperfections that didn't matter but might next time. He's not the sort who lets things slide, even when the ultimate result suggests proper execution to the casual observer.
"I think the best thing he does is he helps us stay motivated to show up every day for work," Cardinal All-American outside linebacker
Trent Murphy
said. "He never lets us get complacent or lets us get content. Some of our best games, as far as score-wise, our win margin, some of those games he gets furious. You would think we lost the game by the way he rips us apart after the game. He's always hungry and keeps us hungry, calls great plays and puts us in a great position to be successful, so you can't ask for anything more from a coach."
The ability to scheme, motivate and teach has made Mason into one of the nation's hottest defensive coordinators, yet his route to success at Stanford has been twisting. This is his 10th coaching stop since 1994. Stanford is the first time he has coached four consecutive seasons in the same place. With five of those coaching jobs, Mason was on the offensive side of the ball. A wide receivers coach at Ohio in 2005 and 2006, he jumped to the Minnesota Vikings to become an assistant defensive backs coach. It looked like the NFL was his future, but then Jim Harbaugh came calling in 2010.
"Anybody who has been around Jim Harbaugh knows he can sell anything," Mason said.
It proved an inspired decision to come West with Harbaugh, who had just hired Vic Fangio to switch Stanford from a 4-3 defense to a 3-4. Mason preferred a 3-4 himself -- the Vikings were using a 4-3 -- and Fangio helped him earn his Ph.D. in the scheme.
Of course, Stanford would go 12-1 that season, blowing out Virginia Tech in the Orange Bowl, and Harbaugh and Fangio would jump to the San Francisco 49ers. When David Shaw was promoted to head coach, he made Mason co-coordinator with Jason Tarver in 2011.
When Tarver left of the Oakland Raiders, Mason took sole control of the defense in 2012. It was Mason who solved Stanford's "Oregon Problem," not Fangio or Tarver. In 2010 and 2011, Stanford surrendered 105 points in losses to the Ducks. In 2012 and 2013, the Cardinal yielded 34 in victories.
"I think the sign of any good football coach at any position is the ability to have a philosophy and have a general scheme that you believe in," Shaw said. "But more importantly, to be able to teach that scheme and then fit the scheme around the players that you have and their talents. I think Derek has done that, and you've seen him do things for
Shayne Skov
, you've seen him do things for Trent Murphy, do things for Chase Thomas, do things to help
Ed Reynolds
shine. You put guys in positions to do things that they're good at."
Said Skov: "He does a tremendous job of explaining what we do and why we're doing it."
Stanford has led the Pac-12 in both scoring and rushing defense the past two seasons. Its 97 sacks over the past two seasons is five more than any other conference team. The Cardinal have held opponents to 20 or fewer points in 20 of their last 25 games, and have not allowed a foe to reach 30 points in their past 21 games. Rose Bowl foe Michigan State is the only team with a longer streak (26).
Mason's defense has a massive inventory -- at least for a college team -- of fronts, stunts and blitzes that makes it difficult for offenses to know what they are getting before the snap. The Cardinal's defense is big, athletic and physical at all three levels, but Mason's scheme also takes advantage of the intellect of football recruits who can get into Stanford. They simply can handle more information than a collection of players at just about every other FBS school. Michigan State's offensive players repeatedly talked about how Stanford's defense thrives on keep opponents off-balance.
"They do a great job of trying to confuse the offense," Spartans quarterback
Connor Cook
said. "They do a lot of different fronts and a lot of movements and stuff like that to try and confuse you."
Seven years ago, Mason was a receivers coach at Ohio. Now he's one of the nation's top defensive coordinators in the country.
The reason he jumped from point A to point B probably has a lot to do with him coaching the same way he played cornerback at Northern Arizona. He still sees that 6-4 receiver grinning at him, thinking he's about to grab some extra lunch money.
"I absolutely coach with a chip on my shoulder," Mason said. "I want these guys to be the best. There's not a day that goes by that my head hits the pillow that I'm not thinking of how we can get better, how these guys can get better, because that's what they came here to do."
December, 30, 2013
12/30/13
4:00
PM ET
Those who know David Shaw well believe he might coach Stanford for the rest of his career. He played and graduated from Stanford. He loves coaching the program. His family loves the Bay Area. His parents live just down the road. He makes a pretty darn good living.
But his success at Stanford, which includes three consecutive BCS bowl games, including consecutive Pac-12 titles, makes him an attractive candidate for the coaching rumor mill, whether it's Texas or the NFL spots that have opened up.
Shaw again was asked about his potential interest during a news conference Monday before Wednesday's Rose Bowl game presented by VIZIO, and he reiterated his desire to stay at Stanford. He said he hasn't been contacted by anybody.
"I have no desires to pursue another job," Shaw said.
While the redundant questions can be annoying, Shaw admitted that the questions about big-time coaching vacancies isn't a bad thing for himself or his program. It means he is doing something that other folks wish he'd do for them.
[+] Enlarge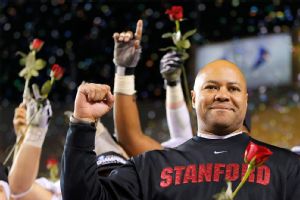 AP Photo/Matt YorkDavid Shaw admits he's flattered to be mentioned as a candidate for other big jobs, but he says he's perfectly content at Stanford.
"It's unbelievably flattering," he said. "I think it's really cool. I think honestly it continues to shed light on our program, so I don't mind that it keeps happening. It keeps eyes turning toward Stanford, which I think is really cool. I told our players, to be honest, it's a testament to what they've accomplished, it's a testament to what our seniors have helped build at Stanford, to win consistently, win the right way, produce high-character young men and have a football game that's exciting to watch. So I don't mind it."
Shaw added, "I have not and don't plan on interviewing with anybody."
Recalling Skov suspension
: Michigan State will be without star linebacker
Max Bullough
, the mental and emotional leader of the Spartans' highly rated defense, because of a suspension for undisclosed reasons.
Shaw was asked if he'd ever been in a similar situation, suspending a star player. Shaw immediately recalled linebacker
Shayne Skov
's suspension for a DUI in February 2012. Skov was suspended from the team during the offseason and the 2012 opener against San Jose State.
"Being a head coach it's your responsibility, and actions like that as a head coach, honestly, even help you in your locker room because guys know where the line is and they know that nobody is bigger than the program," Shaw said. "I applaud coach [Mark] Dantonio for that because it doesn't happen everywhere, and there are a lot of places where you get a slap on the wrist and they bench you for a practice and then play you in the game."
Shaw said he thinks Skov's suspension ultimately was good for him.
"There's no question about it," Shaw said. "I think it set him on the path to where he is now as a person and as a player."
Been there done that?
As in many things, experience helps. But it's more about the week of preparation than game day, Shaw said.
"I think the only real advantage, if there is one, is during the week," he said. "Our guys understand the schedule and know the schedule, have been through the schedule. … But once we get to game day, Michigan State has played in big games, played in a big game against Michigan, Ohio State. They've been on that big stage. I don't think the game is going to be any different."
Shaw's favorite team?
Shaw was asked which college football team he rooted for growing up.
"It's almost like a setup question that I had somebody ask me," he said.
Because Shaw's father, Willie, was a college and NFL coach, Shaw ended up rooting for several teams, but he said his first love was Stanford, where his dad coached from 1974-76 and 1989-91 during a 33-year career.
"Those are some of my earlier memories," said the 41-year-old Shaw.
Shaw also admitted that he, at various times, rooted for both Michigan and Michigan State, when his dad coached for the Detroit Lions, and Arizona State, when his dad coached the Sun Devils.
"I never had a pure allegiance to one university as far as college football goes, but the one that I always went back to and enjoyed watching when I was a kid was Stanford, and that was because of our history with the school," he said.
December, 29, 2013
12/29/13
9:00
AM ET
LOS ANGELES -- Stanford quarterback
Kevin Hogan
is not
Andrew Luck
. Only one man is. Hogan's not terribly flashy. He's far from perfect. His 2013 season included a few more down moments than perhaps Cardinal fans and a few college football pundits expected.
Yet he has led Stanford to a second consecutive Pac-12 championship and a chance to win two Rose Bowls in a row. He's the only quarterback in college football who has beaten Oregon twice. He probably deserves a break.
That break came on Friday from an unlikely source.
"I think [Stanford's] passing game is a little underrated,"
Darqueze Dennard
said.
[+] Enlarge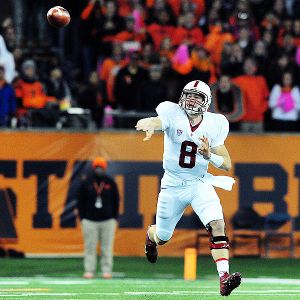 Steve Dykes/Getty ImagesThough his stats don't always show it, Stanford signal-caller Kevin Hogan is one of the most dynamic players in college football.
Dennard is not only a cornerback for Michigan State, which Stanford will face on Wednesday in the Rose Bowl Game Presented by VIZIO, he is a consensus All-American and the Jim Thorpe Award winner as the nation's best defensive back. He knows passing offenses, and he's not so sure after watching game film that Hogan and company aren't more effective than many think.
For one, just consider Hogan's efficiency. He ranks 12th among the nation's quarterbacks in ESPN.com's Total QBR advanced metric. By the conventional efficiency measure used by the NCAA, he ranks third in the Pac-12 and 17th in the nation.
Not too shabby.
Yet the negative chirping is out there. He struggled during Stanford's shocking loss at Utah and its surprisingly tight win at Oregon State. He threw two interceptions in the Cardinal's loss at USC.
"He's had his ups and downs -- no one is perfect," All-American offensive guard
David Yankey
said. "But I think he's done a great job mentally because even when everyone's been down on him, it's never guys in our facility. We're all behind him."
One of the reasonable jabs at Hogan is he doesn't play nearly as well on the road, the 2012 win at Oregon notwithstanding. If that was a legitimate question, however, he seemed to answer it at Arizona State during the Pac-12 championship game, when he turned in one of his most efficient performances of the season. He completed 12 of 18 passes for 277 yards and a touchdown, averaging a stout 15.4 yards per completion, while using his athleticism to buy time against a furious Sun Devils pass rush.
Further, he came back strong after throwing four of his nine interceptions this season in the previous three games.
"He makes a mistake and he comes back fighting full speed," coach David Shaw said after the Pac-12 title game. "That's what I love about him. We can coach him up hard and beat him up and know he's going to fight back the next week. When given the opportunity, and games are on the line in big moments against ranked teams, he shows what he's capable of."
Hogan could probably put up bigger numbers if given the opportunity. He has the size (6-foot-4, 228 pounds), arm and athleticism to match just about any quarterback out there. But Stanford's offense, as everyone knows, is run first and run second. Even Luck only ranked fifth in the conference in passing yards per game his final year on The Farm.
If the criticism has gotten to Hogan, he doesn't seem to show it. As for the middling numbers -- just 191 yards passing per game -- he claims he's not paying them any mind.
"I don't care about the stats," he said. "I know I'm not going to throw for 300 or 400 a game. If we get into the right plays, get first downs, move the chains and pick up wins, that will make me happy. That was what I was happy with. Getting 11 wins and a chance for a 12th."
Hogan said he's most proud of the improvement of the Cardinal's downfield passing game, and that can be quantified. He has dramatically improved his completion percentage on passes of 25 yards or longer -- from 30 percent in 2012 to 48.8 percent in 2013. His 11 touchdowns on passes of this distance -- with just one interception -- leads the Pac-12 and ranks third among AQ conference quarterbacks behind Baylor's
Bryce Petty
(13) and Clemson's
Tajh Boyd
(12).
So when it comes to explosive plays in the passing game, Hogan ranks with Petty and Boyd, two players who have yet to be called "game managers."
It's likely that Hogan will need to be at his most efficient for the Cardinal offense to be successful against the rugged Michigan State defense, which ranks among the nation's statistical leaders in nearly every category, including total defense and rushing defense (No. 1 in both). If Stanford can't get its power running game with
Tyler Gaffney
going, the ball will be in Hogan's hands. And then he'll get to deal with Dennard and company, who rank second in the nation in pass efficiency defense.
It's important to remember that Hogan is only a sophomore who took over the starting job midway through the 2012 season. Perhaps he created outsized expectations by going undefeated as the starter. While he didn't put up big numbers this fall, the clear consensus among the Cardinal coaches and players is he improved, a consensus with which Hogan concurs.
"I felt much more comfortable in the pocket and at the line of scrimmage, getting into the right plays," he said. "I was much more comfortable overall. I knew what I was doing much more than last year. I was very happy with my development."
With every receiver and tight end scheduled to return next fall, and the offense's top two rushers graduating, it's possible that Stanford will ask more of Hogan in 2014. He's probably going to throw more than 21 passes per game, as he did this season.
Even then, he won't be perfect. He won't suddenly become Luck. But he might just turn out to be pretty darn good, perhaps even good enough to get the Cardinal to the top of the Pac-12.
Like he has already done twice before.
December, 19, 2013
12/19/13
9:00
AM ET
The Pac-12 plays nine bowl games and every game is important, but here are five players upon whom the spotlight will shine just a bit brighter this bowl season.
USC DT Leonard Williams
Royal Purple Las Vegas Bowl vs. Fresno State on Dec. 21
The skinny
: Williams, an ESPN.com first-team All-American as a true sophomore, will lead the Trojans defense against QB
Derek Carr
and a high-flying Fresno State offense that wants to prove it can score on anyone. The Bulldogs ranked No. 1 in the nation in passing yards and No. 5 in scoring, but it's perhaps most impressive they've yielded just 11 sacks, which is ninth-fewest in the nation. Williams will head into the 2014 season as a preseason All-American no matter what. But he can show folks why and make a resounding statement for himself if he can get to or at least consistently harass Carr in the pocket.
[+] Enlarge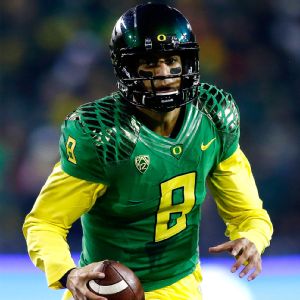 Jonathan Ferrey/Getty ImagesA healthy Marcus Mariota would boost Oregons chances against Texas.
Oregon QB Marcus Mariota
Valero Alamo Bowl vs. Texas on Dec. 30
The skinny
: This is pretty simple: Will Mariota be 100 percent against the Longhorns? If so, will he return to his midseason form, when he was the nation's best player and the leading Heisman Trophy candidate? That means using his legs to stress the Longhorns, both with designed running plays in the read option and scrambling on passing plays. If Mariota is back to his old self, he will put himself firmly in the 2014 Heisman race. And the Ducks should roll.
Arizona RB Ka'Deem Carey
AdvoCare V100 Bowl vs. Boston College on Dec. 31
The skinny
: Another simple one: Carey, the nation's No. 2 rusher, versus
Andre Williams
, the nation's No. 1 rusher and winner of a Doak Walker Award that should have gone to Carey if the award were truly about the nation's best running back (hush, Washington fans). Both offenses rely heavily on their workhorse running backs. Both teams have middling run defenses. The guy who leads the winning effort is probably going to be the guy with the best rushing numbers.
UCLA offensive line
Hyundai Sun Bowl vs. Virginia Tech on Dec. 31
The skinny
: The Hokies are almost always good on defense because coordinator Bud Foster is one of the nation's best defensive minds. This year's unit is A-list, giving up just 17.4 points per game, which ranks eighth in the nation. The Hokies are fourth in the nation in total defense, yielding a meager 4.34 yards per play, and eighth in run defense. The Hokies also have 37 sacks, which ranks fifth in the nation. The Bruins' young offensive line -- three freshmen starters! -- yielded 34 sacks, which ranked 107th in the nation. This will be a tough matchup for UCLA.
Stanford QB Kevin Hogan
Rose Bowl Game Presented by VIZIO vs. Michigan State on Jan. 1.
The skinny
: Hogan has been hot and cold this season but mostly solid. He played well in the Pac-12 championship game victory at Arizona State but threw two interceptions in November games against USC and Notre Dame. The Spartans might offer up the best defense he's seen all year, perhaps the nation's best overall unit, in fact. Most notable: Michigan State owns the nation's best run defense, yielding 80.8 yards per game and 2.7 yards per rush. While the Cardinal probably will challenge the Spartans with perhaps the nation's best offensive line and RB
Tyler Gaffney
, it's difficult to believe the going will be easy. Hogan will need to turn in an efficient, mistake-free performance in what might be a very low-scoring game. The Spartans also rank second in the nation in pass efficiency defense.
December, 13, 2013
12/13/13
11:00
AM ET
The Rose Bowl Game presented by VIZIO features two of the nation's best defenses with Stanford and Michigan State, so ESPN.com's Stats & Information, as is their wont, decided to take a closer look.


First off, the basic numbers. Michigan State leads the nation in yards per game (247.8), yards per play (3.9) and third-down defense (28 percent conversion rate). The Spartans' defense has allowed the fewest rushing yards per game (80.5), yards per rush (2.7) and 10-yard runs (30) in the FBS. The Spartans have held 10 opponents to fewer than 100 rushing yards, the most such games in the FBS. They did not allow a team to run for 100 yards until Week 12 against Nebraska.
Stanford has held its past seven opponents to 20 points or fewer and ranks atop the FBS in most major defensive categories despite playing the fourth-hardest schedule in the country (according to
ESPN's strength of schedule rankings
).
The difference in schedule strength is an issue when comparing the defenses, Stats & Info notes:
A pure, statistical comparison of Michigan State's and Stanford's defenses may not be fair because Stanford has faced eight teams ranked in the top 40 in the FBS in total offense, compared with just two for Michigan State. Instead, let's take a look at what each defense does best and how that translates to the Rose Bowl.
Here are some notable numbers, first for Michigan State.
Against the Spartans, it is hard to find space to run. On designed runs, Michigan State leads the FBS in yards before contact per game (40.3) and yards before contact per rush (1.7). The AQ averages are 89 yards before contact per game and 2.7 yards before contact per rush.
Nicknamed the "no fly zone", Michigan State's starting secondary, led by cornerback Darqueze Dennard and safety Isaiah Lewis, has 29 pass breakups and 12 interceptions. With this group, Michigan State rarely gives up big plays.
The Spartans allow opponents to complete 23.3 percent of their passes thrown 15 yards or longer, best among AQ defenses. They did not allow any opponent to complete more than 50 percent of such passes and limited Braxton Miller to 2-of-9 in the Big Ten Championship.
The Spartans' ability to play man-to-man coverage has afforded defensive coordinator Pat Narduzzi the luxury of being aggressive without jeopardizing his pass defense. Michigan State sends five or more pass rushers on 34 percent of its opponents' dropbacks, the highest percentage in the Big Ten. On such plays, opponents are completing 46.9 percent of their passes and are averaging 5 yards per attempt.
And for Stanford:
The strength of Stanford's defense is its front seven. Led by linebackers Shayne Skov and Trent Murphy, the Cardinal tied for sixth in the FBS with 98 tackles for loss and tied for first with 40 sacks.
Stanford does not have to send extra pass rushers to get after the quarterback. When sending four or fewer pass rushers, the Cardinal have 31 sacks and an AQ-high 110 total pressures.
Murphy, who is often the edge rusher, has an FBS-high 14 sacks. All of his sacks came as a part of a three- or four man rush. Because Stanford can create pressure without sending extra pass rushers, it leaves more men to drop into coverage.
Stanford's front also has excelled in the running game. The Cardinal rank third in the FBS in rushing yards per game (91.2) and fourth in yards per rush (3.0). They have held all but one of their opponents below their season average for rush yards per game.
The key for Stanford has been its ability to penetrate the backfield and not allow opposing rushers to get outside. The Cardinal have made initial contact with opposing rushers at or behind the line of scrimmage on 48 percent of their carries, the second-highest percentage among AQ conference teams behind Virginia Tech (51 percent). Further, the Cardinal lead the Pac-12 in yards per rush (4.5) and touchdowns (four) allowed outside of the tackles.
So which defense is better? According to Stats & Info, it's pretty much a tie.
Adjusting for the strength of the offenses that each team has faced, Michigan State and Stanford have nearly identical rankings in ESPN's defensive efficiency ratings -- a measure of expected points added per game on defense that adjusts for the strength of competition.
Even in the Rose Bowl it might be difficult to tell because the Cardinal offense is better than the Spartans. Stanford averages 33.2 points per game compared to 29.8 ppg. And keep the strength of schedule in mind when considering those numbers.
December, 12, 2013
12/12/13
5:30
PM ET
On the surface, the similarities between Stanford and Michigan State are obvious. Both have outstanding defenses that get after the quarterback. Both have talented lines and hold physicality above all else. So for those who like their football a little more smash-of-mouth, this is the must-watch game of the bowl season.
The early buzz around the 100th Rose Bowl Game presented by Vizio is solid. As most publications rank the bowl games from best to worst --
including ESPN
-- the Rose Bowl generally falls between the 2-4 range. Not just because it's a BCS bowl game, but because the matchup is so intriguing to many.
[+] Enlarge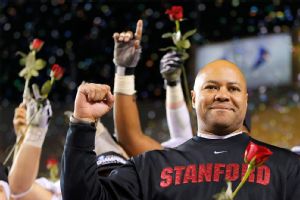 AP Photo/Matt YorkDavid Shaw has Rose Bowl-bound Stanford in a BCS bowl game for the fourth consecutive season.
Both teams have elite defenses and play a very controlled style of football. That alone sets the stage for a potentially tight contest. And as we know, Stanford is no stranger to tight contests.
"When you play like that, regardless of what happens, you will always be in the game and be in a position to win," said Stanford linebacker
Shayne Skov
. "When you have two teams that play that style, it's always going to be relatively close. There are a relatively small number of plays or miscues or big plays that end up really making the difference."
For the Cardinal, this will be their fourth-straight appearance in a BCS bowl game, starting with the 2010 Orange Bowl, the 2011 Fiesta and now their second-straight trip to the Rose Bowl.
Despite preseason buzz that the Cardinal would contend for a national championship, head coach David Shaw said there is no disappointment in the Cardinal locker room when it comes to their postseason placement.
"I think four years, 11 wins is pretty damn good," he said. "I'm not big at lamenting what could have been, what should have been, because those things equal wasn't and didn't. I'm good at looking at what is and what has been and these guys have been great. We've played extremely well. That's the goal of the program. We don't set the goal of the program as national championship or bust.
"Teams that do that lose one game and that one loss turns to two and three and four and you start looking down on your season. We take every single game one at a time. We try to grow as the season progresses. And the goal of the program is to be one of those elite teams every year. When the cards fall right and we play great, and we win the right games at the right times, you get that chance to play for national championship or get into a four-team playoff. ... That's the goal, to always be in that discussion, and the last four years we have been in that discussion. That's exciting to me."
And it's exciting to the players. The legacy of this senior class surely will be written about in the coming weeks. And knowing that they were able to win the Pac-12 championship in consecutive years is, in itself, a worthy legacy. Skov said he recalls when he first arrived on campus and even going to a bowl game was considered a big deal. But the Cardinal have upped the ante for themselves every season.
"The key thing is we've maintained that same hunger," Skov said. "No one on this team takes anything for granted. We have that same desire. Instead of becoming complacent, we've become hungrier. The standard has become higher and higher. When we were on the outside looking in (after the USC loss), guys were genuinely hurt. We were disappointed in ourselves. To see how important it is for us to be dominant and to win the Pac-12 ... it's not something we're just happy about. It's an expectation. And we're upset when we don't reach those goals."
November, 4, 2013
11/04/13
5:00
AM ET
1. It's not smart to delve deeply into BCS what-ifs. The season has five remaining weeks -- a full third of the schedule. Besides, the top of the
BCS standings
will sort itself out. It has every year since the FBS went to a 12-game schedule. But the race at the other end of the BCS is worth keeping an eye on. Fresno State has reached No. 16, the minimum threshold a BCS buster needs to secure a bid as long as it's ahead of an AQ champion. Louisville and UCF of the American are No. 20 and No. 21, respectively.
2. No. 1 Alabama and No. 3 Oregon turn their heads toward their biggest conference nemeses. Nick Saban is only 4-3 against No. 13 LSU while since taking over as coach of Alabama. He's 72-10 against everyone else. No. 5 Stanford is the only team to beat Chip Kelly's Ducks twice in his four seasons. Last season's 17-14 overtime loss cost Oregon a berth in the BCS Championship Game. Suffice to say it left a mark. Expect coach Mark Helfrich to have something in his game plan this week. The Ducks kept it pretty vanilla last year, and it cost them.
3. When Michigan State defeated Michigan four consecutive times from 2008-11, it didn't quite feel as if the Spartans owned the rivalry. This wasn't the real Michigan -- coach Rich Rodriguez didn't fit the Wolverine mold. Michigan State took advantage of Michigan, but so did a lot of teams. That's not the case any longer. Michigan has its own (Brady Hoke) running the program. He is in Year Three. Yet Michigan State just beat Michigan
29-6
, the Spartans' biggest margin in their 5-1 run against the Wolverines. The rivalry belongs to Sparty as securely as it did in the mid-1960s run of Duffy Daugherty.
October, 31, 2013
10/31/13
5:00
AM ET
1. Michigan's feuds with Ohio State and Notre Dame always drew more attention than its games with Michigan State. But that has changed, and not, Wolverines coach Brady Hoke said Wednesday on the
ESPNU College Football Podcast
, because the Spartans won four in a row from 2008-11. "I think some of the changes with the divisional races puts a little more emphasis on this football game," Hoke said. "But from a passion standpoint … it's always been a very physical game. It's always a game that been played through the whistle. The intensity of the rivalry is there. It's real."
2. Florida Atlantic head coach Carl Pelini and defensive coordinator Pete Rekstis resigned, a source told my colleague Brett McMurphy, because they attended a party where people used marijuana. I guess the coaches picked the wrong state in which to attend the party. According to Governing magazine, 21 states and the District of Columbia have legalized some form of marijuana usage. No, Florida is not one of them. But still this story, in 2013, is a stunner. Maybe FAU wanted Pelini (5-15 in two seasons) out?
3. Stanford senior defensive end and team captain
Ben Gardner's
season-ending pectoral injury means that the Cardinal will have started only two games with their preseason starting defensive line. Senior
Henry Anderson
hurt his knee in the second game against Army. That the line has remained a strength for the Cardinal is a credit to fifth-year senior
Josh Mauro
, who pretty much turned Anderson into Wally Pipp. But it's a shame that the three seniors will have played together so little in their final season.
Shaw Plans To Remain At Stanford
PAC-12 SCOREBOARD
Saturday, 12/27
Saturday, 12/20
Monday, 12/22
Tuesday, 12/23
Wednesday, 12/24
Friday, 12/26
Monday, 12/29
Tuesday, 12/30
Wednesday, 12/31
Thursday, 1/1
Friday, 1/2
Saturday, 1/3
Sunday, 1/4
Monday, 1/12