Stanford Football:

Morgan Mahalak
February, 11, 2014
Feb 11
2:30
PM ET
Not knowing how he lost himself, or how he recovered himself, he may never feel certain of not losing himself again.
November, 14, 2013
11/14/13
2:00
PM ET


A number of Pac-12 programs will have a chance to make statements this weekend that could help them greatly on the recruiting trail. The biggest game will take place at the Coliseum, as USC hosts Stanford, but both Washington programs will have a chance to make statements, while Oregon will have two important visitors on campus.

USC's second chance


November, 7, 2013
11/07/13
2:00
PM ET
The game of the year in the Pac-12 is finally here, as recruits will tune in Thursday night to watch Stanford host Oregon (ESPN, 9 p.m. ET). The UCLA Bruins proved that the offensive line recruiting magic from last year's class is still alive and well. Official visitors will be on hand at Utah and Cal. And fans of Arizona State and Oregon could get a glimpse of the future during a high-stakes high school clash on Saturday.
To continue reading this article you must be an Insider
October, 22, 2013
10/22/13
8:30
PM ET
It has been well documented over the past few years that programs have little choice when it comes to some aspects of the college football recruiting process.
Whether it is extending offers to juniors, sophomores, freshmen and eighth-graders, or the first 100-piece bundle of mail that chokes a prospect's mailbox, coaches across the country have rushed to catch up and join the race.
[+] Enlarge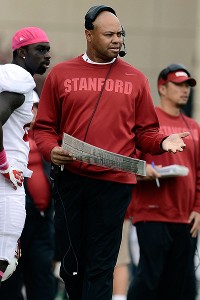 Ron Chenoy/US PresswireCoach David Shaw and Stanford have limited in-season official visits and have a "Big Visit" weekend in January for recruits.
But while the unofficial visit and recruiting mailings become more and more important to the process, the official visit remains a significant tool, and one of the few remaining recruiting tactics that can be wholly personal to a coaching staff and program.
When most recruits begin thinking about what official visits they want to take, the first thing they discuss is what big games they'll be able to attend. In the Pac-12 this season, there won't be any official visitors for two of the biggest games recruits will be watching -- when Oregon visits Stanford and USC hosts UCLA -- because the Cardinal and Trojans have decreased in-season official visits.
"For a long time, there was kind of a lore that the official visit is about getting to see a game -- a notion that has been in movies, on television, in books and magazines," said Mike Eubanks, Stanford Assistant Athletic Director and Director of Football Administration. "The official visit is about going to see a game, see what the campus is like afterward and then sitting down in the coach's office."
But as Pac-12 coaching staffs dissect exactly what they want to showcase during an official visit, several schools are continuing to focus visits around a game weekend, while others have targeted the offseason as the best time to bring in official visitors.
Oregon, Utah and Washington State have combined to host 33 official visitors this season, compared to 27 for the rest of the conference combined.
It's not surprising to see those three programs hosting visitors during the fall. Not only could weather concerns in late January put a damper on bringing a majority of recruits in then, but Oregon specifically can take advantage of its game-day atmosphere.
"They're really cool either way and encourage you to go up and see a game," said Oregon quarterback commit
Morgan Mahalak
(Kentfield, Calif./Marin Catholic) of the Ducks' coaches and visits. "It's a pretty fun game-day atmosphere to experience."
Mahalak said the policy has paid dividends already this season, as Oregon grabbed verbal commitments from ESPN 300 running back
Tony James
(Gainesville, Fla./Gainesville) and four-star receiver
Jalen Brown
(Phoenix/Mountain Pointe) after official visits.
"[Brown] had a great visit for the Tennessee game," Mahalak said. "I think that was huge for him to see what it'd be like to play there. You definitely leave Oregon after a visit with a better sense of the program."
Last weekend, Arizona had its first opportunity to host official visitors. The Wildcats went two-for-two with their uncommitted targets, grabbing commitments from offensive linemen
Layth Friekh
(Peoria, Ariz./Centennial) and
Levi Walton
(Cape Coral, Fla./Ida Baker).
Friekh, like more than a few recruits, said taking an official visit at this stage was a priority for him.
"Since I was planning on committing early, they said to come in whenever I wanted," Friekh said of the Arizona coaches. "It was really important for me to take an official visit now because I wanted to see if the school is behind the team and if all the fans are behind the team. I didn't want to go to a school where nobody supports the team, so that was cool to see."
While Friekh said he felt he had enough time with the Arizona coaches, that seems to be the biggest worry among schools -- Arizona included -- looking to push visits into the offseason.
"You want to be able to spend the whole 48 hours with them," said Matt Dudek, Arizona's Director of On-Campus Recruiting and Player Personnel. "You don't want to be worrying about a football game and you don't want to waste it, because we believe that you'll fall in love with our coaches when you get some extended time hanging out with them. That's our No. 1 selling point."
Dudek said an official visit on a game-day weekend is "more hectic than crazy or difficult," but they will always try to get official visitors to come after the season in order to spend more time with them.
"Every kid is different and we're never going to say no if a guy wants to come on an official during the season," Dudek said. "Some want to come on a game day, and if that's your deal breaker, you come on game day. There's a little less time to hang out and ask a bunch of questions at each stop. Out of season, it's no big deal to be five or 10 minutes behind schedule, but if there is a game scheduled for 7 p.m., that's not going to change."
For USC, Dec. 13 seems to be the first big recruiting weekend -- though what happens with the coaching staff could determine the true schedule of events. In the 2013 class, USC didn't host a visitor before Dec. 7, which was the big weekend for early enrollees. But the Trojans also found out the hard way this season that having a plan for official visits and carrying it out successfully can be two different things.
Enter the somewhat strange case of ESPN 300 cornerback
Adarius Pickett
(El Cerrito, Calif./El Cerrito). Early in the process, it looked as though USC had the inside track for a commitment from Pickett, and the four-star cornerback alerted all his potential choices in the spring that he would take his official visits in the first four weeks of his season, then announce his decision the following week.
UCLA, going with the growing trend in the conference, suggested that Pickett wait to take his visit after the season.
"I explained to them what I was trying to do and they said it was fine with them," Pickett said of the Bruins' coaches allowing him to take an official visit for the first game of the season. "I told [USC coach Clay Helton] during the spring that I was going to UCLA first week and that I wanted to try to set up a visit to come down after my fourth game."
That visit to USC wasn't allowed to happen. Pickett said the decision to deny him an opportunity to take an official visit during the season ultimately came from coach Lane Kiffin and was delivered through Helton, but it didn't come as much of a surprise when Pickett announced his commitment to the Bruins following that conversation and his UCLA visit.
In large part though, USC's shift over the past few years to a January-centric visit schedule has paid dividends, and it's something Stanford has found success with as well.
In the 2013 class, 13 of the Cardinal's 14 eventual signees took their official visits during the "Big Visit" weekend in January. It's a success rate that is helped both by the number of already-committed prospects in attendance, as well as a clear message from the beginning about the official visit policy.
"By the time we get far enough into the process and building relationships, if somebody has this interest in Stanford and we're still with them because they've met all the academic challenges we've given them, then the recruit who has met us that far along in the journey tends to have the perspective and values that wants their official visit to be the same thing we want their official visit to be," Eubanks said.
That includes having the Big Visit begin on a Friday morning in the offseason, which allows Stanford to give its visitors an extensive look at a full day on campus during the school year -- something that is virtually impossible to do with an in-season visit, as recruits either have school or football responsibility on Friday and often can't arrive on campus until Saturday.
"To have somebody come here and not see a class is really shortchanging a good look at what Stanford should be," Eubanks said. "If it's just Saturday and Sunday, you've not done anything to address the academic question, which is maybe one of the biggest questions in the mind of these young scholar-athletes. That's pretty important for us."
While prospects will almost always hold the cards when it comes to their recruitment, it's easy to notice a fairly sizeable shift in the visit schedules for Pac-12 programs. While schools such as Oregon, Utah and Washington -- among others -- will almost always look to take advantage of nationally-recognized game-day atmospheres, Eubanks was careful to point out that it's important to note the decision to move away from in-season visits -- for Stanford and the other conference schools -- can't be seen as hiding from that experience.
"Especially as a national recruiter, going up against these giant stadiums with highly-regarded game day atmospheres, you don't want to make it look like you're hiding," Eubanks said. "If you argue against the importance of the game or the game day atmosphere to a young man who thinks the most exciting experience is to be on the big stage that he's dreamed of since he was little... If at any point you are dictating how things should be done, or talking instead of listening, you can lose them. And if you do, then that's rightfully so."
September, 25, 2013
9/25/13
8:00
AM ET
We've barely hit the quarter pole of the 2013 season, but with true and redshirt freshmen making impacts all over the country, attention turns this week to those recruits in the 2014 class who could generate the same kind of press early in their careers and affect the conference.

Current 2014 QB prospect who could start immediately
Arizona and Washington are the only Pac-12 programs scheduled to lose their starting quarterbacks after this season, but with seven quarterbacks already slated to compete for the job next year, it's going to be extremely difficult for
Brandon Dawkins
(Westlake Village, Calif./Oaks Christian) to truly put himself in the mix. The same is true at Washington -- though the Huskies have yet to receive a commitment from a quarterback in the 2014 class -- as redshirt freshmen, who will then be redshirt sophomores,
Jeff Lindquist
and
Cyler Miles
will likely battle for the spot. So at this point -- leaving aside speculation on whether quarterbacks such as UCLA's
Brett Hundley
or Oregon's Marcus Marriota could make themselves available for the NFL draft -- this question becomes about the possibility of a true freshman supplanting a returning starter, and while it would be tough to bet on anybody actually getting it done, the easy answer is
Keller Chryst
(Palo Alto, Calif./Palo Alto) at Stanford. The No. 19 overall recruit is a polished pocket passer and seems to fit perfectly into the Stanford offense. If it clicks early for him, he could give
Kevin Hogan
a serious run next fall.
Program-changing 2014 recruiting class: USC
This could be a make-or-break recruiting class for the Trojans. When USC begins practices next spring, just 26 players on the roster will come from the 2012 and 2013 recruiting classes, combined. That means tons of opportunity for what could be 19 signees in a class still limited by NCAA sanctions. Right now, recruits want a clear picture of what will happen going forward at USC. If the Trojans make a decisive move at the top -- either with Lane Kiffin finishing the season in a strong manner and earning the full trust of the fans and his bosses, or with athletics director Pat Haden moving swiftly to replace Kiffin with an impressive hire -- USC could close with a monster class, as a number of high-profile prospects are intrigued by the idea of playing for USC and understand the playing time situation. If things break well for the Trojans, it's not impossible to think this class could be the best group in the Pac-12 and eventually form some of the nucleus that takes USC back to the top of the conference.
Current 2014 prospect with Heisman potential
Since the Heisman Trophy has become about quarterbacks and running backs, that narrows this category a bit. Again, Chryst is the easy answer because he'll likely put up good numbers for a national power. But a bit farther down the West region prospects list sits tailback
Joe Mixon
(Oakley, Calif./Freedom), who possesses just about everything you look for in a potential Heisman contender. He'll likely be suiting up for a national power -- Florida, Oklahoma and Oregon are three of his finalists -- a running back's dream -- Wisconsin is another finalists -- or a program in Cal where he'd have the ability to put up silly numbers both rushing and receiving. Mixon has also said UCLA is still in the running, which would put him in a major media market. His ability to catch out of the backfield and perhaps even return kicks will help his statistics, and the fact that he brings some personality to the table -- nearly 6,500 twitter followers at last count -- helps his cause as well.
To continue reading this article you must be an Insider
PAC-12 SCOREBOARD
Thursday, 8/28
Friday, 8/29
Saturday, 8/30