July, 25, 2013
Jul 25
8:00
AM ET
Stanford coach David Shaw had some interesting things to say to
ESPN's Colin Cowherd in this podcast
, which is definitely worth a listen.
Suffice it to say, Cowherd is a fan. He opens by noting that, unlike the SEC coaches who traveled with an entourage into the ESPN studios last week, Shaw just walks in solo.
"We travel light," Shaw explains.
Shaw talks about a variety of topics and issues, from his team to former Cardinal coach Jim Harbaugh, to a good anecdote about Andrew Luck.
Cowherd is interested in the idea of an elite academic institution winning consistently at a high level. Said Shaw, "The smart guys win games. The guys who don't make mistakes."
I will admit Cowherd falls into one of my minor pet peeves comparing Stanford to other good academic schools doing well in football, such as Vanderbilt and Northwestern. Those are very nice schools,
but they aren't Stanford
. Each and every student at Northwestern or Vanderbilt would break into a full sprint out the door if Stanford offered admission.
And, of course, Stanford has gone 2-1 while playing three consecutive BCS bowl games, and is just a missed short field goal away from being 3-0. No other elite academic school even approaches that distinguished résumé.
Part of Shaw's selling point, however, isn't college and a Stanford diploma. His program is sending guys to the NFL at a very high rate.
"We approach everything with an NFL mentality," he said.
Further, Shaw isn't going anywhere. Consider this from Ivan Maisel's
Pac-12-centric 3-point stance this week
:
David Shaw, the head coach of defending Pac-12 champion Stanford, has avoided being seduced by praise for starting out 23-4. Shaw maintains that he returned to his alma mater with the intention to build a program over 20 years. In an age when coaches job-hop and the pressure to win can be excruciating, Shaw's plan is so old-fashioned it's almost quaint. It's too soon to gauge history. But if Shaw stays and keeps winning, his hiring will be the example that every athletic director will try to emulate.
Stanford fans who can remember the years of struggle, and we're not just talking the Buddy Teevens and Walt Harris tenures, probably are still amazed by this recent run of success. That might wear off, though. It is threatening to become a long-term standard.
June, 6, 2013
Jun 6
1:00
PM ET
Stanford outside linebacker
Trent Murphy
has considered the college football hype machine. He mostly has thought it frivolous and worthless. But not without just a trace of longing.
Such is the plight of an underrated player who has performed better than his Q-rating suggests.
"There was a little period of time when I thought that it could affect your draft stock, that it might mean a lot -- media hype and television hype," he said. "But I've gone back to my foundation, which is it really doesn't matter. If I'm doing my job between the whistles, if I'm beating guys, that's what matters. If I'm recognized for that or not, I don't think it means a whole lot as long as my team's winning games and the coaches who really know what's going on see the film. That's your resume. It speaks louder than preseason watch lists."
[+] Enlarge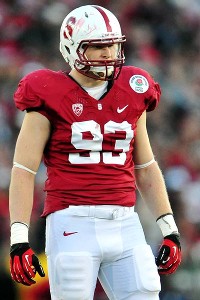 Gary A. Vasquez/USA TODAY SportsLinebacker Trent Murphy bears the responsibility of leading the Cardinal into the 2013 season as national-title contenders.
Ah, but Murphy might be ready for his closeup. Long considered Stanford's "other" outside linebacker opposite Chase Thomas, Murphy is finally getting his due, including being named a
second-team preseason All-American by Phil Steele
.
More important: Murphy, an athletic 6-foot-6, 261 pounder, is solidly on the NFL radar. The question in 2013 is whether he plays himself into the first round of the 2014 draft. As a junior, first-team All-Pac-12 selection in 2012, he had 56 total tackles and led Stanford in both tackles for a loss (18) and sacks (10). He also had an interception, forced fumble and five pass defenses.
But first things first: the 2013 season.
Stanford is a Pac-12 favorite and national title contender -- along with Oregon -- in large part because of a defense led by Murphy which might be the nation's best. The Cardinal is deep and talented at all three levels, and that defense will now be supported by an offense led by an experienced quarterback in
Kevin Hogan
.
The pieces are in place, and the hype machine has noticed. More than a few pundits believe the Cardinal might be capable of ending the SEC's seven-year reign atop college football.
But that could be a trap. Preseason plaudits often act as a lullaby. Just ask USC.
"That's the biggest concern around here: Entitlement and complacency," Murphy said. "Those are things that all good teams fight. It's kind of the difference between being a good team and being a great team."
That's why, for example, strength coach Shannon Turley might decide that a stray Gatorade bottle during an off-season workout offends the very core of his being and transforms him into a tornado of outrage over entitlement and complacency among his novitiates.
That's the rub with Stanford. Its rise to prominence on the college football landscape has been a battle against type. Stanford students are the proverbial cream of the crop, future tech innovators and venture capitalists camping out on an idyllic campus just down the road from Silicon Valley. While there's a quasi-ironic embrace of #nerdnation on Twitter among the school's student athletes, there's also a constant battle against 94305 disease. And every Stanford person knows exactly what that is.
Yet be forewarned. Stanford football players have an odd way of dealing with praise.
"We just kick them in the shin and keep moving forward," Murphy said. "Any time anyone compliments you, kick them in the shin and keep moving."
(
Note to myself
).
Stanford and Murphy both have plenty of motivation heading into 2013. For the Cardinal, it was losing a pair of tight road games it shouldn't have against Washington and Notre Dame. If Stanford wants to play for a national title, it can't do that.
Meanwhile, Murphy sees his own missed opportunities. It's notable that he also led Stanford with six quarterback hurries, which he rates as "blown sacks."
"To be honest, I probably missed more sacks than I made," he said. "That's about finishing."
If you play defense for Stanford, missing a sack means you missed the party. The unit's unofficial motto -- we've been unable to figure out if it was invented by Thomas or linebacker
Shayne Skov
-- is "Party in the Backfield."
Is there a new motto for 2013?
Said Murphy, "'Party in the backfield' will be hard to get rid of. People love that."
Murphy said a video might be forthcoming.
But this isn't just flippant or self-indulgent. There's hype and there are meaningful words. Stanford's more academically minded players value the latter. It's part of the team culture.
"Right now the seniors are working on a team covenant," Murphy said. "Which is kind of the senior class wanting to put their personality into team goals, a team mission. What our mentality is going to be. Our motto will likely come out of that meeting. I'll keep you posted."
We'll be checking the scoreboard.
March, 18, 2013
Mar 18
6:00
AM ET
Starters in, starters out. That's college football. Players' eligibility expires, and they leave for the rest of their lives, whether that includes the NFL or not.
And they leave behind shoes of various sizes that need to be filled.
Our concern with this series? The biggest shoes -- in some cases Shaq-like size 23s.

Biggest shoes
: TEs
Zach Ertz
and
Levine Toilolo
These guys rate a tandem because Ertz was a unanimous All-American, Toilolo was a towering No. 2 and they represented one of the great innovations during Stanford's rise into the nation's elite: The "Big" formations featuring multiple tight ends who catch the ball like receivers and block like tackles. When you toss Coby Fleener in there from 2011, and you recall how special that troika was. And now all three are gone and no tight end remains on the roster who has caught a pass. This is further notable because both Ertz and Toilolo could have returned this fall. Ertz's decision to leave wasn't a surprise. He's a potential first-round NFL draft pick. Toilolo's was, and more than a few folks think he made a mistake, surrendering an opportunity to be the lead guy, and answer questions about his inconsistent hands. It also doesn't help that the Cardinal lost their Nos. 2 and 3 receivers, running back
Stepfan Taylor
and receiver
Drew Terrell
. But the void isn't just about catching the ball. Stanford's tight ends have played a key role in the rise of a dominant power running game. While the offensive line should be strong again this fall, it's questionable if the "Big" formations will be as fearsome, at least the tight end options.
Stepping in
? Sophomore
Luke Kaumatule
Kaumatule, a 6-foot-7 Hawaiian, certainly looks the part, and he is the early leader after a strong first spring session, though he's still learning the ins and outs of the position. Coach David Shaw also moved senior
Eddie Plantaric
and junior
Charlie Hopkins
, former defensive linemen, to the position, and senior
Davis Dudchock
brings veteran leadership and knowledge. Sophomore
Alex Frkovic
is trying to come back from a knee injury and sophomore
Chris Harrell
is promising but needs to get bigger and stronger. It's important to keep in mind that Stanford isn't looking for just one guy. It would like at least three to step up because it has plenty of designed plays with three on the field at the same time. Another thing to keep in mind: Stanford is deep at fullback, led by former tight end
Ryan Hewitt
, who at 6-foot-4, might be the tallest fullback in the nation. There's no reason that when Shaw says, "Give me a big, nasty guy who can run and catch," he won't finger a fullback for the role.
March, 14, 2013
Mar 14
10:00
AM ET
If someone had asked me before spring practices began who California's starting quarterback would be in 2013, I would have quickly said with my all-knowing look: "
Zach Kline
."
If that someone had gently protested with a "But what about..." I would have interrupted with another all-knowing look, "No. It will be Zach Kline."
Unfortunately, that would have been the same all-knowing look I gave while asserting USC's national championship prospects before the 2012 season. It might be wise for me to mothball that all-knowing look, and I just want to add that my wife and children owe Lane Kiffin and the 2012 Trojans an eternal debt of gratitude.
[+] Enlarge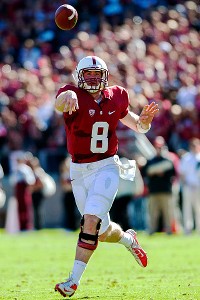 Ed Szczepanski/US PresswireThe success of young QB's like Stanford's Kevin Hogan is no longer a rarity in college football.
Kline might well end up the Bears' starting quarterback, but that's not what this is about. It's about Cal's quarterback battle looking like it's going to be
a showdown between
Kline, a redshirt freshman, and true freshman
Jared Goff
, who opted to graduate early from high school, skip all the riotous things high school seniors do during their final spring frolic and begin the serious business of Pac-12 football.
A redshirt freshman is the "veteran." A true freshman is the challenger.
There are two notable things about the Conference of Quarterbacks this spring: 1. There's an impressive crew of talented and already accomplished ones returning; 2. Youth now rules a position where that very quality was nearly a disqualifying negative not too long ago.
California is not the only school that might tap a true freshman. Arizona has Anu Solomon coming in this fall, and the look on both coach Rich Rodriguez's and co-offensive coordinator Rod Smith's faces when talking about him suggest his candidacy is legitimate.
"If the kid is good enough and he can handle it," Smith said." Some kids transition better than others. Anu is a kid who was a four-year starter in high school. That doesn't mean anything for college, but at least he's been in the mode when he's the new kid on the block competing with older kids and he performed well. He was 56-4 as a starter. The kid is a winner. He knows how to move the football and win."
That is not too far from the case Pete Carroll made in 2008 when he opted to go with true freshman
Matt Barkley
, only Carroll went all Pete Carroll-y and made Barkley into
some metaphysical quarterbacking beast
, citing Malcolm Gladwell and labeling Barkley an "outlier."
Still, that was a precursor to the new reality.
A redshirt freshman, Texas A&M's
Johnny "Football" Manziel
, won the Heisman Trophy, and a redshirt freshman, Oregon's
Marcus Mariota
, was first-team All-Pac-12, over seniors Barkley and Arizona's
Matt Scott
. Stanford's season transformed when it handed its offense to redshirt freshman
Kevin Hogan
. Utah started a true freshman,
Travis Wilson
, a few games into the season. Redshirt freshman
Brett Hundley
led a UCLA resurgence.
Further, USC again has a early arriving true freshman who is a legitimate candidate to win the starting job in Max Browe. More than a few folks believe the front-runner to win the job at Colorado is redshirt freshman
Shane Dillon
.
We might not be at the end of 2013's youth movement. While Washington and Washington State both welcome back veteran quarterbacks in
Keith Price
and
Connor Halliday
, there is a sense they both could be threatened by, yes, true and redshirt freshmen challengers.
The only Pac-12 teams certain to start upperclassmen at quarterback: Arizona State with junior
Taylor Kelly
, and Oregon State with junior
Sean Mannion
or senior
Cody Vaz
.
This youth movement doesn't include a sacrifice of quality and high-prospects. It's not primarily about a failure of the older guys. Does any conference offer a better array of returning quarterbacks than Mariota, Kelly, Hundley and Hogan? The answer is no.
There are many explanations for this youth movement. First of all, quarterbacks are better prepared in high school. They get private coaching, go to summer camps, play 7-on-7 in the offseason, etc. In high school, they don't just show up in August for two-a-days and draw plays in the dirt anymore.
Further, a player's recognition of and respect for the natural pecking order has been reduced, as has patience. If a touted guy loses out in a quarterback competition, he seems more likely to transfer now in search of playing time. A couple of coaches also have told me it's more difficult to recruit the position when a team has an entrenched, underclass starter. That then means the junior and sophomore quarterbacks on the roster might not be as good as the younger players who sign only when the starter is a junior or senior.
Or the job will be vacant, as is the case with Browne at USC.
Yet just because a guy starts as a freshman doesn't mean the death of the upperclassman quarterback. In fact, it should in most cases increase its likelihood of occurring.
The logic is simple: If a guy is good enough to start as a freshman and plays well, then you can project forward two or three years of improvement and future success. The most important position on the field is locked down and secure and worry-free. A good thing.
It doesn't always work out like that -- see Price at Washington this past season. Or the Barkley of 2011 versus the lesser version in 2012.
That noted, it's not unreasonable to hold high hopes. Know that just about every Oregon fan has projected improvement for Mariota over the next two years, though he could enter the NFL draft as a third-year player after this season. Even moderate improvement sets him up as an All-American and Heisman Trophy candidate. Same could be said for Hogan, Hundley and Kelly, by the way.
The youth movement at quarterback is a substantial shift in thinking. An experienced, veteran quarterback used to be the first preseason measure of a team. Now all a team needs to be highly esteemed is a returning starter, even if that's just a sophomore.
It's getting to the point, in fact, that youth at quarterback will be weighted less as a potential problem by prognosticators.
At least, it's possible that the next time someone frets a lack of experience at quarterback being a problem, I'll resurrect my all-knowing look and say, "No, it's not!"
March, 1, 2013
Mar 1
12:00
PM ET
While quarterback competitions are typically front-and-center during Pac-12 spring practices, there are always other interesting spring storylines.
Here are two.
[+] Enlarge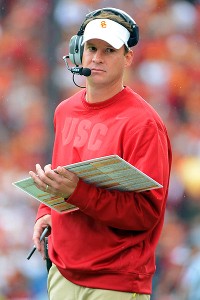 Harry How/Getty ImagesUSC coach Lane Kiffin enters the spring with several new assistants, a new defensive scheme, and uncertainty at quarterback.
Ted Miller
: It was a horrible, no-good, rotten, very bad 2012 season for USC coach Lane Kiffin. And the 2012-13 offseason has been no picnic either. Some Trojans fans wanted Kiffin fired. Just about all were frustrated. Justifiably so, by the way.
Lane: Welcome to spring, the season for rebirth! Time to turn the page. Or, perhaps, pick up an entirely new book.
At the very least, the situation at USC is interesting. One of the nation's premier programs is front-and-center for many of the wrong reasons, but there is enough talent on hand for Kiffin to turn things around and shut up his critics.
Interesting plot lines? Kiffin will be breaking in four new assistant coaches, including a pair of new coordinators, his defense will be transitioning from a 4-3 base to a 3-4, and he's looking for a new quarterback for the first time in his tenure.
There's a lot going on. Lots of questions. Lots of doubt, too. Yet negative momentum isn't irreversible.
What if the Trojans have an exceptional spring?
What if Clancy Pendergast shakes things up and, suddenly, the defensive guys are playing hard and fast in a sound scheme they understand? And what if the offense, nonetheless, makes plenty of plays because the quarterbacks are sharp and the line is manning up? What if the fitness level of the Trojans improves? What if offensive tackle
Aundrey Walker
breaks through, realizing his future NFL contract will be based on performance, not measurables? What if
Devon Kennard
proves a perfect fit as a 3-4 outside linebacker, as we believe he is? What if guys like
Marqise Lee
,
Hayes Pullard
,
Silas Redd
,
Dion Bailey
and
Kevin Graf
step up as leaders? What if receivers
George Farmer
and
Victor Blackwell
decide they don't want to be left in the dust behind Lee and
Nelson Agholor
? What if running back
Tre Madden
says, "Hey, remember me?"
What if Kiffin simultaneously refocuses and relaxes? What if he uses his capable brain to be smart, not a smart aleck, to be creative, not sneaky? What if he realizes the media is not an enemy, but just a bunch of folks trying to do their job whom he should humor with vague though sometimes amusing answers?
There are a lot of "What ifs?" with USC and Kiffin. It's not difficult, by the way, to talk yourself into believing a bounce-back is entirely possible.
That's what is interesting. Kiffin 2.0 was 2010 and 2011, when he seemed to find his rhythm as a coach after controversial stints with the Oakland Raiders and
Tennessee Volunteers
. Kiffin 3.0, was 2012, a complete face-plant.
This spring presents us with Kiffin 4.0. It could prove to be the most important transition of his career as a head coach.
And that is interesting.

Kevin Gemmell
: Besides quarterback battles -- which I think are always the most exciting position battles there are -- I'm most curious to see how the running back battle is going to play out at Stanford.
When you look at a Stanford squad that is very heavy on upperclassmen -- on both sides of the ball -- you have to wonder if all of the pieces are in place for Stanford to make a legitimate run at the national championship.
I wasn't sure before, but with the addition of Tyler Gaffney to the running back corps, I'm warming up to the idea that the Cardinal could challenge any team in the country for a BCS championship -- if they can get out of their own conference (or division for that matter) -- which anyone will tell you is no easy task.
It's no surprise that Stanford's primary offensive weapon is the quarterback. Not because of what he does with his arm -- but because of what he does when he goes under center -- checking out of bad plays and putting the offense in the best possible play against the defense shown. This allows running backs to flourish. Andrew Luck was phenomenal at it.
Kevin Hogan
should get better.
So, when Hogan turns to handoff on power right or power left, who is going to be the primary ball carrier?
Anthony Wilkerson
has shown bursts and outstanding top-end speed. But injuries have slowed him, and playing behind
Stepfan Taylor
the past few years didn't allow him to really break out following his strong true freshman season. Gaffney is a rock and hard to bring down. He's the kind of guy who could carry the ball 10 times for 4.5 yards a pop.
Barry Sanders
is an interesting X-factor. He obviously was a high-profile recruit because of his name -- but beyond that, he's supposedly a pretty darn good back. Maybe he ends up winning the job and can be a 15-carry type of guy.
Then you have
Ricky Seale
, a shifty runner with great vision who has been trapped at the bottom of the depth chart, but continues to receive praise from David Shaw.
Remound Wright
and hybrid
Kelsey Young
are also in the mix.
Whoever is Shaw's go-to back, he'll have the benefit of running behind an outstanding offensive line that is only going to get better with
David Yankey
-- an All-American and last year's Morris Trophy winner -- moving back to his natural position at guard. And Shaw has said he plans to keep
Ryan Hewitt
at fullback -- giving the running backs a cadre of blockers that rivals any other in the country.
By season's end, this could be your national championship team. The question is, which back will carry it there?
November, 30, 2012
11/30/12
11:12
PM ET
PALO ALTO, Calif. -- It didn't matter to Stanford that everyone was handing the Pac-12 to either USC or Oregon in the preseason. But, of course, it did. It didn't matter to Stanford that many expected the Cardinal to take a significant step back after losing quarterback Andrew Luck, the first overall pick in the 2012 NFL draft. But, of course, it did.
That's the twin engine that drives Stanford. It's contradictory only on the surface. Stanford doesn't pay attention to what you think because that chip is already on its collective shoulder. It's part of the program's culture. It doesn't care what you think but -- just in case -- it's certain you doubt them.
Yet here the Cardinal are, headed to the Rose Bowl as the Pac-12 champions after beating UCLA
27-24
on Friday, gutting out a victory over a foe that looked a lot tougher than it did six days earlier in a 35-17 defeat. The Cardinal is headed to a third consecutive BCS bowl game with a chance to finish a third consecutive season in the final top 10.
Surely that will convince the naysayers that the most elite academic institution playing FBS football is also elite on the gridiron?
"They probably still won't give us credit," outside linebacker
Chase Thomas
said. "They never have. They just don't get it. They counted us out before the season after Andrew left. They counted us out when [coach Jim] Harbaugh left. And when [running back Toby] Gerhart left."
While you might quibble with Stanford not getting credit -- it has finished ranked fourth and seventh in the final Associated Press poll the past two seasons -- you can't quibble with the facts: The Cardinal is now 11-2 and headed to the Rose Bowl after replacing one of the great college quarterbacks of the past decade, not to mention a handful of other early-round NFL draft picks.
This program has some legs.
But this one wasn't easy. The Bruins showed up for take two. It was only decided when
Ka'imi Fairbairn
missed a 51-yard field goal attempt with 34 seconds left.
After rushing for just 73 yards and giving up seven sacks in game one, the Bruins rushed for 282 yards and yielded three sacks. They outgained the Cardinal 464 yards to 323.
Said Stanford coach David Shaw, "They just played better."
But two plays changed the game. First, with UCLA leading 14-7 and facing a second-and-16 from the Cardinal 36-yard line, quarterback
Brett Hundley
threw his only interception on the night, but it was returned 80 yards by
Ed Reynolds
to the Bruins' 1-yard line. A play later, it was 14-14, and the Cardinal quashed early UCLA momentum.
[+] Enlarge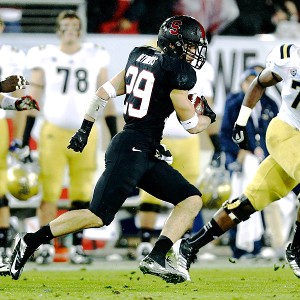 AP Photo/Marcio Jose SanchezEd Reynolds halted a UCLA drive with this 80-yard INT return, which Stanford immediately cashed in.
Then, early in the fourth quarter with UCLA leading 24-17, Stanford faced a third-and-15 from the Bruins' 26-yard line. The Cardinal sent out four vertical receivers, with tight end
Zach Ertz
cutting underneath in the middle. The safety followed Ertz. Quarterback
Kevin Hogan
saw receiver
Drew Terrell
get some space along the right sideline.
"The corner sat a little bit," Hogan said.
Hogan found Terrell for a 26-yard touchdown to tie the score.
Said UCLA coach Jim Mora, "We busted a coverage."
Hogan won game MVP honors, and Stanford's transformation can be traced to him. The redshirt freshman made his first career start Nov. 10 against Oregon State, but now he has beaten four consecutive ranked teams, including the victory at Oregon that keyed the Cardinal taking the North Division title.
"It's been a good month," Hogan said.
Hogan is already notorious for two things: poise and a desire not to talk about himself. It's better to have others talk about him, a signal-caller who can do damage with his arm and legs.
"He's an impressive kid," Mora said. "He's very poised. He's careful with the ball. He makes good decisions."
Shaw said Hogan's "ceiling is very high" and that his poise is "innate."
"You don't train a guy like that," Shaw said. "You find a guy like that."
Hogan completed 16 of 22 passes for 153 yards and rushed for 49 yards on 11 carries. But the biggest number is this: No turnovers for the Cardinal offense. On a day when UCLA was statistically superior, that might have been the difference.
"You're a freshman?" Thomas joked with Hogan on the podium during a postgame news conference, then turning back to reporters. "He sure doesn't play like one."
Stanford hasn't played in a Rose Bowl since losing to Wisconsin after the 1999 season. Shaw is the Pac-12 Coach of the Year. The Cardinal has won at least 10 games in three consecutive seasons for the first time in their history.
There are probably a few folks who don't believe they will do it a fourth time in 2013. At least, that's what they hope in the Cardinal locker room. Not that they care what you think. But they know you think that.
Remember: These guys are nerds. They know things.
Said Shaw, "We expect to be good again next year."
November, 15, 2012
11/15/12
2:30
PM ET
Toby Gerhart preceded him at Stanford. Then came Oregon's LaMichael James, casting a big shadow for two seasons. While 2012 seemed like it set up well for Stanford running back
Stepfan Taylor
to finally see his name on the college football marquee, he's nonetheless looking up at Oregon's
Kenjon Barner
, Arizona's
Ka'Deem Carey
and UCLA's
Johnathan Franklin
in the pecking order of Pac-12 running backs.
Taylor has practically become famous, in fact, for being overlooked and underrated. It's a perception that is frequently noted just before a coach or player praises Taylor for his all-around skills as well as his character.
"For some reason, I don't know why, I think he is extremely underrated," said Oregon coach Chip Kelly, whose Ducks play host to Taylor and Stanford on Saturday.
[+] Enlarge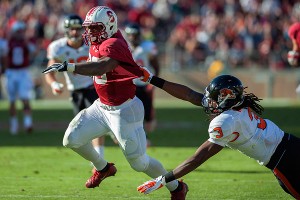 Ed Szczepanski/US PresswireStepfan Taylor needs just 203 more yards to become Stanford's all-time leading rusher.
Said Stanford coach David Shaw, "He epitomizes what we are all about."
Taylor, a Doak Walker Award semifinalist, is hardly anonymous. You don't become the first player in Stanford history to record back-to-back-to-back 1,000-yard rushing seasons and be known only as What's His Name.
He is 169 rushing yards from reaching 4,000 in his career and 203 yards from breaking the school's career rushing record held by Darrin Nelson. Taylor's 36 career rushing touchdowns are third all-time on The Farm. He needs one more to tie "Touchdown" Tommy Vardell for second.
Taylor presently ranks 22nd in the nation and fourth in the Pac-12 with 106.1 yards per game. He's also the Cardinal's second leading receiver with 28 catches for 184 yards and two scores. Last week in the win over Oregon State, Taylor fumbled for the first time in nearly a calendar year, snapping a streak of 261 consecutive rushes without a fumble dating back to Nov. 26, 2011.
Oh, and he can block, too.
"He's the best pass-blocking running back in our conference, and it's not even close," Shaw said.
You put this all together, and the most popular conclusion is that Taylor's payoff will be in the NFL, where his toughness, ability to run between the tackles and diversity of skills will be more fully appreciated.
"Oh, gosh, I think he's a really, really good player. I really like him," Oregon State coach Mike Riley said. "I think he's an NFL back. He's powerful, he's quick, he's smart, he's durable. He just keeps pounding at you. Of course, that's kind of Stanford's mentality, and he fits into it really well."
Riley knows firsthand. The Beavers own one of the nation's toughest run defenses, but Taylor gashed it for 114 yards on 19 carries in a 27-23 victory last weekend. However, it was a screen pass at the end of the third quarter that earned Taylor the most kudos. He took the short dump pass 40 yards for a critical touchdown that started the Stanford comeback, and just about every Oregon State defender had a shot at him but couldn't get Taylor down, most notably safety
Anthony Watkins
, whom Taylor dispatched with a brutal stiff-arm at the 12-yard line.
As for Taylor being underrated and underappreciated, the person who seems to care least about that is Taylor.
"I don't really think about that," he said. "I feel like people who watch football recognize what I do. I just go out there and play my game, control what I can control. That's the main thing. And try to get the win. That's my main focus."
Said Shaw, "He's the last person who wants to talk about himself."
Taylor might have to talk about himself if the Cardinal upset the No. 2 Ducks. By just about every estimation, Taylor will have to come up big for Stanford to have a chance. Stanford must run well and possess the football against a beaten-up Oregon defense, thereby keeping the Ducks' explosive offense on the sidelines.
Oregon pounded the Cardinal the previous two years, both times handing Stanford its only regular-season loss. While Taylor said, "It's the next game on our schedule; it just happens to be Oregon," he also admitted veteran Stanford players might have something of a "chip on our shoulder" when it comes to the Ducks.
And Taylor might be ready for his national close-up.
If he were to put up big numbers in a win over Oregon on Saturday, here's a guess that he'd become suddenly popular among fans of many college football teams, including Notre Dame, Kansas State and Alabama.
May, 25, 2012
5/25/12
9:00
AM ET
Our Take Two topic this week: Which is the Pac-12's most dangerous trap game?
Kevin Gemmell
: Since we're talking trap games this week -- and traps usually involve teams expected to do well -- I see a big one in Week 3 for the
USC Trojans
traveling north to Stanford.
[+] Enlarge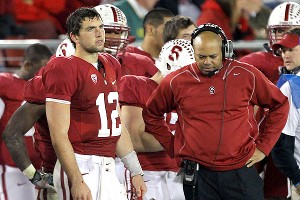 Ezra Shaw/Getty ImagesStar QB Andrew Luck is gone, but the offensive schemes of coach David Shaw should keep Stanford competitive against USC in Week 3.
This game has brought two of the Pac-12's most exciting matchups in consecutive years. There was the last-minute field goal in 2010 and the triple-overtime thriller at the Coliseum last season. No need to bring up the 55-21 game in 2009. It would be easy to assume that because Andrew Luck is gone, the Trojans will now roll over the Cardinal.
Maybe. USC, no doubt, will be highly ranked and heavily favored.
But the X-factor to this game is Stanford head coach David Shaw -- who is especially good at play calling against USC. You don't spend as much time on the offensive side of the ball in the NFL as Shaw did without learning a little something about the Tampa-2 defense, which USC is fond of running given that its defensive coordinator essentially invented it.
The Cardinal were the prickly splinter in USC's side during the Luck era. Luck was able to absorb Shaw's knowledge of USC's defense and they were able to go blow-for-blow with the Trojans. Shaw knows how to scheme against this team and Luck knew how to make that scheme a reality on the field. Although, who throws the
Venus on Spider-3, Y-banana? Seriously
.
But that era is over. And the Cardinal are going to make their living with a tough ground attack and a vicious front seven. I don't doubt USC's ability to move the ball. And if I'm a Stanford fan, I'm concerned about this becoming a high-scoring affair because the Cardinal have a young secondary and they don't have the horses to match the Trojans drive for drive.
I expect USC to be highly motivated for this game. Not only because of the past, but because of the future. The Stanford game marks the first of four straight tough games for the Trojans -- which is followed by Cal, Utah and Washington. Stubbing their toe early will certainly have ramifications for the rest of the season -- and the rest of the conference.
I don't think anyone will question that position-for-position, USC has more athletes than Stanford. But this will be the Trojans' first real mental test of the season. They'll be coming off an East Coast road trip and then have to go on the road again. Stanford Stadium isn't exactly the toughest venue in the conference, but it's not Disneyland, either. There will be a strong fan presence.
This season is going to be mentally taxing for the Trojans. A win at Stanford will be the first step over the psychological hump.
Ted Miller
: One word: Arrrrrghhh!
[+] Enlarge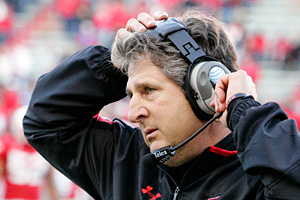 AP Photo/Nati HarnikWashington State coach Mike Leach should have a few tricks in store for Oregon when they meet in late September.
Everyone knows Oregon's visit to USC on Nov. 3 could be epic. And I've
already written about a potential trap game
for the Ducks being their visit to California on Nov. 10, the weekend after The Weekend.
Ah, but here's a thought: Oregon has yet to face plant against an inferior team under Chip Kelly. The closest thing to that was a loss at Stanford in 2009, but that was a good Cardinal team.
And so we have the Ducks, almost certainly unbeaten and untested at 4-0, driving up to Seattle to take on Washington State in CenturyLink Field on Sept. 29. The Cougars also could be 4-0. And dangerous.
Fear the Pirate, Oregon. This game smacks of a "I'm baaaaack" opportunity for Mike Leach.
This will be the first road game for whomever wins the Ducks quarterback job. While it doesn't truly qualify as a home game for the Cougars, they should have a crowd advantage. More important, they will have a major experience advantage at QB with
Jeff Tuel
. Further, you might recall that Washington State played a competitive game in Autzen Stadium last year. The Cougars trailed only 15-10 at the half and actually outgained Oregon 463 yards to 456. It was 29-20 Ducks with four minutes left in the third before
De'Anthony Thomas
did his thing on a 93-yard kickoff return for a TD.
What happens if Leach's spread passing attack marries perfectly with Tuel and a deep crew of receivers against a Ducks secondary that is talented but still fairly young, particularly at cornerback? What happens if the Ducks offense, gulp, sputters with a young QB on the road?
A long shot, yes. Kelly's Ducks have been notably impressive with their ability to maintain focus each week the past three years. You know: A nameless faceless opponent each Saturday.
Only Leach isn't a nameless, faceless opponent. Everyone knows who he is. And he's tricky. And he's one coach who won't be outsmarted by Kelly.
At the very least, this one should be an interesting test for both teams. And the Cougs have a puncher's -- passer's? -- shot at pulling a shocker.
April, 30, 2012
4/30/12
9:00
AM ET
Three consecutive Heisman Trophy runners-up, two consecutive BCS bowl games and final top-10 rankings: Hey, Stanford's special run of football success was fun to watch. It was neat seeing the most academically elite university playing BCS football whipping the big boys.
But we all know it can't possibly last, right? Jim Harbaugh built it and he's gone. Andrew Luck was a once-in-a-generation quarterback, and he's gone. And he took with him three other offensive players among the first 42 selections in the NFL draft over the weekend.
While the Cardinal certainly had more than 15 minutes of fame, it's time for this program to go back to its familiar brainiac territory -- Faulkner, computer chips and advanced algorithms. Leave big-time football the USCs, Alabamas and Ohio States of the nation.
[+] Enlarge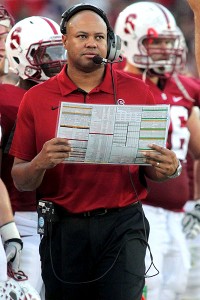 Cary Edmondson/US PresswireDavid Shaw expects his team to take on the same tough-guy persona it has in previous years.
Yes, such talk has worked its way across the grid, onto the Farm and into the Stanford locker room.
"We've talked about that," coach David Shaw said. "But we've also talked about that there can't be anything outside of our meeting rooms that motivates us. The motivation has to come from within. It's the only way that it is real. The only way that it is legitimate. But we've heard it. We know where we're ranked. But preseason rankings don't matter. Postseason rankings do."
In other words, the Cardinal believe reports of their demise are greatly exaggerated.
"They said the same thing when Toby [Gerhart] left and when Harbaugh left," outside linebacker Chase Thomas said. "We're pretty confident. We know what we bring to the table."
Of course, things change. No team can easily replace four elite NFL draft picks from its offense. That's why Stanford may be more about defense in the early going of 2012. Thomas leads a crew of six returning starters from a unit that ranked among the nation's top 30 in both scoring and total defense. The Cardinal's front seven in their 3-4 scheme appears to be particularly strong. Few teams in the nation will be as deep at linebacker, with Thomas and inside linebacker
Shayne Skov
both rating as potential All-Americans.
But what about that offense? The competition to replace Luck wasn't resolved this spring, with neither
Josh Nunes
nor
Brett Nottingham
demonstrating much consistency. And whoever wins the job won't have tackle Jonathan Martin protecting his blind side, or guard David DeCastro grinding defensive linemen into hamburger, or tight end Coby Fleener sprinting open down the middle with his 6-foot-6 self.
"We will continue our commitment to controlling the line of scrimmage," coordinator Pep Hamilton said. "We're going to run power. I don't see us changing much. If anything, if we have a few more opportunities to run power, we'll do that."
That means leaning on running back
Stepfan Taylor
, who has rushed for 2,770 yards and 27 TDs over the previous three seasons, and a deep stable of backs. That means leaning on a tight end combination --
Zach Ertz
and
Levine Toilolo
-- that is as good as any in the nation, even without Fleener.
Receiver and offensive line? Those two spots remain questions, though the line will welcome back three starters.
Existing talent, however, doesn't tell the whole story of Stanford's potential for sustaining success. The incoming recruiting class is a significant chapter. Rivals ranked it fifth in the nation, Scout seventh and ESPN Recruiting 12th. No team in the nation came close to collecting as many elite offensive linemen: guard
Joshua Garnett
(Puyallup, Wash./Puyallup),
Andrus Peat
(Tempe, Ariz./Corona Del Sol) and offensive tackle
Kyle Murphy
(San Clemente, Calif./San Clemente).
[+] Enlarge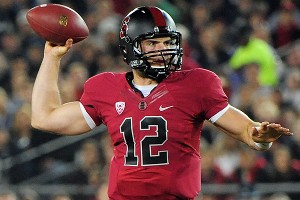 Kyle Terada/US Presswire Replacing Andrew Luck will challenge Stanford.
Shaw isn't afraid to play the young guys, either. True freshmen will get opportunities on both sides of the ball, including the offensive line.
"There's a reason why we recruited a couple of big-timers at those positions," he said. "They will have an opportunity to play if not start at the left tackle position."
Instead of going away, Stanford may well have found a perfect formula that Harbaugh generated and Shaw has refined. Stanford has a lot to sell a certain type of athlete, one who is equal parts brains and brawn. Despite what many folks think about young athletes, there are plenty who want to challenge themselves intellectually before playing football on Sundays.
"This is a special place that attracts a certain kind of person," said Shaw, a former Stanford player himself. "The GPAs in this recruiting class are high, even positions where they are not always high. Our lowest receiver GPA is a 3.4. Not regular GPA, core GPA. These guys are good students and tough kids."
But how fast are they? A 3.4 is nice, but what about 4.4? The one thing that has held Stanford back is a lack of elite speed all over the field, particularly in the secondary and at receiver. Shaw said they "are getting closer" in terms of speed, but he also admitted that the Cardinal -- just like every other Pac-12 program -- have a bit of an Oregon problem. They are 23-1 versus everyone else over the past two seasons, outscoring those foes 1,024-405. Against the Ducks, Stanford is 0-2, outscored 105-61.
Does Stanford have an "Oregon problem?"
"That's a great question," Shaw said. "I'd like to have a survey on your website if anybody has some ideas. Chip [Kelly] does a phenomenal job."
While Shaw is said this in a good-humored way, it's clear that he and his coaches have spent plenty of time thinking about the Ducks. They recall beating them 51-42 in 2009, particularly how they handled the ebbs and flows of momentum. They know it's about preventing big plays and not wasting opportunities on offense. They know it's about tempo, a pitched battle of contrasting styles. Oregon wants to play fast and slash you. Stanford wants to slow things down and pound you.
At least one insider believes Stanford will sustain its recent run of success.
"Absolutely. Hopefully they do better than we did," Luck said. "I think there are a lot of great players here, starting at the top with the coaching staff. Great players, great recruiting classes. They will only continue to get better."
As for what Stanford will be in 2012, its first season of the post-Luck era, Shaw thinks his team will have the same tough-guy persona. But it'll be angrier.
"We're going to go right at people and hit them in the mouth," he said. "And it helps to feel like you're disrespected."
January, 4, 2012
1/04/12
10:18
AM ET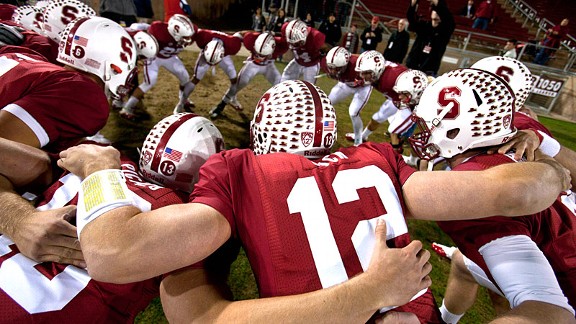 Jason O. Watson/US PresswireAndrew Luck (12) and Stanford went 23-3 and played in two BCS bowl games in the past two seasons.
Got a text from a former Stanford player, "My heart hurts."
You can understand why. The Cardinal physically dominated the No. 3 team in the country in the Fiesta Bowl, and many believed Oklahoma State should have been playing LSU for the national title.
Physically dominated? Stanford outgained the Cowboys 590 yards to 412. While 412 yards is a chunk of change, the Cowboys had been averaging 557, including 170 yards rushing per game. They had 13 yards rushing against the Cardinal, which piled up 243 yards on the ground.
Stanford lost the turnover battle 2-1. It lost the penalty battle, getting flagged six times for 35 yards against just once for five yards for the Cowboys (42 pass plays, no holding? Obviously, not a Pac-12 crew officiating).
But, most critically, it lost the field-goal battle. The Cowboys were 2-for-2 on field goals. Stanford was 1-for-4, including missing a 35-yarder that could have won the game in regulation and another miss in overtime that sealed the Cardinal's fate.
Let's quickly reiterate: Field goals are important, particularly at important times during important games. Ask Auburn about last year's national title game win against Oregon. Ask Oregon about its home loss to USC. Ask Alabama about its regular-season loss to LSU.
And no one gives a flip about being physically superior when the scoreboard thumbs its nose at you. Missing field goals is no different than missing blocks, tackles and tossing interceptions. It's part of the game, so bemoaning this defeat as being any different than another is ultimately a moot point for message boards. History measures it a loss, which, yes, seems like a lousy way for QB
Andrew Luck
and a great group of Cardinal players done with their eligibility -- or joining Luck
early in the NFL draft
-- to go out.
Still, 23-3 over the past two years, two BCS bowl games. You couldn't have sold the notion to any Stanford fan in the summer of 2010.
So as we consider end-of-game second-guessing, let's keep that in perspective.
But, yes, just like many other sportswriters who have never coached a down of football, I have entertained the thought Stanford coach David Shaw should have been more aggressive at the end when he had a first down on the Cowboys 25-yard line with 52 seconds left and three timeouts. In fact, there seemed to be a plurality of opinion among the sportswriters gathered around a small TV in the Rose Bowl press box that articulated that very thing before the fact. And I am on record with Big Ten blogger Brian Bennett and Michael Lev of the Orange County Register as twice remarking that Stanford's freshman kicker Jordan Williamson looked nervous, including just before the kick.
Jon Wilner of the San Jose Mercury News
says it very well here
: "In my opinion, there was a better chance of Williamson missing from 35 yards than Luck throwing an interception in the red zone."
Still, when I type "more aggressive" what does that mean? Would you say that Oregon coach Chip Kelly was more or less aggressive in
nearly the same situation against USC
? Oregon had a first-and-10 on the Trojans 32 with 38 seconds left and two timeouts remaining, but Alejandro Maldonado missed from 37 yards as time expired to give USC its signature win of the season.
Here's what a coach is thinking at that moment:
We can't turn the ball over.

We don't want to give the ball back to Oklahoma State.

We'd like to kick on third down so if we botch the snap, we can get a do-over on fourth down.

We want to get as close as possible. Without turning the ball over.
There's also this: Based on how both teams moved the ball up and down the field, I'd have given Oklahoma State a 30 percent chance of tying the game in regulation if
Stepfan Taylor
scored a 25-yard TD on first down. Or if Luck threw a TD pass in the endzone. In the Rose Bowl, Wisconsin got all the way to Oregon's 25-yard line in 16 seconds, just missing getting a final shot for the tie.
What Shaw opted to do, ultimately, is go by the book and trust his kicker, who, by the way, was second-team All-Pac-12. And, if Luck had tossed an interception, or the Cardinal had fumbled on a third-down run, fans and media would be yammering, "What the heck was Shaw thinking?"
Kelly and Shaw are two of the more IQ-smart coaches you will meet. They didn't get dumb in these two instances. They rolled the dice and lost.
There's nothing wrong with second-guessing, by the way. It's part of the sports. Kelly and Shaw are paid well to roll the dice and win. Reporters are paid poorly to speculate after-the-fact when highly paid coaches roll snake eyes.
Yes, hearts are hurting on the Farm and in all the well-heeled places where Stanford alumni end up. Justifiably so.
Still: 23-3 over the past two years, two BCS bowl games. That's pretty darn special for the most elite academic university playing FBS football.
November, 17, 2011
11/17/11
9:15
AM ET
California's Sean Cattouse is a good safety. A sure tackler. An NFL prospect. And you already know where this is going, right?
Cattouse was cast as the part of roadkill for one of Stanford quarterback
Andrew Luck
's most replayed highlights -- his 58-yard scramble in last year's Big Game blowout of the Bears. "Roadkill" is not a role any football player wants.
"A lot of jokes. It's all fun and games," Cattouse said when asked -- again and again -- this week about the play. "I'm just more sickened with myself with how I went about trying to tackle him. It looked like nothing I've done before."
[+] Enlarge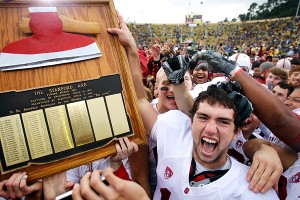 AP Photo/Marcio Jose SanchezAndrew Luck and the Cardinal won back the Axe after beating Cal 48-14 last season.
How much do you think Cattouse enjoys hearing about that play? How much do you think he wants a rematch with Luck, one on one? And how much do you think all the Cal players enjoy hearing about how super-awesome Luck and the Cardinal are?
The Big Game is always a big game. It's a rivalry game between elite schools that like to tout how they are more elite
really
than the other.
And it means plenty to Cal.
For one, they'd get the Axe back. While the Bears have split the last four Big Games, they have won seven of nine under coach Jeff Tedford.
Tedford is another issue. While he's been successful against the Bears' biggest rival -- Stanford was riding its longest winning streak in the series with seven consecutive Big Game victories from 1995-2001 when he arrived in Berkeley -- there is considerable fan frustration with his program's inconsistency over the past few years. A win over a highly ranked Stanford team would mute that, at least in the short term.
Further, Cal is playing for its own stakes. If it beats the Cardinal, it improves to 7-4 and moves up in the pecking order with bowl selections.
That said, there are unintended consequences of playing the spoiler. It would cost the Pac-12
about $6 million
because Stanford wouldn't be the pick for an at-large BCS bowl berth. And then the Cardinal likely would end up in the Alamo Bowl, which would knock every other bowl-eligible team down a notch.
"It's not about spoiling anything for them," Cal quarterback
Zach Maynard
said. "It's a huge rivalry game for us."
Cal also has a strong history of upsets in the series, particularly when the Cardinal boasts a celebrated quarterback.
The Bears beat John Elway twice, producing the greatest play in college football history -- "The Play," in fact -- to do so in 1982. They knocked off Heisman Trophy winner Jim Plunkett in 1970. And, of course, they upset Luck in 2009, 34-28, with Cal linebacker Mike Mohamed grabbing an interception in the waning moments with Stanford on the Bears' 3-yard line.
That, in fact, was one of the worst games of Luck's career. He was 10-of-30 for 157 yards with no touchdowns.
Before that game, Tedford repeatedly tweaked his players with how the media and fans believed then-No. 14 Stanford and running back Toby Gerhart were too physical for the Bears. In response, Cal's Shane Vereen rushed for 193 yards on 42 carries with three touchdowns and outplayed Gerhart.
It was a successful motivational angle that Tedford might revisit. Young people often seem to respond well to the underdog, no-respect role.
"Those are always motivational pieces," Tedford said. "We have a great deal of respect for them. Their accolades -- they are worthy of them."
Still, in the end, all rivalry games are like this. There are Cal men and Stanford men. Blues and Cardinal. And when they meet -- their own and the other -- they will remember who won, and when and how it went down.
Said Cattouse, "It's a big game every year. Every year we want to win it."
October, 29, 2011
10/29/11
5:00
PM ET
LOS ANGELES -- Couple of quick notes before USC and Stanford kickoff.
USC injury questions: Wide receiver Robert Woods looks good to go, as does kicker Andrew Heidari. Running back George Farmer, however, is sporting a boot and won't play.
Lots of future NFL players on the field. Seven NFL scouts on hand, including two from the Atlanta Falcons. Also with scouts in the press box: Green Bay, Houston, Cleveland, Philadelphia and the New York Giants.
My guess is that USC coach Lane Kiffin lets it all hang out Saturday night.
Expect to see some trick plays. Expect for him to go for it on fourth down a bunch. I expect the Trojans to come out goosed early. That might include an early lead.
Know what would be a big confidence builder? If the Trojans could get an early sack of
Andrew Luck
. The Cardinal has yielded just two sacks this season, fewest in the nation.
Further, with Stanford missing safety Delano Howell, it's hard to believe Kiffin isn't going to be looking for every way possible to free Woods up in space and see if he can make something happen in the Cardinal back half.
September, 16, 2011
9/16/11
6:00
AM ET
No. 6 Stanford faces its first significant test of the season Saturday at Arizona, where the spirited 'Zona Zoo can be a challenge for opposing offenses.


The game has the potential to be highly entertaining, at least if you like A-list quarterbacks. Stanford's
Andrew Luck
is a leading Heisman Trophy candidate and likely will be the top over all pick in next spring's NFL draft, while Arizona's
Nick Foles
has put up huge numbers so far and could join Luck in the draft's first round.
Stanford blogger Kevin Gemmell and Pac-12 blogger Ted Miller decided there was plenty to discuss.
Kevin Gemmell
: Ted, I think it's commonly accepted that Stanford quarterback Andrew Luck is the Heisman front-runner and will be the No. 1 pick in the NFL draft. But I couldn't help notice Arizona quarterback Nick Foles getting some love in last week's Heisman poll. Stanford's secondary has been its weakest cog through two weeks of the season. Foles will be, by far, the most accurate quarterback they have faced this season when they roll into Tucson on Saturday. That has me wondering. Do we have this all wrong? Is Foles the Pac-12 quarterback we should be focusing on and not Luck?
[+] Enlarge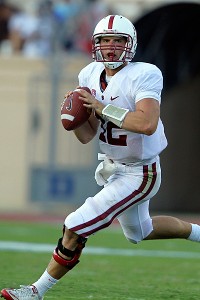 AP Photo/Gerry BroomeStanford's Andrew Luck is expected to be the No. 1 NFL pick in April, but will he be the best QB on the field Saturday?
Ted Miller
: Well, Luck is Luck, considered by many to be the best quarterback prospect in a decade. He's the total package and almost certain top pick in the NFL draft this spring. More than a few folks believe, however, that Foles, if he turns in a good season, also could find his way into the first round of the NFL draft. He's a big guy with a good arm and is very accurate. Further, as a third-year starter, he's experienced. He's not going to get surprised. And he will tax the Stanford pass defense, particularly if he gets receiver
Juron Criner
back. My guess is Luck will look longingly at Foles' receivers.
The problem for Foles and Arizona, though, is five new offensive line starters. They've done OK pass blocking, but the Wildcats run game has been mostly nonexistent. Seems like the Stanford front seven has been stout thus far. We knew the linebackers would be good. Tell me about the defensive line.
Kevin Gemmell
: You're right about the linebackers. They are good. And a significant reason they are good is because of that defensive line. As you know, linebackers rule in the 3-4 scheme, and the boys up front are there to occupy the blockers. But here's the catch. They are doing more than that. Matt Masifilo, Terrence Stephens and Ben Gardner have also been making tackles and getting to the quarterback. Those three have combined for 13 tackles, five tackles for losses of 25 yards, two sacks, a fumble recovery and a pass breakup in the first two games. First they occupy the block, then they shed it just as quickly. Where the Stanford defense has had some problems through the first couple of weeks has been in the secondary. It hasn't really been "burned" by any big plays, but the defenders have missed tackles which have led to a few big plays. They have created the big play on their own. Never a good thing. San Jose State and Duke completed 62 percent of their passes against the Cardinal. Not great numbers, but better than you'd expect from a couple of lower-tier teams. What's going to happen when an accurate passer like Foles gets in there?
Ted Miller
: Well, the Stanford secondary then is going to need to buckle up because while there's talk of trying for some balance in Tucson, it's really going to be about Foles and the passing game. Of course, as good as Foles is and as deep as the Wildcats receivers are, the offense is not the same without Criner, who it's fair to say is questionable after having an appendectomy last week. With Criner, Foles has a big target who's a deep threat and has a knack for making big plays. Without him, the passing attack lacks that obvious go-to target. That Cardinal secondary, which only lost cornerback Richard Sherman from 2010, did a good job against Foles last year, holding him to 248 yards passing -- 5.2 yards per completion -- with a touchdown and an interception from Sherman. Foles has to win that battle, though, for the Wildcats to have a chance for the upset. He'll need another 400-yard passing game.
[+] Enlarge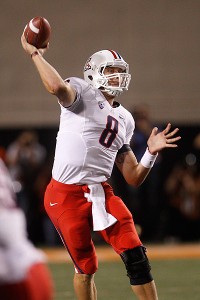 AP Photo/Sue OgrockiArizona quarterback Nick Foles will have to be on his game for the Wildcats to upset Stanford.
What about the other side of the ball? While Luck is back and looking good, despite losing his top-two receivers from 2010, how has the personality of the offense changed after the departure of coach Jim Harbaugh and some key players? Arizona coach Mike Stoops said the Cardinal had been "vanilla" in the first two games. Are we going to see some new things this weekend?
Kevin Gemmell
: The personality is a lot like David Shaw. Balanced. You haven't seen "Heisman-esque" numbers out of Luck, because he doesn't play in a five-wide spread offense. They want to establish the run, be physical, and then pick their moments to take the shots down the field. The running game has been hit-and-miss to this point. But that's to be expected with three new starters on the offensive line. Some readers have commented to me that they think Stanford has lost its "swagger" sans Harbaugh. I couldn't disagree more. There is plenty of swagger to go around, and 101 points in two games to back that up.
Shaw heard the "vanilla" comment, and he called it a fair assessment. But so far we've seen a flea-flicker and a nifty little shovel pass. Not entirely vanilla. There's nothing wrong with showing other teams on film that you have those clubs in your bag. And they've also shown a lot of their three tight-end formations. Talk about mismatch issues! Stanford has three tight ends -- two of them 6-foot-6 and another at 6-8 -- who would create matchup problems for any defense in this country. Those tight ends have more than made up for the missing wide receivers from last season. And speaking of the receivers, even though
Chris Owusu
hasn't had that "big play," he is coming off a 100-yard receiving game against Duke, and
Griff Whalen
has proven to be a nice presence underneath.
Let's call it vanilla with sprinkles, cookie dough and a drizzle of caramel sauce.
OK, Ted. Prediction time. You're the Pac-12 veteran. How do you see this one playing out?
Ted Miller
: It would be a lot easier, Kevin, if we knew if Criner was going to play. My hunch is no. But I still wouldn't pick the Wildcats in this one because they lack a running game to help Foles, and the young offensive line is going to struggle with the Cardinal front seven. Still, Arizona plays better in front of the 'Zona Zoo, one of the best home crowds in the Pac-12. My pick is a competitive 35-24 victory for Stanford, with the Cardinal asserting itself in the fourth quarter.
What's your take?
Kevin Gemmell
: Truly, great minds think alike. I had Stanford pegged at 35-24 in my Thursday prediction. I'm looking for a lot more running out the of the Cardinal than people are probably expecting in a game with two marquee quarterbacks. I think the Cardinal are a little tired of hearing the folks say they haven't played anyone yet. Not that Arizona is Alabama or Oklahoma -- but a win against an above average Pac-12 team on the road would go a long way toward silencing some of their critics. Foles is going to get his stats, but Stanford will get the win.
Who Would Be In A Four-Team Playoff?