Stanford Football:

Nick Aliotti
February, 19, 2014
Feb 19
5:30
PM ET
So far, only three Pac-12 teams retained their 2013 offensive and defensive coordinators: Arizona, Colorado and Washington State.
Here's a look at who's in, who's out and what it means, starting in the North Division:
California

Out
: Defensive coordinator Andy Buh, who will be reassigned as a position coach, probably linebackers, if he remains in Berkeley. Coach Sonny Dykes also fired defensive tackles coach Barry Sacks and defensive backs coach Randy Stewart.
In
: Art Kaufman, whose defense at Cincinnati ranked ninth in the nation last season.
Thoughts:
Kaufman, 55, takes over perhaps the worst defense in Cal history, a unit that was injury-ravaged but also was often unsound and seemingly uninspired, allowing an eye-popping 46 points per game in 2013. The good news: If the injury issues resolve themselves with the healthy return of talented players such as defensive end
Brennan Scarlett
, safety
Avery Sebastian
, defensive tackle
Mustafa Jalil
and cornerback
Stefan McClure
, the improvement could be dramatic. Dykes also hired Greg Burns to coach the secondary. He was at USC from 2002-05 and Arizona State from 2008 -11. He spent last season at UMass.
Oregon

Out
: Longtime defensive coordinator Nick Aliotti retired.
In
: Don Pellum was promoted from linebackers coach.
Thoughts
: The promotion of the 51-year-0ld Pellum stuck with the "Oregon Way" of promoting from within, though there was mutual interest between coach Mark Helfrich and former USC coordinator Clancy Pendergast. Pellum won't have to rework much with the Ducks' hybrid 3-4 scheme.
As noted here
, since 2009, "the Ducks have finished no lower than third in the Pac-12 in yards-per-play allowed. That includes leading the conference in 2009, 2010 and, yes, 2013, when the Ducks finished seventh nationally by that metric." The Ducks did falter a few times last season, most notably against Stanford, Arizona and Oregon State, and often had trouble against physical running games as well as on third down. Helfrich did make a quasi-outside hire when he brought in Erik Chinander to take over the Ducks' outside linebackers, which Aliotti coached. Chinander, 34, is a former Oregon graduate assistant who worked under Chip Kelly with the Philadelphia Eagles last season.
Oregon State

Out
: Offensive coordinator Danny Langsdorf left to become the quarterbacks coach for the New York Giants.
In
: John Garrett, who was the wide receivers coach for the Tampa Bay Buccaneers last season. He was on the staff of the Dallas Cowboys from 2007-12, where his brother Jason Garrett is the head coach.
Thoughts
: Garrett, who last coached in college at Virginia from 2004-06, shows that coach Mike Riley remains married to a pro-style scheme. Garrett will also coach quarterbacks and tight ends, but it has not yet been determined who will call plays -- Riley has done so for the past two seasons. Garrett and Riley have known each other since 1991, when Garrett played receiver for Riley's San Antonio Riders of the World Football League. The good news for Garrett is the Beavers are strong at QB (
Sean Mannion
) and deep at tight end. The bigger questions are making the running game more consistent and replacing WR
Brandin Cooks
' production.
Stanford

Out
: Defensive coordinator Derek Mason, who became the head coach at Vanderbilt.
In
: Lance Anderson was promoted from outside linebackers coach, a position he will continue to coach.
Thoughts
: Another promotion from within that will ensure the Pac-12's best defense has schematic continuity. Anderson has been at Stanford for seven seasons. He coached DTs from 2007-09. He was also the recruiting coordinator from 2007-11. The Cardinal also hired Peter Hansen as inside linebackers coach. He replaces David Kotulski, who was named Vanderbilt's defensive coordinator under Mason. That was another move that maintains continuity, as Hansen spent the 2009 and 2010 seasons at Stanford as a defensive assistant before following Vic Fangio and Jim Harbaugh to the San Francisco 49ers.
Washington

Out
: Steve Sarkisian brought most of his staff from Washington to USC, including defensive coordinator Justin Wilcox, but not offensive coordinator Eric Kiesau, who was not retained by new Huskies coach Chris Petersen
In
: Offensive coordinator Jonathan Smith and defensive coordinator Pete Kwiatkowski
Thoughts
: Smith, the overachieving former Oregon State QB, is a real up-and-comer. Petersen trusts him enough to give him play-calling duties, even though he was not the offensive coordinator last year at Boise State. He'll also coach quarterbacks, so he'll play a central role in determining who wins the starting job this fall. Before joining Petersen at Boise State, Smith spent the 2010 and 2011 seasons as the offensive coordinator and quarterbacks coach at Montana. Kwiatkowski spent the previous four seasons coordinating the Boise State defense. He was the defensive line coach before being elevated to defensive coordinator in 2010, when he replaced Wilcox. The Broncos led the Western Athletic and Mountain West Conferences in total defense and scoring defense in each of his first three seasons and were third and second, respectively, in 2013.

Washington State
No change:
Head coach Mike Leach is his own offensive coordinator and Mike Breske is back to coordinate the Cougars defense, which was disappointing in 2013, slightly lagging behind its 2012 numbers.
February, 14, 2014
Feb 14
1:00
PM ET
The
shuffling of defensive coordinators
appears to be over. We think. And as previously noted, all five of the top scoring defenses in the Pac-12 last year have seen changes at the top of the defensive coaching hierarchy. Three of the hires were internal promotions and two were coordinators who stayed with their head coach while switching schools.
This is how the top five scoring defenses played out last year:
Stanford (19.0 points per game)
Oregon (20.5)
USC (21.2)
Washington (22.8)
UCLA (23.2)
Who got the better end of the deal? Sounds like a poll question for you to ponder all weekend long.
Which team will lead the Pac-12 in scoring defense in 2014?
Your options:

Stanford
: Derek Mason departed to become head coach at Vanderbilt and Lance Anderson was promoted from within. The Cardinal lose some marquee players but have others such as safety
Jordan Richards
and linebacker
A.J. Tarpley
returning.
Oregon
: Out is longtime coordinator Nick Aliotti, who retired. In is longtime position coach Don Pellum. The Ducks lose some talent but return standout cornerback
Ifo Ekpre-Olomu
, who gives the Ducks' secondary instant credibility.
USC
: Clancy Pendergast was not retained by new head coach Steve Sarkisian. So Justin Wilcox is in after working his magic at Washington. The Trojans lost a lot of players to the draft, but a couple key players are back and there is a pretty good crop of young, talented players.
Washington
: New head coach Chris Petersen brought his guy, Pete Kwiatkowski, with him from Boise State. The Huskies made tremendous strides in two seasons under Wilcox and have some pretty solid personnel returning.
Other
: UCLA's Lou Spanos returned to the NFL and Jeff Ulbrich was promoted from within. Head coach Jim Mora will still oversee a lot of the defense. Though impact players like
Anthony Barr
and
Cassius Marsh
are gone, the Bruins have plenty of talent coming back. ... Arizona was sixth in the conference last year and made huge strides from 2012 to 2013. Can it keep the momentum going? ... Arizona State (seventh) also shuffled its defensive staff around with
the hiring of Keith Patterson
, though Todd Graham will still be heavily involved in the defense. ... Utah (eighth) is just two seasons removed from leading the conference in scoring defense. Can the Utes get back to the top?
February, 12, 2014
Feb 12
5:30
PM ET
Get this. Stanford's Lance Anderson actually
wanted
to be a defensive coordinator in the Pac-12. Crazy, right? Biletnikoff winners to lose sleep over; Doak Walker finalists dashing and gashing for 20 yards a pop; and All-American offensive linemen that must be displaced. Oh, the humanity.
"There are some pretty good quarterbacks, too," says Anderson.
Oh yeah, the quarterbacks.
[+] Enlarge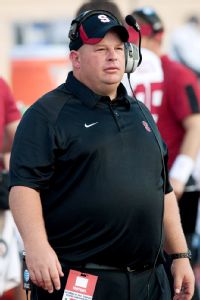 Peyton Williams/Getty ImagesLance Anderson, who has been on Stanford's staff since 2007, will have to replace some big names on the Cardinal's 2014 defense.
Anderson has his wish. With the departure of Derek Mason,
who was named the head coach of Vanderbilt last month
, Anderson takes over one of the most respected defensive outfits in all of college football. The Cardinal have led the conference in scoring defense and been ranked in the top 15 nationally in three of the last four years. They live by the mantra #partyinthebackfield and have put the brakes on some of the nation's top offenses.
Now it's Anderson's turn to add his own flavor to the scheme -- however minor it might be.
"Every year we tweak a little bit no matter what," said Anderson, who first came to Stanford in 2007 with Jim Harbaugh. "We go back and watch film and do all of our self-scouting and analysis. We try to find places where we can get better and improve and that's naturally going to lead to tweaking. I think every coordinator has a different feel and some stuff you might like a little better than the other guy.
"We've been in a system for a few years now and I think the kids are really comfortable with that. They like it. And I think the systems we're in on both sides of the ball suit our personnel really well. Vic Fangio came in in 2010, installed the system at that point and we've kept it pretty similar ever since."
That includes transitions from Fangio to the co-defensive coordinator team of Jason Tarver and Mason to just Mason and now to Anderson, who will continue to work with the outside linebackers after coaching the defensive tackles his first two seasons on The Farm.
Equally known as a top-flight recruiter, Anderson must now help the Cardinal transition to life without some of their marquee players. Gone next year are linebackers
Shayne Skov
and
Trent Murphy
, defensive end
Ben Gardner
and safety
Ed Reynolds
. All were major contributors in one form or another to Stanford's appearances in four straight BCS bowl games.
Despite those losses, Anderson is confident the Cardinal have the depth -- both in and out of the locker room -- to stay atop the defensive standings.
"I look at guys like
A.J. Tarpley
and
Jordan Richards
who have played a lot of football and they really stand out," Anderson said. "Both guys display some natural leadership and they are well-respected by their teammates.
Henry Anderson
and
David Parry
are a couple of other guys who are really looked up to among the defensive players. I think we'll be OK."
Interestingly enough, the Pac-12 has seen the defensive coordinators from the top five scoring defenses
move on after the 2013 season
. Mason went to Vanderbilt, Nick Aliotti retired at Oregon, Justin Wilcox moved to USC with Steve Sarkisian, Lou Spanos returned to the NFL and Clancy Pendergast was not retained with the Trojans after Sarkisian came in. Three of those were replaced internally, with Anderson, Don Pellum (Oregon) and Jeff Ulbrich (UCLA) all being promoted. Pete Kwiatkowski joins Chris Petersen in Washington by way of Boise State and Wilcox followed Sark. So despite the transitions, the continuity among coaching staffs remains relatively unscathed.
However, that combination of coordinator shuffling, along with some A-list offensive players returning in 2014, makes for an interesting setup. The Pac-12 is known for its offensive diversity, and when you factor in the possibility of nine teams returning their starting quarterback, the dice seem loaded to the offensive side of the ball.
"There is a lot of offensive talent in this league and it doesn't look like that's going to slow down," Anderson said. "The quarterbacks all have experience. It's not going to be easy.
"We know that every week we are going to be tested. All we can do is try to go out and learn the techniques and the fundamentals and get the physical and mental mastery of the position. Once we get that in spring ball and the preseason, it's just matter of going out and applying what we've learned during the season. Every week is going to be different. All we can do is prepare the best we can, master the position and try to apply it on Saturdays in the fall."
January, 20, 2014
Jan 20
7:00
PM ET
The Pac-12 has seen a flurry of defensive coordinator movement over the last couple of weeks -- starting with the
power struggle for former Washington defensive coordinator Justin Wilcox
to the recent exoduses of Stanford's
Derek Mason to Vanderbilt
as head coach and UCLA's
Lou Spanos to the Tennessee Titans
as linebackers coach. Oregon's promotion of
Don Pellum to defensive coordinator
to replace Nick Aliotti will also shine a spotlight on the Ducks' defense in 2014 and beyond.
And then there is, of course, former USC defensive coordinator Clancy Pendergast, who mysteriously continues to be out of work.
[+] Enlarge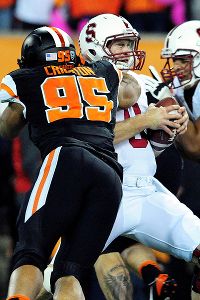 Steve Dykes/Getty ImagesOregon State defensive end Scott Crichton is among the Pac-12 defensive stars entering the NFL in 2014.
Look at the top five scoring defenses in the Pac-12 in 2013: Stanford, Oregon, USC, Washington and UCLA, respectively. All five have had defensive coordinators in flux in the young offseason.
That makes for an interesting transition period for the Pac-12. Defenses had closed the gap in recent years with several teams ranking in the top 25 nationally in scoring defense. That in itself is an achievement considering the level of offensive skill players and the diversity of offenses in the conference.
But when you look ahead to 2014, there are a lot of quarterbacks coming back to man the league's high-powered offenses --
Marcus Mariota
,
Brett Hundley
,
Taylor Kelly
,
Sean Mannion
,
Connor Halliday
, etc. You combine that with a massive talent drain of defensive players graduating or declaring for the NFL, plus all of the shifting within the defensive coaching ranks, and you have to wonder if 2014 is going to be the Year of Offense in the Pac-12.
Consider a few of the defensive standouts leaving:
Anthony Barr
(UCLA),
Will Sutton
(ASU),
Shayne Skov
(Stanford),
Dion Bailey
(USC),
Terrance Mitchell
(Oregon),
Scott Crichton
(Oregon State),
Trent Murphy
(Stanford),
Carl Bradford
(ASU),
Deone Bucannon
(Washington State),
Trevor Reilly
(Utah). There are a couple dozen others who aren't mentioned who were high-impact guys like Stanford's
Ben Gardner
and
Ed Reynolds
,
Jordan Zumwalt
and
Cassius Marsh
from UCLA and
Alden Darby
,
Osahon Irabor
and
Robert Nelson
from ASU.
In total, 19 of the 25 all-conference defensive players from 2013 will be gone next year -- including 10 of 12 from the first team. Plus about a dozen more that were honorable mention are leaving or graduating. That is a major hit to the defensive talent in the league.
The Pac-12 is rarely appreciated nationally for its defensive prowess, either from a player or coaching perspective. And now three of the best coordinators in the conference are gone, one has moved from Washington to USC and another is looking for a gig.
Pac-12 offenses are going to be loaded in 2014 while the defenses have huge question marks. There is plenty of young talent. Guys like
Myles Jack
(UCLA),
Addison Gillam
(Colorado) and
Su'a Cravens
(USC) have all made names for themselves early in their careers. There are also some very notable returners like
Ifo Ekpre-Olomu
(Oregon),
Henry Anderson
(Stanford),
Shaq Thompson
(Washington) and
Hayes Pullard
(USC).
But a lot more is gone than is coming back.
That opens the door for all sorts of comparison storylines. Wilcox did an outstanding job re-tooling the defense at Washington. And now Pete Kwiatkowski will be measured against what Wilcox was able to accomplish. Likewise, Pendergast probably should have been USC's MVP for what he did with the Trojans in one season. Now Wilcox has to take over an outfit that is losing a lot of playmakers to the NFL. No doubt, he'll be compared to his predecessor. Just as Pellum will be compared to Aliotti, and whoever fills the seats at Stanford and UCLA will be compared to what Mason and Spanos were able to accomplish.
The guard is changing, as it does every year in college football. This year it might be the Pac-12 defenses that take a step back.
January, 3, 2014
Jan 3
12:00
PM ET
The Pac-12 went 6-3 in its bowl games. On Dec. 9,
the Pac-12 blog noted
, "Anything less than 6-3 would be a major disappointment."
So the Pac-12 didn't notch a "major disappointment" this bowl season. And there was much rejoicing. Yay.
Sure, conference teams were favored in all nine games, but you can't win them all, right? A .667 winning percentage is solid by just about any measure. The super-awesome SEC is just 5-2 with a couple of tough games remaining.

Why then am I so underwhelmed?
Short answer: It should have been better. Our Pac-12 bowl season grade? A gentleman's "C."
Part of the problem was the matchups, which were unusually forgiving. USC's blowout win over No. 20 Fresno State in the Royal Purple Las Vegas Bowl was the only win over a ranked team, mostly because the only other ranked team the Pac-12 played this bowl season was Stanford against No. 4 Michigan State in the Rose Bowl Game Presented by VIZIO, a 24-20 Spartans victory.
Another part of the problem was how things went down.
While Washington State fans seem split on whether the Pac-12 blog is allowed to call the Cougars' monumental double-dog-derp against Colorado State by the term that everyone immediately thought of (don't worry, we won't type "Couged it"), that was a quintessential example of a team forcibly yanking defeat from the jaws of victory.
Then there was Arizona State against Texas Tech in the National University Holiday Bowl. For whatever reason, the Sun Devils simply didn't show up. We apologize for seeming to not give Texas Tech credit for a great win, but the Red Raiders need to understand the Sun Devils they played looked nothing like the Sun Devils of 2013. That game was utterly shocking, at both a player and coaching level. Todd Graham was right to take the blame afterward. His team wasn't ready to play.
That game reminded me of a coach who once told me that having a senior-laden team can become a mixed blessing for a bowl game. Sometimes, senior leadership provides focus to a locker room. And, sometimes, seeing that the seniors won't be accountable to the coaching staff and their teammates the following fall, they lose interest and start looking ahead to their own futures. My guess is the latter happened with Arizona State.
Stanford? It hardly played a perfect game, but the Rose Bowl was simply a good, hard-fought matchup that Michigan State took from Stanford, instead of the Cardinal giving it to the Spartans. The result served more as a validation of the Big Ten champs than a reduction of Stanford's national status.
[+] Enlarge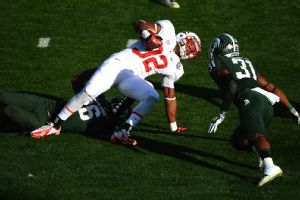 Jonathan Moore/Getty ImagesAnthony Wilkerson and Stanford didn't slip up too badly in the Rose Bowl loss to Michigan State.
That take mostly rings true for the Pac-12's bowl season. Going 6-3 won't represent a retreat; it won't cause a negative national re-evaluation of the strength of the conference. For one, if Auburn loses to Florida State in the national title game, no conference will post a dominant bowl season. Big 12 champion Baylor losing to Central Florida in the Tostitos Fiesta Bowl and Alabama losing to Oklahoma in the Allstate Sugar Bowl showed that bowl-season nuttiness can affect even the heaviest of favorites.
So kudos to USC, Oregon State, Washington, Oregon, Arizona and UCLA for taking care of business in their bowl games.
USC and Washington won despite coaching turmoil. The Ducks showed what a healthy
Marcus Mariota
looked like and gave defensive coordinator Nick Aliotti a great farewell with a dominant performance on that side of the ball. Oregon State, Arizona and UCLA brought their A-games and dominated.
My general feeling is the carryover to 2014 will be at least four and probably five teams ranked in the preseason: Oregon, Stanford, UCLA, USC and maybe Arizona State.
The Pac-12 bowl season was only OK. It could have been worse; it could have been better.
That's nothing to aspire toward, but at least the conference won't have to spend the offseason wringing its hands over its national status as we head toward the first season of a four-team College Football Playoff.
December, 30, 2013
12/30/13
2:30
PM ET
She could not explain in so many words, but she felt that those who prepare for all the emergencies of life beforehand may equip themselves at the expense of joy.
November, 6, 2013
11/06/13
5:45
PM ET
Oregon defensive coordinator Nick Aliotti is pleased. It has just been noted to him that his Ducks showcased brilliant coverage in the secondary during their 45-24 win at Washington. It's the same observation that had been made by Huskies coach Steve Sarkisian, but you get the feeling that Aliotti is not weary of hearing about it.
He admits he even allowed himself some extra time to savor the blanketing of white on black during a postgame film session with his players.
"I said, 'Look at this! There's nobody open for [Washington QB Keith] Price to throw the ball to!'" Aliotti said.
[+] Enlarge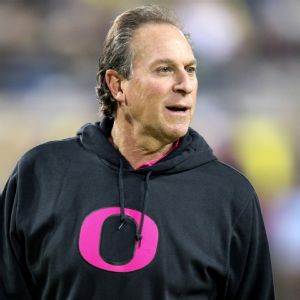 Steve Conner/Icon SMINick Aliotti spent 24 years on the Oregon coaching staff, including 17 as defensive coordinator.
Just like any other coach, Aliotti will tell you the only statistic that matters is about three letters, not numbers: W-I-N. That said, he takes a lot of pride in his defense and the players he sends onto the field. While Aliotti projects an amusing, avuncular personality, just below the surface is an intense competitor. That pride and competitiveness led to his postgame tirade two-plus weeks ago after Washington State scored two late touchdowns against his reserve players in a 62-38 Ducks win.
"That's total [bleep] that he threw the ball at the end of the game like he did," Aliotti said to reporters. "And you can print that and you can send it to [Cougars coach Mike Leach], and he can comment too. I think it's low class, and it's [bleep] to throw the ball when the game is completely over against our kids that are basically our scout team."
It might have been the most controversial moment of his 38-year career, and it cost him $5,000 after he was fined and reprimanded by the Pac-12. Aliotti apologized to Leach and called himself "embarrassed" in a release from the school two days later.
"It was probably an old guy who didn't understand the Internet, how the media can get going so fast," Aliotti said. "Just making an honest, simple statement about what I thought at the time. Obviously, I made a huge mistake by overstepping my bounds. I shouldn't have said those things. These days, you've got to be politically correct. Not one of my strong suits."
While, no, those comments weren't terribly smart coming from a veteran coach, it's not difficult to ascertain the source of Aliotti's frustration. While there typically have been hat tips to his defense during Oregon's rise to elite national power, most of the nation sees Oregon as being all about offense. That high-tempo, flashy offense is the big story when it rolls up eye-popping numbers, and it's the big story when it gets slowed down.
Recall the gloating from SEC fans about Auburn, with a middling SEC defense, shutting down the Ducks in their 22-19 victory in the 2010 national title game? Why was it not almost as notable that Oregon held Auburn to 18 fewer points than the Tigers averaged against SEC defenses?
Or when Stanford ruined Oregon's national title hopes last fall in a 17-14 overtime win, it was all about the Cardinal shutting down the Ducks with nary a mention of Aliotti's defense holding Stanford to 10 points below its season scoring average.
There's, of course, an obvious answer: The winning team sets the postgame agenda and analysis. Amid all the Ducks winning since 2009 -- 54-7 record -- the offense almost always leads.
That's apparently the big story again as No. 3 Oregon visits No. 5 Stanford on Thursday: Will the Stanford defense be able to thwart QB
Marcus Mariota
, the nation's leading Heisman Trophy candidate, and the Ducks again?
Yet here's a bet that the game won't turn on that. Here's a bet that Stanford's defense doesn't even approach its success from last year and that the bigger issue will be whether Stanford's struggling offense can score enough to keep it close.
Because, by the way, it's Oregon that enters the game with the Pac-12's best defense, not Stanford.
Oregon ranks first in the Pac-12 and seventh in the nation in both scoring defense (16.9 PPG) and yards per play (4.41). It leads the Pac-12 and ranks sixth in the nation in both pass efficiency defense and turnovers forced (23).
And this is happening after losing three All-Pac-12 linebackers, Dion Jordan, Kiko Alonso and Michael Clay.
Stanford coach David Shaw has noticed.
"They are missing three dynamic football players," Shaw said. "The crazy part is, without those outstanding players, the defense as a whole looks better. They are fast. They are big."
Shaw is one of more than a few Pac-12 coaches who frequently gush about Aliotti's defense, about how he maximizes his players' talents and puts them in position to be successful and how his perplexing, flexible scheme is both sound and sometimes baffling.
"It's a different scheme than most 3-4 teams," Shaw said. "It takes some getting used to, to prepare for it."
The enduring ideas about Oregon's defense, even when it is given credit, are quasi-dismissive compliments: scrappy, aggressive, quick, blitz-heavy. Those words are no longer accurate. The Ducks have comparable future NFL talent with many of the nation's top defenses, starting a secondary chock-full of future NFL starters.
Things have changed in part because winning has bolstered recruiting. The Ducks are no longer undersized. They are fast and big -- see eight defensive linemen in the regular rotation who are 6-foot-4 or taller, including three over 6-6. The secondary has become -- and will continue to be -- an NFL pipeline. And at linebacker,
things are going fairly well
for Alonso these days.
The improved talent has meshed with a good scheme, but Aliotti and his staff also are good at teaching and making sure each player understands what his assignments are. And trusts them.
"Our players believing in what they are doing," first-year Oregon coach Mark Helfrich said. "I think Nick and the defensive staff have done a great job of taking advantage of our overall strengths and maybe hiding our potential weaknesses a little bit. I think, collectively, it's a ton of guys playing hard."
Aliotti tweaks things every year. This season, the Ducks are blitzing less, due in large part to the myriad mobile quarterbacks in the Pac-12, a group that includes Stanford's
Kevin Hogan
, though their respectable 2.88 sacks per game suggest they are still getting pressure on the opposing quarterback.
We won't know if this turns out to be Aliotti's best unit until season's end, but it's certainly good enough to merit a spot on the marquee next to the Ducks' ludicrous speed offense.
And, yes, Aliotti wouldn't mind if he and his players received some credit.
"It's about winning games, but we do all take pride in our job," he said.
October, 21, 2013
10/21/13
2:30
PM ET
I've never seen a diamond in the flesh
I cut my teeth on wedding rings in the movies
And I'm not proud of my address
In the torn up town, no post code envy.
November, 16, 2012
11/16/12
10:00
AM ET
Stanford is 31-5 since the beginning of the 2010 season. The Cardinal have lost three games during that span by a combined 14 points, and two of those were in overtime.
And they lost the other two, both to Oregon, by a combined 44 points.
Stanford has an Oregon problem.
"I think the entire conference has an Oregon problem," Stanford coach David Shaw countered reasonably.
True that. Oregon is on track for its fourth consecutive outright Pac-12 title. As ESPN's Brad Edwards
noted this week

: "If [the Ducks] can win [the Pac-12 title game] again this season, they will join John McKay's USC teams from 1966 to 1969 as the only groups in the history of that conference to win four consecutive outright titles."
[+] Enlarge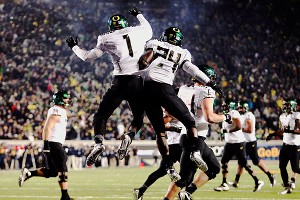 Kelley L Cox/US PresswireOpponents haven't been able to slow down the Ducks' potent offense for four quarters.
So Oregon is historically good.
And Stanford, though on a historically good run for its own program, has been Wile E. Coyote to Oregon's Road Runner.
Stanford (8-2) will get another chance to change that Saturday in Autzen Stadium, with ESPN's "College GameDay" on hand. The stakes, just like the previous two seasons, are big. The winner takes control of the Pac-12 North Division. The Ducks, of course, need to win to remain in the national title chase.
Shaw didn't hold back praising Oregon (10-0) this week. It could be gamesmanship, but Shaw also seems to genuinely appreciate what coach Chip Kelly has built at Oregon. As Shaw said: "Great athletes, great scheme in all three phases."
"They know how to adjust those schemes based on what you are doing, which to me is the biggest key," he said. "You don't see them stopped for long. If you're doing something that is slowing them down, they are going to make a tweak and make you pay for it."
Well-put. That about sums up Oregon.
And yet ... what about Oregon's injury-riddled defense?
"It doesn't matter," Shaw said. "They put young guys in there, they put new guys in there, and those guys go out there and play great."
Maybe. But maybe not.
There are cracks in the Oregon facade, mostly because a number of front-line players on the Ducks' defense -- once a nationally elite unit -- are questionable or out for Saturday.
Safety
Avery Patterson
is out for the year with a knee injury. You might recall Oregon previously lost All-America safety
John Boyett
to a knee injury. Defensive tackle
Wade Keliikipi
also is almost certainly out with a leg injury.
Also banged up and of questionable health on the defense: DE/DT
Taylor Hart
(foot), DE/OLB
Dion Jordan
(shoulder), DT
Isaac Remington
(ankle) and NT
Ricky Heimuli
(knee). And backup cornerbacks
Troy Hill
and
Dior Mathis
didn't play last weekend against California, which is why word coming out of practice this week was that
De'Anthony Thomas
was taking reps on defense.
That's a lot of banged up high-quality players, particularly on the defensive line. The past two weeks, Oregon has had to rely on three true freshman D-linemen --
Arik Armstead
,
DeForest Buckner
and
Alex Balducci
-- often playing them at the same time.
While Stanford's offensive line is not what it was last year with David DeCastro and Jonathan Martin, it still is an above-average unit, one that likes to go mano a mano in the trenches. It's certainly much better than the Cal unit that did a fairly good job against the Ducks last weekend.
So the Cardinal may be able to control the football with
Stepfan Taylor
running the ball, though you can expect Ducks "Stop the Run First" defensive coordinator Nick Aliotti to dare Stanford to throw the ball with redshirt freshman quarterback
Kevin Hogan
, who is making his first road start.
But the bigger issue, as usual, is slowing the Ducks' explosive offense, which has gashed Stanford the past two years with big plays -- seven TD plays of 25 or more yards, not including a 40-yard pick-six last season.
Stanford has the nation's No. 1 run defense, but few teams run the ball as well as Oregon. And Ducks redshirt freshman quarterback
Marcus Mariota
leads the nation in passing efficiency.
Oregon, particularly playing at home, seems fully capable of outscoring Stanford if the Ducks' defense is having a bad day. A few teams have been able to slow the Ducks for a quarter here or a quarter there. But even then -- boom! -- things go haywire. Stanford has experienced that itself. Twice in the past two years, in fact.
The question then becomes simple for Stanford: Can it somehow make Mariota and the Oregon offense have a bad day for four quarters?
It's the Oregon problem, and it's not easy to solve.
November, 9, 2011
11/09/11
2:50
PM ET
Oregon defensive coordinator Nick Aliotti has been around awhile. Long enough that when he says that Stanford quarterback
Andrew Luck
reminds him of John Elway, that comparison is based on his having coached against Elway -- although he was coaching running backs at Oregon State during Elway's Stanford tenure.
Yes, he sees what everyone else sees: a smart, athletic, big-armed, poised, team-first guy. A superefficient playmaker who values winning over piling up big numbers and hogging the spotlight.
"Wow. He's phenomenal," Aliotti said. "The guy is the total package. He's the best quarterback I've seen in this league, and there have been a lot of very good quarterbacks in this league. To me, he reminds me the most of John Elway."
[+] Enlarge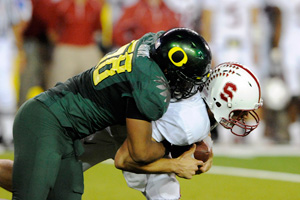 Steve Dykes/Getty ImagesOregon is the only team in the past year that has been able to beat Andrew Luck and the Cardinal offense.
There you go. He sees what everyone else sees.
But unlike everyone else, Aliotti has put together a game plan that shut down Luck -- see Stanford's zero second-half points in the Ducks' 52-31 win last year. (Yeah, the first half didn't go as well.) So Oregon's coaching offices and locker room probably lack something that a lot of other teams have had when facing Luck.
Awe.
One of Oregon's many mantras is playing "nameless, faceless opponents." Luck is the most famous college football player in the nation. But for the Ducks, he's just No. 12 behind center.
"I haven't made a big deal about it," Aliotti said. "It's not like we've gone around, 'Ohhhh ... Andrew Luck' or anything. Some teams praise and talk about him to their own team. They make him bigger than life, which I think gives him an aura. Kids can get in awe. I don't think that will be the case with our kids."
That is a good first step for figuring out a way to contain Luck and the Stanford offense: Get over who he is and concentrate on what they -- the Cardinal -- do.
Of course, after the first step, you've got to take a second one. And the football part of football ain't easy here.
The question that typically follows is, how aggressively do you attack Luck with stunts and blitzes? Oregon leads the Pac-12 with 29 sacks. Stanford has yielded a conference-low four sacks. But teams have been -- at times -- successful with pressure this season, not allowing Luck to be consistently comfortable in the pocket.
"If you can not let him set his feet," Oregon coach Chip Kelly said. "If you can disrupt the launch point for a quarterback. That's the key to playing good pass defense."
After watching hours of film, Aliotti's conclusion is that pressure -- rushing five or more guys -- can work against Luck and the Cardinal offense. That, however, might not be the right first question.
"When guys bring five or more, it appears people have had more success," he said. "But you've got to get them in a down where they have to throw the ball. So you have to win first down. I think that's a real key."
A good reason Stanford ranks first in the conference and fourth in the nation in third-down conversions is the Cardinal typically face third-and-manageable distances. That primarily is due to a running game that averages 5.7 yards per carry. Think about that: Second-and-4 gives you plenty of play-calling options. And if you can gain 6 yards on a run on second-and-10, well, you become a royal pain in the tuchus for a defensive coordinator.
Third-and-4 is not a good blitzing down. And if you try, Luck is very good at spying your intentions and making the right check.
"He's really good on that," Kelly said "I think that's one thing that separates him, besides his athletic ability, is just how smart he is. He can see the whole field and he can pick up blitzes and he's really, really sharp. That's why he's the total package. It's tough to fool him."
In last year's game, the Ducks sacked Luck only once -- recall that he was sacked just six times in 2010 -- but they got good pressure, and Luck threw two interceptions. In 34 career starts, that was one of two times he's thrown more than one pick in a game.
Fair to say, pressure is good. Then the issue is containment. Luck is a capable runner, although he hasn't run as much this season. He has 954 career rushing yards, and the Ducks don't want to be the team that puts him over 1,000.
Still, as Kelly noted, once you account for Luck's arm and legs, you still have to contend with his scariest body part: his brain. Luck, who is legitimately "Stanford smart," has play-calling options unlike any other quarterback in the country. After the win over Washington on Oct. 22, Cardinal coach David Shaw went out of his way in a casual conversation -- no tape recorder allowed -- to clarify just how many options Luck has at the line of scrimmage. Let's just say it's a large handful of passing and running plays.
But that also leaves an opening for a defensive coordinator. Can he give a look to Luck that draws out a play call, then change the defense before Luck can re-audible?
The answer is yes and no. It's hard to do, particularly with a young defense. Complicating things increases chances for blown assignments. And if your first goal for your defense is to play hard and fast and with confidence -- as it is for Aliotti -- it could provoke too much thinking.
"That becomes the cat-and-mouse game between Andrew and Nick, to be honest with you," Kelly said.
Said Aliotti, "I don't know if there are any magical calls. I wish I had some magical calls."
No, there is no magic on defense. It's about about playing fast and loose. Defeating blocks. Executing. Forcing turnovers. Gap integrity. Winning third down.
And, on Saturday, maybe creating just a little bit of bad Luck.
PAC-12 SCOREBOARD
Thursday, 8/28
Friday, 8/29
Saturday, 8/30