Stanford Football:

Nickell Robey
January, 14, 2014
Jan 14
5:30
PM ET
Welcome to the mailbag, which nine out of 10 dentists agree has no bearing on your oral health.
Bobby in Phoenix writes
: Mark May said the following yesterday: "I heard through the grapevine, not publicly, but privately, Todd Graham was lobbying like heck to get the Texas job," May told Burns and Gambo on Arizona Sports now on 98.7 FM Tuesday. "Chew on that one,
Arizona State Sun Devils
fans." I heard it from not one, but two of our reporters at ESPN, that he was lobbying to get that job. It was another one of his 'dream jobs.' Any comments? My thought would be that if not one, but TWO ESPN reporters knew about this they would... umm.... report it? When will his Pitt bias stop seeping through everything he says and Todd Graham and ASU?
Kevin Gemmell
: I didn't hear May's comments or the interview, so I can only go off of what you said. But there is certainly a gut reaction when the rest of the country hears the name Todd Graham, they instantly think villain.
You know what's funny is when Brady Hoke left San Diego State after two seasons, he did the exact same thing -- he sent a text blast to the players and that was that. He got on a plane and never returned to San Diego. He was lauded as a hero and treated like Caesar returning from Germania when he got to Ann Arbor. No one cared about how he left SDSU.
But this one stuck with Graham and probably will stick with him for a long time. It's fascinating how perception and public opinion shapes who we celebrate and who we demonize.
I got to spend a lot of time with Graham this season --
including four days behind the scenes
. I was given complete access to everything -- player meetings, coaches meetings, I sat with Graham, offensive coordinator Mike Norvell and the quarterbacks at the team dinner and was with the coaches for their final huddle 10 minutes before kickoff of the Wisconsin game. (I even went out the Tillman Tunnel with the team, and I can tell you that was one of the greatest moments of my career). In my time with Graham, I learned he's the exact same guy behind closed doors as he is in front of a microphone. I really doubt he's going to put on a four-day show -- and maintain it -- for little ole' me. If he did, give him the Academy Award.
Is it possible he could jump ship sometime soon? Of course. The guy can coach. That's why he keeps getting hired. And he hires great coaches to coach alongside him (Gus Malzahn, Chad Morris, Mike Norvell, etc.).
He's always going to have the Pitt stigma that follows him. Maybe it's deserved. Maybe it's time to let it go. Either way, I like his style. I like his schemes. And l like his accountability. After the Holiday Bowl,
he put it all on himself
. That's what a coach is supposed to do.
I've been lied to plenty by coaches. That comes with asking questions they don't want to answer. But I've also had coaches be totally honest and stand by their word. My gut tells me Graham likes the spot he's in and he likes the support he's getting from the administration.
---
Wayne in Mesa, Ariz. writes:
Why was the Pac-12 Championship Game for 2014 moved back to a Friday night? I can understand TV ratings a bit, although the 2013 game had a great Saturday evening time slot. As for attendance, the Saturday date allows for better attendance and more time for the buzz to build up -- as the incredible atmosphere in and around Sun Devil Stadium this past fall would attest!
Kevin Gemmell
: Go to your living room. On your coffee table, you'll probably see a black, rectangular object with many different buttons. Push the one that says "power" and a talking picture box will come to life, projecting real life sounds and images.
Do not be scared or attempt to interact with these moving pictures. They can't see or hear you.
FOX has the Pac-12 championship game this year, as well as the Big Ten title game the next day. So, yes, it's TV driven.
I think there is something to be said about being the first game of championship weekend. You get the national audience (at least those who choose to stay up) all to yourself. But from a fan perspective -- especially those attending the game -- it can be a hassle. You have to deal with work and traffic and chances are it won't be a full stadium -- which never bodes well for the conference.
---
John in New York writes
: USC-UCLA, Stanford-USC, Oregon-Washington, Oregon-Oregon State, Arizona-Arizona State. I'd be really interested to know how you'd rank these particular rivalries, from top to bottom?
Kevin Gemmell
: Ranking rivalry games is a fairly futile exercise, because rivalries will always mean more to the folks who have a vested interest in the outcome. Try convincing an Arizona fan that the Apple Cup is more important than the Territorial Cup.
Case in point, I grew up in the Bay Area under the umbrella of the Cal-Stanford rivalry. And though I didn't attend either school, I consider it one of the greatest rivalries there is because that's what my personal experience is. Just as I think Will Clark is the greatest baseball player ever and it's a shame that he's not in the Hall of Fame.
But I also understand, given the way the Stanford-USC rivalry has played out over the last half decade, that game certainly qualifies as a rivalry. Same for Oregon-Washington and the budding UCLA-Arizona State rivalry.
I know folks are trying to make a rivalry out of the Utah-Colorado matchup. That makes sense, considering both joined the league at the same time. But rivalries aren't artificially created. They just happen. Colorado fans will always have a bitterness for Nebraska, just as Utah fans will always consider BYU their rival.
The only reason to rank rivalries is to stir the pot and drum up some artificial controversy to give folks a reason to troll and flame.
Which is why Arizona-Arizona State is the best rivalry of all time and always will be. Discuss.
---
Michigan Trojan in Ann Arbor, Mich. writes
: Kevin and Ted … Though I hope they get drafted and have successful NFL careers, I am a little puzzled by the early exits of
Xavier Grimble
,
Dion Bailey
,
George Uko
, and especially
Marcus Martin
(and possibly
Hayes Pullard
and
Josh Shaw
) at USC.
Marqise Lee
is a sure-fire 1st round pick so I cannot argue with his leaving. But the others, especially guys like Grimble and Martin, were poised to have big years, with lots of exposure that could have made them locks in the second or third round, or possibly surprise first round picks. I know some of them were redshirts, and will technically have their degree in May, but if the NFL is their first stop in terms of profession, why not maximize your potential? Most of these guys will be fourth-round picks at best, and probably have to fight to make a practice squad if they go undrafted. Do you think some of this has to do with what Sarkisian is trying to do at USC, in terms of revamping the defense, and bringing in different position coaches? I also have heard that guys were impressed by the somewhat unexpected success of early-entry guys like undrafted Nickell Robey at the next level. The exodus probably sets SC football back a few wins next year, but again, as individuals, I hope they succeed beyond expectations at the next level.
Kevin Gemmell
: It's obviously different for every guy, so there is no one magic bullet answer. Sometimes it has to do with money. Sometimes it has to do with a coaching change. And sometimes guys simply don't want to be in school anymore.
I do think USC players are a special exception. The college experience probably hasn't been a great one for them when you look at the ups and downs of the program the last few years. Most of these guys came in when the sanctions were announced or right in the middle of them. They had bowl bans. They had a disastrous 2012. They saw three different head coaches in 2013.
Can you really blame some of them for wanting to get out and make a little money?
Robey is a fine example of a guy who went undrafted, but had a huge year for the Bills. If I'm his friend and former teammate, that gives both hope and false hope. There's the thought that if I don't get drafted, I can still do what Robey did. But for every Robey, there are dozens of other guys who find themselves either on practice squads or boning up on their "ehs?" in the Canadian League. And yes, there is at least one player from a Pac-12 school on every CFL roster, except Montreal (I checked).
I do think a new coaching staff probably had something to do with it as well as the fact that Clancy Pendergast isn't coming back. For those defensive guys, it would be their third coordinator in the last two years. That's frustrating. So, and I'm just speculating here, in their eyes if they have to adjust to a new coaching staff, they might as well get paid in the process.
---
Ryan in Palo Alto, Calif. writes
: More math: You wrote: "
So the likelihood of the Pac-12 winning all nine games -- even though it was favored in all nine -- seemed highly unlikely
. "Actually probability alone (and not underdog motivation or favorite complacency) makes your statement true. Assume for sake of argument, the Vegas line said each Pac-12 team had an 80 percent chance to win. (Of course, different lines for each team and I have no idea what line corresponds to an 80 percent win chance, but useful thought experiment). The chances of all nine teams winning still comes out to only about 13.4 percent.
Kevin Gemmell
: This is why Pac-12 blog readers are the life of all social gatherings.
December, 13, 2012
12/13/12
9:00
AM ET
Our assignment is to pose a best-case and a worst-case scenario for every Pac-12 bowl team.
So here goes.

Arizona
Gildan New Mexico Bowl, Albuquerque, N.M., Dec. 15:
Arizona (7-5) vs. Nevada (7-5), 1 p.m. ET, ESPN
Best case:
Arizona rolls 40-28, as quarterback
Matt Scott
goes out with a bang that raises NFL eyebrows, and running back
Ka'Deem Carey
rushes for 195 yards to sew up the national rushing title.
Worst case:
Scott gets knocked out of the game early and backup
B.J. Denker
looks overwhelmed, raising questions about the future at QB. Carey rushes for 35 yards and loses the rushing title as Nevada rolls 42-21. Michigan fans hit the message boards with a litany of "I told you so" about Rich Rodriguez.

Washington
MAACO Bowl Las Vegas, Las Vegas, Dec. 22:
Washington (7-5) vs. Boise State (10-2), 3:30 p.m. ET, ESPN
Best case:
In a "Welcome back!" performance, QB
Keith Price
throws for 295 yards and three touchdowns -- matching the total TD passes the Broncos have yielded all season -- and runs for another score as the Huskies end 2012 with a statement victory that bodes well for 2013. The Huskies' hot offseason topic is how high the preseason ranking will be.
Worst case:
Washington starts slowly as it has much of the season, then gives up a double-digit fourth-quarter lead as Price throws multiple interceptions. Boise State wins going away 38-17, and the Huskies' hot offseason topic is whether coach Steve Sarkisian has plateaued.

UCLA
Bridgepoint Education Holiday Bowl, San Diego, Dec. 27:
UCLA (9-4) vs. Baylor (7-5), 9:45 p.m. ET, ESPN
Best case:
That the Bruins score 45 points is not unexpected. That Baylor is held to just 17 points is unexpected. UCLA dominates on both sides of the ball, and quarterback
Brett Hundley
looks like a budding Heisman Trophy candidate. After the game, linebacker
Anthony Barr
and guard
Xavier Su'a-Filo
both announce they are returning for the 2013 season. Says Barr, "Unfinished business? Naaah. I just like playing with these guys."
Worst case:
Baylor rolls over UCLA in a 55-30 win, as the Bruins' defense can do nothing to slow the Bears, while Hundley throws three picks. Barr and Su'a-Filo opt to leave for the NFL, as does coach Jim Mora, who is hired by the Philadelphia Eagles.

Oregon State
Valero Alamo Bowl, San Antonio, Dec. 29:
Oregon State (9-3) vs. Texas (8-4), 6:45 p.m. ET, ESPN
Best case:
Oregon State throttles the Longhorns 31-13 with stifling defense, but the big story is Cody Mannion -- or is it Sean Vaz? -- throwing four touchdown passes and making a strong case to be the 2013 starter.
Worst case:
The Beavers become the only team that couldn't run on Texas this year, and
Sean Mannion
and
Cody Vaz
both throw two interceptions in a 30-10 defeat. Meanwhile, Oregon State makes both
Case McCoy
and
David Ash
look like superstars. "Well," say all the national commentators. "This makes a strong case for the Big 12's superiority over the Pac-12. But we've still got to see the Fiesta Bowl."

Arizona State
Kraft Fight Hunger Bowl, San Francisco, Dec. 29:
Arizona State (7-5) vs. Navy (7-4), 4 p.m. ET, ESPN2
Best case:
Arizona State uses its superior speed on both sides of the ball to throttle Navy 48-17. After the game, consensus All-American defensive tackle
Will Sutton
announces he's returning for his senior year.
Worst case:
Navy's triple option wears down the Sun Devils in a 28-17 victory. Even worse, the Sun Devils turn the ball over five times and commit 12 penalties for 105 yards, including two personal fouls. They look like the 2011 team, not the 2012 version under new coach Todd Graham.

USC
Hyundai Sun Bowl, El Paso, Texas, Dec. 31:
USC (7-5) vs. Georgia Tech (6-7), 2 p.m. ET, CBS
Best case:
Matt Barkley
looks like, well, Matt Barkley, throwing five touchdown passes as the Trojans roll 40-10. As for the defense, coordinator Monte Kiffin goes out in style, with the Trojans holding Georgia Tech's option to just 225 total yards. Head coach Lane Kiffin announces after the game that he has hired Bob Diaco away from Notre Dame to be his defensive coordinator.
Worst case:
Barkley tries to play but reinjures his shoulder, and the Trojans fold thereafter, ending a horribly disappointing season with a 38-17 loss. After the game, receiver
Robert Woods
, running back
Silas Redd
and cornerback
Nickell Robey
announce they will enter the NFL draft. Lane Kiffin also announces the hiring of Nick Holt to run the Trojans' defense.

Stanford
Rose Bowl Game presented by Vizio, Pasadena, Calif., Jan. 1:
Stanford (11-2) vs. Wisconsin (8-5), 5 p.m. ET, ESPN
Best case:
Stanford dominates on both sides of the ball in a 30-10 victory, holding the Badgers to just 79 yards rushing and 210 total yards. Quarterback
Kevin Hogan
throws two touchdown passes and runs for another, while running back
Stepfan Taylor
rushes for 145 yards and a score. After the game, linebacker
Shayne Skov
, defensive end
Ben Gardner
and tight end
Zach Ertz
announce they will be returning for their senior seasons.
Worst case:
Montee Ball
rushes for 197 yards and two scores as Wisconsin pushes the Cardinal around in a 24-17 win. The Badgers sack Hogan four times, overwhelming the Cardinal's offensive line. After the game, Skov, Gardner and Ertz announce they will enter the NFL draft. Coach David Shaw is hired by the Philadelphia Eagles, and Walt Harris is rehired.

Oregon
Tostitos Fiesta Bowl, Glendale, Ariz., Jan. 3:
Oregon (11-1) vs. Kansas State (11-1), 8:30 p.m. ET, ESPN
Best case:
Oregon starts fast and never lets up in a 51-20 blowout, with running back
Kenjon Barner
rushing for 187 yards and two scores and quarterback
Marcus Mariota
throwing for three TDs. The Ducks sack
Collin Klein
five times and grab two interceptions. "I'm sure glad we didn't play them in the regular season," Kansas State coach Bill Snyder says afterward. Shortly after the game, Ducks coach Chip Kelly signs a lifetime contract, opens practices and promises to be more patient with hypotheticals and other sorts of irritating questions.
Worst case:
The Kansas State defense throttles the Ducks' offense, and Klein throws three TD passes in a 30-13 victory. The Ducks rush for only 101 yards. "Oregon struggles in these big games," say the national commentators afterward. "And this really makes the Pac-12 look bad." Kelly is hired by the Philadelphia Eagles. Mariota quits football to become a professional surfer. John Mackovic is hired to replace Kelly.
November, 26, 2012
11/26/12
3:14
PM ET
The Pac-12 conference has announced its 2012 individual honors and all-conference first and second teams as voted on by the coaches.
Offensive Player of the Year
:
Marqise Lee
, WR, USC.
Pat Tillman Defensive Player of the Year
:
Will Sutton
, DE, Arizona State.
Freshman Offensive Player of the Year
:
Marcus Mariota
, QB, Oregon.
Freshman Defensive Player of the Year
:
Leonard Williams
, DE, USC.
Coach of the Year
: David Shaw, Stanford.
FIRST-TEAM OFFENSE
QB
Marcus Mariota, Fr., Oregon
RB
Kenjon Barner
, Sr., Oregon
RB
Ka'Deem Carey, So., Arizona
WR
Marqise Lee, So., USC
WR
Markus Wheaton
, Sr., Oregon State
TE
Zach Ertz
, Sr., Stanford
OL
Hroniss Grasu
, So., Oregon
OL
Khaled Holmes
, Sr., USC
OL
Brian Schwenke
, Sr., California
OL
Xavier Su'a-Filo, So., UCLA
OL
David Yankey
, Jr., Stanford
SECOND-TEAM OFFENSE
QB
Matt Scott
, Sr., Arizona
RB
Johnathan Franklin
, Sr., UCLA
RB
Stepfan Taylor
, Sr., Stanford
WR
Austin Hill
, So., Arizona
WR
Robert Woods
, Jr., USC
TE
Austin Seferian-Jenkins
, So., Washington
OL
Jeff Baca
, Sr., UCLA
OL
David Bakhtiari
, Jr., Colorado
OL
Sam Brenner
, Sr., Utah
OL
Kevin Danser
, Sr., Stanford
OL
Sam Schwartzstein
, Sr., Stanford
FIRST-TEAM DEFENSE
DL
Scott Crichton
, So., Oregon State
DL
Dion Jordan
, Sr., Oregon
DL
Star Lotulelei
, Sr., Utah (2)
DL
Will Sutton, Jr., Arizona State
LB
Anthony Barr
, Jr., UCLA
LB
Trent Murphy
, Sr., Stanford
LB
Chase Thomas
, Sr., Stanford (2)
DB
Ifo Ekpre-Olomu
, So., Oregon
DB
Jordan Poyer
, Sr., Oregon State
DB
Ed Reynolds
, Jr., Stanford
DB
Desmond Trufant
, Sr., Washington
SECOND-TEAM DEFENSE
DL
Henry Anderson
, Jr., Stanford
DL
Morgan Breslin
, Jr., USC
DL
Ben Gardner
, Sr., Stanford
DL
Datone Jones
, Sr., UCLA
LB
Kiko Alonso
, Sr., Oregon
LB
Michael Clay
, Sr., Oregon
LB
Brandon Magee
, Sr., Arizona State
DB
Deone Bucannon
, Jr., Washington State
DB
Alden Darby
, Jr., Arizona State
DB
T.J. McDonald
, Sr., USC
DB
Nickell Robey
, Jr., USC
FIRST-TEAM SPECIALISTS
PK
Vince D'Amato, Jr., California
P
Jeff Locke
, Sr., UCLA
RS
Reggie Dunn
, Sr., Utah
ST
Jordan Jenkins
, Sr., Oregon State
SECOND-TEAM SPECIALISTS
PK
Andrew Furney
, Jr., Washington State
P
Josh Hubner
, Sr., Arizona State
RS
Marqise Lee, So., USC
ST
David Allen
, Sr., UCLA
ALL-PAC-12 HONORABLE MENTION
NOTES
By School: OREGON and STANFORD placed the most players on the first team with five selections each, followed by OREGON STATE with four.
By Class: Of the 26 first-team selections, 14 are seniors, five are juniors, six are sophomores and one freshman.
Unanimous: Only one player was named on the first-team ballot of all 12 head coaches--WR Marqise Lee of USC.
Two-time selections: Two players are repeat first-team selections from last year--DT Star Lotulelei of Utah, LB Chase Thomas of Stanford.
All-Academic: Two players were named to the first team on both the All-Pac-12 Team and the Pac-12 All-Academic Football Team--P Jeff Locke of UCLA, OL Khaled Holmes, USC. In addition, OL Kevin Danser of Stanford, DL Ben Gardner of Stanford and Michael Clay of Oregon were named second-team All-Academic and second-team All-Pac-12.
October, 7, 2012
10/07/12
6:00
AM ET
So much offense! So much defense! So hard to choose ...

August, 24, 2012
8/24/12
11:00
AM ET
Our countdown of the Pac-12's top 25 players in 2012 continues.
Most of this looks back, but, of course, there also is a good dose of projecting forward. A lot of good players, as it happens every year, won't make the preseason list. It is in their hands to make the postseason list.
You can review our
2011 postseason top 25 here
.

6. Chase Thomas, LB, Stanford
2011 numbers
: Posted 52 tackles (33 solo) including a conference best 17.5 tackles for a loss. He also had 8.5 sacks, four quarterback hits and was second in the conference in forced fumbles.
2011 postseason ranking
:
No. 5
Making the case for Thomas
: It's time to break the stranglehold wide receivers have had on this list for the past three days and look to defense. Thomas is the best outside linebacker in the conference and many would argue in the country. He opted to return for another season to improve his consistency and up his draft status. And both should see significant improvement. Last year Stanford's run defense was tops in the conference, allowing less than 85 yards per game and it was the only team to hold opponents to an average of less than 100 yards per contest. Thomas was a big reason for that number. Expect him to be even better this year with the return of
Shayne Skov
at inside linebacker. When Skov went down, defenses were keying in on Thomas, which makes his production last year that much more impressive. With six of last year's front seven returning -- plus the return of Skov and young playmakers like
James Vaughters
and
Noor Davis
-- Thomas headlines a run-stopping unit that should once again challenge for best in the conference.
No. 7
: Marquess Wilson, WR, Washington State
No. 8
: Keenan Allen, WR, California
No. 9
: Marqise Lee, WR, USC
No. 10
: T.J. McDonald, S, USC
No. 11
: Dion Jordan, OLB/DE, Oregon
No. 12
: Stepfan Taylor, RB, Stanford
No. 13
: Kenjon Barner, RB, Oregon
No. 13
: Kenjon Barner, RB, Oregon
No 14
: Nickell Robey, CB, USC
No. 15
: John White IV, RB, Utah
No. 16
: John Boyett, S, Oregon
No. 17
: Jordan Poyer, CB, Oregon State
No. 18
: Khaled Holmes, C, USC
No. 19
: Cameron Marshall, RB, Arizona State
No. 20
: Dion Bailey, LB, USC
No. 21
: Shayne Skov, LB, Stanford
No. 22
: Curtis McNeal, RB, USC
No. 23
: Austin Seferian-Jenkins, TE, Washington
No. 24
: Isi Sofele, RB, California
No. 25
: Jeff Tuel, QB, Washington State
August, 16, 2012
8/16/12
11:00
AM ET
Our countdown of the Pac-12's top 25 players in 2012 continues.
Most of this looks back, but, of course, there also is a good dose of projecting forward. A lot of good players, as it happens every year, won't make the preseason list. It is in their hands to make the postseason list.
You can review our
2011 postseason top 25 here
.

12
.
Stepfan Taylor
, RB, Stanford
2011 numbers
: Rushed for 1,330 yards and 10 touchdowns on 242 carries. Had a healthy 5.5 yards per carry while also catching 27 balls and a pair of touchdowns.
2011 postseason ranking
:
No. 24
.
Making the case for Taylor
: It's time to stop calling Taylor one of the most underrated backs in the college football and start calling him one of the top, most complete running backs in the Pac-12. A back-to-back 1,000-yard rusher who was often overlooked because of the guy handing him the ball (that would be Andrew Luck for those with a short memory), Taylor will be the focal point of the Cardinal offense. That should come as no surprise to those who follow the team closely, because he was actually the focal point last year and the year before despite the presence of Luck. He's durable enough to carry the ball 25 to 30 times per game, but that's not how David Shaw uses him. With a rotation of four other backs last year -- and the expectation of a similar approach this year -- Taylor will continue to make the most of his opportunities. Expect, however, a slight increase in his carries in 2012 as the Cardinal break in a new quarterback. The departure of Tyler Gaffney and the graduation of Jeremy Stewart opens up some niche roles for younger backs -- but we'll likely see Taylor carry more of the load, especially early as the new quarterback continues to grow and the pecking order behind Taylor takes shape. A second-team all-conference pick last year, Taylor's receiving skills make him extremely versatile, and he's also Stanford's best blocking back.
No. 13
: Kenjon Barner, RB, Oregon
No 14
: Nickell Robey, CB, USC
No. 15
: John White IV, RB, Utah
No. 16
: John Boyett, S, Oregon
No. 17
: Jordan Poyer, CB, Oregon State
No. 18
: Khaled Holmes, C, USC
No. 19
: Cameron Marshall, RB, Arizona State
No. 20
: Dion Bailey, LB, USC
No. 21
: Shayne Skov, LB, Stanford
No. 22
: Curtis McNeal, RB, USC
No. 23
: Austin Seferian-Jenkins, TE, Washington
No. 24
: Isi Sofele, RB, California
No. 25
: Jeff Tuel, QB, Washington State
January, 18, 2012
1/18/12
9:00
AM ET
The rest of the blogging crew is looking at the best atmospheres from their conference during the season. So here at the Stanford blog, we're going to look at the best single-game atmosphere.
Now, the folks in Palo Alto deserve a pat on the back for rallying their program this season. Stanford fans bucked the reputation that they don't support their team by selling out six of the seven home games this past season.
The atmosphere at every home game (save the season opener against San Jose State when the bulk of the students still weren't on campus) was fantastic and the fan support was great throughout the year.
But the best single-game atmosphere this season belongs to the fans of Troy. And, in all due fairness, the Stanford fans who made the pilgrimage to USC in late October.
Naturally, the biggest game of the season to that point for both teams drew a vocal 93,607 to the L.A. Memorial Coliseum. And the fact that the game was nip and tuck made the environment absolutely electric.
When
Curtis McNeal
put together touchdown runs of 61 and 25 yards in the third quarter to give USC the lead, it was pure madness. And then
Nickell Robey
's 33-yard pick-six with 3:08 left in the game that put the Trojans ahead brought the crowd to a deafening frenzy.
Over the public address system, there were warnings not to rush the field after the game -- a sure sign that fans were expecting the upset victory. Stanford safety
Michael Thomas
would later say that he and the rest of the team heard the announcement and took exception.
Each touchdown in overtime brought the fans -- and those on deadline in the press box -- to madness. And when A.J. Tarpley recovered the fumble in the end zone to end the game, a collective gasp went out, followed by silence, except for a small sliver of fans dressed in Cardinal.
Stanford fans did a great job this year supporting their team, but nothing this season matched the thrill and excitement at USC on Oct. 29.
December, 27, 2011
12/27/11
4:00
PM ET
With one game left to play we're taking a look back at some of the memorable moments/series of moments from Stanford's 2011 season. Some were individual plays, others were a series of plays or games as a whole that were significant to the season.
We're down to No. 1. The envelope please ...
No. 1: THE DRIVE AND BEYOND
Setting the scene
: A pick-six. Devastating. With the Cardinal and USC locked in a 27-27 tie with 3:45 left in the game,
Andrew Luck
appeared poised to drive his team down the field on a game-winning drive. But Nickell Robey had other plans when he intercepted Luck on a third-and-3 at the Stanford 33
and returned it for a touchdown
.
A loss would have meant the end of Stanford's winning streak and -- at the time -- its contention for the national championship. But that's not how it went down. What happened in the next 3:03 and ensuing three overtimes is the stuff that will forever make Luck a Stanford legend.
Why it's memorable
: Luck went up and down the Stanford sideline and assured everyone that the game wasn't over. He completed 4 of 6 passes and rushed for 16 yards on the eventual game-tying drive that knotted the score at 34-34, ending with a 2-yard
Stepfan Taylor
run.
In overtime, Luck was 3-for-3 for 27 yards and a touchdown, he rushed for 13 yards and completed a 2-point conversion to
Coby Fleener
.
Luck was remarkably cool after throwing the interception. A lot of quarterbacks would have crumbled under the weight of their own mistake. But Luck didn't. He didn't get overly excited when the Cardinal took the lead in the first overtime, and he didn't get overly down when they fell behind in the second overtime. He was cool and relaxed and his teammates fed off of that.
On his 11-yard touchdown pass to
Levine Toilolo
,
he placed it on the outside shoulder
-- almost out of bounds -- where only his long, 6-foot-8 tight end could get it.
And on the 2-point conversion,
he looked off all of the defenders
to his right and then placed a perfect pass to his left to Fleener.
In one of the most thrilling games in Stanford history -- an eventual
56-48 triple-overtime victory
-- Luck secured his Stanford legacy with grace and composure.
October, 30, 2011
10/30/11
12:23
AM ET
LOS ANGELES -- Atlas doesn't carry this much on his shoulders. And yet, Stanford's world keeps turning.
Stanford is still in the hunt. Still in the conversation. Still perfect on a night when the Cardinal were anything but. Still in the game when fate's dice seemed so unbelievably loaded.
In an epic contest that made last year's last-minute nail biter look like a Swedish massage, the Cardinal overcame three deficits before topping USC
56-48
in triple-overtime.
It wasn't just the fact that they won. It was the burdens they had to carry on their way to victory lane.
Consider:
For the second consecutive week, they were without safety Delano Howell (and he was missed).

Before kickoff, it was decided that kicker Jordan Williamson, Mr. Accuracy himself, would not play.

Before quarterback Andrew Luck even took the field, tight end Zach Ertz, one of his biggest and most reliable weapons, was lost for the game with an injury on the opening kickoff.

Add the weight of the nation's longest win streak (now 16 games) and playing in a hostile environment with national championship aspirations and it would be easy to see how they'd collapse.
And they almost did.
But they didn't.
"We talk about fighting adversity, but I didn't know it was going to be this much adversity," said head coach David Shaw. "But the kids fought through it and I love them to death for it."
The Cardinal overcame their first deficit of the season – three deficits in regulation, to be exact – but fought back each time. They overcame injuries to three starting offensive linemen that cost all of them some time. And with a little more than three minutes remaining in the game, they overcame a horrendous miscue from Luck, their unflappable signal caller.
[+] Enlarge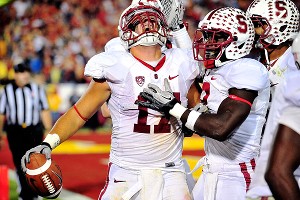 Gary A. Vasquez/US PRESSWIREStanford linebacker AJ Tarpley celebrates after recovering a fumble in triple overtime to seal the victory over USC.
With the score tied at 27-27, the stage was set for Luck to march the Cardinal down the field for the go-ahead score. But even though we're in sight of the Hollywood sign, things don't always go as scripted. USC corner back Nickell Robey jumped Luck's pass intended for
Chris Owusu
and returned it 33 yards for a touchdown and a 34-27 lead.
The weight could have been crushing. It wasn't.
"I was very disappointed in myself," said Luck, calling it a bad decision from the start. "There were a couple of seconds there when I wanted to dig a hole and bury myself. But the guys believed in me. For that I was grateful. I was happy there was still some time on the play clock to go down there again."
And they did, moving 76 yards on 10 plays and capping the overtime-forcing drive with a 2-yard
Stepfan Taylor
run. From there, the Cardinal and Trojans went blow-for-blow until Taylor's 5-yard score put them ahead and USC failed to answer, with
Curtis McNeal
fumbling into the end zone to cap the game.
"When a bad play happens, he goes completely down in the dumps," Shaw said of his quarterback. "He's so mad, so upset, so furious. Then it's like flushing a toilet. He flushes it and it's like it never happened and he moves on more determined. The look in his eye was 'We're going to get this done.' That's what he said. He went up and down and told everybody, 'We're going to get this done.' He was so mad at himself. He was not going to let that play lose the game for us."
Without Ertz, much of Stanford's offensive identity is lost. The Cardinal's three-tight end formations are as much their calling card as Luck.
"It's probably 25-30 percent (of our offense)," Shaw said. "It's a healthy chunk. And we also have a lot of two-tight-end stuff. And between those two, it's doggone near 50 percent. We had to count on other guys stepping up."
To lose that significant portion of the offense right before it takes the field has to be daunting. There are game plans. Scripted plays. It would crush most teams. Right?
"We had to regroup and restructure part of our game plan," said offensive coordinator Pep Hamilton. "… It was a character-building game. Our group, collectively they do a great job of maintaining their focus. Tonight was a night where we had a lot of adversity … It's a testament to the poise of our head coach. What you see is what you get. He never panics. I tend to get emotionally hijacked at times. He calmed us all down. Our kids feed off his temperament. It was a night when we were only as good as our last play and we were focused on winning each play."
And then there was the kicker situation. An undisclosed injury kept Williamson out of the game. So it was up to Eric Whitaker – who was yet to kick a field goal in a game this season — to step in and perform. While he was shaky on kickoffs, putting two of them out of bounds, he made both of his field goals (33 and 29 yards) and converted all six PATs – including two in overtime.
The weight could have been crushing. It wasn't. Not when the Cardinal fell behind by 10 points in the third quarter.
"We had talked all week about the fact that Stanford hadn't had to go into the fourth quarter trailing," said USC head coach Lane Kiffin. "Our goal was to keep it close and take the lead in the second half and see what happened. They haven't been in that situation before."
Now they have. Even when Luck's pick-six put them in the hole, the players had overtime on their minds.
"We always talk about how adversity is an opportunity for greatness," said defensive end Ben Gardner. "This was our first chance to show our mettle in the face of adversity. We got behind, but we never lost faith. It was a struggle, but when the time came, we made the plays."
Pac-12 Weekend Wrap: Sept. 16