Stanford Football:

Noel Mazzone
October, 17, 2013
10/17/13
10:15
AM ET
A few storylines to keep an eye on this week in the Pac-12:
1. Title game rematch
: UCLA and Stanford will face each other for the third time in the last 10 months. Only this time it's the Bruins who are the higher-ranked team, coming in at No. 9 after Stanford slid to No. 13 following its loss at Utah. Remember all of those side-to-side swing passes that Dennis Erickson and Utah used to keep Stanford off balance? Remember who worked for Erickson at ASU? Yep, Noel Mazzone. And UCLA loves to hit its receivers in the flat. Keep an eye on what happens after the second-half kickoff, as well. The Bruins are outscoring opponents 71-0 in the third quarter this year. Stanford has a 12-game home winning streak -- third longest in the nation -- and is 10-1 at home against ranked opponents since 2009. Stanford hasn't lost consecutive games since the middle of the 2009 season.
[+] Enlarge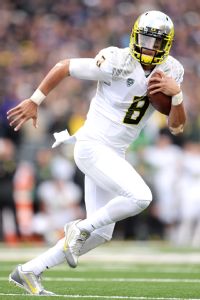 Allen Kee/ESPN ImagesMarcus Mariota and the Ducks are expected to be one of the top two teams when the BCS standings are released on Sunday.
2. BCS time
: The first Harris Poll of the season was released Sunday and featured four Pac-12 teams in the top 25: Oregon (2), UCLA (9), Stanford (12) and Washington (25). The first BCS standings will be released this week -- which comes on the heels of the announced selection committee for the College Football Playoff that starts next year. We're all expecting Oregon to be in one of the top two spots. Question is, where will UCLA or Stanford land?
3. North vs. South:
Two more critical North versus South showdowns this week with UCLA traveling to Stanford and Washington heading to Arizona State. The UCLA-Stanford game takes center stage for obvious reasons. But Washington-ASU has all the makings of a thriller. This is one of those 50-50 games that either team needs to win to show they belong in the upper tier of the Pac-12. The quarterbacks,
Keith Price
and
Taylor Kelly
, are obviously the mechanisms that make their teams go. But Washington running back
Bishop Sankey
(899 yards) has rushed for at least 125 yards in five of six games and ASU gives up almost 170 yards per game on the ground. Look for him to probably break 1,000 for the season by the final whistle. On the flip side, ASU's
Marion Grice
already has 15 total touchdowns. He had 19 last year, so look for him to eclipse that mark in the next couple of games.
4. Making up is hard to do
: Colorado will face Charleston Southern this week as a makeup for the Sept. 14 game against Fresno State that was canceled because of severe rain and flooding in Colorado. Charleston Southern is a perfect 7-0 on the year and is receiving votes in the Sports Network FCS College Football Poll. The Buffs are looking to get to 3-3 for the first time since 2010. And they are making a change at quarterback with
Sefo Liufau
stepping in after going 18 of 26 for 169 yards and a touchdown and two interceptions in relief against Arizona State.
5. No. 5?
The Cougars are looking for their fifth win for the first time since 2007. Tough draw, however, this week with a trip to Oregon. The Ducks are averaging 56.8 points per game and are second in the country in total offense with 630.5 yards per game.
6. Taking care of the ball
: Speaking of Oregon, quarterback
Marcus Mariota
, the Heisman frontrunner through the first half of the season, continues to impress with turnover-free performances. Though his completion percentage is down from last year, he hasn't thrown an interception in 165 pass attempts this year -- which extends a streak dating back to last season of 233 attempts. His last interception was against Stanford. During that stretch, he's completed 100 passes for 1,724 yards and 17 touchdowns. Receivers
Josh Huff
and
Bralon Addison
have 27 catches each for a combined 1,054 yards and 11 touchdowns.
7. Rebuilding the brand:
Nothing can unite the USC fan base like a win against Notre Dame. Better yet, a win
at
Notre Dame. The Trojans won their first game of the Ed Orgeron era and look to follow it up against the Irish. Neither team is ranked, but the names carry a lot of weight. This is a game that could re-energize the Trojans moving forward.
Marqise Lee
and
Morgan Breslin
have both practiced and it's looking like both will play. That should be a huge boost after getting running back
Silas Redd
back last week.
8. Momentum building?
What do the Utes do with their big win over Stanford? Do they keep the momentum rolling? They have to go on the road for four of their next six -- including leaving the state for the first time this season when they travel to face Arizona. The Wildcats are still looking for their first conference win, though quarterback
B.J. Denker
had a strong statistical performance in the loss last week to USC, completing 28 of 44 passes for a career high 363 yards and four touchdowns.
9. Who needs a running game?
The Pac-12's top two passing offenses square off with Oregon State's trip to Cal. OSU quarterback
Sean Mannion
has six straight games of 350 passing yards and the Beavers lead the conference with 433.2 passing yards per game and 25 passing touchdowns. Cal averages 371.3 yards in the air -- second in the league, but just 11 passing touchdowns, third worst. The Bears can move it, they just haven't been able to convert yards into points.
10. No off week:
For the second straight week, all 12 schools will be in action. This was supposed to be a bye week for Colorado, but the Charleston Southern game fills the void. Next week Arizona State and Washington State are on bye. It will be the first of two byes in three weeks for the Cougars, who will have opened the year with eight straight games following this week's matchup with Oregon.
October, 3, 2013
10/03/13
10:15
AM ET
A few storylines to keep an eye on in Week 6 in the Pac-12. (Really? Week 6 already?)
[+] Enlarge

AP Photo/Nati HarnikUCLA signal-caller Brett Hundley will lead the Bruins into Utah on Thursday night.

50 for five? Oregon set a school record last week by scoring at least 50 points in four consecutive games. This week it faces a Colorado team that appears to be stronger than last year's but still has some holes on both sides of the ball. Sans De'Anthony Thomas, the Ducks had little trouble negotiating Cal -- and mother nature -- en route to a 55-16 win. Is a fifth straight 50-plus-point game in the cards?
Kicking it: Great stat from our friends at the Pac-12 offices: "Entering last weekend's play, Pac-12 teams were 186-of-188 on PATs (.989). However, weather conditions in the Pacific Northwest last weekend wreaked havoc on the kickers as high winds and rain contributed to a combined six missed extra-point attempts in games in Corvallis, Eugene and Seattle. While kickers struggled with extra points last weekend, combining for 38-of 45 (.844), they did have considerable success from further out as they connected on 8-of-9 field-goal attempts (.889)." What's the takeaway? Don't try to understand kickers.
Nine in a row: UCLA has both of its bye weeks in the rearview mirror and will play nine consecutive games to close out the season, starting tonight with a trip to Utah. Quarterbacks (and their offensive coordinators) take center stage in this matchup. UCLA's Brett Hundley and Utah's Travis Wilson are both off to fantastic starts. And UCLA offensive coordinator Noel Mazzone was the OC for Dennis Erickson at Arizona State. Erickson is of course now the OC at Utah.
Quick starts? There are lots of intriguing storylines in the Washington-Stanford matchup. For starters, it's a pair of top-15 teams, which is always exciting. But the Huskies have outscored opponents 38-0 in the first quarter and are yet to trail in a game this season. Stanford is outscoring teams 37-12 in the first frame. This kicks off the first of three straight games for the Huskies against ranked opponents, who are home to No. 2 Oregon next week and at No. 22 ASU on Oct. 19.
Irish x 3: The Sun Devils travel to Arlington, Texas, to take on Notre Dame -- the first of three games between the Irish and Pac-12 teams. Notre Dame will host USC under the lights on Oct. 19 and then close out the season at Stanford on Nov. 30. The Sun Devils are trying to become the first team to beat USC and Notre Dame in consecutive weeks. It has happened only 13 times that a team has played USC and Notre Dame in back-to-back weeks.
Raids a'plenty: Washington State travels to Cal in a showdown of the Air Raid vs. the Bear Raid. Cal coach Sonny Dykes, of course, learned his offensive philosophies from working under Washington State coach Mike Leach at Texas Tech and was his GA at Kentucky.
Quarterback change? Cal, which has gone with true freshman Jared Goff as its signal-caller this season, released its depth chart this week with an "or" between Goff and redshirt freshman Zach Kline. Dykes said he felt Kline deserved to get some reps, and both quarterbacks took reps with the first team offense this week. Does it mean Goff is out? Not necessarily. Goff said he's fine with the competition -- despite averaging 329.2 yards per game. Goff was 3 of 6 for 11 yards and lost a pair of fumbles in unfavorable weather at Oregon. Kline stepped in, making his collegiate debut, and was 18 of 37 for 165 yards with a touchdown and an interception.
Arms race: Half of the Pac-12 quarterbacks rank in the top 25 of Total QBR heading into the week: Marcus Mariota (2), Kevin Hogan (5), Brett Hundley (11), Travis Wilson (16) and Keith Price (21) are all in action this week. Sean Mannion (22) is on bye. Four of those QBs are going head to head with Wilson and Hundley tonight and Hogan and Price on Saturday.
Catching on: Per the hard-working folks of Arizona State's media relations office, ASU's Jaelen Strong is off to one of the best starts of any ASU wide receiver in school history. Through his first four games, he has more catches and yards than any other receiver. So far he has 31 catches for 433 yards and two touchdowns. Lenzie Jackson and Jon Mistler had four touchdowns through their first four games, but Strong is way out in front in catches and yards. He faces a Notre Dame defense that gives up 364 yards per game.
Taking a breather: Arizona, Oregon State and USC are on a bye this week. The Trojans return to action for the first time without Lane Kiffin when they host Arizona next Thursday. Oregon State travels to Pullman to take on Washington State on Oct. 12.
November, 30, 2012
11/30/12
9:00
AM ET
Pretty straight forward this week. There is a championship game tonight and we make a case for each of the teams.
Ted Miller:
The easy answer for what Stanford needs to do to win the Pac-12 championship game over UCLA is to point at the Cardinal's 35-17 win last weekend and type, "You should do that again, Stanford. Only better."
To beat UCLA, Stanford needs to do what it typically does: Run the ball. Stop the run. Sack the opposing QB. Protect the football. Lots of
Stepfan Taylor
with a little
Zach Ertz
mixed in.
In last week's game, Stanford outrushed UCLA 221 yards to 73. Its star running back back, Taylor, eclipsed UCLA's star running back,
Johnathan Franklin
, 142 yards to 65, with Taylor averaging 7.1 yards on his 21 carries compared to Franklin's 3.1 on 21.
The Cardinal sacked UCLA QB
Brett Hundley
seven times. It won the turnover battle 2-1. It was Stanford by the book, just as coach David Shaw would script it up.
[+] Enlarge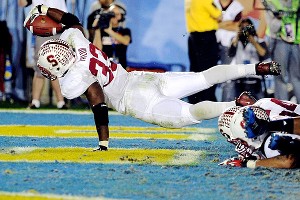 Jayne Kamin-Oncea/US PRESSWIREStanford's Stepfan Taylor rushed 20 times for 142 yards and two touchdowns against UCLA last week.
The question, however, is if nearly duplicating a game plan will work against a smart UCLA staff that -- I know Bruins fans don't like reading this but I suspect it's true -- probably held some stuff back last week.
I expect UCLA to be more creative and aggressive on both sides of the ball. I suspect you'll see Hundley run the ball a lot more. While Stanford's credo is to be itself, they also need to anticipate some specific scheme wrinkles from the Bruins.
Of course, you mute potential fanciness when you win the battle at the line of scrimmage, which Stanford did on both sides of the ball in Game 1. It was particularly noteworthy that the Cardinal wasn't forced to blitz much to get to Hundley. I wonder what Bruins offensive coordinator Noel Mazzone might do to counter the likelihood his young O-line won't be able to win the battle up front?
So Stanford essentially needs to show up with last week's game plan, but with a page two. Stanford needs to line up and be itself and see if UCLA wasn't itself last week. Stanford needs to anticipate potential counters and be ready to counterpunch if the Bruins application of those counters is successful.
But, really, Stanford should just do what it did last week. Only better.
Kevin Gemmell
: Any and all stories about UCLA and their chances of winning tonight have to start with the offensive line play. I'm not exactly breaking news here, but Hundley is going to get sacked. Franklin will take negative plays. That's the nature of playing against one of the best defenses in the country.
But seven sacks (as was the case last week) and nine tackles for a loss (as was the case last week) isn't going to cut it. Neither will 12 penalties for 135 yards. That's the good news for the Bruins heading into tonight's Pac-12 championship game. There is room for improvement -- in both the physical and the mental aspects of the game.
A lot of it is on the offensive line. But not all of it. Hundley needs to do a better job of recognizing where the pressure is coming from and getting rid of the ball quicker than he did last week. He's still a fantastic athlete, but he's still learning to be a complete quarterback -- that includes reading defenses. The Cardinal run a fairly sophisticated, NFL-style 3-4. And when Jason Tarver was the co-defensive coordinator last year, he installed a lot of different strands and stunts. And with their base defense and limited blitzing, they were still able to disrupt UCLA's offense. I'm sure Stanford defensive coordinator Derek Mason watched game film this week and in his best Mr. Burns voice, tapped his fingers together and cooed "exxxxcellent."
To counter this, I'd expect Mazzone to make Hundley more mobile this week -- more designed runs, sprint outs, a couple of boots, etc. Just enough to take some of the pressure off of the offensive line, back the Cardinal up a little bit, create some space for Franklin and buy Hundley a little more time.
I'd also expect a big game out of tight end
Joseph Fauria
. Just as the Zach Ertz/
Levine Toilolo
combo is a mismatch for the Cardinal offense, Fauria is Hundley's primary mismatch. He has more touchdowns than any FBS tight end (11) and Hundley is completing 75 percent of his throws with 11 touchdowns and zero picks when he targets a tight end.
And let's not forget whatever cosmic forces may be at work. Just consider the 2012 season: USC was No. 1; Oregon was unstoppable; Washington beat two Top 10s but lost to Washington State; Stanford was supposed to drop off; three of the four new coaches are going to the postseason and a sophomore from Arizona leads the nation in rushing. Apropos of nothing, but it would almost be a fitting bookend to this year if exactly what we all expect to happen -- Stanford winning -- doesn't.
November, 29, 2012
11/29/12
12:00
PM ET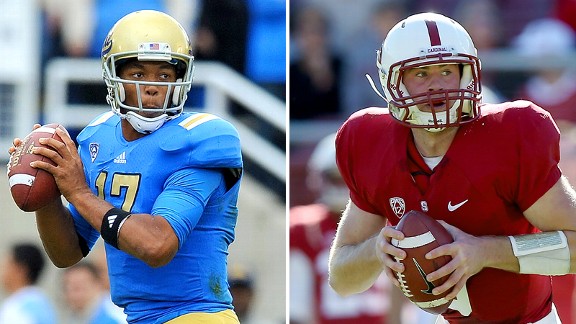 AP Photo, Getty ImagesRedshirt freshmen QBs Brett Hundley and Kevin Hogan have led their schools to the Pac-12 title game.
The most impressive aspect of the two quarterbacks starting in Friday night's Pac-12 championship game isn't that UCLA's
Brett Hundley
is completing 67.8 percent of his passes or that Stanford's
Kevin Hogan
is completing 73 percent. It's not their mobility, escape-ability or moxie to extend plays. All of those things are worthy of note. But it's their youth -- more specifically, their success despite that youth -- that has impressed.
Both redshirt freshmen have taken command of their respective teams -- Hundley from preseason camp and Hogan within the past month -- and guided them to the Pac-12 championship game with zero college playing experience prior to 2012.
This is an interesting trend within the conference, and even at a few schools nationally. Oregon's
Marcus Mariota
, Hogan, Hundley and ASU sophomore
Taylor Kelly
-- a first-year starter -- all have their teams headed to the postseason and are among the top quarterbacks in the league in efficiency.
"These guys are coming in ready," UCLA offensive coordinator Noel Mazzone said. "A lot of it has to do with the offenses they are playing in in high school. There are all the passing leagues. And the spread offenses usually allow good athletes to succeed quicker."
The similarities between Hogan and Hundley (sounds like a great buddy film) are actually quite striking, statistically or otherwise. Both are mobile athletes. Both have talented, veteran running backs to help shoulder the weight. Both have former NFL quarterbacks coaches directing them.
"Nothing seems to bother them," said Pac-12 Network analyst and former UCLA head coach Rick Neuheisel, who recruited Hundley. "I think what strikes me about Brett is how he handles all situations. There's no nervousness or trepidation. If he misses a pass, it's a one-clap and back to the huddle.
"Kevin Hogan is a very good athlete. Also a lot of maturity. And he's even more dangerous when he gets outside of the pocket."
In the month of November, Hundley has completed 70.9 percent of his throws for 1,044 yards with eight touchdowns and two interceptions. Hogan has completed 72.2 for 809 yards with seven touchdowns and three interceptions.
Of the aforementioned youngsters, Hogan is the only one in a pro-style offense, but it's his athleticism that helped him work his way onto the field before eventually overtaking
Josh Nunes
on the depth chart. Head coach David Shaw worked out a zone-read option package for Hogan, and the more time he got on the field, the better he looked in practice. Shaw eventually gave him the starting role.
Since getting his first extended playing time at Colorado , he has gone 3-0 as a starter, beaten three ranked teams, won at Autzen and won at the Rose Bowl. Freshmen aren't supposed to do that. They aren't supposed to win their first career road start in Eugene.
For the fourth consecutive week, he'll be starting against a top-25 program. In the Cardinal-Bruins Round 1 matchup -- which Stanford won 35-17 -- Hogan was an efficient 15-of-22 for 160 yards and a touchdown.
And the more work he gets, the more confident Shaw becomes.
"We don't have handcuffs on him anymore," Shaw said. "We can audible. We can change plays. We can give him the full complement.
"The last few weeks, he's been pretty much the same. Not perfect, but gosh, he's so instinctive. When to run, when not to run. When to slide in the pocket and let the ball go. When to throw it with touch and when to throw it hard. He's not playing like a redshirt freshmen. He's playing like a guy beyond his years. We've been able to put more audibles on his plate because he's handled those so well and adjusting the protection and running game checks. Those things have gone so well that we don't worry about what we give him. We've developed comfort in him. Whereas he's stayed the same. We just feel more and more comfortable giving him more as time goes on."
And Hundley has been the model of maturity. Media policies vary from school to school; UCLA players have breakout sessions with the media after games. At first, the horde storms Hundley with cameras in tow. Then the writers. Then the pack thins. And thins. And Hundley is usually the last to leave the media room -- making sure every question has been answered. I know this as fact because twice this season, he and I have closed up the media room.
"It's part of the job of being a quarterback and representing your team, but this is also who I am," Hundley said. "I was raised well. My parents did a great job. This is all a blessing. I'm so happy to be here and feel so blessed to be in the position that I'm in that you can't take any part of this for granted."
And now, here they both are, pushing their respective teams to within one game of the ultimate conference goal -- a date at the Granddaddy.
November, 28, 2012
11/28/12
10:15
AM ET
Stanford's defensive performance against Oregon on Nov. 17 was a thing of beauty.
In a 17-14 overtime victory, the Cardinal held the Ducks 157.6 yards below their season average, 127 yards below their season rushing average and, most important, 40.5 points below their season scoring average.
The Cardinal was disruptive. It didn't let Oregon's speed get around the edges. It controlled and filled gaps. It forced the zone-blocking Ducks' offensive line backwards. It tackled well, not allowing yards after contact or catch. It didn't let up for 60 minutes, as so many seemingly strong defensive performances against Oregon tend to. And when Oregon busted its one explosion play on the evening, backup safety
Devon Carrington
made sure it was a 77-yard
Marcus Mariota
run to the Stanford 15-yard line and not a 92-yard TD scamper that might have changed the game.
[+] Enlarge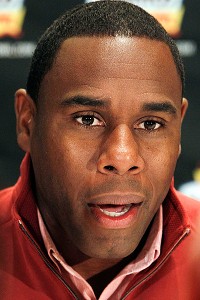 AP Photo/Ross D. FranklinStanford defensive coordinator Derek Mason is a finalist for the Broyles Award as the nation's top assistant coach.
The man behind that defense is Stanford coordinator Derek Mason, a finalist for the Broyles Award as the nation's top assistant coach, and a guy who's name is bouncing around as a budding head coaching candidate.
What was the secret to the Cardinal solving the Ducks?
"We worked extremely hard at making sure we were going to be who we were," Mason said.
That's not as simple as it sounds, particularly against the Ducks, but it's something the Stanford players cited after the game as well.
"We took a greater focus on ourselves this time," linebacker
Shayne Skov
said after the Oregon game. "We didn't try to make too many adaptations to our own system. We were going to do what we do."
Yet what Stanford does has changed through the years. Significantly.
In 2009 -- Jim Harbaugh's third season -- the Cardinal was a plodding unit that ran a 4-3 and gave up 27 points a game. Enter Vic Fangio, who installed a 3-4. That same year, Mason took over the Cardinal secondary.
When Harbaugh and Fangio bolted for the San Francisco 49ers, new coach David Shaw handed the defense to Mason, who shared coordinator duties in 2011 with Jason Tarver, who is now running the Oakland Raiders' defense.
Let's just say Stanford's defense now looks sort of like its own thing, Mason's thing.
Explained Mason, "It's sort of morphed into something that is a little more …" Mason didn't finish the thought -- he started talking about defending spread offenses -- but we will: Funky, unorthodox, flexible. And effective.
Stanford's defense is talented, particularly its front seven, where a handful of guys have a chance to play on Sundays. It's notoriously physical, certainly the Pac-12's most smashmouth unit. And it's sound and disciplined. It doesn't blow a lot of assignments. That's very Stanford-y.
Yet Mason also hasn't been afraid to show some "what the heck is that?" looks to an offense, looks that seem to befuddle even experienced quarterbacks such as USC's
Matt Barkley
.
The results is this: Stanford is No. 1 in the nation in run defense (71.3 yards per game), sacks (4.42 yards per game) and tackles for a loss (9.25 yards per game). It's also 11th in the nation in scoring defense (16.92 ppg), despite playing a number of the nation's best offenses, something that can't be said for a number of other highly rated defenses. It's eighth in third down defense (29.53 percent).
"It's a containment run defense predicated on making offenses left handed and earning the right to rush the passer," Mason said.
In other words, the Cardinal stops the run, sacks your quarterback and gets off the field.
That's what happened last weekend against UCLA in Stanford's 35-17 win. The Cardinal held the Bruins to 73 yards rushing and recorded seven sacks and nine tackles for a loss.
It was textbook Stanford, which has held eight of 12 opponents below 100 yards rushing this season.
Yet Mason isn't completely believing what he saw in Game 1 with the Bruins. He said he thinks Game 2 on Friday in the Pac-12 championship game will feature a lot more offensive wrinkles from UCLA coordinator Noel Mazzone.
"There are some things they didn't show," Mason said. "It was obvious. I see it as a totally different game."
Mason specifically cited the quarterback run. Redshirt freshman
Brett Hundley
has rushed for 282 yards and eight TDs this season. His legs are weapons, and the Bruins didn't showcase them last weekend.
While UCLA and Stanford's potential first Rose Bowl since after the 1999 season are the immediate motivations and goals, Mason is aware that his name is bouncing around as a potential head coach. While it's clearly a future goal, he doesn't seem to be in too much of a hurry to race out of Palo Alto in order to chase the first opportunity that comes his way.
"I'm so in love with what is happening here with our players," he said. "I truly believe I am where I'm supposed to be."
Mason seems to like things on the Farm, where he's been growing a West Coast defensive power.
November, 27, 2012
11/27/12
9:00
AM ET
Like every coach after a loss, UCLA's Jim Mora walked off the field of the Rose Bowl Saturday night wondering what he could have done differently. Rarely do coaches actually get the chance to put those lamentations into motion.
Just six days after the
Stanford Cardinal
downed the Bruins, the teams meet again Friday at Stanford Stadium where Mora & Co. will have an opportunity to correct the mistakes of the very-recent past.
"I suppose the fact that we are playing each other, as opposed to playing another opponent, helps both teams in their preparation because there is a knowledge base already in place of your current opponent," Mora said. "In terms of physical challenges, I think it's just making sure you get the right mixture of rest and work so that your players are sharp on Friday night. You have to alter things a little bit, but we don't want to step too far out of our routine."
Performance, however, must be altered. There is no magic mortar for penetrating Stanford's fortified front seven. Mora preached the obvious when talking about what his team needs to do different in Round 2. Protect the quarterback. Run the football. Stop the run.
[+] Enlarge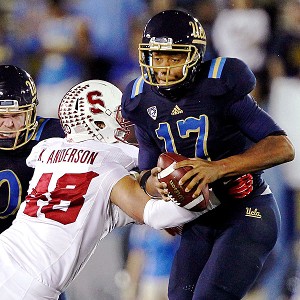 AP Photo/Alex GallardoBrett Hundley and the Bruins will have try to limit Stanford's pass rush in Saturday's rematch.
Sounds an awful lot like the philosophy of the team he's facing. Stanford is a team that plays the percentages as well as any team in the country. The offense is decidedly low-risk and they are content to pound away and wear down opponents on offense while taking the occasional, calculated risk downfield. And if it fails, they have no reservations unleashing one of the nation's top-rated defenses to get the ball back.
Saturday night, Mora saw first-hand what the Cardinal are capable of. They sacked quarterback
Brett Hundley
seven times and limited the Bruins to 334 yards of offense (73 on the ground). On five of UCLA's 14 offensive drives, they went three-and-out. On a sixth, Hundley threw a pick on the third play.
And then there are the self-inflicted wounds. Against the Cardinal, UCLA was flagged 12 times for 135 yards.
"It's hard enough to move the ball against a really good defense anyway, but you can't keep shooting yourself in the foot and think you can run up and down the field against a defense like that," said UCLA offensive coordinator Noel Mazzone. "We're such a rhythm offense. All offenses are rhythm, I suppose, but our tempo goes fast and we have a tendency to play better that way. Then you stop and start back and it's third-and-20. I've got no ideas."
Mazzone isn't talking in hyperbole, either. Look at the play-by-play stat sheet from the game and there are chunks that read like this:
1-10-UCLA 18. False Start.
1-15-UCLA 13, Hundley, Brett sacked.
2-20UCLA 8, Hundley, Brett sacked.
3-22 UCLA 6, Franklin, Johnathan rush for 9 yards.
4-13, UCLA 15, Punt.
It's a repetitive theme. And self-scouting the mistakes -- both mental or otherwise -- will be key in the rematch.
"They were probably doing the same thing," Mora said. "I don't know where you gain an advantage. I think really what it comes down to is the team that executes better and plays the hardest and makes the fewest mistakes will give itself the best chance to win ... Without giving away our game plan, I will say this. We certainly need to do a better job of protecting our quarterback. We gave up seven sacks against a really good front. Regardless of how good they are we have to do a better job there."
Whatever the adjustments, Stanford head coach David Shaw said he's expecting UCLA's best.
"To think that UCLA is going to come up here and roll over for us is completely wrong," Shaw said. "I'm no stranger to their head coach. I know him extremely well. He's a very competitive person and he's going to get his troops fired up and ready to come up here and take it to us so we have to prepare for their best shot and make sure they get our best shot."
November, 24, 2012
11/24/12
10:15
PM ET
PASADENA, Calif. -- The 24-hour rule is not in effect for Stanford or UCLA. Not even close.
"There are no 24-hour rules when you are playing for a championship," said Stanford linebacker
Trent Murphy
of the time coaches generally allow a team to savor or sulk following a win or loss.
And across the hallway in the other locker room…
"All we have to do is get better in six days. Plenty of time, right?" UCLA offensive coordinator Noel Mazzone asked, rhetorically, sarcastically.
They better. Because the
Stanford Cardinal
came into the Rose Bowl and sacked quarterback
Brett Hundley
seven times, held Doak Walker finalist
Johnathan Franklin
to just 65 yards on 21 carries and locked up the Pac-12 North Division with a
35-17 win
over the Bruins.
"Not this time, no 24 hours," said Hundley. "It's an after-the-game-rule. I'm already on to next Friday. There is no 24 hours. This loss, it is what it is, we'll get better from it."
The teams will meet again on Friday at Stanford Stadium for the Pac-12 title and a shot at the Rose Bowl on the line.
"It's going to be hard," said Stanford head coach David Shaw. "It's going to be 10 times harder than this game was … Beating Oregon last week didn't help us win this game. Winning this game is not going to help us win the next game. As I like to say, each game is its own lifetime. It's its own entity. Every game is different and you have to approach it that way."
If the Cardinal do what they did Saturday -- and to that point if UCLA does what it did – the Cardinal will be in a BCS game for the third straight season. Running back
Stepfan Taylor
rushed for 142 yards and a pair of touchdowns on 20 carries (7.1 average) and one of the nation's best defenses was stifling.
[+] Enlarge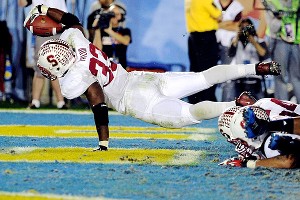 Jayne Kamin-Oncea/US PRESSWIREStanford's Stepfan Taylor rushed 20 times for 142 yards and two touchdowns against UCLA.
"This will be a tough night to sleep, if you do sleep," said UCLA defensive coordinator Lou Spanos, whose team surrendered 221 yards on the ground and three rushing touchdowns. "All you can do is start watching film and figuring out how to get better."
The Stanford defense, however, did what it does best. It pressured the quarterback, got penetration and tallied nine tackles for a loss -- two apiece from
A.J. Tarpley
and
Chase Thomas
, who also had a pair of sacks.
"Brett was under a lot of pressure tonight, so we have to do a better job of finding a way to protect Brett," said UCLA head coach Jim Mora. "I think that it's a combination -- pressuring with four and then they brought five and six. And sometimes we did not get open. Sometimes he didn't find the open guy. Sometimes they beat us. I think it was a combination of all those things."
Offensively, Taylor continued to roll for the Cardinal (10-2, 8-1) -- winners of six straight. It's the third straight game he's gone for more than 100 yards and the eighth time this season. He said if the Cardinal stick to what has worked for them all year -- power running behind their vicious defense -- they should be fine.
"We shouldn't make it difficult," he said. "We knew if we won this game what the situation would be. We have a mature enough team to understand the situation and that it's a quick turnaround. We need to get our bodies right and get back on film and watch this to be ready. They did some great things tonight. We have to study what they did and be able to make adjustments."
The home team showed flashes of why they are the South Division champs. But they also continued a disturbing trend -- excessive penalties. In the previous three games, the Bruins (9-3, 6-3) had committed 13 (Arizona), 12 (Washington State) and 12 (USC) penalties. Saturday they were flagged 12 times for 135 yards. Mora, Mazzone and Hundley all pointed to penalties when reviewing the stat sheet as a top concern.
"Yes, it's disappointing," Mora said. "But we have to get over it quickly because we have a game on Friday night."
One of the intriguing factors about the rematch is that it's a clean slate for both teams. Each will have the opportunity to self-scout tendencies, mistakes and tells. But at the same time, neither team is going to drastically change what got them to the conference championship.
"Both teams will probably have similar game plans, but it definitely helps to see the team you're playing in the following week," said Stanford defensive back
Usua Amanam
, who scored a touchdown after recovering a UCLA fumble off a kickoff -- a pivotal game-changing play midway through the third quarter. "You kind of know what to look for and you'll have a feel for them. But the same can be said for UCLA."
Stanford safety
Jordan Richards
, who nabbed Stanford's lone interception, said he's taking a moment to enjoy the win -- because without it the Cardinal wouldn't be playing next week. But a moment is long enough.
"Losing next week makes this game irrelevant," he said. "We're going to prepare to win like we did this week and try to dominate."
November, 21, 2012
11/21/12
12:00
PM ET
Jim Mora and Noel Mazzone like to talk about
Brett Hundley
and all of his "firsts" as UCLA's starting quarterback; the first time he led his team back from an early deficit; the first time he orchestrated a game-winning drive; the first time he bounced back after throwing a bone-headed interception.
In a season of firsts, Hundley is about to experience a few more.
First in the Pac-12 against the run; first in the Pac-12 in total defense; first in the Pac-12 in scoring defense; first in the nation in tackles for a loss. Those firsts belong to Stanford's defense. The Cardinal are only second nationally in sacks and rushing defense, so I guess Hundley catches a break there.
"And that's
after
playing Oregon," UCLA offensive coordinator Noel Mazzone said -- while probably shaking his head and rolling his eyes on the other end of the phone. "That puts a lot of pressure on him because they are great against the run and that's going to put pressure on him to make plays.
"As far as a group -- as seven guys -- it's the toughest we've seen. We've played some good fronts. But when Stanford brings in other guys, you don't notice. It seems like they just keep bringing guys in. As a group, it's his biggest challenge of the year."
[+] Enlarge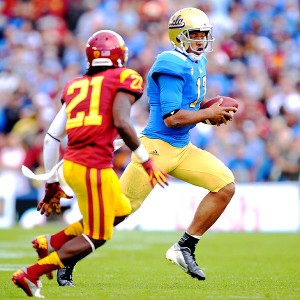 Cal Sport Media via AP ImagesStanford's rugged defense looks likely to test just how comfortable Brett Hundley is in UCLA's offense.
No doubt Hundley and the Bruins' offense will be tested by a Stanford unit that last week did what no other team in the country had been able to do in 2012: stop the Oregon offense. And as a result, the Cardinal find themselves in position to lock up the Pac-12 North Division on Saturday in Pasadena, Calif., and force a rematch with the Bruins six days later in the conference title game.
"Wow," UCLA coach Jim Mora said when asked about Stanford's defense. He followed it with a long, nervous laugh. "They are very physical. They play with tremendous technique. They play with their shoulders square. They are excellent at disengaging. And then I think probably the most impressive thing is the way they pursue the football. They really play hard."
You'd think he was talking about the '85 Chicago Bears. Well, Mazzone actually made that comparison, too. But UCLA isn't exactly a pushover on offense.
The Bruins, winners of five straight for the first time since 2005, are playing some of the best football in the conference. In his past four games, Hundley is completing 76 percent of his throws for 1,057 yards with 11 touchdowns to just two interceptions.
"I think he is getting better at hanging in there, keeping his eyes downfield versus the rush and reading through his progressions," Mora said. "I think he's also, in conjunction with that, he's also more comfortable in knowing when to run and knowing where his escape routes may be. I've always felt like he was poised -- although he's improving in all areas as he gets more experience -- I felt like he improved with timing and accuracy. He's continued to do that. But the thing I see the most is his pocket awareness."
Even though the Bruins have already locked up the South Division, there are still implications to this game. Should UCLA win and Oregon State beats the Ducks in the Civil War, the Bruins would host the conference title game with a shot at the Rose Bowl on the line. A UCLA loss means they are in Palo Alto next week in a rematch. A UCLA win coupled with an Oregon victory means they are in Eugene, Ore., for the conference championship.
And despite his team's potent defense, Stanford head coach David Shaw has his concerns about what Hundley can do.
"You see a guy in high school and you always wonder whether he'll be able to do in college what he does in high school," Shaw said. "He's one of those guys that you see in high school -- you say, 'Yeah,' he's going to be able to do it. He's big, he's strong, he's athletic. He's got a nice release. He throws an accurate ball. He gets out of trouble. He's a very, very good football player."
And for perspective on the maturity of the freshman quarterback, check with his tight end,
Joseph Fauria
.
"Is he a freshman? I forgot," Fauria said tongue-in-cheek following Saturday's win over USC that locked up the South Division for the Bruins. "He seems like he's 28 years old out there the way he owns the huddle. The way he owns the backfield. The look in his eyes. The drive. The leadership. The qualities that an elite quarterback has, he has. It's awesome to be playing with him and catching the rock from him."
November, 21, 2012
11/21/12
10:15
AM ET
A few storylines to keep an eye on in the Pac-12 this weekend:
1. All eyes on the North, via the South:
Stanford and Oregon both have a shot to still win the North Division, though it's Stanford that is in the advantageous position of controlling its own destiny. The Cardinal can lock up the division with a win or an Oregon loss. Stanford will host the Pac-12 championship game against the Bruins if they win. Oregon will win the division and host the championship game if they win and Stanford loses. UCLA will host Stanford if it wins and Oregon loses.
2. Civil War:
Plenty at stake in this game -- including Oregon's chances of playing for a national championship. The Ducks need some help to get back into one of two spots that could get them in the BCS Championship Game. But winning is a priority. The same can be said for the Beavers, who aren't out of the hunt for an at-large berth in a BCS game. If they are able to beat the Ducks, then they'd be in the top 14 and would be BCS eligible -- should a BCS game find them attractive. No promises, but it's better to be in the conversation than on the outside looking in.
3. About them Bruins:
They are riding a five-game winning streak and are 3-0 against Top 25 teams. The offense continues to improve behind the play of quarterback
Brett Hundley
and running back
Johnathan Franklin
-- recently named a Doak Walker Award finalist for the nation's top running back. Interestingly enough, this will be the second straight week Stanford has faced a Doak finalist, after going head-to-head with Oregon's
Kenjon Barner
last week. When asked about his first impressions of Stanford's defensive front, UCLA offensive coordinator Noel Mazzone said: "The '81 Bears. Or the '85 Bears. Whichever Bears team was really, really good."
4. About them Bruins II:
I get what fans are saying about UCLA maybe playing conservative against Stanford -- not trying to lose -- but maybe keeping it closer to the vest anticipating a rematch with the Cardinal rather than having to face the Ducks in the conference title game. Even Ted made a little wink-wink, nudge-nudge at the idea in his prediction this morning. I'll say this -- it's bollocks. (I'd prefer to use stronger language, but decorum prohibits me. And yes, that was a nod to "Animal House.") Jim Mora won't coach his team to play less than 100 percent. He won't even hint at it. Anyone who has spent five minutes with the man (and I can assure you I've spent more than that) will tell you that's not how he operates. I think he wants to play Oregon. I think he wants to go through Autzen to win the conference championship and the Rose Bowl and cast an icy stare at everyone who questioned his hiring. I think he wants to tell recruits on the fence between Oregon, USC and UCLA that he stomped the Trojans and went into Autzen and took away the conference title from the Ducks. That's not to say UCLA can or will, but I expect the Bruins to come out with guns blazing in trying to win this game. Anything less would be cowardice. And you don't get to 9-2 and win your division by being cowardly. Any UCLA fan hoping for less than their team's total effort Saturday should be embarrassed.
5. Conference rivalries:
The Cups, Apple and Territorial, have two very different feels this year. In Pullman, Wash., the Huskies, trending up and looking to end the regular season with eight wins, are in a much better place than the host Cougars. Washington State is still looking for its first conference win under new coach Mike Leach. In the desert, two new head coaches are getting their first tastes of the rivalry, and both already have their teams headed to the postseason in their first years. There are obviously bragging rights and recruiting implications that go along with this game. They have matching conference records (4-4), while Arizona is 7-4 overall to ASU's 6-5. You can nit-pick about who got the better hire. But I'd like to think we can agree on the fact that both teams got the best coaches for their schools and both have so far turned out to be great hires.
6. Nonconference:
Say this for
Max Wittek
,
the kid has got confidence
. Nothing wrong with a little moxie before your first start. USC head coach Lane Kiffin said he expects quarterback
Matt Barkley
to return in time for a bowl game. Until then, it will be Wittek leading the Trojans against No. 1 Notre Dame. Six times the Trojans have knocked off an undefeated Notre Dame team -- twice when they were ranked No. 1. So there is a precedent. Oregon fans, now might be a good time to learn the words to "Fight On."
7. Budding rivalry?
During the Pac-12 media day back in August -- which seemed like a lifetime ago -- media types were asking Utah and Colorado players about their rivalry. The players all sort of shrugged. One game, a rivalry does not make. It takes years of passion, glorious victories and gut-wrenching defeats. Ask the Utes how good that win over BYU felt this year. That doesn't mean one can't develop between these two teams over time. Colorado fired the first shot in the battle of conference newcomers last season. Neither team is headed to a bowl game, but a win in the finale would ease some of the pain -- even slightly -- of what has been a bummer of a season for both squads.
8. Post-Tedford, Day 1:
California athletic director Sandy Barbour said the school has hired a search firm to help with selecting a new coach. She added that they have already received a great deal of interest since the news broke Monday morning. She also said they received a great deal of interest before Jeff Tedford was officially fired -- which she said they did not entertain. Obviously, making the right hire is critical. With the improved facilities (courtesy of the departed Tedford) Cal is a fairly attractive spot in one of the best conferences in college football. They'll get a jump on the hiring with the Bears' season already over, so I wouldn't expect a long, drawn-out search process.
June, 6, 2012
6/06/12
9:00
AM ET
Last week we brought you our predictions for the
Pac-12's 3,000-yard passers in 2012
. And judging from the comments, it seems like at least 10 quarterbacks are going to hit the 3K mark.
Are folks just as optimistic about the running backs reaching 1,000 yards?
First, let's take a look at last year's 1K rushers:
LaMichael James, Oregon, 1,805
John White, Utah, 1,519 (returning)
Chris Polk, Washington, 1,488
Stepfan Taylor, Stanford, 1,330 (returning)
Isi Sofele, Cal, 1,322 (returning)
Cameron Marshall, Arizona State, 1,050 (returning)
Curtis McNeal, USC, 1,005 (returning)
So that's five of the seven coming back. Let's break it down by team.
[+] Enlarge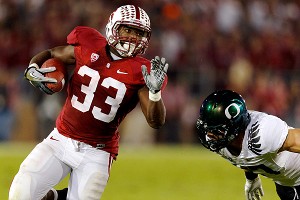 Jason O. Watson/US PRESSWIREStanford RB Stepfan Taylor is seeking his third straight 1,000-yard rushing season.
Stepfan Taylor, Stanford:
The Cardinal have a committee approach, but even so, Taylor has gone over 1,000 yards in back-to-back years. The loss of guard David DeCastro hurts a bit, but the Cardinal are dedicated to the run and Taylor is a fantastic back. Shouldn't have any trouble three-peating.
Ka'Deem Carey, Arizona
: The Wildcats ran the ball the second fewest of any Pac-12 team last season (331 attempts), but Carey still managed 425 yards on 91 carries. Arizona will run the ball significantly more under Rich Rodriguez -- who usually has one of the top rushing offenses in the nation. His running backs had more success at West Virginia than at Michigan, where QB
Denard Robinson
sucked up most of the yards. Carey will be close and it might come down to whether Arizona plays a 13th game.
Cameron Marshall, Arizona State
: He did it in a pass-first system on an injured ankle. Now he's in a run-first system and healthy. Do the math. Marshall should flourish in a downhill system. The Sun Devils have deep group behind him -- maybe the deepest in the conference -- but I can't imagine anyone cutting into his carries too deeply that it hinders his ability to get back to 1K.
Isi Sofele, Cal
: There are mumblings that Cal might move to more of a committee approach and Sofele might not get the same number of carries as last year (252). Even so, he'll still probably be chairman of that committee and will have ample opportunity to reach 1,000 yards again. He'll get there.
Tony Jones, Colorado
: The Buffs' offensive line might be their strongest offensive asset with standouts like tackle
David Bakhtiari
and center
Gus Handler
. That bodes well for Jones, who showed he can be very explosive backing up Rodney Stewart last year. But the Buffs spent a lot of time playing catch-up last season and couldn't commit to the run as much as Jon Embree probably would have liked (401 attempts). If they can't develop a downfield threat, Jones is going to see a lot of eight-in-the-box.
Kenjon Barner, Oregon
: He was knocking on the door last year with 939 -- and that was behind LaMichael James and his 1,805 yards. Barner will see more carries than his 152 last season, though he'll still have to split carries with
De'Anthony Thomas
and the Ducks' new quarterback. Still, no one in the conference runs the ball more than Oregon so Barner shouldn't have any trouble getting there.
Committee, Oregon State
: We know Oregon State wants to run the ball more. The Beavers were dead last in the conference last season in attempts (318) and rushing yards (1,043) and there are still issues on the offensive line that need to be sorted out. Several players are expected to contribute -- but chances are one individual won't get over 1,000 yards.
Johnathan Franklin, UCLA
: The new system at UCLA will be pass-oriented. But Franklin (976 yards last year) won't be completely ignored. Just look at Marshall's numbers from ASU when Noel Mazzone was running the show and you can see that running backs are still a big part of the attack. And the Bruins might run a little more until the new quarterback finds his way in the system. He'll be close.
Curtis McNeal, USC
: He just cracked the club by five yards last season. This year he'll have the benefit of a 13th -- maybe even a 14th -- game to get there. Can't imagine many teams will stack the box and dare
Matt Barkley
to beat them with his arm. McNeal should clear 1K easily.
John White, Utah
: No back carried the ball more in the conference and only three players in FBS football had more rushing attempts. There's no reason to think the Utes won't take that same approach. White is an explosive back who is a proven workhorse. If Utah can get the passing game going, it will open up more for White who could probably match his yards total with fewer carries.
Committee, Washington
: Chris Polk was a special running back -- the kind of guy who could run for speed and run for power. He's gone and there are questions on the offensive line where there weren't last year.
Jesse Callier
and
Bishop Sankey
will probably headline the committee and Washington's balanced approach (52-48 run-pass ratio last year) will allow for plenty of opportunities for both. They should easily combine, but unless one steps up as an 18-20 carry-per-game back, it's unlikely an individual will reach 1K.
Committee, Washington State
: The pie for carries is already small considering the offense. Then you have
Rickey Galvin
(1A),
Carl Winston
(1B) and
Marcus Mason
(1C) cutting into the pie even more to nibble on whatever slices are left. Running backs in Mike Leach's world are better used in the passing game on swings and screens in this offense. So don't expect a 1K rusher.
May, 30, 2012
5/30/12
9:00
AM ET
Taking a cue from the guys at the Big Ten blog, who recently
looked at the potential 3,000-yard passers
in that conference in 2012, I thought it would be worth a look at the Pac-12 group.
For the B1g boys, 3,000 yards might seem like a bench mark. In the Pac-12, it's more common, given the brand of football played in the league and seemingly never-ending parade of amazing throwers and catchers who grace the Pac-12 each year. Heck, the conference had two 4,000-yard passers on 2011 in Nick Foles and Brock Osweiler.
But those two are gone -- and so are their head coaches, coordinators and offensive schemes.
Here are the members of the 3K club last season:
Foles, Arizona, 4,329
Osweiler, Arizona State, 4,036
Matt Barkley, USC, 3,528 (returning)
Andrew Luck, Stanford, 3,517
Sean Mannion, Oregon State, 3,328 (returning)
Keith Price, Washington, 3,063 (returning)
[+] Enlarge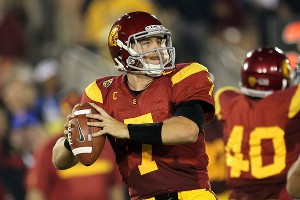 Stephen Dunn/Getty ImagesUSC's Matt Barkley seems like a sure bet to throw for 3,000-plus yards this coming season.
Now let's look at the conference quarterbacks in 2012 and see who has the best chance of cracking the 3K mark.
Matt Scott, Arizona
: Rich Rodriguez's spread option is primarily run-first, and I couldn't find a 3,000-yard passer to his credit as a head coach. The closest anyone got was
Denard Robinson,
who hit 2,570 in 2010. History says probably not.
TBD, Arizona State
: Another up-tempo, run-first offense -- though Todd Graham has had more success in the air. G.J. Kinne hit 3,650 passing yards for Tulsa in 2010, but that was also his second year in the system. With a workhorse running back like
Cameron Marshall
, a deep running back corps and a green quarterback, 3K seems unlikely.
Zach Maynard, Cal
: Just 10 more yards. Just one more little swing pass or one broken tackle and Maynard would have joined the 3K club after throwing for 2,990 yards last season. All indications are that he had a good spring, and he looks more comfortable in the offense. Plus, he's got one of the best receivers in the country in
Keenan Allen
. Maynard should get there.
TBD, Colorado
: Tyler Hansen ( who is now gone) almost got there last season, throwing for 2,883 yards even though his leading receiver in catches was running back Rodney Stewart (who is now gone). Toney Clemons (who is now gone) led in yards, and
Paul Richardson
(who is out for the season with a knee injury) was second. The odds are slim that
Connor Wood
or
Nick Hirschman
will improve off Hansen's numbers with so much turnover.
TBD, Oregon
: Does it really matter?
Darron Thomas
knocked on the door last season with 2,761 yards. But establishing the pass isn't exactly priority No. 1 for the Ducks. Whoever wins the job will have the benefit of
De'Anthony Thomas
, who can turn 5-yard passes into 50-yard completions. But with the Ducks carrying a 62-38 run-pass percentage last season, it's unlikely they'll stray from that formula, which means it's unlikely a new quarterback will reach 3K.
Sean Mannion, Oregon State
: One of six quarterbacks in the conference last season to break 3K, Mannion threw for 3,328 yards in his debut campaign. Vows from coach Mike Riley to re-commit to the running game should actually enhance Mannion's numbers. And with receivers like
Markus Wheaton
and
Brandin Cooks
on the outside, there is no reason to think he won't top 3,000 again.
TBD, Stanford
: Despite a run-first, pro-style attack, Luck still threw for 3,517 yards. The Cardinal were 55-45 in their run-pass ratio last season, and a lot of Luck's aerial success came from his ability to successfully sell play-action and distribute the ball among many position groups. But the top three receivers (Griff Whalen, Chris Owusu and tight end Coby Fleener) are gone, and you can't bank on the new quarterback being as efficient as Luck. Expect a healthy dose of running back
Stepfan Taylor
, meaning Luck's replacement probably won't break 3K.
TBD, UCLA
: The Bruins joined Utah last season as the only teams that did not have a passer ranked in the top 10 in passing yards in the conference. That will change this season with new offensive coordinator Noel Mazzone -- the architect of Osweiler's 4K season. The ball will be in the air a lot more than it was in the pistol offense. But seeing as there is so much uncertainty still -- and we could see multiple quarterbacks this season -- it's too tough to call. If one guy starts the entire season, I could see it.
Matt Barkley, USC
: Yes, yes, 3,000 times, yes.
Jordan Wynn, Utah
: I'd say it's 50-50 for Wynn at this point. The Utes have a very good running back in
John White
, and coach Kyle Whittingham likes the control game. But Wynn did toss 2,334 yards in 2010 in 10 games. If
DeVonte Christopher
has the big season many are predicting, and new offensive coordinator Brian Johnson dials up the aggressiveness, I could see it happening. As always, unfortunately, every conversation regarding Wynn has to be stipulated with an "if he stays healthy" until he proves otherwise.
Keith Price, Washington
: Had it not been for a career-high 438 passing yards against Baylor in the Alamo Bowl, Price would have come up way short of the 3K club. But he's in. And without Chris Polk to lean on, we could see Price's passing numbers go up. Prior to the bowl game, he only had one 300-yard game. He has a good chance to repeat as a 3,000-yard passer, but it's not a lock.
Jeff Tuel, Washington State
: Mike Leach hasn't named him the starter, but, come on. He lit it up in the spring, and showed to be a quick study in learning the new offense. With a deep and talented crop of wide receivers -- headlined by
Marquess Wilson
-- and an offense that throws three out of every four times, Tuel should easily clear 3K.
Stanford Lands No. 4 QB-PP K.J. Costello
PAC-12 SCOREBOARD
Thursday, 9/3
Friday, 9/4
Saturday, 9/5