Stanford Football:

Noor Davis
February, 12, 2014
Feb 12
9:00
AM ET
The countdown of Stanford's top-5 position groups with room to improve continues.
[+] Enlarge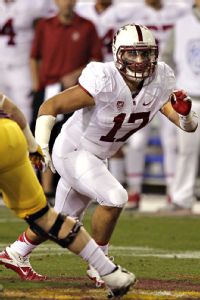 AP Photo/Rick ScuteriLosing Shayne Skov and Trent Murphy will hurt Stanford, but A.J. Tarpley provides the Cardinal with a solid linebacker foundation.
One position group will be highlighted each day this week.
No. 3:
Linebacker
Must replace:
Trent Murphy
,
Shayne Skov
,
Jarek Lancaster
Returning starters:
A.J. Tarpley
,
James Vaughters
Players to watch:
Kevin Anderson
,
Joe Hemschoot
,
Blake Martinez
,
Noor Davis
Outlook:
Replacing two of the best linebackers in school history in Murphy and Skov obviously won't be easy. Throw in Lancaster, who led the team in tackles in 2011, and there's a lot of departing talent. Tarpley flirted with the idea of heading to the NFL before deciding to return for his fifth year, and Vaughters will be counted on heavily to have a big senior season. With Skov's departure, it wouldn't be a surprise if the Cardinal moved Vaughters back to inside linebacker, where he started to the 2012 season before he was beaten out by Tarpley. Anderson will likely enter camp penciled in as a starter after seeing a lot of playing time on the outside in 2013. He came up with a pick-six in the Rose Bowl and the coaching staff has spoken highly of him -- dating back to his redshirt season in 2011. Martinez was mostly a special teams player as a true freshman in 2013 and will compete at inside linebacker. An intriguing player to keep an eye on is Davis, who was the
No. 2-ranked outside linebacker
in the Class of 2012.
The countdown
No. 4:
Defensive line
No. 5:
Wide receiver
August, 24, 2012
8/24/12
11:00
AM ET
Our countdown of the Pac-12's top 25 players in 2012 continues.
Most of this looks back, but, of course, there also is a good dose of projecting forward. A lot of good players, as it happens every year, won't make the preseason list. It is in their hands to make the postseason list.
You can review our
2011 postseason top 25 here
.

6. Chase Thomas, LB, Stanford
2011 numbers
: Posted 52 tackles (33 solo) including a conference best 17.5 tackles for a loss. He also had 8.5 sacks, four quarterback hits and was second in the conference in forced fumbles.
2011 postseason ranking
:
No. 5
Making the case for Thomas
: It's time to break the stranglehold wide receivers have had on this list for the past three days and look to defense. Thomas is the best outside linebacker in the conference and many would argue in the country. He opted to return for another season to improve his consistency and up his draft status. And both should see significant improvement. Last year Stanford's run defense was tops in the conference, allowing less than 85 yards per game and it was the only team to hold opponents to an average of less than 100 yards per contest. Thomas was a big reason for that number. Expect him to be even better this year with the return of
Shayne Skov
at inside linebacker. When Skov went down, defenses were keying in on Thomas, which makes his production last year that much more impressive. With six of last year's front seven returning -- plus the return of Skov and young playmakers like
James Vaughters
and
Noor Davis
-- Thomas headlines a run-stopping unit that should once again challenge for best in the conference.
No. 7
: Marquess Wilson, WR, Washington State
No. 8
: Keenan Allen, WR, California
No. 9
: Marqise Lee, WR, USC
No. 10
: T.J. McDonald, S, USC
No. 11
: Dion Jordan, OLB/DE, Oregon
No. 12
: Stepfan Taylor, RB, Stanford
No. 13
: Kenjon Barner, RB, Oregon
No. 13
: Kenjon Barner, RB, Oregon
No 14
: Nickell Robey, CB, USC
No. 15
: John White IV, RB, Utah
No. 16
: John Boyett, S, Oregon
No. 17
: Jordan Poyer, CB, Oregon State
No. 18
: Khaled Holmes, C, USC
No. 19
: Cameron Marshall, RB, Arizona State
No. 20
: Dion Bailey, LB, USC
No. 21
: Shayne Skov, LB, Stanford
No. 22
: Curtis McNeal, RB, USC
No. 23
: Austin Seferian-Jenkins, TE, Washington
No. 24
: Isi Sofele, RB, California
No. 25
: Jeff Tuel, QB, Washington State
July, 2, 2012
7/02/12
9:00
AM ET
Not sure if anyone caught this in Ted Miller's Pac-12 lunch links last week, but it's worth taking a look at.
Mighty Hank, a friend of the Stanford blog who does a great job with
Go Mighty Card
, projected a
potential depth chart for Stanford in 2014
-- the first year college football will have its four-team playoff system.

Here's his projections:
Quarterback: Brett Nottingham, RS Sr.
Running backs: Kelsey Young, Sr.; Barry J. Sanders, Jr.; Remound Wright, Sr.
Wide receivers: Ty Montgomery, Sr.; Kodi Whitfield, Jr.; Francis Owusu, So.
Offensive line: Andrus Peat, Jr; Josh Garnett, Jr.; Kyle Murphy, Jr.; Nick Davidson, Jr.; Graham Shuler, Jr.
Defensive line: Aziz Shittu, Jr.; Jordan Watkins, Jr.; Luke Kaumatule, Jr.
Linebackers: AJ Tarpley, RS Sr.; James Vaughters, Sr.; Noor Davis, Jr.
Defensive backs: Wayne Lyons, RS Sr.; Alex Carter, Jr.; Zach Hoffpauir, Jr.
As Hank points out, there really is no way to fully project what the team is going to look like two seasons from now. But here is my first thought: nasty!
Owusu is the only player mentioned from the 2013 class. It will be interesting to see where players like QB Ryan Burns, ILB Isaac Savaiinaea and OLB Doug Randolph factor in.
A little more from Hank:
With the experience of a three-year starter at quarterback in Nottingham, a possible Heisman candidate in Sanders, and the best offensive line in the country, the offense promises to be dominant. Defensively, the front seven will have the strength to stifle the best running backs the Pac-12 has to offer, even if Vaughters has already made the leap to the NFL, and the defensive backfield will be skilled enough to do more than just keep up. All three levels of the defense could be at or near the top of the conference.
The offensive line is what stands out most to me. It's one thing to project what kind of impact Peat or Murphy could make in the 2012 season -- where the Cardinal are still trying to plug a couple of holes on the line. It's another to imagine them -- with a couple of years experience -- starting alongside other big-time recruits from the 2012 class. This group won't all come up together, but will likely see some spot starts along the way.
Then you put Sanders behind them and you have a powerful, explosive running game that is the envy of every B1G program. And if some of the 2013 guys are as advertised, the defense will be SEC worthy.
Of course, when you look at the recruiting classes USC and Oregon have brought in the last two years and the projected 2013 classes of the Trojans, Ducks and Washington, it's clear that this won't exactly be an easy road for the Cardinal. Expect the Pac-12 to ultra-competitive in 2014 with Stanford right in the mix.
June, 11, 2012
6/11/12
6:00
AM ET
Every team has a strength -- that one position group that can make a play on offense or make a big stop on defense when needed.
Based on what happened this spring, we're going to look at the strongest position group for each school. It could be on either side of the ball -- and it could be subject to change after fall camp goes into full swing.
We're going in reverse alphabetical order.

Stanford
Strongest position group
: Linebackers
Headliner
:
Chase Thomas
(52 tackles, 17.5 tackles for a loss, 8.5 sacks).
Supporting cast
:
Jarek Lancaster
(70/7/3.5);
Trent Murphy
(40/10/6.5); A.J. Tarpley (57/4/1.5); Shayne Skov (19/5/1.5); James Vaughters (11/4/1).
The skinny
: Thomas' decision to return to Stanford for another season is going to be a good one -- for him and for the Cardinal. Mel Kiper rates him as
the top returning senior outside linebacker

in college football and another strong season will surely up his draft stock. He's a perfect fit for what the Cardinal want to do in their 3-4 scheme, a first-team All-Pac-12 performer and one of the most dangerous defensive players in the league. With a talented cast around him, look for an even bigger, more consistent season out of arguably the league's best pass rusher.
And speaking of his supporting cast, there is no better 1-2 punch in the league at OLB than Thomas and Murphy -- a sure tackler who tied for sixth in the conference last year in sacks and quietly excels opposite Thomas.
The Cardinal have a fortunate log-jam at the two inside linebacker positions -- where Jarek Lancaster and A.J. Tarpley emerged as replacements for the injured Skov and both ended up as starters. Lancaster -- who led the team in tackles last season -- and Tarpley improved significantly as the year progressed.
Then you factor in Skov -- a potential first-round draft pick -- who returns from his knee injury after just playing in two and a half games last year. He'll likely take one of the two starting spots (assuming he's 100 percent healthy and head coach David Shaw has said he's on track), and Vaughters is expected to be unleashed this season after being used primarily as pass rusher last year.
The position group also gets a big bump with Noor Davis coming in the fall, who could also make an immediate impact and adds depth to the OLBs.
February, 2, 2012
2/02/12
9:00
AM ET
Stanford head coach David Shaw has a lot to smile about after hauling in a top-15 recruiting class on Wednesday.
With six ESPNU 150 players
-- including three of the top offensive linemen in the country and athletic playmakers on both sides of the ball -- Shaw said his team fills much-needed holes and adds depth at other spots.
Here's part one of a Q&A with the second-year head coach.
What are your first impressions of this group?
David Shaw
: This group has what we're looking for. We wanted to address the offensive line and make sure we had some more playmakers at the wide receiver position. We were going to take a running back if he was a difference-maker. That's what Barry (Sanders) is. Defensively, to be able to come in with the defensive line we've put together in this class, I think is a credit to our coaches and our coaching style and our scheme that these guys are excited to come play for us. Then to get a couple of the top defensive backs at the safety and corner position in the nation is really exciting.
So the offensive line was a target position this year? It didn't just work out that way. You guys were going after linemen all the way?
DS
: No question. We hadn't gotten enough in the last couple of years. As well as we've played, we haven't been deep. Thankfully for our strength and conditioning program, our guys have stayed pretty healthy so we haven't had to play down to our younger guys. We needed depth, especially with two guys leaving early for the draft. We needed guys to come in and compete right away and I think we've brought some guys in that can do that.
Coach (Mike) Sanford tweeted after Andrus Peat announced: "Our staff reaction was priceless!" What does priceless mean and what was the reaction?
DS
: It's something you don't feel in the NFL. You draft a guy and you know he's there and you draft him and you get excited. But to sit there waiting and not knowing for sure. Having a good feeling, but not knowing for sure that he was coming to us. Then the announcement was made and we saw the hat. Guys were jumping up and down and pumping fists and high fiving. It was pretty loud. I think it was heard pretty much around the building. Not too much longer, we had the same reaction when
Kyle Murphy
did his announcement. We jumped up and down and high fived and guys were yelling. It's been a special, special day for us because these guys are our type of guys. They aren't prima donnas that want to come in on a silver platter. The guys we've been recruiting, they want to come in and work and earn what we give them.
How exciting will it be to see these offensive linemen grow together?
DS
: It's going to be exciting. Anytime you start with a player that does the things you can't teach -- size and athletic ability and flexibility and nastiness -- that's when it's really fun as a coach because now you are teaching the finer points of the game. The techniques and the calls. You're not trying to make up for something ability wise the player doesn't have. This group is really exciting. I think they are humble and they are hungry. The guys on our team are going to welcome them in as true competitors and teammates. It will be a fun group to work with.
You talked about having "that feeling," how confident were you leading up to the Barry Sanders announcement?
DS
: Very. I think when Barry came to campus for the first time, I think it opened his eyes. I think he saw a place -- like so many guys on our team and committed to us -- the first time on campus it hit them that this is a place they are looking for. It hit them that there is a place out there that is first in academics but doesn't slight in the football category. That's what Barry saw. Barry Sanders is a famous individual. And to be able to sit down and have lunch with Andrew Luck, who is also a famous individual, for people to recognize him, but not bother him -- you're sitting in a place where there are a lot of people that are famous in their own rights in what they do and are really good at what they do. There is an environment that is very comforting to a guy like that who does have some fame and some notoriety to be around people that are just like him.
Noor Davis committed early and was so outspoken in support of the program to other recruits -- how much does it help when you have a guy who is going to sell the program for you and hasn't even signed his letter yet?
DS
: I think every program in the nation always has one or two of those guys who commit early and is determined to help build the class. Noor has a lot nicknames around here for us. My favorite one is "The Senator." We're talking about a big kid who is imposing physically and extremely intelligent and very well-spoken, very thoughtful in every word that he says, but also very convincing. When you have a guy like that that can be talking to other recruits, he's an example of what we're looking for. Much like Andrew Luck before him and guys we have now that can talk to other recruits and give them an example of what a Stanford man is.
January, 27, 2012
1/27/12
9:00
AM ET
As you'd expect, things are picking up with national signing day just around the corner. A lot has happened in the past few days.
First, there was the commitment of offensive lineman Josh Garnett. If you haven't heard, scroll down a couple of inches.
There was also the de-commitment of
Jontrey Tillman
,
who spoke with Mike Coppage of scout.com
about failing to gain admission.
I was crushed about it. Because that's where I really wanted to be: at Stanford. He ([Stanford coach Lance] Anderson) told me good luck and said he would try to find out more about it.
I was overwhelmed. At first, I didn't want to go play basketball -- I had a game that night -- and I didn't want to play. My plan was to stay in the house but Coach Antoine came and got me out of the house. I'm glad he did, because my teammates helped me feel better - even though they didn't know what was going on at the time.
Per the article, Tillman might not declare next week and instead weigh his options. That's probably the smart move. He obviously had his heart set on Stanford so no need to make rash decisions about the future when your head isn't completely right. He still has offers from New Mexico, Memphis, SMU and Southern Miss.
With a reported 4.0 grade point average, he's obviously a bright young man and the Cardinal coaching staff saw enough in the two-star athelte to make him an offer which leads me to believe he'll land on his feet.
On the lighter side, the folks at RecruitingNation
rolled the dice and made their predictions
on where the remaining five- and four-star prospects would end up.
If you believe Greg Biggins, Jamie Newberg and Damon Sayles, offensive tackle
Andrus Peat
, ranked N0. 9 in the ESPNU 150, is headed to Stanford.
Five of seven recruiting analysts have offensive tackle
Kyle Murphy
(No. 27) picking Stanford over USC.
On the defensive line, four of the seven analysts have
Aziz Shittu
picking Stanford over USC and Cal.
Also, if you missed this on the Pac-12 blog Thursday, Stanford was rated as
one of the top five out-of-state recruiting schools
in a study conducted by RecruitingNation and LaRue Cook of ESPN The Magazine.
Writes Cook:

The Cardinal just can't compete with USC and UCLA for California's top talent, signing only two of the state's 73 ESPNU 150 recruits from 2007-11. But when Jim Harbaugh landed [Andrew] Luck, it proved that top prospects will travel to Palo Alto. After Harbaugh left for the 49ers, new head coach David Shaw convinced 2011's No. 2 ILB James Vaughters (Tucker, Ga.) to stick with Stanford, and the Cardinal currently have three out-of-state ESPNU 150 preps committed for 2012, including top-25 overall prospect OLB Noor Davis (Leesburg, Fla.).
The Cardinal had players from 27 different states on the roster this past season.
January, 26, 2012
1/26/12
9:00
AM ET
Has there ever been a 3-8 defense? Three linemen, eight linebackers?
"Uh, I don't think so," laughed Stanford linebacker
Jarek Lancaster
. "But who knows. I'm sure the coaches will find a way to figure it out. There are far too many talented guys to just leave them on the bench."

It's the proverbial great problem for Stanford to have — too many good players for only four linebacker spots.
All four of Stanford's starting linebackers return next season — Lancaster and
A.J. Tarpley
on the inside and
Trent Murphy
and
Chase Thomas
on the outside. Not to mention that two of the three starting defensive linemen —
Ben Gardner
and
Terrence Stephens
— are also back.
Then, you factor in that
Shayne Skov
will be returning from a knee injury,
Joe Hemschoot
picked up good playing time,
James Vaughters
is chomping at the bit and incoming freshman Noor Davis — the No. 1 outside linebacker recruit in the nation — may fight for snaps.
Co-defensive coordinator Jason Tarver said the key to rotating so many players is making sure the snaps they get are about quality, not quantity.
"We'll use them for what they do well," Tarver said. "We're excited about the depth and they are good young men. There are also a lot of young guys out there who are excited about playing and taking the baton and taking what we started to another level."
The unit obviously got a huge boost when Thomas opted to return to Stanford for his senior year. After going through the NFL projections, he decided his NFL future would still be too hazy to leave early.
"It was probably the hardest decision I've ever had to make,"
Thomas told the San Francisco Chronicle
. "Each day I woke up and I'd be changing my mind ... I just had to go with my gut instinct."
ESPN's Mel Kiper Jr. projects Thomas to be the
No. 1 senior outside linebacker in the country
next season.
Chase Thomas had a chance to crack the second round, but in going back to Palo Alto for another year, I think he has the chance to improve his stock a bit.
The biggest question mark will be Skov -- who went down with a season-ending knee injury in the third game of the season. He was the team's leading tackler and probably would have left for the NFL had he stayed healthy. Kiper rates him as the No. 3 senior inside linebacker.
Skov is an interesting prospect, and if he's fully healthy the Stanford defense is going to be quite good.
While head coach David Shaw's expertise is on the offensive side of the ball, he knows his linebacker cup runneth over with talent. And it's not something he can ignore.
"We'll find a way to get them all involved. We have to," Shaw said. "With Ben and Terrence Stephens, A.J. and Lancaster — the experience those guys got this year — and Shayne hopefully coming back to form and both outside linebackers, it's an exciting group when you look at it on paper."
Shaw Looking For Consistency
PAC-12 SCOREBOARD
Thursday, 8/28
Friday, 8/29
Saturday, 8/30