Stanford Football:

Pete Carroll
February, 27, 2014
Feb 27
2:30
PM ET
If that's true, if you don't know who I am, then maybe your best course ... would be to tread lightly.
February, 7, 2014
Feb 7
5:30
PM ET
Welcome to the mailbag, the best gateway to Friday happy hour.
Follow the Pac-12 blog on Twitter
. We keep typing that because it's for your own good.
To the notes.

Ben from Los Angeles writes:
Ted, I agree that parity has changed the Pac-12. The differences are negligible among the top recruiting schools. I think it's unlikely that the differences will account for the conference champion. When Pete Carroll coached at USC, it had a big talent advantage almost every week. No more, and I'm not sure it will return. USC couldn't fill 19 slots with top-150 players, so how will six more slots deliver superiority? Practice players, but not superiority. All the schools have money, all the CA schools are good schools (UW, too); the coaching has spiked. Who wants to be third team when you can start at another good school, with a good coach?
Ted Miller
: The Pac-12 has reached a perhaps unprecedented state of quality depth, but parity probably isn't the right word. The last time a team other than Oregon or Stanford won the Pac-12/10 was USC in 2008, which at that time was riding a streak of six consecutive conference titles.
(Washington State fans: Which was the last team to win the conference not named USC, Oregon or Stanford? Anyone? Anyone?)
But I understand your general point, which concerns USC returning to the dominance of the Pete Carroll Era. Yet even there I don't completely agree.
Simple question: If Nick Saban were named USC's coach tomorrow, what would be the over-under for national titles over the next 10 years? Five? The potential for another USC dynasty is there, and it would be easier to build one at USC than any other Pac-12 school.
While the Pac-12 is unquestionably deeper than it has traditionally been, I do not think that guarantees that USC, the conference's biggest national brand, can't again become, at the very least, first among equals -- see Alabama in the SEC.
It certainly won't be easy, in large part because the conference has upgraded its coaching quality across the board. But the Trojans' late run in recruiting under Steve Sarkisian suggests the USC brand retains allure among young athletes, and not only in Southern California. UCLA coach Jim Mora said as much in an
interview with Bruce Feldman of CBS Sports
.
"We're still fighting the years and years of great teams that Southern Cal had," Mora said. "A lot of these kids in the area grew up watching Reggie Bush and the other greats. What we're trying to do is turn the tide as quickly as we can, but sometimes it's a little slower than you want, but it all starts with winning the game. I am so excited with the local kids that we signed."
(Notice how he said "Southern Cal." USC folks don't like to be called that, so much so that it's noted in the football media guide and weekly game notes).
How much difference would it have made for USC to have a full array of 25 scholarships, which it will next February? I think a lot -- as in top-five class a lot.
Sarkisian and his staff are relentless and enthusiastic recruiters. They have a chance to perennially sign classes that are in the battle for best in the nation, just like Carroll.
Of course, it's the job of the other 11 Pac-12 coaches, starting with Mora, to make sure that doesn't happen.
And, by the way, there's also the larger question of whether Sark and his staff can coach those Trojans players up as well as Carroll and his staff, which included Sarkisian, once did.
---

Josh from Lake Stevens, Wash., writes:
Big IF here, but if
Cyler Miles
is
suspended or dismissed
, who is more likely to take over for him,
Jeff Lindquist
,
Troy Williams
(my vote) or
KJ Carta-Samuels
?
Ted Miller
: I have no idea. No one does. New year. New coaching staff. New offense. And none of those guys has any significant experience.
Lindquist, a rising sophomore, would have a slight advantage just by being the most senior guy. I have heard good things about Williams. I think Carta-Samuels, an incoming freshman, would be a huge long shot.
But this is pure speculation. For one, we should wait and see how the investigation plays out. If I were a betting man, I'd wager Miles doesn't get kicked off the team.
---

Peter from Calgary, Alberta writes:
Stanford has been a run-first, power running football team for a number of years now. They've lost 80 percent of their starting offensive line and don't have a proven running back going into the 2014 season. Discuss.
Ted Miller
: Stanford loses RB
Tyler Gaffney
and four outstanding offensive linemen, but Stanford won't lose its identity in 2014. The Cardinal offense will be a run-first, smashmouth team.
For one, I expect LT
Andrus Peat
, a rising true junior, to develop into an All-American next year. So QB
Kevin Hogan
's blind side should be well-covered. Further, the offensive line won't be as inexperienced as it appears because the Cardinal's "jumbo" packages have allowed guys such as guards
Josh Garnett
and
Johnny Caspers
and OT
Kyle Murphy
to get plenty of experience the past two seasons.
There might be some growing pains, but this will be a good line. If it stays healthy, it probably will be as good as any Pac-12 line by season's end.
As for running back, that's more a question mark.
Remound Wright
,
Ricky Seale
and
Barry Sanders
all have skills, but none of them had more than 20 carries last year. Heck, incoming freshman
Christian McCaffrey
might even get into the mix.
Still, even with Hogan and all his receivers coming back, I don't think you'll see the Cardinal throw the ball 40 times a game. They might throw more, but David Shaw isn't going to abandon a style that has paved the way for consecutive Pac-12 titles.
---

Gerald from Atlanta writes:
SEC fan here. You might remember me. I am the SEC fan from Norcross, Ga., who has been harassing you for years on this SEC/Pac-10/Pac-12 debate. Watching this Super Bowl, I have no choice but to eat crow and recant. I was wrong. You West Coast guys were right. Pete Carroll is an outstanding coach and would have massacred any SEC team during their run, even one led by Nick Saban or Urban Meyer. It took a loaded Mack Brown (who I still say was somewhat underrated as a coach) Texas team led by Vince Young (whose NFL failure was due to a head coach and fan base in Nashville who didn't want him, long story) to just barely eke by Carroll and USC, and now I see why. So I apologize, mea culpa, sorry that USC was treated unfairly by the BCS, glad that the BCS is ending, so on and so forth. P.S. Go
Auburn Tigers
. And 2010 was awesome no matter what the rest of the country thinks. At the very least it was revenge for 2004.
Ted Miller
: Someone needs to go down to hell and see if it's frozen over. Oh, never mind -- I'll just call Nick Saban and ask.
Kidding!
This might not mean much to many of you, but Gerald has been a longtime Pac-12 blog and mailbag gadfly. Not sure what to make of this note.
Perhaps someone has stolen his mailbag handle and the real Gerald will read this and his head will explode.
Perhaps Gerald has joined a 12-step program for trolling.
Perhaps Gerald had a good weekend in Vegas, which included taking the Seahawks in the Super Bowl.
Perhaps he's just trying to soften us up before launching a counterattack to our unguarded flank.
Or perhaps this will start a trend, and all of the Pac-12's blog myriad and often profane critics will suddenly see the error of their ways and profess only love for your kindly Pac-12 insiders.
Wait. That would be incredibly boring. Let's not let that happen.
March, 14, 2013
3/14/13
10:00
AM ET
If someone had asked me before spring practices began who California's starting quarterback would be in 2013, I would have quickly said with my all-knowing look: "
Zach Kline
."
If that someone had gently protested with a "But what about..." I would have interrupted with another all-knowing look, "No. It will be Zach Kline."
Unfortunately, that would have been the same all-knowing look I gave while asserting USC's national championship prospects before the 2012 season. It might be wise for me to mothball that all-knowing look, and I just want to add that my wife and children owe Lane Kiffin and the 2012 Trojans an eternal debt of gratitude.
[+] Enlarge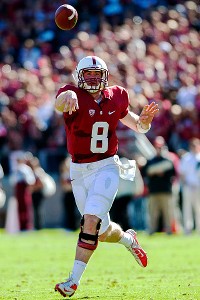 Ed Szczepanski/US PresswireThe success of young QB's like Stanford's Kevin Hogan is no longer a rarity in college football.
Kline might well end up the Bears' starting quarterback, but that's not what this is about. It's about Cal's quarterback battle looking like it's going to be
a showdown between
Kline, a redshirt freshman, and true freshman
Jared Goff
, who opted to graduate early from high school, skip all the riotous things high school seniors do during their final spring frolic and begin the serious business of Pac-12 football.
A redshirt freshman is the "veteran." A true freshman is the challenger.
There are two notable things about the Conference of Quarterbacks this spring: 1. There's an impressive crew of talented and already accomplished ones returning; 2. Youth now rules a position where that very quality was nearly a disqualifying negative not too long ago.
California is not the only school that might tap a true freshman. Arizona has Anu Solomon coming in this fall, and the look on both coach Rich Rodriguez's and co-offensive coordinator Rod Smith's faces when talking about him suggest his candidacy is legitimate.
"If the kid is good enough and he can handle it," Smith said." Some kids transition better than others. Anu is a kid who was a four-year starter in high school. That doesn't mean anything for college, but at least he's been in the mode when he's the new kid on the block competing with older kids and he performed well. He was 56-4 as a starter. The kid is a winner. He knows how to move the football and win."
That is not too far from the case Pete Carroll made in 2008 when he opted to go with true freshman
Matt Barkley
, only Carroll went all Pete Carroll-y and made Barkley into
some metaphysical quarterbacking beast
, citing Malcolm Gladwell and labeling Barkley an "outlier."
Still, that was a precursor to the new reality.
A redshirt freshman, Texas A&M's
Johnny "Football" Manziel
, won the Heisman Trophy, and a redshirt freshman, Oregon's
Marcus Mariota
, was first-team All-Pac-12, over seniors Barkley and Arizona's
Matt Scott
. Stanford's season transformed when it handed its offense to redshirt freshman
Kevin Hogan
. Utah started a true freshman,
Travis Wilson
, a few games into the season. Redshirt freshman
Brett Hundley
led a UCLA resurgence.
Further, USC again has a early arriving true freshman who is a legitimate candidate to win the starting job in Max Browe. More than a few folks believe the front-runner to win the job at Colorado is redshirt freshman
Shane Dillon
.
We might not be at the end of 2013's youth movement. While Washington and Washington State both welcome back veteran quarterbacks in
Keith Price
and
Connor Halliday
, there is a sense they both could be threatened by, yes, true and redshirt freshmen challengers.
The only Pac-12 teams certain to start upperclassmen at quarterback: Arizona State with junior
Taylor Kelly
, and Oregon State with junior
Sean Mannion
or senior
Cody Vaz
.
This youth movement doesn't include a sacrifice of quality and high-prospects. It's not primarily about a failure of the older guys. Does any conference offer a better array of returning quarterbacks than Mariota, Kelly, Hundley and Hogan? The answer is no.
There are many explanations for this youth movement. First of all, quarterbacks are better prepared in high school. They get private coaching, go to summer camps, play 7-on-7 in the offseason, etc. In high school, they don't just show up in August for two-a-days and draw plays in the dirt anymore.
Further, a player's recognition of and respect for the natural pecking order has been reduced, as has patience. If a touted guy loses out in a quarterback competition, he seems more likely to transfer now in search of playing time. A couple of coaches also have told me it's more difficult to recruit the position when a team has an entrenched, underclass starter. That then means the junior and sophomore quarterbacks on the roster might not be as good as the younger players who sign only when the starter is a junior or senior.
Or the job will be vacant, as is the case with Browne at USC.
Yet just because a guy starts as a freshman doesn't mean the death of the upperclassman quarterback. In fact, it should in most cases increase its likelihood of occurring.
The logic is simple: If a guy is good enough to start as a freshman and plays well, then you can project forward two or three years of improvement and future success. The most important position on the field is locked down and secure and worry-free. A good thing.
It doesn't always work out like that -- see Price at Washington this past season. Or the Barkley of 2011 versus the lesser version in 2012.
That noted, it's not unreasonable to hold high hopes. Know that just about every Oregon fan has projected improvement for Mariota over the next two years, though he could enter the NFL draft as a third-year player after this season. Even moderate improvement sets him up as an All-American and Heisman Trophy candidate. Same could be said for Hogan, Hundley and Kelly, by the way.
The youth movement at quarterback is a substantial shift in thinking. An experienced, veteran quarterback used to be the first preseason measure of a team. Now all a team needs to be highly esteemed is a returning starter, even if that's just a sophomore.
It's getting to the point, in fact, that youth at quarterback will be weighted less as a potential problem by prognosticators.
At least, it's possible that the next time someone frets a lack of experience at quarterback being a problem, I'll resurrect my all-knowing look and say, "No, it's not!"
June, 20, 2012
6/20/12
9:00
AM ET
Over on the Big 12 blog, David Ubben decided to go through all the teams in the conference and see how they've done against the Top 25 since 2008.
That sounded like a ton of fun, so here's a look at the Pac-12 results. For seasoning, I added a best/worst category against Top 25 teams, which is very subjective and, as always, open to debate.
Since 2008 the Pac-12 is 52-105 against Top 25 teams. Utah and Colorado records prior to 2011 are not factored in, but we'll still look at them in the team-by-team breakdown.
Oregon carries the flag for the conference with a robust .705 winning percentage while Washington State has a Blutarsky.
Here's how the entire conference shapes up:

Oregon
Record vs. Top 25
: 12-5 (.705)
Best win
: The Stanford victories in consecutive years put the Cardinal back in their place (and last year, signified the clear leader in the North), but the 45-38 win over No. 10 Wisconsin in the Rose Bowl last year was a breakthrough for the program. It put an end to the "can they win the big one" questions and was critical for the legitimacy of the league. Oregon to the rest of the conference: You're welcome.
Toughest loss
: The Boise State loss in 2009 was a stinger. But anytime you lose in the National Championship game to the No. 1 team -- and the way it went down in those obscure final two minutes -- it's tough. That loss brought about some of the questions the Ducks were able to answer with the Rose Bowl win.

USC
Record vs. Top 25
: 9-5 (.642)
Best win
: The 35-3 win over Ohio State in 2008 stands out. But the victory at No. 4 Oregon last year bloodies the water for this year's much-anticipated showdown.
Worst loss
: Also from last year, the triple-overtime loss to No. 6 Stanford shouldn't have ended the way it did. Maybe Stanford still would have won -- but that game was too epic to end on a fumble.

Stanford
Record vs. Top
25: 7-6 (.538)
Best win
: The '09 win over Oregon stands out because the Ducks were a Top 10 team on a seven-game winning streak. Toby Gerhart ran wild -- picking up 223 yards and three scores. It was really Stanford's declaration that they'd arrived in the conference under Jim Harbaugh.
Worst loss
: Many will think it's the Fiesta Bowl last year because the wound is still fresh and the manner in which it went down. But losing the Big Game 34-28 to No. 25 Cal in 2009 -- especially after notching back-to-back wins over Oregon and No. 9 USC -- is simply deflating. If the Oregon game was a declaration of arrival, the Cal game was a reminder of how deep the conference can be.

Utah
Record vs. Top 25
: 4-5 (.444)
Best win
: The 2008 Sugar Bowl. Big, bad 'Bama gets bounced by a tiny little non-AQ, leaving most West of the Mississippi with a great-big smile.
Worst loss
: An overtime loss hurts. An overtime loss to a rival hurts more. An overtime loss when the opposing quarterback
gives you a verbal smack down
following the loss is just brutal. The 2009 Holy War loss to No. 19 BYU will always sting.

Arizona
Record vs. Top 25
: 4-10 (.285)
Best win
: Willie Tuitama was simply prolific in carving up No. 16 BYU in the 2008 Las Vegas Bowl, throwing for 325 yards, two touchdowns and running for another in a 31-21 win. It was Arizona's first bowl win in a decade.
Worst loss
: The double-overtime loss to Oregon in 2009 was tough, but the 33-0 beat down by No. 22 Nebraska in the Holiday Bowl that same year was a real stinker.

Oregon State
Record vs. Top 25
: 5-15 (.250)
Best win
: Jacquizz Rodgers busted out 186 yards and two touchdowns on the ground in a 27-21 stunner of No. 1 USC in 2008. Doesn't get much sweeter than an unranked knocking off a No. 1. Though the 3-0 win over No. 20 Pitt. in the 2008 Sun Bowl gets a tip of the cap simply for the novelty.
Worst loss
: The Beavers were shutout 38-0 by No. 6 Stanford in '10. That came a week after a 36-7 win over No. 20 USC. Talk about highs and lows.

Washington
Record vs. Top 25
: 5-15 (.250)
Best win
: Because of the record the previous year and because it was Steve Sarkisian against Pete Carroll, the 16-13 stunner over No. 3 USC in 2009 is one worth re-living over and over if you're a Washington fan.
Erik Folk
was so clutch.
Worst loss
: Anything from 2008 will do.

UCLA
Record vs. Top 25
: 4-12 (.250)
Best win
: Maybe No. 7 Texas was looking ahead to the showdown with Oklahoma. Oh well, don't turn the ball over four times in the first 30 minutes. Great performance from
Johnathan Franklin
in the 34-12 win in 2010.
Worst loss
: Toss up between the 35-0 loss to No. 25 Stanford at home in 2010 or the 59-0 loss to No. 18 BYU in 2008. Both were brutal -- but the BYU one probably stung more since the Bruins had clipped No. 18 Tennessee in overtime just 12 days earlier in the season opener.

Cal
Record vs. Top 25
: 3-10 (.230)
Best win
: What's bad for the Cardinal is generally good for the Bears. The 2009 Big Game win at No. 17 Stanford was extra tasty -- especially when a late Andrew Luck interception in the red zone sealed the deal. Shane Vereen was on fire with 193 yards on the ground and three touchdowns.
Worst loss
: The No. 6 Cardinal reclaimed the axe the following year with a 48-14 thrashing in Berkeley.
Stepfan Taylor
produced three touchdowns and Luck produced a Stanford fan's dream highlight with his forearm deflection of Sean Cattouse.

Arizona State
Record vs. Top 25
: 3-11 (.214)
Best win
: The USC and Missouri wins last year were pretty big, but there is nothing sweeter than beating a rival, in double-overtime, on the road, when they are ranked and you aren't. That was the case in 2010 with a 30-29 win over No. 23 Arizona. James Brooks will always be remembered for blocking an extra point near the end of regulation to force overtime. And then blocking a second extra point -- seriously -- to lock up the win. As bizarre as it was magnificent for the Sun Devils.
Worst loss
: The loss to No. 7 Boise State in the Las Vegas Bowl last year was completely uninspired and capped a horrific end to the season. The Sun Devils went into a tailspin and Todd Graham has to pull them out.

Colorado
Record vs. Top 25
: 2-12
Best win
: In his first career start in 2009, Tyler Hansen threw for 175 yards, a touchdown and ran for another to spark an upset win over No. 17 Kansas. That was Colorado's last win against a Top 25 team. The Buffs are 0-7 since.
Worst loss
: Back in the day before they joined the Pac-12, Colorado had a little rivalry with a midwest school named Nebraska. The No. 15 Cornhuskers sent Colorado into the Pac-12 with an ugly 45-17 loss in 2010.

Washington State
Record vs. Top 25
: 0-12
Best win
: You have to think the streak ends under Mike Leach -- and sooner rather than later.
Worst loss
: Tragically, there are so many choices. But we'll go with the 69-0 to No. 6 USC in 2008 because at the time, WSU was riding the nation's second-longest streak without being shutout (280 games). That came to an end in a very embarrassing fashion. While Mark Sanchez threw for five touchdowns, the Cougars managed just 116 yards of total offense.
October, 20, 2011
10/20/11
9:00
AM ET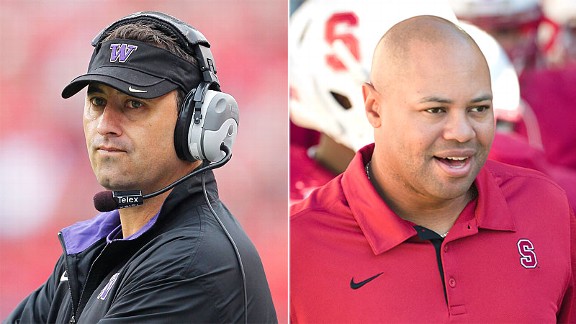 Getty ImagesWashington coach Steve Sarkisian, left, and Stanford's David Shaw both bring a physical brand of football into Saturday night's matchup.
Football folks often talk about a team being "physical." Or playing "physically." Yet those are general terms that don't tell us much, other than suggesting a team can run the ball and stop the run because it's solid up front.
You, of course, want specifics. What does it really mean?
"What's your deal?" That's what it means.
Harken back to the scene of beleaguered former USC coach Pete Carroll -- Carroll beleaguered! -- sharing an unhappy handshake in 2009 with former Stanford coach Jim Harbaugh, who had just aggressively run up the score on the Trojans in a 55-21 win. That was physical football writ loud and large and in your face with no apologies. The Cardinal rushed for 325 yards -- 178 yards and three touchdowns from Toby Gerhart -- and scored four fourth-quarter touchdowns. And on the third one, Harbaugh had opted to go for two.
"What's your deal?" Carroll asked Harbaugh.
His deal, Pete, was physical football, which is about a team mercilessly imposing its will at the expense of its opponent. New Stanford coach David Shaw was the Cardinal's offensive coordinator that day when USC's homecoming was ruined by its worst home loss since 1966, a beatdown that required only 144 passing yards from
Andrew Luck
.
Stanford is always called "physical" these days, and Shaw immediately cited the 2009 USC bludgeoning as his favorite example of that well-deserved reputation.
"It was 55 to whatever and we probably ran the same play 12 or 13 times in a row," he said. "And about 25-30 times in the game."
That play was Gerhart up the middle.
Washington also knows about Stanford playing physical football. The 25th-ranked Huskies visit No. 8 Stanford on Saturday with a 41-0 beatdown delivered in Seattle last year still fresh in their collective noggins. Stanford, which led 28-0 with 8 1/2 minutes left in the second quarter, outgained Washington 470 yards to 107, the lowest total for the Huskies under coach Steve Sarkisian.
"They just out-physicaled us," Washington linebacker Cort Dennison said. "Just beat us down. Plain and simple."
Harbaugh shared that take, gleefully gloating to his players afterward in the locker room, according to Bud Withers of
the Seattle Times
:
"Dominating!" Harbaugh hooted at his players. "We kicked their ass every which way! One hell of a job on both sides of the line! Dominant, dominant!"

Then Harbaugh referenced Pete Carroll, Lane Kiffin, Steve Sarkisian and the UW head coach's defensive coordinator, Nick Holt, and said, "What are you guys, 5-1, 6-1 against that group [in his four-year tenure]? That's the highest-paid coaching staff around!"
No one wants to hear that sort of talk from an opponent. But what could the Huskies say in return?
"You want to bring it to them, but they're bringing it to us," Dennison said. "It was hard."
Thing about that game, though, is the Huskies haven't been the same since. Sure, they got ripped the next week at Oregon, with some obscure quarterback named
Keith Price
recording his first career start for an injured Jake Locker. But they are 9-1 since the Oregon game, and clearly playing more physical football.
How did Stanford build a physical football team?
"It's really pretty simple," Shaw said. "You have really, really physical practices and the cream rises to the top. The guys who are physical and tough by nature, they stand out. And the guys that aren't, they start to wilt."
How did Washington take the same course?
"I think you have to practice it and you have to coach to it," Sarkisian said. "It has to be talked to and you have to give living examples of it. And you have to play the game that way, and I think you need to call the game that way. We've tried to dedicate ourselves to that."
And the Stanford game was a turning point, in large part because Sarkisian decided it would be, even if that didn't go over well with some of his players at the time. That included a fairly embarrassing film session showing guys getting pushed around. That included more hitting -- and yelling -- in practices.
"The coaches after that week definitely tested our will as a team," Dennison said. "But we didn't ever want to see that happen again. It was pretty embarrassing. We took it to heart."
It appears that is true. Stanford ranks third in the Pac-12 in rushing offense (181.7 yards per game). Washington ranks fourth (173.7 ypg). Stanford ranks first -- and second in the nation -- in run defense (59.5 ypg). Washington ranks third -- 17th in the nation -- (97 ypg).
Of course, being physical doesn't mean you don't throw the ball; these teams have combined for 40 touchdown passes -- it just means balance creates efficiency: Stanford is No. 1 and Washington No. 2 in the conference in passing efficiency.
Further, Washington isn't there yet. It's improved on both lines but it's not yet grading roads like the Stanford does. It starts in recruiting with an emphasis on linemen. Sarkisian surely looks enviously at the Cardinal's line, which includes guard David DeCastro, who is not only the nation's best run-blocker, but also a product of Bellevue (Wash.) High School, which is a short drive from Husky Stadium.
It just so happens that the two most talked about recruits in the state of Washington this year are a pair of offensive linemen:
Joshua Garnett
and
Zach Banner
. Both have offers from just about everyone, and Sarkisian needs to sign at least one. If he gets both, well, that would be quite a deal.
But that's the future. The present is the Huskies trying to win a "hello, world" game at Stanford, and the Cardinal trying to record a quality win that boosts its national-title contender Q-rating among those ranking teams in the national polls.
Both coaches will talk about turnovers and mistakes and execution and all of that. But the first question for the Huskies is if they can match Stanford's physical play.
Said Sarkisian: "They've done a nice job of that and they've dedicated themselves to being a physical football team. I think we have as well. We'll find out how far away we are on Saturday."
Pac-12 Weekend Wrap: Sept. 16