Stanford Football:

Randall Telfer
February, 28, 2014
Feb 28
7:00
PM ET
Our look at position groups in the Pac-12 continues.
Arizona:
Terrence Miller
was listed on the team's depth chart as a tight end, but he wasn't a traditional tight end. After catching 40 passes for 467 yards in 2013, he's out of eligibility. Former quarterback
Josh Kern
backed up Miller and is one of four tight ends listed on the roster.
Arizona State:
Chris Coyle
(29 catches, 423 yards, 4 TD) is a big loss for the Sun Devils and his primary backup,
Darwin Rogers
, also is out of eligibility.
De'Marieya Nelson
and
Marcus Washington
are the most experienced of the four tight ends on the roster, which will grow by one with the addition of recent signee
Brendan Landman
. Landman is expected to redshirt after playing left tackle during his senior year in high school.
California:
There is no tight end position in Cal's offense, which was a factor in
Richard Rodgers
' early jump to the NFL. Rodgers was switched from tight end to wide receiver last season upon coach Sonny Dykes' arrival.
Colorado:
Senior
Kyle Slavin
is atop the depth chart after catching nine passes in 2013.
Sean Irwin
played minimally as a freshman, but his role is set to increase. Three other tight ends are on the roster, including
Connor Center
, who did not play football in high school.
[+] Enlarge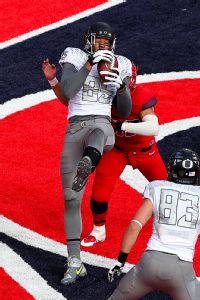 Christian Petersen/Getty ImagesOregon's Pharoah Brown made 10 catches, two for touchdowns, in 2013.
Oregon:
The Ducks have a trio of players who gained significant experience in 2013 in
Pharaoh Brown
,
Johnny Mundt
and
Evan Baylis
. Brown started five games, Mundt had a 121-yard receiving game and Baylis started in the Civil War game against Oregon State.
Koa Ka'ai
and
Davaysia Hagger
will provide depth, but they don't appear on track to make much of an impact on the depth chart.
Oregon State:
With
Connor Hamlett
and
Caleb Smith
both returning, the Beavers arguably have the best tight end tandem in the conference. Hamlett had 40 catches for 364 yards and Smith added 25 for 343 yards.
Kellen Clute
(19 catches, 159 yards) also contributed to the passing game and
Tyler Perry
, who will be a fifth-year senior, is an important run-blocker.
Stanford:
A one-time strength of the Cardinal, tight ends weren't a significant factor in Stanford's offense in 2013, but the staff is hopeful that an influx of new players will change that. Stanford signed No. 1-ranked TE-Y
Dalton Schultz
, and he'll compete for playing time immediately.
Greg Taboada
,
Eric Cotton
and
Austin Hooper
-- all well-regarded tight end recruits -- are coming off redshirts and will compete with
Charlie Hopkins
, who started three games last season.
UCLA:
There is no traditional tight end at UCLA, but Y receiver
Thomas Duarte
, who was recruited as a tight end, is coming off an exceptional freshman season. The 6-foot-3, 221-pound Orange County native appeared in all 13 games and tied a school freshman record with three touchdown receptions.
USC:
Losing
Xavier Grimble
early to the NFL is a blow and just two other scholarship tight ends remain from last season:
Randall Telfer
and
Jalen Cope-Fitzpatrick
. One of the nation's top tight ends,
Bryce Dixon
, signed with USC, but he wasn't among the group of four early enrollees.
Utah:
The Utes were the only school in the country to send two tight ends --
Jake Murphy
and
Anthony Denham
-- to the NFL combine, though Utah listed Denham at receiver.
Siale Fakailoatonga
, a former walk-on, was Murphy's primary backup on the final depth chart, and he caught two passes for 18 yards in 2013.
Harrison Handley
redshirted last season after enrolling early last spring and is a candidate to compete for playing time.
Washington:
John Mackey Award winner
Austin Seferian-Jenkins
' departure for the NFL was expected, and how the Huskies replace him will be an interesting process. Clearly, there's not a one-man solution for what they'll lose with Seferian-Jenkins, but the combination that the returning players provide is a nice mix of different talents.
Michael Hartvigson
and
Josh Perkins
have the most experience at tight end, but they should receive a push from
Darrell Daniels
and
David Ajamu
. Daniels, a highly-regarded receiver recruit who switched to tight end, was a special-teams standout in 2013 as a freshman, while Ajamu redshirted.
Washington State:
Washington State didn't list any tight ends on the roster last season, but early enrollee
Nick Begg
will start his career listed there. The long-term plan for Begg is likely elsewhere.
Previous positions
Quarterback
Running back
Receiver
Offensive line
September, 14, 2012
9/14/12
12:00
PM ET
Pretty straight forward this week. The first Pac-12 Conference game features two ranked teams with a fun recent history. Make your case:
Ted Miller:
Stanford has two chief keys against USC on Saturday. It must run the ball well. And it must contain USC's passing attack. The reason the Trojans are going to win this football game -- and end a three-game losing streak in the series -- is Stanford won't be able to do either consistently.
Against San Jose State and Duke, the Cardinal averaged 3.7 yards per rush. I know this is a risky thing to type, but you guys know I'm not afraid to write bold things: USC's defense has more talent than San Jose State and Duke. No, really.
[+] Enlarge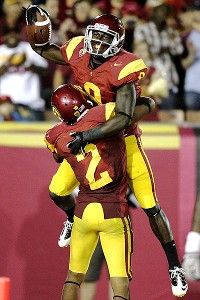 Shelly Castellano/Icon SMIMarqise Lee and Robert Woods (2) are as good a receiving tandem as Stanford coach David Shaw says he's seen.
If Stanford's offensive line can't get a push against San Jose State and Duke, it will not do so against the Trojans. Which means new starting quarterback
Josh Nunes
will be forced to throw into a very good secondary, one that already has four interceptions.
Nunes throwing a lot is what USC wants. Stanford is still lacking at receiver, so the Trojans' back half will have a significant athletic advantage. And it doesn't hurt that Nunes and not old what's-his-name will be delivering the ball.
Speaking of athleticism at receiver ... hey, USC!
Robert Woods
and
Marqise Lee
. And tight ends
Xavier Grimble
and
Randall Telfer
. Those are four superior athletes, all of whom made plays last year against the Cardinal.
Quarterback
Matt Barkley
threw for 284 yards and three touchdowns in last year's triple-overtime classic, and Stanford is replacing three starters from its secondary. Barkley's numbers will be big on Saturday.
Against San Jose State and Duke, Stanford grabbed four interceptions and surrendered just one touchdown pass. That's the good news. The bad news is a 67.3 percent completion rate and 290 yards passing per game. And just five sacks seems modest for a team with such a salty, talented front seven.
While Stanford's scheme is about stopping the run first and foremost, which it has done very well in the first two games, it might have to change its approach against the Trojans. More nickel and dime looks will mean the Cardinal will be forced from their comfort zone. And that could open up the Trojans' running game.
A balanced USC is a scary thought, with Barkley & Co. ready to pull the trigger on a deep fade route when they see one-on-one coverage.
Then there's this: What about a close game? USC is capable of winning this one going away, but that's not what I foresee. I expect the game to be won in the fourth quarter.
Stanford has won consecutive nail-biters against the Trojans. It's difficult to not attribute that ability to win the fourth quarter to having an advantage at quarterback. That advantage now belongs to USC by a wide margin. And that will be the difference.
Kevin Gemmell:
A good debater can come at a problem from all sides. But since ESPN wouldn't hire one just for a Take 2, and since Ted went first, I guess I'll take a swing at making the case for Stanford.
We both picked the Trojans to win
, but détente makes for poor debate.
Stanford coach David Shaw knows how to attack the Trojans. When Shaw was coaching quarterbacks and wide receivers with the Baltimore Ravens, you know who the defensive coordinators were? Mike Nolan and Rex Ryan. You don't think he picked up a couple of tips on how to call plays against a sophisticated, Rex Ryan defense? The past five meetings, when Shaw was either offensive coordinator or head coach, Stanford has increased its total offensive yards in every game against the Trojans. As a playcaller, Shaw is 4-1 and averages 413 total yards and 39 points per game against USC.
[+] Enlarge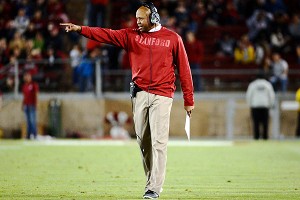 Kyle Terada/US PresswireStanford is 4-1 against the Trojans with David Shaw calling the offensive plays.
On paper, this game should be a double-digit win for the Trojans. Even Shaw said he has never seen a pair of wide receivers like Woods and Lee on the same team in the modern football era.
But there are intangible factors at play. The Cardinal have to be -- at least a little bit -- in the heads of Trojans players given the circumstances of the last few meetings. It's not a matter of USC "owing" one to Stanford from a tight game the previous year. The Trojans owe the Cardinal three, and there are only so many times you can go to the "we-owe-them-one" well. At some point, that becomes a mental hurdle.
The world expects USC to win this game. But here's a little worm that might be wiggling into a few Trojans' brains.
What if they don't?
What if Stanford takes a 14-0 lead? What if there's a pick-six or a special-teams touchdown that swings momentum and it all starts to fall apart? It probably will take something out of the ordinary -- a special teams touchdown, a crucial turnover or a trick play (anyone know if Nunes can catch?) to swing the tide. But the Cardinal lead the conference in turnover margin at plus-5. They've allowed fewer red-zone touchdowns than any team in the Pac-12 (except Oregon State, which has played one game). USC's defense is allowing teams to convert third downs at an alarming 45.5 percent. It's one thing to give up yards and allow completions. But the longer Stanford's offense stays on the field, the less time the Trojans' touted troika is playing.
Stanford's defense, which looked sluggish in the opener, was much livelier and motivated when
Shayne Skov
returned to the lineup last week. Expect the same emotional boost when
Ryan Hewitt
returns to the offense. Barring any setbacks on his ankle, he's expected to play. And his presence opens up a lot for Stanford: stronger run blocking, more receiver options, more diversity in offensive personnel groupings and formations.
Anyone who remembers last year's Stanford-Oregon game knows the Cardinal buckled under the weight of expectation. Every victory was another ton of bricks they carried leading up to that moment. This game has similar implications, sans the bricks. All of the pressure is on the Cardinal & Gold, not the Cardinal.
October, 31, 2011
10/31/11
3:00
PM ET
A.J. Tarpley would have looked more comfortable if he were getting a root canal. It was the redshirt freshman's first crack at a postgame news conference, and sitting among media-savvy veterans like
Andrew Luck
and Michael Thomas, Tarpley looked almost out of place.

If he keeps playing the way he did Saturday night, this won't be his last time being a spokesman for the defense.
The middle linebacker turned in the performance of his young and bright career in Stanford's 56-48, triple overtime win against USC. While it was not a night for defensive stars as the teams combined for 104 points and 948 yards of total offense, Tarpley stood out.
He logged his first career interception, picking
Matt Barkley
in the second quarter which led to a Stanford field goal. He forced a fumble (which USC recovered). He tallied nine tackles and recovered
Curtis McNeal
's fumble on the game's final play in overtime. It was a veteran performance from a non-veteran.
"The kid was everywhere," said head coach David Shaw. "The things we saw when we recruited him -- you could say what he doesn't have -- but he finds a way to get to the ball. He has a nose for the ball. He avoids blockers and finds a way to make a tackle. The ball's on the ground, he finds a way to get to the ball. He gets off blocks and gets to the ball. The kid has great instincts, and we think he'll be a heck of a football player."
He also has pretty good media instincts -- understanding that Saturday wasn't a night to pat the defense on the back.
"It was a helluva ballgame," Tarpley said. "The teams battled all the way through. In a place like this, we knew it would be a tough game. I don't know if you can credit the defense too much. We just gave up 50 points."
Well, 48. But still, some of Tarpley's individual plays go beyond noteworthy.
His interception of Barkley in the second quarter was textbook, instinctual linebacking. Tarpley picked up tight end
Randall Telfer
off the line, saw him breaking to the outside, anticipated the pass and made an athletic, diving catch.
"I was just playing off my man and (Barkley) happened to throw it my way," Tarpley said. "Any of our linebackers could do that."
So far they haven't. Tarpley's pick is the first from the linebacking corps this season. The Cardinal now have four interceptions -- two from Thomas and one from cornerback Barry Browning.
And then there was the clincher. Terrence Stephens stripped McNeal in triple overtime and sent the ball shooting into the end zone. Tarpley fell on it to seal the victory and was mobbed by teammates.
False Start For College Football Season?
PAC-12 SCOREBOARD
Friday, 10/24
Saturday, 10/25