Stanford Football:

Randy Hart
October, 8, 2013
10/08/13
6:45
PM ET
When California defensive lineman Aaron Tipoti theatrically flopped to the ground on Oct. 13, 2010, during a tight game against Oregon, suffering an injury that was notably similar to the heart attacks comedian Redd Foxx used to experience as Fred Sanford in the 1970s -- "
This is the big one!
" -- a new trope entered the college football lexicon on a national level: The Fake Injury.
Tipoti wasn't the first to woefully grab himself and shout "I'm coming, Elizabeth!" and topple over against the Ducks' up-tempo offense. Arizona State linebacker
Vontaze Burfict
notoriously couldn't recall which leg he'd hurt against Oregon, so he tried limping on both.
And, of course, there was Stanford linebacker Chase Thomas, also in 2010. Thomas looked like he might require amputation in Autzen Stadium in 2010, yet a play later he theatrically sprinted onto the field, seeming to enjoy the boos that rained down upon him.
So, apologies to an outraged coach David Shaw, who ripped into Washington coach Steve Sarkisian on Tuesday for accusing Stanford of faking injuries during the Huskies' 31-28 defeat over the weekend, but the Cardinal do, in fact, have a history of faking injuries against up-tempo teams. Of course, Shaw was the offensive coordinator for the Cardinal in 2010. He worked for head coach Jim Harbaugh and had nothing to do with -- wink-wink -- defensive strategies.
[+] Enlarge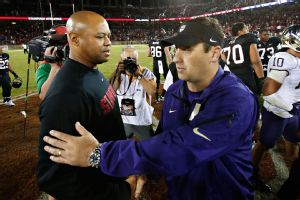 Stephen Lam/Getty ImagesStanford's David Shaw (left) and Washington's Steve Sarkisian aren't exactly seeing eye to eye lately.
Said Shaw, "We don't fake injuries. We never have and we never will. I don't condone it, we don't teach it, I don't allow it. And I don't care what Steve Sarkisian thinks that he saw. We've never done it. We didn't do it against Oregon. So why in the world would we do it against Washington?"
Replied Sarkisian an hour later on the Pac-12 conference call, "We saw what we saw. We'll leave it at that. I think two reasonable people can disagree on something and move forward, which is what we've done. We're getting ready to play the Ducks."
So we have a kerfuffle between Pac-12 coaches. A he-said, he-said emerging from a fantastically compelling game between highly ranked Pac-12 teams, one that essentially ended with a controversial reversal in the replay booth of a pass that would have converted a fourth-and-10 in Stanford territory.
No, Sarkisian and Shaw don't see eye to eye on that play either. Said Shaw, "Obviously the ball hit the ground. I don't even know why it's even a controversial call. The ball hit the ground." Countered Sarkisian, "I don't think that was conclusive."
There is some genuine ill feeling here. When asked if they had chatted on the phone in an attempt to settle their differences on this, both Shaw and Sarkisian said, "No comment." While it's dangerous to read too much into a refusal to comment, there's a hint of "Yeah, we talked and it didn't go well," there.
While Shaw is unhappy with Sarkisian's accusation in general, it's clear he particularly didn't like Sarkisian naming Cardinal defensive line coach Randy Hart as "telling them to sit down," and then adding, "I guess that's how we play here at Stanford," in his postgame interview with Huskies flagship station KJR 950-AM.
That not only provoked Shaw to call Sarkisian "unprofessional," it also opened up Sarkisian for a valid tweak.
"The only defensive line coach that I know of that has ever instructed players to fake injuries works at Washington, not Stanford," Shaw said.
That, of course, would be Huskies assistant Tosh Lupoi, the man chiefly blamed for Tipoti's poor acting. Lupoi was suspended for a game after he admitted using fake injuries against the Ducks.
Shaw went on to point out that the two players accused of faking injuries, linebacker
Shayne Skov
and defensive end
Ben Gardner
, had legitimate injuries that required treatment after the game. Skov, in fact, had an MRI on his knee.
Skov and Gardner also took to Twitter after the game to assert they didn't fake an injury and that Hart never instructed any Cardinal to take a fall.
So what to make of all this?
As for the big picture, little can be done about teams faking injuries unless rules are changed, requiring injured players to sit out a specific number of plays. Officials cannot -- and should not -- be asked to figure out if an injury is real or not.
As for the Stanford-Washington game specifically, Shaw made an impassioned defense of his team, but there's still the simple fact both Skov and Gardner quickly returned to the game and seemed no worse for wear. At the very least, that allows room for some suspicion, particularly when your team lost a close game.
If there is a clear mistake here, it's Sarkisian specifically calling out Hart, who coached 21 seasons at Washington before being hired at Stanford. Sarkisian wouldn't clarify what he saw across the field -- or heard secondhand -- but it's reasonable to believe he or someone else might have misinterpreted a gesticulation. I've known Hart since 1999, and I know he's too smart and too experienced to do something so patently obvious that it might get picked up by another team or, even worse, on camera.
Sarkisian would have been better off, if he felt strongly enough to go public with his complaint, as he obviously did, making a general criticism -- perhaps a joke? -- out of his perception of fake injuries, and then formally bringing it up with the Pac-12 afterward. And then, in the offseason, agitating for a rule change.
As for a rule change, Sarkisian didn't seem eager to endorse that.
"For our guys, when our players go down it's a pretty extensive process to get evaluated by our doctors," he said. "That would be more of a medical expert question of how long it takes to examine somebody before they can be put back in the game."
The Stanford counter to that would be that Skov and Gardner were evaluated on the field. You know -- when play was being held up.
It's not difficult for a team to fake injuries and to retain plausible deniability. It's also difficult to not find Shaw's adamant response here compelling. Further, it's a bit surprising that it's Shaw and Sarkisian at loggerheads. They are both articulate, polished, outgoing guys. They seem like they could be college roommates.
But there is one takeaway that we can assert without ambiguity.
The Stanford-Washington game in Husky Stadium in 2014 should be great fun.
October, 8, 2013
10/08/13
9:00
AM ET
Welcome to the mailbag. I'm Kevin, your single-serving friend.
A conglomerate of questions about Steve Sarkisian's postgame comments about the replay and Stanford faking injuries is a major theme in this week's mailbag. So here is a conglomerate answer:
Kevin Gemmell
: I'll start with the replay: Sark was clearly frustrated with the way the game ended. I'd be too. It was an uncomfortable thud to a heck of a game. And there continues to be debate on whether
Kevin Smith
had possession -- as was the call on the field -- or whether the ball indisputably hit the ground -- which was the call on the reversal. My opinion? I think it hit the ground. But I'm not sure I can say that indisputably. That raises a letter of the law vs. the spirit of the law debate that we don't need to engage in right now.
The bigger picture, however, is a troubling trend that seems to be popping up more and more. And that's one play being the focal point for an entire 60 minute game. Whether it's this game, Arizona State-Wisconsin, Texas-Iowa State, etc. we're seeing 10 seconds dominate the other 59 minutes, 50 seconds.
Washington had run 87 offensive plays before that controversial fourth-and-10. The Huskies scored four touchdowns. That means there were 83 opportunities to impact the game; 83 chances to score; 83 chances to advance the ball; 83 chances to do something other than let the final offensive play of the game for your team come down to an instant replay. Take play No. 86 -- third-and-10 -- one play before the controversial call. If All-Universe tight end
Austin Seferian-Jenkins
catches the ball, it's a first down. But it was a flat-out drop. Keith Price's throw was on the money. It's those kinds of plays that make the "we got hosed" argument tough to swallow.
In the end, hat's off to the Huskies for a very strong performance. The Price naysayers need to go back under their bridges and any questions of Washington's legitimacy should be put to rest.
Now … those pesky injuries.
Do teams fake injuries? Yes. And it's an ugly part of the game that is getting uglier and uglier as more teams take on uptempo offenses. As my colleague once wrote, there is something unseemly about booing when a player is down.
Sark called out Randy Hart by name -- a name, by the way, that should still garner a ton of respect in Seattle from his long time service with Don James. He says he saw something. Across the field, in the middle of a tight game? Maybe.
But given the way the game ended and the aggressive nature in which Sark called out Stanford and its players, it comes across as sour grapes even if he does have a legitimate gripe.
Ben Gardner
and
Shayne Skov
, by the way, have vehemently denied they faked injuries.
If sark thinks coach hart would tell us 2 fake injuries he's obviously never been around the guy. If anything he's telling us to get up n go

— Ben Gardner (@BennyG49) October 6, 2013
Skov didn't take a dive, I didn't take a dive. Never have never will. Stay classy Washington

— Ben Gardner (@BennyG49) October 6, 2013
We got the dub, UW is a hell of a team period. If I'm having docs look at me on the sideline I'm not faking it. Grow up, n watch the replay

— Shayne Skov (@ShayneSkov11) October 6, 2013
This is an unsavory he said-he said. I know Sark. I also know Gardner and Skov. I like all those guys. And I also know of at least one person on the Washington staff who has practiced this technique in the past (to be fair, while at another program).
This seems like as good a time as any to open up some dialogue about what to do with injured players. How about if a player goes down with an injury and play has to be stopped, that player must sit out the remainder of the series or a minimum of seven plays. That gives the player ample time to recover and be treated by the medical staff. And it's punitive enough that if the player is faking, he's standing on the sidelines for a reasonable amount of time.
That's just a suggestion, not necessarily the solution. But I think it has to be addressed at some point in the very near future so we don't have to question the legitimacy of injuries.
---
Colin in Seattle writes:
Sorry, but you totally miss on your
"Stanford, Oregon still a cut above"
piece. No mention of the fact that the Huskies out-gained Stanford by 200 yards and 16 first downs? No mention of the fact that Stanford was totally outplayed with the exception of two really bad kick return covers? You are not a "cut above" when your quarterback puts up 12/20, 100 yard game at home while the other quarterback puts up 350 yards. Stanford won the game, fair and square, but are by no means "a cut above". They were significantly outplayed at home, excepting a few poor mistakes by the Huskies.
Gemmell
: There are only three undefeated teams left in the Pac-12. Stanford is one of them. Washington isn't. Can't make it anymore black and white than that.
The column was about records and whether the rest of the league has closed the gap enough to challenge Oregon and Stanford and possibly derail a meeting of undefeated teams on Nov. 7. In that regard, the piece was 100 percent accurate -- because neither Stanford nor Oregon has lost. Both still have to play UCLA, the league's other undefeated team.
It didn't mention your examples because it was a conference-wide piece, not a game-specific column. But it also didn't mention that Washington trailed the entire game. It didn't mention the 18-play, 73-yard drive that ate up 5 minutes, 37 seconds and ended in an interception, and it didn't mention that the most penalized team in the conference added 10 more penalties for 89 yards.
The "a few poor mistakes" rationale speaks to the point of the column. The upper-tier teams are able to overcome "a few poor mistakes" or they simply don't make them. And last time I checked special teams were still a major part of the game. It wasn't just Montgomery's two long kick returns. How about the 12-play, 88-yard drive Washington strung together at the end of the first half. Fantastic drive. Huge momentum changer … followed by a pooch kickoff that gives Stanford the ball at the 39. Then 52 seconds later the Cardinal answered.
This game was exactly what we thought it would be -- a hard-fought game between two good teams. But if Washington wants to take the next step and contend for conference titles, these are the types of games it has to win.
It sounds like you're more peeved with the headline than the story. And if that's the case, I'll take the fall for that one. It was 1:30 a.m. and I needed something that fit on one line. If that's your biggest gripe, I can live with that.
---
Pete in Austin, Texas writes:
What do you think the take home message is from the UW-Stanford game? I think UW is greatly improved over last year, but UW did beat Stanford last year maybe they are just a tough match-up for the Cardinal.
Gemmell
: This UW team is a heck of a lot better than last year's team. I don't think they are a tough match-up for Stanford -- I think they are going to be a tough matchup for everyone this year. Last year's Washington team struggled on the road and grappled with consistency (largely in part because of injuries). I think this year's team is really, really legit. And if it didn't play in the Pac-12 North, it could compete for a division title in just about any other division in college football.
But that's what makes the Pac-12 North so darn tough. Washington might be the third best team in the division. The takeaway is that the rest of the country recognizes Washington's legitimacy as well -- which is why they were only dinged one spot in the polls.
Heck, Jon Wilner of the San Jose Mercury News has Washington at No. 10 this week. Jon and I were discussing his ballot after the game walking back to our cars and he felt like Washington gained a measure of respect with their performance. A lot of voters tended to agree.
Feel bad that you lost the game and missed an opportunity to make the jump to North Division elite status. But be happy that your team showed it can do it on the road. After all, there is always this week to make another statement.
---
Matt in San Francisco writes
: Not surprisingly, many Cal fans are entering full meltdown mode after the loss to WSU. I am trying to stay more grounded, because this is a young team that has been absolutely decimated by injuries. What is the perspective from the outside? Is it really as bad as it seems? Am I overly optimistic? Is Cal on the precipice of a tailspin, or is this just a rebuilding year?
Gemmell
: For now, I'd qualify it as a rebuilding year. When we did
the preseason media poll
, I had Cal last in the Pac-12 North simply because I thought Washington State was going to be improved in Year 2 under Mike Leach. As you note, Cal is heavy on the youth. And when you combine that with two completely new systems, one of the toughest schedules in the country and then all of those unexpected injuries, the end result is what you have now.
It's never as bad as you think it is -- especially in-season, when it always feels worse. When you look at the rest of Cal's schedule, you have to wonder how many -- if any -- FBS wins are out there.
Give Sonny Dykes a little bit of time to let his system take flight (no pun intended) and if you are still in this hole at the end of next year, then we can talk tailspins.
---
Fat_O_Line in Springfield, Ore., writes
: Kevin help me out here.. How does Ted in
power rankings
place Stanford ahead of Oregon but
in top 25
places them ahead of Stanford? I need to hear the rationale.
Gemmell
: Same answer as last week, and the week before, and the week before. The power rankings are a direct reflection of where the teams are after this weekend and are independent of the top 25 rankings.
Ted's rationale for the move this week was a direct reflection of a guy with an Oregon bumper sticker cutting him off Sunday morning on the Pima Freeway in Scottsdale.
Ted told me of this great insult, to which I replied "No, Ted. You're better than that. You can't change the power rankings just because of something so arbitrary and capricious."
"You and your fancy words, Gemmell," he snarled. "You think you're so perspicacious. Watch me."
Then he hung up. We haven't spoken since.
February, 7, 2012
2/07/12
9:00
AM ET
This is what happens. You get good, and then the getting gets good for other teams to come in and start picking off assistant coaches.
Stanford is no exception. It happened last year with the head coach. And another successful season means another round of the coaching carousel.
The fact that co-defensive coordinator
Jason Tarver left the Cardinal
after just one year to return to the NFL is no real shock. He's one of the brightest defensive minds in football and his star is on the rise. There are only 32 defensive coordinator gigs in the NFL -- and when one of them opens up, you have to take it. If it were a lateral move to another college team, you might scratch your head. But none of that is needed with Tarver. Great move for him and a validation for David Shaw for hiring him in the first place.

So where does this leave the Cardinal -- specifically that monster front seven we've been chatting about since the end of the season? Tarver's is a beautiful mind -- and not just in the football sense. The guy is smart. There probably aren't a lot of other NFL defensive coordinators who have masters degrees in molecular biology and biochemistry from UCLA hanging on their office wall.
What he brought to Stanford was an unbelievable understanding of the 3-4 defense. In the decade prior to his time on The Farm, Tarver learned every strand, strain, wrinkle and wiggle there is to know about the scheme from some of the best defensive minds in the NFL.
At Stanford, he worked directly with the inside linebackers and deserves a ton of credit for the rapid development of
Jarek Lancaster
and A.J. Tarpley from good prospects to legitimate Pac-12 starters.
Without a doubt, losing Tarver is a blow. But if Stanford is anything, it's resilient. Wasn't the team supposed to lose its swagger once Jim Harbaugh left? Remember how the run defense was shot after
Shayne Skov
went down? Wasn't recruiting going to decline once
Andrew Luck
was gone?
From a game-planning perspective, little will change with Tarver's departure. Co-defensive coordinator Derek Mason (who we can only assume is running the show solo until otherwise told), will continue to install the game plan with the direct input from Lance Anderson, Randy Hart and an inside linebackers coach to be named later. (And don't be surprised either to see Mason's name popping up for head-coaching gigs either in the future).
In extensive conversations with Tarver during the season, one of the things he always made clear was that every week it was a collaborative effort, and every week there was something in the defensive game plan from each contributing coach.
Mason is not a micro-manager, and that's why he works so well with Anderson, Hart and Tarver. Now a quarter of that brain trust will be missing, but it will be replaced.
Where the real impact will be felt is teaching technique and installing the front seven's schemes. Tarver was very good at implementing the same blitz or stunt out of several different looks in the front seven -- and then tweaking it each week based on the opponent. As he often said, it allowed the defense to play faster without having to think slower.
Mason, Hart and Anderson are all fantastic coaches in their own right with an unquestioned wealth of knowledge. But none has the next-level experience of 10 years in the The League that Tarver brought -- the last five specifically working with linebackers in an NFL 3-4 scheme.
Because of who remains on staff, Tarver's departure doesn't make or break the Stanford defense. But whoever comes in has some big brains to fill.
September, 27, 2011
9/27/11
10:00
AM ET
The 1oth and final report card of Stanford's bye week (which spilled over into this week).
THE COACHING STAFF
Grade
: A-
Summary
: Few, if any coaching staffs, entered the season under a brighter spotlight than David Shaw & Co. With the outspoken Jim Harbaugh leaving the Cardinal for the San Francisco 49ers, the questions loomed. Can Shaw match Harbaugh's fire? What about the offensive line? The wide receivers? How is he going to hold all this together?
Since this blog officially went online a few days before the San Jose State game, I've made no secret that I'm a Shaw fan. And I make no apologies for it. He's a splendid coach. I got to see first hand when he was at the University of San Diego what he can do with an offense and I've enjoyed following his career. He's innovative, a heck of a schemer and he hasn't altered his football principles simply because of who he has under center.
Run the ball, stop the run. Everything else will fall into place.
I like the schemes from offensive coordinator Pep Hamilton. The three tight-end sets have been a pleasure to watch. The way they are motioned out or used in conjunction with the jumbo blocking packages is some of the most innovative football I've seen in the last half decade.
I was curious how a co-defensive coordinator system was going to work with Derek Mason and Jason Tarver. To date, the duo seems to be clicking on all cylinders. The Cardinal have never trailed in a game.
And I think the job that Mike Bloomgren has done with the offensive line in the first three weeks has been stellar. There are gains, both measurable and immeasurable, with a unit that had the most question marks before the first game kicked off.
Lance Anderson (outside linebackers), Ron Crook (tight ends/tackles) and Randy Hart (defensive line) must feel like the luckiest guys in the world to have some motivated players in their position groups.
And Brian Polian (special teams/recruiting coordinator) has assembled one of the most steady and reliable special teams units in the country.
One thing does concern me. As we know, the Cardinal have had trouble in the first half of all three games -- be it missed assignments or missed opportunities. But even more concerning is that no one seems to have an answer. An unofficial poll of about 15 players over the last three weeks has yielded, essentially, the exact same response: "I don't know. I can't explain it."
That's all well and good against the San Jose States and Dukes of the world. But the time will come this season when the Cardinal are going to have to play a complete game, or the nation's longest winning streak will come to an end.
But so far, so good.
Previous report cards
:
Quarterbacks
Defensive line
Offensive line
Linebackers
Running backs/Fullbacks
Tight ends
Wide receivers
Secondary
Special teams
Shaw Plans To Remain At Stanford
PAC-12 SCOREBOARD
Monday, 12/29
Saturday, 12/20
Monday, 12/22
Tuesday, 12/23
Wednesday, 12/24
Friday, 12/26
Saturday, 12/27
Tuesday, 12/30
Wednesday, 12/31
Thursday, 1/1
Friday, 1/2
Saturday, 1/3
Sunday, 1/4
Monday, 1/12