Stanford Football:

Rick Neuheisel
May, 8, 2014
May 8
2:30
PM ET
You only think I guessed wrong! That's what's so funny! I switched glasses when your back was turned! Ha ha! You fool! You fell victim to one of the classic blunders -- The most famous of which is, "never get involved in a land war in Asia" -- but only slightly less well-known is this: "Never go in against a Sicilian when death is on the line!"
January, 9, 2014
Jan 9
2:30
PM ET
Actually, Peter, I wanted to tell you, I was listening to Sarah's iPod the other day, and amidst the interminable dross that's on that thing, I found one track that I quite liked. So I checked what it was, and it was actually one of yours, and it kind of reminded me of a dark, gothic Neil Diamond. It's great.
October, 2, 2011
10/02/11
12:47
AM ET
PALO ALTO, Calif. -- Whatever Stanford's offense did during the bye week, it worked.
Whatever the offensive line ate -- keep eating it.
Whatever the tight ends drank -- keep drinking it.
Whatever running back
Stepfan Taylor
practiced -- keep practicing it.
Whatever quarterback
Andrew Luck
learned -- keep learning it.
The offense put together a complete game for the first time this season, outplaying Stanford's heralded defense in a
45-19 win over UCLA
at Stanford Stadium.
The No. 6 Cardinal (4-0, 2-0) totaled 442 yards of offense while extending the nation's longest winning streak to 12 games. Not their highest total of the year. But it was the way they went about swallowing up those yards that was impressive. They looked crisp in the passing game, punishing in the run game and well-oiled moving up and down the field.
Luck and Taylor led the charge for the Cardinal. Luck continued his Heisman campaign with a very efficient 23-of-27 for 227 yards and three touchdowns. For the second straight game, Taylor looked sensational behind a strong game from the offensive line. He rushed for 112 yards and a pair of touchdowns.
[+] Enlarge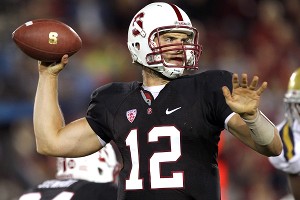 Ezra Shaw/Getty ImagesAndrew Luck threw for 227 yards and three touchdowns Saturday night.
"We talk all the time about efficiency," said head coach David Shaw. "When Bill Walsh put the West Coast offense together, we talked about being efficient, gaining ground every single play. Our honorary captain, Condoleezza Rice, talked about acquiring real estate, just chewing up real estate play after play and our guys did that."
The offense was creative, per usual; reverse wide-receiver passes to quarterbacks, Wildcat formations, end arounds. But they were at their best when they were pounding away at the UCLA defense.
"Our coaches challenge us intellectually, as they do the defense," said Luck. "Here's the scheme, here's how we're attacking this week and it's up to you to go execute. All of the guys will attest to it. We want to make it challenging on ourselves because we know that's going to play to our advantage. I think that's part of why a lot of guys come to Stanford -- to be challenged athletically and academically and it's fun to be in that offense."
Luck was certainly testing himself -- and the UCLA defense -- from a cerebral perspective. The Cardinal debuted their extended no-huddle offense for a significant portion of the game. In this scheme, Luck has complete control of the offense and calls the plays he sees fit.
"It's really something we worked on the entire offseason," Shaw said. "This was the game we were going to start doing it. We put the formation out there and let Andrew call the play. It's 100 percent up to him to get us in the right play. We feel like we have a phenomenal quarterback. I don't know that there are too many college quarterbacks that can truly call the game. It's not coming from the sideline. It's coming from him on the field.
"There is a set group we work on, but at the same time, he can get to anything in the offense. I go back to the Tom Moore quote. 'When you have a great player, don't hold him back.' We're trying to let him go and let him run the plays he feels good about."
And how does Andrew Luck the offensive coordinator compare to his coach?
"His [calls] were a little bit better than mine," Shaw said.
Defensively, it was an average performance from what we've come to expect in the first three games. The defense yielded 141 yards -- significantly higher than their 36 yards per game average. But then again, they held UCLA to 141 yards rushing, significantly less than its 214 rushing yards per game average.
"We definitely have things to clean up," said linebacker Jarek Lancaster. "We held them to 140 something. Not too bad. We can definitely be a lot cleaner."
The defense showed its muscle on the game's opening drive. UCLA advanced to the Stanford 4-yard line, but the Cardinal turned them away four times -- including once from third-and-goal at the 1 and again on fourth-and-goal from the 2.
That harkened Shaw back to his days with the Baltimore Ravens.
"Ray Lewis used to always say 'opportunity for greatness,'" Shaw recalled. "The ball is on the 1-yard line, it's an opportunity for greatness. Our guys stepped up to the challenge and did a good job."
UCLA coach Rick Neuheisel lamented his team's inability to punch it in.
"I'm irritated," he said. "We got stopped on the 1. We had two chances. We've got to get it in."
Safety Michael Thomas called it a confidence boost for the defense – which was playing its first game without linebacker Shayne Skov, who went down for the season with a knee injury against Arizona.
"We knew they were going to try to punch us in the face by running it down our throats because they are a running team," Thomas said. "We just told ourselves go to the next play and knew we were going to have to put a stand up."
The offense fed off the stand and proceeded to march 99 yards on 16 plays -- capping the 8-minute, 14-second drive with an 18-yard touchdown pass from Luck to
Coby Fleener
-- who snatched Luck's bullet out of the air with one hand.
Of course, the highlight play -- also a one-handed catch -- occurred six snaps earlier, when Luck snagged a pass from wide receiver
Drew Terrell
out of the air with one hand while sliding his left foot inbounds. It was initially ruled out of bounds, but a replay reversed the call.
"I'm sure it was an incomplete at the next level," Luck joked. "I'm glad for the one-foot rule."
Meanwhile, Taylor kept pounding away, picking up a few yards at a time before breaking out for a big run.
"[The offensive line] was attacking up front," Taylor said. "They keep making a name for themselves. The tight ends were blocking well and the receivers were blocking downfield. It was a balanced game."
September, 30, 2011
9/30/11
2:00
PM ET
PALO ALTO, Calif. -- So far this season, each week has provided the
Stanford Cardinal
with a new and unique test. Tomorrow's matchup against UCLA is no different.
Against San Jose State, it was David Shaw's first game as a head coach. And he passed that test with flying colors.

Against Duke, it was Stanford's task to travel three time zones and play in uncomfortable weather. No problem.

At Arizona, it was the secondary's turn to try to slow down Nick Foles, one of the most accurate passers in the country. They didn't slow him down completely, but they provided enough of a speed bump that the front seven was able to create pressure to keep him from really breaking out.
[+] Enlarge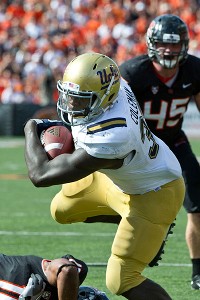 Jim Z. Rider/US PresswireUCLA Bruins tailback Derrick Coleman presents a hefty challenge for the Stanford defense this week.
Tomorrow, it will be the pistol offense.
"We've watched what they've done the past few weeks," said Stanford linebacker Max Bergen. "They've really shown they can run the ball with a lot of big people in the box."
The advantage of the pistol is that with the quarterback lined up four yards behind center, rather than the usual seven-yard shotgun (ergo, pistol), he's still able to read the defense, but linebackers have less time to react.
"You have to be locked in and communicate on defense," said Stanford coach David Shaw. "Every defense you run, you have to account for the dive, the quarterback pull and you have to account for there being an extra blocker that might come across, whether it's the receiver or running back or tight end. You have to be extremely well coordinated … everything we run has to be sound against what they do."
UCLA, which averages 214 rushing yards per game, has a pair of running back options they can throw at Stanford.
Johnathan Franklin
is the smaller, speedier back.
Derrick Coleman
, at 240 pounds, is a bowling ball. Franklin left UCLA's game against Oregon State last week with a bruised hip, but said he probably could have returned. That opened the door for Coleman to rush for 100 yards on 20 carries.
"He's thick, and he'll drag tacklers," Shaw said. "... They understand the pistol offense. The running backs in the pistol offense -- those backs have to be decisive and they have to go toward the line of scrimmage full speed. And the big ones can get a full head of steam, and the quicker ones, they get to the line of scrimmage so quick.
"…While you're still in decision-mode of who has the ball, they've got a 4-yard gain. It can be an exciting form of offense, and they've got good players that fit it."
And in case you haven't heard, Stanford has a pretty good run defense. Statistically speaking, the best run defense in the country, allowing just 36 yards per game. They are fast and physical. But UCLA wants to go muscle-for-muscle with them.
"You understand as you do in prize fighting that you're going in against somebody that likes to punch, likes to slug," said UCLA coach Rick Neuheisel. "Our defense has to understand that and our offense has to understand that. It's a key piece to this game, the physical nature that they like to play with, and frankly it's been kind of their calling card."
The pistol has grown in popularity over the past half decade, and strands of the formation have trickled across the college football landscape, and even into the NFL. Shaw said they have a few pistol packages in the playbook if they need to mix things up.
"There is a bit more you need to get ready for," Bergen said. "But by the end of the week, we're all set with what our assignments are and what our jobs are … We're looking forward to having an offense like this really challenge our run defense."
September, 28, 2011
9/28/11
11:00
AM ET
PALO ALTO -- Uh oh, says the UCLA fan.
With the Bruins on the road this week at No. 4/6-ranked Stanford -- who happens to have a guy named
Andrew Luck
at quarterback -- it's not a good time for injuries in the secondary.
UCLA has
five defensive backs nursing injuries
right now and head coach Rick Neuheisel said
he's hoping to have the four cornerbacks
available for Saturday's game in Palo Alto. Which means those four will have limited practice.
Writes Adam Maya of the Orange County Register:
Coach Rick Neuheisel walked off UCLA's practice field and tried his best to keep a straight face, no different than a doctor would while revealing a diagnosis. He might have felt like one Tuesday evening.

... "We got to get healthy bodies," Neuheisel said. "We got to keep guys healthy. It wouldn't be the best (timing to not have them)."
Even with healthy bodies, Stanford presents difficulties with the speedy
Chris Owusu
at wide receiver and the tall trio of tight ends;
Zach Ertz
,
Coby Fleener
and
Levine Toilolo
. With backups or starters playing at 75-80 percent, it's going to be a difficult chore for the Bruins to slow down the Cardinal.
Luck is completing 67.1 percent of his passes through the first three games -- and 66 percent of the balls thrown to tight ends.
At 6-foot-2, Sheldon Price (knee) is the tallest of UCLA's defensive backs. Neuheisel said he thinks he'll play. The rest are 6-1 or shorter. Going to be a tough draw against Ertz (6-6), Fleener (6-6) and Toilolo (6-8).
Shaw Plans To Remain At Stanford
PAC-12 SCOREBOARD
Wednesday, 12/24
Saturday, 12/20
Monday, 12/22
Tuesday, 12/23
Friday, 12/26
Saturday, 12/27
Monday, 12/29
Tuesday, 12/30
Wednesday, 12/31
Thursday, 1/1
Friday, 1/2
Saturday, 1/3
Sunday, 1/4
Monday, 1/12