Stanford Football:

San Francisco 49ers
December, 19, 2012
12/19/12
3:52
PM ET
Second-year head coach David Shaw has repeatedly said he views Stanford as his destination job. After he signed what was termed a "
long-term contract extension
" Wednesday, perhaps more folks will believe him.
Of course, Stanford didn't provide any details about just what "long-term" means, or about how much Shaw is being paid, because it is a private school that likes keeping secrets. If it were a 10-year deal worth, say, $30 million we could conclude both parties -- Shaw and institution -- are fully invested in each other.
But even without the details, this feels like a reasonably solid gesture of mutual affection.
Shaw played for Stanford. He loves the place. He's also a family guy who's living in a great place to raise one (if you can afford it). He's got a good thing going, both on the field and with recruiting.
On the field? Stanford finished 11-2, won the Pac-12 title and is preparing for its first Rose Bowl in 13 years. It's won 11 games for the third consecutive season, which it has never done before. Stanford is one of just four teams from AQ conferences to win 34 or more games over the last three seasons, joining Oregon (35), LSU (34) and Alabama (34) in an exclusive club, though Stanford's SAT averages are a bit higher than that troika.
The Cardinal's .872 winning percentage since 2010 is tied for third-best among FBS teams during that stretch.
Not too shabby, which is why Shaw, the two-time Pac-12 Coach of the Year, is a finalist for the Paul "Bear" Bryant Coach of the Year Award.
When Jim Harbaugh left for the San Francisco 49ers after the 2010 season, some wondered if Shaw could maintain the Cardinal's unexpected rise in the Pac-12. Whereas Harbaugh was edgy and eccentric, Shaw was polished and articulate. And, perhaps, some might have fretted, a bit too mellow.
Yep, Shaw is a smooth dude. But he's 4-2 against USC, Notre Dame and Oregon and playing in another BCS bowl game with a team that appears to have a bright future.
Again, not too shabby.
We will humbly offer up a suggestion to both Shaw and Stanford, though we suspect Shaw is well ahead of us here: Take care of the Cardinal's nine assistant coaches. These guys deserve raises, too.
We've repeatedly lauded defensive coordinator Derek Mason and offensive coordinator Pep Hamilton. Both are strong head coaching candidates. But the entire staff, from veterans such as defensive line coach Randy Hart to youngsters like running backs coach Mike Sanford, have participated in creating an outstanding team culture.
And by "team culture," what we really mean is a team that is on the cusp of a third consecutive final top-10 ranking.
November, 28, 2012
11/28/12
10:15
AM ET
Stanford's defensive performance against Oregon on Nov. 17 was a thing of beauty.
In a 17-14 overtime victory, the Cardinal held the Ducks 157.6 yards below their season average, 127 yards below their season rushing average and, most important, 40.5 points below their season scoring average.
The Cardinal was disruptive. It didn't let Oregon's speed get around the edges. It controlled and filled gaps. It forced the zone-blocking Ducks' offensive line backwards. It tackled well, not allowing yards after contact or catch. It didn't let up for 60 minutes, as so many seemingly strong defensive performances against Oregon tend to. And when Oregon busted its one explosion play on the evening, backup safety
Devon Carrington
made sure it was a 77-yard
Marcus Mariota
run to the Stanford 15-yard line and not a 92-yard TD scamper that might have changed the game.
[+] Enlarge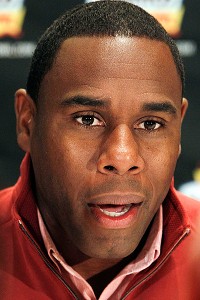 AP Photo/Ross D. FranklinStanford defensive coordinator Derek Mason is a finalist for the Broyles Award as the nation's top assistant coach.
The man behind that defense is Stanford coordinator Derek Mason, a finalist for the Broyles Award as the nation's top assistant coach, and a guy who's name is bouncing around as a budding head coaching candidate.
What was the secret to the Cardinal solving the Ducks?
"We worked extremely hard at making sure we were going to be who we were," Mason said.
That's not as simple as it sounds, particularly against the Ducks, but it's something the Stanford players cited after the game as well.
"We took a greater focus on ourselves this time," linebacker
Shayne Skov
said after the Oregon game. "We didn't try to make too many adaptations to our own system. We were going to do what we do."
Yet what Stanford does has changed through the years. Significantly.
In 2009 -- Jim Harbaugh's third season -- the Cardinal was a plodding unit that ran a 4-3 and gave up 27 points a game. Enter Vic Fangio, who installed a 3-4. That same year, Mason took over the Cardinal secondary.
When Harbaugh and Fangio bolted for the San Francisco 49ers, new coach David Shaw handed the defense to Mason, who shared coordinator duties in 2011 with Jason Tarver, who is now running the Oakland Raiders' defense.
Let's just say Stanford's defense now looks sort of like its own thing, Mason's thing.
Explained Mason, "It's sort of morphed into something that is a little more …" Mason didn't finish the thought -- he started talking about defending spread offenses -- but we will: Funky, unorthodox, flexible. And effective.
Stanford's defense is talented, particularly its front seven, where a handful of guys have a chance to play on Sundays. It's notoriously physical, certainly the Pac-12's most smashmouth unit. And it's sound and disciplined. It doesn't blow a lot of assignments. That's very Stanford-y.
Yet Mason also hasn't been afraid to show some "what the heck is that?" looks to an offense, looks that seem to befuddle even experienced quarterbacks such as USC's
Matt Barkley
.
The results is this: Stanford is No. 1 in the nation in run defense (71.3 yards per game), sacks (4.42 yards per game) and tackles for a loss (9.25 yards per game). It's also 11th in the nation in scoring defense (16.92 ppg), despite playing a number of the nation's best offenses, something that can't be said for a number of other highly rated defenses. It's eighth in third down defense (29.53 percent).
"It's a containment run defense predicated on making offenses left handed and earning the right to rush the passer," Mason said.
In other words, the Cardinal stops the run, sacks your quarterback and gets off the field.
That's what happened last weekend against UCLA in Stanford's 35-17 win. The Cardinal held the Bruins to 73 yards rushing and recorded seven sacks and nine tackles for a loss.
It was textbook Stanford, which has held eight of 12 opponents below 100 yards rushing this season.
Yet Mason isn't completely believing what he saw in Game 1 with the Bruins. He said he thinks Game 2 on Friday in the Pac-12 championship game will feature a lot more offensive wrinkles from UCLA coordinator Noel Mazzone.
"There are some things they didn't show," Mason said. "It was obvious. I see it as a totally different game."
Mason specifically cited the quarterback run. Redshirt freshman
Brett Hundley
has rushed for 282 yards and eight TDs this season. His legs are weapons, and the Bruins didn't showcase them last weekend.
While UCLA and Stanford's potential first Rose Bowl since after the 1999 season are the immediate motivations and goals, Mason is aware that his name is bouncing around as a potential head coach. While it's clearly a future goal, he doesn't seem to be in too much of a hurry to race out of Palo Alto in order to chase the first opportunity that comes his way.
"I'm so in love with what is happening here with our players," he said. "I truly believe I am where I'm supposed to be."
Mason seems to like things on the Farm, where he's been growing a West Coast defensive power.
May, 16, 2012
5/16/12
9:00
AM ET
I was a little surprised last week at Chris Owusu's comments regarding concussions.
In an article
in the San Jose Mercury News
, Owusu, who suffered three concussions in a 13-month span that included the horrific scene in Corvallis, Ore., last season, distanced himself as much as possible from his history of head injuries.
"I just want to move forward. It's unfortunate that I'm part of this conversation. But hopefully in the next couple of months, I'll finally get to change that. I don't want to be known as someone who is surrounded by this topic."
[+] Enlarge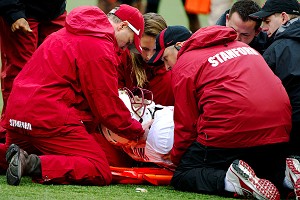 Jim Z. Rider/US PRESSWIREThe concussion he suffered at Oregon State ended Chris Owusu's senior season at Stanford.
Part of me understands where he's coming from. Owusu was an undrafted free agent and he's doing his best to impress his new employers -- the San Francisco 49ers and former Stanford head coach Jim Harbaugh -- and he's trying to make a team.
This isn't going to be a Owusu-should-hang-'em-up story. Because he shouldn't. He has a dream. He has the physical and mental faculties to live out that dream and, more importantly, he has the blessings of doctors to play. Go for it.
But why distance yourself from concussion talk? This is a time when it's most important to be talking about concussions.
Owusu -- clearly an intelligent individual, as Stanford grads tend to be -- could be at the forefront of change. Tell your story. Tell the doctors and the general managers that concussions are dangerous, but they aren't contagious. Owusu took some of the hardest hits I've ever seen in football. He was strapped to a gurney and taken off a football field via ambulance. And now he's fighting for a spot on an NFL roster. That's something he should be proud of, not running from. Some might even call it gritty and inspirational.
There will always be coaches and general managers who will dismiss Owusu regardless of what the doctors say. There are also GMs who won't take quarterbacks shorter than 6-foot-3, running backs taller than 6 feet and defensive ends less than 260 pounds. Doug Flutie, Eddie George and James Harrison would disagree.
In an interview last month
with SI's Jim Trotter
, Owusu talks about how he reluctantly agreed to be shut down for the rest of his senior season following the Oregon State incident.
"Did I put up a fight a couple of times to get back on the field? Yes, I did, because I love the game so much," says Owusu. "When you get the game taken away from you like that, it's something where it opens your eyes and it's frustrating. I respect what the coaches and the doctors and the medical staff did for me here at Stanford, I really do. They looked out for my overall well-being and did not take any chances. But could I have played? I felt that I could have. Did they do what they felt was in my best interest? In their eyes, I think they did. But it was a frustrating process."
Of course it was frustrating. Owusu is a football player. But cooler and less-concussed heads prevailed, and Owusu is clearly thankful for that.
I don't expect Owusu to change his style of play, nor do I expect his concussion history to affect his game in the future. He's healed and cleared. That should be that. But with so much talk about concussions and the lingering impact, this strikes me as something Owusu should be running toward, not from. Concussions are a scary part of the game and Owusu has shown tremendous courage by getting back out on the field. He can show the same kind of courage off the field by educating and informing from his past experience.
Rose Bowl Preview
PAC-12 SCOREBOARD
Saturday, 12/21
Monday, 12/23
Tuesday, 12/24
Thursday, 12/26
Friday, 12/27
Saturday, 12/28
Monday, 12/30
Tuesday, 12/31
Wednesday, 1/1
Thursday, 1/2
Friday, 1/3
Saturday, 1/4
Sunday, 1/5
Monday, 1/6