Stanford Football:

Sean Renfree
September, 9, 2012
9/09/12
1:14
AM ET
By
Kyle Bonagura, Special to ESPN.com
| ESPN.com
PALO ALTO, Calif. -- That's more like it.
A week after Stanford sputtered to a 20-17 win against San Jose State, the Cardinal returned to form in a
50-13 victory
against Duke.
Back to usual on the Farm? Not exactly.
The lopsided win didn't follow the script Stanford fans have become accustomed to over the past three years. There was no power running game to open up the pass, in fact Duke's nine-man defensive fronts caused the Cardinal to nearly abandon the run completely.
"If anyone has nine-man front run plays, please, don't keep them to yourselves," Stanford coach David Shaw said. "I give the coaching staff of Duke a lot of credit. They did the same thing to us last year; they made it tough on us. They made it hard on us and just like last year, you got to make plays in the passing game."
Stanford (2-0) finished with just 92 yards rushing on 26 carries, which snapped a 49-game streak in which the Cardinal ran for over 100 yards as a team. The last time it fell short of the century mark was a 31-14 loss at TCU on Sept. 13, 2008.
Without much room to operate, running back
Stepfan Taylor
ran for 69 yards on 14 carries and scored on a 13-yard run early in the second quarter.
While Duke (1-1) stacked the box to have success against the run, the Cardinal's base 3-4 defense fared even better. The Blue Devils had negative yards rushing for most of the first half and finished the game with 27 yards on 23 carries.
[+] Enlarge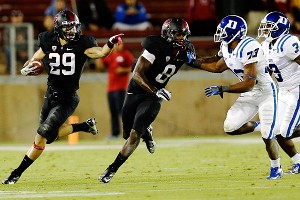 AP Photo/Marcio Jose SanchezEd Reynolds, left, scored two interceptions against Duke, returning one 71 yards for a touchdown.
By no coincidence did the stout defensive effort coincide with the return of linebacker
Shayne Skov
. Skov, who missed most of last season with a torn anterior cruciate ligament, made just four tackles, but the potential All-American's presence on the field was no doubt felt by his teammates.
"It's great to have his energy," safety
Ed Reynolds
said. "He brings so much passion to the game as a teammate, as a leader and just having him out there running around doing what he does best was definitely a plus for us."
Skov said there were no lingering effects from the torn anterior cruciate ligament.
"It didn't bother me at all today. I think adrenaline is a hell of a deal, it can completely change you," Skov said. "It changes how you feel and tomorrow, if you ask me how I feel, it'll probably be a completely different answer."
When it mattered, the Cardinal pass defense was effective too. Duke lived on a steady diet of quick, high-percentage passes to the perimeter throughout the game and didn't hit on anything deeper until the game was well out of hand.
Reynolds, who has taken on a lot of the responsibilities that
Michael Thomas
held last year, has been an obvious bright spot through the first two games. After opening the season with an interception last week, he added two more against Duke and returned the first 71 yards for a touchdown to put Stanford up 43-6 late in the third quarter.
"Nothing has ever seemed too big for him," Shaw said. "He's got a great knack for reading quarterbacks and great knack for getting to the ball and the thing with him is that he's a former running back, so once he gets his hands on the ball he can be dangerous."
Last year, Thomas led the team with three interceptions and it took the team seven games to combine for that many.
Duke quarterbacks
Sean Renfree
and
Anthony Boone
combined to complete 42 of 63 passes for 358 yards, but just 105 of those yards came in the first half as Stanford built a 23-3 lead.
Drew Terrell
took a lot of the pressure off the Stanford offense before it hand a chance to step on the field. After the defense forced a three-and-out to open the game, Terrell took the ensuing punt 78 yards for a touchdown.
"I saw on film earlier in the week that their punt team wasn't real good at getting out," Terrell said. "The punter outpunted the coverage. I saw there was one guy to beat. Fortunately, I was able to get inside of him and I saw it was me and the punter and as a returner you can't let the kicker bring you down."
Quarterback
Josh Nunes
couldn't have been happier with how things opened up.
"That gave us an extra boost of confidence," he said, "seeing Drew run down the sideline, it gets us all hyped up."
Terrell added three catches for 39 yards and another touchdown to round out the best game of his college career.
With Duke set on stopping the run, Nunes had a chance to air it out more than in his debut. He completed 16 of 30 passes for 275 yards and three touchdowns, but threw his first career interception.
As well as the Cardinal played Saturday, it'll take another significant week of improvement if the team expects to contend with No. 2 USC in the Pac-12 opener for both teams next week.
"All hand on deck, honestly," Skov said. "It's going to take everything we got and we know what's ahead of us."
September, 10, 2011
9/10/11
6:24
PM ET
DURHAM, N.C. -- For the second straight week, Stanford's offense tiptoed that ever-so-fine-line between sputtering and spectacular.
At times, they looked unstoppable. Others, leaky.
"Not good enough," said quarterback
Andrew Luck
. "Definitely not in the first half. Not good enough … I made a mistake here. Another guy makes a mistake there. It's hard to get into a rhythm when every other guy is making a mistake. But they had a good defense. They dialed up some stuff and had our number for a while."
[+] Enlarge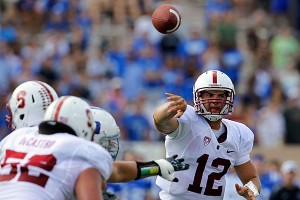 AP Photo/Gerry BroomeStanford quarterback Andrew Luck piled up 290 yards passing and four touchdowns against Duke on Saturday.
And yet the No. 6 team in the nation endured with a victory over Duke at Wallace Wade Stadium -- if you can call a
44-14 victory
and 504 total yards of offense enduring.
But heading into the locker room at halftime with a flimsy 17-7 lead, coach David Shaw recognized that there were some issues.
"We didn't make a lot of changes," Shaw said. "We just charged our guys to play physical and make plays down the field."
The second half was better -- and the Cardinal looked the part of a top-10 team. A closer examination of the stats shows that the Cardinal (2-0) actually had more yards in the first half, 253 to 251 in the second half. But numbers can lie.
The big difference came in the rushing attack. After 68 yards in the first half (including a paltry three yards in the second quarter), Stanford burst open for 137 rushing yards in the second half.
"The first half was a little disappointing," said center Sam Schwartzstein. "But that's the way football is. I'm happy with the way we answered some adversity."
The root of the problem was Duke running delayed blitzes. It tripped up the pass protection and led to Luck taking more hits than his offensive line was comfortable allowing -- including two sacks (one by contact, the second out of bounds).
"Way too many," said offensive tackle Jonathan Martin. "Our communication wasn't all the way down. Guys were coming free who shouldn't have come free. But we're getting there."
Luck finished the game 20-of-28 for 290 yards and four touchdowns. For the second-straight week, he was pulled in the second half.
"Pass protection-wise, it was the stunts [that bothered us]," Shaw said. "But as the game went on, our offensive line got better and better and better."
It looked like Duke (0-2) might grab some momentum before halftime, when Lee Butler intercepted a tipped ball and returned it 76 yards for a touchdown -- cutting Stanford's lead to 10-7 with 2:14 remaining.
Then Jekyll went to sleep and Hyde woke up. Stanford went from lethargic to lethal, needing only 43 seconds and four plays to move 59 yards for a 10-yard Luck-to-
Chris Owusu
touchdown. Stanford took a 17-7 lead at the break and never looked back. Owusu finished with seven catches for 106 yards.
"It's one of the most difficult things in sports, to regain momentum and we couldn't do that," said Duke coach David Cutcliffe. "We didn't make those plays to get that done."
One area that appears to have no consistency issues is the run defense -- which was outstanding for the second week in a row. The Blue Devils were limited to just 30 rushing yards, and if not for a late touchdown with 57 seconds left in the game, the defense would have pitched a touchdown-free performance again.
"It was going to happen eventually," joked linebacker Shayne Skov, who led the Cardinal with 11 tackles.
The front seven were relentless, notching six sacks and 14 tackles for a loss. Linebacker Chase Thomas looked like he was buying real estate in the Duke backfield, tallying 2.5 sacks and 3.5 tackles for a loss. After the Butler interception/touchdown, Duke shocked the Cardinal with an onside kick and recovered -- threatening to take the lead at the half. But the defense sacked Duke quarterback
Sean Renfree
twice in three plays, giving the ball back to the offense, which went on to score on the Owusu touchdown.
The secondary, however, continued to show holes. The Blue Devils threw for 305 yards and, had it not been for three missed field goals, the game might have been even tighter at the break.
In the second half, when the running game was cranking, the passing game opened up. For example, it allowed Stanford to run one of their three-tight-end sets. One goes to the post, one to the corner and the other up the middle.
Coby Fleener
was the guy who went up the middle, and the end result was a bullet from Luck, a mismatch for a shorter defender, and a 60-yard touchdown. The Cardinal went on to score touchdowns on their next four possessions.
"The shortest one (of the tight ends) is 6-5, so it's pick your poison," Shaw said. "When they are one-on-one, we feel like they are all open."
Fleener had a stellar game, catching two balls -- both touchdowns -- for 63 yards. But he too saw the inconsistency on offense.
"I think everybody saw us stall a lot in the first half," he said. "We can't be like that if we expect to win games down the road. We need to play 60 minutes, start fast, and finish similar to the way we did tonight."
Last week, Shaw received the game ball from his players for his first victory as Stanford's head coach. Saturday night, in a game of two halves, it wasn't so clear.
So who gets it this week?
"We'll watch film before we decide," Shaw said.
Probably a good call. Numbers lie.
Pac-12 Weekend Wrap: Sept. 23
PAC-12 SCOREBOARD
Thursday, 9/25
Saturday, 9/27