Stanford Football:

Texas Tech Red Raiders
March, 3, 2014
3/03/14
12:00
PM ET
Looking back at some teams the current group of Pac-12 coaches have led during their respective head-coaching careers turns up an impressive list. All 12 have coached a team to a bowl appearance, 10 have finished a season with double-digit wins and eight have had teams appear in the AP top 10.
Taking it a step further and just looking at each individual coach's best team (in college) also made for an interesting study. Choosing which teams those are is clearly a subjective process so for the purpose of consistency, the teams listed below were chosen based on the final spot in the AP poll.
Here are some notable takeaways:
Eight teams ended with bowl victories, but two occurred after the coach left.

Seven teams started unranked, but only one finished out of the polls.

Half of the coaches did it at their current school, four of which occurred in 2013.

Six teams appeared in the top 5 at some point and nine were in the top 15.

Three coaches immediately parlayed the success into their current job.

Only three of the teams won conference titles, none of which was in the Pac-12.

Two teams beat No. 1-ranked squads.

Four teams played in BCS bowls, and three were victorious.
We're not going attempt to rank them ourselves, but here they are in reverse order based on each team's final AP ranking:
No. 12 Sonny Dykes, Louisiana Tech, 2012
Dykes' record:
9-3 (4-2, third in WAC)
Final AP rank:
unranked
Highest AP rank:
19
Bowl result:
no bowl

The team:
The Bulldogs finished the season as the country's highest scoring team (51.50 ppg) and top-ranked offense (577.9 ypg). They rose to No. 19 in the AP poll before losing their final two games of the season, including one against Mike MacIntyre-coached San Jose State in the season finale. Louisiana Tech was
offered a spot
in the Independence Bowl, but it was given away while the school unsuccessfully sought other bowl options. Dykes left for Cal after the season.
[+] Enlarge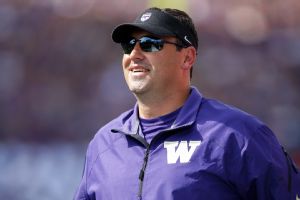 Otto Greule Jr/Getty ImagesSteve Sarkisian parlayed his successful 2013 season into the head-coaching job at USC.
No. 11 Steve Sarkisian, Washington, 2013
Sarkisian's record:
8-4 (5-4, third in Pac-12 North)
Final AP rank:
25
Highest AP rank:
15
Bowl result:
Beat BYU in Fight Hunger Bowl (Sarkisian did not coach)

The team:
The season began with a win against then-No. 19 Boise State, and the season ended with Broncos coach Chris Petersen being hired by the Huskies. Sarkisian departed for USC prior to the bowl. After the win against Boise, Washington debuted in the rankings at No. 19 and rose four spots before a string of three straight losses to Stanford, Oregon and Arizona State.
No. 10 Mike MacIntyre, San Jose State, 2012
MacIntyre's record:
10-2, (5-1, second in WAC)
Final AP rank:
21
Highest AP rank:
21
Bowl result:
Beat Bowling Green in Military Bowl (MacIntyre did not coach)

The team:
Two years after coaching San Jose State to a 1-11 record in his first season as head coach, MacIntyre's team became the first in program history to finish in the final AP poll -- although, the Spartans were unranked when MacIntyre accepted the job at Colorado. SJSU didn't beat any ranked teams, but lost just 20-17 to Stanford, which went on to win Pac-12 and Rose Bowl championships. The other loss came to Utah State, which finished No. 16.
No. 9 Todd Graham, Arizona State, 2013
Graham's record:
10-4 (8-1, won Pac-12 South)
Final AP rank:
21
Highest AP rank:
11
Bowl result:
Lost to Texas Tech in Holiday Bowl
The team:
In his eighth season as an FBS head coach, Graham's most recent Arizona State team was his best. The Sun Devils began the season unranked and entered and exited the Top 25 twice before closing the regular season with a seven-game winning streak. It was ranked No. 11 when it hosted Stanford in the Pac-12 championship game, but a second loss to the Cardinal kept ASU out of the Rose Bowl.
No. 8 Mike Riley, Oregon State, 2008
Riley's record:
9-4 (7-2, tied for second in Pac-10)
Final AP rank:
18
Highest AP rank:
17
Bowl result:
Beat Pittsburgh in the Sun Bowl

The team:
The Beavers started unranked and lost their first two games before winning eight of nine to peak at No. 17. After a 1-2 start, it beat No. 1 USC in Corvallis, but didn't immediately build off the big win. The next week the Beavers lost to Kyle Whittingham's undefeated Utah team (more later).
Riley's highest spot in the polls came in 2012, when the Beavers reached No. 7 after a 6-0 start. He was a head coach in the NFL for three years and the Canadian Football League for four, where he won a pair of Grey Cups.
No. 7 Jim Mora, UCLA, 2013
Mora's record:
10-3 (6-3, second in Pac-12 South)
Final AP rank:
16
Highest AP rank:
9
Bowl result:
Beat Virginia Tech in Sun Bowl

The team:
The Bruins spent the entire season in the polls after starting at No. 21. They began 5-0 and rose to No. 9 before road losses to No. 13 Stanford and No. 3 Oregon. Mora's best coaching job came in the NFL in 2004 when he guided the Atlanta Falcons to an NFC South title and an appearance in the NFC Championship.
No. 6 Mike Leach, Texas Tech, 2008
Leach's record:
11-2 (7-1, tied for first in Big 12 South)
Final AP rank:
12
Highest AP rank:
2
Bowl result:
Lost to Ole Miss in Cotton Bowl

The team:
The Red Raiders started the year at No. 12 and moved up to No. 6 after an 8-0 start. They rose to No. 2 after Michael Crabtree's memorable touchdown catch secured a win vs. No. 1 Texas. After two weeks at No. 2, the Red Raiders lost to No. 5 Oklahoma in a game that propelled Sooners quarterback Sam Bradford to the Heisman Trophy. Leach arrived at WSU in 2012.
[+] Enlarge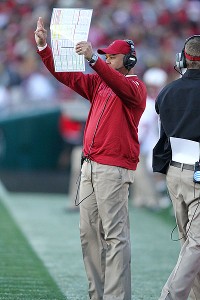 AP Photo/Kevin ReeceDavid Shaw's best team at Stanford didn't win the Pac-12 title.
No. 5 Mark Helfrich, Oregon, 2013
Helfrich's record:
11-2 (7-2, tied for first in Pac-12 North)
Final AP rank:
9
Highest AP rank:
2
Bowl result:
Beat Texas in Alamo Bowl
The team:
Of all the teams on the list, none started higher than the Ducks in Helfrich's head-coaching debut at No. 3. Oregon spent eight weeks at No. 2 before losses to Stanford and Arizona in a three-game span ended any hopes of a conference or national title. The team finished ranked No. 2 in the country in both total offense (565.0 ypg) and scoring (45.5 ppg). Quarterback
Marcus Mariota
dealt with some late-season injury problems, but, when healthy, he was as good as any player in college football.
No. 4 David Shaw, Stanford, 2011
Shaw's record:
11-2 (8-1, second in Pac-12 North)
Final AP rank:
7
Highest AP rank:
3
Bowl result:
Lost to No. 3 Oklahoma State in Fiesta Bowl
The team:
In three seasons as head coach, Shaw has won a pair of Pac-12 titles. But in 2011, when Oregon won the Pac-12 title, he probably had his best team. The Rose Bowl championship team the following year also finished No. 7 and has more hardware, but it didn't have Andrew Luck. Stanford started the year at No. 7, moved up to No. 3 after winning its first nine games, but then lost 53-30 at home to No. 6 Oregon. Stanford received a second consecutive BCS at-large bid, but suffered an overtime loss to No. 3 Oklahoma State in the Fiesta Bowl. In addition to Luck, 10 other players landed on 53-man NFL rosters from the team's departing class. Stanford's low ranking of No. 8 was the best among teams on this list.
No. 3 Rich Rodriguez, West Virginia, 2005
Rodriguez's record:
11-1, (7-0 Big East champion)
Final AP rank:
5
Highest AP rank:
5
Bowl result:
Beat No. 8 Georgia in Sugar Bowl
The team:
Freshmen QB Pat White and RB Steve Slaton were the names of note for the current Arizona coach. West Virginia started the year unranked and its lone loss came to then-No. 3 Virginia Tech. It was the first of three consecutive double-digit win seasons for the Mountaineers, who were undefeated in Big East play and capped the season with a win over No. 8 Georgia in the Sugar Bowl. A strong case can be made that West Virginia had a better team in 2007, when Rodriguez left following the regular-season finale to become head coach at Michigan. The Mountaineers were ranked No. 2 (No. 1 in the coaches poll) going into Rodriguez's final game, but
lost to a 4-7 Pittsburgh team
in the 100th Backyard Brawl, which cost them a chance to play for the national title. They finished No. 6.
No. 2 Chris Petersen, Boise State, 2009
Petersen's record:
14-0 (8-0, WAC champions)
Final AP rank:
4
Highest AP rank:
4
Bowl result:
Beat No. 4 TCU in the Fiesta Bowl
The team:
Washington's new coach has quite the résumé. Many consider Boise State's undefeated 2006 team that beat Oklahoma in that's year memorable Fiesta Bowl as the school's best, but three years later the Broncos finished 14-0 and finished a spot higher in the final AP poll. They opened the season at No. 14 and started with a win against No. 16 Oregon in Chip Kelly's first game as head coach. Boise capped the season with a win against undefeated TCU in the Fiesta Bowl. The team's offensive coordinator, Bryan Harsin, is now the head coach and its defensive coordinator, Justin Wilcox, spent last season with Sarkisian at Washington and followed him to USC in the same capacity.
No. 1 Kyle Whittingham, Utah, 2008
Whittingham's record:
13-0 (8-0, Mountain West champions)
Final AP rank:
2
Highest AP rank:
2
Bowl result:
Beat No. 4 Alabama in Sugar Bowl
The team:
In Whittingham's fourth season as head coach, the Utes finished as the nation's lone undefeated team after starting unranked. Utah opened with a win at Michigan -- Rodriguez's first game as the Wolverines' coach -- and went on to beat four teams that finished in the final AP poll, including Alabama (6), TCU (7), Oregon State (18) and BYU (25). Quarterback Brian Johnson threw for 336 yards in a convincing 31-17 win against Alabama in the Sugar Bowl.
Want to swap out one team for another or switch the order? Email me at Kyle.Bonagura@espn.com.
January, 3, 2014
1/03/14
12:00
PM ET
The Pac-12 went 6-3 in its bowl games. On Dec. 9,
the Pac-12 blog noted
, "Anything less than 6-3 would be a major disappointment."
So the Pac-12 didn't notch a "major disappointment" this bowl season. And there was much rejoicing. Yay.
Sure, conference teams were favored in all nine games, but you can't win them all, right? A .667 winning percentage is solid by just about any measure. The super-awesome SEC is just 5-2 with a couple of tough games remaining.

Why then am I so underwhelmed?
Short answer: It should have been better. Our Pac-12 bowl season grade? A gentleman's "C."
Part of the problem was the matchups, which were unusually forgiving. USC's blowout win over No. 20 Fresno State in the Royal Purple Las Vegas Bowl was the only win over a ranked team, mostly because the only other ranked team the Pac-12 played this bowl season was Stanford against No. 4 Michigan State in the Rose Bowl Game Presented by VIZIO, a 24-20 Spartans victory.
Another part of the problem was how things went down.
While Washington State fans seem split on whether the Pac-12 blog is allowed to call the Cougars' monumental double-dog-derp against Colorado State by the term that everyone immediately thought of (don't worry, we won't type "Couged it"), that was a quintessential example of a team forcibly yanking defeat from the jaws of victory.
Then there was Arizona State against Texas Tech in the National University Holiday Bowl. For whatever reason, the Sun Devils simply didn't show up. We apologize for seeming to not give Texas Tech credit for a great win, but the Red Raiders need to understand the Sun Devils they played looked nothing like the Sun Devils of 2013. That game was utterly shocking, at both a player and coaching level. Todd Graham was right to take the blame afterward. His team wasn't ready to play.
That game reminded me of a coach who once told me that having a senior-laden team can become a mixed blessing for a bowl game. Sometimes, senior leadership provides focus to a locker room. And, sometimes, seeing that the seniors won't be accountable to the coaching staff and their teammates the following fall, they lose interest and start looking ahead to their own futures. My guess is the latter happened with Arizona State.
Stanford? It hardly played a perfect game, but the Rose Bowl was simply a good, hard-fought matchup that Michigan State took from Stanford, instead of the Cardinal giving it to the Spartans. The result served more as a validation of the Big Ten champs than a reduction of Stanford's national status.
[+] Enlarge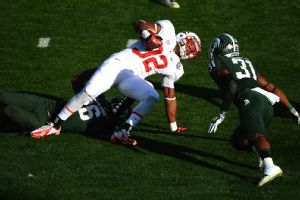 Jonathan Moore/Getty ImagesAnthony Wilkerson and Stanford didn't slip up too badly in the Rose Bowl loss to Michigan State.
That take mostly rings true for the Pac-12's bowl season. Going 6-3 won't represent a retreat; it won't cause a negative national re-evaluation of the strength of the conference. For one, if Auburn loses to Florida State in the national title game, no conference will post a dominant bowl season. Big 12 champion Baylor losing to Central Florida in the Tostitos Fiesta Bowl and Alabama losing to Oklahoma in the Allstate Sugar Bowl showed that bowl-season nuttiness can affect even the heaviest of favorites.
So kudos to USC, Oregon State, Washington, Oregon, Arizona and UCLA for taking care of business in their bowl games.
USC and Washington won despite coaching turmoil. The Ducks showed what a healthy
Marcus Mariota
looked like and gave defensive coordinator Nick Aliotti a great farewell with a dominant performance on that side of the ball. Oregon State, Arizona and UCLA brought their A-games and dominated.
My general feeling is the carryover to 2014 will be at least four and probably five teams ranked in the preseason: Oregon, Stanford, UCLA, USC and maybe Arizona State.
The Pac-12 bowl season was only OK. It could have been worse; it could have been better.
That's nothing to aspire toward, but at least the conference won't have to spend the offseason wringing its hands over its national status as we head toward the first season of a four-team College Football Playoff.
David Shaw Talks Stanford Signing Day
PAC-12 SCOREBOARD
Thursday, 9/3
Friday, 9/4
Saturday, 9/5