Stanford Football:

Tommy Rees
December, 1, 2013
12/01/13
9:00
AM ET
Handing out helmet stickers for
Stanford's 27-20 win over Notre Dame
:

CB
Wayne Lyons
: After getting burned for a touchdown in the third quarter, Lyons responded with interceptions on Notre Dame's final two drives to seal the win for Stanford. His first pick extended Stanford's takeaway streak to 36 games.
RB Tyler Gaffney:
Gaffney ran for 189 yards and a touchdown on 33 carries to lead the Stanford offense which averaged 5.1 yards a rush. Gaffney, who seemingly got stronger as the game went along, ran for over 100 yards in eight of the 12 regular-season games, including six of the last seven.
LB Shayne Skov:
Skov did a good job rushing Notre Dame quarterback
Tommy Rees
and forced Rees to get rid of the ball much quicker than he would have liked. Skov finished with a sack and two official quarterback hurries.
November, 30, 2013
11/30/13
7:00
AM ET
It's No. 25 Notre Dame at No. 8 Stanford in the regular-season finale (7 ET, Fox). Here are five things to watch when both take the Stanford Stadium field.


Kevin Hogan.
Hogan was a bystander during last year's overtime thriller in South Bend, Ind., and he did not take over as the Cardinal's starting quarterback until four games later, against Oregon State. Stanford went on to win all five games with Hogan under center, including the Rose Bowl, and is now 14-2 with Hogan at the helm. The redshirt sophomore has plenty of Notre Dame ties in his family. More importantly, he is completing better than 60 percent of his passes for 2,052 yards with 18 touchdowns and seven interceptions. The 6-foot-4, 220-pound Hogan is the third different Stanford signal-caller the Irish will face in as many years, and while he is not exactly Andrew Luck, he presents a different kind of challenge this time around from Josh Nunes last year.
Notre Dame's offensive line.
It has been a wild 12 months for
Matt Hegarty
, whose playing career was in question after suffering a ministroke last November. He has since recovered, and with
Nick Martin
tearing the MCL in his left knee in the first quarter last week against BYU, Hegarty is now the Irish's man in the middle. The southpaw will be tasked with calling out blitzes and communicating with
Tommy Rees
and the rest of the line as they ready for a Stanford defense that is tied for sixth nationally with 34 sacks. Notre Dame has not been too shabby in protecting Rees, who has been sacked just seven times this season, tied for No. 2 nationally.
Jarron Jones.
Kona Schwenke
tried to give it a go last week against the Cougars but was sidelined soon enough because of a high-ankle sprain. That led to increased playing time at nose guard for Jones, who stepped up to the plate and doubled his season tackle total (seven to 14) and blocked a field goal. Can he do it again? Schwenke's status remains up in the air. And
Tyler Gaffney
, the nation's 10th-leading rusher, will be tough to stop, as he has had only 23 carries for zero or negative yards (second-best nationally among backs with 175 or more carries, per ESPN Stats & Info).
Irish running backs.
Notre Dame eclipsed the 200-yard rushing mark against BYU for just the third time this season. As Irish Illustrated mentioned earlier this week, the Irish have won 20 in a row when attempting 30 or more rushes. The biggest development against the Cougars might have been seeing two different backs break out for big games, as
Cam McDaniel
had a career-best 117 yards and freshman
Tarean Folston
rushed for 78 yards and a touchdown. If they can keep it going against the nation's No. 3 rushing defense (89.5 yards per game), that will take lots of pressure off Rees as well.
Special teams.
Jones' blocked kick last week, his second of the season, was huge. And the Irish will need more huge special teams plays in this contest to pull out the win. Stanford leads the nation in kick returns. Notre Dame, as we know, is not very good at defending kick returns (116th), so preventing big plays in that department is a must. But
TJ Jones
looks closer and closer each week to breaking free for a big punt return -- he might have been on his way last week if he did not get tripped up by the playing surface -- and
Kyle Brindza
has proven to be a clutch kicker. Both could be difference-makers if the Irish protect the ball on offense.
November, 29, 2013
11/29/13
10:00
AM ET
As always, thanks to ESPN Stats & Info and sports information departments for these nuggets.
Stanford QB Kevin Hogan is completing 50 percent of his passes thrown 25 yards or longer this season, an increase of 20 percentage points from last season. His 11 touchdowns on such passes lead the Pac-12 and ranks third among AQ quarterbacks behind Bryce Petty (13) and Tajh Boyd (12).
Since the start of last season, Stanford has an FBS-high 91 sacks, including 67 when they send four or fewer pass rushers. Last season against Notre Dame, Stanford had three sacks when sending four or fewer pass rushers.
Last season, Stanford running back Stepfan Taylor was stopped on two consecutive rushes from the Notre Dame 1-yard line in overtime, resulting in Notre Dame's 20-13 victory. In the last 10 seasons, teams scored a touchdown on 85 percent of their drives that reached the opponent's 1-yard line.
Notre Dame gave up an FBS-low four yards on goal-to-go situations last season, including just three yards in a goal-line stand against Stanford in overtime. This season, in such situations, Notre Dame ranks 10th in yards allowed (37) and tied for 10th in touchdowns allowed (9).
Hogan has targeted tight ends on just 6 percent of his pass attempts this season, down 42 percentage points from last season. That means that his wide receivers are getting more targets; Hogan has thrown 76 percent of his passes and 17 of his 18 touchdowns to wide receivers this season.
Tommy Rees is completing 65.6 percent of his passes and averaging 11 yards per attempt when targeting TJ Jones. When targeting any other wide receiver, Rees is completing 47.9 percent of his passes and averaging 7.7 yards per attempt.
May, 30, 2013
5/30/13
6:00
AM ET
Notre Dame's Nov. 30 regular-season finale at Stanford will be broadcast on either Fox or new channel Fox Sports 1, the Pac-12 announced Wednesday, with the kickoff time for the game and network designation not coming until either six or 12 days in advance of the contest.
The game had previously been announced as a Fox broadcast.
The Irish's game against the Cardinal, along with their Nov. 9 tilt at Pitt, are the only two games this fall without set kickoff times yet. All have television stations.
Six of Notre Dame's last seven trips to Stanford have been night games, with 2007 serving as the outlier.
This is the third of three games the Irish will play against Pac-12 opponents this fall. It figures to have lots of buzz in the lead-up though, as Pac-12 blogger Ted Miller notes, some of the luster may be lost with the recent news of
Everett Golson
's suspension from school.
From
his take earlier this week
:
In any event, Golson's academic pratfall dramatically changes the complexion of the three Pac-12 games with Notre Dame this season: Arizona State in Cowboys Stadium on Oct. 5, USC on Oct. 19 and at Stanford on November 30.

While Golson was inconsistent as a redshirt freshman starter last fall, he still was good enough to lead his team to an undefeated season and a berth in the national title game. Word this spring was he looked more in command and greatly improved, which makes sense for a second-year starter. It's not unreasonable to believe the big-armed, speedy dual-threat QB would have been more of a dual threat this fall, perhaps significantly more, a guy who well fit what coach Brian Kelly wants to do on offense.

There is no way to sugarcoat it: Notre Dame just got worse. And that benefits the Irish's opponents.
As Miller said, David Shaw's Memorial Day weekend probably wasn't ruined with the news — though it was
Tommy Rees
who delivered the final offensive blow to the Cardinal in last season's epic clash in South Bend, Ind.
October, 13, 2012
10/13/12
7:23
PM ET
SOUTH BEND, Ind. -- The secret to
Tommy Rees
' ability to step in without a moment's notice and lift Notre Dame out of its second deficit of the season is really no secret at all. It's plain on the sideline for all of his teammates to see. It's the reason why, when the trailing team's starting quarterback goes down in the final minutes with an undefeated season on the line,
Manti Te'o
said, the Irish "don't have any worries."
"It's just: OK, Tommy's in now," Te'o, one of four captains, said after Notre Dame's
20-13 overtime victory
Saturday over Stanford.
"Good luck, defense."
Why?
"He's watching the game, relaying stuff to coaches,"
Tyler Eifert
, another captain, said. "His knowledge of the game is so good that the coaches sometimes depend on him to talk to him [starting QB Everett Golson] and tell him what he's seeing out there for the sideline. He's focused on the game and not distracted during the game at all."
The clock showed 3 minutes, 27 seconds left in the fourth quarter when the white and gold helmets clashed at the Notre Dame 47-yard line, and the best backup quarterback in the country immediately went searching for his own headgear.
"Get your helmet and let's go," coach Brian Kelly recalled telling Rees. "He couldn't find his darn helmet."
[+] Enlarge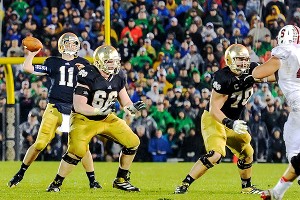 Robin Alam/Icon SMTommy Rees completed all four passes he threw against Stanford, including the winning score in OT.
That's as unprepared as the junior would be on a Saturday when he helped the Irish get to the season's halfway mark undefeated, completing 4 of 4 passes -- three of them in overtime -- in setting up
Kyle Brindza
's game-tying field goal before a 7-yard touchdown pass to
T.J. Jones
proved to be the deciding score in Notre Dame's sixth and most dramatic win of the season.
When
Everett Golson
was shaken up after a helmet-to-helmet hit from Stanford's
Usua Amanam
, his chance at lifting the Irish out of a three-point hole gave way to four support staff members crowding him on the sideline, his helmet off, his vision blurred from what Kelly later called a blow to the head.
The redshirt freshman's most uneven start of the year featured three fumbles but enough scrambling ability and resiliency against a hungry defense to keep Notre Dame alive, the calls for his backup to replace him coming the loudest after a fumble in his own end zone led to a Cardinal touchdown and the first Notre Dame deficit of the season.
And yet few have done more in a shorter period of time than Rees has in going from one of the most vilified students on Notre Dame's campus to one of the most popular, and not just because, like every No. 2 signal-caller on every level of this game, he is not the guy on the field making the mistakes. The twist has taken a sharper turn than the breaks that had so often been going against the Irish before this season.
Two closing jobs through Notre Dame's first five games of 2012 have Rees ready and waiting for his number to be called. But even he admitted afterward that this call was unlike any other so far.
Still, staying engaged while watching on the sideline for three-plus hours has not been the hard part for the aspiring coach.
"I like it," Rees said. "I love football and I love the game and I love learning and I love paying attention and trying to help Everett and the rest of the guys as much as I can. I stand with
[Andrew] Hendrix
most of the game and we talk about what the looks are out there. We just try to relay some of that."
Kelly added: "He's an incredible young man that he can stay so focused in the game, know what's going on during the game. At halftime I'm talking with him and Everett and he's pointing out some things about the outside coverages that we should maybe think about running, as well. He's just a very smart football player."
And so despite the biting rain pouring down shortly after his entrance -- creating a muck of a field -- and despite a big hit from
Trent Murphy
on the first play of overtime that threatened to unsettle things, Rees delivered.
He completed three consecutive passes in the extra session, his biggest a 16-yarder to
Theo Riddick
on a third-and-8 that saw the Irish staring at a long field goal in anything-but-simple conditions. He hit Jones for the score, and he watched his defense make a goal-line stand, celebrate, wait for an official's confirmation, then celebrate again.
Notre Dame is 6-0, with two different quarterbacks playing pivotal roles in three wins apiece.
"Not exactly, no, I didn't imagine this," Rees said. "For good, bad or different, it's worked out this way and it's going well, I guess, we are 6-0 I think."
October, 13, 2012
10/13/12
4:27
PM ET
It was wet and often times ugly with No. 17 Stanford at No. 7 Notre Dame. As expected, it was physical and the weather made for some sloppy play on Saturday. Sixty minutes wasn't enough. The Irish clutched up and won
20-13
in overtime. Here's how it all went down:


It was over when
: After Notre Dame went ahead in overtime on a 7-yard touchdown pass from
Tommy Rees
(in for the injured
Everett Golson
) to
TJ Jones
, the Irish defense stopped
Stepfan Taylor
from the 1-yard line on third and fourth down. The final play even went to review to determine when Taylor's forward progress was stopped. The call on the field was upheld. It was high drama until the very end.
Game ball goes to
: The Notre Dame front seven. They clutched up when it mattered in overtime with two huge stops. It was ugly, it was messy and it was a heck of a football game.
Unsung hero
: Though he's part of that front seven, Notre Dame's
Manti Te'o
was huge, leading all players with 11 tackles. A fantastic performance from one of college football's marquee players.
Unsung hero II
: Fans were screaming for Rees, but they didn't get him until Golson was injured. He came in off the bench and was 4-for-4 for 43 yards and the touchdown in overtime.
Unsung hero III
: Give some credit to the Cardinal defense as well. It provided Stanford with its only touchdown of the game when
Ben Gardner
sacked Golson in the end zone and forced a fumble that
Chase Thomas
recovered for a touchdown in the second quarter.
What it means for Notre Dame
: The Irish remain undefeated, showed they can win ugly, and now have three wins over teams ranked in the Top 20. Expect a nice slot for them when the BCS rankings come out Sunday.
What it means for Stanford
: It was the second straight week the Cardinal have gone to overtime, though the outcome was different last week. Stanford needs to figure out how to score on the road. The Cardinal have two touchdowns in two road games this year and both came from the defense. They are on the road again next week at Cal.
November, 26, 2011
11/26/11
8:35
PM ET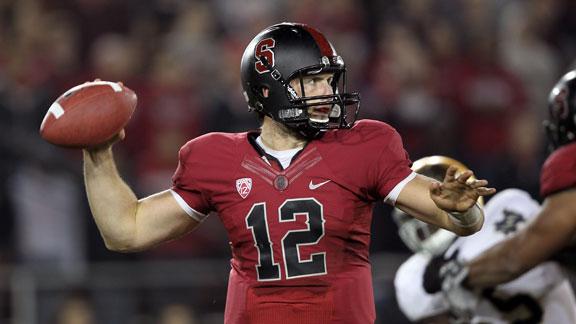 STANFORD, Calif. -- The
Stanford Cardinal
overcame a sluggish second half to top Notre Dame
28-14
in the regular season finale for both teams at Stanford Stadium.


The Cardinal now await the outcome of games next week before finding out their postseason destination -- which more than likely will include an at-large bid to a BCS game.
Quarterback
Andrew Luck
threw four touchdown passes -- three in the first half and then a 55-yarder to tight end
Coby Fleener
late in the fourth to seal the victory.
Luck and Fleener also hooked up for a 28-yard touchdown in the first half.
Senior Night quickly turned into Andrew Luck night as the Heisman Trophy candidate set the Stanford record for most career touchdown passes (80) and the single-season mark (35). Luck finished the game 20-of-30 for 233 yards, four touchdowns and an interception.
Notre Dame turned the ball over three times and never really found a rhythm on offense, switching between quarterback
Tommy Rees
in the first half to
Andrew Hendrix
in the second half. Hendrix and
Michael Floyd
hooked up for a 6-yard touchdown strike in the third quarter.
The Cardinal's relentless pass rush sacked Notre Dame's quarterbacks five times -- it was the fourth time this season Stanford has had five or more sacks in a game.
November, 26, 2011
11/26/11
7:41
PM ET
STANFORD, Calif. -- Notre Dame finally got on the board midway through the third quarter when quarterback
Andrew Hendrix
– who appears to have replaced
Tommy Rees
permanently for the second half – connected with
Michael Floyd
on a 6-yard scoring strike.
Heading into the locker room at the half, ESPN sideline reporter Heather Cox asked Notre Dame head coach Brian Kelly if he was going to change quarterbacks at the break.
"Just trying to do anything to get some consistent play at the quarterback position," Kelly said. "... We're not getting enough production right now."
Looks like he's getting the production he wanted from Hendrix – who orchestrated the 7-play, 77-yard scoring drive.
Notre Dame has been solid in the third quarter, outscoring opponents 84-13. The Irish have only allowed one offensive touchdown in the quarter this season.
The Cardinal lead 21-7.
November, 26, 2011
11/26/11
6:47
PM ET
STANFORD, Calif. -- Quick thoughts from the first half of Stanford-Notre Dame.


Best player
: Stanford linebacker Chase Thomas has been all over the field in the first 30 minutes. He has four tackles, including a sack and two tackles for a loss.
Best player, Take 2
: Tough not to include Stanford quarterback
Andrew Luck
(14-of-21, 155 yards) in the conversation — he has three first-half touchdowns to three different players.
Worst play
: Normally we reserve this space for the "best play," but worst play goes to the pooch punt by Notre Dame quarterback
Tommy Rees
. On fourth-and-4 at the Stanford 45 early in the second quarter, Rees lined up under center, then checked out into a deep shotgun, took the snap and tried a quick kick, but it was partially tipped by Ben Gardner. It wasn't his first punt attempt of the season, but it was definitely his worst, going for all of 5 yards.
Turning point(s):
A couple of them – all following the pooch punt. On the ensuing drive, Luck was drilled by Harrison Smith as he threw. Notre Dame's Darius Fleming picked off the wayward throw and returned it 35 yards. It's the fifth consecutive game that Luck has thrown an interception.
Coby Fleener
saved the touchdown by bringing down Fleming, but it was a horse-collar, adding 15 yards to the end of the play. The Irish couldn't punch it in despite starting the drive at the Stanford 10. And then David Ruffer missed a 20-yard field goal.
What Stanford needs to do
: Exactly what it has been doing in the first half – lean on running back
Stepfan Taylor
(75 yards, 8.3 per carry) and then utilize the mismatches with the tight ends. The Irish have no answers for
Levine Toilolo
or Fleener.
What Notre Dame needs to do
: Buy Rees some more time. The Cardinal pass rush has been fierce. Thomas and Gardner both have sacks and even when Rees does get rid of the ball, he's usually on the ground after the throw.
November, 26, 2011
11/26/11
5:53
PM ET
STANFORD, Calif. -- Stanford quarterback
Andrew Luck
matched John Elway for most career touchdowns in Stanford history, with 77, when he connected with tight end
Levine Toilolo
on a 3-yard jump ball to the 6-foot-8 tight end, giving the Cardinal a 7-0 lead.
Notre Dame was stringing together a nice answer drive, moving 36 yards in eight plays until quarterback
Tommy Rees
fumbled and the Cardinal recovered at their own 30.
Stanford linebacker Chase Thomas has been Rees' worst nightmare in the first 15 minutes of the game. Thomas knocked Rees out for a play, coming up the middle and driving the quarterback into the ground.
Rees would return on the next series, only to see Thomas sack him and strip the ball in the process -- his fifth forced fumble of the season.
Not a very clean start for the Irish either, who have three false-start penalties in the first quarter.
November, 25, 2011
11/25/11
6:00
AM ET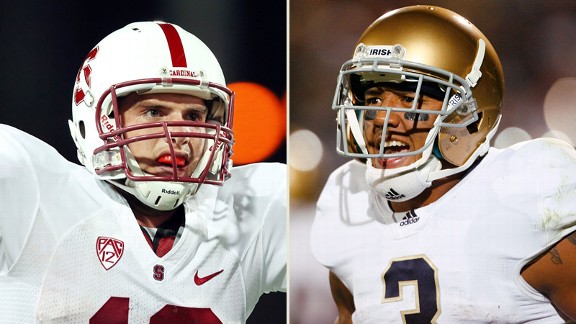 Getty Images, US PresswireQuarterback Andrew Luck, left, leads Stanford; Notre Dame leans heavily on receiver Michael Floyd.
Stanford and Notre Dame are both moving on to bowl games -- but first they square off in the regular season finale for both teams. Notre Dame blogger Matt Fortuna and Stanford blogger Kevin Gemmell do their best to shake off turkey hangovers and bring insight into Saturday's matchup.
Kevin Gemmell
: Happy post-Thanksgiving to you and yours, Matt. Seeing as Stanford and Notre Dame cross paths this week, it would stand to reason that the Stanford and Notre Dame blogs also come together the day before the game.
There are major bowl implications in this game for Stanford. What's the most important thing the Cardinal need to be on the lookout for when scouting the Irish?
Matt Fortuna
: Kevin, same to you and your family as well. I think I'm still in a turkey coma from last night. Obviously, this is the biggest test Notre Dame will have faced all season long. Looking at the numbers throughout this season, I think the Irish's best bet for success is to move the ball through the air and take full advantage of
Michael Floyd
.
Jonas Gray
's knee injury severely hampers Notre Dame's ground attack. The cast is largely unproven behind the smaller
Cierre Wood
, and Stanford's rushing defense is good enough to have seriously challenged the Irish backfield even if Gray took the field. The Cardinal's weakness, if they have any, would appear to be its pass defense.
Tommy Rees
will have to improve on his sub-par performance from last week and look more like the Rees from the Maryland game two weeks ago, when he completed 30 of 38 passes and sped up the tempo of the Notre Dame offense. If he can establish a rhythm early, I think we can brace ourselves for a pretty competitive contest.
I'd be remiss to not ask the Stanford blogger about
Andrew Luck
, so here we go: Should everyone in the Midwest believe the hype? I currently have him atop my ESPN.com Heisman ballot, but I'm wondering if things look as crisp up-close as they do from other parts of the country. What will Notre Dame's secondary need to do to contain Luck?
Kevin Gemmell
: Well, if each player on the secondary can add four or five inches, that would be a good start. Luck is going to seek out his tight ends --
Coby Fleener
(6-foot-6),
Levine Toilolo
(6-8) and possibly
Zach Ertz
(6-6) who hasn't played since the USC game because of a knee injury. Luck doesn't have the receiving corps to stretch the field, but he exploits his mismatches and if one of the Notre Dame defensive backs has one-on-one coverage with a tight end, look out, because Luck will find it.
As for believing the hype? Stanford head coach David Shaw believes it. He went on a pro-Luck tirade Tuesday, saying Luck is doing things no other college player has ever done. In that regard, then yes, believe the hype. Luck is the most intelligent and evolved college quarterback I have ever seen. He sets the formations and then calls the play. And he's good at it. The Cardinal are almost always running the optimal play against the optimal defense because Luck is calling it on the spot. It's pretty amazing to watch him orchestrate the offense.
I was just going over Stanford's record against marquee wide receivers and it's pretty good. They've slowed down
Keenan Allen
(Cal),
Robert Woods
(USC) and
Juron Criner
(Arizona). Since we're talking secondaries, tell me about Michael Floyd and what he brings.
Matt Fortuna
: Allen had six catches for 97 yards. Woods had nine for 89. And USC's
Marqise Lee
added seven catches for 95 yards. I'm not sure if we have the same definition of "slowed down," Kevin. Michael Floyd is big (6-3, 224 pounds), fast and versatile. He has improved his downfield blocking this season, and he is lined up virtually anywhere on the field. Notre Dame likes to find him in the flat often and let him create. Look no further than early in the fourth quarter Saturday, when Floyd took a pass on the right side, did not get a proper block, reversed field completely and ended up with an 18-yard gain on the other end of the field. He is a first-round talent who may fall to the second round only because of his off-the-field history.
Looking at the offensive lines earlier in this week, I was surprised to see the combined weight of Stanford's starters (305 pounds) were only one pound more than Notre Dame's (304). The Cardinal obviously have a pair of first-rounders up front, but what is it about the unit that allows it to impose its will on opposing defenses?
Kevin Gemmell
: Come on, Matt. You know better than to fall into the trap of looking at just final statistics. Allen had all six catches in the first quarter and then was blanked the next 45 minutes. Woods was kept out of the end zone until overtime. Pretty sure if Shaw had his choice, he'd prefer Floyd to do all of his damage in the first quarter and then be a non-factor for the rest of the game -- or to hold him without a touchdown for 60 minutes.
But I think we can both agree that getting the ball to Floyd is a priority for Notre Dame and stopping that is a priority for Stanford.
Stanford's offensive line likes to grind. They'll run the power to either side with
Stepfan Taylor
(who just went over 1,000 yards for the second consecutive year) and they'll rotate fresh backs in regularly --
Tyler Gaffney
,
Anthony Wilkerson
,
Jeremy Stewart
-- and just pound away. What makes it fun to watch is they'll run essentially the same play out of a bunch of different looks. Sometimes they'll have a jumbo package with six or seven offensive linemen. Other times they'll have two fullbacks and three tight ends. They get funky with their formations and that allows them to lean on teams over the course of the game.
Speaking of offensive lines, Notre Dame is pretty good at keeping Rees' jersey clean. The protection seems solid. Is that a product of them, Rees getting rid of the ball quickly or a little bit of both?
Matt Fortuna
: Both Rees and the offensive line have made strides throughout the season. The unit gave up five sacks in the month of September, two of which resulted in Rees fumbles, but the Irish did not allow a single sack from Oct. 1 to Nov. 12, when they gave up three to Maryland. Even that seemed more like something that was bound to happen rather than a big breakdown in protection. Mike Golic Jr. has done a great job filling in for the injured Braxston Cave at center, and Rees has done a much better job of releasing the ball more quickly.
OK, Kevin, I don't know how much more talking I can do while still in this turkey-induced coma. Let's get right to it: Who do you got Saturday?
Kevin Gemmell
: Well, because of the Thanksgiving week, we both posted our predictions on Wednesday, making this portion of our little chat a bit anti-climatic. And I am sure you got a laugh, as I did, that there was a (spoiler alert) one-point differential in our predictions. I have Stanford winning 31-21. I just don't see Andrew Luck losing (probably) his final home game at Stanford Stadium. I think the Cardinal are motivated to make an impression on voters -- in light of David Shaw's BCS comments on Tuesday -- and I think when you get right down to it, Stanford does a better job taking care of the ball and has more mismatches on offense. Notre Dame gets some points, but Stanford gets the win.
Before you attack the leftovers and fall back asleep, what's your take on why Stanford wins?
Matt Fortuna
: Impossible to fall asleep with so many good games on today and tomorrow. The leftovers are only complementary pieces. Anyway, as you mentioned, I like Stanford as well, 31-20. I like the Cardinal for many of the reasons you do — Andrew Luck's last home game, David Shaw's edgier tone this week. But ultimately I think the Irish's young defensive line just won't have enough gas in the tank to hang with Stanford's offense for four quarters, at least not this early in most of their careers. Notre Dame's offense would have had a tough time keeping Stanford off the field as it was, but take big running back Jonas Gray out of the picture, and the situation becomes even less favorable for the road team.
November, 22, 2011
11/22/11
3:24
PM ET
Notre Dame enters Saturday's regular-season finale at Stanford as an underdog for the first time this season. But Brian Kelly is not quite playing the us-against-the-world card this week.
"I don't know that I see ourselves as a spoiler, to be quite honest with you," Kelly said Tuesday. "We have a great deal of respect for Stanford, and they've earned everything. They're a darn good football team. We see this as just another opportunity to play our last regular-season game. I know our guys are excited. It's a relevant game in November and it's on national television. That gets 18-21-year-olds' attention more than being a spoiler so to speak."
[+] Enlarge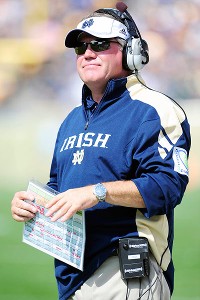 Jeanine Leech/Icon SMI"It's a relevant game in November and it's on national television," Brian Kelly said. "That gets 18-21-year-olds' attention more than being a spoiler so to speak."
The stakes are high, but they are also unclear. The No. 6 Cardinal (10-1) are likely playing for a spot in a BCS-bowl game. The No. 22 Irish? At 8-3, there is a very remote chance they could jump eight spots and become BCS-bowl eligible themselves with a win -- with an emphasis on the
very remote
part.
More pressing, however, is the validation that would come with a road win over a top-10 opponent in the second year of a new regime, which would also give the Irish a chance at a 10-win season.
They finished last season on a four-game winning streak to go 8-5.
"Well, it's still about, for us, you know, preparing the right way and then performing on Saturdays," Kelly said. "I've said this a number of times. I like the way we've prepared. We haven't performed on Saturdays the way we need to consistently. We're showing that at times.
"This is just another one of those — it's not a referendum on our season, but it's another step towards where we want to be in consistency in November. We have done very well in November, and we want to continue to build on that in this game against Stanford."
Notre Dame has won all six of its November games since Kelly took over. The second-year Irish coach has actually won 16 straight regular-season contests in November and December, dating back to 2007, when he coached Cincinnati.
He has already faced quarterback
Andrew Luck
, the likely top NFL draft pick and a strong Heisman Trophy contender.
Luck has completed more than 70 percent of his passes this season, throwing for 2,937 yards, 31 touchdowns and just eight interceptions, and he will likely be playing the final home game of his career.
In a 37-14 win at Notre Dame last season, Luck was 19-for-32 for 238 yards, with one touchdown and two interceptions.
"Boy's under pressure more than anything else," Kelly said. "Some of the throws that he made against us last year. We brought an allout blitz inside the 15-yard line, and we had a freeblitzer and he just kept back-pedalling and hit a tight end on a choice route in the end zone.
"That's poise under pressure. He has the ability to make the throws when he's under duress as well. And to have that, you've got to have the skill, but also the utmost confidence in your ability. He has all this intrinsic things necessary to be a great quarterback."
The onus on Notre Dame's quarterback,
Tommy Rees
, may be heavier this week. Starting running back
Jonas Gray
's season is over after tearing the anterior cruciate ligament in his right knee Saturday, and a pair of unproven freshmen —
George Atkinson III
and
Cam McDaniel
— will back-up junior
Cierre Wood
.
Freshman end Stephon Tuitt's status is uncertain after missing the last game with an illness as well.
"It's huge," Rees said after Saturday's game. "To go finish November strong, finish the season strong against a good opponent, and I think it would just give us some momentum heading into a bowl, and we look forward to it just like any other opponent. We can't focus too much on everything that's going around us. We're ready to play another football game."
PAC-12 SCOREBOARD
Saturday, 12/21
Monday, 12/23
Tuesday, 12/24
Thursday, 12/26
Friday, 12/27
Saturday, 12/28
Monday, 12/30
Tuesday, 12/31
Wednesday, 1/1
Thursday, 1/2
Friday, 1/3
Saturday, 1/4
Sunday, 1/5
Monday, 1/6