Stanford Football:

Tracy Moore
December, 31, 2011
12/31/11
2:00
PM ET
SCOTTSDALE, Ariz. -- The bloom isn't exactly off the desert rose. But let's just say the
Stanford Cardinal
aren't as wide-eyed as they were when they stopped off in Miami for last year's Orange Bowl.
[+] Enlarge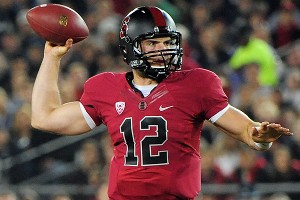 Kyle Terada/US Presswire Andrew Luck and Stanford will not be overwhelmed as they prepare for their second consecutive BCS bowl game.
For the second straight season, the Cardinal are playing in a BCS bowl game. They'll face Oklahoma State -- BCS bowl rookies -- on Jan. 2. While the experience of being in one of college football's red carpet bowl games is still thrilling, Stanford's approach is business-like and professional.
"The novelty maybe has worn off a little bit and we realize that this is just another game," said Stanford quarterback
Andrew Luck
. "They just happen to be the No. 3 team in the nation and probably the best team we've played. But it's still another game, and we can't get caught up in all of the hype."
But aren't you the No. 4 team in the nation?
"Yeah, that's true," Luck said with a smile. "Despite all of the hype, it's still about trying to win a football game."
Except for swapping oceanfront views for desert beauty, little has changed from a preparation standpoint for the Cardinal from last year to this year. They are keeping the same schedule, practice tempo and methodical mentality.
"We've still got the same approach, regardless of what game it is or who we are playing," said outside linebacker Chase Thomas. "The intensity is the same in practice. We know what to expect having been there before. I don't know how much the experience matters. It's just like any other game and that's how we're preparing -- just like it's another game."
Last season, you might recall, Luck and tight end
Coby Fleener
had monster games en route to a 40-12 win against Virginia Tech in the Orange Bowl. Luck threw four touchdowns – three of them to Fleener, who finished with six catches for 173 yards. No one is expecting a lopsided score when the Nos. 3 and 4 teams get together.
And just because Oklahoma State is in its first BCS bowl game, don't expect the Cowboys to be overwhelmed by the experience. Stanford certainly wasn't last year.
"I don't know if the experience of the game matters as much as actually getting there," said Oklahoma State wide receiver
Tracy Moore
. "We've been to plenty of bowl games in the past and we've played in plenty of big games over the years. We've never been to one of these, but we have a chip on our shoulder and we're in it to win it."
December, 30, 2011
12/30/11
4:45
PM ET
SCOTTSDALE, Ariz. -- Stanford University has always prided itself on being at the forefront of social change – and that's evident with its history of hiring minority coaches.
At Friday's Fiesta Bowl media day, David Shaw, the third African-American head football coach at Stanford, said he's proud of the progress minority coaches have made across the college football landscape.
"I am. I really am. … No question," Shaw said. "I give a lot of credit to Bill Walsh. He has always done a lot for minority coaches. And Stanford likes to be at the forefront of a lot of different things. And it is kind of the way we do business. I'm very proud of my school."
Shaw said much of his upbringing and influence to become a football coach comes from his father, Willie, also a longtime coach in the NFL and college.
"It's something I follow with my father being a coach," he said. "I credit my father, Tyrone Willingham, Denny Green, a lot of those guys that, gosh, did a good job and showed that they could win games so that opportunities for the rest of us are more prevalent than they were before.
"I think the athletic directors, there has been, gosh, last seven or eight years, a hard push by athletic directors to make more guys like me available, get to know more guys like me and give them opportunities when they deserve them."
SPLIT TITLE?
Asked what the ranking landscape of college football will look like should Alabama beat LSU in the national championship game, Shaw said he didn't know, nor did he really care.
"That is a great question that I don't have an answer for," Shaw said. "For us, we just concentrate on this game. We don't care where we are ranked after this game. We don't care what happens where anybody else says that we are. It just means that we are Fiesta Bowl champs. That's all we can care about. As far as the championship game, that's great, people will watch that and enjoy that, but we are just concentrating on our game."
WARY OF TURNOVERS
While Oklahoma State's defense gets knocked for the yards it gives up, one stat that is indisputable is turnovers. With 23 interceptions on the year and 42 total turnovers, the Cowboys rank second nationally in turnover margin. That's a scary thought, said Stanford quarterback
Andrew Luck
.
"Forty-two takeaways is a statistic that doesn't lie," Luck said. "When they have to make a play, they'll make a play. They can swing momentum. We have to take care of the football or else you see a guy in the other jersey going the other way."
CHALLENGE ACCEPTED
Oklahoma State wide receiver
Tracy Moore
didn't know that Stanford's secondary hadn't allowed an opposing receiver to gain 100 yards this season. He does now. He also didn't know that only eight wide receivers have reached the end zone against the Cardinal this season. He does now.
"That definitely sounds like a challenge to me," Moore said. "I know plenty of guys on this team,
Justin (Blackmon)
, Coop (
Josh Cooper
), knowing that, now we're licking our chops.
"All of that happened before. They gotta play us now."
December, 30, 2011
12/30/11
8:00
AM ET
Justin Blackmon
's athletic ability falls somewhere between brilliant and baffling. You know it. I know it. Stanford head coach David Shaw knows it. The Cardinal secondary knows it. Every NFL scout knows it.
[+] Enlarge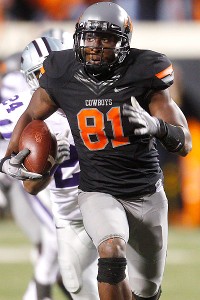 AP Photo/Sue OgrockiStanford will be facing a big challenge in Oklahoma State wide receiver Justin Blackmon.
So how do you stop Oklahoma State's prolific wide receiver? Ah ... a simple question with a nearly impossible answer.
That's the challenge facing the Stanford secondary when the Cowboys and Cardinal clash on Jan. 2 in the Tostitos Fiesta Bowl.
Consider Blackmon's résumé this season:
Six times he went over 100 yards in a game.
Six times he had double-digit receptions in a game (113 on the year).
Five times he went for more than 120 yards -- including a 205-yard performance against then-No. 14 Kansas State.
Five times he had multi-touchdown games.
He scored at least one touchdown in 10 of 12 games.
Pretty daunting stuff.
Stanford's secondary gives up a lot of yards, about 241 per game. Blackmon gets a lot of yards, about 111 per game. He also finds the end zone, with 15 touchdown receptions this year. However, this is where Stanford's pass defense takes a significant turn for the better. The Cardinal have only allowed 15 passing touchdowns all year. Break that down even further and you'll see that of those 15, only eight touchdowns were caught by wide receivers.
Still, Stanford's secondary gets a bad rap for the yards it yields (the most overblown stat in football, by the way) and its lack of interceptions. Safety Michael Thomas said he and his teammates don't deserve the reputation of being the weak link in Stanford's defense.
"We're not OK with that at all," Thomas said. "At the same time, besides going out and playing, what more can you do? You can't change anybody's opinion unless you go out and play. We get one last shot going against a talented group of receivers -- especially Justin Blackmon -- and we're going to try to make a statement this game to show we can play with the best receivers out there."
If you were paying attention this season, they've already shown it. Stanford has already faced six of the top 20 statistical wide receivers in the country this year:
Robert Woods
(USC),
Michael Floyd
(Notre Dame),
Keenan Allen
(Cal),
Marquess Wilson
(Washington State),
Juron Criner
(Arizona) and
Noel Grigsby
(San Jose State). Against the Cardinal, five of those six performed below their season average. Only Floyd matched (but did not exceed) his season average. Wilson and Grigsby failed to score and Woods, Floyd, Allen and Criner were held to one touchdown each.
Stanford's secondary is also yet to allow a 100-yard receiver this season. That's a major accomplishment the Cardinal defenders are hoping to complete.
"If we stop No. 81, we wouldn't have allowed a 100-yard receiver this season, and I don't know how many other secondaries can say that," Thomas said.
"What's different about him is while he plays physical, he plays bigger than his size and he plays faster than his speed. We've played some very dynamic athletes. This cat brings a whole new dimension. We feel like he plays as fast as he needs to play. There is no flaw in his game whereas other guys we could find something. This guy doesn't have any flaws. But all we can do is prepare for him like we did the rest of them."
Preparation, therein lies another problem. The Cardinal have no one on their roster who can simulate the way Blackmon plays.
"We've got about four guys wearing the No. 81 jersey," Shaw said. "It's hard because we're trying to practice at game tempo for our team, but there are not many guys in college football that can run full speed eight plays in a row, deep routes, and still come back and not even be out of breath. We've been rotating guys in and out because that's so hard to emulate."
The closest offense Stanford has seen this season to Oklahoma State is Arizona. That's the game the players are going back and watching.
"That's really the only thing we can compare it to," Thomas said. "It's high-tempo, but not like Oregon. But they are like Arizona in terms of depth at the wide receiver position, one stud quarterback who can sit in the pocket and make throws. We're treating them like we did Arizona, but making some tweaks."
Just as Stanford's offense isn't all about
Andrew Luck
, OSU's receiving game isn't all about Blackmon. Quarterback
Brandon Weeden
commands the spread offense with precision and efficiency.
Tracy Moore
has a pair of 100-yard receiving games and four touchdowns.
Josh Cooper
has gone for more than 100 yards three times.
"They have a bunch of guys who can make plays," Thomas said. "And we'll have packages in place for all of them. But no matter what, you always have to keep your eye on No. 81."
Stanford Lands No. 4 QB-PP K.J. Costello
PAC-12 SCOREBOARD
Thursday, 9/3
Friday, 9/4
Saturday, 9/5