Stanford Football:

Tre Madden
February, 25, 2014
Feb 25
7:15
PM ET
Our look at position groups in the Pac-12 continues.
Arizona:
With
Ka'Deem Carey
off to the NFL, figuring out Arizona's running back situation requires a bit of guesswork. Backups
Daniel Jenkins
and
Kylan Butler
are out of eligibility and rising junior
Jared Baker
tore his ACL in the regular-season finale. That leaves no running backs who had a carry last season. Those competing for carries will be redshirt freshmen
Pierre Cormier
and
Zach Green
, and true freshmen
Jonathan Haden
, an early enrollee, and
Nick Wilson
.
[+] Enlarge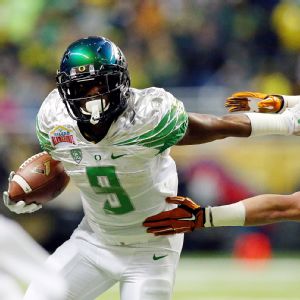 Ronald Martinez/Getty ImagesByron Marshall will be the Pac-12's leading returning rusher in 2014.
Arizona State
: The torch was passed from
Marion Grice
to
D.J. Foster
toward the end of last season, and Foster will have a full offseason to prepare to be the No. 1 guy. He showed impressive flashes in spot playing time in the past two seasons, and ran for 318 yards (6.2 yards per carry) in three starts after Grice was lost to injury.
California:
Much was made about
Brendan Bigelow
's talent during his career in Berkeley, but it never materialized the way many expected it would. He was beaten out by true freshman
Khalfani Muhammad
a year ago, then opted out of his final year of eligibility for a shot at the NFL -- and subsequently was not invited to the combine. Getting a feel for how coach Sonny Dykes would like to use his running backs is tough considering the lopsided nature of most of the games last year, but Muhammad showed all the signs that he would develop into a good Pac-12 running back.
Colorado:
Christian Powell
and
Michael Adkins II
will both be back after combining for 1,097 yards rushing in 2013. With receiver
Paul Richardson
off to the NFL, there's the need for added production on offense, and while coach Mike MacIntyre showed at San Jose State he'd prefer that to come through the air, it could add up to more opportunities for Powell and Adkins.
Oregon
: Does it even matter who the Ducks hand the ball to? Sometimes it doesn't seem like it, but, regardless, Oregon remains loaded with speed and talent at running back.
Byron Marshall
(1,038 yards rushing) and
Thomas Tyner
(711 yards) will both see plenty of carries when quarterback
Marcus Mariota
(715 yards) isn't running on his own. The team does lose
De'Anthony Thomas
, who opted to leave early for the NFL, but Thomas turned into a relative afterthought last season anyway.
Oregon State:
It shouldn't be hard to improve the Beavers' running game after they ranked 115th in the country in rushing yards per game last season. Their top two backs --
Terron Ward
and
Storm Woods
-- return and figure to see more use under new offensive coordinator John Garrett. There was a glimpse of what could be against Boise State in the Sheraton Hawai'i Bowl as the Beavers unleashed a more balanced approach. Woods ran for 107 yards on 16 carries and Ward added 54 yards on nine carries in a comfortable 38-23 victory.
Stanford:
The Cardinal's running back situation is
outlined here in more detail
, but it should be noted that the competition between
Remound Wright
,
Barry J. Sanders
and
Ricky Seale
-- competing to replace
Tyler Gaffney
-- will also include
Kelsey Young
. Young was recruited to Stanford to play running back, but was switched to receiver and is now back at running back. Sanders has the name recognition, but all signs point to Wright getting the first crack at being the primary back. However it plays out, it would be a complete shock if one back was used as much as Gaffney was in 2013 and Stepfan Taylor the two seasons before that.
UCLA
: If things play out the way UCLA coach Jim Mora hopes they will, linebacker
Myles Jack
will be just that … a linebacker. After winning Pac-12 Offensive and Defensive Freshman of the Year, the Bruins would ideally keep him on defense. For that to happen, someone needs to step up. That conversation still includes
Jordon James
and
Paul Perkins
, while
Craig Lee
, a four-star recruit who redshirted last year, also factors into the equation.
[+] Enlarge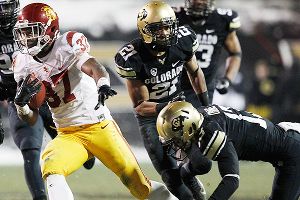 AP Photo/David ZalubowskiBuck Allen will likely head up USC's running back committee next season.
USC
: After watching Bishop Sankey turn into one of the nation's premier backs under the tutelage of new coach Steve Sarkisian, USC's deep stable of running backs has to be intrigued. The Trojans will return four of their top five leading rushers from a year ago --
Javorius "Buck" Allen
,
Tre Madden
,
Justin Davis
,
Ty Isaac
-- when they were predominantly a run-first team. Allen, who was named the team MVP in 2013, figures to get the first crack at being the starter, but that could be just in name only as a
running-back-by-committee scenario seems likely
.
Utah
: Another season, another new offensive coordinator for the Utes. This time it's
Dave Christensen's job
to invoke life in the Utah offense, which will return leading rusher
Bubba Poole
(607 yards) and
Lucky Radley
(284 yards). The Utes averaged just 4.1 yards a carry as a team last year, which is partially to blame for the change from Dennis Erickson to Christensen after just one year.
Washington:
The NFL combine taught us that
Bishop Sankey
might have been the most physically gifted running back in the country last year. It's not as simple as plugging in another guy to replace him, but the Huskies are still in good shape. Senior
Jesse Callier
(48 carries, 213 yards in 2013), who was slated to be the starter before an ACL tear in the season opener in 2012, is intriguing and will compete with fellow senior
Deontae Cooper
(43 carries, 270 yards) and sophomore
Dwayne Washington
(27 carries, 332 yards).
Washington State:
Considering quarterback
Connor Halliday
had three single-game passing totals that were more than leading rusher
Marcus Mason
ran for in entire season (429), any discussion about the Cougars' running game is tough to take seriously. Yes, there will still be running backs on the roster. No, they probably won't combine to run for 1,000 yards as a team.
Previous positions
Quarterback
November, 5, 2013
11/05/13
9:00
AM ET
Just cause it's the mailbag doesn't mean I mail it in.
Trojan Nation in (Downtown LA) writes:
For the mailbag ... Kevin! You picked
USC to lose against Oregon State
. You Picked
USC to lose against Utah
. When are you going to show us Trojans some love and admit that we're a good football team with great talent who are WINNING despite going through what no other college team in college football has to. Would any other team in college football be doing as well as SC is if it had the same restriction put unfairly upon them??? I think not!
[+] Enlarge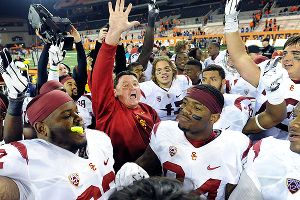 Steve Dykes/Getty ImagesEd Orgeron's Trojans have managed to overcome plenty of obstacles this season.
Kevin Gemmell
: I did, and I did. But I'll say the same thing to you that I said to the ASU fan
who berated my Washington pick
a couple of weeks ago: Where were the mailbag notes thanking me for my support when I picked
USC over Notre Dame
and
Washington State
or
Utah State
? Though I will admit, your note was far more polite and playful, which is appreciated.
Color me egg-faced, because you're right, USC is doing some pretty incredible things considering the roller coaster ride the program has been on with the sanctions and the coaching change and the injuries it has sustained.
When it comes to close games, I tend to lean toward the home team. And given USC's lack of recent success in Corvallis, I took the best data I had available and made a decision. I was wrong. Ted was right, so a tip of the cap to him.
What impressed me most about USC was the power running game. Getting
Silas Redd
back has obviously helped, but
Justin Davis
goes down,
Tre Madden
exits and
Buck Allen
steps in and absolutely throttles Oregon State. Say this for USC's depth, it's bad in a lot of places, but it's freaking awesome at tailback.
Now the Trojans are 3-1 since the coaching change, playing inspired defense and pushing people around on the lines. So yes, you are a good football team with great talent who is winning.
I'm not sure what to expect from USC down the stretch. But here's a spoiler alert, I'm going to go out on a limb and pick you guys this week.
---
Ryan in New York writes
: Kevin,
Nice article on the new coach at CU
. I wish them well this weekend and for the rest of the season. Snarky and spiteful? Ouch. I'll try and get back to my playful self. Let's be clear: I don't love UCLA, but Jim Mora's done a nice job and has handled himself admirably. I just think the media loves to over-hype sometimes, and given the Bruins' most impressive performances have been close losses, I do believe they need to win a meaningful game to earn so much praise. Keep up the good work and give your partner-in-crime a shout out, too.
Kevin Gemmell
: This is why Ryan is one of my favorite mailbaggers.
He flew off the handle a bit last week
. I called him on it and had to reel him back in. And he comes right back with another note. The dedication is appreciated.
First, thanks for the kudos on the Mike MacIntyre story. I know the wins and losses aren't there. And I don't think anyone expected a massive swing in the win column in just one season. But he's a proven rebuilder and recruiter, and I think he's got the program moving in the right direction.
Regarding UCLA, I still consider the win in Nebraska to be a meaningful game. Not just because of the tragic circumstances that led up to it, but simply for how explosive UCLA looked in that second half when everything was clicking. We got a glimpse of a team with remarkable offensive and defensive potential and saw firsthand that when it's clicking, it can hang with anybody.
Now, it wasn't clicking the past couple of weeks, and it clicked off and on against Colorado. A lot of that has to do with youth and injuries.
Right now ASU looks like the team to beat in the South. But I'm not banking on anything in this final month. With USC yet to play UCLA, and the Bruins and Sun Devils yet to play Arizona, a lot can, and probably will, happen.
---
Mahalo in Honolulu writes
: Hey Kevin, most of us Buff fans are happy with the new coach, yet are still skeptical on the outlook for the future -- primarily because of recruiting. High school kids don't have any memory of the glory days, the facilities are bleh, and the product on the field is, well, you know. What would you do to sell CU to the kids that can come here and help Mac build the Buffs to a contender?
Kevin Gemmell
: Your skepticism is valid. You've been jilted a few times over the past five or six years.
I don't know Mike MacIntyre as well as I do some of the other coaches. We've met a few times and speak on the phone every week during the teleconference. And for the story last week, he was gracious with his time and gave me an extended phone interview.
But there is a sense when talking to the man that he's going to at least get the program back to respectability or go down with the ship trying. He's a no-excuses guy. His pedigree is phenomenal, and there is no question about his dedication to the program.
That's what you sell. You buy into the man, not the facilities or the school's record 25 years ago. Take, for example, linebacker
Addison Gillam
. He had committed to MacIntyre at San Jose State. And when Mac changed to Colorado, Gillam followed. Here's a young man who had a chance to go to an 11-win team, ranked in the Top 25 and moving into the Mountain West, a very respected non-AQ conference. But he followed MacIntyre because he believes in the man and the vision. He wants to be a part of something special -- building up a program from scratch and restoring it.
There is something admirable about that. And I think that's MacIntyre's greatest asset in recruiting.
And though the wins aren't there yet, I think we definitely see a fiery, competitive team on the field. One playing with much more confidence than we've seen the past couple of seasons.
---
Daniel in Pittsburg writes
: Hey Kevin, as a diehard Stanford fan and family member, I'm curious to know what your projected BCS standings would be if Stanford beats Oregon? I would also like to know if a Baylor victory would also play a role? Thanks Kevin.
[+] Enlarge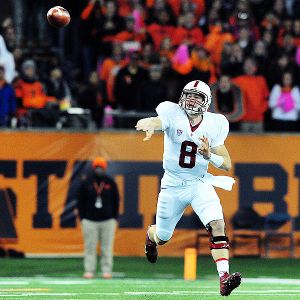 Steve Dykes/Getty ImagesEven if Stanford and Kevin Hogan beat Oregon, the Cardinal may need help from some other teams.
Kevin Gemmell
: Everything plays a role. A butterfly flaps its wings in Uzbekistan and the Colley Matrix blue screens.
I think Stanford would still need help, even if it beat Oregon, for the obvious reason that there are still undefeated teams in front of the Cardinal. If Florida State and Ohio State were to lose, then we could see the Cardinal jump into that No. 2 spot if they were to beat Oregon. And if Alabama loses, obviously the rest of the field moves up. So Stanford's best chance is to beat Oregon and hope for an assist from a Syracuse or Florida, an Indiana or a Michigan, or an LSU or Auburn.
Assuming everyone else wins, Stanford beating Oregon would further supplant Florida State as the No. 2 team and strengthen Ohio State even more as one of the few undefeated teams. Perhaps Stanford gets a couple of No. 2 or No. 3 votes in either of the human polls, but I'm not sure voters would spring them over an Ohio State team that hasn't lost in almost two seasons.
As for Baylor, I think it would enjoy a nice bump if it beat No. 10 Oklahoma. But I don't think it would be enough to vault the Bears over Stanford if the Cardinal beat Oregon. If Stanford loses, it's moot, because it will drop. If Baylor loses, it's moot, because the Bears will drop. Both teams need to win to keep pace, and I think Stanford's win would be viewed as more significant, so I don't see Baylor jumping the Cardinal.
---
Joe Bruin in Westwood writes
: Hey Kev ... Joe Bruin here. As a fan (and a mascot), I seem to be a little too worried about my team, especially after the games against Stanford and Oregon. I concur with Coach Mora when he said the team seemed to have a "hangover" from those games. Is it just me, or did the win against Colorado not look too impressive? Should I be worried about this team? Or will the Bruins get back in the swing of things?
Kevin Gemmell
: I'd be concerned about this game coming up. The Bruins haven't won in Tucson since 2003, Karl Dorrell's first season, and
Ka'Deem Carey
is obviously one of the nation's most elite playmakers. I know a lot of focus is on the Nov. 23 date with Arizona State -- and rightfully so -- but the Bruins still have a couple of tough tests in Arizona and Washington before that showdown.
However,
Brett Hundley
actually turned in the best quarterback performance of the week, per ESPN's Adjusted QBR rating (note, adjusted reflects opponent's strength).
Here's the other side of it. As I said earlier, Colorado is a better team than it was last fall so give those guys a little credit for coming in and not being intimidated.
I think Colorado provided a nice little test (when was the last time we typed that?) for UCLA to knock off some of the rust from the back-to-back losses. The Bruins figured a few things out, and the offensive line got some more experience.
And Mora has shown that he can rally the troops when they are down. And I wouldn't call the Bruins down right now. I'd just say they have a tough November ahead of them.
September, 24, 2013
9/24/13
9:00
AM ET
This is my mailbag. There are many like it, but this one is mine.
Eric in Redmond, Ore. writes:
The Oregon State defense seems to spend large portions of games with their silly hats on. What is going on with them? It seems there is talent at every position, but they play like day-old pancakes with too much syrup on them. On the other hand, how good is
Sean Mannion
to
Brandin Cooks
!? Can they keep this up all season? If they do, will there be Heisman considerations for either one? I have to say that right now, I think they are both #1 at their respective positions (in the conference).
Evan in New York writes
: Sean Mannion has carried the OSU team on his shoulders. Mannion leads the nation in passing and leads the nation in TDs. Not saying he is in contention, but does he at least get a nod from the Heisman pundits? Without him the team could easily be 1-3 now. Or is it really about just propping up the best players on the best teams?
Shane in Corvallis, Ore. writes
: Apparently of all Pac-12 teams the Beavers feel the need to give their fans the most heart attacks. What team would you say is the most stress inducing for their fan base?
James in Corvallis writes:
Hey Kevin, even though there were question marks at a couple of positions for the Beavers' defense, there were enough starters back on that side of the ball to expect much better play than they are showing. The entire defense has been missing tackles, missing assignments, and generally overplaying everything. What are your thoughts on why the Beavers' defense has been sooooooo bad this year and is there any hope that it could turn around?
Kevin Gemmell
: Lots of Oregon State fans eager to chat up their Beavers this week, so I'll lump them all together in one efficient answer.
Oregon State has been hit hard with the injury bug on defense. And I know coaches like to say that's not an excuse, but it kind of is. When you're expecting to have your best talent out there -- and don't -- it's a valid excuse. Behind closed doors, I'm sure the coaching staff is frustrated that they are thin. There has been a notable drop off at some positions, and it's especially noticeable in the tackling.
Take the Utah game, for example. In the first half, the defense played great holding the Utes to just a touchdown. Utah had just six rushing yards through the first quarter and didn't get a first down until the second quarter. The schemes appear to be right. They just need better execution and they have to finish plays.
As for Cooks, in general, wide receivers are seen as a product of their quarterback. So while Cooks has put himself in great shape to be a Biletnikoff finalist, I don't see any Heisman buzz in his future.
Mannion would have the better chance of the two if he continues his current pace. He's leading the nation in touchdown passes, passing yards and completions and he's 12th in QBR rating. Anytime you have a completion percentage in the 70s, you're doing it right.
But Sir Heisman is a fickle fellow. Remember, it's as much about perception as it is numbers. And right now the perception of Oregon State isn't particularly strong. It's not fair that defensive woes get placed on Mannion's potential candidacy, but that's how it goes. If the Beavers can pull off some wins over a couple of the ranked north teams, and he performs well, maybe he generates a little buzz on the West Coast. But he's going to have to prove that he's just as capable as
Marcus Mariota
and
Brett Hundley
before he gets in the conversation.
As for heart attacks, if this is how the Beavers are going to play all year, I'd lay off the Smoked Pork Chili Cheese Burger at
Block 15
and go with the Sun Burger.
Tonya in Gresham, Ore. writes:
As an old fat woman who loves college football I am wondering why folks aren't talking more about Marcus Mariota as a Heisman candidate. He seems always to be mentioned but as an afterthought. Do the folks on the East Coast realize that his numbers come from just a little over half a game each week? Since he began starting as a QB for Oregon he has only completed 25 percent of his games! Most often sitting out after the first or second series in the third quarter (and we all know that takes only about 5 min off the clock at best). This young man is for real and I as a fan would like to hear more about him!
Kevin Gemmell:
First off, you're gorgeous, Tonya. Don't let anybody tell you different.
As for Mariota, I think you need to look a little harder. Heading into last week he was
atop the ESPN.com Heisman poll
and even on a bye week, he distanced himself even further.
I'm not saying the ESPN.com Heisman poll is scripture. But it's a pretty good sample of writers from across the country who see every conference.
The Ducks open conference play with Cal this week, and then back-to-back road games at Colorado and Washington. They'll see three ranked teams in the next six weeks, including No. 5 Stanford. That's the game that will likely make or break his Heisman hopes because the country will be tuning in to see what he's all about.
Anton in Los Angeles writes
: Hey Kevin, love the work you and Ted do with all the PAC-12 teams! I was wondering how much you are excited for the top pass rushing D-linemen potentially in the nation going at it when
Will Sutton
and
Morgan Breslin
go at it in Tempe. Who do you think will have the bigger game/impact??? Both teams' O-lines have looked suspect at times this past week.
Kevin Gemmell
: Thanks Anton, I'm a huge fan of your work as well.
I think this is going to be one of the great sidebars to this game. How does ASU, which allowed three sacks and 10 tackles for a loss against Stanford, protect
Taylor Kelly
?
USC did a heck of a job corralling
Chuckie Keeton
last week, sacking him four times and holding him to minus-15 yards rushing. ASU does a really good job of moving Kelly around. He rarely throws from the same spot in the pocket on consecutive plays. They sprint him out and get him involved in the run game, so that will be a fun cat-and-mouse game between Breslin,
Leonard Williams
,
George Uko
and Co.
On the flip side, the Sun Devils blitz like crazy. They love to bring guys. Kessler has already been sacked six times this year, so I guarantee the ASU staff is looking for weaknesses.
Both guys have had success because of others around them, so look for complementary players to have an impact as well.
Both are dominant players, and both should impact the game in their own way.
0006shy in Los Angeles writes
: Kevin, I agree with everything you've been writing about Lane Kiffin. But putting USC at #10 in the Power Rankings, below teams that have lost to FCS schools, just seems wrong. I take great pride in the fact that my Trojans have NEVER played, and NEVER lost to, an FCS school. Please consider taking this into account next week when you make the new rankings list.
Kevin Gemmell
: While Ted and I consult every Sunday about the Power Rankings, he's the one who does the final version. And as you can see
from this week's Power Rankings
regarding Oregon State, he doesn't always value my counsel. That's something he'll have to live with.
I feel like Utah's win -- and USC's for that matter -- was more impressive than Oregon State's gift win from the Aztecs. The Beavers had no right trailing that team by as much as they did. And really had no right winning that game. But hey, good for them, and good for the conference going 10-0 against the Mountain West. And the Beavers beat Utah -- and they earned it -- so I can see where Ted is coming from there.
That said, I agree, USC should probably be ahead of Oregon State right now. As noted above, the Beavers have done nothing but give their fan base heart attacks against teams that shouldn't be competitive against the Pac-12. The Trojans haven't exactly been stellar offensively, but that defense has really been impressive. And to lock down Keeton the way they did last week, in my mind, should have earned them a bump.
I'll press Ted harder next week if they beat the Sun Devils. If they don't, I would only expect southward movement.
Nick in LaLaLand (I'm assuming that's LA) writes
: Hey Kevin, I was at the USC game and paying a little closer attention, wondering if Kiffin would open up the p-book a little. Alas, maybe not so, and the play calling got very conservative in the second half. Here's my questions: 1) when can we start adding PI yardage to
Marqise Lee
's stat line 2) a win is a win, but it wasn't pretty and was more like Utah State was prevented from winning rather than USC taking the victory. Was last weekend indicative of the mediocrity of BC and does our offense have more troubles ahead? 3) also when was the last time we scored in the thirrd quarter? Yikes. Thanks KG!
Kevin Gemmell
: It hasn't been that long of a drought.
Tre Madden
ran for a 30-yard touchdown in the third quarter against Boston College. (Wasn't sure if you were being facetious, but we aim to please on the Pac-12 blog). I'll check with Larry Scott to see if we can put the "Lee Exemption" into effect for this season. No promises, but he and I are tight, so we'll try to make it happen.
So we're clear, Boston College isn't a great team. It's better than it was last season, but that's not saying much, so USC did what it's supposed to do against a team like that.
But you're right, the play calling continues to be a mystery. The running game is chugging along nicely and you get first-and-goal on the Utah State 1-yard line and it's play-action pass? I get that Kiffin probably wants his guy to get some confidence with a touchdown pass, but I'd wager
Cody Kessler
gets more confidence connecting on a 30-yard post than a 1-yard dunk off. There's something to be said for trying to be overly creative. It's 1-yard. You're USC. Run the freaking ball straight ahead and blow that lower-tier Mountain West team off the line.
It feels like Kiffin is pressing so hard to show the world he can be a great play caller that the simplest plays are getting overlooked.
I like what's happening with Madden and
Justin Davis
. Through four games the Trojans are averaging 20 more rushing yards per game than they were last year. And they already have six rushing touchdowns after only getting 12 all last season which was second worst in the league ahead of Washington State's six rushing touchdowns.
But they need to do a better job sustaining drives. They are last in the Pac-12 in third-down conversions (27.5 percent) and bottom third in red zone touchdowns.
At this point, all I can say is be thankful for that defense.
September, 19, 2013
9/19/13
10:15
AM ET
A few storylines to keep an eye on in the Pac-12 this week.
Keep it rolling: The Pac-12 is 23-4 in its nonconference games this year and 16-3 against FBS competition. It's also 8-0 against Mountain West teams. USC and Oregon State can extend that streak with matchups against Utah State and San Diego State. Washington State also renews its border war with Idaho for the first time since 2007 -- a series the Cougs have owned 70-17-3.

Air it out: Eight Pac-12 quarterbacks rank among the top 16 in total offense, headlined by Cal's Jared Goff (429.7 ypg). Through three weeks, three Pac-12 quarterbacks (Goff, Marcus Mariota and Sean Mannion) have combined to throw for 440-plus yards four times. Only two other seasons in Pac-12 history have seen league quarterbacks throw for 440 or more yards more than four times -- 1998 (six times) and 2002 (five times).

Speed it up: Pac-12 offenses are scoring, and scoring fast. There have been 195 scoring drives, and so far 83 have taken less than two minutes. As you'd expect, Oregon tops the list with 23 of its 28 scoring drives taking less than two minutes. Utah is next on the list with nine.

[+] Enlarge

Bruce Thorson/USA TODAY SportsUCLA QB Brett Hundley was impressive against Nebraska and should be even more so this week.

Heisman moments? Mariota, who sits atop the ESPN.com Heisman poll, is off this week. But Brett Hundley has a chance to bolster his numbers against a New Mexico State team that is allowing nearly 50 points per game. Look for Mannion to continue rolling against a San Diego State team that is yielding 41 points per game. Same for Washington running back Bishop Sankey against an FCS Idaho State squad.

The headliner: For the first time this year, we have two ranked Pac-12 teams squaring off with No. 23 ASU's trip to No. 5 Stanford. The focus is, and should be, on the lines. Stanford wants to do what Stanford does -- pound at ASU's interior defense. The Sun Devils were pretty good defending at Wisconsin's inside rushing attack but were caught off guard by sweeps. Will be interesting to see if Stanford goes after the edges the way Wisconsin did.

Sankey rolling: Sankey now has rushed for at least 100 yards in six of his past seven games -- including a career-high 208 yards in the win last week over Illinois. Through three weeks and two games, he's the national leader in average yards per game with 184.5. Dating back to last year, he has rushed for 1,142 yards in his last seven games.

Take a breather: Four byes this week, with Arizona, Cal, Colorado and Oregon all getting the week off. Colorado coach Mike MacIntyre, whose team had an unscheduled bye last week, said his team is back to practicing after several players were displaced by flooding.

Running like a Mad(den) man: Only six players have started the season with three consecutive 100-yard rushing games. We don't want to assume, but Sankey probably will have his third straight this week. For now, USC's Tre Madden is the only Pac-12 player among those six (Paul James, Rutgers; Melvin Gordon, Wisconsin; Mark Weisman (FB), Iowa; Alex Collins and Jonathan Williams, Arkansas). Per our friends at ESPN Stats & Information, USC is running the ball on 62 percent of its plays this year, up 18 percent from last year. Of those six mentioned, Madden is the only one who has faced three FBS opponents. He leads the Pac-12 with 149 yards after contact.

Mobile Hogan, mobile Kelly: Also from Stats & Info: Kevin Hogan and Taylor Kelly are the only Pac-12 quarterbacks who have attempted at least 20 percent of their passes outside the pocket over the last two seasons. Kelly leads all AQ quarterbacks with 115 passes attempted from outside of the pocket. When out of the pocket, Hogan has completed 76 percent of his passes, including 20-of-24 passes on designed rollouts. In comparison, Kelly has completed a lower percentage of his passes thrown outside the pocket, but his average throw travels 10 yards, 4.5 yards longer than Hogan.

Goodbye for now, Holy War: The Utah-BYU rivalry will go on break for a couple of years after Saturday. Kyle Whittingham insists that doesn't mean anything. I'm guessing having two extra years of bragging rights, however, means plenty to the fans. Utah has won four of the past five and holds a 56-34-4 edge in the series, which dates back to 1896. Though BYU doesn't recognize six games, split 3-3, from when it was Brigham Young Academy. But since this is the Pac-12 blog, we'll recognize it, cause we're cool like that. And Utah SID Liz Abel is awesome at her job for bringing that nugget to our attention. Utah quarterback Travis Wilson is coming off of a 142-yard rushing performance -- the second most ever by a Utah quarterback and the most since 1979. Should this one be a nail-biter, it's worth noting that both kickers -- Utah's Andy Phillips and BYU's Justin Sorensen -- are 5-for-5 on field goals this season. Neither has missed a PAT.
September, 5, 2013
9/05/13
9:00
AM ET
A few storylines to keep an eye on in Week 2.
Heavy favorites: The Pac-12 is favored in all eight of its nonconference games this week. In fact, the league is favored by at least 10 points in every game and by at least 20 points in six of the eight. It should be a strong week for the conference. Should being the operative word.
League play kicks off: The ninth game this week features the first conference showdown of the season with Washington State traveling to USC. The Cougs are coming off a tough loss at Auburn, where Connor Halliday completed 35 of 65 passes for 344 yards and a touchdown. Cody Kessler is expected to start for the Trojans, but Max Wittek likely will see time again. USC's defense had four interceptions and seven sacks in its Week 1 win over Hawaii. WSU's last win at USC was in 2000.

Debuts: After spending last Saturday lounging around and watching football, Arizona State coach Todd Graham and Stanford coach David Shaw have to get back to work. The Sun Devils open the season on the cusp of the Top 25 and host Sacramento State on Thursday night. Stanford hosts San Jose State in the Bill Walsh Legacy Game. The Cardinal opened the season ranked No. 4 but got bumped down to No. 5 for their Week 1 laziness.

Off and running: The Pac-12 had seven players rush for at least 100 yards in Week 1, headlined by Washington's Bishop Sankey. He and the Huskies are off this week prepping for their game against Illinois on Sept. 14. Three of those seven came from Oregon -- a school record with De'Anthony Thomas, Byron Marshall and Marcus Mariota all eclipsing 100 yards. The other 100-yard rushers were Jordon James (UCLA, which is off this week), Daniel Jenkins (Arizona) and Tre Madden (USC).

2-oh? Colorado snapped an eight-game losing streak last week with its win over Colorado State. The Buffs host Central Arkansas on Saturday with a chance to start 2-0 for the first time since 2008.

Crazy eights: Stanford and San Jose State are both riding eight-game winning streaks dating back to last season. That's the first time in all of the years the schools have played that both have enjoyed simultaneous streaks.

Dominating the MWC: The Pac-12 went 5-0 against the Mountain West last week with Utah (Utah State), Colorado (Colorado State), USC (Hawaii), Washington (Boise State) and UCLA (Nevada) all scoring victories. The Pac-12 has three more games against the Mountain West this week with Arizona traveling to UNLV, Hawaii visiting Oregon State and San Jose State at Stanford. It was a rough opening weekend for the West Coast's little brother league, which went just 3-9.

Road warriors: No. 2 Oregon goes on the road for the first time this season and is riding the nation's best winning streak away from home. The Ducks have won 15 straight road games. Alabama and Northern Illinois are tied for second with nine. Oregon's last road loss was at Stanford in 2009.

Strong debuts: The three new coaches in the Pac-12 went 2-1 in their season openers. Mark Helfrich (Oregon) rolled over Nicholls State (no shocker there). Mike MacIntyre led Colorado to an emotional win over an in-state rival in Colorado State, and Sonny Dykes' California team put up a gritty effort in defeat against Northwestern.

Suspensions lifted: After being suspended for Week 1, Arizona running back Ka'Deem Carey, the nation's leading rusher last season, will make his debut against UNLV. Daniel Jenkins filled in quite nicely, rushing for 139 yards on 12 carries, including a 91-yard touchdown run. Washington tight end Austin Seferian-Jenkins, who was also suspended for Week 1, is expected to be on the field when the Huskies return to action next week. Cal linebacker Chris McCain had his suspension rescinded after he was ejected per the NCAA's new targeting rule and will play against Portland State.
March, 1, 2013
3/01/13
12:00
PM ET
While quarterback competitions are typically front-and-center during Pac-12 spring practices, there are always other interesting spring storylines.
Here are two.
[+] Enlarge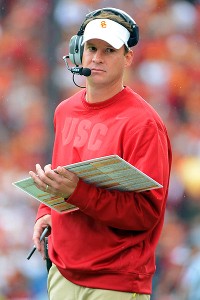 Harry How/Getty ImagesUSC coach Lane Kiffin enters the spring with several new assistants, a new defensive scheme, and uncertainty at quarterback.
Ted Miller
: It was a horrible, no-good, rotten, very bad 2012 season for USC coach Lane Kiffin. And the 2012-13 offseason has been no picnic either. Some Trojans fans wanted Kiffin fired. Just about all were frustrated. Justifiably so, by the way.
Lane: Welcome to spring, the season for rebirth! Time to turn the page. Or, perhaps, pick up an entirely new book.
At the very least, the situation at USC is interesting. One of the nation's premier programs is front-and-center for many of the wrong reasons, but there is enough talent on hand for Kiffin to turn things around and shut up his critics.
Interesting plot lines? Kiffin will be breaking in four new assistant coaches, including a pair of new coordinators, his defense will be transitioning from a 4-3 base to a 3-4, and he's looking for a new quarterback for the first time in his tenure.
There's a lot going on. Lots of questions. Lots of doubt, too. Yet negative momentum isn't irreversible.
What if the Trojans have an exceptional spring?
What if Clancy Pendergast shakes things up and, suddenly, the defensive guys are playing hard and fast in a sound scheme they understand? And what if the offense, nonetheless, makes plenty of plays because the quarterbacks are sharp and the line is manning up? What if the fitness level of the Trojans improves? What if offensive tackle
Aundrey Walker
breaks through, realizing his future NFL contract will be based on performance, not measurables? What if
Devon Kennard
proves a perfect fit as a 3-4 outside linebacker, as we believe he is? What if guys like
Marqise Lee
,
Hayes Pullard
,
Silas Redd
,
Dion Bailey
and
Kevin Graf
step up as leaders? What if receivers
George Farmer
and
Victor Blackwell
decide they don't want to be left in the dust behind Lee and
Nelson Agholor
? What if running back
Tre Madden
says, "Hey, remember me?"
What if Kiffin simultaneously refocuses and relaxes? What if he uses his capable brain to be smart, not a smart aleck, to be creative, not sneaky? What if he realizes the media is not an enemy, but just a bunch of folks trying to do their job whom he should humor with vague though sometimes amusing answers?
There are a lot of "What ifs?" with USC and Kiffin. It's not difficult, by the way, to talk yourself into believing a bounce-back is entirely possible.
That's what is interesting. Kiffin 2.0 was 2010 and 2011, when he seemed to find his rhythm as a coach after controversial stints with the Oakland Raiders and
Tennessee Volunteers
. Kiffin 3.0, was 2012, a complete face-plant.
This spring presents us with Kiffin 4.0. It could prove to be the most important transition of his career as a head coach.
And that is interesting.

Kevin Gemmell
: Besides quarterback battles -- which I think are always the most exciting position battles there are -- I'm most curious to see how the running back battle is going to play out at Stanford.
When you look at a Stanford squad that is very heavy on upperclassmen -- on both sides of the ball -- you have to wonder if all of the pieces are in place for Stanford to make a legitimate run at the national championship.
I wasn't sure before, but with the addition of Tyler Gaffney to the running back corps, I'm warming up to the idea that the Cardinal could challenge any team in the country for a BCS championship -- if they can get out of their own conference (or division for that matter) -- which anyone will tell you is no easy task.
It's no surprise that Stanford's primary offensive weapon is the quarterback. Not because of what he does with his arm -- but because of what he does when he goes under center -- checking out of bad plays and putting the offense in the best possible play against the defense shown. This allows running backs to flourish. Andrew Luck was phenomenal at it.
Kevin Hogan
should get better.
So, when Hogan turns to handoff on power right or power left, who is going to be the primary ball carrier?
Anthony Wilkerson
has shown bursts and outstanding top-end speed. But injuries have slowed him, and playing behind
Stepfan Taylor
the past few years didn't allow him to really break out following his strong true freshman season. Gaffney is a rock and hard to bring down. He's the kind of guy who could carry the ball 10 times for 4.5 yards a pop.
Barry Sanders
is an interesting X-factor. He obviously was a high-profile recruit because of his name -- but beyond that, he's supposedly a pretty darn good back. Maybe he ends up winning the job and can be a 15-carry type of guy.
Then you have
Ricky Seale
, a shifty runner with great vision who has been trapped at the bottom of the depth chart, but continues to receive praise from David Shaw.
Remound Wright
and hybrid
Kelsey Young
are also in the mix.
Whoever is Shaw's go-to back, he'll have the benefit of running behind an outstanding offensive line that is only going to get better with
David Yankey
-- an All-American and last year's Morris Trophy winner -- moving back to his natural position at guard. And Shaw has said he plans to keep
Ryan Hewitt
at fullback -- giving the running backs a cadre of blockers that rivals any other in the country.
By season's end, this could be your national championship team. The question is, which back will carry it there?
Week 10 Picks: Stanford-Oregon