Stanford Football:

Tyler Hansen
June, 20, 2012
6/20/12
9:00
AM ET
Over on the Big 12 blog, David Ubben decided to go through all the teams in the conference and see how they've done against the Top 25 since 2008.
That sounded like a ton of fun, so here's a look at the Pac-12 results. For seasoning, I added a best/worst category against Top 25 teams, which is very subjective and, as always, open to debate.
Since 2008 the Pac-12 is 52-105 against Top 25 teams. Utah and Colorado records prior to 2011 are not factored in, but we'll still look at them in the team-by-team breakdown.
Oregon carries the flag for the conference with a robust .705 winning percentage while Washington State has a Blutarsky.
Here's how the entire conference shapes up:

Oregon
Record vs. Top 25
: 12-5 (.705)
Best win
: The Stanford victories in consecutive years put the Cardinal back in their place (and last year, signified the clear leader in the North), but the 45-38 win over No. 10 Wisconsin in the Rose Bowl last year was a breakthrough for the program. It put an end to the "can they win the big one" questions and was critical for the legitimacy of the league. Oregon to the rest of the conference: You're welcome.
Toughest loss
: The Boise State loss in 2009 was a stinger. But anytime you lose in the National Championship game to the No. 1 team -- and the way it went down in those obscure final two minutes -- it's tough. That loss brought about some of the questions the Ducks were able to answer with the Rose Bowl win.

USC
Record vs. Top 25
: 9-5 (.642)
Best win
: The 35-3 win over Ohio State in 2008 stands out. But the victory at No. 4 Oregon last year bloodies the water for this year's much-anticipated showdown.
Worst loss
: Also from last year, the triple-overtime loss to No. 6 Stanford shouldn't have ended the way it did. Maybe Stanford still would have won -- but that game was too epic to end on a fumble.

Stanford
Record vs. Top
25: 7-6 (.538)
Best win
: The '09 win over Oregon stands out because the Ducks were a Top 10 team on a seven-game winning streak. Toby Gerhart ran wild -- picking up 223 yards and three scores. It was really Stanford's declaration that they'd arrived in the conference under Jim Harbaugh.
Worst loss
: Many will think it's the Fiesta Bowl last year because the wound is still fresh and the manner in which it went down. But losing the Big Game 34-28 to No. 25 Cal in 2009 -- especially after notching back-to-back wins over Oregon and No. 9 USC -- is simply deflating. If the Oregon game was a declaration of arrival, the Cal game was a reminder of how deep the conference can be.

Utah
Record vs. Top 25
: 4-5 (.444)
Best win
: The 2008 Sugar Bowl. Big, bad 'Bama gets bounced by a tiny little non-AQ, leaving most West of the Mississippi with a great-big smile.
Worst loss
: An overtime loss hurts. An overtime loss to a rival hurts more. An overtime loss when the opposing quarterback
gives you a verbal smack down
following the loss is just brutal. The 2009 Holy War loss to No. 19 BYU will always sting.

Arizona
Record vs. Top 25
: 4-10 (.285)
Best win
: Willie Tuitama was simply prolific in carving up No. 16 BYU in the 2008 Las Vegas Bowl, throwing for 325 yards, two touchdowns and running for another in a 31-21 win. It was Arizona's first bowl win in a decade.
Worst loss
: The double-overtime loss to Oregon in 2009 was tough, but the 33-0 beat down by No. 22 Nebraska in the Holiday Bowl that same year was a real stinker.

Oregon State
Record vs. Top 25
: 5-15 (.250)
Best win
: Jacquizz Rodgers busted out 186 yards and two touchdowns on the ground in a 27-21 stunner of No. 1 USC in 2008. Doesn't get much sweeter than an unranked knocking off a No. 1. Though the 3-0 win over No. 20 Pitt. in the 2008 Sun Bowl gets a tip of the cap simply for the novelty.
Worst loss
: The Beavers were shutout 38-0 by No. 6 Stanford in '10. That came a week after a 36-7 win over No. 20 USC. Talk about highs and lows.

Washington
Record vs. Top 25
: 5-15 (.250)
Best win
: Because of the record the previous year and because it was Steve Sarkisian against Pete Carroll, the 16-13 stunner over No. 3 USC in 2009 is one worth re-living over and over if you're a Washington fan.
Erik Folk
was so clutch.
Worst loss
: Anything from 2008 will do.

UCLA
Record vs. Top 25
: 4-12 (.250)
Best win
: Maybe No. 7 Texas was looking ahead to the showdown with Oklahoma. Oh well, don't turn the ball over four times in the first 30 minutes. Great performance from
Johnathan Franklin
in the 34-12 win in 2010.
Worst loss
: Toss up between the 35-0 loss to No. 25 Stanford at home in 2010 or the 59-0 loss to No. 18 BYU in 2008. Both were brutal -- but the BYU one probably stung more since the Bruins had clipped No. 18 Tennessee in overtime just 12 days earlier in the season opener.

Cal
Record vs. Top 25
: 3-10 (.230)
Best win
: What's bad for the Cardinal is generally good for the Bears. The 2009 Big Game win at No. 17 Stanford was extra tasty -- especially when a late Andrew Luck interception in the red zone sealed the deal. Shane Vereen was on fire with 193 yards on the ground and three touchdowns.
Worst loss
: The No. 6 Cardinal reclaimed the axe the following year with a 48-14 thrashing in Berkeley.
Stepfan Taylor
produced three touchdowns and Luck produced a Stanford fan's dream highlight with his forearm deflection of Sean Cattouse.

Arizona State
Record vs. Top 25
: 3-11 (.214)
Best win
: The USC and Missouri wins last year were pretty big, but there is nothing sweeter than beating a rival, in double-overtime, on the road, when they are ranked and you aren't. That was the case in 2010 with a 30-29 win over No. 23 Arizona. James Brooks will always be remembered for blocking an extra point near the end of regulation to force overtime. And then blocking a second extra point -- seriously -- to lock up the win. As bizarre as it was magnificent for the Sun Devils.
Worst loss
: The loss to No. 7 Boise State in the Las Vegas Bowl last year was completely uninspired and capped a horrific end to the season. The Sun Devils went into a tailspin and Todd Graham has to pull them out.

Colorado
Record vs. Top 25
: 2-12
Best win
: In his first career start in 2009, Tyler Hansen threw for 175 yards, a touchdown and ran for another to spark an upset win over No. 17 Kansas. That was Colorado's last win against a Top 25 team. The Buffs are 0-7 since.
Worst loss
: Back in the day before they joined the Pac-12, Colorado had a little rivalry with a midwest school named Nebraska. The No. 15 Cornhuskers sent Colorado into the Pac-12 with an ugly 45-17 loss in 2010.

Washington State
Record vs. Top 25
: 0-12
Best win
: You have to think the streak ends under Mike Leach -- and sooner rather than later.
Worst loss
: Tragically, there are so many choices. But we'll go with the 69-0 to No. 6 USC in 2008 because at the time, WSU was riding the nation's second-longest streak without being shutout (280 games). That came to an end in a very embarrassing fashion. While Mark Sanchez threw for five touchdowns, the Cougars managed just 116 yards of total offense.
May, 30, 2012
5/30/12
9:00
AM ET
Taking a cue from the guys at the Big Ten blog, who recently
looked at the potential 3,000-yard passers
in that conference in 2012, I thought it would be worth a look at the Pac-12 group.
For the B1g boys, 3,000 yards might seem like a bench mark. In the Pac-12, it's more common, given the brand of football played in the league and seemingly never-ending parade of amazing throwers and catchers who grace the Pac-12 each year. Heck, the conference had two 4,000-yard passers on 2011 in Nick Foles and Brock Osweiler.
But those two are gone -- and so are their head coaches, coordinators and offensive schemes.
Here are the members of the 3K club last season:
Foles, Arizona, 4,329

Osweiler, Arizona State, 4,036

Matt Barkley, USC, 3,528 (returning)

Andrew Luck, Stanford, 3,517

Sean Mannion, Oregon State, 3,328 (returning)

Keith Price, Washington, 3,063 (returning)
[+] Enlarge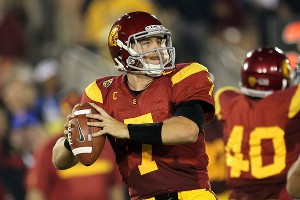 Stephen Dunn/Getty ImagesUSC's Matt Barkley seems like a sure bet to throw for 3,000-plus yards this coming season.
Now let's look at the conference quarterbacks in 2012 and see who has the best chance of cracking the 3K mark.
Matt Scott, Arizona
: Rich Rodriguez's spread option is primarily run-first, and I couldn't find a 3,000-yard passer to his credit as a head coach. The closest anyone got was
Denard Robinson,
who hit 2,570 in 2010. History says probably not.
TBD, Arizona State
: Another up-tempo, run-first offense -- though Todd Graham has had more success in the air. G.J. Kinne hit 3,650 passing yards for Tulsa in 2010, but that was also his second year in the system. With a workhorse running back like
Cameron Marshall
, a deep running back corps and a green quarterback, 3K seems unlikely.
Zach Maynard, Cal
: Just 10 more yards. Just one more little swing pass or one broken tackle and Maynard would have joined the 3K club after throwing for 2,990 yards last season. All indications are that he had a good spring, and he looks more comfortable in the offense. Plus, he's got one of the best receivers in the country in
Keenan Allen
. Maynard should get there.
TBD, Colorado
: Tyler Hansen ( who is now gone) almost got there last season, throwing for 2,883 yards even though his leading receiver in catches was running back Rodney Stewart (who is now gone). Toney Clemons (who is now gone) led in yards, and
Paul Richardson
(who is out for the season with a knee injury) was second. The odds are slim that
Connor Wood
or
Nick Hirschman
will improve off Hansen's numbers with so much turnover.
TBD, Oregon
: Does it really matter?
Darron Thomas
knocked on the door last season with 2,761 yards. But establishing the pass isn't exactly priority No. 1 for the Ducks. Whoever wins the job will have the benefit of
De'Anthony Thomas
, who can turn 5-yard passes into 50-yard completions. But with the Ducks carrying a 62-38 run-pass percentage last season, it's unlikely they'll stray from that formula, which means it's unlikely a new quarterback will reach 3K.
Sean Mannion, Oregon State
: One of six quarterbacks in the conference last season to break 3K, Mannion threw for 3,328 yards in his debut campaign. Vows from coach Mike Riley to re-commit to the running game should actually enhance Mannion's numbers. And with receivers like
Markus Wheaton
and
Brandin Cooks
on the outside, there is no reason to think he won't top 3,000 again.
TBD, Stanford
: Despite a run-first, pro-style attack, Luck still threw for 3,517 yards. The Cardinal were 55-45 in their run-pass ratio last season, and a lot of Luck's aerial success came from his ability to successfully sell play-action and distribute the ball among many position groups. But the top three receivers (Griff Whalen, Chris Owusu and tight end Coby Fleener) are gone, and you can't bank on the new quarterback being as efficient as Luck. Expect a healthy dose of running back
Stepfan Taylor
, meaning Luck's replacement probably won't break 3K.
TBD, UCLA
: The Bruins joined Utah last season as the only teams that did not have a passer ranked in the top 10 in passing yards in the conference. That will change this season with new offensive coordinator Noel Mazzone -- the architect of Osweiler's 4K season. The ball will be in the air a lot more than it was in the pistol offense. But seeing as there is so much uncertainty still -- and we could see multiple quarterbacks this season -- it's too tough to call. If one guy starts the entire season, I could see it.
Matt Barkley, USC
: Yes, yes, 3,000 times, yes.
Jordan Wynn, Utah
: I'd say it's 50-50 for Wynn at this point. The Utes have a very good running back in
John White
, and coach Kyle Whittingham likes the control game. But Wynn did toss 2,334 yards in 2010 in 10 games. If
DeVonte Christopher
has the big season many are predicting, and new offensive coordinator Brian Johnson dials up the aggressiveness, I could see it happening. As always, unfortunately, every conversation regarding Wynn has to be stipulated with an "if he stays healthy" until he proves otherwise.
Keith Price, Washington
: Had it not been for a career-high 438 passing yards against Baylor in the Alamo Bowl, Price would have come up way short of the 3K club. But he's in. And without Chris Polk to lean on, we could see Price's passing numbers go up. Prior to the bowl game, he only had one 300-yard game. He has a good chance to repeat as a 3,000-yard passer, but it's not a lock.
Jeff Tuel, Washington State
: Mike Leach hasn't named him the starter, but, come on. He lit it up in the spring, and showed to be a quick study in learning the new offense. With a deep and talented crop of wide receivers -- headlined by
Marquess Wilson
-- and an offense that throws three out of every four times, Tuel should easily clear 3K.
October, 9, 2011
10/09/11
2:00
PM ET
PALO ALTO, Calif. -- The monkey is officially off the back. The
Stanford Cardinal
have an interception. Hallelujah.
"It was huge," said safety Michael Thomas, the recipient of Colorado quarterback
Tyler Hansen
's wayward pass on the first play of the fourth quarter.
Stanford was one of three teams left in the nation to not have an interception this season, along with Akron and Utah State. There must have been something in the air, because both of those teams picked up their first picks of the year as well.
It was the 172nd passing attempt this year against the Cardinal that finally yielded the airborne turnover.
"We've been making jokes about it the whole time so I'm glad it happened," Thomas said.
ADDITIONAL NOTES
Getting personal
The Cardinal were flagged with three personal fouls -- one from
Levine Toilolo
, another from Cameron Fleming and a third from Jonathan Martin. This a few days after head coach David Shaw said he addressed penalties with his team. In all, Stanford was flagged five times for 65 yards.
"I only saw one of the three so I can't really comment," said Shaw, not revealing which one. "It was close enough for the official to call it. It's on us to make sure we're coaching it right."
Quarterback
Andrew Luck
was a bit more blunt.
"It's our fault," he said. "Nowhere else to point the finger except at ourselves. It's boneheaded by our team when we do that. Luckily we were able to bounce out of that hole in certain situations. But you can't win consistently playing like that."
The bouncing ball
Luck threw his second interception of the season and once again, it came off the hands of
Chris Owusu
and into the hands of an awaiting defender. The interception against Duke was a tougher ball, thrown a little bit behind Owusu. This time it was right on his hands.
"Chris will tell you he's disappointed by it," Luck said. "The ball bounced in the air and the DB made a nice catch."
Sideline eye-candy
Tiger Woods and John Elway made appearances on the sidelines. Not that the Stanford players saw.
"I barely noticed," said Thomas.
Added Luck: "It's awesome to hear that. That's great. (Elway) was an honorary captain last year. We got to talk a little bit. Not as much as I'd like. He was one of the greatest quarterbacks of all time. He's my hero. He was the best."
Quotable
Colorado coach Jon Embree on his team's loss: "I expected more. I understand the circumstances (injuries and suspensions). I don't accept them, but I understand them. We've just got to keep trying to find a way. Kickoff was scheduled for 4:30 and whatever you've got, you've got to go out there and find a way to compete. I'm disappointed."
October, 8, 2011
10/08/11
6:01
PM ET
PALO ALTO, Calif. -- Observations from the
first half
.


Stat of the half
: Colorado has minus-1 yard rushing and quarterback
Tyler Hansen
has been sacked three times.
Turning point
: It could have been the opening kickoff, when
Jeremy Stewart
fumbled the short pop-up kick and gave the ball to Colorado at the Stanford 36. But the defense stiffened and Max Bergen blocked a 29-yard field goal attempt and returned it 75 yards for a touchdown.
Best player
: With the exception of the one interception (a deflection off Chris Owusu's hands)
Andrew Luck
has been sensational per usual. He's buying time in the pocket and all but one or two of his passes have missed. He's 14-of-18 for 219 yards and a touchdown.
What Stanford has to do in the second half
: Tackle better. Devon Carrington sniffed out the 76-yard screen pass to
Rodney Stewart
, but he missed the tackle. That was all it took for the speedy running back to break away. Same thing on the 5-yard shovel-pass touchdown to
Tony Jones
, Stanford missed two tackles.
What Colorado needs to do
: Stop committing penalties. They have five for 42 yards. With the exception of a couple of plays, the Buffs look completely disorganized and disheveled.
October, 4, 2011
10/04/11
8:00
AM ET
Will the gadgets continue
? Variety is the spice of life. And so far, David Shaw and the Stanford offense have been a bucket of garlic marinated in Tabasco. In four games, we've seen a flea flicker, an end-around wide receiver pass to the quarterback and several Wildcat formations with running back
Tyler Gaffney
at the helm. The question among some in the press box is "why are they showing this against these teams?" To which I respond, "so future opponents have to prepare for it." They might never stray from the playbook basics for the rest of the season. But the more time USC, Washington and Oregon have to spend preparing for Gaffney the quarterback and
Andrew Luck
the wide receiver, the less time they are spending on how to defend the
Stepfan Taylor
off-tackle power.
Did the run defense take a morale hit
? They dropped in the rankings. Granted, it was first in the nation to fourth in the nation. And as the saying goes, when you're on top, you have nowhere to go but down. I'm curious to see how the run-stoppers -- who still put on a pretty good show against a run-happy UCLA team -- respond to giving up 141 yards on the ground. But this week probably won't be too good of a gauge. Colorado comes in with one of the worst rushing attacks in the country (105th out of 120 FBS teams), averaging just 101.4 yards per game on the ground.
Are penalties going to be an issue
? We didn't see much of them in the first three games, just 11 for 100 yards. But Saturday night the Cardinal were flagged eight times for 70 yards. And it wasn't just your run-of-the-mill, garden variety offside penalties. There were pass interference calls (offensive and defensive), unsportsmanlike calls and mental mistakes in the red zone. Discipline starts from the head and works its way down. You can bet Shaw took that as a personal reflection.
Will we ever see an interception
? Almost had one against UCLA, but a questionable pass interference call negated what would have been the first pick of the season. While Colorado has trouble on the ground, the Buffs have been able to move the ball effectively in the air. They are 36th nationally in passing offense (265 yards per game) and they don't make a lot of mistakes. Quarterback
Tyler Hansen
has a solid touchdown-to-interception ratio of 11-2. But his accuracy hasn't been great at just 56.6 percent. What's going to happen first? Another Luck pick or one from his defense? We might be waiting a while on both. The list of FBS teams without an interception continues to shrink. It's down to three. Utah State, Akron and Stanford.
Repeat sellout
? Good fans show up for the big games. Great fans show up for the not-so-great games. And Colorado hasn't exactly been a heavy hitter in its inaugural season in the Pac-12. There's no real rivalry (last meeting was 1993) and there are no real external storylines to this game -- save the nation's longest winning streak at 12 games -- so I'm wondering if the turnout will be as raucous as it was last week.
PAC-12 SCOREBOARD
Saturday, 12/21
Monday, 12/23
Tuesday, 12/24
Thursday, 12/26
Friday, 12/27
Saturday, 12/28
Monday, 12/30
Tuesday, 12/31
Wednesday, 1/1
Thursday, 1/2
Friday, 1/3
Saturday, 1/4
Sunday, 1/5
Monday, 1/6