Stanford Football:

Utah State Aggies
September, 23, 2013
9/23/13
11:00
AM ET
Taking stock of Week 4 in the Pac-12.
Team of the week:
While the Pac-12 blog has been hard on Stanford for
giving up 21 unanswered points
to Arizona State in the fourth quarter, the fact remains the Cardinal posted a
two-touchdown win over a ranked team
. And that first half showed folks why Stanford is a national title contender. Need to tighten some things up? Absolutely. But Stanford at its best has plenty of irresistible force and unmovable object to it.
[+] Enlarge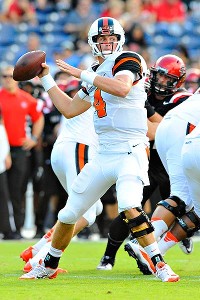 Christopher Hanewinckel/USA TODAY SportsWill Oregon State QB Sean Mannion miss coach Danny Langsdorf, who is heading to the NFL? Sure, but it shouldn't affect his production.
Best game:
Oregon State fans let out a massive, "Whew," after the Beavers overcame a 13-point fourth-quarter deficit at San Diego State and
won 34-30
. While the game was far from pretty, it was a win, and the Beavers seem like a team right now that should just be grateful to collect one. Further, the weekend was otherwise devoid of nail-biters, though USC allowed Utah State to stay unnecessarily close.
Biggest play:
Oregon State's defense has been mostly horrible, but it provided the winning margin against San Diego State when CB
Steven Nelson
returned an interception 16 yards for a TD with 2:31 remaining. The play might have saved the Beavers' season.
Offensive standout:
Oregon State can't run the ball or play defense, but QB
Sean Mannion
can throw the rock around with WR
Brandin Cooks
. Mannion completed 38 of 55 passes for 367 yards with three touchdowns and no interceptions in the Beavers' comeback win over San Diego State. Cooks was his chief weapon, catching 14 passes for 141 yards.
Defensive standout:
Utah State couldn't block USC DT
Leonard Williams
, who had eight tackles with three coming for a loss in the Trojans' 17-14 win over
Chuckie Keeton
and the Aggies. The Trojans held a previously potent offense to just 285 total yards.
Defensive standout II:
Sure, it came against woeful Idaho, but Washington State DT Xavier Cooper dominated inside. Of his five total tackles, 3.5 came for a loss, including 1.5 sacks. He was a key part of a surging defense that held the Vandals to 253 total yards. LB
Darryl Monroe
, who led the Cougars with 12 tackles, including 2.5 for a loss, also merits note.
Special-teams standout:
Think you had a long Saturday? Utah punter
Tom Hackett
punted 11 times for the Utes against BYU, averaging 44.2 yards per boot with a long of 61 yards, though that one was returned 58 yards to the Utah 13. That's 486 yards of punting from the Australian! Three were downed inside the Cougars' 20-yard line. G'day to that.
Frowny face:
USC and Oregon State were both ranked in the preseason but both appear to be significantly flawed. The Trojans can't do anything on offense, and the Beavers are struggling on defense. Hmm. Maybe if they combined forces we could generate another national title contender?
Smiley face:
The
Pac-12 is 29-4 in nonconference play
, including 21-3 against FBS teams, with just three matchups with Notre Dame left to play. That is by far the most distinguished mark in the nation. Remember when the Mountain West Conference was -- rightfully -- talking smack about the Pac-12? Well, the Pac-12 is 10-0 versus the MWC this year.
Thought of the week:
While the season is only hitting the quarter pole, we should learn a little about the conference's South Division contenders -- and pretenders -- this weekend. Arizona has played three overmatched foes and was off over the weekend. The visit to Washington should be revealing. We have no idea who the Wildcats really are. They seem much improved on defense and limited throwing the ball. A victory over the Huskies would thrust them into the top 25 and announce them as contenders in the South Division. Meanwhile, the Arizona State-USC game also seems to serve as a critical separation game in the South.
Questions for the week:
Will Lane Kiffin's last stand be in the desert? If Kiffin and the Trojans prevail and improve to 4-1, Kiffin might buy himself some goodwill -- and top-25 votes. The season would still offer plenty of hope. If the Trojans lose, they will fall to 0-2 in the conference, a major hole in the division race. At that point, reporters covering the Trojans likely would start writing speculative articles about USC's next coach.
September, 19, 2013
9/19/13
9:00
AM ET
Both Ted and Kevin went 9-1 last week, with both missing with a pick of Utah over Oregon State. They picked different teams in the Colorado-Fresno State game, but it was postponed and might not be rescheduled.
So Kevin is 27-3 so far this season and it's California's fault Ted is just 26-4.
Cal! Baaaaa!
Arizona State at Stanford
Kevin Gemmel
: I think ASU will come out firing -- eager to prove it belongs in the top 25 after last week's freakish ending. But Stanford's defense is a lot better than Wisconsin's. This is also ASU's first game on the road, and until we see what it can do outside of Tempe, Ariz., I'm leaning toward the home team.
Stanford 31, Arizona State 24
.
Ted Miller
: The absences of DE
Henry Anderson
and CB
Barry Browning
are a cause for concern for Stanford, but the Cardinal's defense is pretty darn deep. Stanford might not have gone too deep into its playbooks on either side of the ball against San Jose State and Army. This is a big moment for the Cardinal to announce themselves as a national title contender.
Stanford 28, Arizona State 20
.
Utah State at USC
Kevin Gemmell
: Say this for the Trojans, that defense is pretty good. It will be tested against an explosive Utah State offense that puts up nearly 50 points per game behind Heisman dark horse
Chuckie Keeton
. But it looks like the USC offense woke up last week, and the Pac-12 is a perfect 8-0 against the Mountain West this season.
USC 35, Utah State 24
.
Ted Miller
: The Trojans looked good in all areas while stomping Boston College last week. Now can they put together strong back-to-back performances? Keeton is a great matchup for the USC defense because he'll provide plenty of practice for the mobile QBs the Trojans will see this season, but the first question is whether the offense has found its footing with QB
Cody Kessler
.
USC 30, Utah State 17
.
New Mexico State at UCLA
Kevin Gemmell
: After all of the emotion of the past 10 days, the Bruins could use a game where they probably won't get pushed too hard. Get in, get out, stay healthy and take care of their business. No reason the Bruins should have any issues.
UCLA 52, New Mexico State 10
.
Ted Miller
: What Kevin said. Bruins should roll easily and get reserves some valuable action.
UCLA 55, New Mexico State 13
.
Utah at BYU
Kevin Gemmell
: Despite it being only 45 minutes away, Provo, Utah, is still a tough place to play. And rivalry games are always difficult to pick -- especially when you have two very similar teams. My usual approach in this situation is to take the home team. But this Utah team is a lot more explosive than previous editions. I see points and another tight finish.
Utah 38, BYU 35
.
Ted Miller
: BYU has three things going for it: (1) It's playing at home; (2) It's coming off a bye week; (3) Utah lost an emotional home game to Oregon State last weekend. What the Cougars have going against them is me picking them to win. You're welcome, Utes.
BYU 28, Utah 24
.
Oregon State at San Diego State
Kevin Gemmell
: Both teams were predicted to have pretty good seasons. Both teams saw momentum come to a halt with Week 1 losses to FCS teams. The Aztecs are coming off a bye. Which should help. But not enough to overcome the play of
Sean Mannion
, who is playing like one of the top quarterbacks in the country right now.
Oregon State 42, San Diego State 24
.
Ted Miller
: San Diego State's offense has been sputtering, which should help the Beavers' defense regain some mojo. The Aztecs' defense? It gave up 40 points to Eastern Illinois. The Beavers should put further distance between themselves and a bad opening game.
Oregon State 45, San Diego State 17
.
Idaho State at Washington
Kevin Gemmell
: The Huskies overcame a huge maturity milestone by winning a competitive game on the road. Now they close out the nonconference schedule with an FCS team that is 2-0 … but won't provide much resistance. Good tune-up game for the Huskies heading into conference play.
Washington 48, Idaho State 13
.
Ted Miller
: The Huskies should complete a strong 3-0 start. Big test coming Sept. 28 when Arizona comes up for a visit after a bye week.
Washington 42, Idaho State 17
.
Idaho at Washington State
Kevin Gemmell
: There is always bad blood between these schools --
which led to actual blood during the summer
. The Cougs are clicking while the Vandals are in shambles. Feel pretty confident picking WSU in this rivalry game.
Washington State 35, Idaho 7
.
Ted Miller
: Washington State will improve to 3-1, which it hasn't done since 2006. A matchup in Seattle with Stanford awaits.
Washington State 44, Idaho 13
.
September, 6, 2012
9/06/12
6:00
AM ET
Welcome to Week 2. Ted went 9-2 in Week 1; Kevin went 8-3. The difference was Kevin picking a Washington State upset of BYU.
Friday
Kevin: Utah 35, Utah State 10
. The Utes will see a stronger offense than they saw last week, but it won't matter much because the defense is so solid. Love the emergence of
Jake Murphy
and the increased attention to the tight ends.
Ted
:
Utah 28, Utah State 17
. It won't be as easy as last weekend but the Utes will be in control on both sides of the ball. Expect quarterback
Jordan Wynn
to take a few more shots downfield.
Saturday
Kevin: Cal 31, Southern Utah 14
. Maybe this is the week Memorial Stadium sees a victory. The last one was on Oct. 23, 2010. Cal should win based on its athletes alone.
Ted: Cal 35, Southern Utah 10
. The Bears should get a couple of injured guys back on defense, which should help. Playing angry might help, too.
Kevin: Washington State 28, Eastern Washington 14
. The Cougs let me down last week, but I'm cautiously picking them again this week. I think the offense gets going. The defense actually showed some life in the second half against BYU, giving hope that it will carry into this week.
Ted: Washington State 35, Eastern Washington 24
. If I were picking an FCS team to play, the Eagles might be the last one I'd pick -- just ask Washington. There's a reason the Cougars have avoided their neighbors since 1908. Still, I suspect the Cougs' offense will get going this week.
Kevin: Colorado 21, Sacramento State 10
. Colorado did some good things last week, but was just too inconsistent. The younger players should have the jitters out of their systems and the Buffs should be able to run the ball against an FCS team. If not, things are worse than we thought.
Ted: Colorado 33, Sacramento State 17
. This qualifies as a must-win, and I suspect the Buffs will take care of business in a focused fashion.
Kevin: USC 45, Syracuse 17
. No issues for the Trojans this week -- they'll cruise. Wouldn't be surprised to see a little more balance on offense this week, considering they are on the road again next week at Stanford and they'll probably want to test drive the run game.
Ted Miller
:
USC 48, Syracuse 20
. It will be interesting to see how many of the three injured USC defensive starters return this week. I suspect things will look more polished on both sides of the ball. Ditto on what Kevin said about running the ball.
Kevin: Wisconsin 21, Oregon State 17
. Tough to gauge the Beavers since they didn't play in Week 1. And though Wisconsin struggled last week, it's never easy to start the season against a ranked opponent.
Ted: Wisconsin 34, Oregon State 24
. Was tempted momentarily to pick the upset, but then I remembered that
Montee Ball
is back. For those who don't know, he's really good. I doubt the Beavers' defense, though improved, can contain him for four quarters.
Kevin: Oregon 49, Fresno State 21
. Taking into account that Oregon's fifth-string players will be in by the second quarter, I'll give the Bulldogs three touchdowns throughout the course of the game. Ducks breeze through another one.
Ted: Oregon 55, Fresno State 24
. They say a new quarterback makes his biggest improvement from Game 1 to Game 2. If so, here's a "Yikes!" on behalf of the Bulldogs in advance of facing
Marcus Mariota
.
Kevin: Nebraska 28, UCLA 27
. I saw a lot of good things out of the Bruins in Week 1. I also saw a lot of things that won't fly against the Cornhuskers. I want to pull the trigger on the Bruins, but the youth on the offensive line is still a concern.
Ted: Nebraska 35, UCLA 24
. The Bruins will battle, but Nebraska quarterback
Taylor Martinez
is a third-year starter who appears to have figured it all out. I want to see how the Bruins run the ball and stop the run. Of course, that's all about taking a measure of UCLA's physicality up front.
Kevin: Oklahoma State 45, Arizona 28
. A nice win for the Wildcats last week, but the defense probably isn't ready yet for a high-powered offense like the Cowboys'.
Ted: Oklahoma State 35, Arizona 30.
I suspect the Wildcats have a better shot than many suspect, playing at home against a freshman quarterback, with
Matt Scott
giving Arizona a significant advantage behind center. That said, the Wildcats' track record in two previous meetings as well as a questionable front seven makes it difficult to pull the trigger on an upset pick.
Kevin: Stanford 24, Duke 17
. Traveling cross-country is never easy. We saw that last season when Duke hung with the Cardinal in the first half in Durham. The Cardinal have some core fundamentals to fix before next week's game against the Trojans.
Ted: Stanford 30, Duke 17
. The Cardinal will play better this weekend on both sides of the ball. And they need to. Duke thinks it has a bowl team and is hungry to earn respect.
Kevin: Arizona State 27, Illinois 14
. Color me impressed by the Sun Devils, who showed no mercy in Week 1. There are quarterback issues surrounding the Illini and regardless of who starts for them, the Sun Devils face either a backup in
Reilly O'Toole
or a limping starter in
Nathan Scheelhasse
.
Ted: Arizona State 24, Illinois 17
. This pick assumes that Scheelhasse won't play or will be severely limited by his bum ankle. The key for the Sun Devils is getting the running game going, whether that's with
Cameron Marshall
,
Marion Grice
or
D.J. Foster
. Or all three.
Kevin: LSU 28, Washington 17
. I was impressed with the defense against San Diego State, but if the offense struggles against LSU, it could be a long day. Losing
Jesse Callier
doesn't help.
Ted: LSU 41, Washington 17
: LSU will be able to run and stop the run. Washington won't. While Huskies quarterback
Keith Price
will have his moments, it's too much to ask him to beat -- or even to be competitive with -- the Tigers on the road.
Drive Through: Pac-12 Preview
PAC-12 SCOREBOARD
Friday, 8/29
Thursday, 8/28
Saturday, 8/30