Stanford Football:

Vanderbilt Commodores
January, 17, 2014
1/17/14
7:10
PM ET
In a San Francisco 49ers news conference in 2012, 49ers coach and former Stanford coach Jim Harbaugh was asked what kind of head coach Derek Mason would make.
He lit up.
"I have a lot of respect for Derek Mason,"
said Harbaugh
, who hired Mason to coach defensive backs at Stanford in 2010. "He's done a tremendous job this year. And quality, quality coach, quality person that would do a fine job."
Current Miami Dolphins safety Michael Thomas, who had Mason as a position coach and defensive coordinator at Stanford, echoed that sentiment when he was asked the same question in August.
"He'll definitely make sure everyone knows their jobs and responsibilities," Thomas said. "I think it'll be a very energetic team. The team will take on the persona of its coach, so the guys will be fiery. They're going to be on the edge trying to make sure that they swing first."
Mason spurned the opportunity to interview elsewhere after last season, but it was clear that it was only a matter of time before he would have his own program somewhere.
After another year in which Stanford fielded one of the nation's top defenses, that day came Friday. Mason
was named head coach at Vanderbilt
.
[+] Enlarge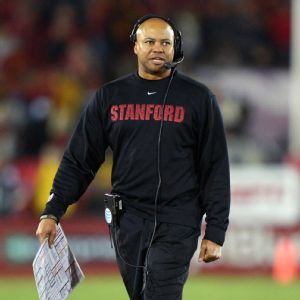 Kirby Lee/USA TODAY SportsStanford coach David Shaw has shown he likes to promote from within on his coaching staff.
His loss could sting at Stanford, where coach David Shaw was largely hands-off on defense, letting Mason run the show.
Stanford also lost a coordinator after the 2012 season, when offensive coordinator Pep Hamilton left for the same job with the Indianapolis Colts. But it's a different set of circumstances. Shaw is very much involved on offense, and it was clear how the dominoes would fall following Hamilton's departure -- Mike Bloomgren to offensive coordinator and Mike Sanford to quarterbacks coach. With Mason on his way to the SEC, Shaw's path is not as clear.
Shaw's track record since replacing Harbaugh shows he likes to promote from within the program -- Hamilton, Mason and Bloomgren were all in-house coordinator hires. Jason Tarver, who
just re-upped with the Raiders
, was the co-defensive coordinator with Mason in 2011, and he came from outside the program. But it should be noted Mason called the plays that year.
If Shaw were to go with someone on his current staff, these would be the options:
Lance Anderson, outside linebackers coach/admissions liaison: Probably the most likely option. Anderson was the co-defensive coordinator with Mason at Saint Mary's College in 2003 (the program folded after 2004), but that was his only year as a coordinator. He has coached both defensive tackles and outside linebackers on the Farm, and his role as a liaison between the football program and admissions department already stands as of one the program's most important jobs. He has been at Stanford for seven years.
David Kotulski, inside linebackers coach: Kotulski has the most experience as a defensive coordinator of anyone on staff. He's been a coordinator at Lehigh, Holy Cross, Utah State, Bucknell and Saint Mary's. He just finished his second season at Stanford.
Randy Hart, defensive line coach: If Hart had his heart set on becoming a coordinator, it probably would have happened already. He held the responsibility at Washington from 1995-98, but other than that stretch, he's been strictly a defensive line coach on the college level since 1973.
If Shaw goes outside the program, one name comes to mind immediately: Clancy Pendergast.
Steve Sarkisian chose not to retain Pendergast at USC after he
significantly improved the defense
in one season after arriving from Cal. Like Mason, Pendergast employs a 3-4 defense and has a history coaching defensive backs, which was the position group Mason coached. Before landing at Cal in 2010, Pendergast was a defensive coordinator in the previous six seasons in the NFL -- five with Arizona and 2009 in Kansas City.
Shaw also must replace Sanford, who left to become the offensive coordinator at Boise State immediately following the Rose Bowl, and there's also a chance some Stanford coaches might leave with Mason to Vanderbilt.
July, 25, 2013
7/25/13
8:00
AM ET
Stanford coach David Shaw had some interesting things to say to
ESPN's Colin Cowherd in this podcast
, which is definitely worth a listen.
Suffice it to say, Cowherd is a fan. He opens by noting that, unlike the SEC coaches who traveled with an entourage into the ESPN studios last week, Shaw just walks in solo.
"We travel light," Shaw explains.
Shaw talks about a variety of topics and issues, from his team to former Cardinal coach Jim Harbaugh, to a good anecdote about Andrew Luck.
Cowherd is interested in the idea of an elite academic institution winning consistently at a high level. Said Shaw, "The smart guys win games. The guys who don't make mistakes."
I will admit Cowherd falls into one of my minor pet peeves comparing Stanford to other good academic schools doing well in football, such as Vanderbilt and Northwestern. Those are very nice schools,
but they aren't Stanford
. Each and every student at Northwestern or Vanderbilt would break into a full sprint out the door if Stanford offered admission.
And, of course, Stanford has gone 2-1 while playing three consecutive BCS bowl games, and is just a missed short field goal away from being 3-0. No other elite academic school even approaches that distinguished résumé.
Part of Shaw's selling point, however, isn't college and a Stanford diploma. His program is sending guys to the NFL at a very high rate.
"We approach everything with an NFL mentality," he said.
Further, Shaw isn't going anywhere. Consider this from Ivan Maisel's
Pac-12-centric 3-point stance this week
:
David Shaw, the head coach of defending Pac-12 champion Stanford, has avoided being seduced by praise for starting out 23-4. Shaw maintains that he returned to his alma mater with the intention to build a program over 20 years. In an age when coaches job-hop and the pressure to win can be excruciating, Shaw's plan is so old-fashioned it's almost quaint. It's too soon to gauge history. But if Shaw stays and keeps winning, his hiring will be the example that every athletic director will try to emulate.
Stanford fans who can remember the years of struggle, and we're not just talking the Buddy Teevens and Walt Harris tenures, probably are still amazed by this recent run of success. That might wear off, though. It is threatening to become a long-term standard.
April, 10, 2013
4/10/13
10:00
AM ET
Everybody loves rankings lists, and college football fans -- by necessity -- seem to like lists even more than average folk.
So we have Athlon making another list. First it
ranked Pac-12 coaches
. Now it ranks
all 125 coaches for FBS programs
.
Obviously, any ranking like this is highly subjective, as Kevin noted with
his notes on the Pac-12 coach rankings
.
I really like Athlon's top three. That would be mine. If Chip Kelly were still at Oregon, I'd rank him third, but he is not.
After that? Well, there were some head-scratchers.
LSU's Les Miles way down at No. 24? New Arkansas and former Wisconsin coach Bret Bielema buried at No. 25? Vanderbilt's second-year coach James Franklin way up at 17? Three words: No, No, No.
There is no conceivable way to rank Franklin ahead of Miles, WHO HAS WON A NATIONAL TITLE!, nor is it reasonable to rate Franklin over Stanford's David Shaw, WHO HAS WON A ROSE BOWL, nor Bielema who owns THREE BIG TEN TITLES and won 68 games in seven years at Wisconsin.
Franklin? He's done some nice things at Vandy, making a terrible program respectable, but
please identify for me a signature win from 2012
? Or 2011. I'll wait here.
Yep. Nada.
Just last season, Shaw, who is No. 1 in the Pac-12 but only 20th in the nation, beat Oregon, which finished ranked No. 2, and WON THE ROSE BOWL. He's a muffed field goal away from winning consecutive BCS bowl games.
Vanderbilt, winners of the Franklin American Mortgage Music City Bowl over the doughty NC State a year after losing to Cincinnati in the AutoZone Liberty Bowl, took advantage of a weakened SEC East, and it's notable that the one adventurous nonconference tilt ended up a double-digit loss at Northwestern. You know: The so-called slow Big Ten.
And I think Northwestern coach Pat Fitzgerald is a bit high at No. 12, too.
(Deep breath) OK ... I'm OK.
Anyway: Here's how Athlon ranked the Pac-12 coaches in the nation (national rank).
David Shaw, Stanford (20)
Mike Riley, Oregon State (21)
Rich Rodriguez, Arizona (22)
Todd Graham, Arizona State (29)
Mike Leach, Washington State (31)
Mike MacIntyre, Colorado (44)
Steve Sarkisian, Washington (45)
Jim Mora, UCLA (54)
Kyle Whittingham, Utah (55)
Sonny Dykes, California (56)
Lane Kiffin, USC (57)
Mark Helfrich, Oregon (73)
Stanford Lands No. 4 QB-PP K.J. Costello
PAC-12 SCOREBOARD
Thursday, 9/3
Friday, 9/4
Saturday, 9/5