October, 11, 2014
Oct 11
1:02
AM ET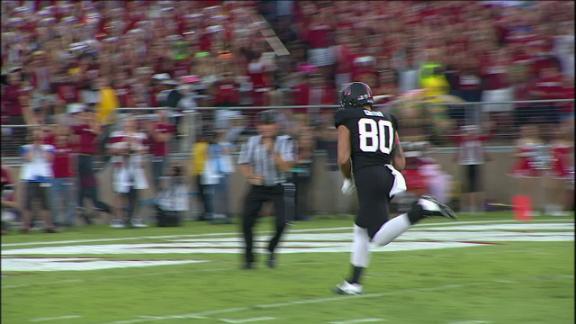 STANFORD, Calif. -- Yet another suffocating Stanford defensive performance led the way to a win for the home team on The Farm.
Stanford beat Washington State 34-17,
leading from start to finish. Stanford has now allowed fewer than 30 points in 29 consecutive games, the longest streak in the nation. Louisville and Ole Miss, who own the second-longest streak, have done that in 12 straight games.
How the game was won:
Stanford's defense made Washington State scratch and claw for every single yard, buying the Cardinal's inconsistent offense enough time to finally put the hammer down on the scoreboard. Following its least efficient offensive performance since 2006 (3.0 yards per play last week at Notre Dame), Stanford ran a new perimeter-oriented offense that loosened the middle of field and set up
Kevin Hogan
's early 39-yard touchdown throw to
Eric Cotton
(above). The Cardinal proved too much for Washington State's struggling defense, leading wire-to-wire.
Game ball goes to:
On a night during which Stanford held Washington State's pass-happy offense to 3.3 yards per play, members of the Cardinal defense earn the game ball. We'll have nose tackle
David Parry
and defensive back
Zach Hoffpauir
share the honor. Parry frequently ruptured the Cougars' offensive line, and that allowed pressure like the kind
Peter Kalambayi
displayed to throw
Connor Halliday
out of whack a week after he comfortably threw for an FBS-record 734 yards (only 292 yards on Friday).
Stanford's cornerbacks delivered press coverage on the edges, and that left a ton of responsibility for Hoffpauir. He delivered in a big way, racking up 15 critical tackles in the open field to limit the Cougars' aerial attack. Stanford put on an open field tackling clinic.
What it means:
The Cardinal's defense, which was already leading the nation giving up only 3.7 yards per play coming into the game, continues to assert itself as perhaps the nation's top unit. Stanford still has not lost back-to-back games under coach David Shaw, and the good feelings are back in their locker room behind a 4-2 record (only one conference loss) after a brutal setback against Notre Dame. Given the quality of their defense, the Cardinal certainly still have a shot at the Pac-12 North title, and this win was a mandatory step in that direction.
Washington State drops to 2-5, and that's a stomach punch to the Cougars' postseason chances. They'll now need to win four of their last five games to reach a bowl game again, and that's a tall order with Arizona, USC, Oregon State, Arizona State, and Washington remaining on the schedule.
What's next:
For Stanford, all eyes will continue to be fixated on the team's offense as it moves on to ASU. The defense is a proven commodity -- and it's a championship-caliber unit. But the offense, despite showing improvement, continues to play inconsistent football even despite significantly altering its strategy to a more perimeter-oriented approach. The Cougars had great trouble with the Cardinal's broad array of weapons (12 different receivers combined for 23 catches), but penalties and hit-or-miss plays in the red zone kept this game closer than the final yards per play tally would indicate: Stanford 7.0, Washington State 3.3.
The Cougars won't face a defense as good as the Cardinal's the rest of the year, so that's the silver lining for them after a night during which every single one of their yards seemed tough to earn. The task ahead of coach Mike Leach's club is daunting, and the Cougars will only be able to deliver with significant improvements to their porous defense and kick/punt coverage units.
Shaw Plans To Remain At Stanford
PAC-12 SCOREBOARD
Saturday, 12/27
Saturday, 12/20
Monday, 12/22
Tuesday, 12/23
Wednesday, 12/24
Friday, 12/26
Monday, 12/29
Tuesday, 12/30
Wednesday, 12/31
Thursday, 1/1
Friday, 1/2
Saturday, 1/3
Sunday, 1/4
Monday, 1/12