Stanford Football:

West Virginia Mountaineers
March, 3, 2014
3/03/14
12:00
PM ET
Looking back at some teams the current group of Pac-12 coaches have led during their respective head-coaching careers turns up an impressive list. All 12 have coached a team to a bowl appearance, 10 have finished a season with double-digit wins and eight have had teams appear in the AP top 10.
Taking it a step further and just looking at each individual coach's best team (in college) also made for an interesting study. Choosing which teams those are is clearly a subjective process so for the purpose of consistency, the teams listed below were chosen based on the final spot in the AP poll.
Here are some notable takeaways:
Eight teams ended with bowl victories, but two occurred after the coach left.

Seven teams started unranked, but only one finished out of the polls.

Half of the coaches did it at their current school, four of which occurred in 2013.

Six teams appeared in the top 5 at some point and nine were in the top 15.

Three coaches immediately parlayed the success into their current job.

Only three of the teams won conference titles, none of which was in the Pac-12.

Two teams beat No. 1-ranked squads.

Four teams played in BCS bowls, and three were victorious.
We're not going attempt to rank them ourselves, but here they are in reverse order based on each team's final AP ranking:
No. 12 Sonny Dykes, Louisiana Tech, 2012
Dykes' record:
9-3 (4-2, third in WAC)
Final AP rank:
unranked
Highest AP rank:
19
Bowl result:
no bowl

The team:
The Bulldogs finished the season as the country's highest scoring team (51.50 ppg) and top-ranked offense (577.9 ypg). They rose to No. 19 in the AP poll before losing their final two games of the season, including one against Mike MacIntyre-coached San Jose State in the season finale. Louisiana Tech was
offered a spot
in the Independence Bowl, but it was given away while the school unsuccessfully sought other bowl options. Dykes left for Cal after the season.
[+] Enlarge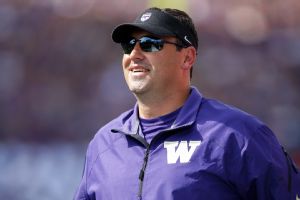 Otto Greule Jr/Getty ImagesSteve Sarkisian parlayed his successful 2013 season into the head-coaching job at USC.
No. 11 Steve Sarkisian, Washington, 2013
Sarkisian's record:
8-4 (5-4, third in Pac-12 North)
Final AP rank:
25
Highest AP rank:
15
Bowl result:
Beat BYU in Fight Hunger Bowl (Sarkisian did not coach)

The team:
The season began with a win against then-No. 19 Boise State, and the season ended with Broncos coach Chris Petersen being hired by the Huskies. Sarkisian departed for USC prior to the bowl. After the win against Boise, Washington debuted in the rankings at No. 19 and rose four spots before a string of three straight losses to Stanford, Oregon and Arizona State.
No. 10 Mike MacIntyre, San Jose State, 2012
MacIntyre's record:
10-2, (5-1, second in WAC)
Final AP rank:
21
Highest AP rank:
21
Bowl result:
Beat Bowling Green in Military Bowl (MacIntyre did not coach)

The team:
Two years after coaching San Jose State to a 1-11 record in his first season as head coach, MacIntyre's team became the first in program history to finish in the final AP poll -- although, the Spartans were unranked when MacIntyre accepted the job at Colorado. SJSU didn't beat any ranked teams, but lost just 20-17 to Stanford, which went on to win Pac-12 and Rose Bowl championships. The other loss came to Utah State, which finished No. 16.
No. 9 Todd Graham, Arizona State, 2013
Graham's record:
10-4 (8-1, won Pac-12 South)
Final AP rank:
21
Highest AP rank:
11
Bowl result:
Lost to Texas Tech in Holiday Bowl
The team:
In his eighth season as an FBS head coach, Graham's most recent Arizona State team was his best. The Sun Devils began the season unranked and entered and exited the Top 25 twice before closing the regular season with a seven-game winning streak. It was ranked No. 11 when it hosted Stanford in the Pac-12 championship game, but a second loss to the Cardinal kept ASU out of the Rose Bowl.
No. 8 Mike Riley, Oregon State, 2008
Riley's record:
9-4 (7-2, tied for second in Pac-10)
Final AP rank:
18
Highest AP rank:
17
Bowl result:
Beat Pittsburgh in the Sun Bowl

The team:
The Beavers started unranked and lost their first two games before winning eight of nine to peak at No. 17. After a 1-2 start, it beat No. 1 USC in Corvallis, but didn't immediately build off the big win. The next week the Beavers lost to Kyle Whittingham's undefeated Utah team (more later).
Riley's highest spot in the polls came in 2012, when the Beavers reached No. 7 after a 6-0 start. He was a head coach in the NFL for three years and the Canadian Football League for four, where he won a pair of Grey Cups.
No. 7 Jim Mora, UCLA, 2013
Mora's record:
10-3 (6-3, second in Pac-12 South)
Final AP rank:
16
Highest AP rank:
9
Bowl result:
Beat Virginia Tech in Sun Bowl

The team:
The Bruins spent the entire season in the polls after starting at No. 21. They began 5-0 and rose to No. 9 before road losses to No. 13 Stanford and No. 3 Oregon. Mora's best coaching job came in the NFL in 2004 when he guided the Atlanta Falcons to an NFC South title and an appearance in the NFC Championship.
No. 6 Mike Leach, Texas Tech, 2008
Leach's record:
11-2 (7-1, tied for first in Big 12 South)
Final AP rank:
12
Highest AP rank:
2
Bowl result:
Lost to Ole Miss in Cotton Bowl

The team:
The Red Raiders started the year at No. 12 and moved up to No. 6 after an 8-0 start. They rose to No. 2 after Michael Crabtree's memorable touchdown catch secured a win vs. No. 1 Texas. After two weeks at No. 2, the Red Raiders lost to No. 5 Oklahoma in a game that propelled Sooners quarterback Sam Bradford to the Heisman Trophy. Leach arrived at WSU in 2012.
[+] Enlarge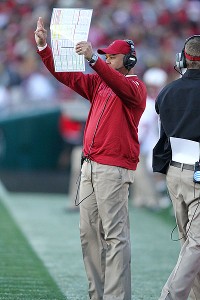 AP Photo/Kevin ReeceDavid Shaw's best team at Stanford didn't win the Pac-12 title.
No. 5 Mark Helfrich, Oregon, 2013
Helfrich's record:
11-2 (7-2, tied for first in Pac-12 North)
Final AP rank:
9
Highest AP rank:
2
Bowl result:
Beat Texas in Alamo Bowl
The team:
Of all the teams on the list, none started higher than the Ducks in Helfrich's head-coaching debut at No. 3. Oregon spent eight weeks at No. 2 before losses to Stanford and Arizona in a three-game span ended any hopes of a conference or national title. The team finished ranked No. 2 in the country in both total offense (565.0 ypg) and scoring (45.5 ppg). Quarterback
Marcus Mariota
dealt with some late-season injury problems, but, when healthy, he was as good as any player in college football.
No. 4 David Shaw, Stanford, 2011
Shaw's record:
11-2 (8-1, second in Pac-12 North)
Final AP rank:
7
Highest AP rank:
3
Bowl result:
Lost to No. 3 Oklahoma State in Fiesta Bowl
The team:
In three seasons as head coach, Shaw has won a pair of Pac-12 titles. But in 2011, when Oregon won the Pac-12 title, he probably had his best team. The Rose Bowl championship team the following year also finished No. 7 and has more hardware, but it didn't have Andrew Luck. Stanford started the year at No. 7, moved up to No. 3 after winning its first nine games, but then lost 53-30 at home to No. 6 Oregon. Stanford received a second consecutive BCS at-large bid, but suffered an overtime loss to No. 3 Oklahoma State in the Fiesta Bowl. In addition to Luck, 10 other players landed on 53-man NFL rosters from the team's departing class. Stanford's low ranking of No. 8 was the best among teams on this list.
No. 3 Rich Rodriguez, West Virginia, 2005
Rodriguez's record:
11-1, (7-0 Big East champion)
Final AP rank:
5
Highest AP rank:
5
Bowl result:
Beat No. 8 Georgia in Sugar Bowl
The team:
Freshmen QB Pat White and RB Steve Slaton were the names of note for the current Arizona coach. West Virginia started the year unranked and its lone loss came to then-No. 3 Virginia Tech. It was the first of three consecutive double-digit win seasons for the Mountaineers, who were undefeated in Big East play and capped the season with a win over No. 8 Georgia in the Sugar Bowl. A strong case can be made that West Virginia had a better team in 2007, when Rodriguez left following the regular-season finale to become head coach at Michigan. The Mountaineers were ranked No. 2 (No. 1 in the coaches poll) going into Rodriguez's final game, but
lost to a 4-7 Pittsburgh team
in the 100th Backyard Brawl, which cost them a chance to play for the national title. They finished No. 6.
No. 2 Chris Petersen, Boise State, 2009
Petersen's record:
14-0 (8-0, WAC champions)
Final AP rank:
4
Highest AP rank:
4
Bowl result:
Beat No. 4 TCU in the Fiesta Bowl
The team:
Washington's new coach has quite the résumé. Many consider Boise State's undefeated 2006 team that beat Oklahoma in that's year memorable Fiesta Bowl as the school's best, but three years later the Broncos finished 14-0 and finished a spot higher in the final AP poll. They opened the season at No. 14 and started with a win against No. 16 Oregon in Chip Kelly's first game as head coach. Boise capped the season with a win against undefeated TCU in the Fiesta Bowl. The team's offensive coordinator, Bryan Harsin, is now the head coach and its defensive coordinator, Justin Wilcox, spent last season with Sarkisian at Washington and followed him to USC in the same capacity.
No. 1 Kyle Whittingham, Utah, 2008
Whittingham's record:
13-0 (8-0, Mountain West champions)
Final AP rank:
2
Highest AP rank:
2
Bowl result:
Beat No. 4 Alabama in Sugar Bowl
The team:
In Whittingham's fourth season as head coach, the Utes finished as the nation's lone undefeated team after starting unranked. Utah opened with a win at Michigan -- Rodriguez's first game as the Wolverines' coach -- and went on to beat four teams that finished in the final AP poll, including Alabama (6), TCU (7), Oregon State (18) and BYU (25). Quarterback Brian Johnson threw for 336 yards in a convincing 31-17 win against Alabama in the Sugar Bowl.
Want to swap out one team for another or switch the order? Email me at Kyle.Bonagura@espn.com.
July, 6, 2012
7/06/12
6:00
AM ET
Phil Steele released his latest poll projections yesterday and there are some interesting postseason destinations for Pac-12 teams.
First, here's
a look at his projections
:
Washington (Pac-12 No. 7) vs. Air Force (MWC No. 4) in the New Mexico Bowl
Utah (Pac-12 No. 5) vs. Boise State (MWC No. 1) in the Maaco Bowl
UCLA (Pac-12 No. 3) vs. Kansas State (Big 12 No. 5) in the Holiday Bowl
Cal (Pac-12 No. 6) vs. Navy in the Kraft Fight Hunger Bowl
Stanford (Pac-12 No. 2) vs. West Virginia (Big 12 No. 3) in the Alamo Bowl
Oregon State (Pac-12 No. 4) vs. NC State (ACC No. 4) in the Sun Bowl
USC (BCS Pac-12 No. 1) vs. Wisconsin (BCS Big 10 No. 1) in the Rose Bowl
Oregon (BCS at-large) vs. USF (BCS ACC No. 1) in the Orange Bowl
Some quick thoughts:
I agree that Oregon and USC will both be in BCS games -- though I think one of them is going to end up in the national championship game. I don't know which one, but I'm pretty confident one of them will be there.
Some pretty lofty projections for Oregon State and UCLA. I don't have any issue with projecting either them to the postseason, but I think their predicted finishes are too high. The Beavers still have significant holes on the offensive line. And though there is promise of an improved running game, I'm going to have to see it before even considering them in the same class as Utah, Cal and Washington. Likewise for the Bruins -- who need to figure out who is going to be their quarterback before we anoint them to a mid-level bowl game.
Washington, Stanford, Cal and Utah are tough to predict because they could all land anywhere between the two and five hole. Washington to the New Mexico Bowl though is a head-scratcher. I'd likely reserve that spot for Oregon State, UCLA or even Washington State -- who I would say is probably more bowl ready than either the Bruins or the Beavers.
Guessing USF (a Big East team) ends up in the Orange Bowl since Florida State (an ACC team) is tabbed for the national championship? However that math worked out, if it actually comes to fruition that Oregon plays USF, the Ducks will make last year's Orange Bowl (West Virginia 70, Clemson 33) look like a nail biter.
June, 6, 2012
6/06/12
9:00
AM ET
Last week we brought you our predictions for the
Pac-12's 3,000-yard passers in 2012
. And judging from the comments, it seems like at least 10 quarterbacks are going to hit the 3K mark.
Are folks just as optimistic about the running backs reaching 1,000 yards?
First, let's take a look at last year's 1K rushers:
LaMichael James, Oregon, 1,805

John White, Utah, 1,519 (returning)

Chris Polk, Washington, 1,488

Stepfan Taylor, Stanford, 1,330 (returning)

Isi Sofele, Cal, 1,322 (returning)

Cameron Marshall, Arizona State, 1,050 (returning)

Curtis McNeal, USC, 1,005 (returning)
So that's five of the seven coming back. Let's break it down by team.
[+] Enlarge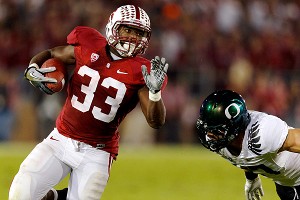 Jason O. Watson/US PRESSWIREStanford RB Stepfan Taylor is seeking his third straight 1,000-yard rushing season.
Stepfan Taylor, Stanford:
The Cardinal have a committee approach, but even so, Taylor has gone over 1,000 yards in back-to-back years. The loss of guard David DeCastro hurts a bit, but the Cardinal are dedicated to the run and Taylor is a fantastic back. Shouldn't have any trouble three-peating.
Ka'Deem Carey, Arizona
: The Wildcats ran the ball the second fewest of any Pac-12 team last season (331 attempts), but Carey still managed 425 yards on 91 carries. Arizona will run the ball significantly more under Rich Rodriguez -- who usually has one of the top rushing offenses in the nation. His running backs had more success at West Virginia than at Michigan, where QB
Denard Robinson
sucked up most of the yards. Carey will be close and it might come down to whether Arizona plays a 13th game.
Cameron Marshall, Arizona State
: He did it in a pass-first system on an injured ankle. Now he's in a run-first system and healthy. Do the math. Marshall should flourish in a downhill system. The Sun Devils have deep group behind him -- maybe the deepest in the conference -- but I can't imagine anyone cutting into his carries too deeply that it hinders his ability to get back to 1K.
Isi Sofele, Cal
: There are mumblings that Cal might move to more of a committee approach and Sofele might not get the same number of carries as last year (252). Even so, he'll still probably be chairman of that committee and will have ample opportunity to reach 1,000 yards again. He'll get there.
Tony Jones, Colorado
: The Buffs' offensive line might be their strongest offensive asset with standouts like tackle
David Bakhtiari
and center
Gus Handler
. That bodes well for Jones, who showed he can be very explosive backing up Rodney Stewart last year. But the Buffs spent a lot of time playing catch-up last season and couldn't commit to the run as much as Jon Embree probably would have liked (401 attempts). If they can't develop a downfield threat, Jones is going to see a lot of eight-in-the-box.
Kenjon Barner, Oregon
: He was knocking on the door last year with 939 -- and that was behind LaMichael James and his 1,805 yards. Barner will see more carries than his 152 last season, though he'll still have to split carries with
De'Anthony Thomas
and the Ducks' new quarterback. Still, no one in the conference runs the ball more than Oregon so Barner shouldn't have any trouble getting there.
Committee, Oregon State
: We know Oregon State wants to run the ball more. The Beavers were dead last in the conference last season in attempts (318) and rushing yards (1,043) and there are still issues on the offensive line that need to be sorted out. Several players are expected to contribute -- but chances are one individual won't get over 1,000 yards.
Johnathan Franklin, UCLA
: The new system at UCLA will be pass-oriented. But Franklin (976 yards last year) won't be completely ignored. Just look at Marshall's numbers from ASU when Noel Mazzone was running the show and you can see that running backs are still a big part of the attack. And the Bruins might run a little more until the new quarterback finds his way in the system. He'll be close.
Curtis McNeal, USC
: He just cracked the club by five yards last season. This year he'll have the benefit of a 13th -- maybe even a 14th -- game to get there. Can't imagine many teams will stack the box and dare
Matt Barkley
to beat them with his arm. McNeal should clear 1K easily.
John White, Utah
: No back carried the ball more in the conference and only three players in FBS football had more rushing attempts. There's no reason to think the Utes won't take that same approach. White is an explosive back who is a proven workhorse. If Utah can get the passing game going, it will open up more for White who could probably match his yards total with fewer carries.
Committee, Washington
: Chris Polk was a special running back -- the kind of guy who could run for speed and run for power. He's gone and there are questions on the offensive line where there weren't last year.
Jesse Callier
and
Bishop Sankey
will probably headline the committee and Washington's balanced approach (52-48 run-pass ratio last year) will allow for plenty of opportunities for both. They should easily combine, but unless one steps up as an 18-20 carry-per-game back, it's unlikely an individual will reach 1K.
Committee, Washington State
: The pie for carries is already small considering the offense. Then you have
Rickey Galvin
(1A),
Carl Winston
(1B) and
Marcus Mason
(1C) cutting into the pie even more to nibble on whatever slices are left. Running backs in Mike Leach's world are better used in the passing game on swings and screens in this offense. So don't expect a 1K rusher.
David Shaw Talks Stanford Signing Day
PAC-12 SCOREBOARD
Thursday, 9/3
Saturday, 9/5