Stanford Football:

Willie Shaw
December, 30, 2013
12/30/13
4:00
PM ET
Those who know David Shaw well believe he might coach Stanford for the rest of his career. He played and graduated from Stanford. He loves coaching the program. His family loves the Bay Area. His parents live just down the road. He makes a pretty darn good living.
But his success at Stanford, which includes three consecutive BCS bowl games, including consecutive Pac-12 titles, makes him an attractive candidate for the coaching rumor mill, whether it's Texas or the NFL spots that have opened up.
Shaw again was asked about his potential interest during a news conference Monday before Wednesday's Rose Bowl game presented by VIZIO, and he reiterated his desire to stay at Stanford. He said he hasn't been contacted by anybody.
"I have no desires to pursue another job," Shaw said.
While the redundant questions can be annoying, Shaw admitted that the questions about big-time coaching vacancies isn't a bad thing for himself or his program. It means he is doing something that other folks wish he'd do for them.
[+] Enlarge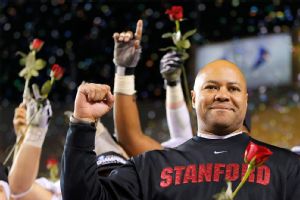 AP Photo/Matt YorkDavid Shaw admits he's flattered to be mentioned as a candidate for other big jobs, but he says he's perfectly content at Stanford.
"It's unbelievably flattering," he said. "I think it's really cool. I think honestly it continues to shed light on our program, so I don't mind that it keeps happening. It keeps eyes turning toward Stanford, which I think is really cool. I told our players, to be honest, it's a testament to what they've accomplished, it's a testament to what our seniors have helped build at Stanford, to win consistently, win the right way, produce high-character young men and have a football game that's exciting to watch. So I don't mind it."
Shaw added, "I have not and don't plan on interviewing with anybody."
Recalling Skov suspension
: Michigan State will be without star linebacker
Max Bullough
, the mental and emotional leader of the Spartans' highly rated defense, because of a suspension for undisclosed reasons.
Shaw was asked if he'd ever been in a similar situation, suspending a star player. Shaw immediately recalled linebacker
Shayne Skov
's suspension for a DUI in February 2012. Skov was suspended from the team during the offseason and the 2012 opener against San Jose State.
"Being a head coach it's your responsibility, and actions like that as a head coach, honestly, even help you in your locker room because guys know where the line is and they know that nobody is bigger than the program," Shaw said. "I applaud coach [Mark] Dantonio for that because it doesn't happen everywhere, and there are a lot of places where you get a slap on the wrist and they bench you for a practice and then play you in the game."
Shaw said he thinks Skov's suspension ultimately was good for him.
"There's no question about it," Shaw said. "I think it set him on the path to where he is now as a person and as a player."
Been there done that?
As in many things, experience helps. But it's more about the week of preparation than game day, Shaw said.
"I think the only real advantage, if there is one, is during the week," he said. "Our guys understand the schedule and know the schedule, have been through the schedule. … But once we get to game day, Michigan State has played in big games, played in a big game against Michigan, Ohio State. They've been on that big stage. I don't think the game is going to be any different."
Shaw's favorite team?
Shaw was asked which college football team he rooted for growing up.
"It's almost like a setup question that I had somebody ask me," he said.
Because Shaw's father, Willie, was a college and NFL coach, Shaw ended up rooting for several teams, but he said his first love was Stanford, where his dad coached from 1974-76 and 1989-91 during a 33-year career.
"Those are some of my earlier memories," said the 41-year-old Shaw.
Shaw also admitted that he, at various times, rooted for both Michigan and Michigan State, when his dad coached for the Detroit Lions, and Arizona State, when his dad coached the Sun Devils.
"I never had a pure allegiance to one university as far as college football goes, but the one that I always went back to and enjoyed watching when I was a kid was Stanford, and that was because of our history with the school," he said.
December, 30, 2011
12/30/11
4:45
PM ET
SCOTTSDALE, Ariz. -- Stanford University has always prided itself on being at the forefront of social change – and that's evident with its history of hiring minority coaches.
At Friday's Fiesta Bowl media day, David Shaw, the third African-American head football coach at Stanford, said he's proud of the progress minority coaches have made across the college football landscape.
"I am. I really am. … No question," Shaw said. "I give a lot of credit to Bill Walsh. He has always done a lot for minority coaches. And Stanford likes to be at the forefront of a lot of different things. And it is kind of the way we do business. I'm very proud of my school."
Shaw said much of his upbringing and influence to become a football coach comes from his father, Willie, also a longtime coach in the NFL and college.
"It's something I follow with my father being a coach," he said. "I credit my father, Tyrone Willingham, Denny Green, a lot of those guys that, gosh, did a good job and showed that they could win games so that opportunities for the rest of us are more prevalent than they were before.
"I think the athletic directors, there has been, gosh, last seven or eight years, a hard push by athletic directors to make more guys like me available, get to know more guys like me and give them opportunities when they deserve them."
SPLIT TITLE?
Asked what the ranking landscape of college football will look like should Alabama beat LSU in the national championship game, Shaw said he didn't know, nor did he really care.
"That is a great question that I don't have an answer for," Shaw said. "For us, we just concentrate on this game. We don't care where we are ranked after this game. We don't care what happens where anybody else says that we are. It just means that we are Fiesta Bowl champs. That's all we can care about. As far as the championship game, that's great, people will watch that and enjoy that, but we are just concentrating on our game."
WARY OF TURNOVERS
While Oklahoma State's defense gets knocked for the yards it gives up, one stat that is indisputable is turnovers. With 23 interceptions on the year and 42 total turnovers, the Cowboys rank second nationally in turnover margin. That's a scary thought, said Stanford quarterback
Andrew Luck
.
"Forty-two takeaways is a statistic that doesn't lie," Luck said. "When they have to make a play, they'll make a play. They can swing momentum. We have to take care of the football or else you see a guy in the other jersey going the other way."
CHALLENGE ACCEPTED
Oklahoma State wide receiver
Tracy Moore
didn't know that Stanford's secondary hadn't allowed an opposing receiver to gain 100 yards this season. He does now. He also didn't know that only eight wide receivers have reached the end zone against the Cardinal this season. He does now.
"That definitely sounds like a challenge to me," Moore said. "I know plenty of guys on this team,
Justin (Blackmon)
, Coop (
Josh Cooper
), knowing that, now we're licking our chops.
"All of that happened before. They gotta play us now."
PAC-12 SCOREBOARD
Thursday, 8/28
Friday, 8/29
Saturday, 8/30