Stats & Info:

MLB Park Factors
March, 4, 2012
3/04/12
4:05
PM ET

Maybin
On Saturday, Cameron Maybin agreed to a five-year, $25 million contract with the San Diego Padres. The deal will keep the 24-year-old in San Diego through at least his first free agent year.
It's been a long journey for the former first-round pick, who was drafted ahead of the likes of fellow outfielders Andrew McCutchen, Jay Bruce and Jacoby Ellsbury and was involved in trades for both a star (Miguel Cabrera) as well as two middle relievers (Edward Mujica and Ryan Webb). But now on his third team and fresh off his fifth season of Major League action, Maybin has found a home.
Maybin had the best season of his young career in 2011, posting a .265/.323 /.393 triple slash line and swiping a team-leading 40 bases. He also led the Padres in runs scored (82), total bases (203), and triples (8). He tied for the team lead in hits (136) and was tied for second in home runs (9). His 4.7 Wins Above Replacement ranked sixth among all center fielders last season and tied for sixth among Padres outfielders in the Wild Card era.
Despite the success, Maybin's offensive numbers suffered from hitting in the cavernous Petco Park, which consistently ranks in the bottom-third of the Majors in home runs hit and runs scored according to ESPN's Park Factors. He batted .231 at home last year compared to .294 on the road, and there was an even bigger discrepancy in his slugging percentage (.324 to .457).
But while his home park punishes his surface-level offensive numbers, it is that same home park that represents one of the reasons Maybin is so valuable to the Padres - centerfield defense. Few parks are as spacious in the outfield as Petco, and Maybin's ability to track down batted balls represented a significant portion of his value in 2011.
Baseball Info Solutions has worked to upgrade its defensive analysis, a re-tooling that will be unveiled in The Fielding Bible III. Suffice it to say, the adjusted defensive metrics suggest Maybin was one of the premier defensive players at his position in 2011 - he ranked tied for third in Defensive Runs Saved.
While Maybin's defensive value is evident and his offense progressed, the latter still has significant room for growth. Most notably, Maybin's issues with changeups provide a clear area for potential improvement.
Maybin chased almost 39 percent of soft pitches (changeups, sliders, curveballs) low and away out of the strike zone and had only two hits on 239 such pitches in 2011. That .038 BA ranked 131st out of 145 qualified hitters. Specific to the changeup, Maybin ranked among the bottom of the league in batting average, OPS and strikeout rate against that pitch over the last three seasons combined.
He did, however, improve against the changeup from 2010 to 2011 - he raised his batting average (.091 to .197) and his OPS (.182 to .505), while reducing his strikeout rate (46 percent to 27 percent). Maybin - and the Padres - hope the trend continues in 2012.
January, 24, 2012
1/24/12
5:59
PM ET
AP Photo/Jeffrey PhelpsPrince Fielder ranks among baseball's most prolific power hitters.
Prince Fielder
has agreed to terms on a nine-year, $214 million contract with the Tigers.
This will be the fourth-largest contract, in terms of total value, in MLB history, trailing the two contracts signed by
Alex Rodriguez
($275 million and $252 million) and the contract signed by
Albert Pujols
this offseason ($240 million).
Fielder ranks second in the majors with 200 home runs since 2007, and also ranks in the top five in that span in RBI, slugging percentage, and OPS.
In 2011, he ranked in the top two in the majors in games, home runs, RBI, on-base percentage, and slugging percentage.
Fielder joins a Tigers team that had a lineup spot to fill after it lost
Victor Martinez
to a torn ACL. The Tigers finished in the top four in the American League in runs scored, batting average, and OPS last season, and were seventh in the AL with 169 home runs.
Fielder averaged 20 home runs per season at Miller Park over the last six seasons, but will now play his home games at Comerica Park.
Since Comerica opened in 2000, the most home runs hit by a left-handed hitter there is 14, by
Carlos Pena
in 2005.
Since 2009, left-handed hitters hit 209 home runs at Miller Park, and hit 174 in Brewers road games, giving the park a Ballpark Factor of 116 for left-handed hitters, sixth-highest in the majors.
In the same span, left-handed hitters hit 191 home runs at Comerica Park and 213 home runs in Tigers road games, giving Comerica Park, a Park Factor of 89. That's eighth-lowest in the majors for left-handed hitters.
Last season at Miller Park, Fielder hit 77 fly balls, 22 of which went for home runs. On the road, he hit 85 fly balls, 13 of which were home runs.
Fielder ranks among the game's top hitters in terms of situational offensive contribution, with almost identical numbers as Pujols.
Over the last three seasons, Fielder ranks third among all players in Win Probability Added, which rates player performance on a play-by-play basis. Fielder added approximately 17.5 wins to his team with his offensive production, trailing only
Joey Votto
(19.9 wins) and Albert Pujols (18 wins).
Fielder ranks fifth among first baseman in the advanced metric, Wins Above Replacement, with 15.3 wins contributed over the last three seasons, trailing Pujols (21.5), Votto (18.9), new teammate
Miguel Cabrera
(18.9), and
Adrian Gonzalez
(18.0).
Fielder's defensive value can be evaluated with the metric Defensive Runs Saved, which rates players based on the skills most pertinent to their position. That stat shows that Fielder has cost his team 48 runs since 2006, 10 more than any other first baseman in that span.
Prince will become one of several notable father-son pairs to play for the same team at some point in their career, joining the likes of the Bonds' (
San Francisco Giants
) and Griffey's (
Cincinnati Reds
,
Seattle Mariners
).
Prince's father, Cecil Fielder, hit 245 home runs as a first baseman for the Tigers in the 1990s. That ranks fifth-most in team history. For Fielder to match his father, he would have to average approximately 27.2 home runs per season.
November, 27, 2011
11/27/11
10:55
AM ET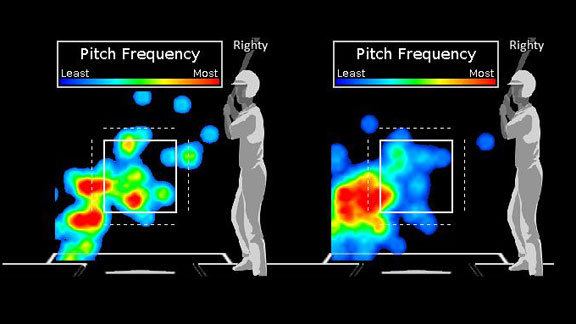 Left: Where Joe Nathan located his slider to right-handed hitters prior to his midseason DL stint
Right: Where he located his slider to right-handed hitters after returning from DL
Click here to create your own Nathan heat maps

Each Sunday, ESPN Stats & Information reviews significant moves from the past week.
Rangers sign Joe Nathan: 2 years, $14.5 million
The Texas Rangers must have liked what they saw from Joe Nathan's last three months with the Minnesota Twins in 2011.
The key to Nathan's improved performance after coming off the disabled list in late June (he missed a month with a muscle strain) was a much more effective slider.
In his first 17 appearances back from Tommy John Surgery, Nathan's slider was flat, averaging 1.5 inches of vertical break. Hitters weren't fooled, going 4-for-20 while missing on only one of every four swings.
After a month on the disabled list, Nathan returned with a slider that was nearly unhittable.
Batters managed just two hits in 35 at-bats (.057) and whiffed on almost half of their swings in his final 31 appearances.
The vertical break on his slider nearly doubled to 2.8 inches during this stretch, and of the 18 sliders put in play, not a single one was classified as "well hit" by video scouts at Inside Edge.
Nathan has a good history against the Rangers current AL West opponents, converting 43 of 48 save chances for his career against the Seattle Mariners, Los Angeles Angels, and Oakland Athletics.
In 83 innings against those three teams, he's allowed just 10 earned runs, and his WHIP against each is 0.85 or lower.
--Katie Sharp and Michael Bonzagni
Pirates sign Clint Barmes: 2 years, $10.5 million
Amazingly, this deal was the Pirates first free-agent signing to a contract with a total value of at least $10 million since inking third baseman Steve Buechele for four years and $11 million in the 1991-92 offseason.
What did the Pirates get for their investment in Barmes?
Barmes had 12 Defensive Runs Saved last season, four more than Ronny Cedeno had in nearly the same number of innings.
The major difference in their performance was in Barmes' success rate at turning double plays.
Barmes converted double plays at a 66 percent rate. Cedeno converted 59 percent.
Offensively, Barmes had a .141 isolated power last year, seventh-best among shortstops (min. 400 PA). All 12 of his homers went over the left-field fence last season and 40 of 43 have since 2009.
He'll be challenged to retain that home-run power as a Pirate. Minute Maid Park in Houston boosted homer production by seven percent for right-handed batters in 2011.
PNC Park deflated right-handed batters' home runs by 16 percent over the last three seasons, according to ballpark factors from Baseball Info Solutions.
--Katie Sharp
Marlins trade Josh Baker to Padres for Wade LeBlanc
The Florida Marlins attempt at adding depth to their starting rotation netted them a pitcher with previous big-ballpark success.
LeBlanc succeeded in PETCO Park, where he had a 2.97 career ERA, but had a 6.16 ERA in his road appearances since debuting in 2008.
The 3.19 difference between road and home is the largest for any pitcher who pitched at least 100 innings in the last four seasons, and is largely due to LeBlanc's rate of home runs allowed (one every 5.4 innings on road, every 8.7 innings at home).
Leblanc, a lefty, has two issues that the Marlins staff will look to fix. One is a cutter that got 48 outs and allowed only 14 hits against right-handed hitters, but got just 10 outs and yielded 11 hits to lefties.
The other is that his stuff is simply too hittable. Left-handed hitters were 29-for-61 when making contact against LeBlanc last season. Of the 60 balls that lefties hit that stayed in the ballpark, nearly half (28 of them) were classified as line drives.
LeBlanc's 47 percent line drive rate versus lefties last season was the worst in the majors.
-- Mark Simon
November, 20, 2011
11/20/11
10:41
AM ET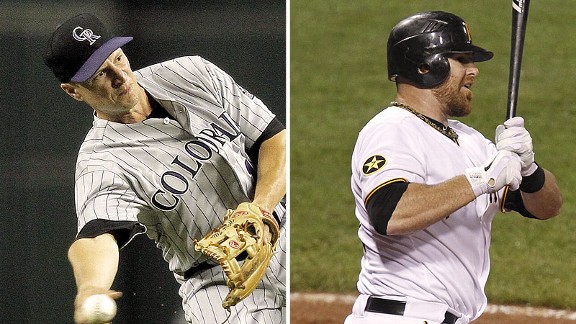 AP PhotoFree agent pickups Mark Ellis (left) and Ryan Doumit (right) each bring positive and negative aspects to their new teams.
Each Sunday, ESPN Stats & Information reviews significant moves from the past week.
Dodgers sign Mark Ellis
Two things to note about the newest
Los Angeles Dodgers
second baseman, Mark Ellis, using advanced statistical measurements:
1-- Ellis has a good defensive statistical history at second base.

Ellis' presence could be a boost to the Dodgers, whose second basemen ranked tied for third-worst in the majors with -13 Defensive Runs Saved.
That metric
considers a fielder's ability to turn batted balls into outs and convert double plays.
Ellis finished tied for fifth among second basemen with 10 Defensive Runs Saved in 2011. His 43 Defensive Runs Saved since 2008 rank tied with
Dustin Pedroia
for third-best among second basemen (largely due to his 24 Defensive Runs Saved in 2008).
2-- Ellis had one of the roughest offensive seasons of anyone in baseball in 2011.
Win Probability Added (charted at
Fangraphs.com
) measures a hitter's ability to do things that contribute to his team's chance to win (reaching base late in close games has greater value than doing so in a 10-0 game).
Ellis ranked
third-worst
among anyone who came to bat in 2011 in Win Probability Added. He was viewed as costing his team 3.35 wins with his offensive contributions (2 players rated worse-
Alcides Escobar
and
Alex Rios
).
This is likely largely due to his hitting .184 with runners in scoring position in 2011, well below the .337 and .339 he hit the two previous seasons.
Ellis was 6-for-51 in what were termed by Fangraphs as "high leverage" situations. Those are instances in which the Win Probability had the chance of having its greatest swing.
-- Mark Simon
Twins agree to sign Ryan Doumit
The reshaping of the
Minnesota Twins
continued with their agreeing to terms with catcher Ryan Doumit. His intended use will be as a designated hitter, catcher and first baseman, serving as injury insurance for stars
Joe Mauer
and
Justin Morneau
.
It will be interesting to see how the switch-hitting Doumit fares as a left-handed hitter at spacious Target Field.
As a Pirate, Doumit averaged a homer every 26 at-bats batting left-handed and hit a robust .288 with 17 home runs from that side in 441 at-bats over the last two seasons.
That batting average came from a penchant for getting hits with his line drives at a good rate. Over the last two seasons, our pitch-performance data has Doumit as 55-for-65 when hitting a line drive when hitting a line drive from that side of the plate.
Major leaguers typically get hits on about 72 percent of their line drives, meaning that in this span, Doumit has been about eight hits better than the average big leaguer.
Also worth noting: Target Field rated the seventh-toughest park for a left-handed hitter to homer in, according to the Park Factors from Baseball Info Solutions.
While Doumit may have some value as a left-handed power bat, he may not bring much to the Twins defense.
Since the start of 2010, Doumit has thrown out just 16.7 percent of baserunners, second-worst among qualifying catchers. His 13 passed balls rank third-worst over the last two seasons behind
Josh Thole
(20) and
Miguel Montero
(14).
According to a study done by
Baseball Prospectus' Mike Fast
in September, Doumit has
cost
his teams a total of 66 runs because of his poor pitch-framing skills since 2007, as measured by getting extra strike calls at the edge of the zone. That is the most of any catcher in the last five seasons combined.
Doumit has played fewer than 50 innings at first base since 2007, and none last year. In 251 career innings at the position, he's totaled -4 Defensive Runs Saved.
Mark Simon & Katie Sharp
April, 13, 2011
4/13/11
2:21
AM ET
By
Michael Bonzagni
| ESPN.com

Haren
After a 2-0 start in which he allowed just two runs in 15⅔ innings in three previous appearances,
Dan Haren
dominated again Tuesday. Haren tossed the season's first complete-game one-hitter snapping the
Cleveland Indians
' eight-game win streak. Haren walked two and struck out eight for the 12th complete game and third shutout of his career.
His 125-pitch effort came three days after he threw one inning in relief to earn a win against the Toronto Blue Jays. The last pitcher to throw a complete-game one-hitter on two days rest was the Pirates' Paul Wagner in 1995.
According to the Elias Sports Bureau, Haren is the first pitcher since Don Sutton in 1969 and just the fifth since 1920 to throw a one-hit shutout against a team that was on a win streak of eight or more games. Sutton accomplished the feat against the San Francisco Giants on May 1, 1969 while with the Dodgers.
Haren is in the process of rebounding from a nightmare 2010 season, which was his worst statistical year since 2006 in which he posted a career high in hits allowed (245) and matched a career high in home runs (31) and earned runs allowed (102).
But if we dig a little deeper with a sabermetric trowel, we will find that Haren suffered through some bad luck in 2010 with the
Arizona Diamondbacks
. Fielding Independent Pitching (FIP) is a formula that determines what a pitcher's ERA would look like based on factors he can control, namely walks, strikeouts and home runs. Expected Fielding Independent Pitching (xFIP) replaces the home runs a particular pitcher has given up with the league average of home runs per flyball (HR/FB), since HR/FB rate of many pitchers proves to be pretty erratic throughout their careers.
Haren's ERA was 4.60 as a member of the Diamondbacks last year. His xFIP during that time was 3.19, a difference of 1.41 runs.
The homer-friendly Chase Field did not help out Haren's ERA. ESPN's MLB Park Factors, a handy stat for determining the effects a ballpark has on home runs and runs scored, has ranked Chase Field as a homer-friendly ballpark nine of the last 10 years. Haren allowed 23 home runs during his stint with Arizona, 13 of which were hit at Chase. His HR/9 was 1.47, the highest of his career, and his HR/FB percent was 13.9 when he called Chase his home.
After he was traded to the Angels however, his home run rate decreased drastically to 0.77 HR/9 and he boasted a HR/FB percent of 6.5. He surrendered only eight home runs in 94 innings in an Angels uniform. Park Factors ranked Angels Stadium 23rd in HR allowed last year, 11 spots better than Chase Field. The change in scenery alone has so far helped Haren improve his numbers.