October, 21, 2014
Oct 21
1:50
PM ET
By
Sharon Katz
and
Toby Petitpas, ESPN Stats & Information
| ESPN.com
Jonathan Daniel/Getty Images
Stanford leads a trio of disappointing teams heading into the second half of the season.
The
Stanford Cardinal
and
South Carolina Gamecocks
have fallen out of the AP Poll after starting the season in the top 15. The
Michigan Wolverines
did not start the season in the AP Poll, but they are 1-4 against Power Five opponents and are 17 point underdogs against instate rivals, the
Michigan State Spartans
.
Why I have these teams not lived up to expectations?
Stanford: running game/protecting QB
Stanford is allowing the second-fewest points per game (12.3) in the FBS this season. Yet, it has lost three games, tied for its most in four seasons under
David Shaw
.
One reason has been the running game. The Cardinal rank 92nd in the FBS in rushing yards per game and have not rushed for 200 or more yards in a game this season. Last season, they had six such games. Their efficiency on running plays (-2.5), which measures how many net points per game their running game contributes to their final scoring margin, ranks 109th in the FBS. They were 31st last season.
Stanford has struggled protecting
Kevin Hogan
. He has been sacked 14 times in seven games, matching his total from 14 games last season. All but three of the sacks have come when opponents have sent five or more pass rushers on a play. That is one more sack against the blitz than Hogan suffered in his first two seasons combined.
Michigan: offense
Michigan has been solid on defense. It ranks 14th in the FBS in yards per play and fifth in yards per rush. Yet, in five games against other Power Five teams, Michigan has been outscored by an average of 12 points per game.
The offense has been the main reason. According to ESPN's efficiency rankings, the Wolverines offense has contributed -2.7 points per game toward their scoring margin, 92nd-best in the FBS.
Turnovers have been the main culprit. Michigan has 16 turnovers, tied for fourth-most in the FBS. The Wolverines have allowed at least three points off turnovers in every game and only Illinois (7.9) has allowed more per game (7.3) in the Big Ten.
Another issue has been production in the passing game. Michigan has thrown the most interceptions in the Big Ten and has the second-fewest touchdown passes. Three of its six passing touchdowns came in the season-opener against Appalachian State. The Wolverines rank 112th in the FBS in efficiency on passing plays. Meaning, given the same circumstances (down, distance, yard line) that Michigan passed on, the average FBS team would have scored about five more points per game than Michigan scored on its passes this season.
South Carolina: defense
Entering the season, ESPN's Football Power Index projected that South Carolina had the best chance to win the SEC East and the second-best chance to win the SEC. These projections were partly based on a defense that was historically efficient and had recruited to replace stars such as Jadeveon Clowney and Kelcy Quarles.
Replacing those players, however, has not come easy. South Carolina ranks last in the SEC in defensive efficiency, which measures the points a defense contributes to the team's scoring margin and adjusts for the offenses faced.
South Carolina has struggled getting pressure on opposing quarterbacks. The Gamecocks have recorded a sack on 3.3 percent of their opponents' passing plays, almost two percentage points lower than any other SEC team. They are on pace to record their fewest sacks in a season since 2004, when they recorded 12 sacks in 11 games.
Big plays have also been an issue for South Carolina. The Gamecocks have allowed the most plays of 20 yards or longer (37) in the SEC and are the only team in the conference that has allowed 20 such passes and 10 such runs.
October, 21, 2014
Oct 21
8:48
AM ET
By
Sharon Katz
| ESPN.com
Joe Faraoni/ESPN ImagesThe quest for the College Football Playoff National Championship Trophy is well underway.
Using ESPN's
Football Power Index
(FPI) to project the rest of the season, let's take the College Football Playoff by the numbers:
1.
There is a 61 percent chance that every Power 5 team will have at least ONE loss entering bowls.
2.
There cannot be more than TWO undefeated teams from a Power 5 conference prior to the playoff selection (
Ole Miss
plays
Mississippi State
in the Egg Bowl on Nov. 29).
3.
The Pac-12 is the most likely conference (34 percent) to have a champion with THREE or more losses.
4.
There are FOUR remaining undefeated teams --
Florida State
, Mississippi State, Ole Miss and Conference USA's
Marshall
. FPI projects that Marshall is the most likely team to win out (57 percent chance) and Mississippi State is the least likely (4.4 percent chance).
5.
The SEC currently has FIVE teams with one loss or fewer, the most of any conference. There is a 26 percent chance that every team in the SEC will have at least two losses entering bowls.
6.
Right now there are SIX teams -- the four undefeated teams,
Ohio State
and
TCU
-- with at least a 24 percent chance to finish with one loss or fewer this season.
7.
The SEVEN teams in the SEC West have been the most dominant in the country -- going 28-1 against anyone not in the SEC West. The division is about to beat up on each other, however, resulting in a 36 percent chance that all seven teams finish with two or more losses.
Bonus:
The most likely outcome (30 percent) is that there will be three Power 5 teams that finish with one or fewer losses. Assuming that Marshall is left out of the playoff, that means a two-loss team will make it. Let the debate begin.
October, 19, 2014
Oct 19
12:39
AM ET
By
ESPN Stats & Information
| ESPN.com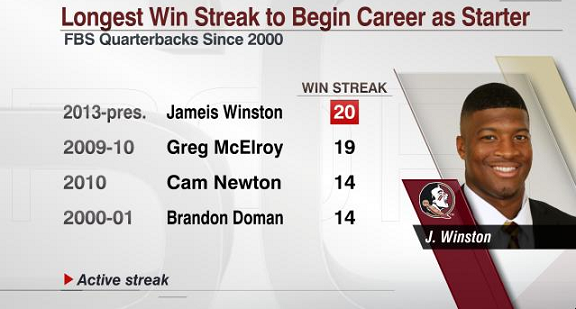 Jameis Winston remains unbeaten and has top billing on this list.
The
Notre Dame
–
Florida State
matchup was billed as one of the best games this season.
It lived up to its billing in a big way, and once again, Florida State prevailed.
The teams were never separated by more than one score, and Florida State got the last and decisive score to win 31-27.
The history
Florida State won its school-record 23rd straight game and its sixth in eight meetings with Notre Dame.
Florida State has won three straight games versus AP top-five teams for the first time since 1999-2000.
This was the first time Notre Dame lost a game it entered unbeaten and was playing in the regular season against the defending national champ (4-1-2 in those games all time).
The loss snapped an eight-game Notre Dame winning streak in games decided by six points or fewer.
The Fighting Irish fell to 2-6 all time against Florida State, their worst record against any team they've played at least five times.
Winston does it again
After a rather unimpressive first half, Jameis Winston was fantastic in the second half, completing 15 of his 16 pass attempts for 181 yards and a touchdown.
Winston was 2-of-6 on throws of 10 or more yards downfield in the first half, 9-of-9 on those passes in the second half.
Winston improved to 20-0 as a starting quarterback with the win.
That's the longest win streak to start a career for any FBS quarterback in the past 15 seasons, one better than Alabama's Greg McElroy.
Lose the yardage battle, win the game
Notre Dame outgained Florida State by 147 yards, the worst yardage margin for Florida State in any game under Jimbo Fisher (since the start of the 2010 season). Losing the yardage game is generally not a recipe for success in college football, but the Seminoles are 3-2 under Fisher when getting outgained by at least 100 yards.
One of the reasons Notre Dame outgained Florida State by so much was the play of quarterback Everett Golson.
Golson had his third game this season with at least 300 passing yards (he'd had only one prior to this season). He threw two touchdowns to
Corey Robinson
, who'd never had a multi-touchdown game before Saturday.
The Irish offense was slowed in the second half, scoring only three points in the final 22 minutes. Notre Dame had the potential game-winning touchdown wiped out by a penalty in the final seconds.
Golson fell to 16-2 as a starting quarterback. This was the first regular-season loss of Golson's career.
October, 17, 2014
Oct 17
11:55
AM ET
By
Sharon Katz, ESPN Stats & Information
| ESPN.com
Kevin C. Cox/Getty Images
Bryce Petty (14) leads the No. 4 Baylor Bears into what could be a high-scoring matchup with the West Virginia Mountaineers
Flashback #1:
Sept. 29, 2012: The
West Virginia Mountaineers
, powered by 656 passing yards and eight passing touchdowns, defeated the
Baylor Bears
70-63. That game tied the FBS records for combined touchdowns (19) and touchdown passes (13) by two FBS opponents and came three points shy of tying the FBS record for combined points in a game, set by Navy and North Texas in 2007.
Flashback #2:
Oct. 5, 2013: Baylor, fueled by 476 rushing yards and eight rushing touchdowns, defeated West Virginia 73-42. The Bears (872 yards) smashed the Big 12 record for yards in a game set by West Virginia in their previous matchup.
When the Bears and Mountaineers meet on Saturday – expect offense.
Baylor scores 70 in its sleep
Including its 73-42 win against West Virginia last season, Baylor has scored at least 70 points in five games since the start of last season. No other FBS team has reached that mark more than once during that time.
This season, the Bears have continued their quick-strike offensive success of seasons past. They have scored an FBS-high 24 touchdowns on drives of 2 minutes or less, including six such touchdowns against a previously formidable TCU defense. Since the start of last season, the Bears have 16 more 2-minute touchdown drives and 17 more 1-minute touchdowns drives than any other FBS team.
The quick touchdown drives are often the result of Baylor's big plays. The Bears have led the FBS in 30-yard touchdowns in each of the previous three seasons, and they again lead the nation with 15 in 2014. It is one of the reasons Baylor has 72 touchdown drives of three plays or fewer since the start of the 2011 season, 15 more than any other FBS team in the last four seasons.
Many of these touchdowns have come on deep passes from
Bryce Petty
, who leads the FBS with 11 touchdowns on passes thrown 20 yards or longer. Including six such touchdowns against TCU, Petty has 30 touchdowns and one interception on such throws in his career.
West Virginia's offense has potential to explode
Like Baylor, West Virginia is one of the fastest teams in the country. The Mountaineers are averaging 20.5 seconds per play (7th in the FBS), and only Baylor is averaging more plays per game.
The Mountaineers rely on quick, short passes that allow their receivers to run after the catch. They lead the Big 12 and rank second among Power Five offenses in yards after the catch per game (212.5).
Clint Trickett
, who has improved his Total QBR by 15.2 points this season, leads the West Virginia passing attack. Trickett has faced two ranked opponents this season – Alabama and Oklahoma - and exceeded 350 pass yards against both. No other quarterback has reached that threshold against either team.
Like with Baylor, big plays are a big part of West Virginia's passing offense. Trickett leads the Big 12 and is tied for seventh in the FBS with 31 completions of 20 yards or more. His primary target,
Kevin White
, has 14 receptions of this distance, tied for second-most in the FBS.
White leads the FBS in receiving yards per game (148.0) and has the longest active streak of 100-yard receiving games in the nation (6).
Last week, Baylor allowed its most points (58) since allowing 70 points at West Virginia in 2012. Another poor defensive performance by the Bears could result in another high-scoring, exciting game in Morgantown.
First team to 70, wins!
October, 16, 2014
Oct 16
12:12
PM ET
By
Sharon Katz
| ESPN.com
If there was one word to describe
Florida State
entering the 2014 BCS National Championship, it was
dominant
. The Seminoles won every pre-bowl game by at least 14 points, and their average margin of victory (plus-42.3) was on pace to be the highest since
Army
set the FBS record in 1944 (plus-52.1).
This season, the Seminoles rank 17th in scoring margin (plus-18.3) and have two wins by seven or fewer points. They have trailed in the second half of two games (against
Clemson
and
NC State
) after never trailing in the second half in any of their 13 pre-bowl games last season. Florida State's second-half dominance ended against
Auburn
in the BCS National Championship, and the Seminoles have continued to play closer games into the 2014 season.
A deeper dive into their lack of dominance

ESPN's new metric, game control, measures how a team controls its games from start to finish, given its schedule. It uses a concept called average in-game win probability and adjusts for the strength of opponents faced. Heading into its bowl game last season, Florida State had an average in-game win probability of 84 percent across all of its plays, the highest for a Power 5 school in at least the last 10 seasons. The Seminoles' game control led the FBS by a wide margin in 2013 and was the fourth-highest since 2005.
For a visual of what average in-game win probability captures, below is a chart showing Florida State's chance of winning against NC State throughout their game in 2013. The Seminoles jumped out to a 35-0 lead in the first quarter and were in control of the game. They had an average in-game win probability of 95 percent throughout all of their plays, the most dominant win in the last five seasons.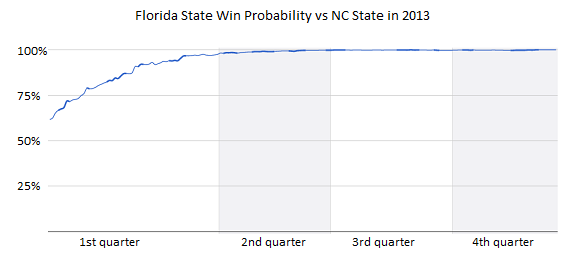 Below is the win probability chart for Florida State against NC State in 2014. The Seminoles fell behind 24-7 in the first quarter before taking their first lead late in the third quarter. As you can see, Florida State's chance of winning was below 50 percent for most of the game, and its average chance to win throughout was 44 percent (meaning they were more likely to lose than win for the majority of the game).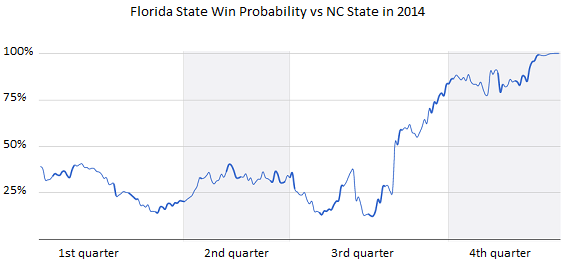 These visuals show the extremes of Florida State's ups and downs the last two seasons. Game control, however, captures Florida State's lack of dominance this season as the Seminoles rank just 17th in the nation.
The biggest question is: Why the lack of dominance? Their main issues have come on defense and in the run game.
Florida State loses dominant defense

Florida State lost five starters from a defense that allowed the fewest points per game (12.1) in the FBS. Those starters were not just contributors. All five -- cornerback
Lamarcus Joyner
, linebacker Christian Jones, defensive tackle Timmy Jernigan, linebacker Telvin Smith and safety Terrence Brooks -- were selected first- or second-team All-ACC last season.
The loss of these defensive leaders, the departure of defensive coordinator Jeremy Pruitt, and injuries to some defensive starters (such as DT Nile Lawrence-Stample) have resulted in an overall decline in Florida State's defensive efficiency.
The Seminoles have allowed four of their six opponents to gain at least 350 yards. Only two opponents reached that mark last season.
Third-down defense has been a constant struggle. The Seminoles are allowing their opponents to convert 44 percent of their third-down plays, 94th in the FBS and 12 percentage points higher than last season. Without Jernigan and Lawrence-Stample plugging the middle, they rank 10th in the ACC in percentage of opponents' third-down rushes that gain a first down.
Running game not the same

Led by Heisman-winning quarterback
Jameis Winston
, Florida State's passing game received the bulk of the attention last season. The Seminoles, however, were one of the most balanced offenses in the nation: They were one of three FBS teams that averaged 200 rush yards and 300 pass yards (Baylor and Indiana were the others).
After the Seminoles lost Devonta Freeman and
James Wilder Jr.
,
Karlos Williams
was supposed to step up as Florida State's main back. Williams has been injured for part of the season, but when he's played, he has ran for more than 70 yards only once. He did that five times last season when splitting carries with two other backs. As a whole, the team has struggled to run, averaging 138.5 rushing yards per game, second-worst in the ACC.
The main issue for Florida State has been running between the tackles. The Seminoles are averaging 3.6 yards per rush inside the tackles, third-worst in the ACC and 2.6 yards fewer than their average last season, when they ranked second among Power 5 schools.
Can Florida State return to its dominant ways against Notre Dame?
Florida State has shown signs of dominance against its last two opponents,
Wake Forest
and
Syracuse
, but
Notre Dame
is a much tougher test. The good news for the Seminoles is that Notre Dame is the only undefeated team that ranks lower than they do in game control (18th), so the Irish have not been particularly dominant, either. The game could come down to turnovers; Notre Dame has 10 turnovers in its last three games (tied for second-most in the FBS in the last three weeks), and Florida State has forced eight during that time (tied for eighth-most in the FBS).
October, 15, 2014
Oct 15
9:42
AM ET
By
Tobin Petitpas
| ESPN.com
Robin Alam/Icon SportswireEverett Golson has had a lot of pressure on him in 2014.
Everett Golson quarterbacked the Notre Dame Fighting Irish to the national championship game during his freshman season, but few would argue that he was the driving force behind the Irish's success.
Even Notre Dame coach Brian Kelly downplayed his contributions to that team in his season-opening news conference when he said, "I would argue that Everett rode the bus to the championship."
Kelly did have a point. The 2012 Notre Dame team led the FBS in scoring defense (10.3 PPG) during the regular season. Golson, on the other hand, finished the 2012 season tied for 85th in touchdown passes (12), 73rd in passing yards (2,405) and 36th in Total QBR (67.2).
In addition, Golson was subbed out in the fourth quarter with his team trailing in the final minutes of two games (Purdue Boilermarkers and Stanford Cardinal). In both games, Tommy Rees rallied Notre Dame to a victory to keep the Fighting Irish's undefeated season alive.
This year has been a different story. Golson has already been responsible for two more touchdowns (20) than he had all of 2012, and the Irish have relied upon him to pull out victories late in games. Look no further than his game-winning 23-yard touchdown pass with 61 seconds remaining in the fourth quarter against
Stanford
-- a situation he may have watched from the bench in 2012.
During his year off from football, Golson spent time with quarterback guru George Whitfield to improve his mechanics. The work appears to have paid off. Golson has increased his Total QBR by 8.3 points from 2012, and his two 300-yard passing games this season are one more than he had his freshman season.
One area in which Golson has made strides is with his downfield passing. He is completing 40.7 percent of his passes thrown 20 yards or longer, seven percentage points better than the Power Five average. His five touchdowns on such throws is on pace to more than double his total from 2012.
Too much of a good thing?
He is improved, but is Notre Dame relying on him too much?
Golson has been responsible for 71 percent of Notre Dame's yards, fifth-most by a Power Five player this season. The four players ahead of Golson are on teams with a combined 10-15 record, and the player who is sixth,
Colorado's
Sefo Liufau, is on a 2-4 team that has not had a winning record since 2005.
In the previous five seasons, there were 21 Power Five quarterbacks who accounted for at least 70 percent of their team's offense; only
Johnny Manziel
in 2012 played for a team that won at least 10 games. The average for those 21 teams was six wins a season. (well, at least they were bowl eligible).
Notre Dame has had to rely on Golson in part because they have struggled to run the ball. The team has run on 49 percent of its plays. Yet, 37 percent of its yards are accrued on the ground, five percentage points lower than the FBS average. Golson is the team's second-leading rusher and leads the team in rushing touchdowns. His 11 runs of 10 yards or more are five more than any of his teammates. When considering rushes only by running backs, the Irish rank 100th in the FBS in yards per rush (4.2).
The increased workload on Golson has had a downside, despite the Irish's 6-0 start. Golson has been responsible for nine of Notre Dame's 11 turnovers this season.
His nine turnovers are tied for fourth-most among Power Five players and his five lost fumbles are more than 73 FBS teams.
The Irish are 11-0 since the start of last season when they have one or fewer turnovers and 4-4 when they have two or more.
Golson will need to protect the ball and get some help on offense if the Irish are going to be the first team to defeat Florida State in the last two seasons.
October, 14, 2014
Oct 14
12:33
PM ET
By
ESPN Stats & Information Group
| ESPN.com
Mississippi State
became the fifth team in the AP Poll era (since 1936) to win three straight regular-season games against AP Top 10 opponents and the first to do so since
Auburn
in 1983.
Given that feat, it is not surprising that the Bulldogs lead the nation in Strength of Record, which evaluates how hard it is for an average Top 25 team to achieve a team's record given its schedule.
According to Strength of Record, an average Top 25 team would have a 6.5 percent chance to go 6-0 against Mississippi State's schedule.
What makes Mississippi State's record even more impressive is the way that it has won.
The Bulldogs have had an average in-game win probability of 83 percent this season, including an 87 percent chance to win across all of its plays against Auburn.
Game Control accounts for average in-game win probability and adjusts for the strength of competition faced. Mississippi State leads the nation in Game Control by a wide margin.
That means that adjusting for opponents faced, the Bulldogs have the most impressive W-L mark (Strength of Record) and have controlled its games better than any other team in the country (Game Control).
For more information on Strength of Record and Game Control, click
here.
October, 13, 2014
Oct 13
9:19
AM ET
By
Sharon Katz, ESPN Stats & Information
| ESPN.com
Tom Pennington/Getty ImagesBryce Petty and kicker Chris Callahan survived TCU. The teams are part of the top-heavy Big 12.
The "hot" debate entering the season was whether the
Pac-12
could surpass the
SEC
as the top conference in the nation. The
Big 12
was rarely mentioned as a top conference, however, despite returning the majority of its starting quarterbacks and having two of the top five defenses in ESPN's preseason defensive efficiency rankings.
Five of the Big 12's 10 teams are in the top 15 of
The Associated Press poll
, tied with the SEC (which has 14 teams) for the most top-15 teams in the nation.
Baylor
,
TCU
,
Oklahoma
,
Kansas State
and
Oklahoma State
all have one or fewer losses and a legitimate shot at the
College Football Playoff
.
All of those teams will not finish the season with one loss, but it's worth noting that two of their losses came in close games against the teams that played for the 2014 BCS National Championship (
Auburn defeated Kansas State
and
Florida State defeated Oklahoma Stat
e).
The bottom of the Big 12, however, is not as strong as that of the Pac-12 or SEC. The Big 12's average FPI ranking, which is designed to measure a conference's depth, ranks below that of those two conferences.
The SEC remains at the top of the conference power rankings. It has the top team in the AP poll (
Mississippi State
) and in the
FPI
(
Auburn
), the two components of these power rankings. The
SEC West remains unbeaten
against any team not in the SEC West as the Magnolia State has catapulted to the forefront of the college football world.
The Pac-12 will rise in the conference rankings if its top teams can continue to win.
Last week
, we discussed how the Pac-12 is missing an elite team.
Oregon
looked strong against
UCLA
, and the defenses of
Stanford
and
Washington
defenses looked solid against explosive offenses in Week 7. The issue is that the Pac-12 does not have a team in the top eight of the AP poll.
In other conference action, next week is a big one for the
ACC
as
Notre Dame
heads to
Florida State
. The Seminoles are the best team in the ACC, but if they lose to Notre Dame at home, the conference could take a big hit in perceived strength and in the College Football Playoff race.
October, 10, 2014
Oct 10
9:43
AM ET
By
Jungkyu Lee
and
Lauren Poe, ESPN Stats & Info
| ESPN.com
Sue Ogrocki/AP ImagesBaylor has struggled against some of the top defenses, like Oklahoma State, over the last 2 seasons.
Since the start of the 2013 season,
Baylor
leads the nation in per game averages for points (52.0), yards (610.9) and touchdowns (6.5). The Bears have scored at least 60 points in eight games during that time, four more than any other FBS team.
In the first half alone, Baylor has averaged 31.3 points per game during the last two seasons, more than 73 teams average for an entire game.
Two staples of the Bears' offense have been a fast pace and an ability to gain yards in chunks. Since the start of last season, Baylor has run a play every 19.8 seconds, the second-fastest behind
Texas Tech
(19.5). However, in the first half, the Bears have been faster, averaging a play every 16.9 seconds, 1.8 seconds faster than any other team.
No team has had more "explosive" plays the last two seasons than Baylor. During that time, the Bears lead the nation in plays per game of 20 yards or more (7.9) and have 11 more touchdowns that covered at least 30 yards than any other FBS school.
Quarterback
Bryce Petty
has been one of the driving forces behind Baylor's success. Since becoming the starter before last season, Petty has thrown 37 more touchdowns than interceptions and ranks third in the FBS in yards per attempt (9.9). He has had seven starts with a Total QBR of 90 or more, tied for second-most among FBS quarterbacks behind
Marcus Mariota
.
…but not the same against top defenses
Since the start of last season, Baylor has played six games against teams that finished last season ranked in the top 40 of ESPN's
defensive efficiency
or are currently ranked in the top 40:
TCU
,
Kansas State
,
Oklahoma State
,
Texas
(twice) and
Oklahoma
.
Defensive efficiency measures how many points a defense contributes to its team's scoring margin, adjusting for the strength of opposing offenses faced. All six of those teams held Baylor to fewer than 42 points, whereas Baylor scored at least 42 in each of its 12 other games.
In those six games, Baylor put up numbers more closely aligned with the FBS averages than an offensive juggernaut. The Bears' 32 points per game is two more than the FBS average and their 437.5 yards per game is 22 more.
Yards after the catch has been a big difference for Baylor against the better defensive teams. The Bears are averaging 106.7 yards after the catch against top-40 defenses compared with 202.0 against all other teams. It comes out to about 2.1 fewer yards after the catch per reception. The average for a Power Five team is 126 yards after the catch per game.
Another difference has been a lack of explosive plays. Four of Baylor's FBS-high 25 plays of 50 yards or more since the start of last season have come against a top-40 defense. Three of those four plays occurred against
Kansas State
, which finished the season ranked 38th in defensive efficiency last season.
This week, Baylor faces its first ranked opponent and second top-40 defense of the season in
TCU
. The Horned Frogs have kept their opponents to an average of 3.8 yards per play this season, third-lowest in the FBS. The last time the Bears were held below four yards per play was by Texas in the 2009 season.
October, 9, 2014
Oct 9
8:38
PM ET
By
ESPN Stats & Information
| ESPN.com
Kevin C. Cox/Getty ImagesGeorgia's Todd Gurley has been among the nation's best runners this season.
Georgia
tailback
Todd Gurley
has been indefinitely suspended by the school during an ongoing investigation into an alleged violation of NCAA rules. Here's what made Gurley one of the leading candidates to capture the 2014 Heisman Trophy, and the impact his absence will have on the Georgia offense.
• Gurley leads the SEC and ranks third in the FBS in rush yards per game this season and he's gotten the yards in big chunks. Only
Nebraska's
Ameer Abdullah
(29) has more 10-yard rushes than Gurley (27) and only
Wisconsin
's
Melvin Gordon
(8.3) averages more yards per rush than Gurley (8.2) among FBS players who've carried at least 75 times.
• He also leads all SEC running backs with 3.9 yards after contact and his eight touchdown runs are tied for first with
Arkansas
'
Jonathan Williams
.
• Gurley is responsible for 36 percent of the Bulldogs' offense this season. That's the largest chunk of any running back in the SEC, and is tied for third among all Power Five running backs.
• Among SEC running backs with at least 400 career rushes, only
Auburn's
Bo Jackson averaged more yards per rush during his career than Gurley.
• Gurley had been steadily climbing Georgia's all-time rushing lists. He currently stands 85 yards behind Garrison Hearst's 3,232 career yards for second-place. In addition, he's one touchdown shy of tying Lars Tate for second in school history in career touchdowns.
• Should Gurley miss this week's game against
Missouri
in Columbia, it would be the second straight season he's sat against the Tigers, one of three games he missed last October due to an ankle injury.
• In those three games Gurley missed, Georgia went 1-2 and its scoring average dropped more than 10 points per game (39.4 with Gurley, 29.0 without Gurley).
October, 9, 2014
Oct 9
9:29
AM ET
By
ESPN Stats & Information
| ESPN.com
AP Photo/Tony GutierrezJonathan Williams helps lead one of the most effective running games in the nation.
Perhaps overshadowed by the games involving teams from the state of Mississippi, the SEC West has another big game Saturday when
Alabama
heads to
Arkansas
(6 ET on ESPN).
A key matchup in the game with be Alabama's run defense against Arkansas' run offense.
The Crimson Tide lead the SEC in rush defense (64.0 YPG), and Arkansas leads the conference in rush offense (316.6 YPG).
Alabama rushing defense
Alabama's average of 64.0 rushing yards allowed per game is third-fewest in the FBS. They have allowed one rushing touchdown, tied for the fewest among FBS teams.
The Tide have held four of their five opponents to fewer than 75 yards rushing, tied with
Louisville
and
Boise State
for the most such games by an FBS defense.
Excluding sacks, opponents have not gained yards on 28 percent of their carries against Alabama, the third-best rate for a defense in the FBS and nine percentage points better than the FBS average.
The Tide rarely give up big plays in the running game. They have allowed an FBS-low nine runs of 10 yards or longer.
A key has been not allowing opponents to set the edge. The Tide have allowed a Power Five-low 2.5 yards per designed run outside the tackles and are one of four Power Five defenses that have not allowed a touchdown on such a run.
Arkansas rushing offense
Not only does Arkansas run more often (68 percent of plays) and for more yards (316.6 per game) than any other SEC team, but it also is efficient in doing so.
The Razorbacks are averaging 6.9 yards per rush and lead the nation in rushing efficiency, which measures an offense's contribution to a team's scoring margin on rushing plays. Arkansas is contributing an FBS-high 16 points per game to its scoring margin on rushes.
What makes the Razorbacks so efficient is their ability to gain ground on first and second down. The Razorbacks are averaging 6.9 yards per rush on first or second down and gaining a first down on an FBS-high 30 percent of those plays.
That leads to Arkansas avoiding third downs (sixth-fewest in the FBS), which is
a factor that has been shown to correlate with winning
by ESPN's production analytics team.
Running backs
Jonathan Williams
and
Alex Collins
have led the way for Arkansas. They have combined for 1,107 rush yards and 14 rushing touchdowns, which is the third-most rushing yards and most rushing touchdowns of any running back duo in the nation.
A lot of their success can be attributed to a line that has been able to open holes.
The Razorbacks are averaging an SEC-high 4.2 yards before contact per rush and have gained at least five yards on an FBS-best 54 percent of rushes.
As noted above, Alabama has been great at limiting opponents outside the tackles, but that area is a strength for the Razorbacks. They lead the SEC in yards per rush (8.1) and touchdowns (nine) on designed runs outside of the tackles.
Something has to give
Arkansas has gained at least 150 rushing yards and is averaging four yards per rush in each of its games this season. Alabama has not allowed any of its opponents to run for 150 yards or average four yards per rush in a game.
We may know how this game will play out after the first 15 minutes. Arkansas is averaging 8.4 yards per rush and 99.6 rushing yards in the first quarter. If Alabama can slow Arkansas' ground attack early, it may go a long way toward determining this game.
October, 7, 2014
Oct 7
10:34
AM ET
By
Alok Pattani, ESPN Stats & Information
| ESPN.com
AP Photo/Gerald HerbertDak Prescott has helped Mississippi State to the top of ESPN's résumé metrics
If college football were like pro sports, this whole "playoff" thing would be pretty easy: Just take the teams with the highest win percentages. Or take only conference champions, like division winners in the NFL. Why do you need a committee to pick teams when you could just use the conference standings and the "only stat that matters" – the win column?
As you know, selecting teams for a college football playoff is different. Level of competition can vary dramatically across teams and conferences, so performance has to be evaluated in the context of the schedule played. And with each team playing a dozen or so games each, how teams look in achieving their results – "style points" – can also help separate teams beyond their records.
To help determine the "most deserving" teams for the College Football Playoff, ESPN's Stats & Information Group has developed some in-depth analytical tools to evaluate résumés. These metrics look "backward" at what a team has accomplished to date and are therefore categorically different from our
Football Power Index
. FPI is a forward-looking system that evaluates who is "most powerful" and helps predict specific matchups as well as the rest of the season. Some of ESPN's own break down the difference between "best" (which we measure using FPI) and "most deserving" (where the résumé metrics come in)
here
.
As we get further into the season and the true playoff contenders start to come into focus, the two main metrics we'll be using to rate teams' résumés are Strength of Record and Game Control. These metrics are uniquely designed to evaluate how each team's accomplishment stacks up against what everyone else has done to the same point in the season.
Strength of Record