January, 29, 2015
Jan 29
2:20
PM ET
By
Sharon Katz, ESPN Stats & Information
| ESPN.com
The turning point in the
Seattle Seahawks'
season was undoubtedly their 24-20 loss to Kansas City in Week 11. The Seahawks allowed a season-high 190 rushing yards, including 159 to
Jamaal Charles
, and fell to 6-4 with a 56 percent chance of missing the playoffs, according to
numberFire.com
.
Since that loss, Seattle has won eight straight games and is riding a defense that -- when healthy -- is looking a lot like its defense at the end of last season.
What might not have been widely understood is how average Seattle's defense was in its first 10 games. The Seahawks' defense ranked 13th in efficiency during that time and was costing the team about 1.2 points per game.
Fast-forward eight games, and Seattle is in the midst of one of the best defensive stretches in the last few seasons. The Seahawks are holding opponents to 9.8 points per game and have an NFL-best 10.3 defensive efficiency since the start of Week 12.
For context, Seattle held its opponents to 11.5 points per game and averaged a 10.6 defensive efficiency rating per game in its final eight contests of the 2013 season/postseason, which was capped off by an impressive defensive outing (21.6 efficiency rating) against
Peyton Manning
and the Broncos in the Super Bowl.
Opposing quarterbacks have struggled to solve Seattle's defensive puzzle. Each quarterback the Seahawks faced during their eight-game winning streak posted a QBR at least 27 points below what he had entering the game. That includes
Aaron Rodgers
and
Cam Newton
in the playoffs.
Although Seattle has not faced a daunting set of quarterbacks during that time, the Seahawks made bad quarterbacks look worse and above-average quarterbacks look bad.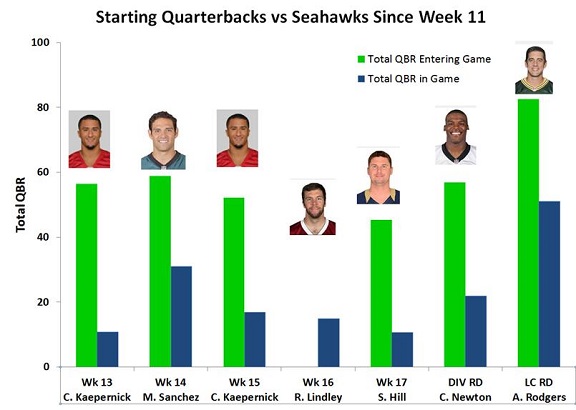 In fact, until meeting Rodgers in the NFC Championship Game, Seattle had held seven straight teams to a Total QBR below 31. Since the start of 2006, no team had held seven straight opponents to a QBR that low.
One difference in limiting these QBs has been the play of the secondary. In the past eight games, including the playoffs, Seattle has the most interceptions (seven) and is tied for the fewest completions allowed (12) on throws of 15 yards or longer.
So what has changed in the past eight games?
First, Seattle's starting lineup finally got healthy. In six of its past eight games, Seattle started the same 11 players on defense. In the two games with a different lineup, cornerback
Tharold Simon
was the only differing starter.
This consistency coincided with the return of linebacker
Bobby Wagner
, who missed five games with a turf-toe injury. Wagner's first game back was against Arizona, the start of Seattle's eight-game winning streak. During that streak, the Seahawks have led the league in almost every defensive category.
Upon Wagner's return, Seahawks coach Pete Carroll told ESPN.com's Terry Blount: "It was great to have him out there. I went up to Bobby and said, 'Geez, I didn't realize what a factor you are.' He is one of the heartbeat guys for this club."
Even Carroll's praise might be understating Wagner's impact. With him on the field, Seattle is holding opponents to a 36.8 Total QBR, compared with a 60.3 Total QBR without him.
Seattle's defensive resurgence also coincided with the return of
Kam Chancellor
from injury and the improved health of others in the secondary.
Will the Seahawks' defense continue its suffocating play in the Super Bowl?
The health of the unit, so important in the team's late-season surge, might be in question as
Richard Sherman
and
Earl Thomas
are battling injuries. Seattle's ability to overcome the injuries -- and Tom Brady's efficiency against Seattle's defense -- might determine how the game unfolds.