Stats & Info:

San Antonio Spurs
December, 4, 2013
12/04/13
12:20
PM ET
By
ESPN Stats & Information
| ESPN.com
AP Photo/Eric GayTim Duncan has been one of the most successful international players in NBA history.
Wednesday night, the
San Antonio Spurs
and
Minnesota Timberwolves
will meet in Mexico City. It will be just the second NBA regular-season game played in Mexico City. However, when you include exhibitions, this will be the NBA's 21st game in Mexico overall.
The other regular-season NBA game in Mexico was Dec. 6, 1997, a 108-106 victory for the
Houston Rockets
over the
Dallas Mavericks
. In that game,
Michael Finley
led all players with 35 points in a loss, while
Charles Barkley
had 19 points and 17 rebounds to lead the Rockets.
It's fitting that the NBA is expanding to play more games outside the United States and Canada, as the NBA is growing more international league-wide.
According to the NBA, there were a record-breaking 92 international players from 39 countries and territories represented on opening-night rosters. Wednesday's matchup will be between two of the most international teams in the NBA.
The Spurs have 10 international players on their roster, the most such players ever on an NBA roster. Minnesota has seven, the second-most by any team.
Let's take a look at two of the premier international players who will be facing off in this game.
Tim Duncan
Although Duncan enters Wednesday's game averaging career lows in scoring, rebounding and field goal percentage this season, his accolades over the course of his 17-year NBA career are exceptional.
His 23,994 career points are the second-most by an active player born outside the United States, trailing only
Dirk Nowitzki
. His teammate,
Tony Parker
, sits fifth on that list.
With six points tonight, Duncan would also become the ninth player in NBA history with at least 24,000 points and 13,000 rebounds in their career. Of the other eight, all six who are eligible are in the Hall of Fame (Shaquille O'Neal is not yet eligible,
Kevin Garnett
is still active).
Ricky Rubio
Although
Kevin Love
and
Kevin Martin
have handled the bulk of the scoring for the Timberwolves this season, Ricky Rubio has shown his effectiveness, especially with Love on the floor.
Rubio
This season, in 574 minutes with both Rubio and Love on the floor, Minnesota is outscoring its opponents by 12 points per 48 minutes. The team as a whole is outscoring its opponents by four points per 48 minutes on the season.
The combination is especially effective on the offensive end, as the team averages 110.2 points per 100 possessions when the two are on the floor together, the most of any two-man combo on the team among those who have played at least 200 minutes together. To put it in context, the Rockets lead the NBA as a team with 109.5 points per 100 possessions this season.
November, 14, 2013
11/14/13
1:09
AM ET
By
ESPN Stats & Information
| ESPN Stats & Information
What a weird night it was in the NBA, which we say because of three shot charts the likes of which we may not see from any of these players again.
Tim Duncan's worst game ever
Tim Duncan
was 1 for 12 from the field in the
San Antonio Spurs
' 92-79 win over the
Washington Wizards
.
That is the worst field-goal percentage for Duncan in
any game
(regular season or postseason) in his NBA career (which encompasses 1,187 regular-season games, 211 playoff games).
And here's a weird quirk: Prior to Thursday, the last three teams whose players made no shots or one shot and finished with at least a dozen shots from the field in a regular-season game all won, just as the Spurs did (the players were
O.J. Mayo
,
Ricky Rubio
and
Damian Lillard
).
But that's not typical. Over the last three seasons, teams with a player who shot 1-for-12 or worse in a game went 7-18.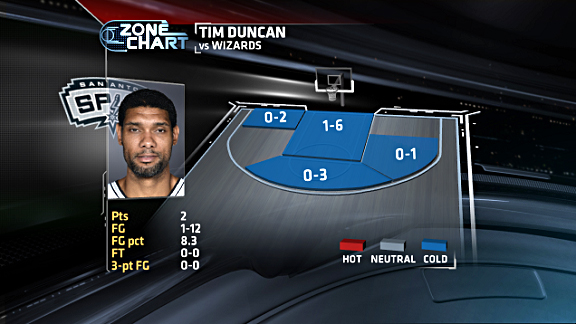 Afflalo emulates Kidd
Orlando Magic
guard
Arron Afflalo
had a career-high 36 points, eight rebounds, six assists and eight 3-pointers.
No player had hit that combination of benchmarks in a game since Jason Kidd against the Rockets on April 11, 1995 (the end of his first NBA season).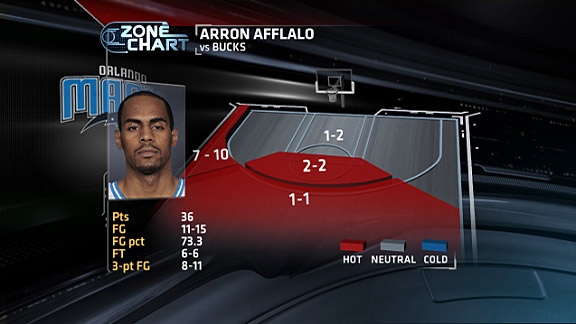 Journeyman James dominates
Philadelphia 76ers
guard
James Anderson
entered the day averaging 3.9 points in his 124 career NBA appearances. He had never even scored 20 in an NBA game, but on this day, he'd finish with a career-high 36 points and made a game-tying 3-pointer late in the fourth quarter.
James should also thank teammate
Tony Wroten
for his help. The Elias Sports Bureau noted that Wroten became the first player to have a triple-double in his first start, since starts began being fully documented in 1970.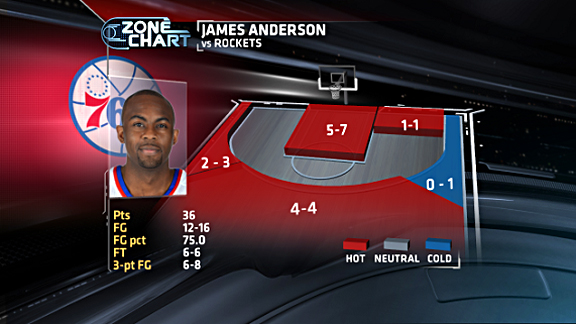 May, 19, 2013
5/19/13
6:39
PM ET
By
Gregg Found, Justin Page & Sunny Saini, ESPN Stats & Info
| ESPN.com
Stephen Dunn/Getty Images
The Spurs made a franchise-record 14 three-pointers and limited Zach Randolph to two points.
The
San Antonio Spurs
didn't yield a point to
Zach Randolph
until there was 9:26 left on the clock in the fourth quarter. By that point, the Spurs already had an 18-point lead.
So it went for Randolph, who entered the game leading the
Memphis Grizzlies
in scoring this postseason with 19.7 points per game.
Randolph finished with two points, a playoff career low in games where he played at least 10 minutes.
The Spurs limited him to just 11 offensive touches. ESPN Stats & Info video tracking defined those as "touches on the offensive end of the floor," including offensive rebounds.
What's more, only two of Randolph's 11 offensive touches came in a post-up situation. Entering the game the Grizzlies led the NBA in scoring from post-ups this postseason with 221 points (20.1 per game).
Spurs three-for-all
The Spurs set a franchise playoff record by hitting 14 three-pointers in the game.
They spread those 14 three-pointers among six different players while the Grizzlies three-pointers were made by only one player:
Quincy Pondexter
.
And in what must make Gregg Popovich happy, all 14 of the Spurs three-pointers were assisted.
The Spurs spread the bounty there, too. While six different players made a three-pointer, seven different players assisted on one. That includes kick-out passes from
Tim Duncan
and
Tiago Splitter
.
Spotting Pop a lead
Now the Grizzlies are looking at 1-0 deficit against a coach that has won more than 120 playoff games and four championships.
Gregg Popovich is 19-3 all-time in best-of-seven playoff series when his team wins Game 1. His .864 series win percentage after Game 1 wins ranks only behind Phil Jackson and Red Auerbach among head coaches with 15 postseason series worth of experience all-time.
Both Jackson (36-0 series record) and Auerbach (15-0) had perfect series records after winning the opener.
November, 29, 2012
11/29/12
2:28
PM ET
By
Alvin Anol
and
Jose De Leon, ESPN Stats & Info
| ESPN.com
Getty Images, US Presswire
Two early-season MVP candidates, Tim Duncan (left) and LeBron James, face off in a marquee NBA matchup tonight as James' Heat host Duncan's Spurs.
What the NBA schedule lacks in volume Thursday, it more than makes up in quality when the 13-3
San Antonio Spurs
visit the 10-3
Miami Heat
.


The Heat's stellar offense is a big reason why they are unbeaten in six home games and sport the best record in the East. They average the most points per game and the most points per 100 possessions.
Their effective field goal percentage -- which adjusts for the fact that a 3-pointer is worth one more point than a 2-pointer -- of 58.3 leads the league as well.
Much of their success has stemmed from their 3-point prowess at home, and
Ray Allen
has played a key role in that aspect of their game.
Only the
Oklahoma City Thunder
have a higher shooting percentage from the corner than the Heat, and Allen has made 60 percent of his corner threes (9-of-15). Their 43.6 percentage from above the break ranks third in the league.
Contributing to that 3-point success is one of the early MVP candidates to be featured in this game,
LeBron James
. James has been torrid from deep, connecting on almost 44 percent of his attempts, which would be a career high. James' 3-point connections have come from pretty much everywhere except the left corner.
James has been the most efficient player in the NBA this season. He leads the league in player efficiency rating (28.54), just ahead of the next-closest player,
Kevin Durant
(28.21).
On the other side of the court, you'll find perhaps the biggest early-season surprise for MVP,
Tim Duncan
. The 36-year-old is third in the league with a 27.90 PER, which would be a career high. He's posted a PER of 27 or better just three times previously (2001-02 [his MVP season], 2003-04 and 2004-05).
Duncan is averaging nearly 19 points a game, up from the 13- and 15-point scoring averages he posted the past two seasons. After averaging 28 minutes each of the past two seasons, Duncan is near 31 per game in 2012-13.
Why is his increase in minutes a big deal? Because on a per-minute basis, Duncan's production is alarmingly static. Simply put: for Duncan, more minutes is a near-guarantee of more production at the same rate. A look at his career numbers per 36 minutes reveals his consistency.
While Duncan and the Spurs have nine wins in 10 road games this season, American Airlines Arena has not been kind to them since James and
Chris Bosh
joined
Dwyane Wade
in South Beach.
In Miami, San Antonio scores nearly 13 fewer points per 100 possessions and has allowed the Heat to score 23 more points per 100 possessions than any other opponent at that arena.
July, 26, 2012
7/26/12
10:51
PM ET
By
Micah Adams & Gregg Found
| ESPN Stats & Info
No lockout means a return to normalcy in this year's schedule, where each team visits each city at least once and no team has to play a back-to-back-to-back. Last season, there were 40 back-to-back-to-backs.
Also this year, the regular season will start almost two months earlier (October 30) and will end nine days earlier (April 17) than last season.
SCHEDULE TIDBITS
• NBA Finals rematches: Christmas Day in Miami, Valentine's Day in Oklahoma City.
• Eastern Conference Finals rematches: October 30 in Miami, January 27 in Boston, March 18 in Boston, April 12 in Miami.
• Western Conference Finals rematches: November 1 in San Antonio, December 17 in Oklahoma City, March 11 in San Antonio, April 4 in Oklahoma City.
• Check out the notable "return" games this season in the chart at right, including Carmelo Anthony making his first trip to Denver this year. Because of the lockout-adjusted schedule, the Knicks did not play at the Nuggets last season.
• Teams appearing the most frequently on ESPN networks:
Los Angeles Lakers
(16),
Miami Heat
(15),
Oklahoma City Thunder
(15),
New York Knicks
(15),
Los Angeles Clippers
(14),
Chicago Bulls
(12),
Boston Celtics
(11).
DEFENDING THEIR TITLE
• The Heat and Celtics will play each other on Opening Night, October 30 in Miami. Not only will it be Ray Allen's first game against his most mates, LeBron James is 0-3 vs Celtics in season-openers (0-1 with the Heat in 2010, 0-2 with the Cavaliers in 2008 and 2009).
• Based on last season's records, the toughest months of the season schedule-wise for the Heat will be the start of their season in October-November. But they'll follow that with their easiest month in December. And that includes a Christmas Day showdown with the Thunder.
• It hasn't been easy for teams to defend their title recently. There's been only one repeat champion in the last 10 years (Lakers 2009 and 2010). The last two teams defending their titles were bounced in the 1st Round (2012 Mavericks) and Conference Semifinals (2011 Lakers). The last time the Heat defended their title, in the 2006-07 season, they were dealt injuries to
Dwyane Wade
and Shaquille O'Neal and knocked out in the 1st Round.
June, 7, 2012
6/07/12
1:18
AM ET
By
ESPN Stats & Info
| ESPN.com
Ronald Martinez/Getty ImagesKevin Durant led the Thunder's big second-half comeback to beat the Spurs and reach the NBA Finals.
For one half Wednesday night,
Tony Parker
was well on his way to carrying the
San Antonio Spurs
to victory and forcing Game 7.
Then
Kevin Durant
woke up… and Parker's hot hand went ice cold.
Trailing by 15 points at the half, the
Oklahoma City Thunder
outscored the Spurs 59-36 in the second half to oust the West's top seed and advance to their first NBA Finals since 1996, when the franchise was in Seattle. It was San Antonio's largest blown playoff halftime lead ever.
The Thunder become the first Western Conference champion outside of the Spurs,
Los Angeles Lakers
or
Dallas Mavericks
since 1998. Coincidentally, Oklahoma City defeated all three during its current playoff run.
Durant, who played all 48 minutes, scored 20 points after halftime to key the Thunder's huge comeback. He finished with 34 points and 14 rebounds, both team highs, and knocked down 12-of-15 free throws.
Russell Westbrook
played a solid supporting role with 25 points and eight boards.
Durant joins
Xavier McDaniel
and
Gary Payton
as the only members of the Oklahoma City/Seattle franchise with at least 30 points, 10 rebounds and five assists in a playoff game.
While the Thunder's 3-point shooting was a major spark – they knocked down 10-of-18 from beyond the arc – they balanced it by scoring efficiently inside. Oklahoma City was 15-of-25 from inside 5 feet in Game 6, including a blistering 10-of-14 from that distance in the second half.
The Spurs watched their season end on a season-high four-game skid after running off 20 straight wins. After a dominant first half in which they scored 63 points on 54.5 percent from the field, they hit more iron than net in the second half, converting just 32.5 percent of their field goals.
A key was the Thunder limiting the Spurs' pick-and-roll offense, allowing 19 points on 8-of-20 shooting on such plays (3-of-10, 6 points in 2nd half). The Spurs scored over 20 points on pick-and-rolls just once (Game 5) in the last four games of the series after scoring 30 in each of the first two games.
No player exemplified that more than Parker. The point guard had a first half for the ages, scoring 17 points in the opening quarter and reaching halftime with 21 points (8-14 FG) and 10 assists. He became the first player since at least 1996 to have at least 20 points and 10 assists in a playoff half.

Parker
But Parker could not find his stroke in the second half, going just 4-of-13 from the field for eight points and two assists.
The Thunder become only the third team in NBA history to win four straight games in the conference finals after trailing 2-0 and now will wait to see if they will face the
Boston Celtics
or
Miami Heat
in the NBA Finals. With home-court advantage in that series, Oklahoma City has a prime opportunity to win its first title since 1979.
June, 4, 2012
6/04/12
2:20
PM ET
By
ESPN Stats & Info
| ESPN.com
Matthew Emmonsj/US PresswireTony Parker needs to get back on track if the Spurs are going to win Game 5.
The Western Conference Finals head back to San Antonio for Game 5 tonight at 9 ET with the series knotted at two games apiece.

Spurs Keys to the Game
The
San Antonio Spurs
are looking to bounce back after suffering back-to-back losses following their near-record 20-game win streak. Both of those losses came on the road, however, and a return to the AT&T Center should provide a spark to the Spurs.
The Spurs are 6-0 at home this postseason, and the big difference has come on the offensive end. They are averaging 15 more points per game at home than on the road, and have thrived around the basket at home, where they are outscoring their opponents by 17 points per game in the paint.
Tony Parker
needs to get back on track if the Spurs are going to take Game 5. He really struggled in Games 3 and 4, averaging just 14 points per game on 41 percent shooting.
He wasn't as efficient running the pick-and-roll, making just 2-of-7 shots on those plays in the last two games, compared to 9-of-15 in Games 1 and 2.
In Game 3 the Spurs failed to produce on the interior, scoring a postseason-low 22 points inside five feet in the loss, nearly half has many points as they averaged in that area in the first two games.
In Game 4, San Antonio couldn't contain the Thunder's perimeter shooting. The Thunder were 19-of-37 (52 percent) from 15 feet and beyond on Saturday, after the Spurs had held them to 42 percent shooting from that distance in the first three games.

Thunder Keys to the Game
It may seem that the
Oklahoma City Thunder
have seized the momentum by winning Games 3 and 4 on their homecourt, but history suggests that is not necessarily true.
According to the Elias Sports Bureau, entering these conference finals, 66 teams did what the Thunder did, winning Games 3 and 4 of a best-of-seven series after losing the first two games. In only 13 of those 66 instances did the team that evened the series with two wins go on to win the series.
In winning the last two games, the Thunder received huge contributions from their "non-Big 3" –
Nick Collison
,
Serge Ibaka
and
Kendrick Perkins
. That trio nearly tripled their scoring output in Games 3 and 4 compared to Games 1 and 2.
Thabo Sefolosha
has been the key defensive player for the Thunder in their two victories over the Spurs. Over the last two games, the Spurs are averaging almost 20 fewer points per 48 minutes when Sefolosha is on the court compared to when he is on the bench.
He has been effective limiting the Spurs guards on pick-and-rolls and when coming off screens. As the on-ball defender in those situations in Games 3 and 4, he allowed just four points (2-of-7 shooting) and forced five turnovers on 12 combined plays.
Stat of the Game
The Spurs have won each of the last five best-of-seven series they have played in which the series was tied 2-2 after four games. That is the second-longest current streak of its kind in the NBA behind the
Los Angeles Lakers
, who have won eight in a row, according to Elias.
June, 1, 2012
6/01/12
1:39
AM ET
By
ESPN Stats & Information
| ESPN.com
Ronald Martinez/Getty ImagesThe Thunder excelled with Russell Westbrook (L) on the floor in Thursday's Game 3 win over the Spurs.
The
San Antonio Spurs
may have been due for a loss, but not this kind of loss.
The winners of 20 straight contests, San Antonio lost in grand fashion Thursday night to the
Oklahoma City Thunder
, falling 102-82. It was just the Spurs' third loss this season by 20 points or more, and it was their lowest offensive output in the playoffs.
The Thunder, who now trail 2-1 in the Western Conference Finals, dominated in virtually every way in Game 3, but their advantage in the paint proved to be the difference. Oklahoma City outscored the conference's top seed 44-24 in the lane. Nearly half of the Thunder's shots came in the painted area, and they made 52.4 percent of those attempts.
Inside of 5 feet, the Thunder not only excelled offensively but also locked down the opponent. They scored 38 points (19-33 FG) from that distance Thursday night, holding the Spurs to a playoff-low 22 points on 11-of-20 from the field.
Pressure defense was also a key for the Thunder. They had 14 steals, including six by G
Thabo Sefolosha
, and San Antonio finished with 21 turnovers. That is the most turnovers by the Spurs in a playoff game since 2007, when they committed 23 against the Jazz in a win.
Those turnovers allowed Oklahoma City to get out and run. The West's second seed outscored the Spurs 23-9 in transition, converting 10 of their 14 field goal attempts. San Antonio managed only two buckets in transition.
In the half court, the Thunder were able to take away one of the Spurs' main weapons: the pick-and-roll. San Antonio scored 30 points off pick-and-roll plays in each of the first two games of the series, but the team was held to only 12 points on such plays in Game 3.
Tim Duncan
finished with 11 points on 5-of-15 shooting. He did set a milestone by passing Kareem Abdul-Jabbar for the most blocks in playoff history (478), but it comes with a caveat: Blocks were not an official stat until 1973-74, Abdul-Jabbar's fifth NBA season.
The Thunder were able to triumph despite star G
Russell Westbrook
scoring just 10 points. Westbrook contributed nine assists and four steals, though, and Oklahoma City outscored the Spurs by 29 points when he was on the court. Westbrook averaged 22.0 points in losses in Games 1 and 2.
While
Kevin Durant
poured in 22, it was a pair of unlikely players that provided the punch for Oklahoma City. Sefolosha and
Serge Ibaka
combined for 33 points in Game 3; they had just 22 points total in the first two games of the series.
If the Thunder continue to control the interior and transition game, they could give the Spurs fits. Tonight's effort proved that the Thunder are very much alive in this series.
May, 8, 2012
5/08/12
6:00
AM ET
Stats & Info insights into this morning's top sports stories


1. SPURS FINISH OFF SWEEP:
The
San Antonio Spurs
defeated the
Utah Jazz
, 87-81, finishing a four-game sweep to advance to the Western Conference Semifinals. This was the Spurs sixth postseason sweep since
Tim Duncan
was a rookie in the 1997-98 season. According to Elias, that ranks second in the NBA. Only the
Los Angeles Lakers
, with seven, have more over the last 15 seasons.
2. PAUL & GRIFFIN LEAD CLIPPERS TO VICTORY:
The
Los Angeles Clippers
defeated the
Memphis Grizzlies
, 101-97 in overtime, to take a 3-1 series lead. According to Elias, the Clippers became the first NBA team to have a pair of players (
Chris Paul
,
Blake Griffin
), with at least 25 points and at least seven assists in a playoff game since they did it themselves back on May 14, 2006 (
Elton Brand
had 30 and eight and
Sam Cassell
had 28 and nine in a victory over the
Phoenix Suns
).
3. RANGERS EARN HISTORIC WIN:
The
New York Rangers
defeated the
Washington Capitals
, 3-2 in overtime to take a 3-2 series lead. That win would not have been possible if Brad Richards hadn't tied the game with seven seconds left in regulation. According to Elias, this is the first NHL postseason to have three games feature game-tying goals in the final 15 seconds of regulation. The first-two games in the
Phoenix Coyotes
-
Chicago Blackhawks
series also had such goals.
4. COYOTES IN UNCHARTED TERRITORY:
The Coyotes defeated the
Nashville Predators
, 2-1, to win the Western Conference Semifinals in five games. The Coyotes advanced to their first Conference Finals since joining the NHL in 1979-80. Prior to joining the NHL, the franchise (then known as the
Winnipeg Jets
) reached the WHA (Avco Cup) Finals five times in seven seasons.
5. WEAVER PERFECT 5-0:
Jered Weaver
allowed one earned run in six innings, as the
Los Angeles Angels
defeated the
Minnesota Twins
, 8-3. For the third time, Weaver has started a season 5-0. According to Elias, he joined
Pedro Martinez
,
Roger Clemens
and Christy Mathewson as the only pitchers to start 5-0 in three seasons.
6. RED HOT ROOKIE:
The
Boston Red Sox
defeated the
Kansas City Royals
, 11-5 to snap a five-game losing streak. Red Sox third baseman
Will Middlebrooks
remained hot, going 3 for 5, with two home runs and five RBI. According to Elias, he tied the MLB record for most RBI (nine) in a player's first four games to start career.
April, 30, 2012
4/30/12
4:03
AM ET
Stats & Info insights into this morning's top sports stories.


1. CLIPPERS MAKE HISTORIC COMEBACK:
The
Los Angeles Clippers
defeated the
Memphis Grizzlies
, 99-98, in Game One of their First-Round series. The Clippers trailed by 21 points at the end of the third quarter. The win tied the shot-clock era playoff record for the largest deficit overcome at the end of the third quarter. (2002
Boston Celtics
vs
New Jersey Nets
)
2. BYNUM RECORDS TRIPLE-DOUBLE IN WIN:
Andrew Bynum
recorded a triple-double (10 Pts, 13 Reb, 10 Blk) in the
Los Angeles Lakers
103-88 win over the
Denver Nuggets
in Game One on Sunday. According to Elias, was the first triple-double by a center in an NBA playoff game since May 7, 1993, when
David Robinson
of the
San Antonio Spurs
(20 points, 17 rebounds, 11 assists) did it against the
Portland Trail Blazers
.
3. RONDO EJECTED, CELTICS DEJECTED:
Rajon Rondo
was ejected for bumping a referee during the fourth quarter of the Celtics 83-74 Game One loss to the
Atlanta Hawks
. NEXT LEVEL: If Rondo is suspended, the Celtics offense will likely take a hit. The Celtics averaged over seven points more per 100 possessions with Rondo on the floor this season compared to when he was off the floor or out.
4. RAYS ROMP RANGERS IN SERIES:
The
Tampa Bay Rays
defeated the
Texas Rangers
, 5-2, taking two of three games in their weekend series against the defending AL champions. According to Elias, the Rangers had won each of their seven previous series this season, tying them for the second-longest streak of consecutive series wins to begin a season for a team that had gone to the World Series the previous year. The 1907
Chicago Cubs
won their first 11 series and the 2003
San Francisco Giants
won their first seven.
5. METS WIN A CLOSE ONE:
The
New York Mets
defeated the
Colorado Rockies
, 6-5 in 11 innings. According to Elias, it was the second victory in franchise history in which the Mets allowed a pair of game-tying home runs in the 8th inning or later. The other was New York's classic 19-inning, 16-13 win at the
Atlanta Braves
on July 4, 1985.