Stats & Info:

Women's College Basketball
April, 9, 2013
Apr 9
11:43
PM ET
By
ESPN Stats & Information
| ESPN.com

Connecticut
used a 21-1 run in the first half to pull away from
Louisville
and win its eighth national championship. Here are some numbers to know from the Huskies' 93-60 win Tuesday night in New Orleans:
8
-- UConn's eight national titles are tied with Tennessee for the most in women's NCAA history. The only college basketball program -- men's or women's -- to win more national championships is the UCLA men with 11.
11
-- Connecticut improves to 8-0 in national championship games. Combined with the men's team, UConn basketball programs are a perfect 11-0 in NCAA title games.
How impressive is that? Only one other school has won men's and women's titles without ever suffering a loss in the title game: Maryland is 2-0, with the men and women winning one title each.
23
-- Breanna Stewart scored 23 points, the most by a Connecticut freshman in a championship game. She is the fourth freshman to be named most outstanding player.
33
-- The 33-point win is by far the largest margin of victory in a women's NCAA championship game. The previous record was 23 points by Tennessee over Louisiana Tech in 1987.
93
-- The 93 points scored by UConn are tied for the second-most ever scored in a women's title game. The record is 97 by Texas against USC in 1986.
13
-- UConn made 13 shots from beyond the arc in the win, breaking the record for most 3-pointers made in a title game. The previous record of 11 was set by Stanford in 1990.
9
-- The Big East has nine national titles, the most of any conference in women's history. The SEC is second with eight championships, all won by Tennessee.
51
-- UConn outscored Louisville 51-19 on field goals attempted outside the paint, making 51 percent of its shots. Louisville shot 18 percent outside the paint, with its leading scorer, Shoni Schimmel, going 2-for-13.
5
-- The fifth-seeded Cardinals were trying to become the lowest seed to win the women's national championship. In fact, no team seeded fourth or lower has ever won the title.
April, 9, 2013
Apr 9
1:25
PM ET
Regardless of the winner, Tuesday night's Women's NCAA Championship Game promises to make a big imprint in the record books.
Let's take a closer look at what's on the line for
Louisville
and
Connecticut
.
Louisville's Double Dose of Title Games
On Monday night, the men did their part. Now, the women are in position to lead Louisville to a historic championship double.
Louisville is just the third school to send both its men's and women's teams to the title game in the same year.
The Big East will claim its 9th national title, passing the SEC for the most of any conference.
In 1999, both Duke teams came up short. But in 2004, the Connecticut men's and women's teams both cut down the nets. The Cardinals need to beat the Huskies in order to join them.
One potentially good omen? 2004 was the last time the Women's Final Four was held in New Orleans
Familiar Foes
This is the fifth time in tournament history that conference foes square off in the championship game. Each of the last two times, it's not only been the Big East, but it's been these two teams.
Back in 2009, we saw this same matchup in the title game. These are the third pair of teams to meet multiple times in the national championship.
Connecticut won all four on its title game meetings with Tennessee, while the Lady Vols won both times they faced Louisiana Tech.
Huskies Chasing History
With a win, Connecticut would match Tennessee's record eight national titles. No other school has more than two. The Huskies are 7-0 in the title game. Only Baylor (2-0) has also played in multiple championship games without losing.
As an extension of that, a win would tie Geno Auriemma with Pat Summitt for most women's national championships in the NCAA era.
Cardinals Battling History
On paper, there's a lot working against the Cardinals on Tuesday.
Louisville has lost 12 straight against Connecticut, with its only win coming in 1993. Consider that five Louisville players weren't even born when that game occurred.
As a No. 5, the Cardinals would also be the lowest seed to capture a title. In fact, even 4 seeds are 0-3 in the title game. A 1 or a 2 has won the last 15 national titles and 29 of 31 overall.
Another factor working against the Cardinals is the absence of star power.
Louisville doesn't have a 1st- 2nd- or 3rd-team AP All-America selection this season, and no team since 1995 (when the AP All-America teams began being released) has won a championship without an AP All-American.
April, 18, 2012
4/18/12
5:26
PM ET
Doug Benc/Getty ImagesPat Summitt got to cut down the NCAA championship nets eight times in her coaching career.
Pat Summitt's head coaching career with the Tennessee Volunteers ends with her at the statistical summit of both men's and women's college basketball coaches.
Summitt won 1,098 games and eight national championships in a career that spanned 38 seasons.
She steps aside as the all-time leader in Division I basketball coaching wins, currently 171 more than Duke head men's basketball coach Mike Krzyzewski and 198 more than women's basketball coaching legend Jody Conradt.
Her teams made 31 NCAA Tournament appearances, appearing in every one since 1982.
Summitt coached 135 games in the NCAA women's basketball tournament, and won 112 of them. Both of those are far more than any other women's basketball coach (Geno Auriemma of Connecticut is second, with 102 games and 85 wins).
Summit won 83 percent of her NCAA Tournament games. Auriemma is the only coach with a higher winning percentage in either men's or women's basketball (.833-- minimum 20 tournament games coached).
They reached 18 Final Fours. Summitt was rewarded at season's end with national Coach of the Year honors seven times.
Summit made $8,900 at age 22 in her first season as head coach, but was paid more than $1 million by the 2008-09 season.
She coached 12 Olympians at Tennessee, and also won a Gold Medal as head coach of Team USA in 1984. She also coached 20 All-Americans.
Summitt's eight national championships are the second-most of any men's or women's Division I basketball coach, trailing only John Wooden.
April, 4, 2012
4/04/12
1:14
AM ET
By
ESPN Stats & Information
| ESPN.com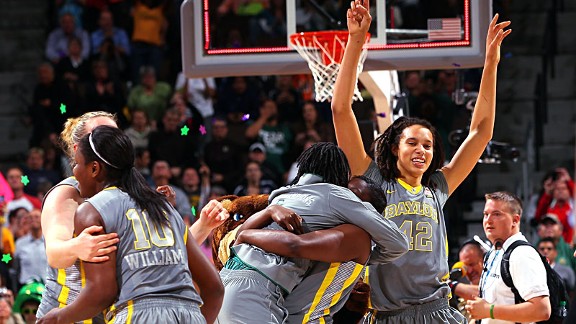 Doug Pensinger/Getty ImagesBrittney Griner led the Baylor Bears to the first 40-win season in NCAA basketball history.
Baylor
completed its perfect season with
an 80-61 win
over
Notre Dame
, becoming the first NCAA team of either gender to reach 40 wins in a season.
It was the second national championship for the Bears and head coach Kim Mulkey, who also won the title in 2005. Baylor joins
Connecticut
and
Tennessee
as the only teams with more than one title since 1995.
Once again, the state of Indiana fell just short of a national championship. Notre Dame joins the
Butler
men's team in losing in the title game in back-to-back seasons over the past three years.
Baylor and
Kentucky
won their titles on the shoulders of defensive stalwarts Brittney Griner and
Anthony Davis
. Both players blocked or altered over nine shots per game in the NCAA Tournament, including 16 by Griner in the championship game.
Brittney Griner blocked five shots against Notre Dame and has 599 blocks in her career. That leaves her one block short of joining Louella Tomlinson of
Saint Mary's
as the only players in women's history with 600 career blocks.
In addition to her five blocks, Griner altered an additional 11 shots on Tuesday. It was the most altered shots for Griner in the 2012 Women's Basketball Championship. She finished the tournament with 31 blocks, 15 more than the next-closest player (Devereaux Peters of Notre Dame), and 50 altered field goals.
After scoring 13 points in the semifinals against
Stanford
, Griner scored a game-high 26 in the championship game and was named the tournament's Most Outstanding Player.
She got a touch on 31 of Baylor's 64 possessions, her second-highest percentage in this year's tournament. Entering Tuesday's game, Baylor was shooting 56 percent on possessions where Griner got a touch. Against Notre Dame, the Bears shot 64 percent and averaged 1.19 points per possessions when Griner got a touch.
April, 3, 2012
4/03/12
2:09
PM ET
By
ESPN Stats & Info
| ESPN.com
Getty Images/AP Photo
Skylar Diggins and Brittney Griner will try and lead their respective teams to a second national title.
This will be an historic night in women's college basketball. Either
Baylor
becomes the first men's or women's team to reach 40 wins in a season, or the Lady Bears become the first team to enter the title game undefeated and not win the trophy.
Standing in Baylor's way of a perfect season is
Notre Dame
, which will be trying to avoid consecutive championship game losses (lost to
Texas A&M
last season). The Fighting Irish lost to the Lady Bears in a championship game once already this season, losing
94-81
in the Preseason WNIT. But the Irish did score 13 more points against Baylor than any other team this season (
Georgia Tech
scored 68 on March 24).
One key to beating Baylor (or at least staying close) is the ability to hit the 3-point shot. Of the teams that have finished within single digits of the Lady Bears this season, three of them hit at least seven shots from beyond the arc.
Baylor is led by Brittney Griner, who won the 2012 State Farm Wade Trophy, considered "The Heisman of Women's Basketball." Griner is the first Lady Bears player to win the award and Baylor is the first school to unite both the Heisman Trophy and the Wade Trophy in the same school year.
Griner's impact can be felt on both ends of the court. Griner is averaging 22.0 points, 9.2 rebounds and 5.2 blocks per game in the NCAA tournament. In addition, she's recorded two dunks during the tournament and is tied with former Tennessee great Candace Parker with seven career dunks, the most among women's Division I basketball players.
Defensively, Griner holds the career record for blocks in women's tournament play (88) and is only six blocks shy of joining Louella Tomlinson of St. Mary's as the only players with 600 career blocked shots (Tomlinson has 663 blocks).
It's not all Brittney Griner, though. Sophomore point guard Odyssey Sims is a second-team AP All-American and she won the battle with Notre Dame point guard Skylar Diggins in the first meeting between these teams.
Since 1995, when
Connecticut
won its first national title, the Huskies and
Tennessee
are the only teams in the nation to win multiple championships (12 of the 17 championships held). After this title game, either Baylor or Notre Dame will join the club, winning a second championship during that span.
April, 1, 2012
4/01/12
12:25
PM ET
By
ESPN Stats & Info
| ESPN.com
Chalk prevailed in the NCAA Women's Championship this year, with all four No. 1 seeds advancing to the Final Four for the second time in tournament history. In 1989, Auburn, Louisiana Tech, Maryland and Tennessee advanced to the national semifinals with the Lady Vols winning the title.
1 Connecticut vs 1 Notre Dame, 6:30 ET on ESPN


The matchup between the
Notre Dame Fighting Irish
and
Connecticut Huskies
is a familiar one. This will be their eighth meeting since the start of last season, including each of the last two Final Fours. Though Connecticut has dominated the series overall (29-7), Notre Dame has won three of the last four meetings.
This will be the 13th postseason meeting between these teams. Notre Dame has never beaten Connecticut in the Big East Championship, but the Irish have won each of their meetings in the NCAA Women's Championship, both of which have come in the Final Four.
In a strength-versus-strength matchup between the nation's top-ranked defense (Connecticut) and the nation's second-ranked offense (Notre Dame), the ability of each team to get to the free throw line could be a factor.
Both teams are shooting over 76 percent at the foul line this season, ranking among the top 20 teams in the country.
Notre Dame had success pounding the ball inside against the Huskies this season, resulting in an average of 20 free throw attempts per game for the Irish. In all other games, the Huskies' opponents averaged just 12.5 attempts per game.

1 Stanford vs 1 Baylor, 8:30 ET on ESPN


Not only is this a heavyweight matchup between two No. 1 seeds in
Stanford
and
Baylor
, it is also the 49th meeting between the No. 1 and No. 2 teams in the AP Poll. The No. 1 team has won the last eight games, including two by Baylor this season.
This will also be the 10th time the No. 1 and No. 2 teams in the AP Poll have met in the NCAA Women's Championship, with the No. 1 team winning the last three such matchups. The last No. 2 to beat a No. 1 in the tournament was Notre Dame, which defeated Connecticut in the 2001 Final Four en route to the national championship.
Baylor is 38-0 and bidding to become the first team in men's or women's basketball to reach the 40-win mark in a season.
If the Lady Bears go on to win the title, they would also become the seventh women's team in NCAA history to finish a season undefeated.
All eyes will be on Baylor's superstar, Brittney Griner, who is one of the best offensive and defensive weapons in the country. Griner leads the nation in blocks per game (5.2) and ranks fifth in both field goal percentage (61.1) and points per game (23.4).
The success of the Lady Bears' offense is greatly affected by whether Griner touches the ball. With she's on the floor in the NCAA tournament and touches the ball, Baylor averages 1.42 points per possession and shoots 61 percent. When Griner does not touch the ball, Baylor averages 1.07 points per possession and its field goal percentage drops to 44 percent.
December, 17, 2011
12/17/11
1:27
PM ET
Mark Baer/US PresswireConnecticut's Kaleena Mosqueda-Lewis will face a big test in battling for the basketball on Sunday.
The No. 1 vs No. 2 matchup between
Baylor
and
Connecticut
on Sunday night is intriguing in a multitude of ways.
Here's a stat-based snapshot of ways in which this contest is interesting from a statistical perspective.
No. 1 vs No. 2 History
This is the 48th meeting between the top-ranked teams in the country. The No. 1 ranked team has won seven straight.
Connecticut is 4-4 all-time against the No. 1 ranked team, including 2-3 on the road. The Huskies have lost their last two games against the top-ranked team.
This is the fourth time Connecticut has played a No. 1 vs No. 2 game where the Huskies were the No. 2 team. They are 3-0 in those games.
This is the first time the Huskies have been on this side of a 1 vs 2 game since Feb. 1, 2003, when they raced out to a 21-point halftime lead at Duke and won 77-65.
Baylor is 21-1 as the No. 1 ranked team. Its only loss was at unranked Texas Tech last season (56-45 on Feb. 19).
This is the third meeting all-time between Connecticut and Baylor, with all three meetings coming in the last three seasons. The Huskies have won both meetings.
Defense will be key
The Huskies rank first in the nation in points allowed per possession (0.57). Baylor ranks tied for fifth-best with Notre Dame (0.66).
However, Baylor ranks 25th in the nation in points allowed per game, 24 spots behind Connecticut because it plays at a faster pace, getting about 78 possessions per game.
The Huskies play a slower game than most teams, averaging 70 possessions per game, which ranks in the bottom 25 percent of the nation's Division I teams.
Griner goal within reach
Baylor center Brittney Griner has 442 career blocked shots. She needs just five more to break the Big 12's career blocks mark of 446 held by Oklahoma's Courtney Paris.
According to the website,
Women's Basketball State
, Griner is estimated to have blocked just over 10 percent of the two-point shots taken while she was on the floor. That is the sixth-highest percentage in the nation. She leads the nation with 4.9 blocks per game.
Also of note: Earlier this season, Griner scored 32 points in Baylor's 94-81 win over Notre Dame. That tied with former Connecticut great Diana Taurasi for the fourth-most points scored by a player in a No. 1 vs No. 2 matchup.
Super-Sub
Connecticut freshman Kaleena Mosqueda-Lewis leads the team in scoring (15.9 PPG) despite coming off the bench in all nine games. She has the highest scoring average for any player on a Top 25 team that has not started a game this season.
The chart on the right shows Mosqueda-Lewis compared to other notable Huskies freshmen of the past.
Mosqueda-Lewis ranks third in the nation in freshman scoring, and second in points scored per minute (23.9).
She is one of only two freshmen to average double figures in scoring and have at least twice as many assists as turnovers, along with North Carolina's Brittany Rountree.