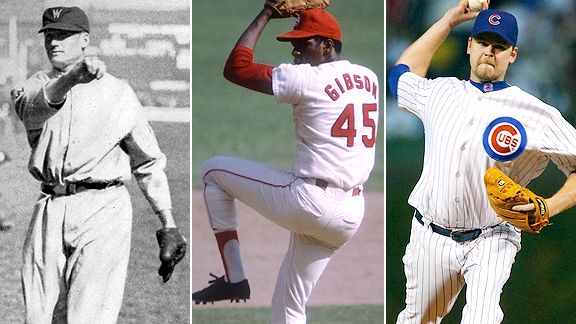 An ace in the hole for a Game 7 hasn't always guaranteed a postseason victory.
Just because the Texas Rangers have Cliff Lee (3-0, 0.75 ERA this postseason) sitting and waiting to start Game 7, that doesn't guarantee they will advance to the World Series.
There have been numerous instances in postseason history when a team had a series lead, with a high-level ace waiting to pitch Game 6 or Game 7, and still ended up losing.
Here are five examples:
1925 Washington Senators
Washington had a 3-1 series lead on the Pittsburgh Pirates with all-time legend Walter Johnson waiting for Game 7. The Pirates won games five and six, then beat Johnson 9-7 to win the World Series. Johnson allowed all nine runs.
1968 St. Louis Cardinals
The Cardinals had a 3-1 series lead on the Detroit Tigers and Bob Gibson waiting in Game 7. (Gibson was 22-9 with a 1.12 ERA that season, and already had two Game 7 wins to his credit.) Mickey Lolich, the Tigers No. 2 starter that season behind 31-game winner Denny McLain, was the star of the series with three wins, including a 4-1 victory over Gibson in the final game.
1984 Chicago Cubs
The Cubs were up 2-0 in the best-of-five series against the San Diego Padres. They also had Cy Young winner Rick Sutcliffe -- who was 16-1 with the Cubs in the regular season -- waiting to pitch Game 5, if necessary. The Padres won games three and four (the latter on a dramatic walk-off home run by Steve Garvey) to set up the decisive game. Sutcliffe had a 3-0 lead but couldn't hold it. The Padres won 6-3, and went on to the World Series.
1985 Toronto Blue Jays and St. Louis Cardinals
The Blue Jays and Cardinals each had a 3-1 lead on the Kansas City Royals in the ALCS and World Series, respectively. Both teams had their ace -- Dave Stieb (AL-best 2.48 ERA) and John Tudor (21-8, 1.93 ERA) -- ready for a seventh game. The Royals came back in each instance, beating both of those starters in Game 7 to win the series.
2003 Chicago Cubs
The Cubs had a 3-1 series lead on the Florida Marlins and had Mark Prior and Kerry Wood set to start in games six and seven. They got beat by Josh Beckett in Game 5, blew a late lead in "The Steve Bartman Game" in Game 6, and blew a 5-3 lead in Game 7, losing 9-6.