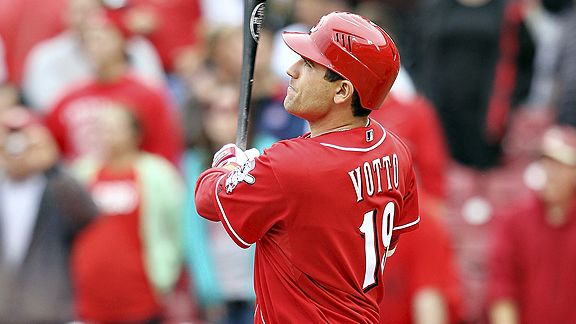 Andy Lyons/Getty Images
Joey Votto watches one of his many clutch hits in 2010 sail out of Great American Ballpark.
The Cincinnati Reds were among the best teams in baseball throughout the 2010 season, and the payoff for that may come in the form of baseball's top individual honor.
Joey Votto figures to be a slight favorite over Albert Pujols for the NL MVP award in a battle of elite first basemen. The winner will be announced this afternoon.
Joey Votto vs Albert Pujols
2010 Season
The Reds haven't had an MVP since Barry Larkin in 1995, and haven't had a first baseman take the award since Frank McCormick in the pennant-winning 1940 season.
Votto led the National League in on-base percentage, slugging percentage and OPS, was runner-up in batting average, and third-best in home runs and RBI.
The numerical differences between him and Pujols are very slight, but there are two advanced statistical measures, both tracked by our friends at Fangraphs.com, in which Votto does have an edge.
Wins Above Replacement looks at a player's value on both offense (using a weighted version of on-base average) and defense (using a metric known as Ultimate Zone Rating) and meshes them together. The result of that is that Votto comes out best in the National League by the slimmest of margins: one-tenth of a point over Pujols and two-tenths better than defensive whiz Ryan Zimmerman.
Win Probability Added looks at the value of every plate appearance during a given season, and how much it contributes to a team's chances to win. For example, say in a tie game, with no one on base and one out in the top of the ninth inning, Votto hits a go-ahead home run.
Votto took his team's chance of winning (based on historic data) from 43 percent to 80 percent, so he gets a credit of 37 percent. Win Probability Added sums a player's credits (and debits) over a season to get their total value. Do so for the entire 2010 season and Votto's bat accounted for 6.85 wins, significantly more than Pujols and anyone else in the National League.
The reason for that? Performance in big spots. Votto hit .369 with a 1.129 OPS with runners in scoring position and .370 with an 1.138 OPS in situations defined by Baseball-Reference.com as "Late and Close" (plate appearances in the seventh inning or later with the batting team tied, ahead by one, or the tying run at least on deck). Pujols was no slouch in either area. He bests Votto when looking at performance with runners in scoring position, but there's a big gap between the two in "Late-and-Close" efforts.
In its simplest form, consider this stat: Votto had 34 go-ahead hits in 2010. No other player in the majors had more than 29.
Most top-three MVP finishes
since BBWAA voting began in 1931
Shed no tears for Pujols if Votto does end up winning. Pujols actually beat Votto out both for the Gold Glove and the Silver Slugger at first base, and he already has three MVP awards to his credit.
A top-three finish would put Pujols in extraordinarily elite company. It would mark the eighth time he finished that high. The only player with more such finishes is Barry Bonds, with nine. And Pujols still has plenty of career left in which to catch him.