Stats behind the Winter Meetings moves
December, 12, 2010
12/12/10
9:00
AM ET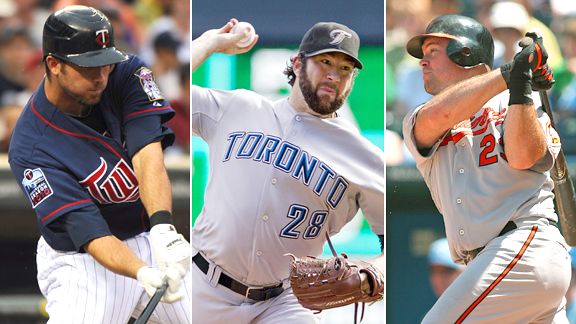 Getty Images
J.J. Hardy, Shaun Marcum and Ty Wigginton were among the under-the-radar players on the move last week.
With more than $750 million committed by major league teams, plus a slew of significant trades, it's been a busy offseason. Here are some quick takes on notable moves that took place in the last seven days.
Jason Bartlett (Padres)
Bartlett was consistently below average as a Ray in his ability to turn double plays. According to Baseball Info Solutions, it is estimated that Bartlett cost his team four runs in 2009 (worst in the majors) and three runs in 2010 (second-worst) because of his poor performance when attempting to turn double plays.
-- Katie Sharp
Carl Crawford (Red Sox)
If a good statistical benchmark for Carl Crawford over the next seven seasons is 250 steals and 100 home runs, consider this: The last player to do that over seven seasons was
Marquis Grissom
(1992-1998).
-- Mark Simon
Jack Cust (Mariners)
Cust fills a significant need for the Mariners. His .395 on-base-percentage, .438 slugging percentage, .166 isolated power and .371 weighted on-base average (wOBA) for the
Oakland Athletics
in 2010 all would have been the best on the Mariners.
-- Justin Havens
Jeff Francoeur (Royals)
Francoeur posted the second-worst on-base percentage of any outfielder in 2010. That runs counter to one area of improvement for Kansas City. The Royals tied for ninth in the AL in walks last year, after finishing in the bottom two in the previous three seasons.
-- Paul Carr
Tony Gwynn Jr.(Dodgers)
Gwynn finished fourth in Net Rating (a measure from Baseball Info Solutions that looks at approximately 30 categories of Good Fielding Plays and 50 categories of Misplays). Gwynn's signature defensive play was a game-saver on June 6, with the Padres leading by a run in the bottom of the 10th inning. He threw out
Placido Polanco
trying to go first-to-third on a single with one out. That's the kind of play the Dodgers could use. Their assist total from centerfielders dropped from 14 in 2009 to three in 2010, tied for fewest in the majors.
-- Mark Simon
J.J. Hardy (Orioles)
Last year's Orioles left side of the infield averaged a home run every 71 at-bats and a walk every 25. Hardy and Mark Reynolds netted a homer every 22 at-bats and a walk every eight.
-- Justin Havens
Shaun Marcum (Brewers)
It will be interesting to see if Marcum's ability to generate swings-and-misses is as good in the NL. Batters missed on 50 percent of their swings against his changeup and chased over 40 percent of those offerings, both ranking among the top five in the AL. His changeup putaway rate (strikeouts/two-strike changeups thrown) of 25.9 percent was the fourth-highest in the league.
-- Katie Sharp
Mark Reynolds (Orioles)
Reynolds' league-worst .198 batting average last season was unusual -- more than 50 points worse than the his .250 over the two previous seasons. Though Reynolds' contact rate and in-play percentage were consistent from 2008-10, he didn't have good fortune when putting balls in play. His BABIP of .257 in 2010 was the fourth-lowest in the NL, far below his mark of .330 from 2008-09.
-- Katie Sharp
Ty Wigginton (Rockies)
Wigginton may mesh well with Coors Field. Inside Edge tracks well-hit average (a subjective rating that favors line drives and long fly balls) and ranked Wigginton 33rd in that stat (.263). However, he ranked 95th in slugging percentage (.415). For comparative purposes, new teammate
Troy Tulowitzki
had a well-hit average one point higher than Wigginton (.264) and ranked eight-best in the majors in slugging.
-- Mark Simon