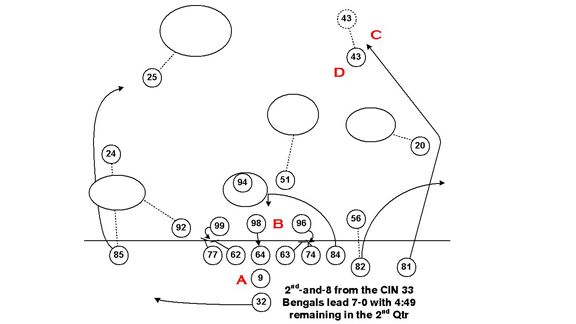 In the Cincinnati Bengals' 23-7 loss to the Pittsburgh Steelers on Sunday, the critical play was an interception thrown by Bengals quarterback Carson Palmer to his former college roommate, Steelers safety Troy Polamalu. The Bengals led 7-0 at the time, but that interception (much like the one Sean Lee had for the Cowboys against Peyton Manning, that we charted last week) changed the complexion of the contest.
Using the diagram above, let's take a closer look at the play that was the Sweet Defensive Play of the Week in this week's TMQ and the accompanying statistical analysis.
A) Leading 7-0, Cincinnati looks to go deep
For whatever reason, Palmer has struggled this season in situations in which his team was ahead, perhaps due to a lack of confidence in a running game that now ranks 30th in the NFL in yards-per-rush. Palmer entered Sunday with a 52.6 completion percentage and a 56.1 passer rating when his team had the lead, both of which were significantly lower than when his team was tied or trailing (61.7 completion percentage, 84.8 passer rating).
Here, he attempted a 15-yard pass to the right hash, almost double the yardage he needed for a first down. The Steelers would make him pay for that choice.
To make matters worse, the result of the play left Palmer 3-for-13 with a touchdown, two interceptions and a 37.2 passer rating on throws of 15+ yards when leading this season (0-for-2 with the interception in this game).
B) The Steelers rush three, drop eight
Defensive coordinator Dick LeBeau sent only three pass rushers and dropped eight into coverage, knowing the Bengals were in a sure passing situation on 2nd-and-8. With eight defenders in pass coverage this season, the Steelers had the fourth-best opposing passer rating (68.4) among teams with 50 attempts entering Week 14. Pittsburgh was also twice as likely to intercept a pass when rushing three players (an interception every 18.4 attempts) than when sending four or more (an interception every 37.4 attempts).
C) Palmer-to-Owens connection a season-long problem
Entering Sunday, 10 of Palmer's 15 interceptions occurred when he targeted Terrell Owens. Palmer averaged a pick every 13 times he targeted Owens, compared to one every 64.6 attempts when looking in a different direction (not counting 12 passes that were thrown away to avoid a pass rush). In this game, Palmer completed only 1-of-6 to Owens with two interceptions, both by Polamalu.
D) Polamalu puts points on the board
The Steelers' strong safety picked off his team-leading third pass attempt of 15-or-more-yards and returned it all the way to the end zone for his second career regular-season interception return for a touchdown.
Best Team Win Pct
When Player Has an INT (min. 20 INT)
The other? It also came against Palmer, in a 28-17 victory at Heinz Field in Week 4 of the 2004 season. This play marked the first of Pittsburgh's 23 unanswered points, completely altering the course of the game. The Steelers improved to 21-3 in games in which Polamalu registered an interception, the .875 win percentage second-best among active players in the NFL (according to the Elias Sports Bureau). In this case, he turned a potential two-score deficit into a tie game, and that proved to be of huge value to his team's eventual victory.