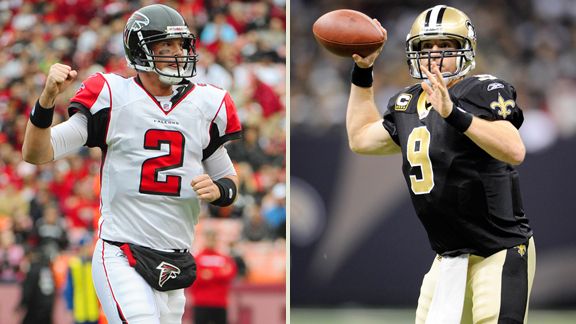 US Presswire
Matt Ryan hopes to be celebrating in the manner that Drew Brees did in 2010, but first the two clash for the second time this season on Monday Night Football.
Matt Ryan seems to have taken a step forward in what has already been a sensational start to his NFL career. Statistically speaking, he's a legitimate candidate for NFL MVP honors. Monday, he'll take on Drew Brees, and while most would say that Brees, with a Super Bowl MVP trophy to his credit, is a better quarterback, Ryan is having the better season. But where are the differences between the two?
K.C. Joyner took a closer look at the Ryan-Brees matchup last week, breaking down Brees' edge when throwing the long pass and Ryan's strength of avoiding mistakes.
Inspired by that, we decided to take a statistical snapshot of which quarterback was best when dealing with adversity of different types.
Using the video review data we've been compiling all season, we took a closer look.
Passing from outside the pocket
Cool Brees
Brees and Ryan both function primarily in the pocket. But who is statistically better when chased outside?
It's actually not close.
Ryan has completed 61 percent of his 75 throws made outside the pocket, with six touchdowns and no interceptions. When flushed out of his comfort zone, Ryan has taken only one sack.
Brees has completed only half of his 62 throws, with only one touchdown. He's been intercepted twice and sacked three times. His passer rating is 55.0 in such situations, barely better than half of Ryan's 103.3.
vs the Blitz
Ryan has an advantage when working against blitzes, but the gap between him and Brees is a small one. Ryan has thrown 13 touchdowns against blitzing opponents this season, which entering the week was tied for the NFL lead. His four interceptions on 179 attempts are one fewer than Brees has, in 27 more attempts. He's only been sacked six times, compared to 12 for Brees.
Brees does have an advantage in one area -- his 68 percent blitz completion rate is second-best in the NFL, four percent better than Ryan.
No team sends five-or-more pass rushers more often than the Saints, who utilize added pressure on 50.7 percent of opponent dropbacks. Ryan's ability to thrive against it will be a key to tonight's game.
Clutch Play
They don't call him Matty Ice for nothing. Ryan has led five fourth-quarter comebacks this season, tied for most in the NFL, and his clutch performance in these late-game rallies is one area where he has a clear advantage over Brees.
Matt Ryan vs Drew Brees
4th Quarter, Trailing by 8 pts or Fewer
In the fourth quarter, when trailing by eight points or fewer, Ryan has completed two-thirds of his passes, averaging nearly nine yards per attempt, with a passer rating of 103.9 that rates tied for fifth-best in the league (minimum 15 attempts).
This is a major difference for Ryan from last season, in which he had as many interceptions as touchdowns in such situations (three), and his 72.8 passer rating ranked 24th.
Brees, who rarely had to worry about fourth-quarter comebacks last season, is not in Ryan's class this season, with a passer rating of 74.9 and an average of six yards per throw, both decidedly worse than Ryan.
However, Brees does have a history of being clutch when it counts – cue his two-touchdown, 288-yard performance in last year's Super Bowl win -- and Ryan still has to prove himself at that level.