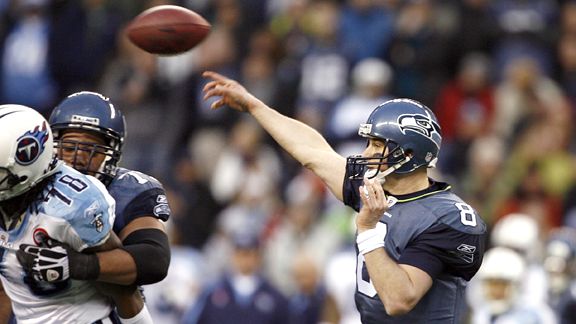 Joe Nicholson/US Presswire
Matt Hasselbeck's ability to stretch the defense could be an important part of Seattle's game plan.
For the Seattle Seahawks to have a chance in the NFC Divisional playoffs against the Chicago Bears, quarterback Matt Hasselbeck likely needs to excel at downfield passing. That aspect of his game was the true barometer of his and Seattle's success this season.
Let's take a closer look at the numbers to show how that's true.
In seven combined regular-season and postseason wins in which Hasselbeck started, he threw the ball well when he threw it 15 or more yards in the air, including two long touchdown passes (45 yards to Brandon Stokley and 38 yards to Mike Williams) in the Seahawks' 41-36 win over the Saints in the NFC wild card round.
Hasselbeck also did quite well in Seattle's regular-season win at Chicago in Week 6. He finished 4-for-7 for 85 yards and a touchdown on those 15-yard passes.
Matt Hasselbeck Pass Attempts of 15+ Yds
2010 Regular Season and Postseason
When Hasselbeck does throw the ball deep, his usual targets are Williams (10 catches on throws of 15 or more yards) and Ben Obomanu (seven receptions). Williams had a huge game against the Bears, with 10 catches for 123 yards.
Excluding the game against the Seahawks, the Bears defended deep passes quite well in 2010. The Bears allowed five touchdown passes, had nine interceptions and quarterbacks had a 60.5 passer rating when trying to beat the Chicago secondary with long passes.
Hasselbeck, who has started 15 of the Seahawks' 17 regular and postseason games in 2010, completed just 23.6 percent of his passes 15 or more yards downfield in eight losses this season.
Hasselbeck's worst games passing the ball downfield, statistically speaking, were in Weeks 8 and 15. Hasselbeck was a combined 2-for-16 with three interceptions in those two contests, a 33-3 loss to the Raiders and a 34-18 loss to the Falcons.
Those teams figured out how to shut Hasselbeck down, and their matchups were not close. A similar effort from Hasselbeck and Sunday's likely won't be either.