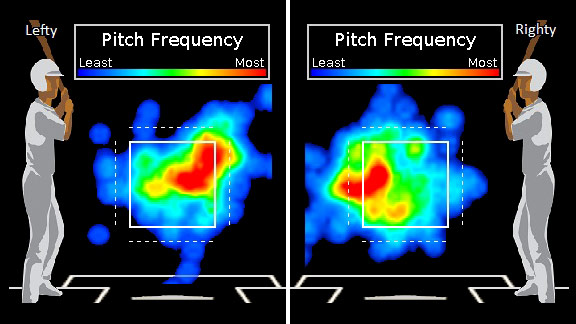 TruMedia
The heat map shows Pineda's first pitch in an at-bat. Whether it's a left-handed or right-handed batter, Pineda likes to start hitters with something on the outside of the plate.
A year removed from pitching for Seattle's Double-A affiliate, 22-year-old rookie Michael Pineda already might be one of the best pitchers in baseball.
Through nine starts, Pineda is 6-2 with a 2.16 ERA, which is the fifth lowest in the American League. With 61 strikeouts and just 14 walks over 58 1/3 innings, he's shown advanced command, and not just for a rookie. His strikeout-to-walk ratio (4.4:1) ranks fourth in the American League.

Pineda
When Pineda takes on the New York Yankees on Friday, hitters should expect to see strikes early and often. He leads all qualified starters in both first-pitch strike percentage (70.9) and overall strike percentage (70.3).
But, he's not just grooving his mid-90s fastball over the middle of the plate to get strike one.
The heat map above shows Pineda's pitch frequency on the first pitch of plate appearances to both lefties and righties. Focusing on the red areas (the spots he hits most often), Pineda is pounding the outside part of the plate to get ahead.
Pineda vs Hernandez, 1st 9 Career Starts
Michael Pineda's fast start has drawn comparisons to teammate Felix Hernandez's rookie season in 2005.
His ability to get strike one has helped him avoid hitters' counts. He's faced 229 batters this season and gone to 2-0 counts just 15 times, a rate of about once to every 15 hitters -- the same rate as Cliff Lee.
Pineda is dominating hitters despite relying almost exclusively on two pitches, his fastball (which averages 95.4 mph, the fastest among starters) and a mid-80s slider, which has become a more consistent offering lately.
His slider has become his put-away pitch. Over his first seven starts, hitters missed on 26.7 percent of their swings against his slider with two strikes. That number has doubled over his past two starts.