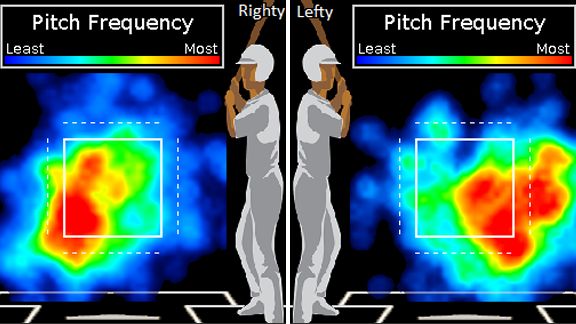 The heat maps above show Jair Jurrjens' frequency of pitches on the outside half of the plate this season. He has pitched on the outside half effectively, particularly with the changeup.
The Atlanta Braves and the Cincinnati Reds are set to meet in a rubber match on Sunday Night Baseball. The good news for Atlanta: Jair Jurrjens takes the hill, sporting a 6-1 record to go along with an NL-best 1.56 ERA.

JurrjensAccording to Elias, since the Braves moved to Atlanta in 1966, only three of their pitchers have had a lower ERA over their first eight starts of a season: Buzz Capra in 1974 (1.06), Greg Maddux in 1994 (1.13) and Tom Glavine in 2002 (1.50).
Jurrjens' eight straight starts of six-plus innings pitched with two or fewer earned runs is the longest such streak by a Braves pitcher to start the season in the live ball era (since 1920).
Why has Jurrjens been so effective? His ability to work on the outside of the plate has really helped him flourish this season. Taking a look at the heat maps above, Jurrjens' highest frequency in pitch location is on the outside corner of the plate to hitters.
His key pitch has been his changeup; 66.1 percent of the changeups he has thrown on the outside half of the plate have resulted in strikes, among the highest percentage for any pitcher this season. Entering Friday, only four pitchers had a higher percentage using the changeup on the outer half of the plate.
In his last start, 18 of his 27 changeups were thrown for strikes as he pitched 7⅔ scoreless innings in a win over the Pirates. On the season as a whole, he's throwing his changeup for strikes 64.5 percent of the time.
Opposing batters are hitting just .209 in at-bats ending in a Jurrjens changeup, down from .330 last season.
He has also placed his fastball well on the outer half of the plate. In fact, 62.3 percent of his fastballs toward the outer half of the plate have resulted in strikes, ranking eighth in the National League among starters with a minimum of 200 such pitches through Thursday.
Another key to Jurrjens' success has been his ability to control the top of the order against his opponents. Batters in the top four of the lineup are hitting just .183 against Jurrjens. In fact, cleanup hitters are only 1-for-23 with two walks against him this season (.043 BA, best in MLB), including 0-for-their-last-9 (Ryan Howard has the only hit).
So what's Jurrjens kryptonite? No. 7 hitters are 10-for-23 against him, including 9-for-their-last-16. Among those to bop Jurrjens are Yuniesky Betancourt, Juan Miranda, and Chris Snyder, each of whom went 2-for-3 against him.
Opposing Jurrjens will be Johnny Cueto. Cueto has won six of his last seven decisions in the month of May. He was 4-0 with a 1.59 ERA last May.
The matchup to watch for Cueto is against Braves catcher Brian McCann. He has homered in each of the starts he's made against Cueto.
McCann is a Reds killer. After his four-hit game Saturday, he's now hitting .351 for his career against Cincinnati.