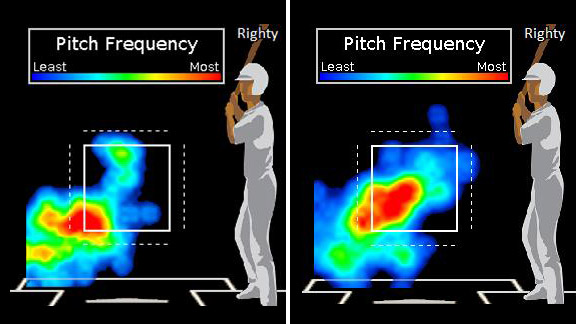 On the left is the pitch location for Lewis' slider in wins -- on the right is the location in losses.
Colby Lewis has put up lackluster numbers (6-7, 4.80 ERA) in 14 starts this season, but there's a pitch in his repertoire that has the potential to make him anything but lackluster: his slider.
On May 16, we started to take a serious look at Lewis' slider after he shut out the Chicago White Sox. In that performance, Lewis allowed just five hits -- none of which came off his slider -- and recorded three strikeouts with his slider. Furthermore, of the 28 sliders Lewis threw that night, only two were put in play (both outs).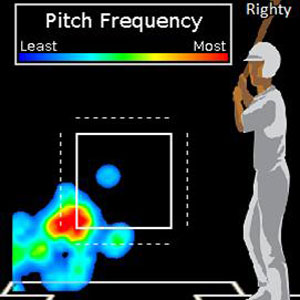 So why was his slider so effective that night? After digging a little deeper, we saw his location was almost impeccable. Take a look at the heat map on the right, which shows the location of Lewis' slider against Chicago's right-handed hitters.
These heat maps use colors to show where Lewis has thrown the majority of his pitches, with red being the hot zone and blue being the cold zone.
In this game, the majority of his sliders were down and away to righties and Lewis showed that with pinpoint command, he's nearly impossible to hit. The next question became, could he do this again?
Last Friday, June 17, Lewis beat the Atlanta Braves by doing essentially the same thing. In throwing his slider 32 times, Lewis struck out seven hitters and the Braves got just one hit against the pitch (albeit a solo home run). A good sign to look for when measuring Lewis' overall effectiveness is the location of his slider, and it was just as consistent this time around.
It's no coincidence that these performances resulted in wins for Lewis. Taking a look at one more comparison, we can see how Lewis has fared when locating his slider well throughout the season when facing right-handed hitting.
Colby Lewis This Season
By Hits Allowed with Slider vs RHB
This graphic is representative of Colby Lewis' season so far -- inconsistent. When Lewis keeps his slider over the plate, he gives up home runs, as he did against Kurt Suzuki and Jose Bautista in back-to-back starts in April.
If Lewis keeps his slider down and away (as he did against the White Sox and Braves), he can have a more dominant and consistent second half.