The Cincinnati Reds' Bronson Arroyo, who starts Monday against the Houston Astros, is having a tough year.
If his 7-9 record and 5.58 ERA in 21 starts weren't alarming enough, the number of home runs that he has given up is certainly disconcerting.

ArroyoLast season, Arroyo went 17-10 in 33 starts with a 3.88 ERA and surrendered 29 home runs. This season, he has given up a major-league leading 30 homers, and has had four starts in which he allowed three or more (that happened only once in 2010).
The breakdown of where the home runs have come against Arroyo also is something to consider.
Great American Ballpark, the home of the Reds and a known hitters' park, has been the site of 20 of the 30 blasts Arroyo has allowed this year -- seven to left field, one to left-center, one to right-center and 11 to right. He has allowed 11 to left-handed hitters and nine to righties. Only one of those homers was to the opposite field, hit by Florida Marlins right-hander John Buck.
Twenty-two of the 30 home runs have come off Arroyo's two staples: his fastball and his changeup, which combine for 68.7 percent of his total pitches (51 percent fastballs and 17.7 percent changeups). There have been 12 blasts off his changeup and 10 off his fastball, compared to seven off his changeup and 10 off his fastball in 2010.
Last season, Arroyo did a much better job at keeping his two main pitches out of the center of the strike zone, specifically by keeping it over the lower right corner of the plate. This season, he is leaving those pitches in the center of the zone, a far easier target for hitters.
Only eight of the blasts allowed by Arroyo were on hitters' counts. Arroyo is getting ahead of most of these hitters and turning to these pitches because they have been his staples, when in reality, they have been poor in 2011.
Working in Arroyo's favor is that he's facing the Astros. He hasn't made a start against Houston this season, but since 2009 Arroyo is 6-0 with a 1.90 ERA in six starts against the Astros and has allowed just five home runs.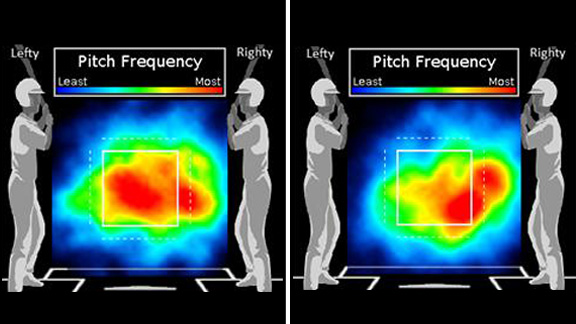 Arroyo's fastballs and changeups are catching more of the plate in 2011 (left) compared to 2010.