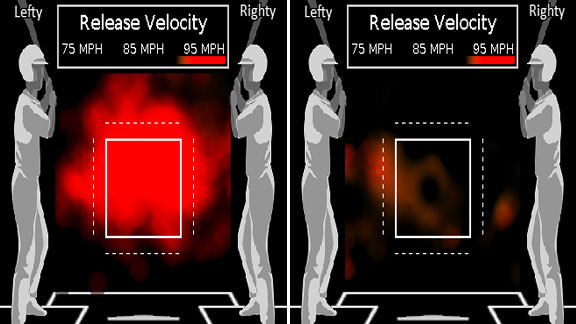 Trumedia
A look at Phil Hughes' fastball velocity this season. While Hughes struggled to paint the zone with heat before going on the DL (right), his velocity and location have returned since his return (left).
When the New York Yankees placed Phil Hughes on the disabled list April 15 with a "dead arm," questions naturally arose if he would ever regain the All-Star form he had in the first half of 2010.

HughesHughes' fastball velocity was well below what it had been in 2010, and opposing hitters were teeing off. Since his DL stint, Hughes has shown flashes of his prior success (3.70 ERA, 25 K, 41 ⅓ IP) thanks to a rebound in his fastball velocity.
While Hughes struggled in the second half and postseason of 2010, his fastball velocity was still high. In his last 10 starts of 2010, Hughes' fastball had an average velocity of 92.5 mph. Hughes recorded 27 of his 41 strikeouts with his fastball during the same period, and opponents hit just .239 against the pitch.
In three starts prior to his DL stint, Hughes pitched a total of 10 1/3 innings and gave up 16 earned runs. Most alarming was Hughes recorded fewer strikeouts (three) than home runs allowed (four). His fastball wasn't the same, averaging just 89.0 mph. The hardest fastball Hughes threw in those three starts was 91.9 mph, well below his 2010 numbers.
Hughes was lucky to give up just one extra-base hit on his fastball, considering that four out of every five fastballs hit in play were hit in the air. Making matters worse was Hughes was unable to show any velocity in the strike zone, throwing almost as many fastballs out of the strike zone (57) as in it (59).
Phil Hughes Fastball Velocity
2011 Season By Month
After a nearly three-month quest, Hughes has regained most of the velocity he lost. In seven starts since returning to the Yankees, Hughes' fastball velocity has averaged 91.5 mph, with an even higher average velocity in his past three starts. Overall, Hughes' fastball velocity is up nearly three mph from where it was prior to his trip to the DL.
Hughes has better command of this increased velocity, putting it in the strike zone and forcing hitters to try and catch up with it. Hughes' fastball has a 1.5 K/BB rate in his starts since coming back, and he's given up just two home runs. His groundball rate is up to 32 percent on his fastball, and climbing in his past three starts.
The saga of Phil Hughes seemed destined towards a disappointing 2011 finish, similar to that of teammate, and highly-valued Yankees pitching prospect, Joba Chamberlain. Instead, his trip to the DL and subsequent rehab in the minors fixed what ailed him, and he's a serious contender for the Yankees' postseason rotation.
With question marks about every Yankees starter not named CC Sabathia, Hughes may pitch himself into the Yankees' No. 2 starter role by the time the postseason rolls around.