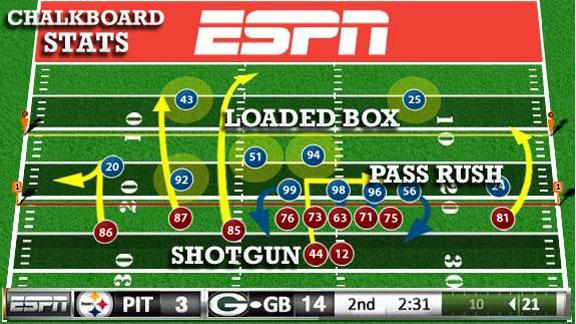 ESPN Stats & Information
Up 14-3 in the second quarter, the Packers lined up in shotgun formation against the Steelers looking to take an 18-point lead. However, they were facing the league's best defense against the shotgun in the Steelers. Find out how Aaron Rodgers found Greg Jennings for a 21-yard touchdown.
This edition of Chalkboard Stats examines a pivotal moment in last year's Super Bowl. Statistical tendencies exhibited by the Green Bay Packers on this play allow us to preview their season-opening matchup against the New Orleans Saints. After analyzing the play, click here to watch it unfold.
Aaron Rodgers takes the snap out of the shotgun
The Steelers were the league's best defense at defending passes out of shotgun formations last season, allowing fewer than six yards per shotgun attempt. However, Aaron Rodgers beat the Steel Curtain in last year's Super Bowl by throwing out of the shotgun for 195 yards and two touchdowns, including this 21-yard strike to Greg Jennings.
Given his success against the NFL's best, Rodgers should have no trouble on Thursday against New Orleans. The Saints defense ranked 23rd in the league in yards per attempt against the shotgun last season.
The Steelers load the box
The Packers aren't afraid to exchange blockers for route-runners, as no team had more receptions or receiving yards against loaded boxes than Green Bay did last season. Rodgers was able to exploit a mismatch between Jennings and Farrior for the touchdown here, and may get similar chances in the season-opener.
The Saints loaded the box on 200 dropbacks last season, most in the NFL, but ranked 23rd in completion percentage allowed. That's good news for Rodgers, the league's most efficient passer with a 71.7 completion percentage against the loaded box.
Pittsburgh sends four pass rushers
On this play the Steelers sent four pass rushers after Rodgers, choosing to drop linebackers James Harrison (92), James Farrior (51) and Lawrence Timmons (94) into zone coverage. Greg Jennings ran past Farrior and found a seam between the linebackers and safeties to make the touchdown catch before being hit by Troy Polamalu.
The Saints defense will present some different looks for Rodgers in Week 1, as no defense sent extra pressure more than they did last season. New Orleans rushed five or more defenders on almost half of their defensive snaps in 2010, well above Pittsburgh's 36.9 percent.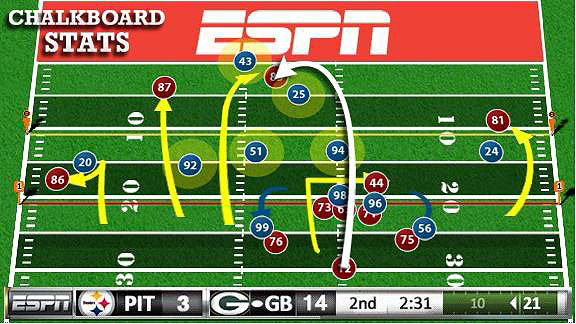 ESPN Stats & Information
Jennings was able to find a seam between the Steelers defense and it took a perfect strike from Rodgers to make the play work to perfection. This gave the Packers a 21-3 lead just before the two-minute warning in the first half.