Mariano Rivera became the all-time saves leader on Monday with his 602nd save, in a victory over the Minnesota Twins. Rivera tied Trevor Hoffman on Saturday with his 601st save, and broke the tie with a strikeout of Chris Parmelee to cap a perfect ninth inning.
According to the Elias Sports Bureau, this was the first time that Parmelee faced Rivera in his career. Left-handed hitters are now 68-429 (.159 batting average) career in their first career plate appearance versus Rivera.
Most Saves MLB History
Each of Rivera's 602 saves came with the Yankees, including 42 career postseason saves which are also the most of any reliever.
Rivera has almost double the amount of saves as the next active pitcher on the list, Francisco Cordero is second with 323.
The Baltimore Orioles have been the biggest victims of Rivera's cutter over the years, with 70 of his saves coming against them.
Of all the Yankees pitchers that Rivera has worked with since 1995, he has saved the most games for former teammate Andy Pettitte (68).
Highest Save Percentage
All-Time (minimum 200 saves)
Rivera has the highest save percentage of all-time, among relievers with a minimum of 200 saves.
Rivera made his MLB debut on May 23, 1995. He lost to the Los Angeles Angels, 10-0, as Chuck Finley pitched a two-hitter with 15 strikeouts.
Rivera's first save came on May 17, 1996 against the Angels. A little more than three years later, he achieved his 100th save, in a victory over the Florida Marlins on June 11, 1999, and save number 200 came on August 1, 2001 against the Texas Rangers.
Rivera broke a Yankees record for saves on May 9, 2002 against the Tampa Bay Rays with save number 225, and the Rays were also victims of Rivera's 300th save on May 28, 2004. Save number 400 came on July 16, 2006 against the Chicago White Sox, and save number 500 on June 28, 2009 versus the New York Mets. 600 came on September 13 against the Seattle Mariners.
Here's a next-level look at how Rivera made history:
Rivera has thrown his pitches (particularly his cutter, which he throws upwards of 90% of the time) to the outside corner much more frequently since his mid-August funk.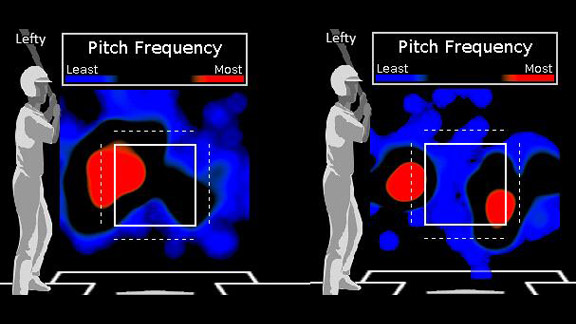 ESPN Stats and Information
Left: Rivera's primary pitch locations through Aug. 11. Right: Rivera's primary pitch locations since.He's gone from throwing it about 23 percent of the time (one in four pitches) to 46 percent of the time (nearly every other pitch).
Rivera has allowed one earned run in 14 innings since August 15.
Key to that: Lefties are 3-for-23 against him since August 15 (they were hitting .269 against him this season prior to that).
The new pitch selection is working.
Here's the pitch selection of strike three in save #602: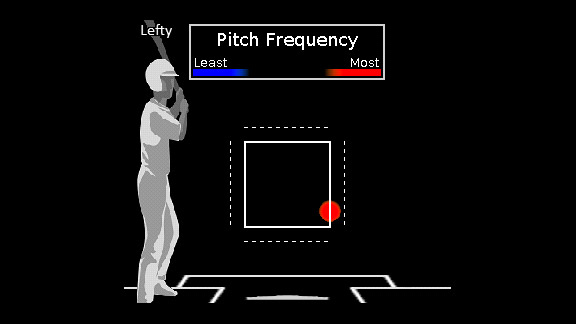 ESPN Stats and Information
Mark Simon contributed to this story.